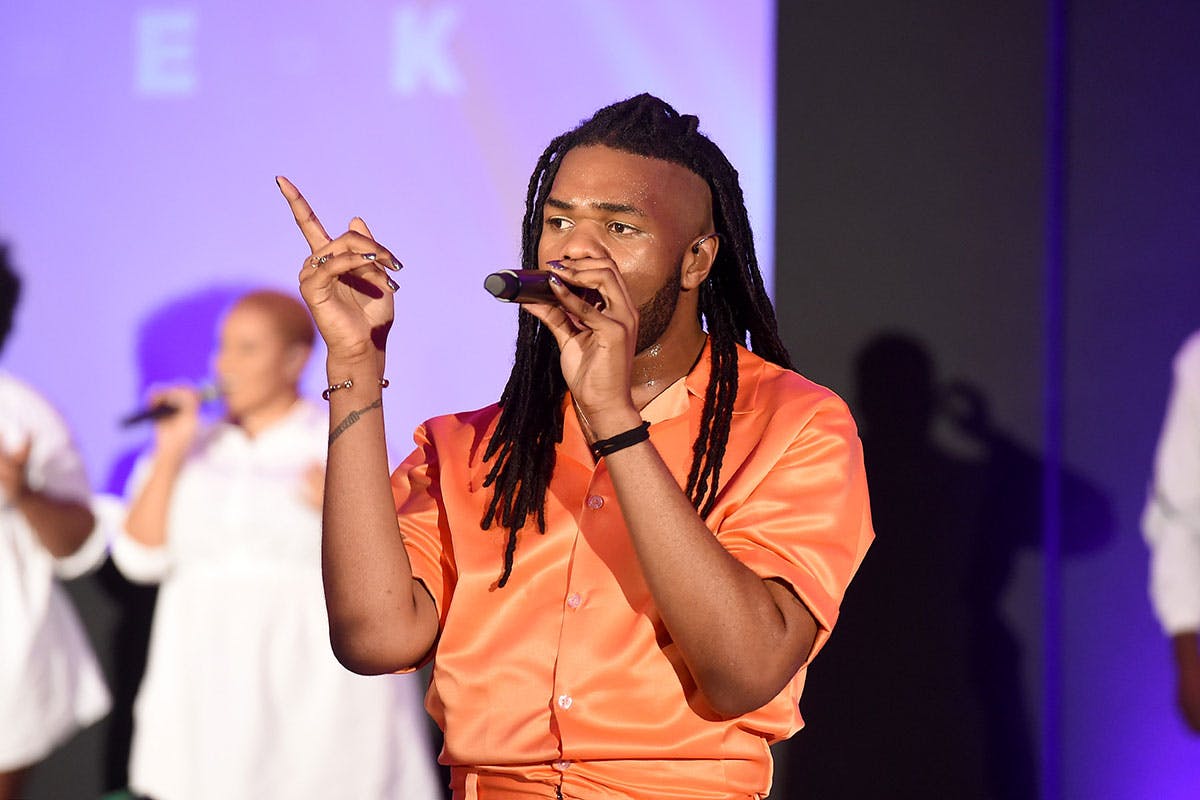 It's 11am on a rare sunny morning in London. Fresh from a grueling session at the gym, MNEK – whose moniker is a phonetic take on his actual surname, Emenike – is giving me a whistle-stop tour of his recording studio. It's cozy and colorful, decorated with a mixture of African floor-length prints and watercolor renderings of his favorite artists; there's a haphazard stack of sparkling water in the corner which remains largely untouched. When I point this out he laughs, says that it's primarily for guests, and then kindly offers one up. I gratefully accept and make a mental note of this small act of generosity. He later describes himself as "selfless" – and there are plenty of small gestures and comments throughout the interview which make it hard to disagree. "I get it from my mum," he smiles.
We're here today to talk about his full-length debut Language, an album which – at least in the eyes of the public – has been almost a decade in the making. Astoundingly, the now-23-year-old was first discovered at just 14-years-old after uploading two rough demos to MySpace. Since then, he's racked up some seriously impressive songwriting credits (Madonna, Christina Aguilera, and Beyoncé are just some of his past clients) and a handful of hits as an artist, but Language is the first time that he's truly stepping into the spotlight alone.
"I don't know if I ever really processed the fact that I came into the industry so young," he explains when I ask how it felt to be welcomed into the majors at such a tender age. "I guess everyone at school had this perception that I had blown up, but the first four years were very much about me being in a development deal and just learning, really. I was having sessions during school holidays and weekends because my parents were telling me I had to go to school. I never wanted to go! I wasn't really academic, and I guess I just felt like I didn't fit in."
In fact, the only school he applied for was the BRIT school, a prestigious institution whose alums include the likes of Adele and Amy Winehouse. He eventually decided not to go, but he says his application was motivated more by the thought of making friends than it was about the music. "It was more about wanting to be surrounded by people with similar interests and building relationships really, but in terms of actually applying it felt weird, because people go there to get into the industry. I was already in the industry, you know? I do feel blessed for that, but I wonder sometimes if I missed out on that whole school experience, and whether it might have been character-building."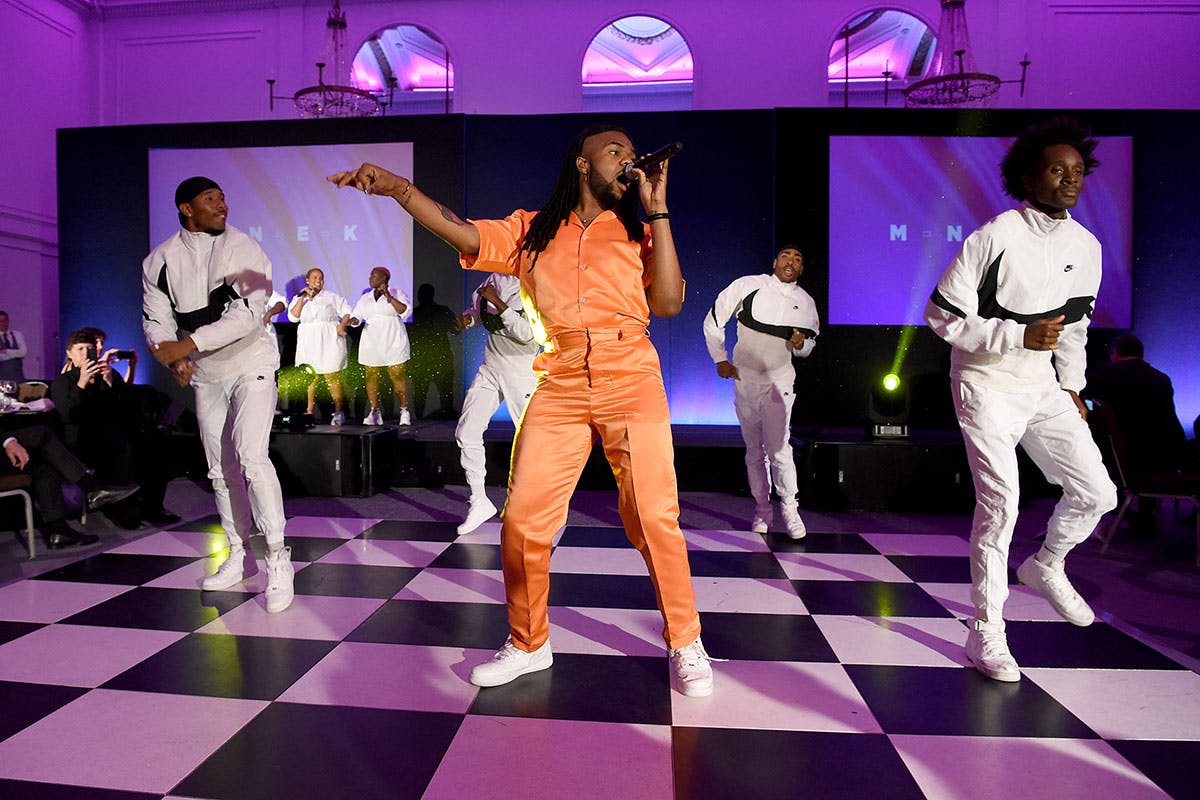 As for the music side of things, he says that it always came naturally, and laughs that he was literally singing before he could speak. This love of music was nurtured by his parents, who played albums by Mariah Carey, Whitney Houston, and Bob Marley to him at a young age. His dad's collection of R&B compilations also had another impact on a young MNEK: "Honestly he wonders how I'm gay, but I remember the covers of those albums were just these black men with eight-packs covered in baby oil!"
This razor-sharp wit is writ large across some of his most famous work (he had a hand in Beyoncé's "Hold Up," whose Instagram-worthy lines are too numerous to count) but never more so than on Language: opener "Background" features a girl mispronouncing his name and joking that it sounds like an STD; "Correct" is buoyed by brags like "I flex like Aretha so please show me some respect"; and "Girlfriend" is a sassy, barbed riposte to a man cheating on his partner with same-sex lovers. "Neither you nor your story's straight, it's such a shame," he sings.
"That wasn't about my own personal experience, but it is personal for a lot of people. That's actually the idea behind naming the album Language; I want people to interpret it. I encourage it!" But unfortunately, these interpretations aren't always positive. Reviews have been largely favorable, but one in particular – published by Rolling Stone – occasionally seemed unnecessarily harsh. MNEK quote-tweeted the review, adding, "not true, my album slaps." It's since been liked almost 10,000 times.
Reviews have been critiqued on numerous occasions within the music industry, and there are strong reasons for this critique. The speed at which they have to be written means that they're often rushed, and critics have been slammed by anonymous artists for writing deliberately nasty lines which can realistically impact artists' mental health. Musicians are people, too; with just five words, MNEK reminded us of this.
"We could all handle criticism better," he says candidly, "but imagine that you really fucking love your kid and then someone turns and calls them ugly. You wouldn't just be like 'you know what babe, you are a little bit ugly actually.' Fuck no! I love my album, and I believe in my album."
In a world increasingly dominated by media training and social media callouts, it's so, so refreshing to hear MNEK speak his mind both in person and online. He even lets fans into his personal life ("everyone else gets to do it on social media, why can't I?") by sharing screenshots from dating apps. "Actually there's still an interview online where I talk about my ex-boyfriend, so it's almost good to just put it out there that I'm single! But really though, dating is a nightmare for me. I don't have the best time because I'm..." He pauses for a second, searching for the right word. "I'm very visible."
In this context, the word feels ambiguous. He could be alluding to the well-documented racism and femmephobia on dating apps in particular, but he also explains that his brief time on Tinder saw him receive no less than five consecutive messages from men asking his production fee. "It's very much a Hannah Montana complex, because people seem to see me on apps and think it's a good time to tell me they love a song on my album," he chuckles. "That's not what I'm here for; you could just tweet me that! I swear it made me feel like I didn't even need a manager. I could have just made beats for all these cute boys and then been off on my merry way!"
He further reiterates that dating as a public figure can be complicated, and describes having to learn from an early age who to trust and who to keep at arm's length ("I'm a Scorpio, I'm very intuitive!") and only wanting to be the center of attention on his own terms. "When I'm on stage I can control it, but I'm not going to be the person that takes a photo with everyone after every show. It's like I'm an introvert and an extrovert: I can be on stage in a multi-colored suit in full MNEK mode, but I can just as easily be sat like I am now, fresh from the gym and having a really candid conversation."
It's on stage that MNEK truly comes into his own. Songs like "Tongue," with its experimental spoken word chorus and infectious drum loop, truly pop off in a live setting and allow him his self-described "Beyoncé moments," whereas other tracks like "Correct" feel custom built to boost your mood. Language is undeniably a feel-good album, but there are unexpected samples (Ultra Nate's club classic "Free" features on "Paradise") and experimental song structures which set it apart from other artists.
Sadly there's also still something groundbreaking about the fact that MNEK is an openly gay, black artist in the mainstream pop music industry – or at least it seems that way given the amount of times he's asked about his identity in interviews. "I definitely think I've helped orchestrate that by being so visible; it's mentioned more often than not," he says. "I'd like to think that my talent is enough, but maybe that's optimistic. It's also fine – I'm cool with being asked about it, and I feel like it's helpful to open up these conversations on mainstream platforms. There will be people in conservative areas that will see me on TV and still think I'm weird or whatever, but it's good to normalise these conversations because they are still taboo."
We also know that diverse representation in media can make a huge impact; MNEK has already received impassioned messages from fans explaining that his music helped them to come out or come to terms with their own identity, and says that these are ultimately more meaningful than sales, statistics and chart numbers. He's candid about this, too: on Twitter he's said that he's "a bit gutted" about his figures, but his admission prompted a slew of replies from fans encouraging him that his artistic contribution to the world is valuable, no matter what statistics might say.
It's also easy to forget – given his affiliation with Stormzy, Beyoncé and other high-profile names – that this is MNEK's first solo release, and it's one which came alongside an arguably unfair amount of pressure attached. "There are a lot of things that could make me feel really bad about still doing this," he confesses. "I love my job to bits, but then obviously the numbers and all of these things play in your head, and they make you feel shit. Like everything's tumbling down. But I stand behind my album, and I really believe that it's more about visibility and creating a connection. There are great things that come from having mass appeal, but that doesn't always mean that you make everyone listening to you feel something, you know? That's what I want to do with my work."
For more of our interviews, read our profile on the inimitable Father right here.