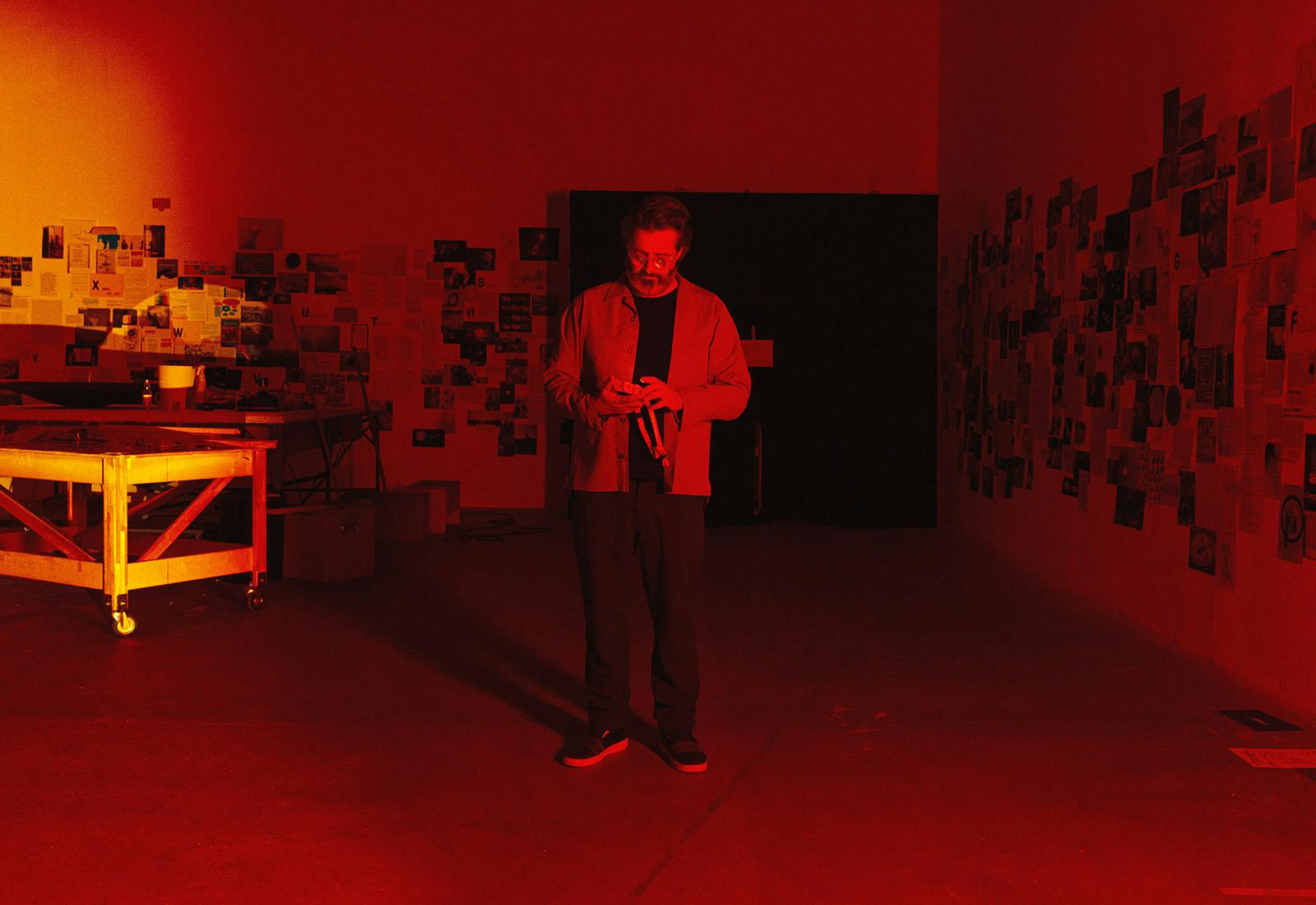 This story is from Issue 19 of Highsnobiety Magazine. You can buy it here.
Olafur Eliasson is an optimist. Through his immersive artwork — which has seen him do everything from secretly dying the rivers and canals in cities across the world, to creating a fake sun in the Tate Modern — Eliasson wants us to reconnect with the natural world, and to try to save it in the process. We caught up with the Danish-Icelandic artist to discuss his recent climate change-focused work, his solar-powered nonprofit Little Sun, and to find out why we need to stay hopeful in times of crisis.
Olafur Eliasson wants to use art to change the world. His work — which has spanned from overwhelming large-scale installations in which he manufactures a fake star, sun, or waterfall, all the way to more low-key pieces which play with light to challenge our perceptions — urges us to connect with the world around us.
Even if you don't think you're aware of the Danish-Icelandic artist's work, there is a high chance that you've seen The Weather Project, an installation that Eliasson did for London's Tate Modern Turbine Hall in 2003. For the project, the artist installed a giant artificial sun in the industrial hall, complete with a fine mist that formed cloud-like formations to create a hazy sunset glow.
The installation was wildly popular. During its run it attracted more than two million visitors. The Weather Project was basically Instagram art before Instagram even existed, but with one major difference — people didn't just take pictures of it; they actively engaged with the work. Despite the piece generating zero heat, viewers would lie down on the floor of the hall as if sunbathing, basking in the warm light of the man-made sun.
Describing the work, Eliasson says that he was interested in exploring "the ecosystem of togetherness" and to highlight the interdependence we have with each other and the natural world.
Eliasson is an incredibly prolific artist — listing his artworks would take up the entire space of this article — and this idea of interdependence is seen through much of his work. Across mediums and projects, Eliasson is urging us to break out of our rigid day-to-day schedules and take time to recognize our place in the world.
Eliasson does this by questioning and upending our perceptions of daily life. In his work "Green River Project," which ran from 1998 to 2001, the artist (safely) turned the rivers and canals in six cities across the world green, without announcing it to the public. In Stockholm, the Green River made the front page news, with many residents fearing that something nefarious had happened to their once-clear river.
Speaking to EuroScientist in 2017, Eliasson explained the work: "What the green dye did, in my view, was it made people aware of their everyday surroundings in a new way — not just the river, which suddenly appeared different, but the town or landscape it was flowing through. We tend to see cities and spaces as static images, but in fact they are changing all the time. Sometimes it takes a radical shift to make us aware of this fact."
If you live in a city, how often in your daily life can you honestly say that you're engaged so fully with your surroundings that you gaze up at the sky, or notice the water flowing in rivers or canals? Eliasson wants to change this.
More recently, however, the need for us to focus on the earth — and realize our effect on it — has become increasingly urgent. Eliasson's past work has touched on climate change. More recently it has become more explicitly climate-focused.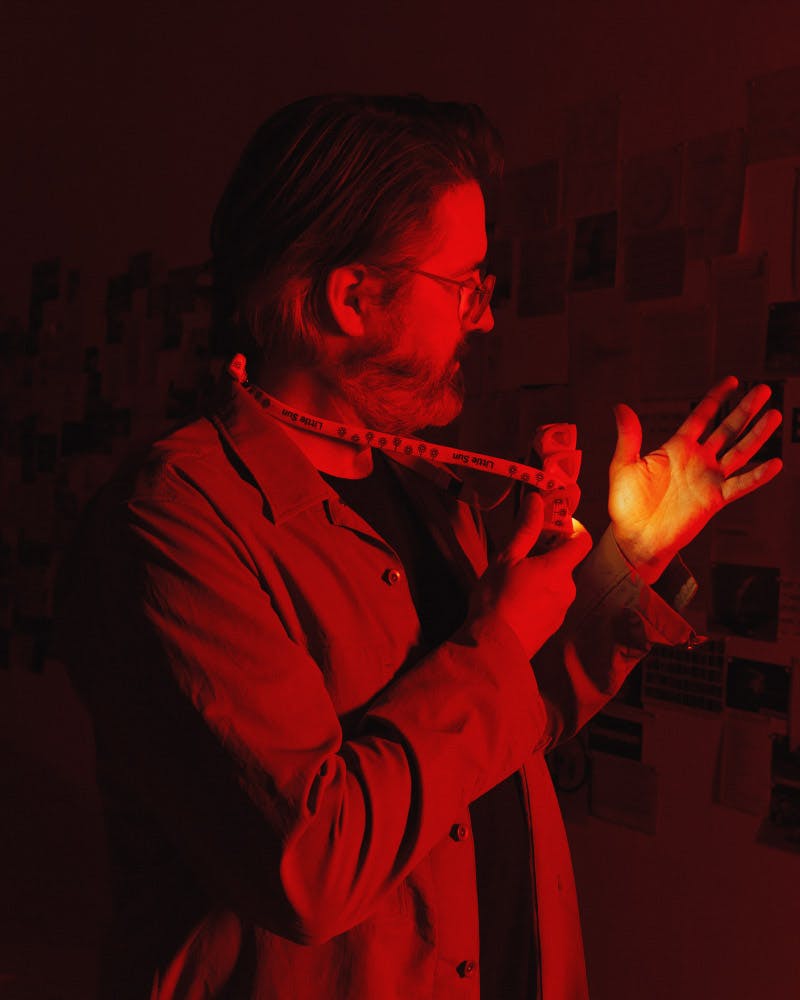 "I'm very curious about how to make something which appears to be distant feel relevant, immediate, and like it has an impact on your life," Eliasson says. "What's interesting to me is that the data surrounding the effects on climate change has been very well communicated. Of course, there are skeptics, there are opportunists, there are dystopian people, but there is no one who does not know what we are talking about."
But as many of us are aware, knowing something and actually paying attention to it are two entirely different things. While acknowledging the importance of scientific data in climate change research, Eliasson points out that the influx of data-heavy reports, with recommendations for political leaders and the private sector, can make us feel alienated or detached from the problem, making it all too easy to compartmentalize and ignore.
In his recent work, Ice Watch, Eliasson puts the actual process of climate change right in front of viewers. First installed on the streets of Paris in 2015 for the signing of the Paris Agreement (the United Nations agreement on climate change), the project came to London in December of last year to commemorate the third anniversary of the agreement. For the piece, Eliasson harvested blocks of glacial ice from Greenland's Nuuk fjords and left them on the streets of both cities until they melted away.
Eliasson wanted spectators to touch the shrinking ice and ask themselves: "What does the climate change actually mean physically?"
"One of the things that I'm curious about is how to actually take something we know intellectually and embody it physically," he explains. "So that when you put your hand on a glacial ice block you are in fact physically capable of connecting what you are thinking with what you are feeling."
Eliasson feels that artists have a vital role to play in society, and fundamentally that art can help to change the world, if not single-handedly. Through his large-scale work, Eliasson is challenging our relationship to the world around us and encouraging us to wake up to the reality of climate change, but he also runs a side project, Little Sun, which is physically changing the daily lives of individuals.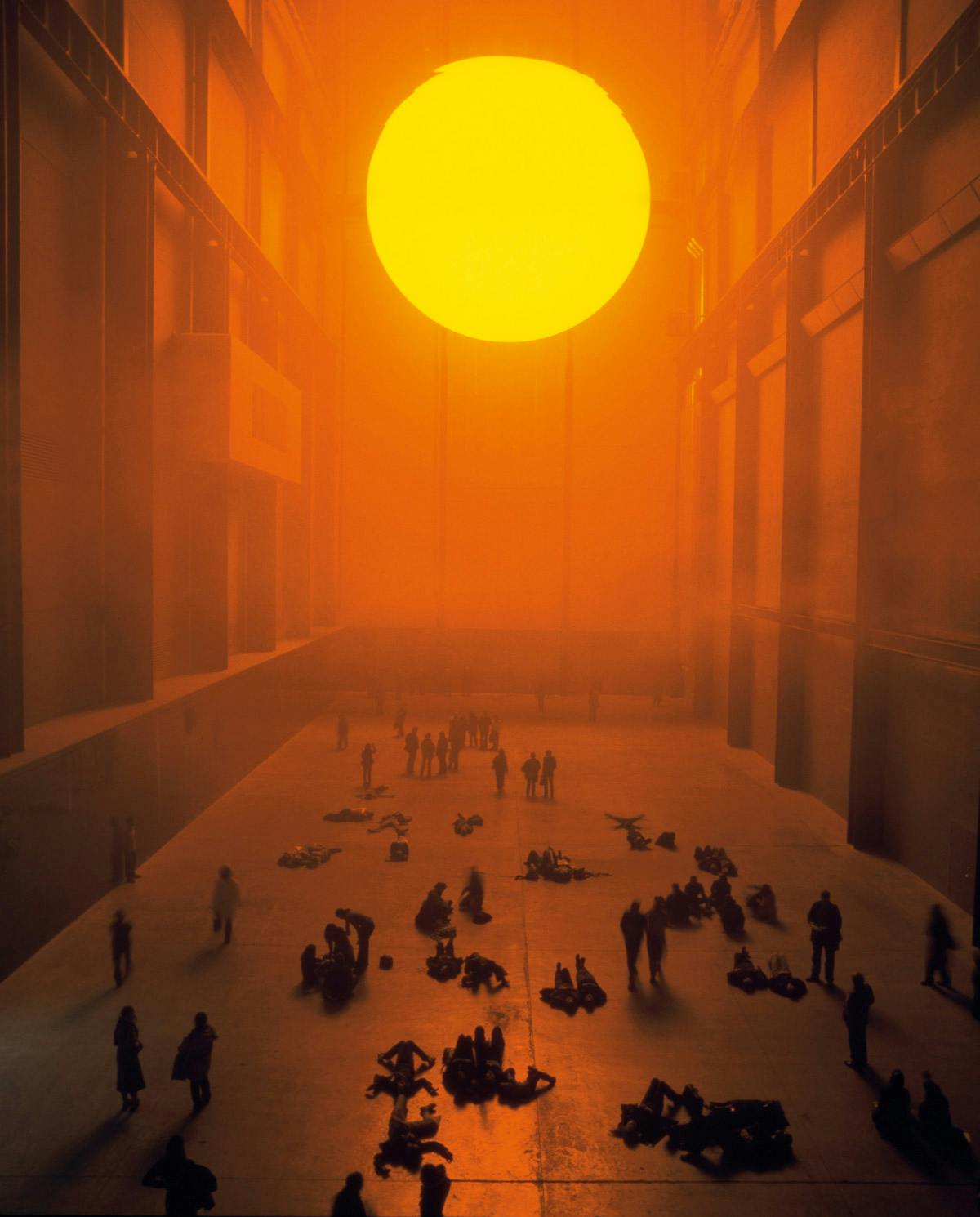 Little Sun is a social business bringing solar-powered lamps to the homes of those without access to grid electricity in a safe, environmentally friendly, and cost-effective way. Eliasson launched the company along with engineer Frederik Ottesen at London's Tate Modern in 2012, but the idea first came to him when he had dinner at a friend's home in Ethiopia who didn't have access to electricity.
"I had heard that there are lots of areas without electricity or without consistent access to power, but it wasn't until I tried it myself that I realized how it felt to sit next to an open/single wick petroleum lantern burning straight up into your face," he recounts.
Kerosene lanterns are used commonly in off-the-grid communities, but in addition to being expensive, bad for the environment, and a fire hazard due to the open flame, they're also incredibly toxic. The burning oil fills homes with smoke, causing breathing difficulties and eye infections. According to the charity SolarAid, a few hours using a kerosene lamp is the equivalent of smoking 40 cigarettes. Until recently, however, there wasn't any other viable option to light these Ethiopian homes. That is, until the price of solar panels dropped significantly around 2011, meaning that for the first time, solar power could compete economically with oil, and even become a cheaper way to provide light.
While Little Sun originally started in Ethiopia — a country from which Eliasson adopted his two children and also runs a charity, 121Ethiopia, focused on improving the lives of children in orphanages — the project has expanded across off-the-grid communities in sub-Saharan Africa. Little Sun works on a buy-one-give-one sales model, where full price Little Suns are sold in affluent communities to fund subsidized versions sold by locals in off-the-grid places.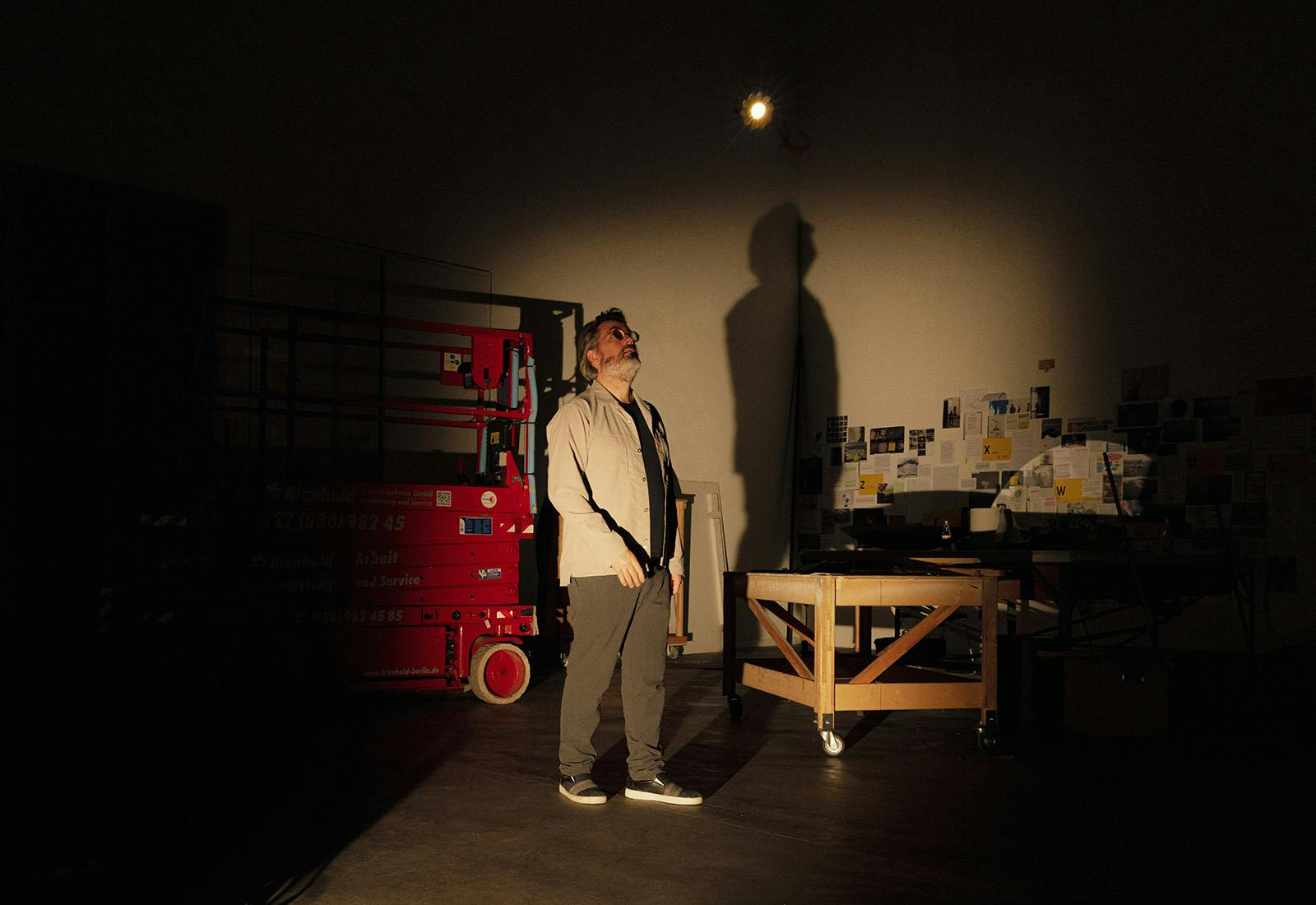 In 2017, Eliasson extended Little Sun to include the Little Sun Foundation which provides free solar-powered lamps to those who are unable to buy their own: mainly schoolchildren, refugees, and those affected by natural disasters. To raise money and awareness of both climate change and the need for solar power in off-the-grid communities, Little Sun has partnered with select artists and brands for exclusive collaborations, including the likes of Virgil Abloh and RIMOWA.
But Little Sun isn't just a practical solution to a problem; Eliasson sees it as a stand-alone artwork. "I think that all art is like a language with which you can say things, and in a sense, Little Sun is a project that I use to raise awareness and to have a dialogue about things that otherwise are hard to understand."
At its most basic, Little Sun is about providing clean energy to communities that desperately need it, but it's also about inspiring change and empowering people so they feel they can make a difference in their daily lives — whether they're buying the Little Sun at an art gallery in London or out of necessity in Addis Ababa. "The design of the Little Sun is on one side, of course, a straightforward pragmatic need, but it is also about emotional choices that makes our tomorrow better than yesterday," he explains.
"[Little Sun] gives us a little proof that individuals are actually capable of making a decision with regards to energy, and that has consequences on our lives, no matter how small it is."
There's a lot of anxiety around climate change right now — or the "climate crisis," as some publications have taken to calling it. Growing up, the threat of global warming was always there, but the issue seemed a distant enough threat —  something that would most likely affect our future grandchildren, but not us. That's not the case anymore. While we don't know when or if the climate apocalypse will happen, scientists have said that the effects of climate change have been moving a lot faster than anticipated, with oceans absorbing excess heat 40 percent faster than previous estimates. At this rate, the world as we know could be irrevocably changed by 2040. Given these facts, it's easy to feel overwhelmed or even hopeless, but there is another way.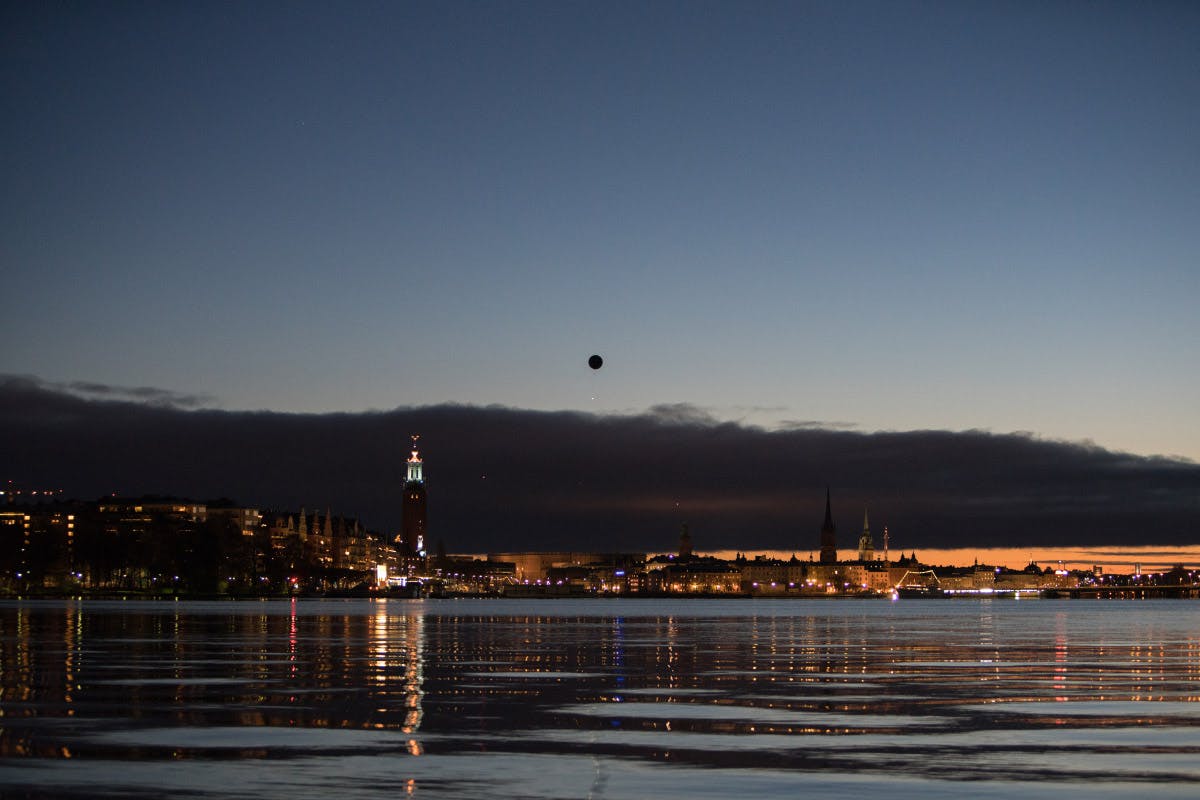 Eliasson wants us to see the facts, and instead of feeling doomed, to feel inspired by the potential to shape our future. We've reached a place in society where governments, companies, and individuals are beginning to make real efforts to fight climate change. In times of flux such as these, Eliasson argues it gives the youth an opportunity to take the reins and demand how we want our future to look.
"Every single little thing we do has consequences, and to recognize that doesn't mean we have to be dystopian or negative," Eliasson says. "I understand the relevance of the fear-based arguments and narratives that are being thrown around, because they fill up our pool of worries to the extent of taking away our ability to dream of a positive future. But without positivity, it's very hard to create a consensus on the fact that we need to solve the climate challenge."
You can't change things without believing you have the ability to change things. Eliasson's positivity and sheer faith in the human race is infectious. Art can make people feel a lot of things, and socially conscious art is rarely a feel-good endeavour. But Eliasson is trying to change the world by harnessing the innate positivity of belief in ourselves. Instead of playing to our fears, our guilt, or our anger, Eliasson is interested in the power of togetherness and what we can achieve as a society.
One example of this idea is his 2015 piece, Your Star. That year, Eliasson lit up the December night sky in Stockholm with his own man-made star that he referred to as "a dream machine." Created to mark Nobel Week and "to celebrate new knowledge, dreams, and light," the solar-powered LED star shone brightly with light gathered during midsummer. It really doesn't get any more Disney-esque than the summer sun literally lighting up the darkness of winter.
On a more pragmatic level, Eliasson's contribution to the 2017 Venice Biennale, "Green Light," invited refugees, asylum seekers, and members of the public to a series of workshops where together they built geometric green lights, which were then sold to donors in support of refugee-focused NGOs. Described by Eliasson as "an act of welcoming, addressed both to those who have fled hardship and instability in their home countries and to the residents of the cities receiving them," the work combined serving a practical need and raising money with Eliasson's social vision of the future.
Even though Eliasson has faith in the human race, it doesn't mean that he's underestimating the problems of our modern age. He wants his work to uplift, empower, and inspire viewers to actually make change, though he acknowledges that that's easier said than done.
"Often we make the mistake to think that having said something is closely related to having done something, and at some point we have spoken about it so many times that we actually feel we did it," he says. "One idea I think needs to be explored on a granular level is the simple step-by-step — how do you go from thinking and talking into doing and acting?"
One thing is for certain, though: complacency is not an option, and neither is hopelessness. When asked how we can stand up and take action when everything around us seems overwhelming, Eliasson replied that it was simple: "In order to succeed, we must, on a very fundamental level, believe in tomorrow being better than yesterday."