My Neighborhood: We Explore Local Scenes of City Life With the PUMA Wild Rider.
It was the year of grounded flights, of sheltering in situ, of walking. Every city is now a city for locals. And every city has its own localized genius that thrives under pressure. To capture this unique moment in time, we tapped five photographers in five cities to document the PUMA Wild Rider in their neighborhoods on local friends and heroes.
The photos capture this newfound pleasure, languid and relaxed, unusual in cities typified by having to catch up with the next latest thing. Instead of casting models, each photographer cast people from their own communities who are important to them, featuring the new PUMA Wild Rider, a shoe designed for this very purpose: life in the city.
The new PUMA Wild Rider design is something of a remix with nods to the '80s PUMA Fast Rider and the Easy Rider II OG, evident in the debossed concave holes on the midsole and a rubber midsole wrap with embossed studs. The sneaker is also a mash-up of dynamic materials, like the nylon upper with suede and premium leather overlays, a terry towel lining, deco stitching on the upper, and the signature Rider foam.
Capturing the Wild Riders in their element, each photographer photographed the characters and streets they know well. Shane Vincent shot in London, Louis Mahe in Paris, Steffen Grap in Berlin, Pavel Golik in Milan, and Julia Marino in Amsterdam. Scroll down to discover their worlds.
LOUIS MAHE - PUMA WILD RIDER IN PARIS
Photographing Paris is almost an impossible task. As one of the most photographed cities in the world, it can be difficult to capture something new or truely personal. For those born in Paris, like Louis Mahe, photographing Paris is about paying attention to the details. "For example I think about the architecture in Paris. Each building has its own identity, Hausmann or not, they all have low relief, chimera from the past, Paris is a story by itself" he says.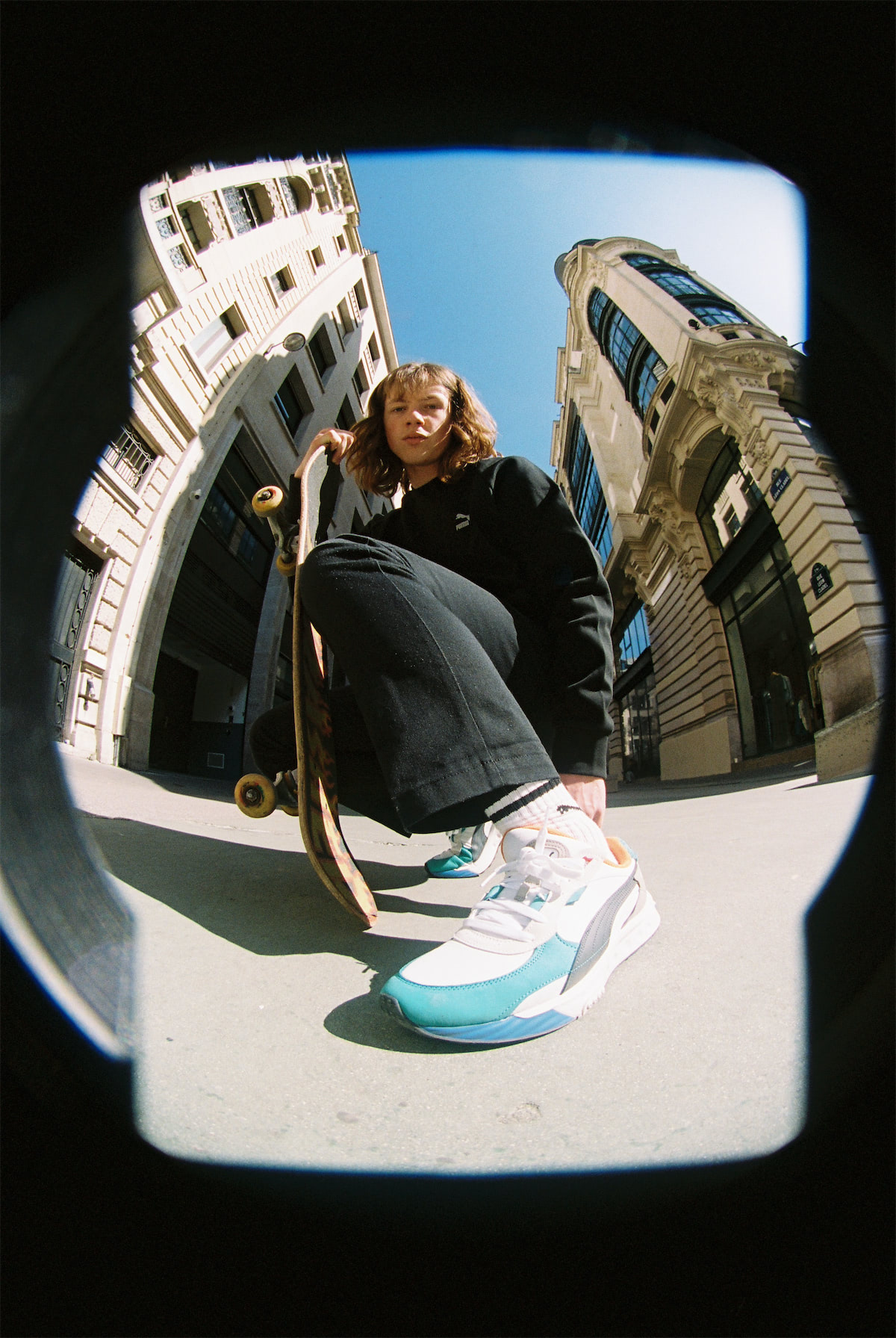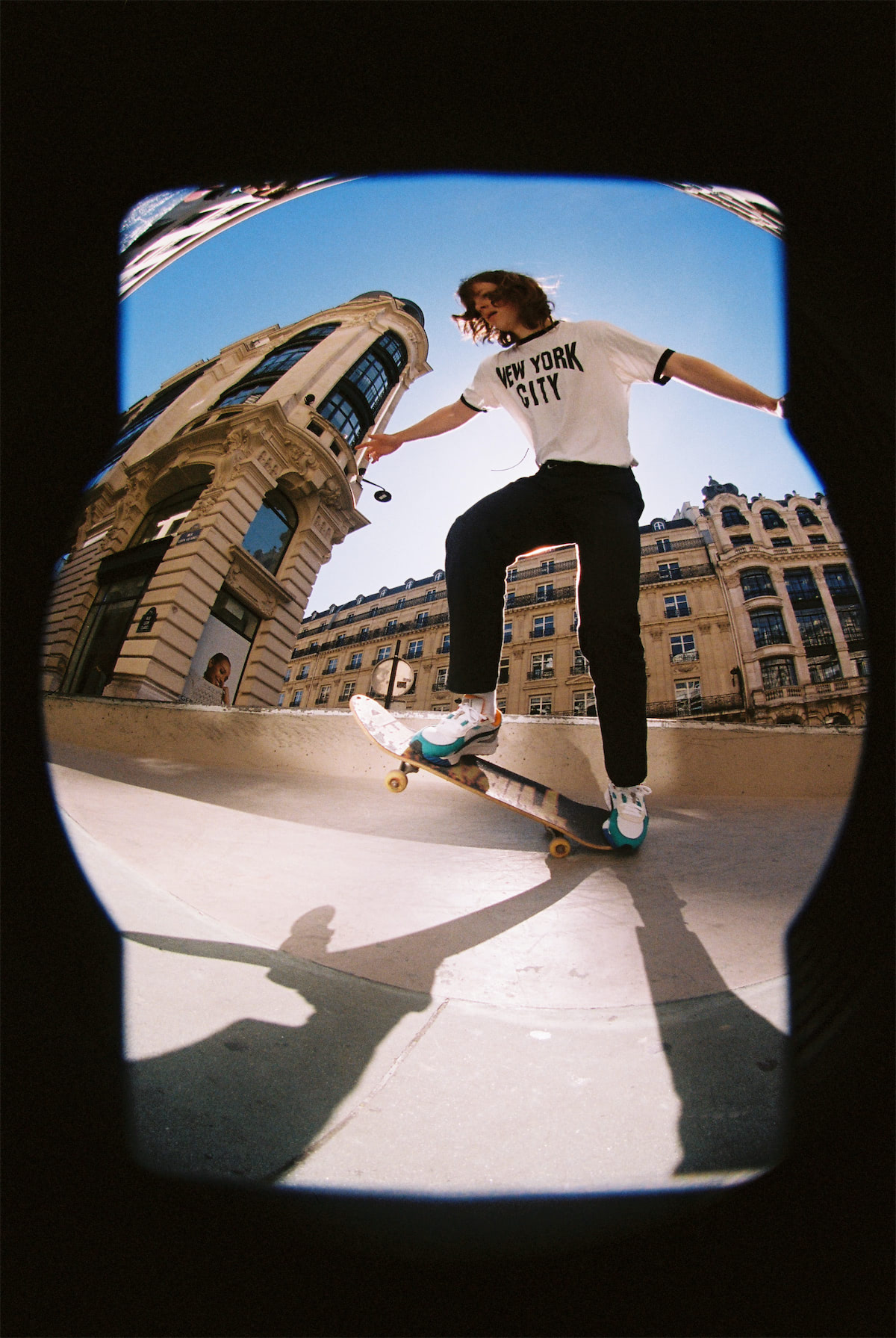 Paris is a story by itself
- Louis Mahe
Mahe has lived in the 18th arrondissement in Paris for three years. He says something tourists might not necessarily notice are the hidden gardens and secret places along Avenue Junot. "Those spots bring you back straight to the old Paris, the Paris of the painters from the beginning of the 20th century." About a fifteen minute walk from his place are antiquities art dealers, selling artifacts from a bygone era. "They are unfortunately one by one disappearing," he says.
During the pandemic, Mahe's neighborhood has gone quiet. "Usually it's always a mess," he says, due to a popular market. In the city with its emptier streets, Mahe photographed the locals who have stuck around in the city: a local barber, or skaters taking advantage of the open space. It's an unfamiliar view of a usually-crowded Paris, which is at once eerie, melancholic, and irreverent, evocative of long mornings stretched into afternoons spent with close friends who are also killing time. In the background are the facades of Paris' architecture, itself a remnant of past times, as a reminder that this time, too, will pass, and the city will still be here.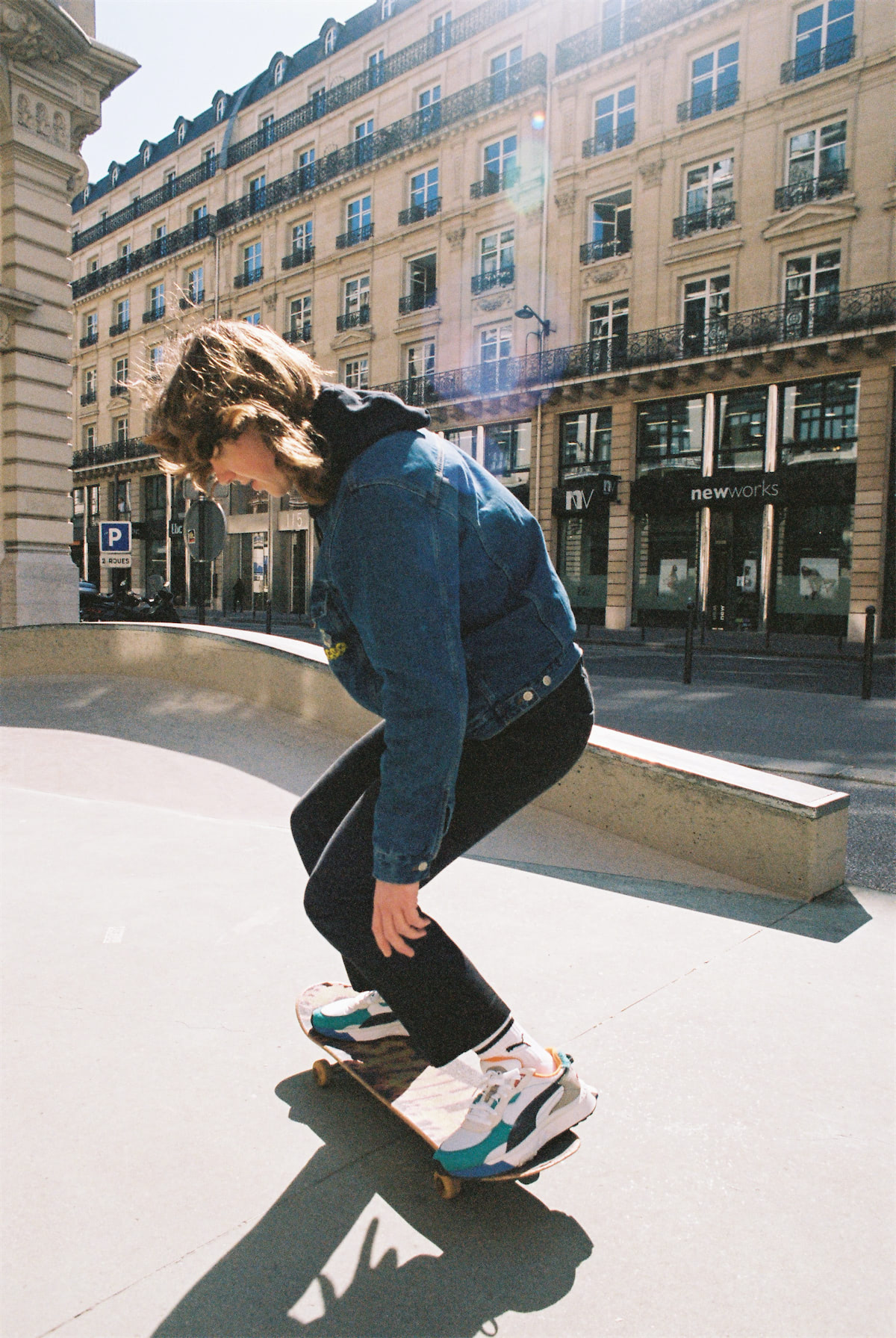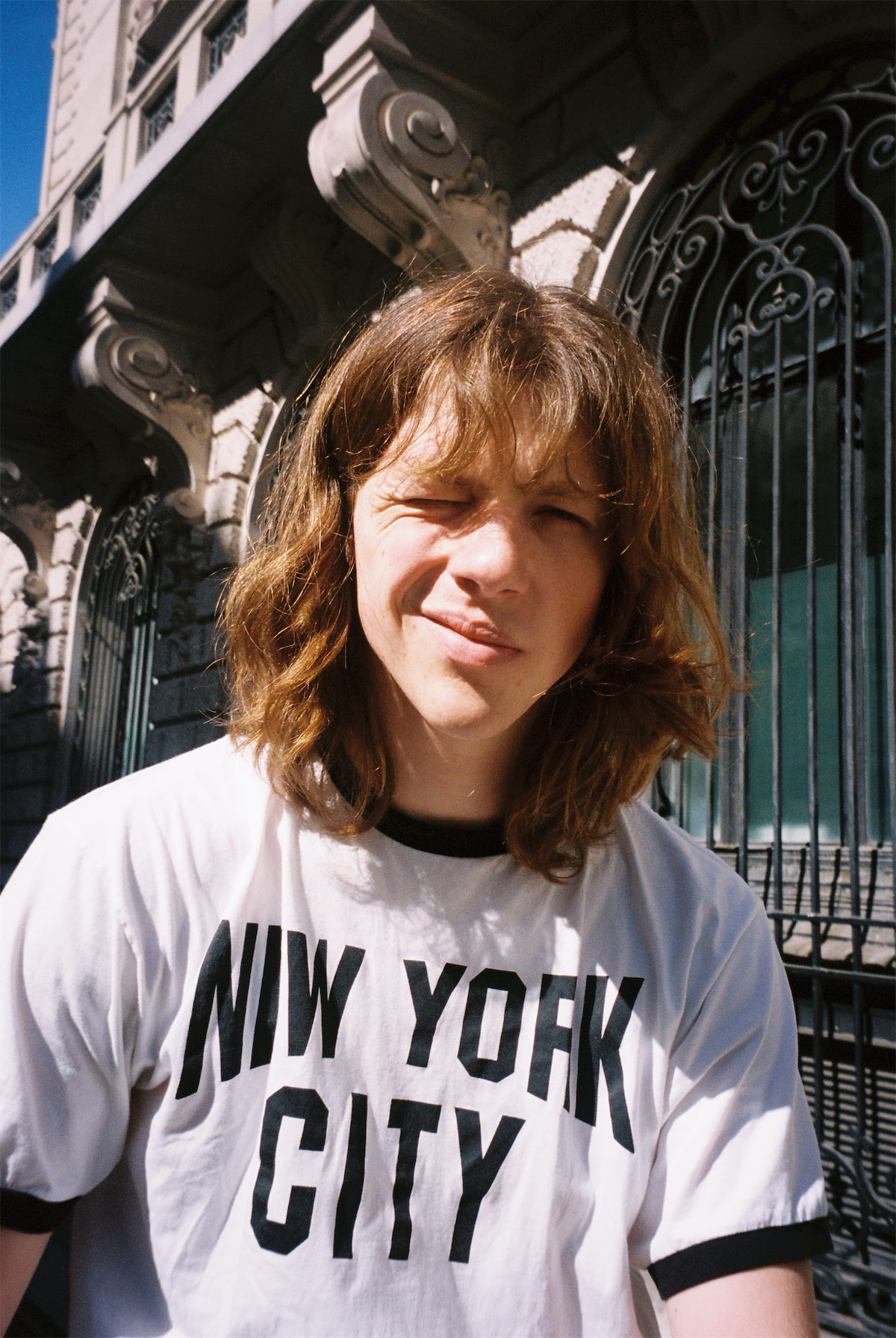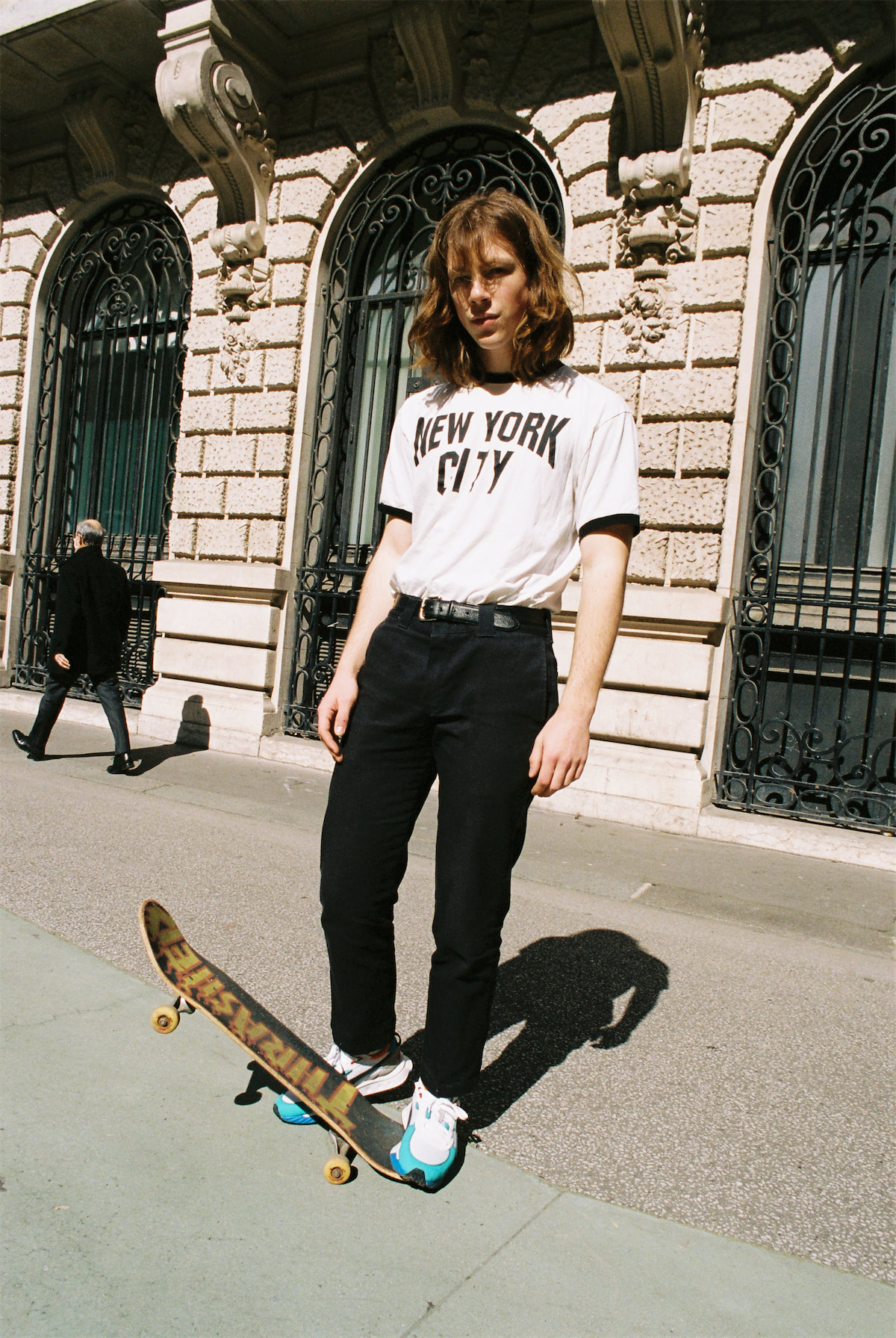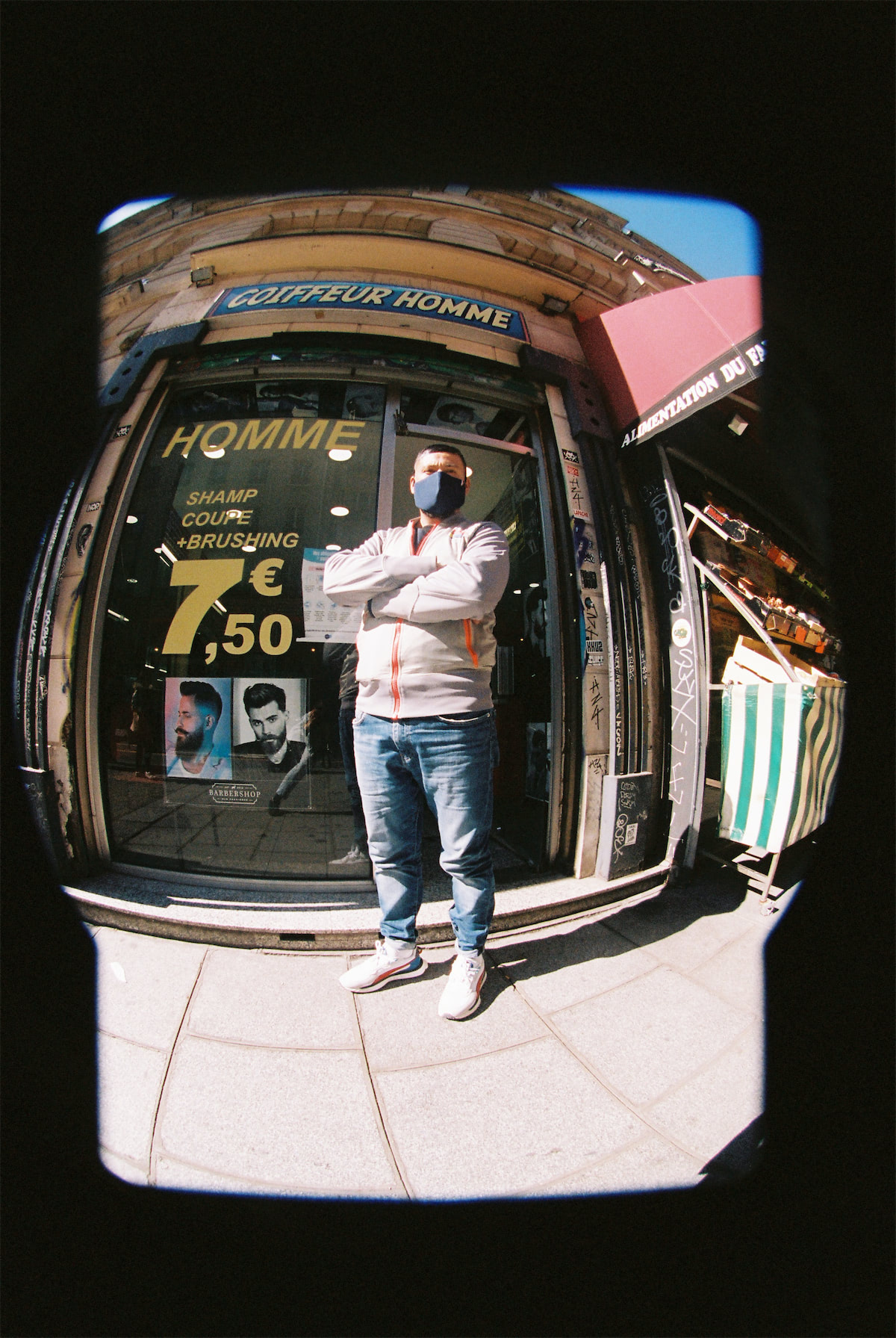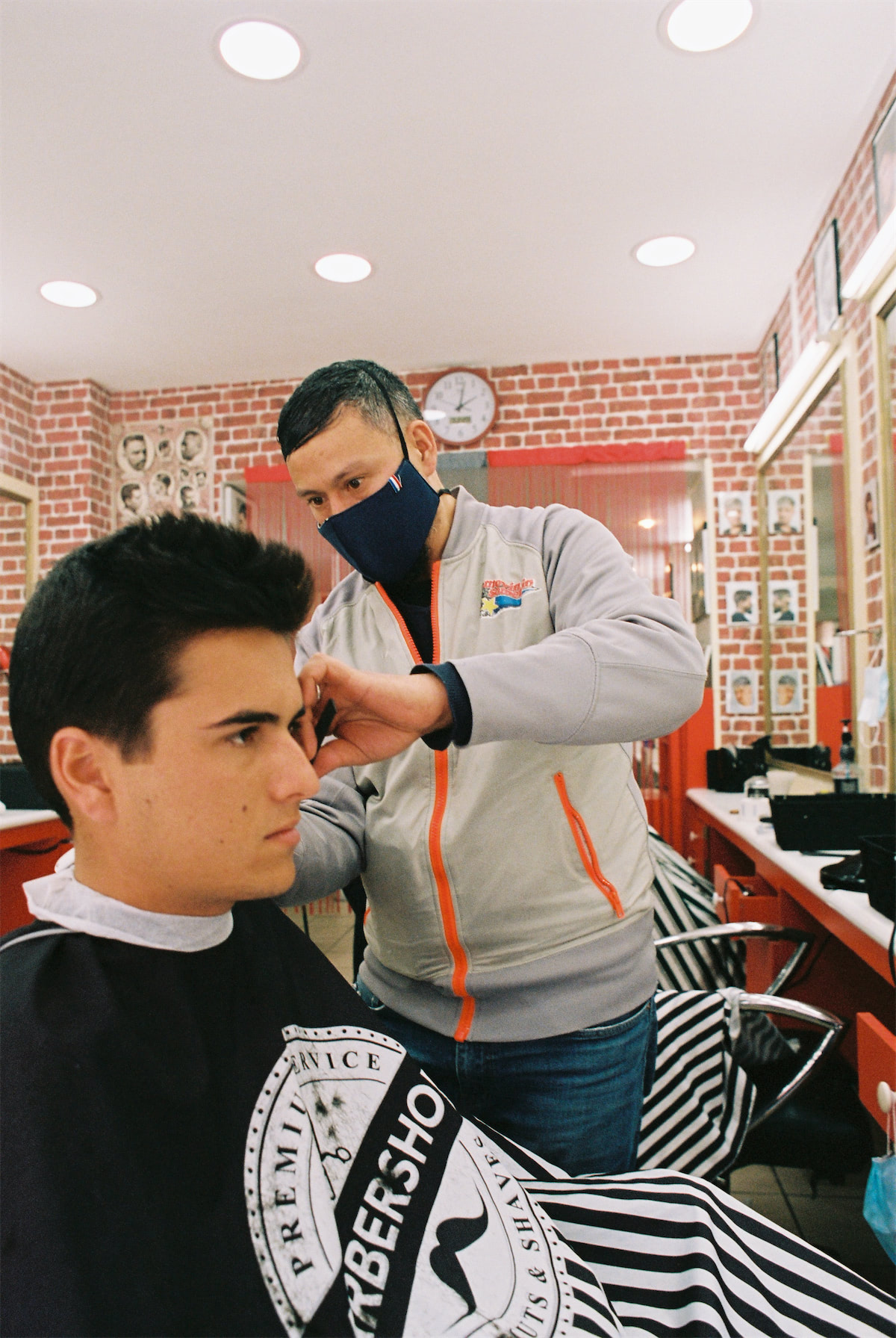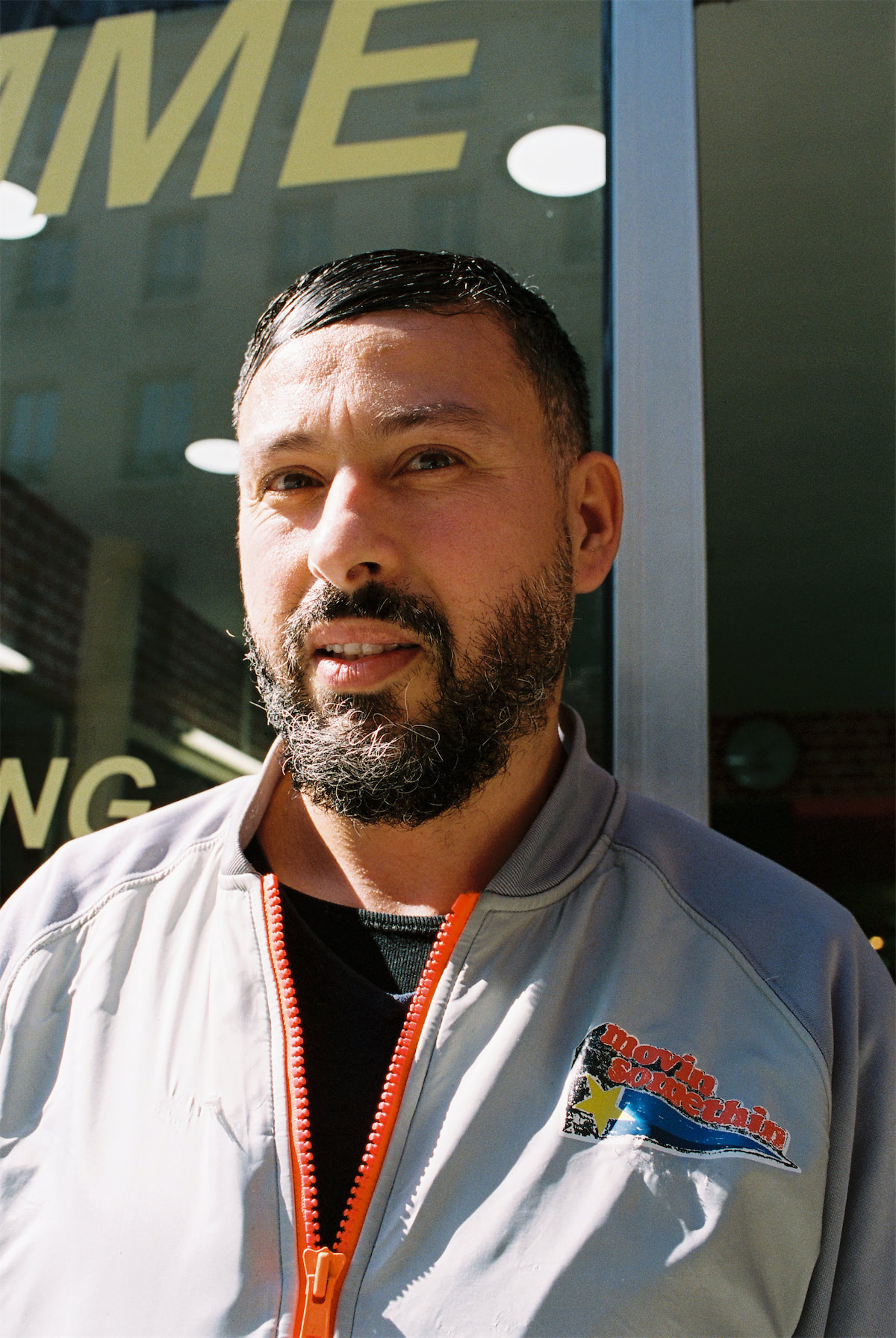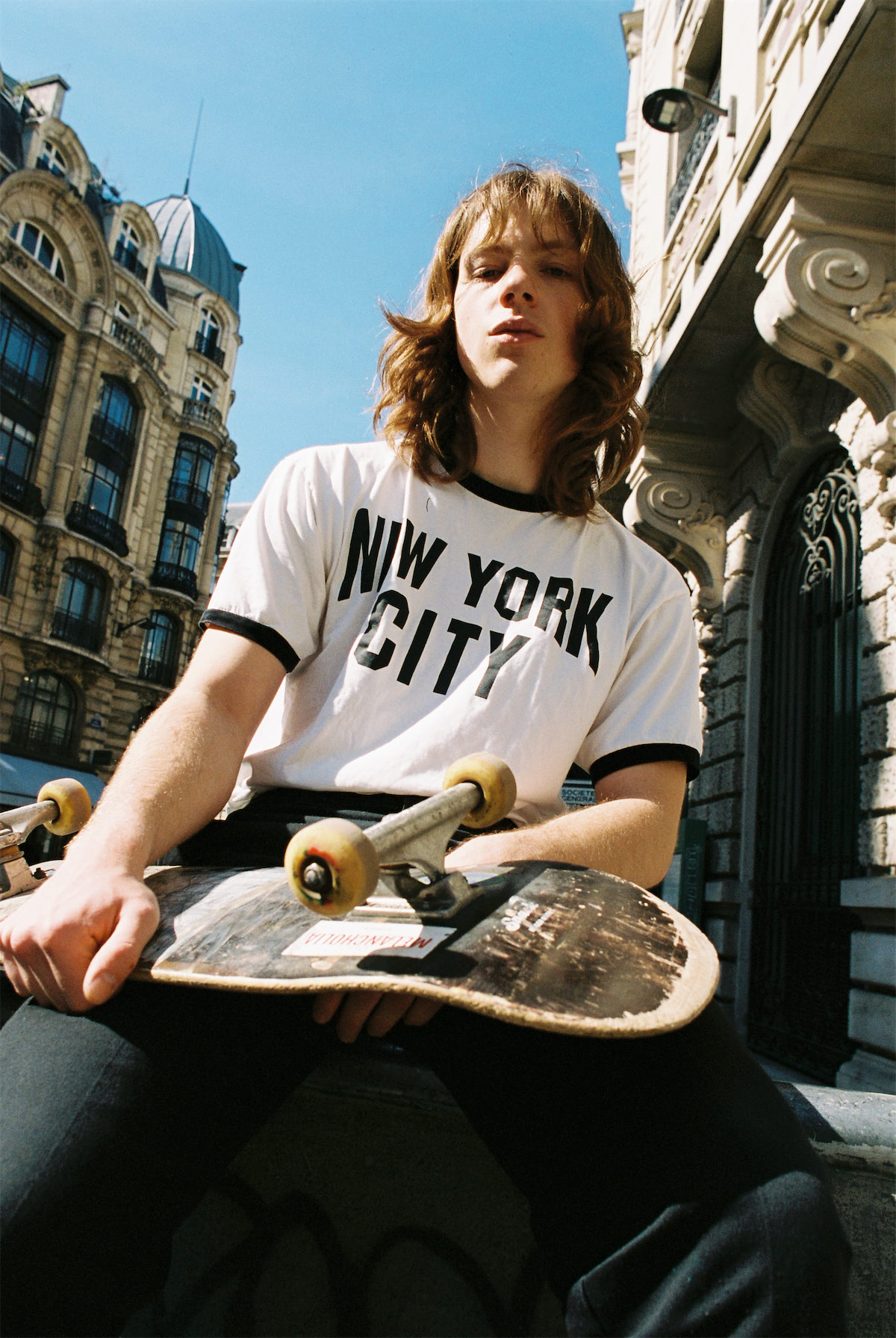 STEFFEN GRAP - PUMA WILD RIDER IN BERLIN
The skate community in Berlin is deep and tight-knit. "Rough and honest, but with a lot of heart!" describes Steffen Grap, whose photography documents the local scene on his website and Instagram account. He likes to skate around the park by Pappelplatz in Mitte and meet up with friends nearby at Civilist, perhaps one of the city's last fashion boutiques where people hang out just to hang out. In Grap's pocket of the city, everybody knows each other, from the skaters in the scene to the owners of the Späti across the street, where people grab beers to drink out in the park.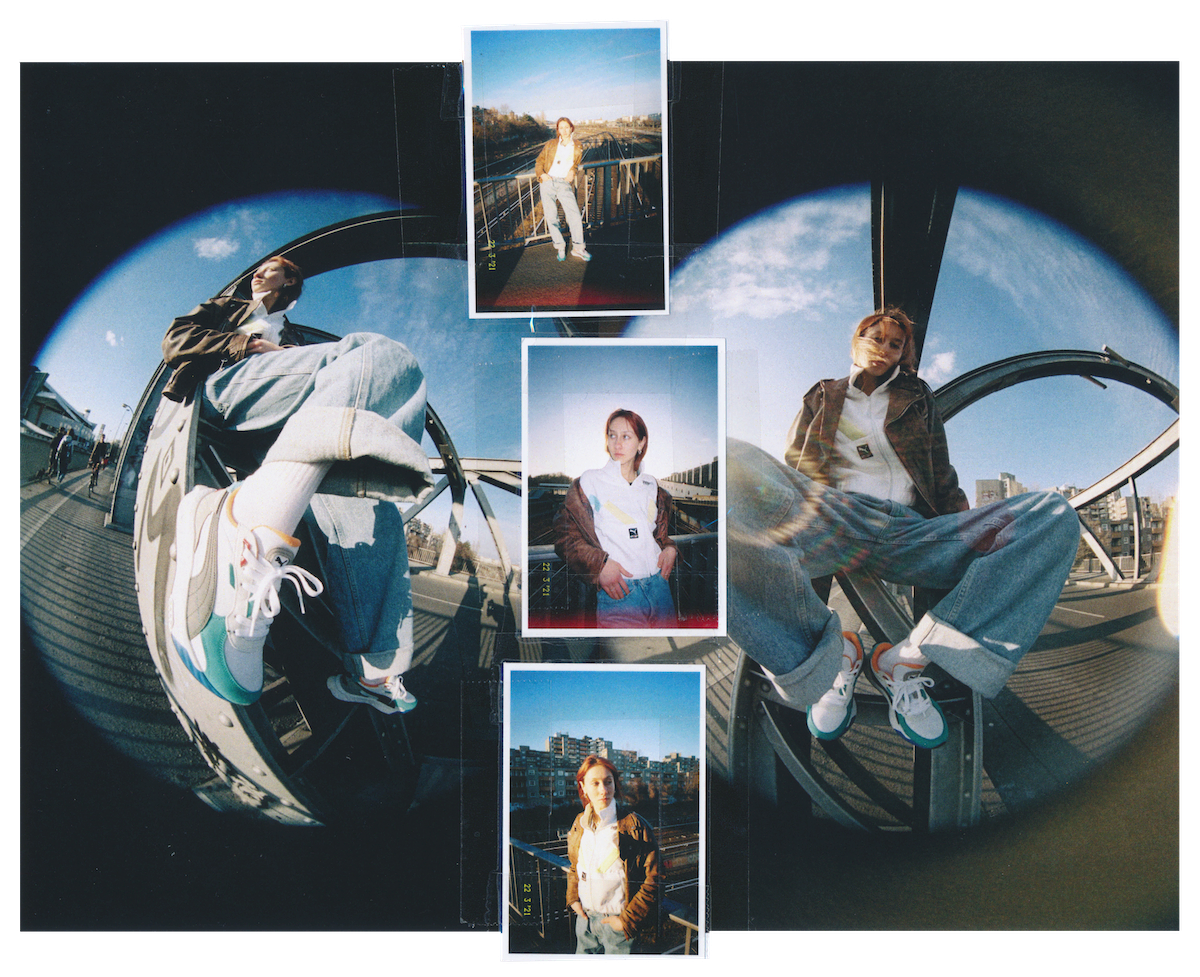 Born and raised in Berlin, Grap describes the city as the "high life on a low budget." This also makes Berlin one of the fastest gentrifying capitals in Europe, attracting newcomers romanced by the city's cheap rents and candy summers. Grap's neighborhood Wedding, where he's lived for a year and a half, is one of the last neighborhoods to be recently dubbed "up and coming" by real estate agents in recent years. "There are more and more people moving here from all over the world," he says, "which is really really great but at the same time rises the prices for flats a looooot…"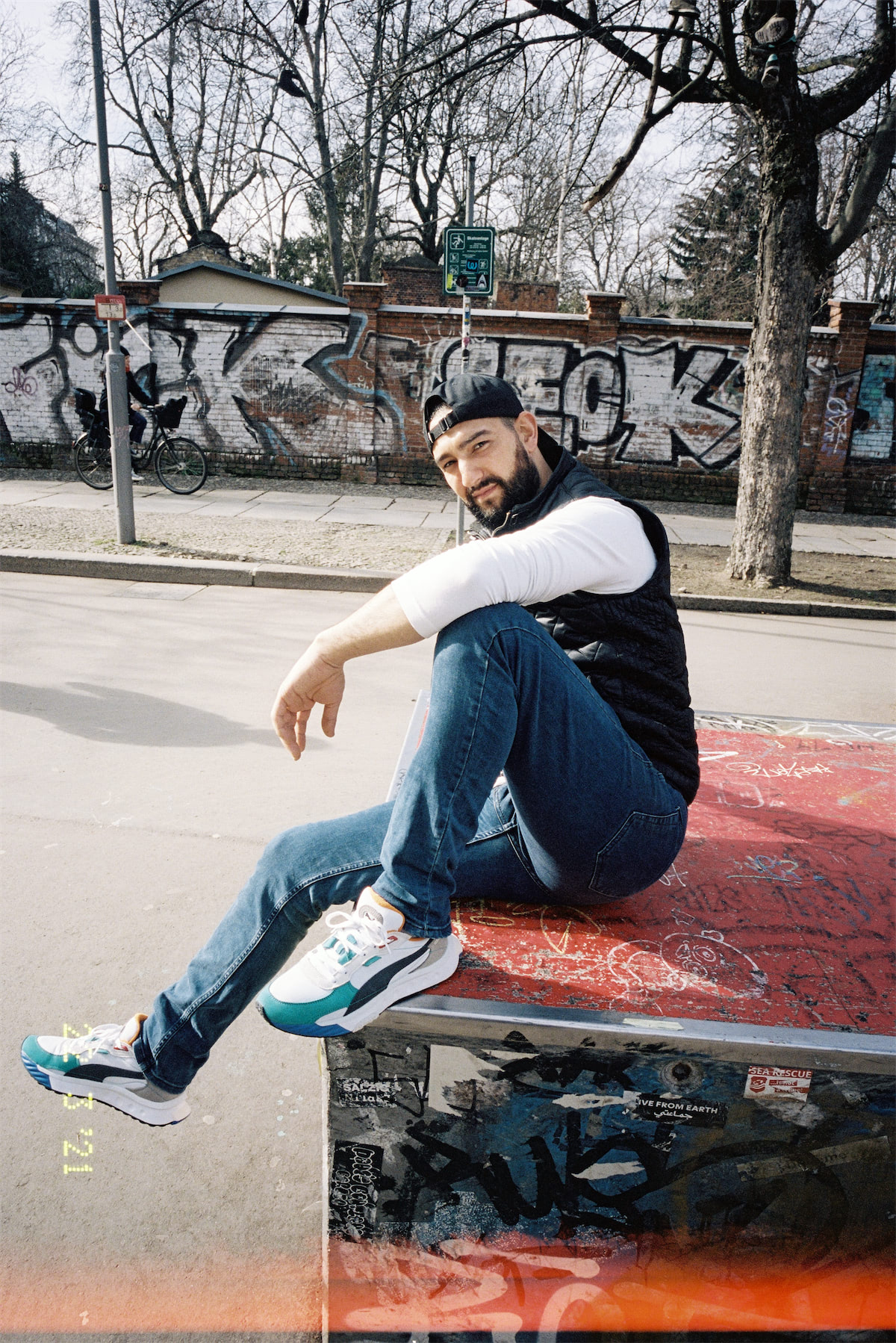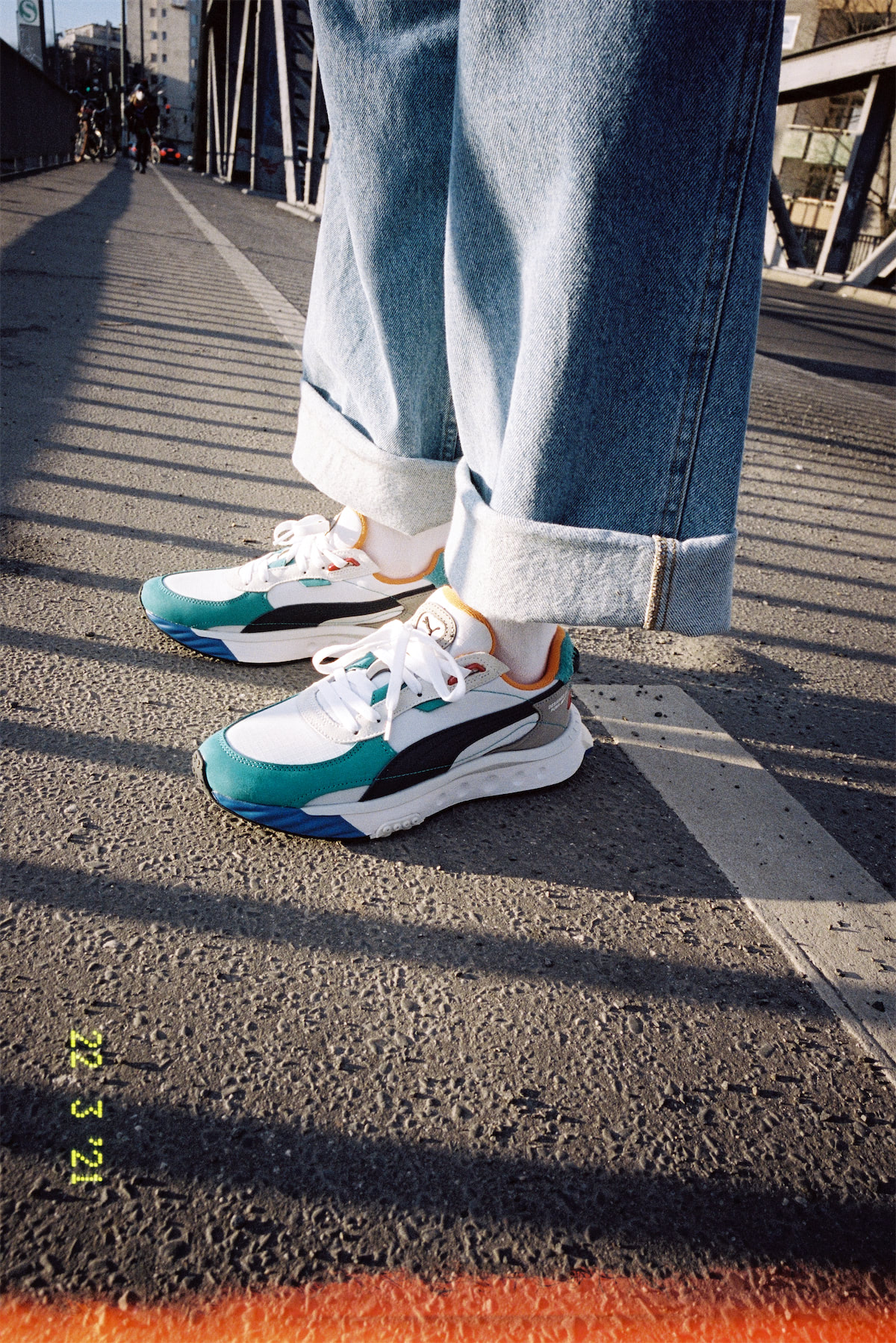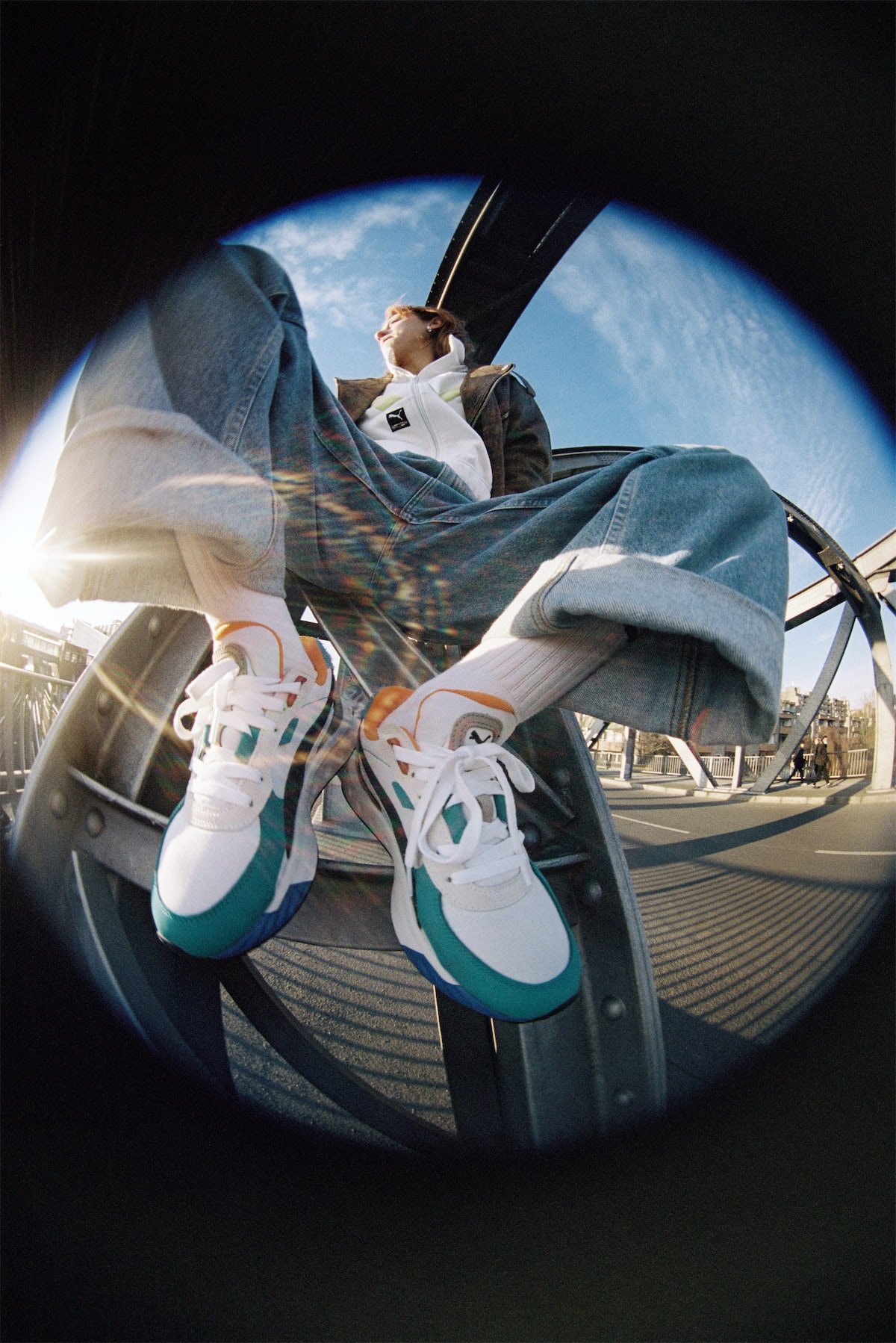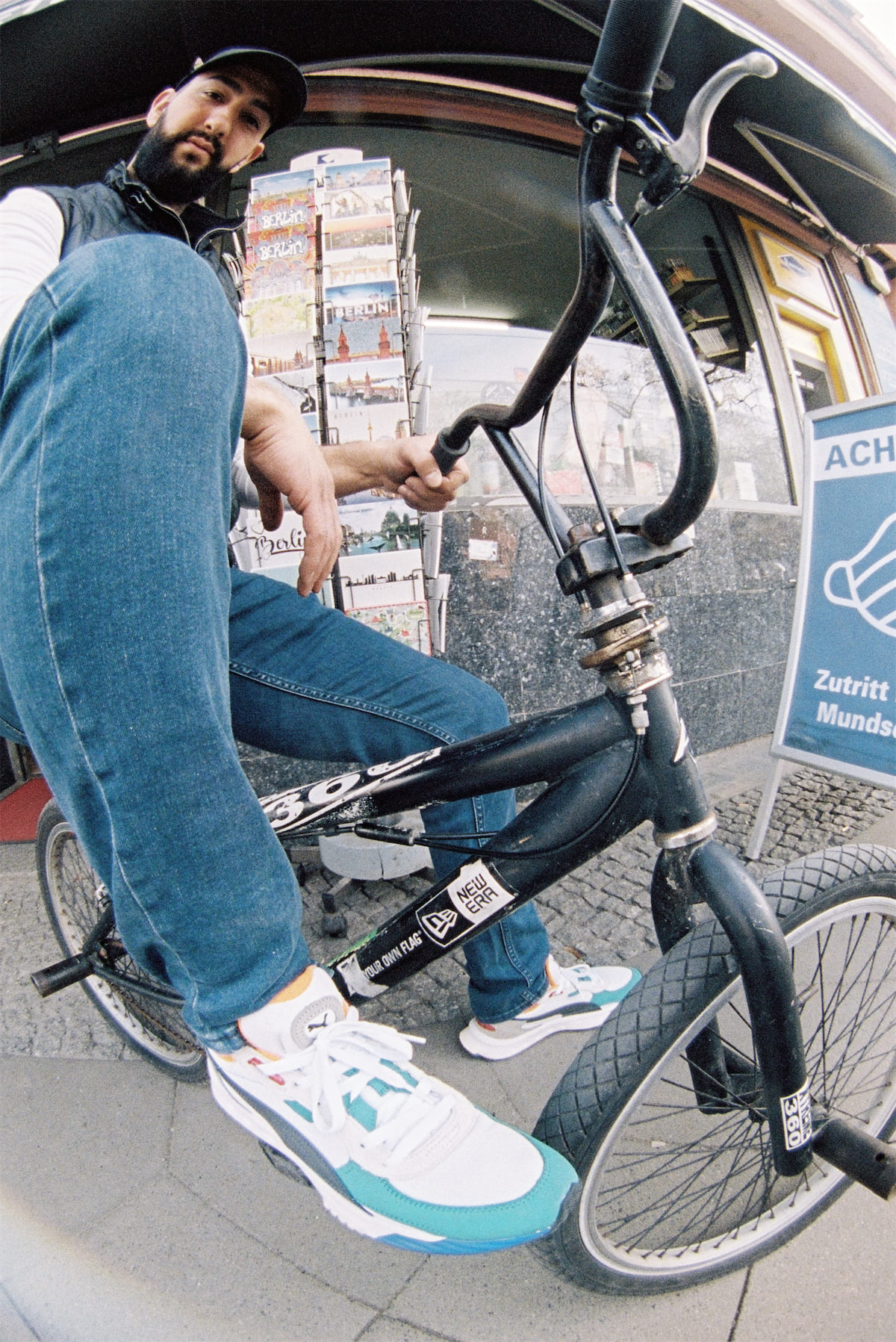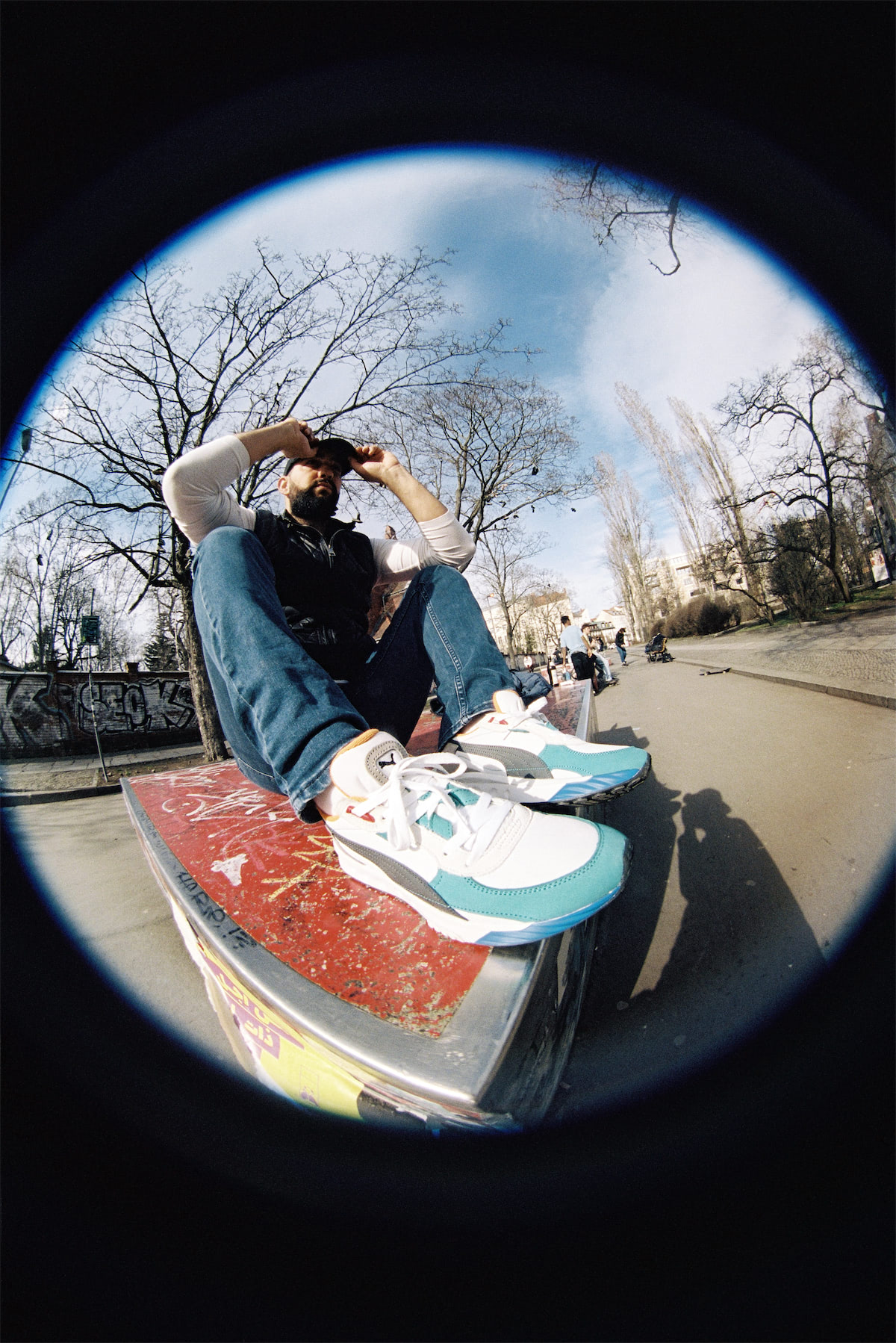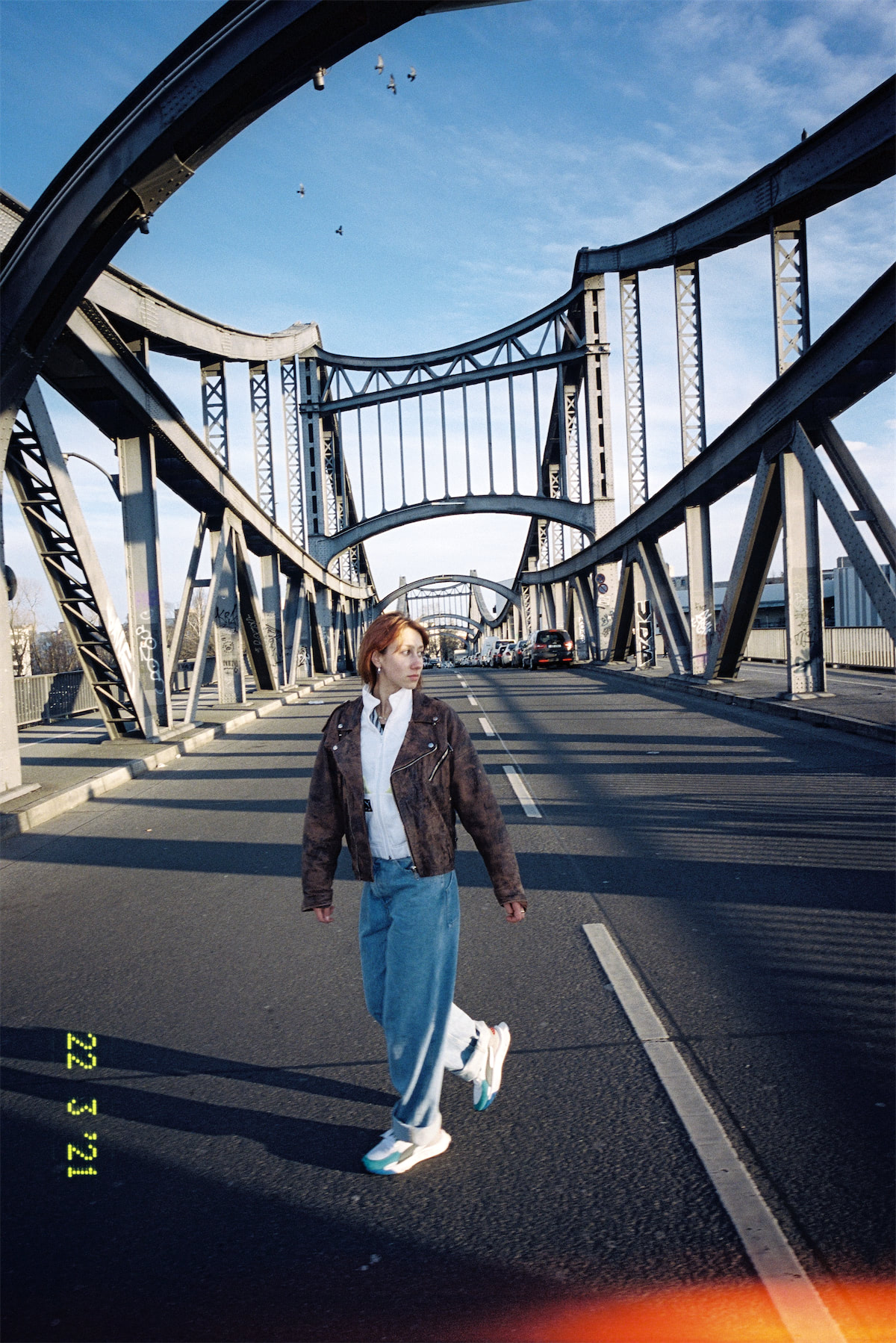 During the pandemic for sure it's harder to give output or do certain things but we still try to be as productive as possible
- Steffen Grap
Grap's photographs for this project shoe an eerily empty Berlin, with local heroes who mean something in the community: the owner of the 7 Himmel shop in Mitte, or Steffen's girlfriend Karo Rose, with whom he co-runs the clothing brand Champagne Towers. It enjoys local support because, even more than just being a brand, it's an aesthetic that has organically emerged from the community, tacitly representing the scene. "Everyone is kinda doing something of their own, and we try to work as much as possible together or support each other. During the pandemic for sure it's harder to give output or do certain things but we still try to be as productive as possible," he says. Which is a sign that, even under stress, the scene still knows how to thrive.
PAVEL GOLIK - PUMA WILD RIDER IN MILAN
Milan, one of the world's fashion capitals, initially drew Pavel Golik to study engineering, though his hobby, taking photos, led him to work, unexpectedly, in fashion photography. Growing up in Siberia, he wasn't exposed to much fashion photography. Historically, Russians had been excluded from the mainstream fashion world. "For almost 70 years, during the Soviet time, we were separated from the rest of the world not only physically but also mentally. And as fashion and photography were basically only introduced in the 20th century, we were never really part of it," he says. Yet being the first generation to come of age in post-soviet Russia meant being generation zero of a new crop of Eastern European fashion makers—like Demna Gvesalia, or Gosha Rubchinskiy—who would go on to influence mainstream fashion irrefutably. "And I am really excited about this," Golik says.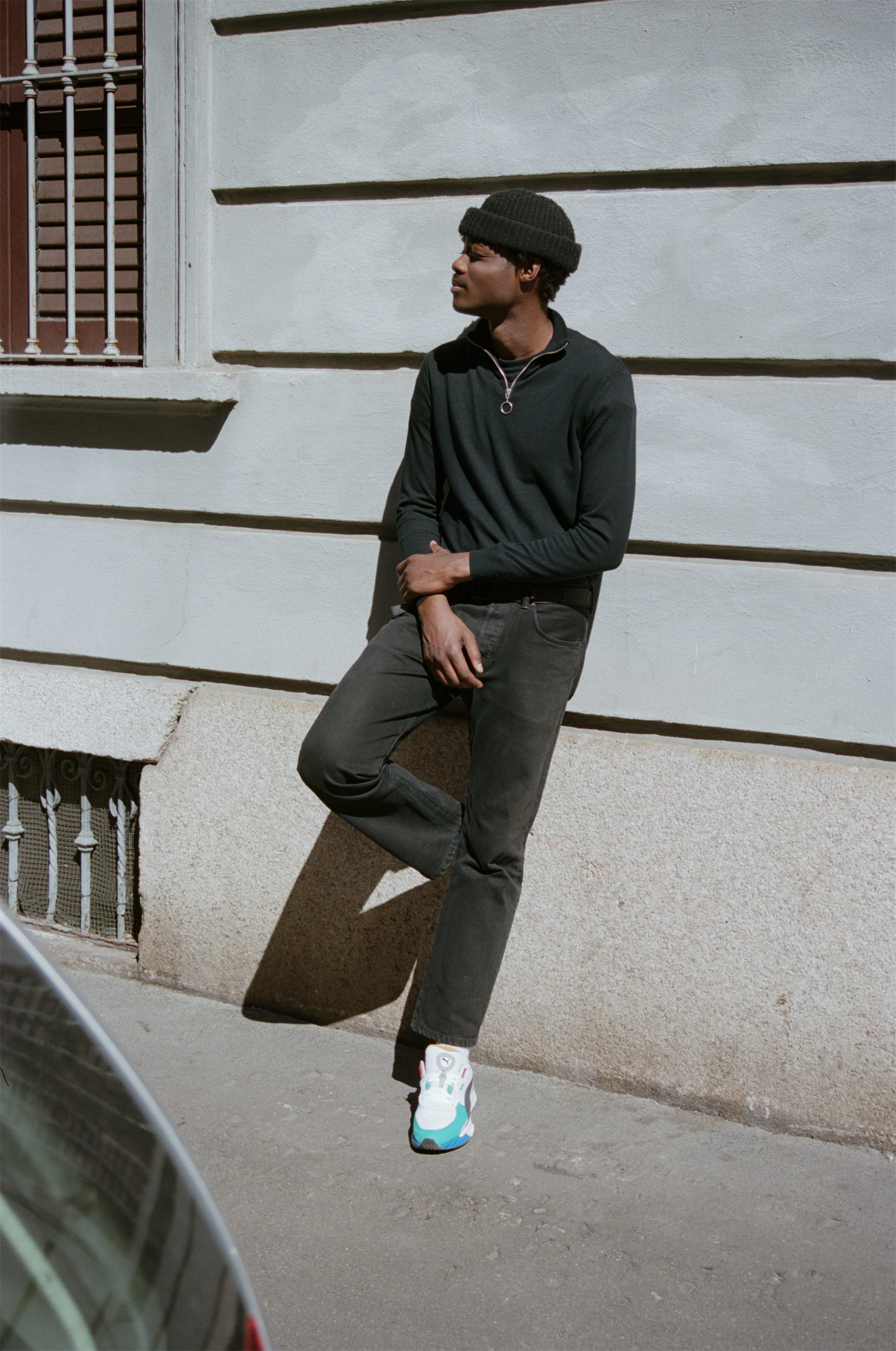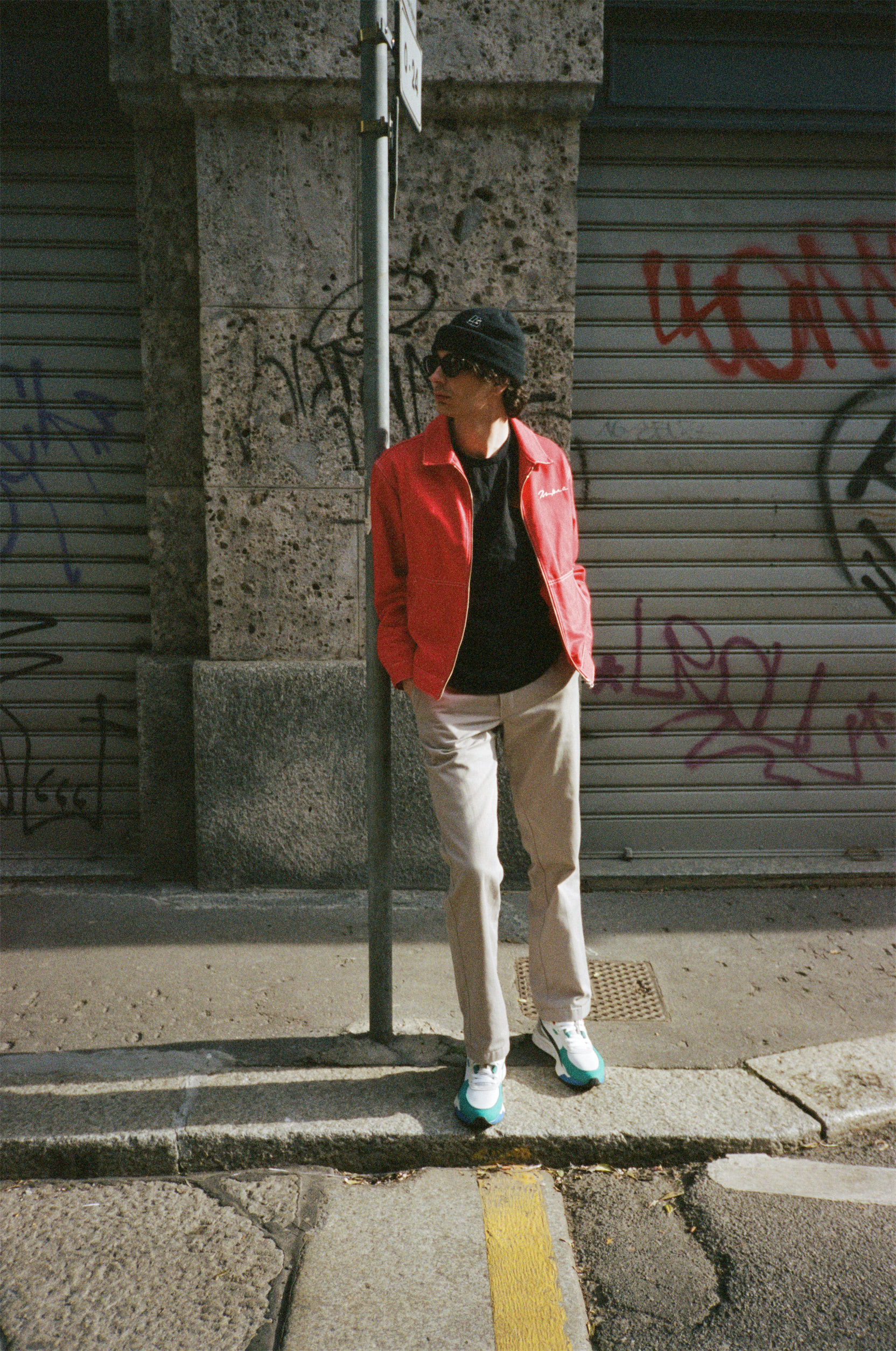 In Milan, Golik went on to sign with 2DM Management and worked with clients like Off White, Gucci, Vogue IT, and Vogue Russia. As an immigrant, his outsider status has given him a critical perspective on mainstream fashion photography's status quo. "In my opinion, there are currently too many shoots in magazines that not only have no soul but are made just for the sake of creating another fashion story," he says. For this shoot, he hoped to propose a corrective—telling real stories with real people. "I had a chance to photograph the people I like in their own clothing, which represents their own style."
I had a chance to photograph the people I like in their own clothing, which represents their own style.
- Pavel Golik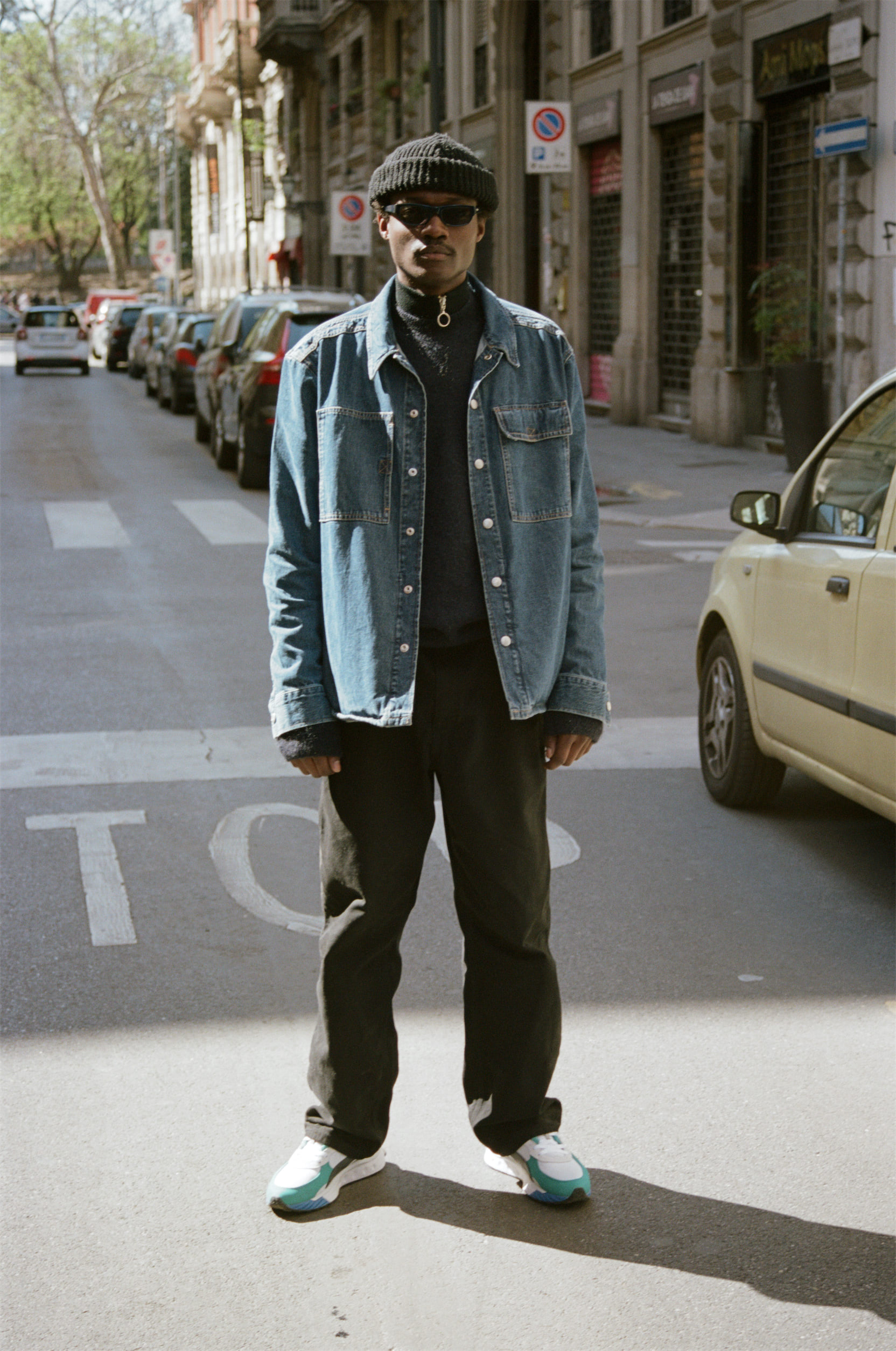 Golik's photos capture Milan in what he sees as a pivotal moment of change, as the family-owned shops and restaurants which Italy is famous for are the hardest hit during the pandemic. "It is hard for them to pay such a big rent without having proper incomes for almost a year. Economically, if you have a chain, it is much easier to distribute costs. But of course, these locations are soulless compared to local places."
But even as the city is one of the most devastated by the pandemic in Europe, the emptiness has led to an unusual melancholia in places that are usually teeming with tourists and commerce. Since lockdown, Pavel Golik has mostly stayed in Milan's Missori neighborhood, where he has lived now for almost two years. It's the historic center of Milan which has been uncharacteristically private these days. Early in the morning, he takes his coffee at emptied local bars in front of the Duomo nearby. After work, he's taken to discovering the area alone at dusk, frequenting local spots like Tutti Fritti and Jazzisti bar, some of the only places still open—a new kind of intimacy that might not be possible once the pandemic is over. "I really enjoy these moments." he says.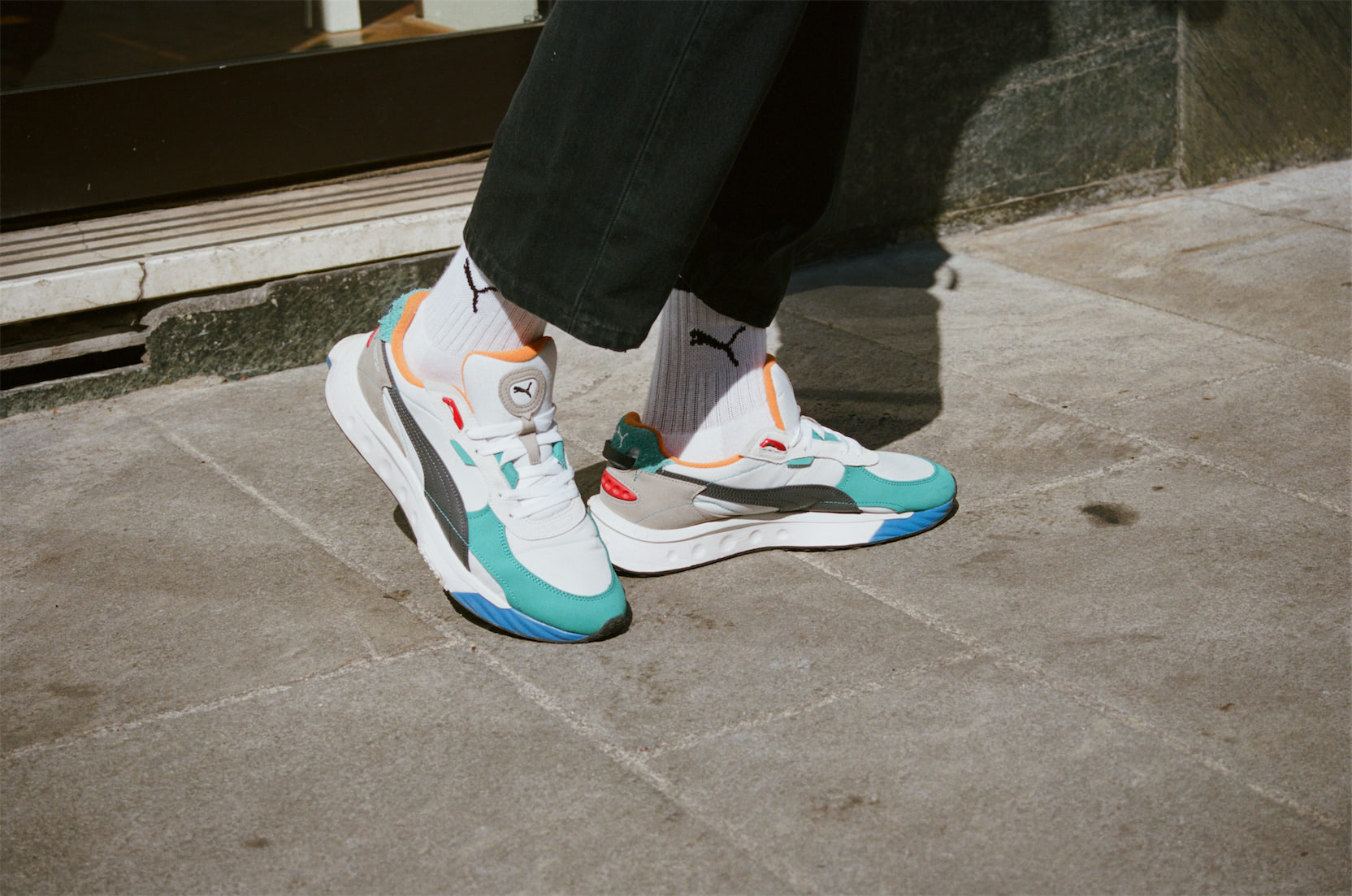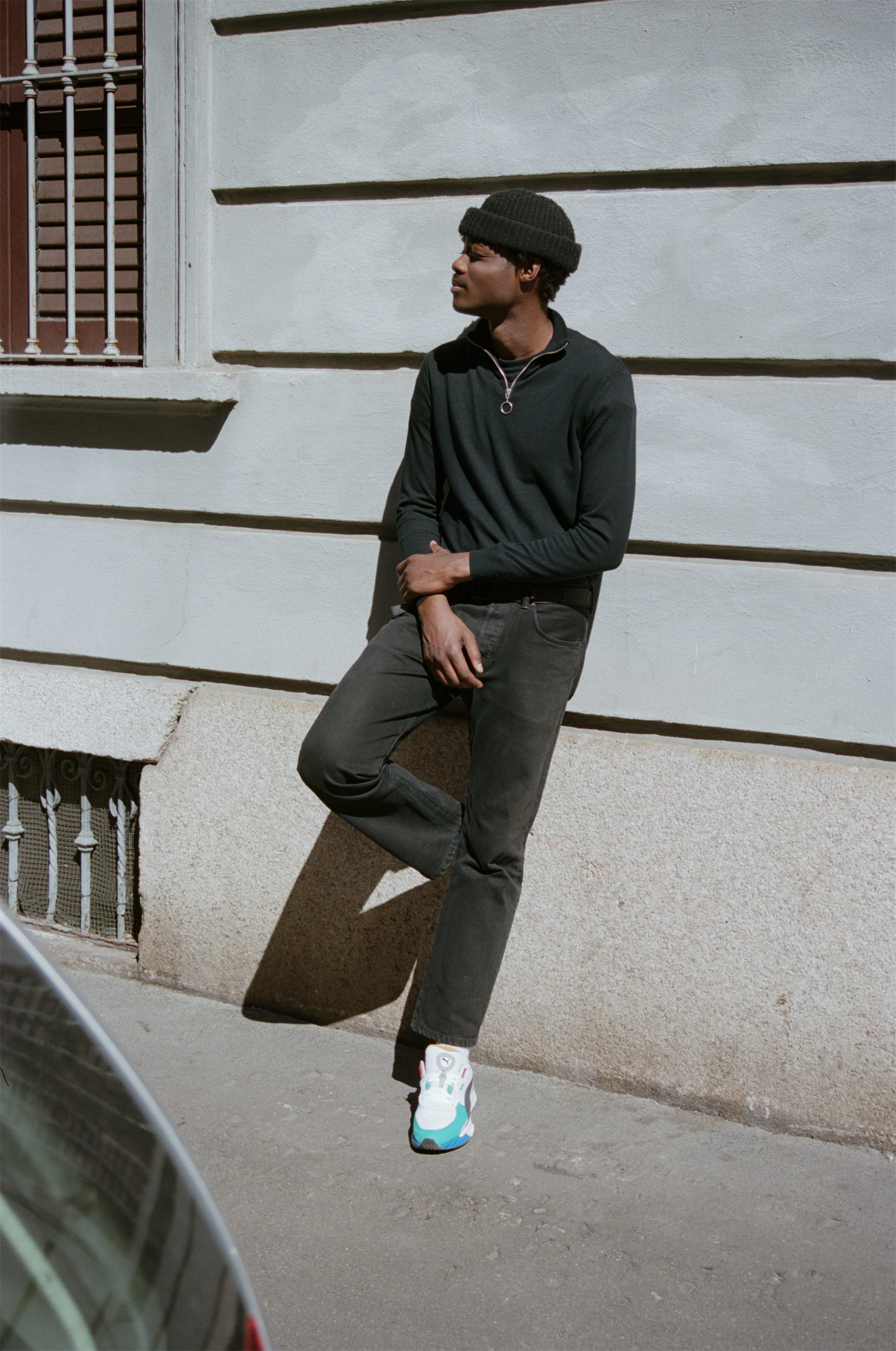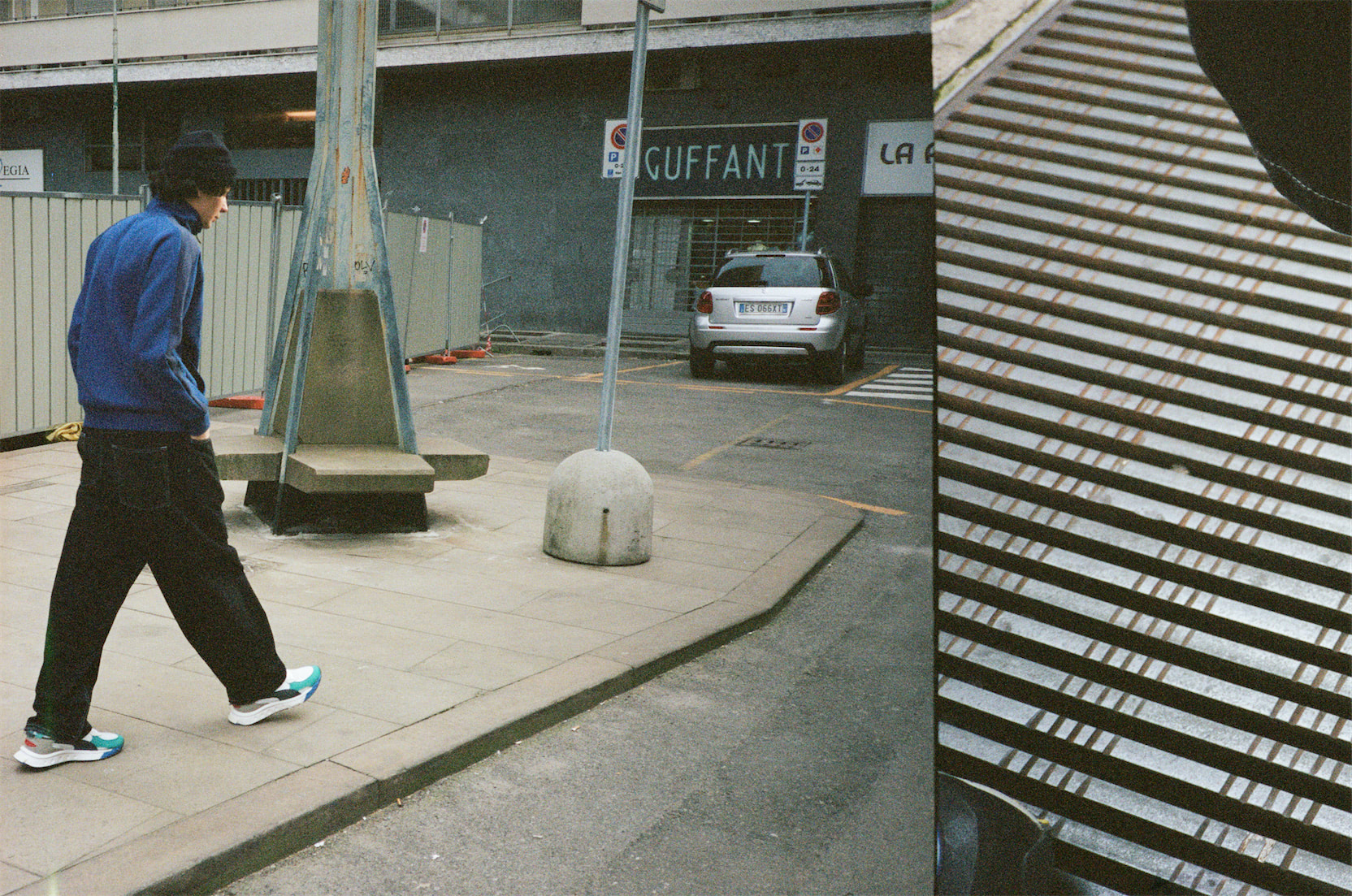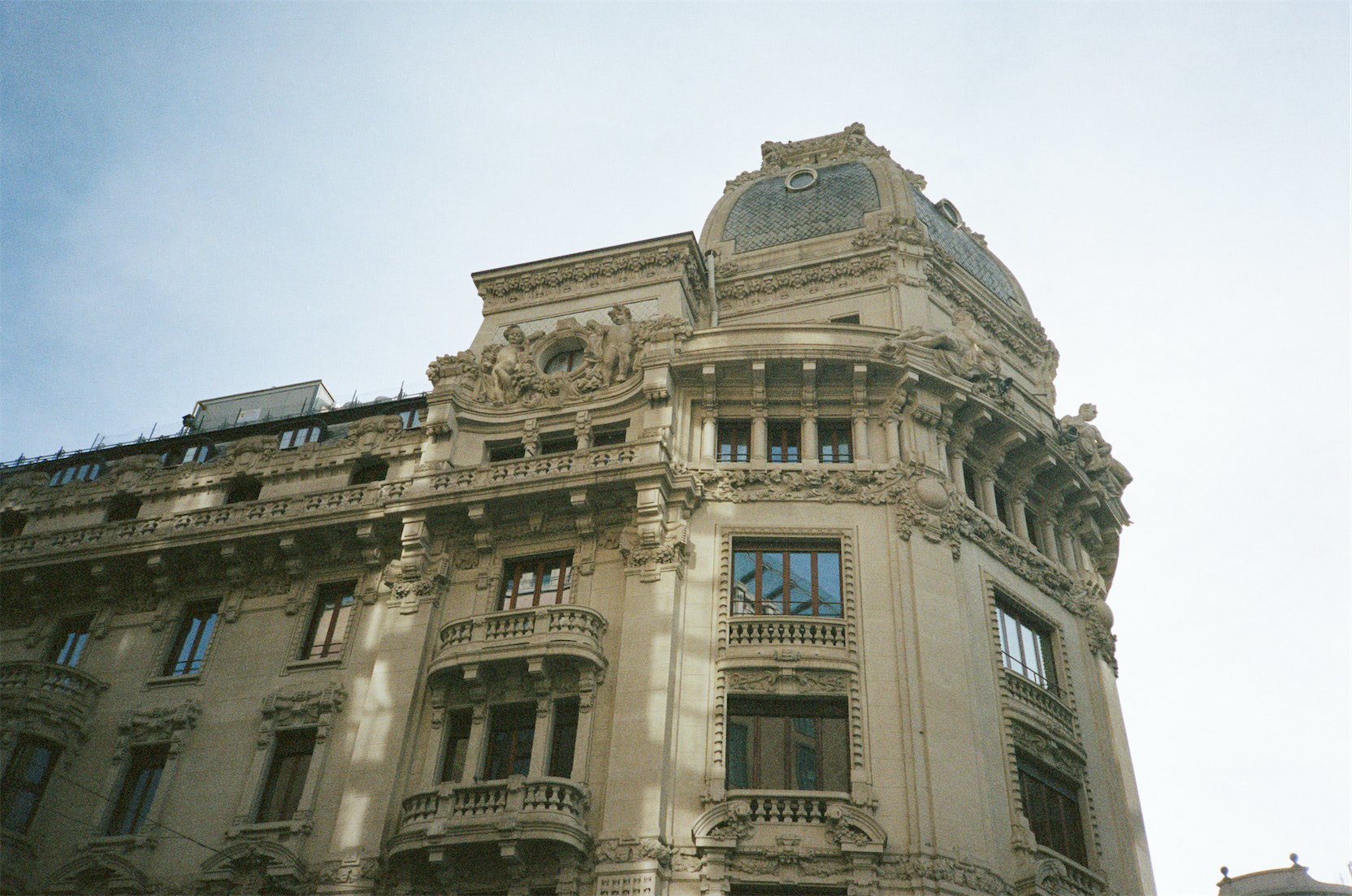 JULIA MARINO - PUMA WILD RIDER IN AMSTERDAM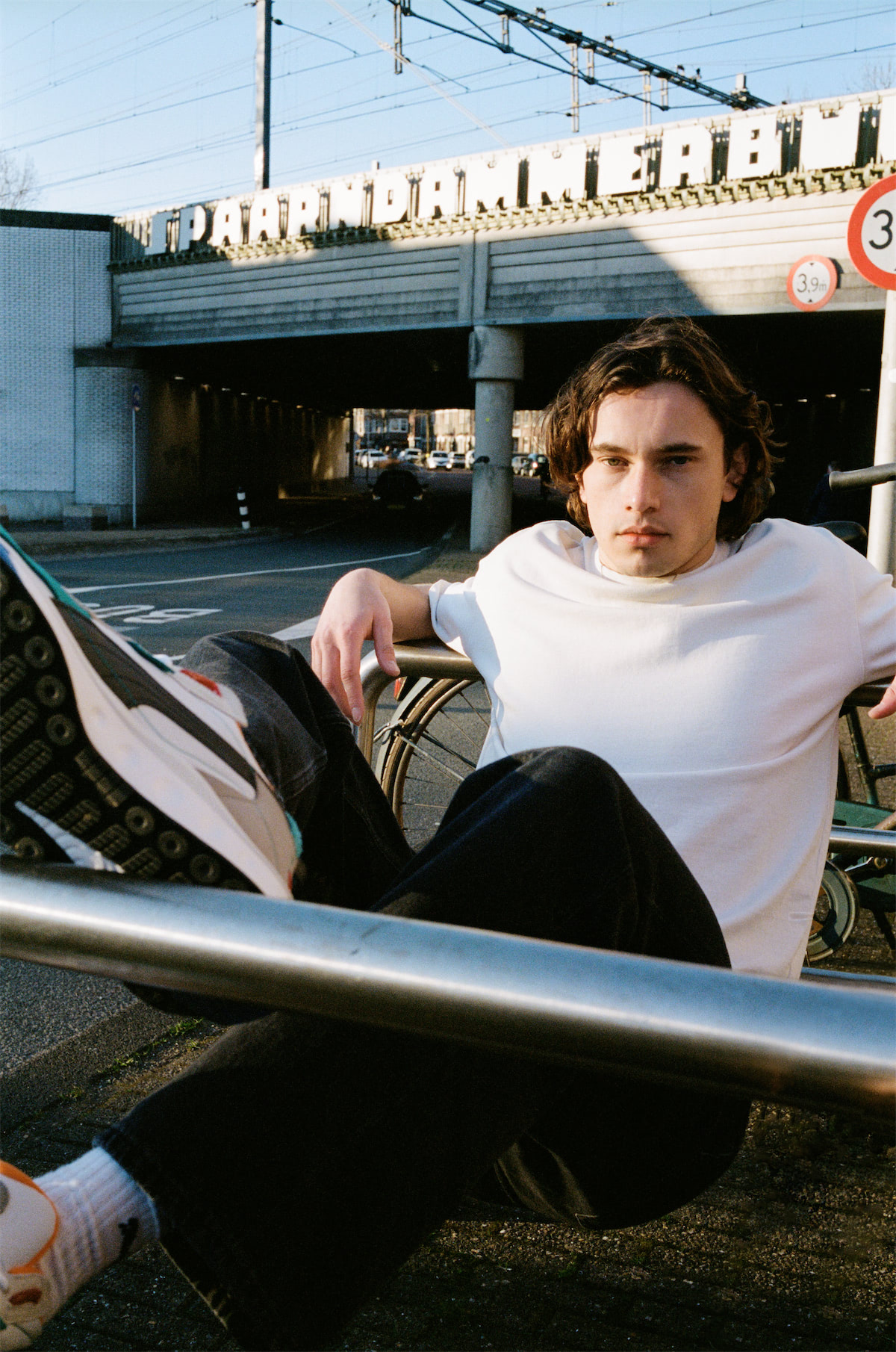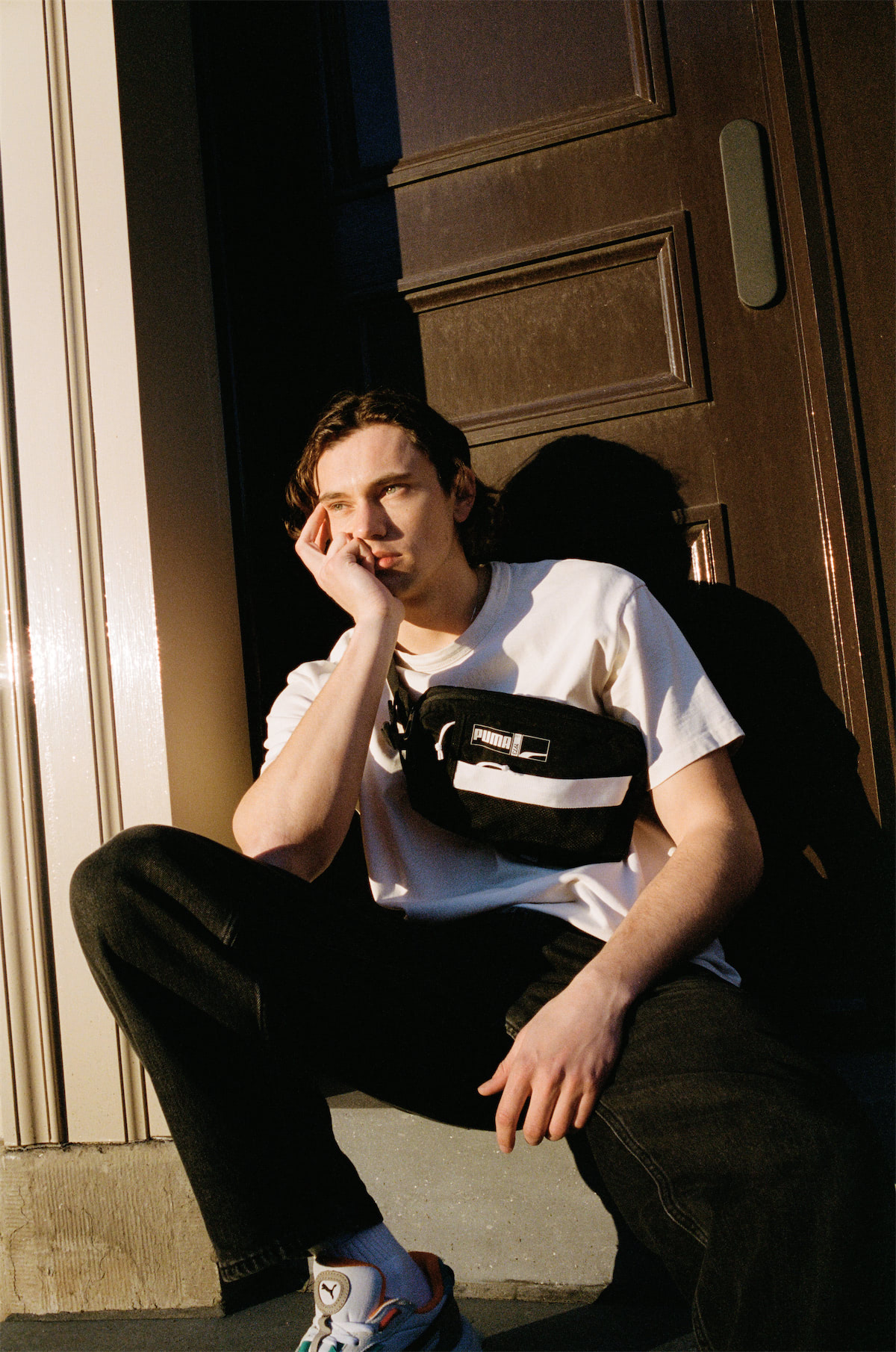 Compared to London or Paris, Amsterdam is a small capital city—"a smaller city, with less people, which results in the fact that a lot more people know each other," says Julia Marino. She's lived in the city for a little over two years, half of which was spent during lockdown. Coming from a small town, Amsterdam, in a more intimate mode, appealed to her. During the first wave last summer, people were able to play ball on the tram tracks, where trains weren't running. She noticed people being friendlier to one another. "And people are sitting outside, in front of their houses so more often, I love that. I feel like the city regained its true sophisticated and friendly character during the lockdown."
I feel like the city regained its true sophisticated and friendly character during the lockdown
- Julia Marino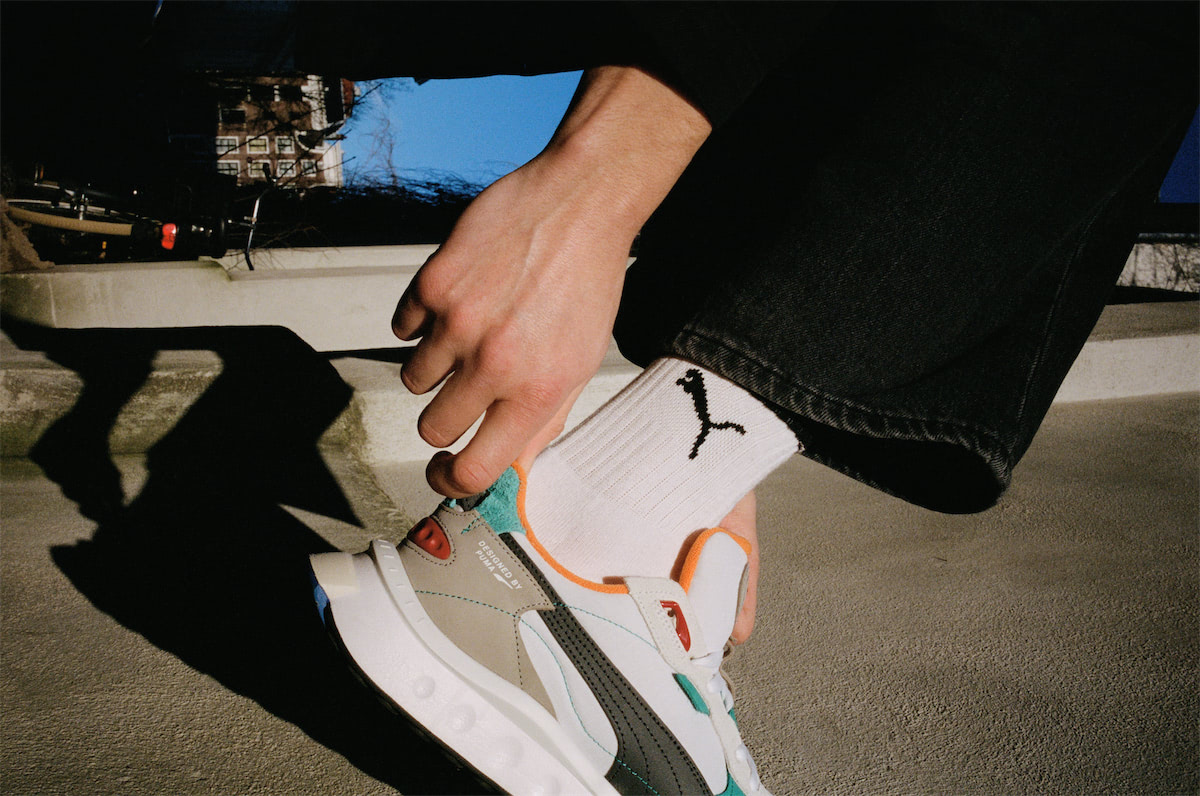 Byoungsung, whom Marino photographed for this project, is someone she met during the pandemic. They were first introduced by her downstairs neighbors, who told her about his work. "He is a very smart and optimistic person, which you can tell in the first two minutes you meet him." Since 2018, he has run his floral atelier Flower Loves Me in the heart of the historic center, where clients pick up weekly flowers. His arrangements take inspiration from cultures and design styles and sources locally-grown plants that represent a uniquely Amsterdam aesthetic. "His atelier is a great example for the sophisticated local spirit of Amsterdam: people taking a little extra care of themselves and their homes, especially in a time where a little extra in life is much needed."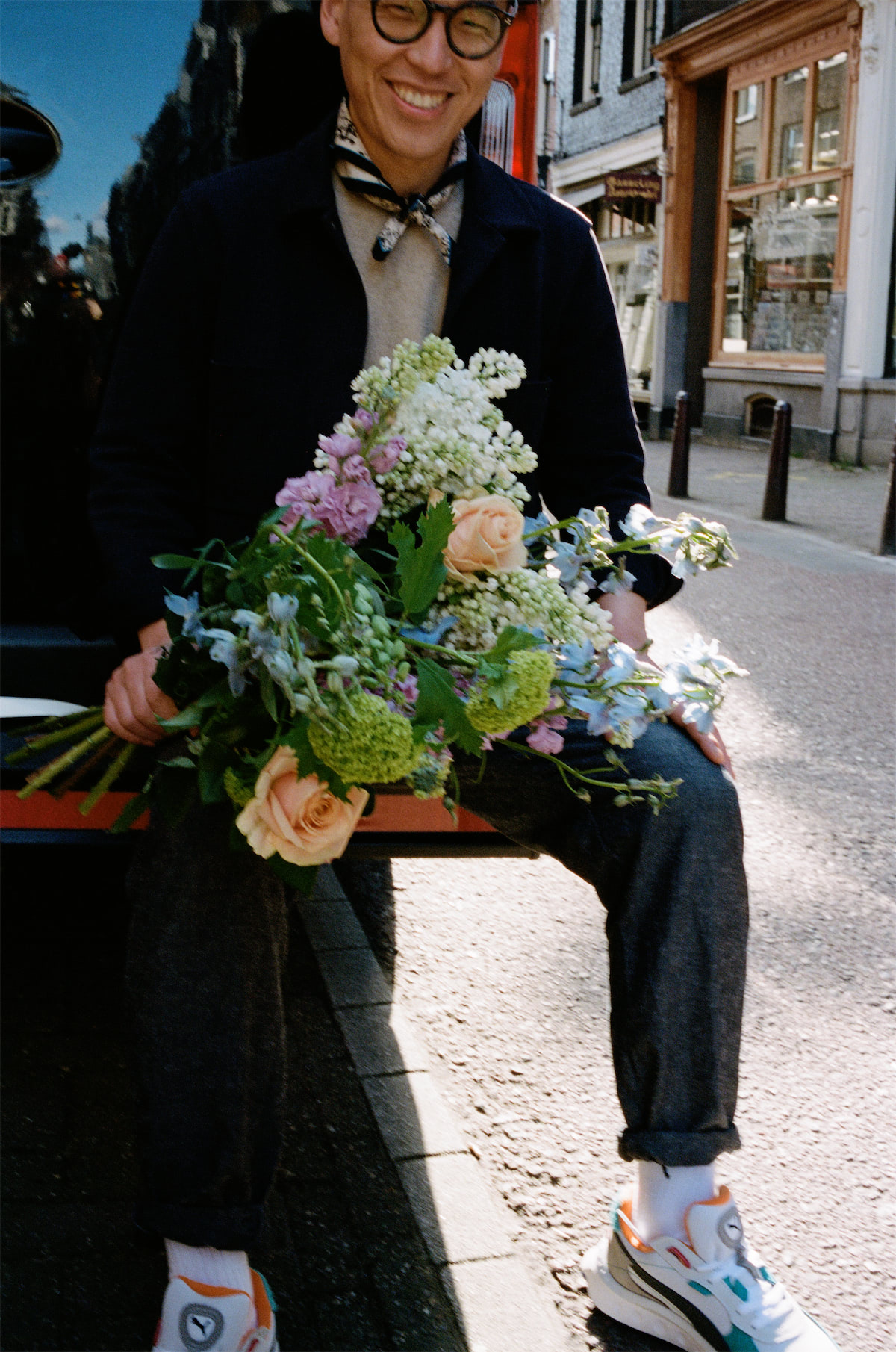 Photographing local life works in opposition to what Marino sees as a rise in globalization, which—due to the rise of virtual networks and technologies—smoothens a bland, generic aesthetic over what used to be local, idiosyncratic personalities. "Due to the rising house prices, homes are being bought by expats instead of Amsterdammers, causing the city to slowly lose its character. Luckily there are more initiatives, an example of which is that the government makes housing in certain neighborhoods only available for locals to buy."
For this project, Marino's photographs—with deserted streets, long shadows—captures Amsterdam in this unique moment in time, defined perhaps by what isn't seen, what would be present but no longer is. Regarding her photographs of empty sites of transportation, she speaks of how much she missed the busyness of it during pre-pandemic times. "Standing in between a crowd after a long workday with whom you share the feeling of looking forward to going home, it reminds you that you are not the center, and everyone around you is working as hard and is as busy as you are. It's inspiring to me."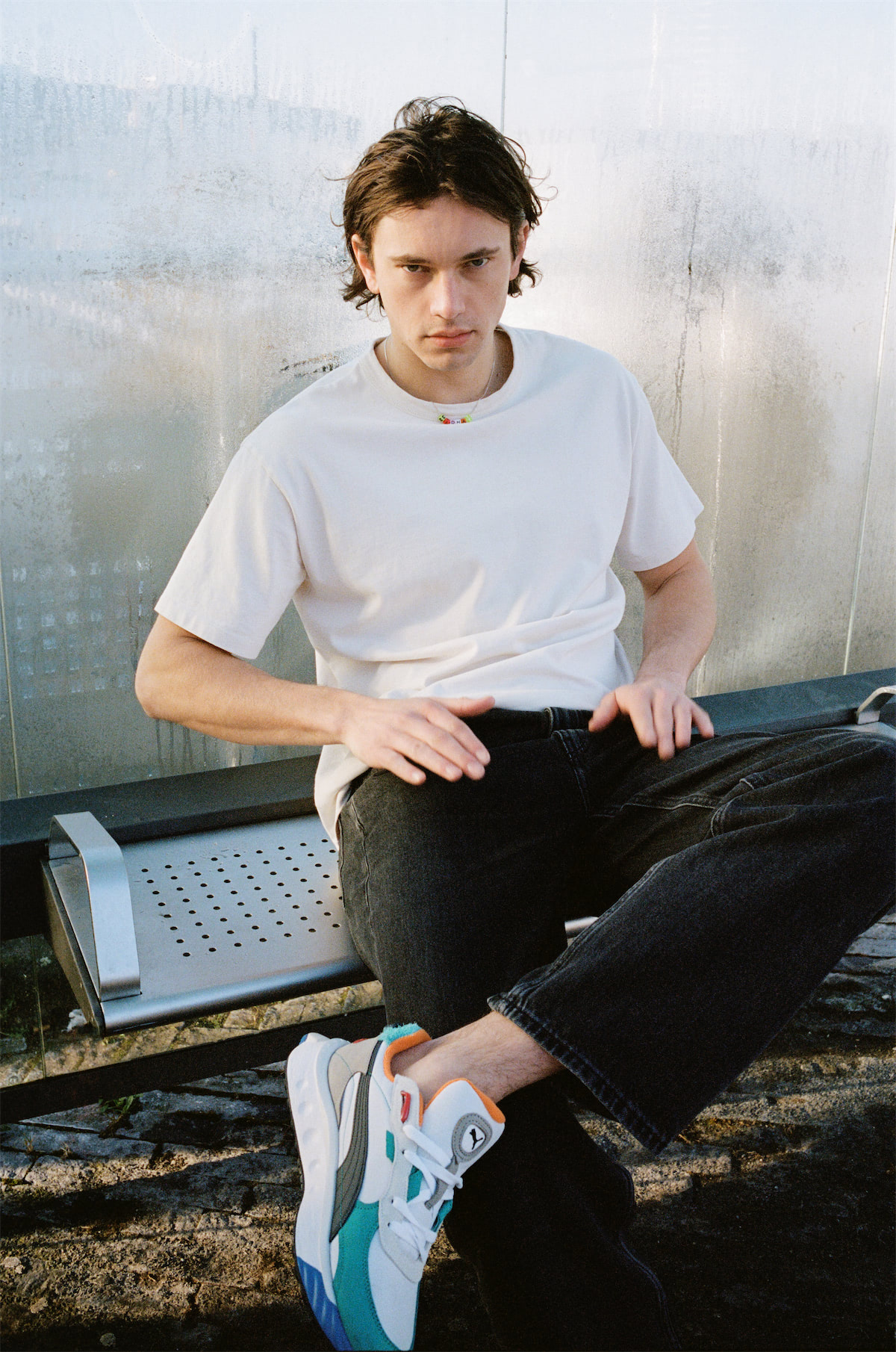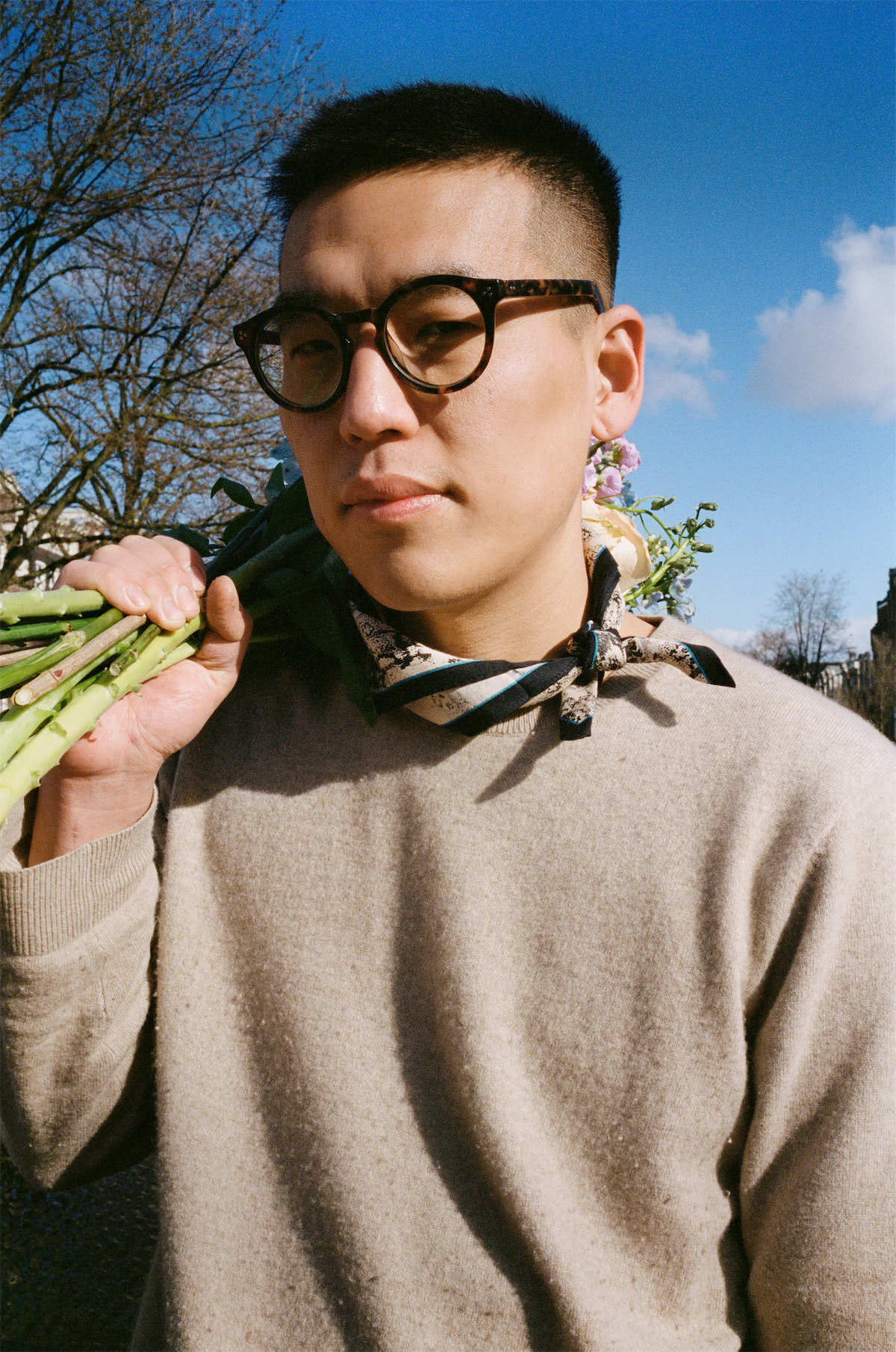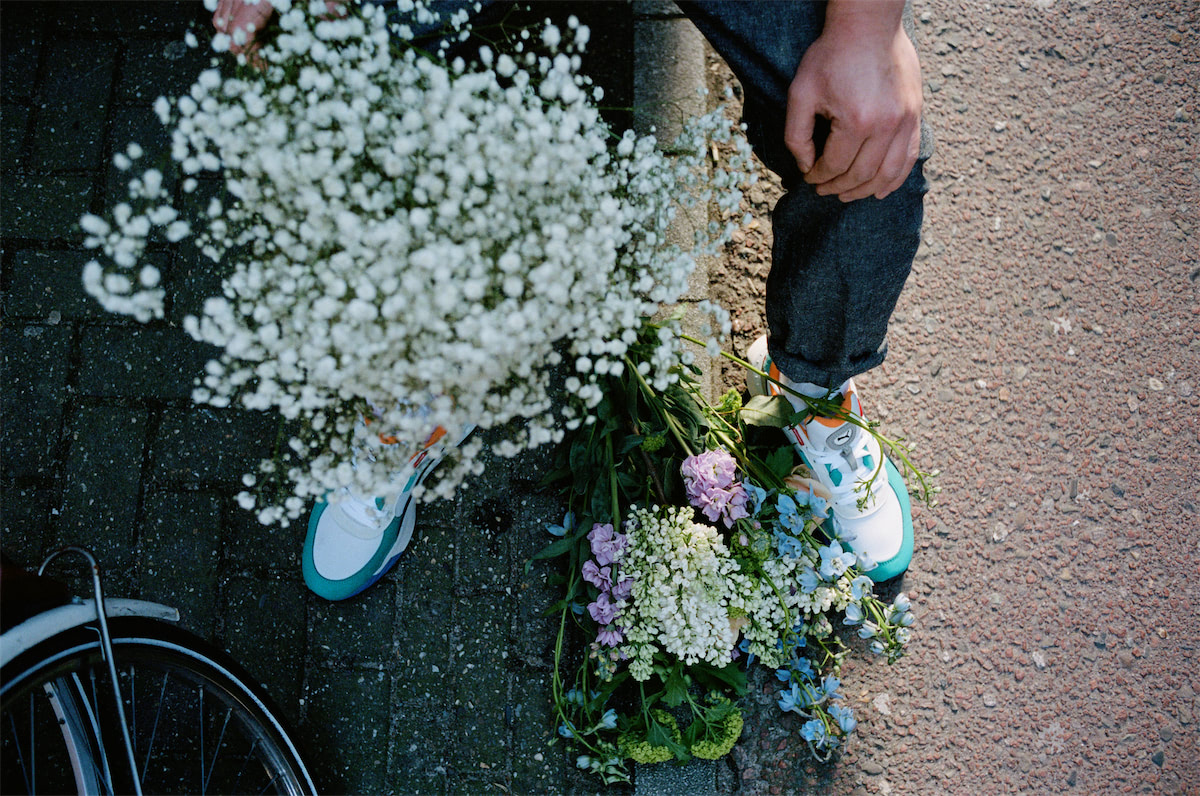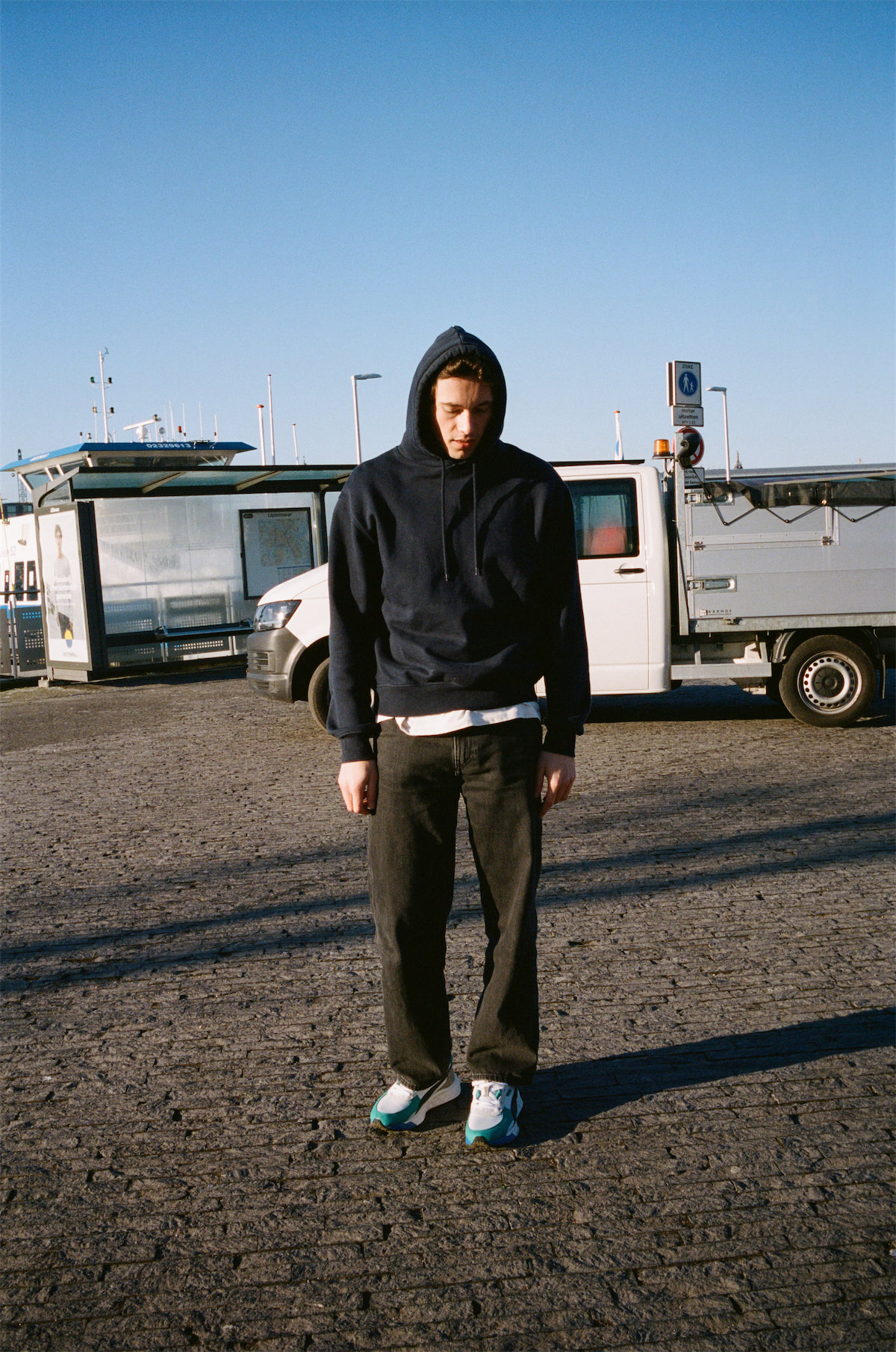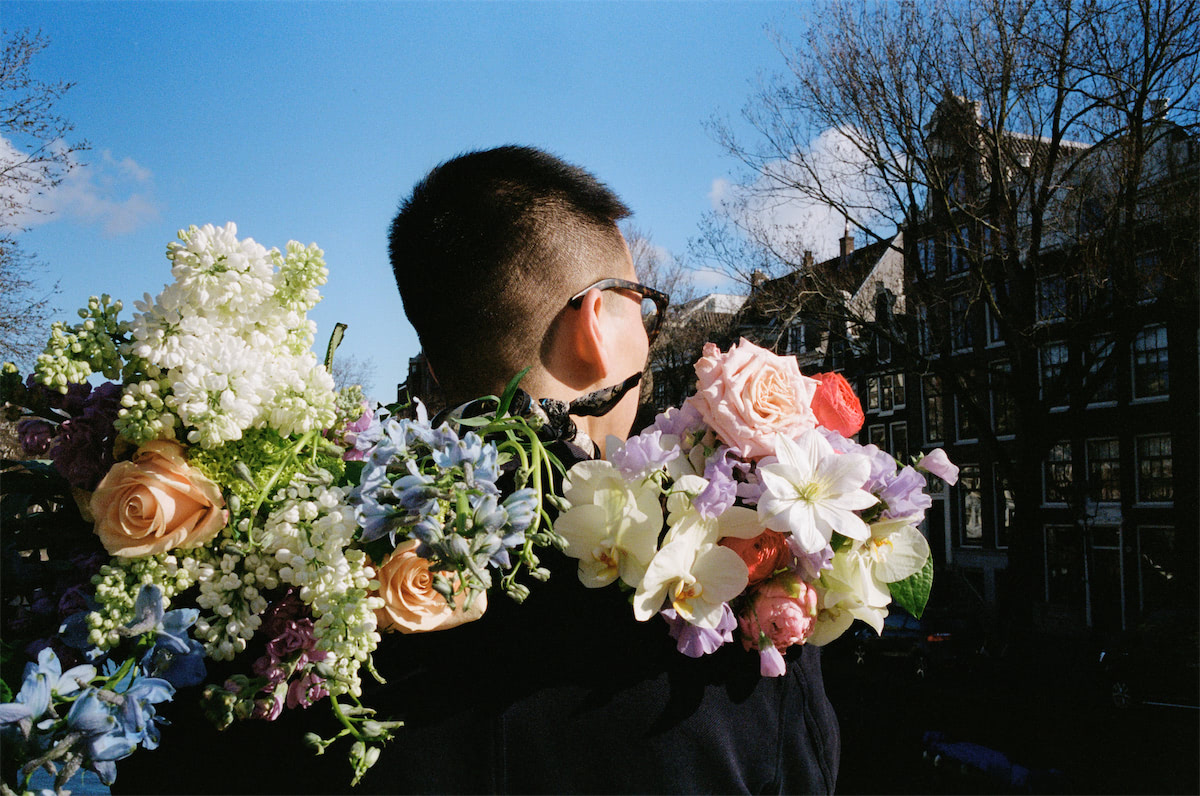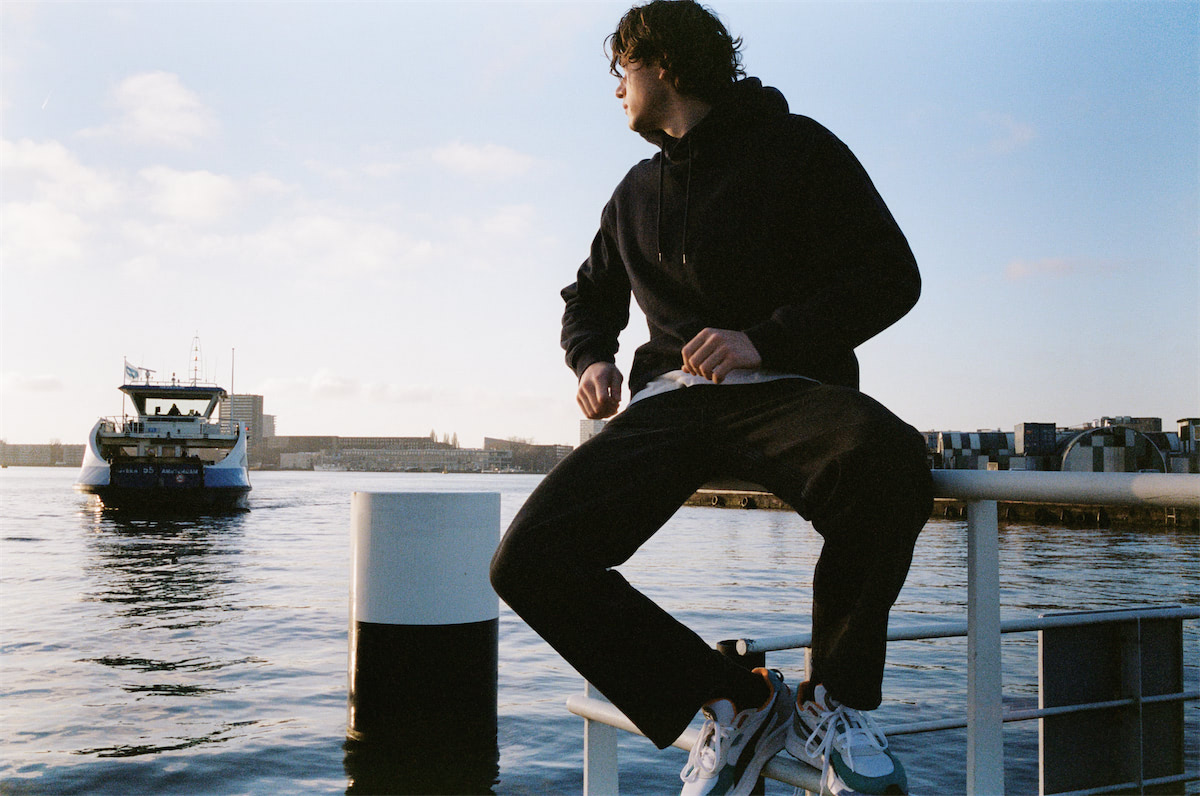 SHANE VINCENT - PUMA WILD RIDER IN LONDON
Shane Vincent's photographic practice in North London is a race against time. Having spent his whole life—twenty-eight years—there, he's witnessed entire chapters of the city come and gone, which might be lost entirely save for their existence in photos and memories. Born in Camden and raised in Finchley, he spent years in Wood Green and now lives in Islington. He grew up listening to Dizzee Rascal and watching Tarantino movies, which influenced his raw-grit aesthetic. His zine *Nuff Love* features North London features North London scenes that evoke the close intimacy that can only be seen through a native local's eyes. In one photo of people gathered around a car playing music, he annotates on top of the photo, like a liner note, of people "tryna keep the wave going … Days like this are why London is the best."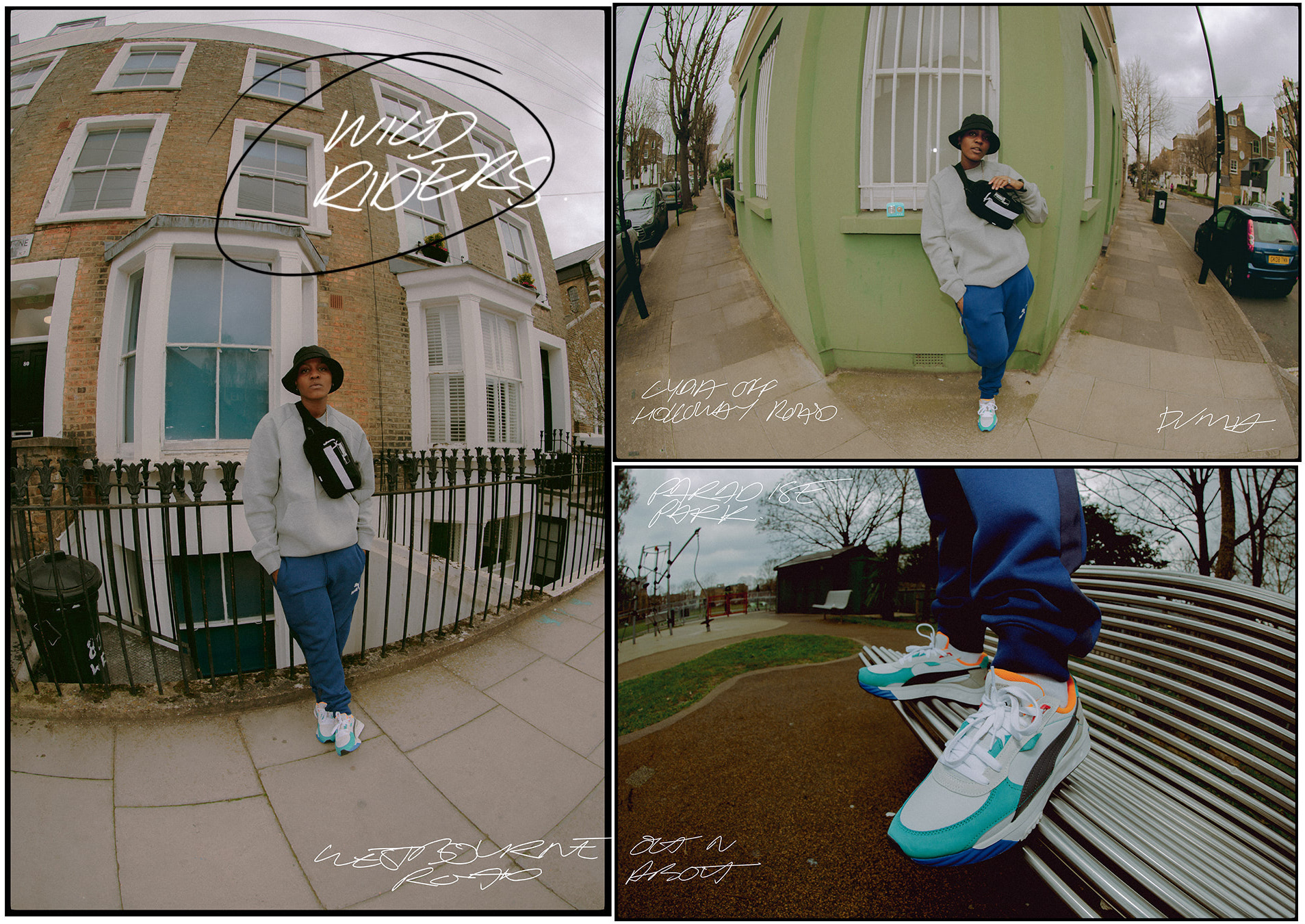 The lockdown has pushed the neighborhood to depend on each other, playing on its tight sense of community. "Sometimes I'll hear a song come on, love it, find out who made it and realize ah they're from just down the road," says Vincent. "If something happens, families come out and show their support. The local corner shop will let you off a quid, and you bring it back later that day. It was St. Paddy's day the other day, and the boss gave us a couple of free Guinesses which we had together. Those little things make a big difference nowadays when everyone is locked up."
The local corner shop will let you off a quid, and you bring it back later that day
- Shane Vincent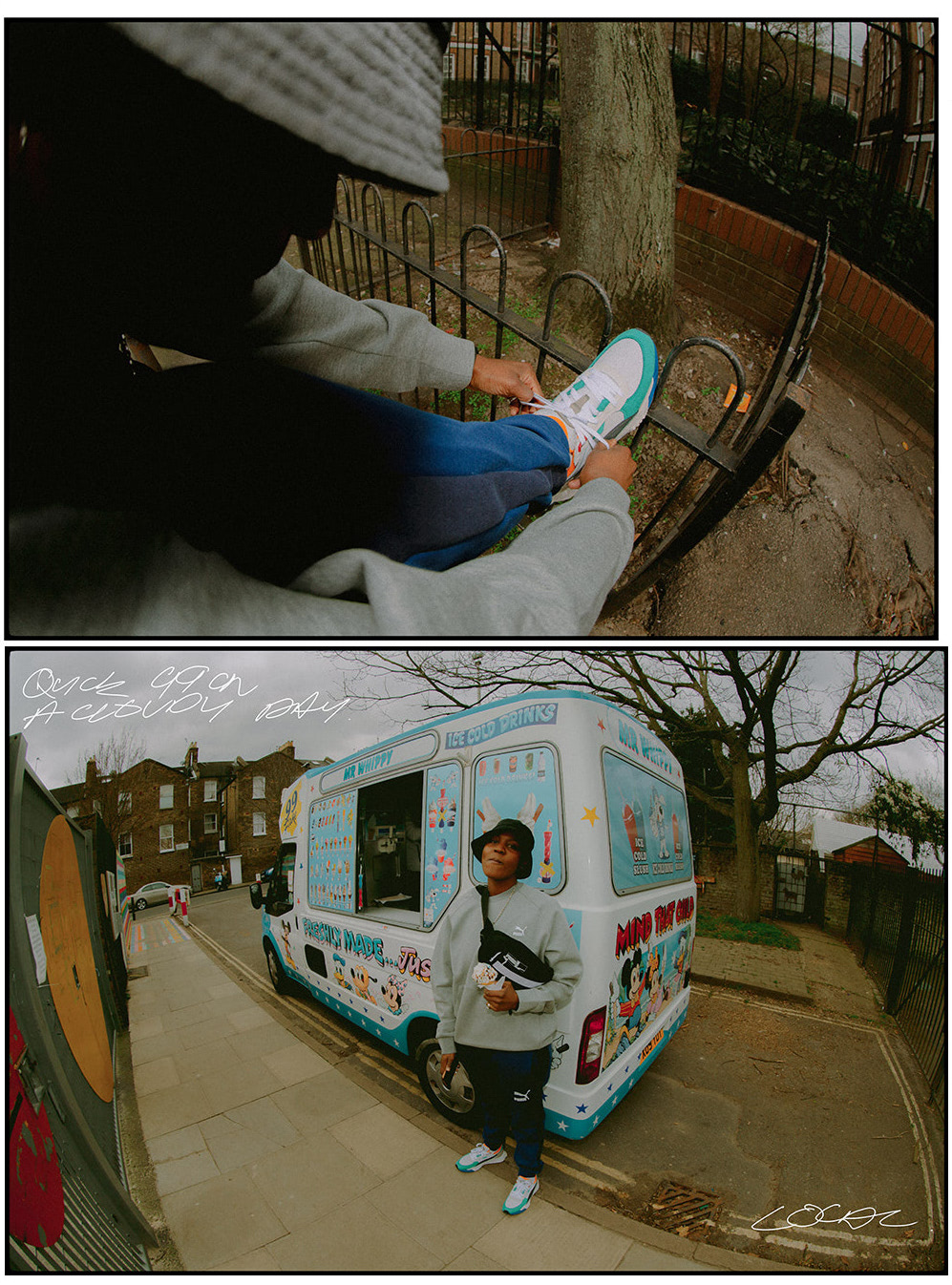 At the same time, the neighborhood's community is continuously under threat of gentrification, particularly when the pandemic is forcing small businesses to close down. "So many memories being destroyed to make way for money-hungry characterless chains. There are a few places still fighting the fight and keeping the essence of the city intact, places like the Yucatan pub and so many others. I pray they make it through," he says.
These days, most of his mates from childhood have moved on to outer zones, though Vincent has chosen to stay in North London. Both artistically and practically, he continues to invest time, attention, and cash into the community, especially now. "A lot of businesses are changing hands over Covid; it's always important to put your money in the smaller businesses that have been around for years that might need your help. That's why I always get my milk and drinks from the corner shop and not Sainsburys."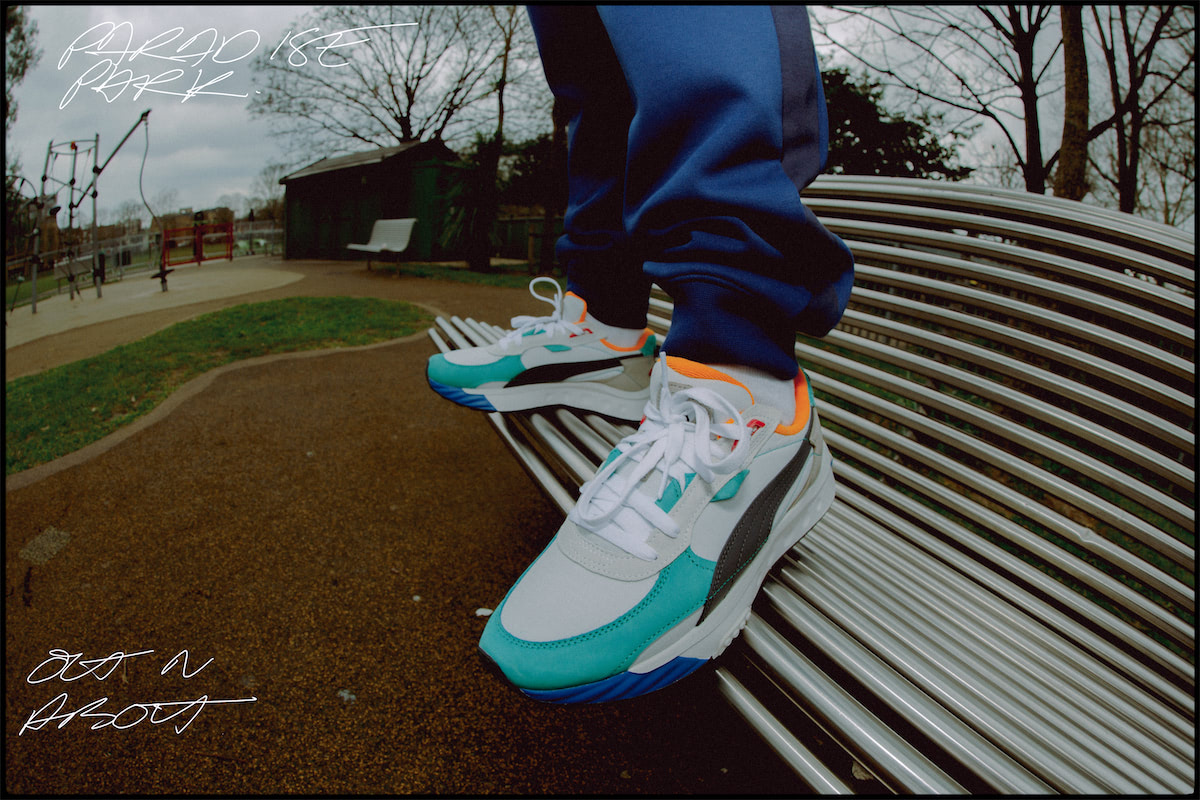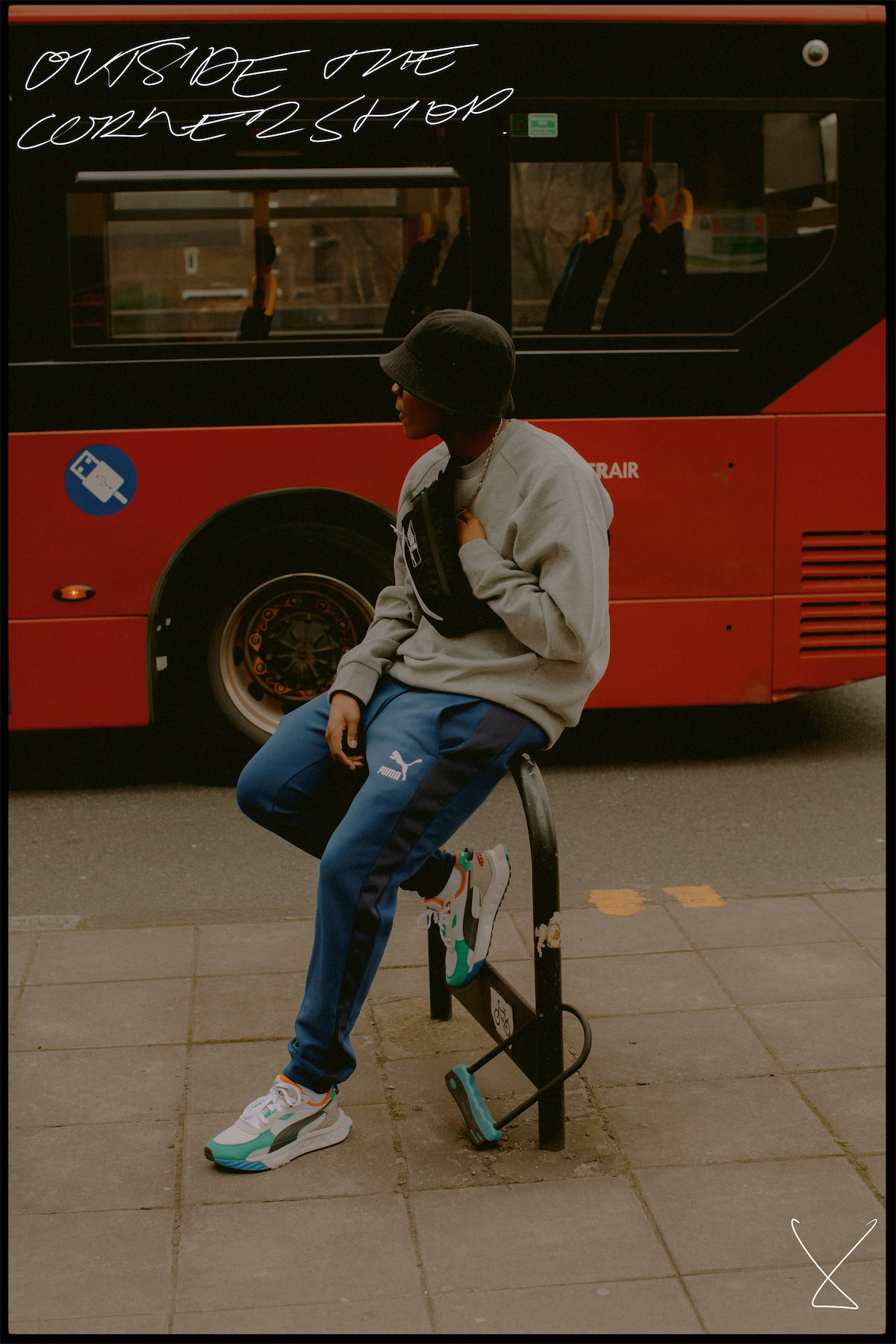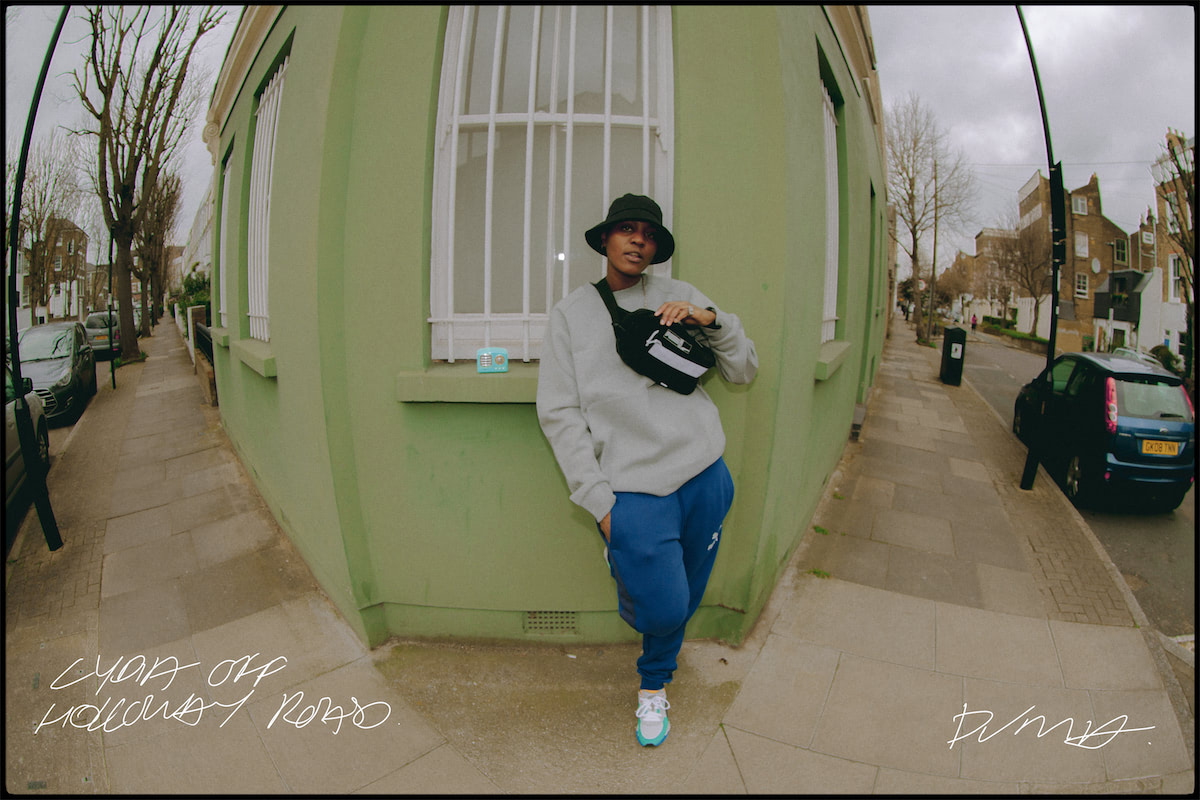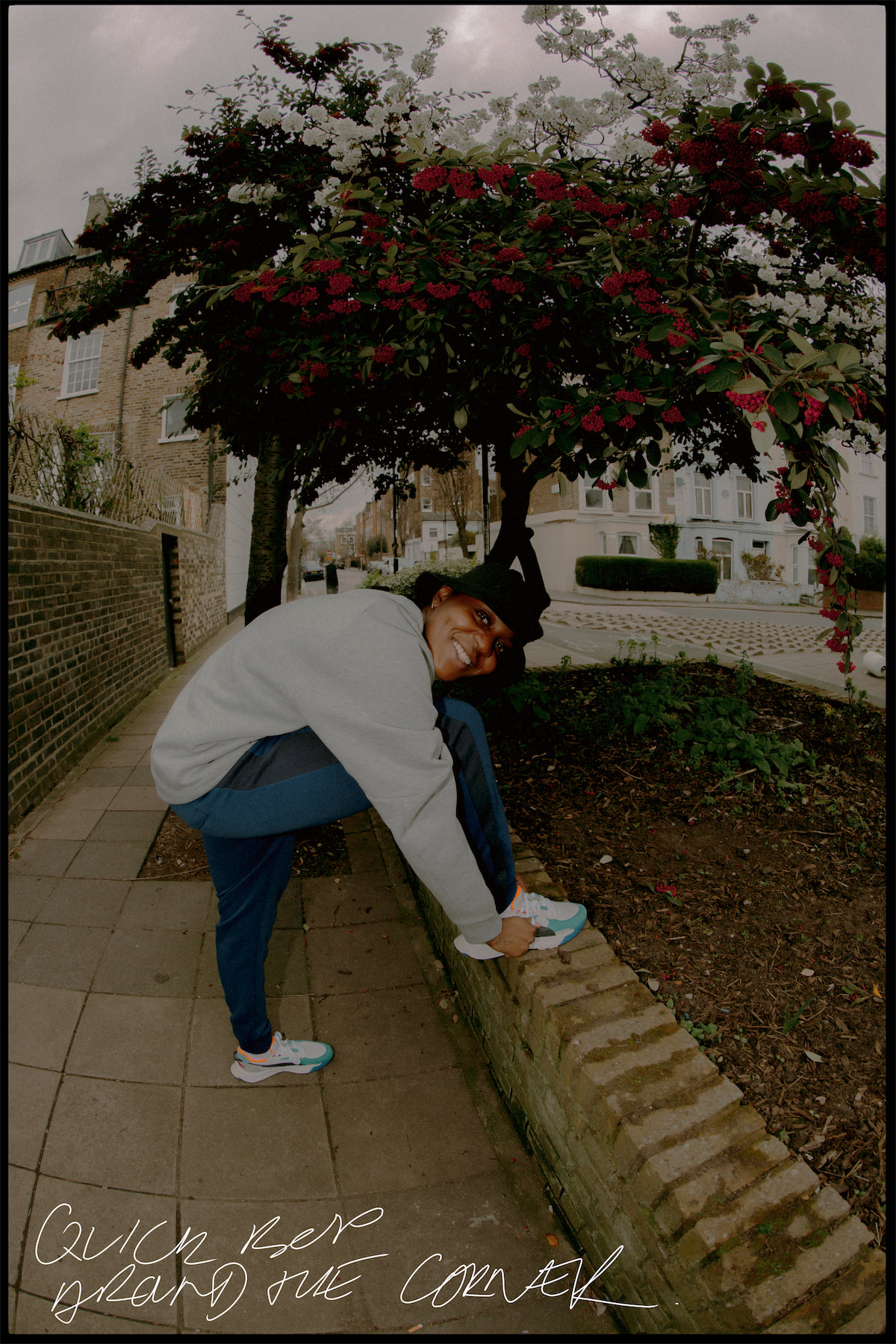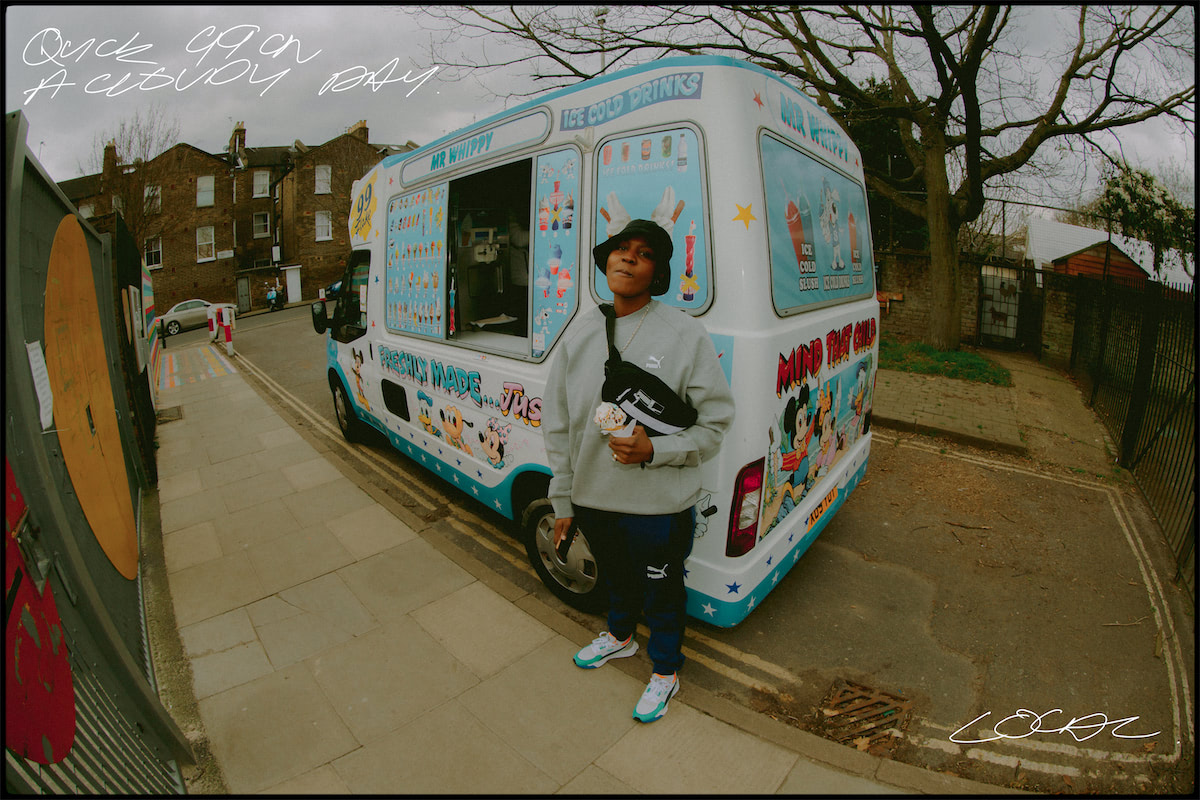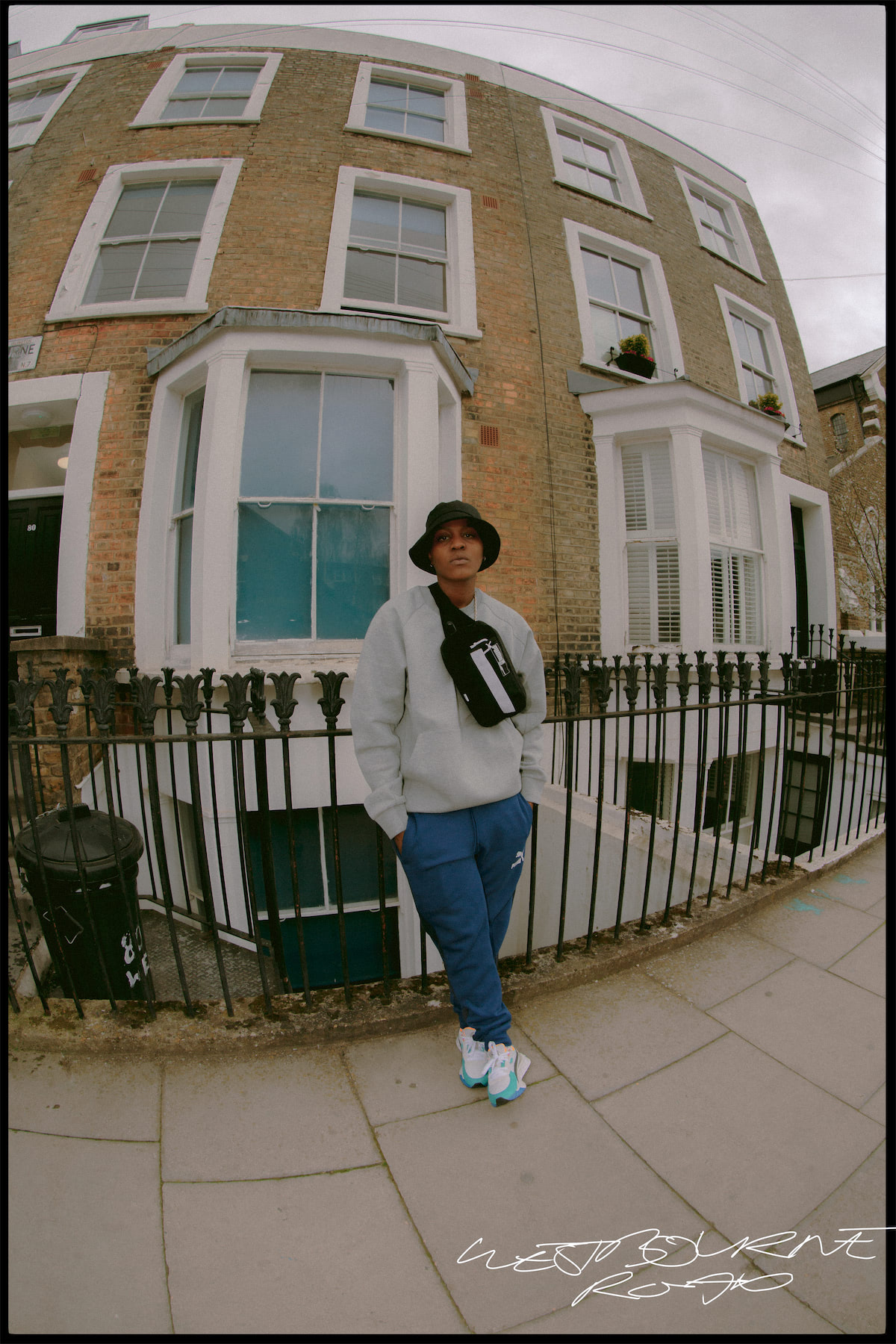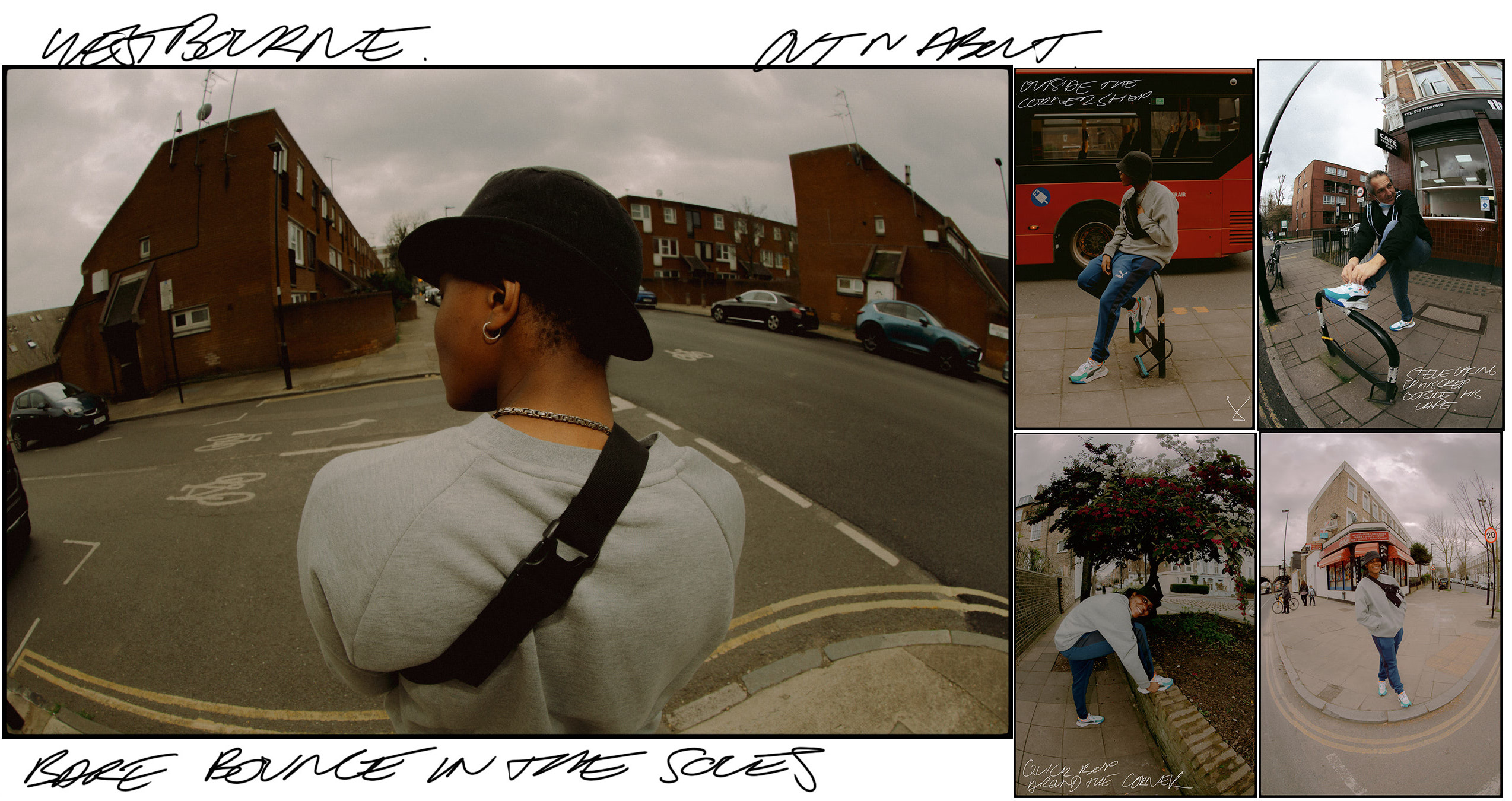 {"shouldDisplayHeader":true,"shouldDisplayArticleFooter":true,"shouldDisplayPresentedBy":false}