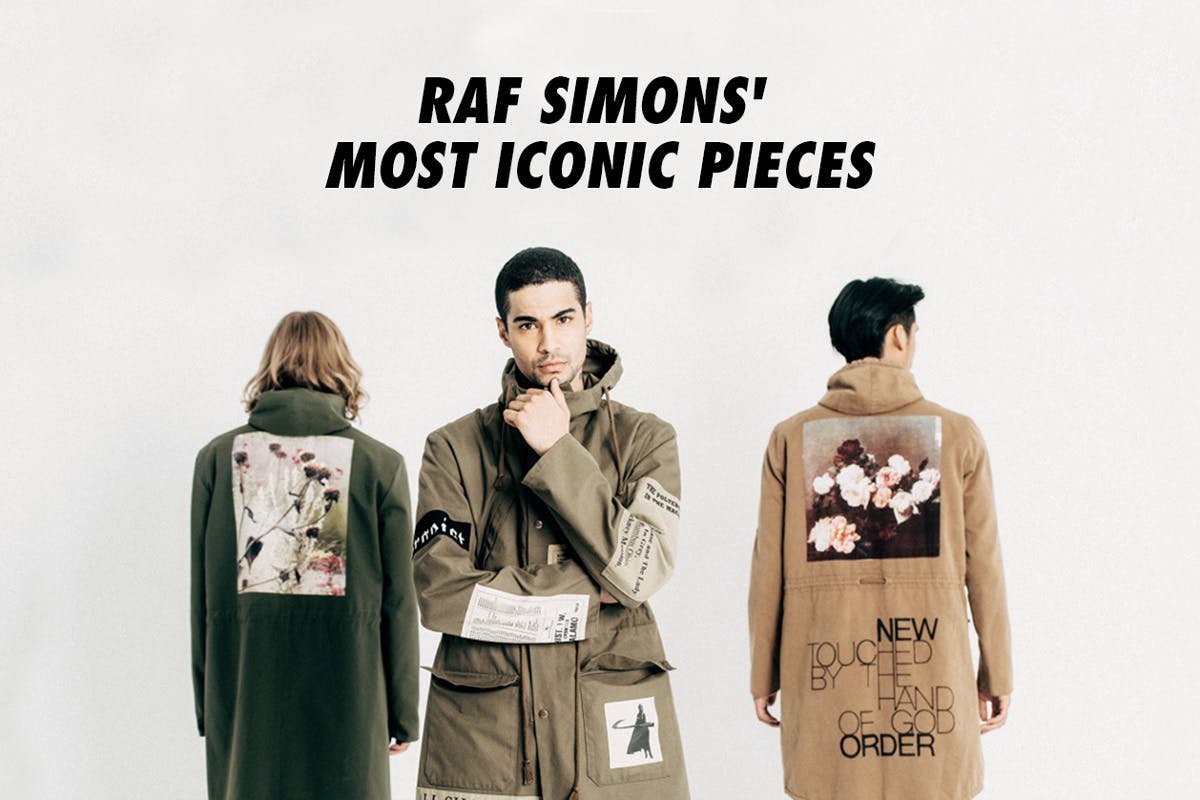 It's no understatement that Raf Simons is far and away one of the most influential men's designers working today. He may have made a name for himself in the womenswear world thanks to his work at Jil Sander and Dior (and soon Calvin Klein), but Raf's eponymous men's line has inspired legions of new brands and designers.
His streetwear-tinged style, love of subcultures and cut-and-paste graphics can be seen all over the menswear industry, while his archive pieces have become highly coveted by fashion heads and rappers alike - throwback Raf bangers reach extravagant prices on the second-hand market, and regularly appear on the backs of big-name rappers rap videos.
We linked with Grailed's Jake Metzger to get the low-down on some of the legendary designer's best pieces - some of which are available to purchase right now via the second-hand shopping platform. Given the highly coveted nature of Simons' work, though, don't be surprised if they're sold out by the time you read this.
Pyramid Bomber - Spring/Summer 2000
"No stranger to connecting his past, Raf Simons released the Pyramid bomber as part of his "Summa Cum Laude" Spring/Summer 2000 collection. The logo printed on the back of the oversized cotton bomber comes from gabber DJ conglomerate Rotterdam Terror Corps, which became notorious for the raves they've been throwing since 1993."
Riot Riot Riot Camo Bomber - Fall/Winter 2001
"Simons foreshadowed the international unrest surround September 11 with his Fall/Winter 2001 "Riot Riot Riot" collection. The garments reflected Simons' view of teenage rebellion with a militaristic twist thanks to the oversized, patch-adorned camouflage bombers, sweaters, head wraps and more. Items from this collection such as the above bomber can easily reach five-digit prices at auction."
Virginia Creeper Digicamo Hoodie - Fall/Winter 2002
"Fall/Winter 2002's "Virginia Creeper" collection took the audience on what appeared to be an eerie school field trip, containing both varsity and camping-inspired designs that were presented in a dark, wooded area. Along with varsity jackets and tops, camp uniforms and sleeping bags, these oversized digital camouflage hoodies were created in both snow and desert tones, creating effortless drape with their minimal designs."
Nebraska Crewneck - Fall/Winter 2002
"The Fall/Winter 2002 Virginia Creeper "Nebraska" crewneck continues to be a crowd pleaser due to its oversized cut and vintage wash. Every sweater produced has a unique factory distressing which evolves its own wear and tear over time."
Consumed Parachute Bomber - Spring/Summer 2003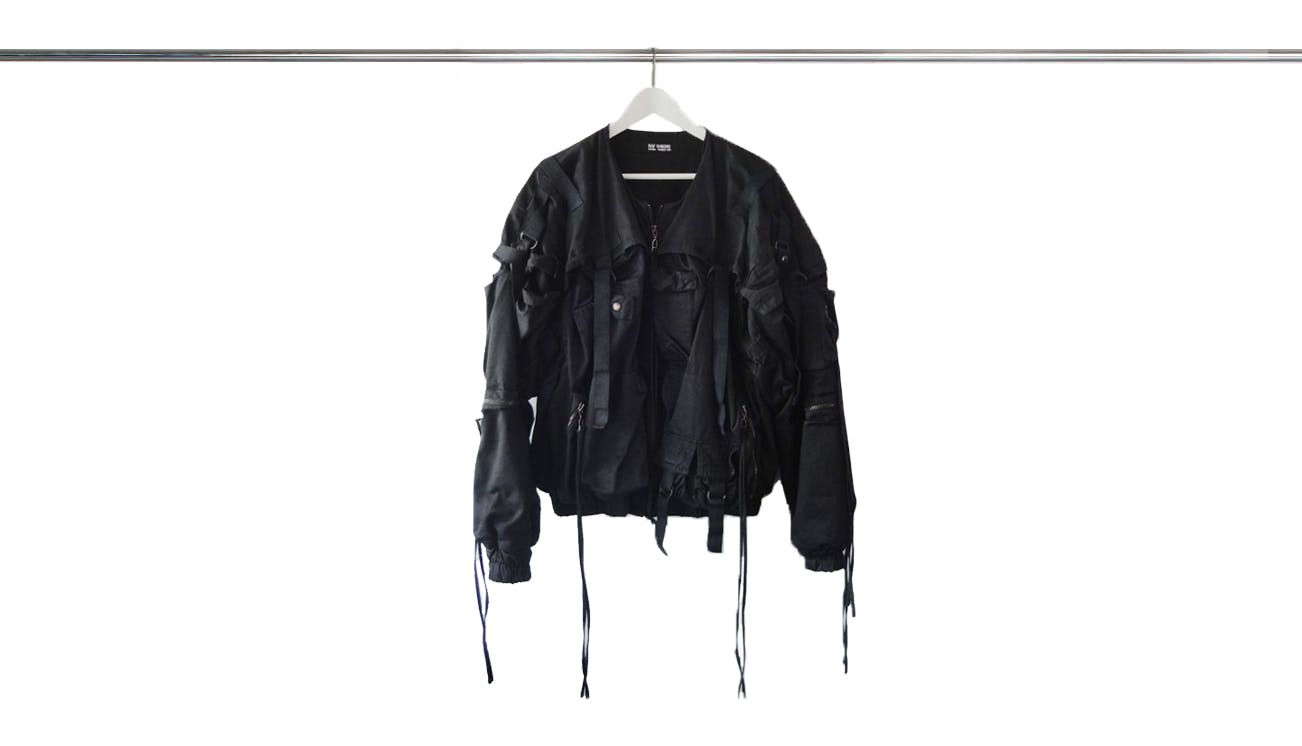 "Despite being surrounded by an entire collection of bondage-strapped counterparts, the "Consumed" parachute bomber still manages to stand out from the rest. It's now most commonly found in museums, and is almost never seen for sale. Masterfully placed pockets, straps and strings adorn both the front and back, and can be paired with matching trousers, shirts and suit jackets. The more low-key "Mini" version of this iconic piece has popped up on Grailed from time to time, though."
Consumed Shirt - Spring/Summer 2003
"Part of the same collection as the "Parachute" bomber, this "Consumed" button-down was made with white or red prints, and the on-trend scattered graphics show just how ahead of the curve Raf's work is. The graphic of famed '60s model Penelope Tree (seen at right center) is a repurposed photograph from the Black and White Ball, an event where attendees had to wear masks in order to conceal their identity and the power of celebrity - theoretically making all equal. There's a range of similar pieces available now on Grailed."
Power, Corruption, Lies Parka - Fall/Winter 2004
"For his collection that was aptly titled after Joy Division's seminal final album Closer, Raf Simons was given full access to Peter Saville's graphic design archive. The "Power, Corruption, and Lies" parka is an ode to Saville's design style, and placed the album artwork on the parka's top portion, with his signature style of New Typography below it. The parka was hand-painted and produced in extremely limited quantities over 10 years ago, which explains its extremely high price point."
Peter Saville Leather Jacket - Fall/Winter 2004
"Also implementing Peter Saville's artwork, this leather jacket from Fall/Winter 2004 features the cover of Joy Division's Unknown Pleasures hand-painted onto the back. The double-rider style jacket can be found in art and fashion museums across the world, but rarely in anyone's closet."
Poltergeist Sweater and Parka - Fall/Winter 2005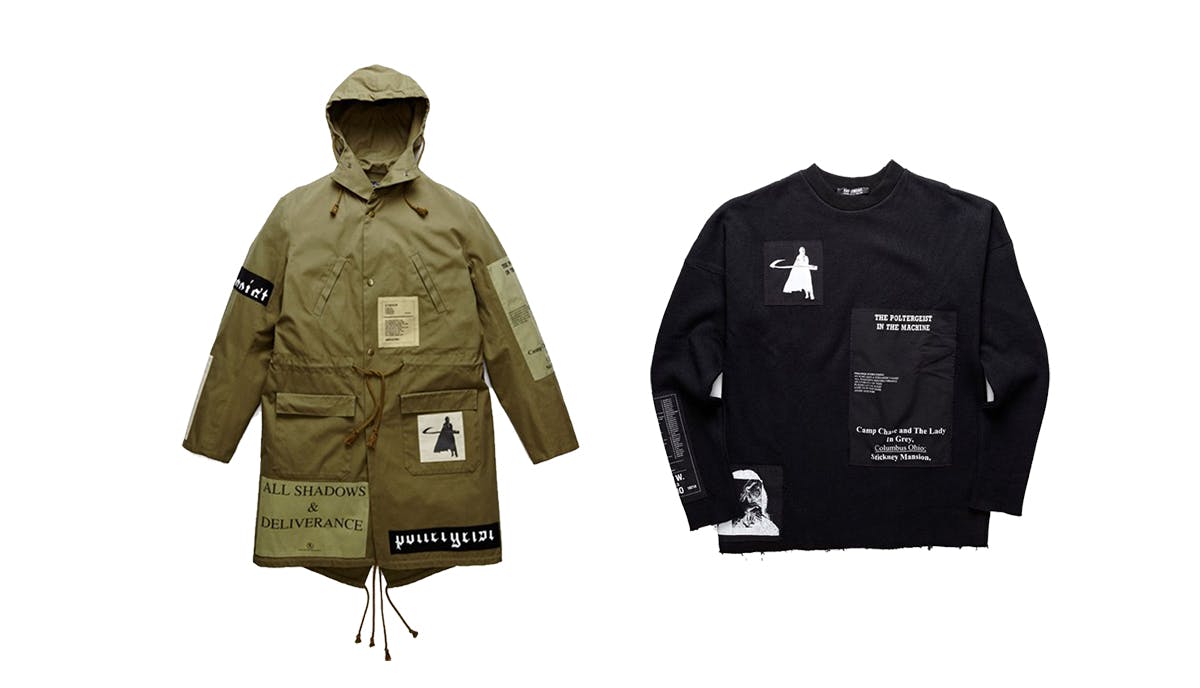 "Paying tribute to his signature patchwork style, Raf Simons released the Fall/Winter 2005 "History of My World" collection. Taking a much darker approach this time around, Simons arranged a capsule of Poltergeist-inspired garments, including crewneck sweaters and parkas that had the split text of Poltergeist and a scene from 1979 cult horror film Fascination patched directly onto the garment, among many other designs and prints."
'Vandal' High-Top Sneakers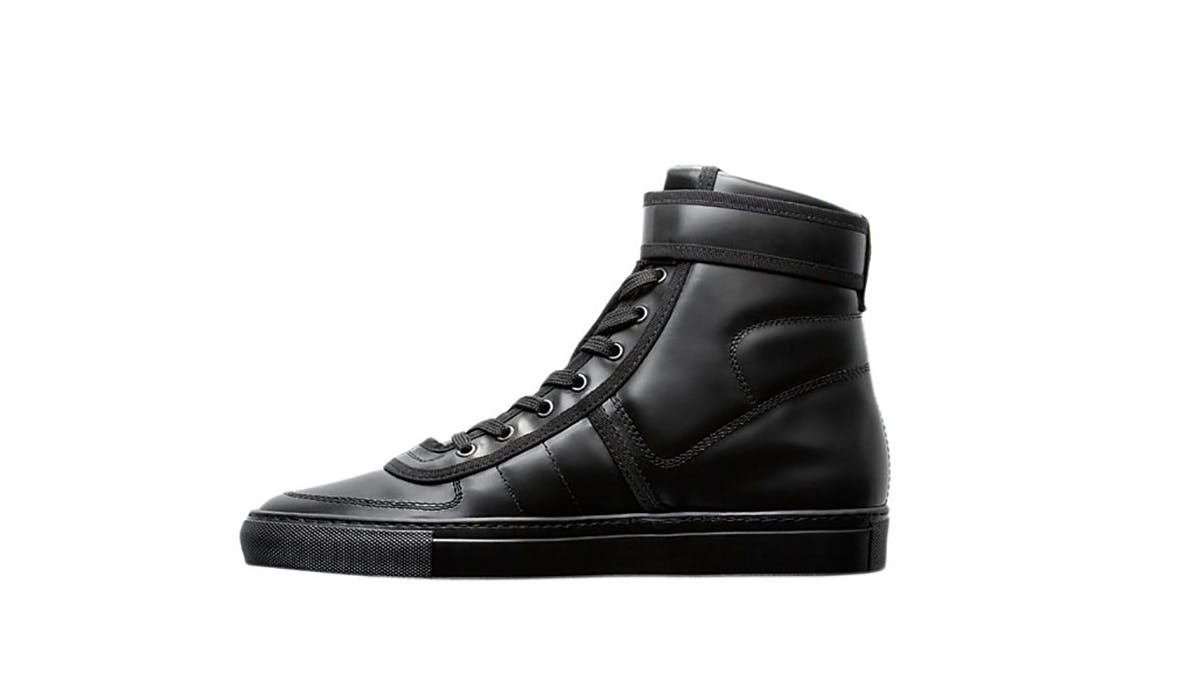 "Released for only a couple seasons starting from 2008, Raf Simons' riff on the Nike Vandal has become perhaps his most iconic sneaker silhouette, due to its rarity and resemblance to its Swoosh-adorned counterpart. Raf used a variety of uppers ranging from patent leather to synthetic canvas."
For more from Raf Simons, check out our op-ed on why he should just stick to his mainline - despite the news he's now Chief Creative Officer at Calvin Klein.