In honor of Juneteenth, international sneaker retailer SNIPES partnered with Brooklyn-based cafe Aunts et Uncles on an apparel collection to raise awareness of the holiday while also giving back to the local community. Aunts et Uncles is a recently opened hybrid cafe-bar-retail space located in the Flatbush area run by husband and wife Michael and Nicole Nicholas.
The duo is a prominent fixture in the predominantly Black community and personally knows many of their neighbors. So to celebrate the holiday in a thoughtful way, SNIPES tapped them to design an exclusive collection of T-Shirts with 100% of profits going toward a mutual aid fund benefitting local businesses. The "Make It In" fund will be used to aid and support other neighboring Black-owned shops.
The collection features six designs that are available exclusively at SNIPES' Barclays Center and Eastern Parkway locations as well as at Aunts et Uncles, of course. "This year's Juneteenth collection was inspired by the film Exterminate All The Brutes by Raoul Peck," Michael tells Highsnobiety. "It's the history lesson we never received. After watching it three times I was compelled to bring some of what I took [from the film] into my craft." To complement the tees, SNIPES and Aunts et Uncles also collaborated with New Era on a special collection of caps commemorating the event.
We caught up with Michael to learn more about the collection's design inspiration, how the "Make It In" fund will be used, and the story behind Aunts et Uncles. Get a closer look at the collection below and check out what went down at the drop in Brooklyn.
Talk to us about the design inspiration for each T-Shirt in the collection, specifically the 'Libertad' and 'True King' tees.
"Libertad" was the closing word used in Big Rube's verse at the end of Liberation by OutKast. It's always been stuck in my head and just stands out every time I recite the words. The symbolism used in the design were pieced almost like patchwork; from the man's silhouette with our eye symbol used twice, leaving it open for the third eye to exist, the hand with blood, sweat, and tears, the slave ship, all brought together here because although we celebrated physical freedom of slavery on Juneteenth, we have yet to be fully liberated mentally. My style over the years has been heavily influenced by book covers so I tend to lean that way when executing.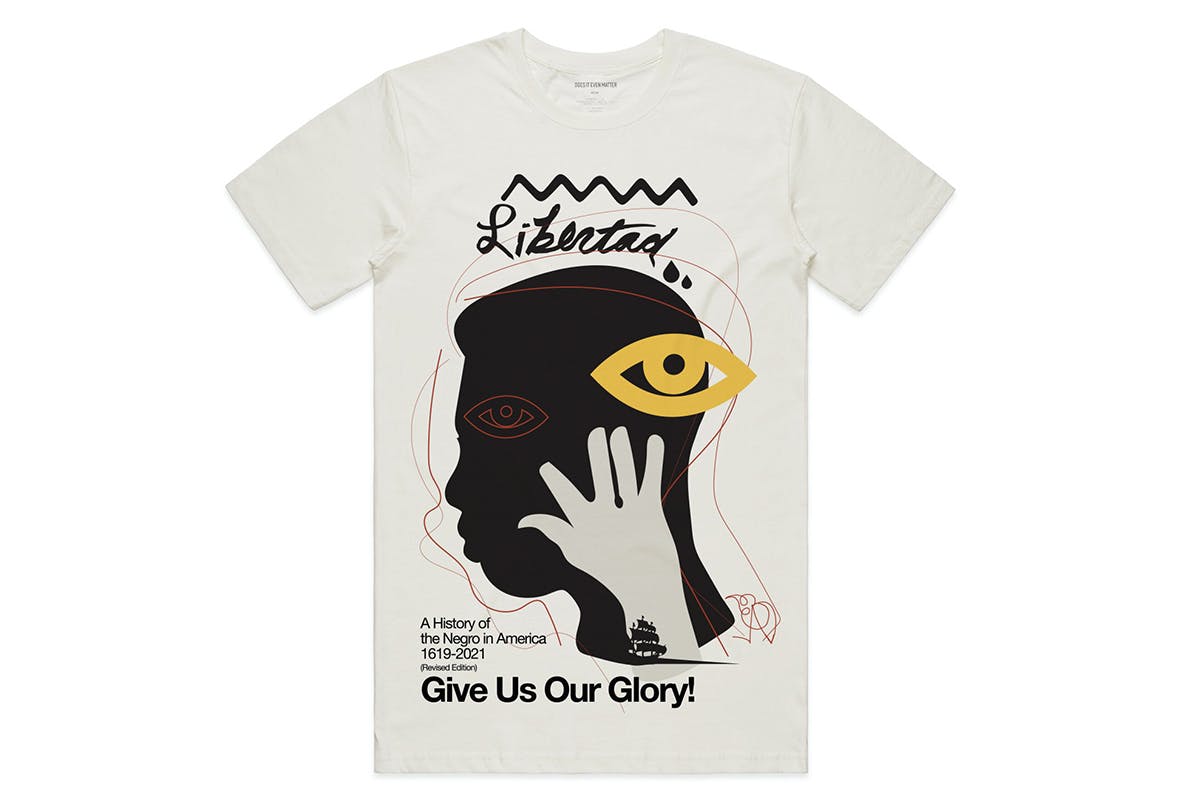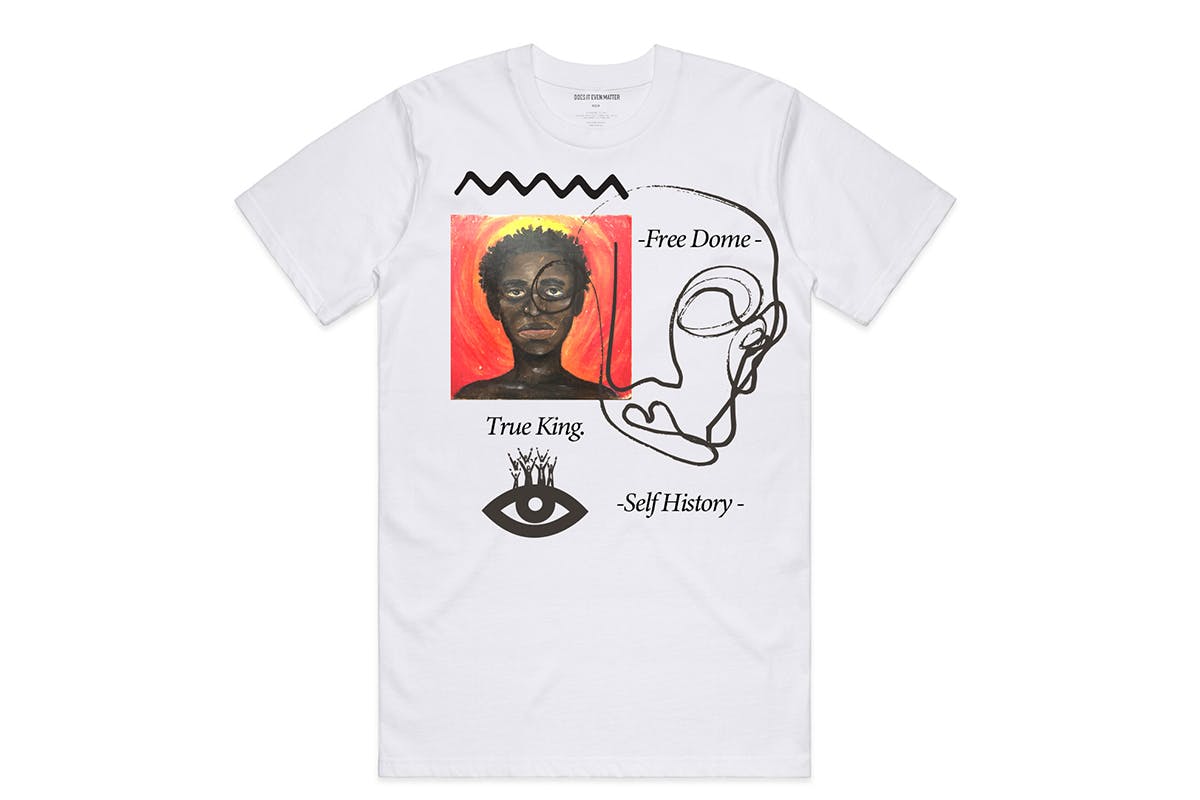 When building the "True King" design I reached out to my boy KINGSBLOODDNA for another painting. My co-designer on this entire collection was LFANT Brand; Ryan created a library of illustrations. My favorite was the crowd of open arms, rejoicing and expressing freedom. History didn't teach us Black boys and girls that they were Kings and Queens. We didn't much have our own sense of history.
It was necessary to emphasize that with knowledge of self history we can trace back our origins of greatness. We aren't that naive to merely think the oppressor just happened to wake up one morning and say, "What are we going to do today? Let's free some Negroes." The painting represents the Warrior, the Rebel, the soldiers of the Black Uprising! In order for us to have true Freedom we must have a Free Dome, and that has yet to be built.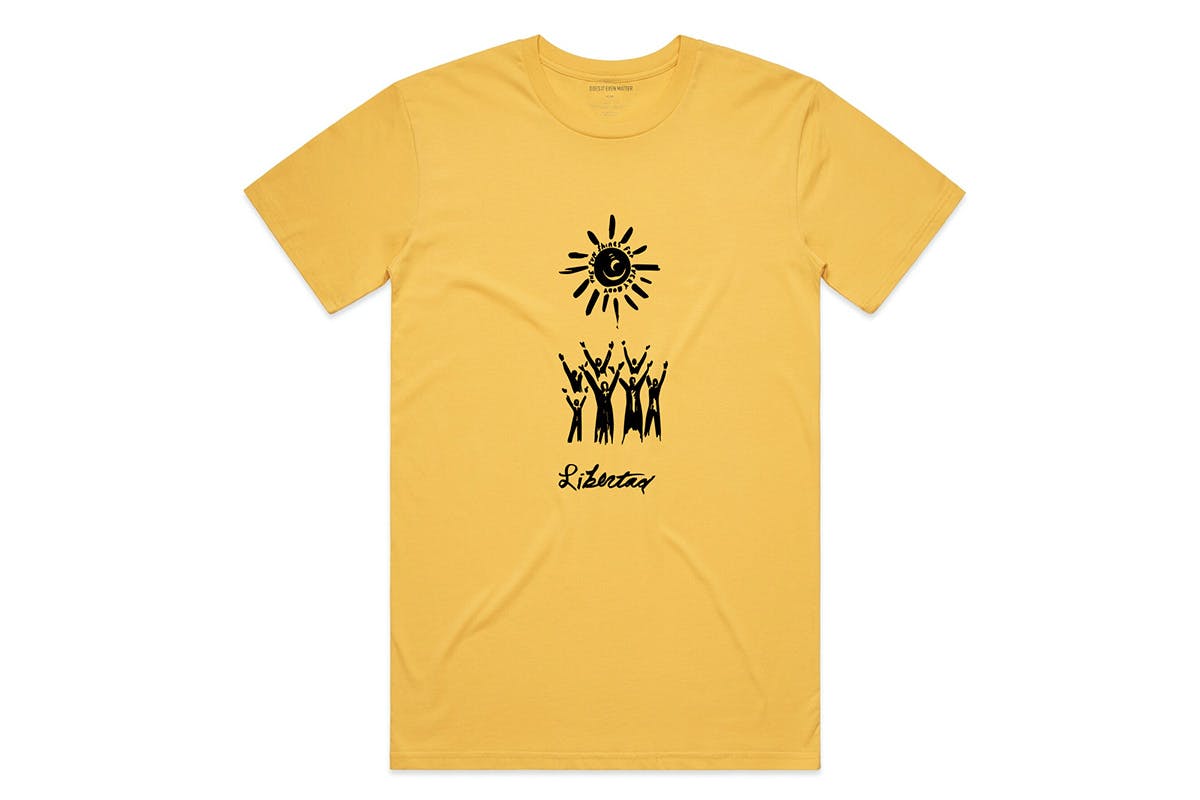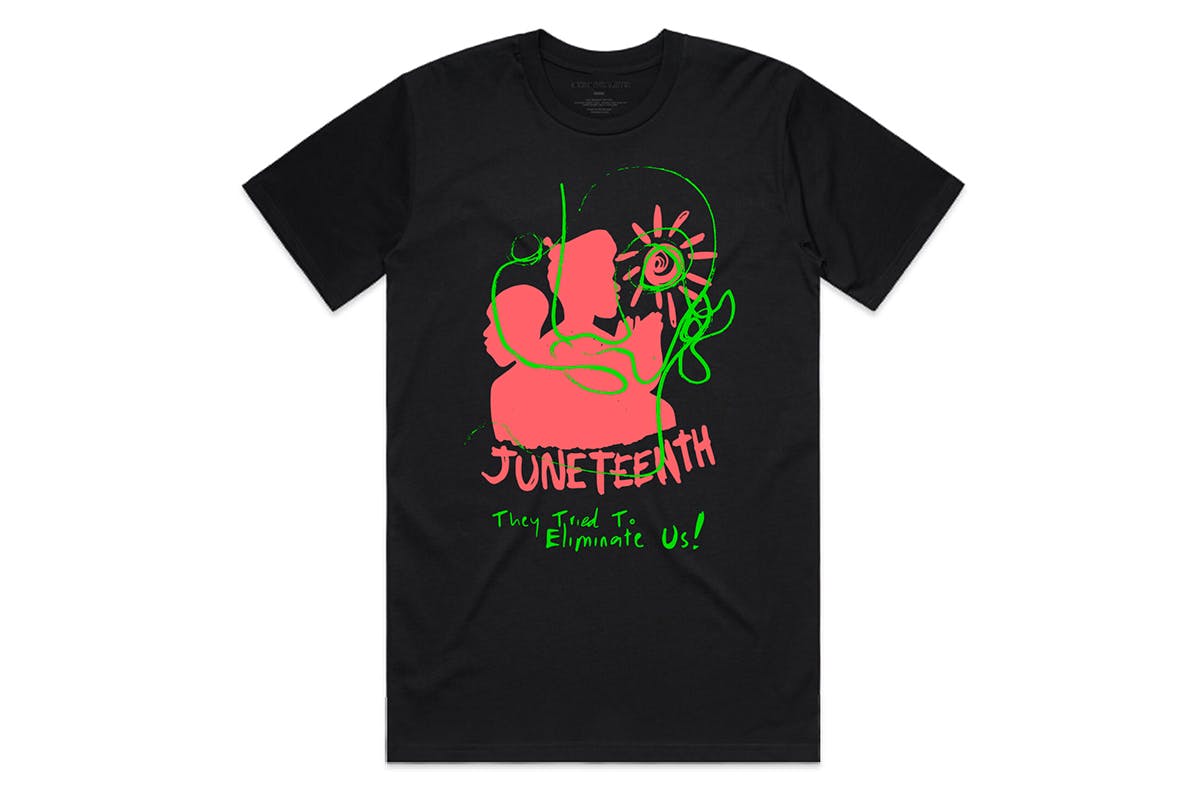 How will the "Make It In Fund" be used to support other neighboring Black-owned businesses?
The "Make it In Fund" is a simple transparent fund that allows resources to be allocated directly to neighboring businesses' needs. For example, the top of our priority list right now is our neighborhood juice bar, Jus Juice, they need a new convection oven. Our other neighbor Lips Cafe needs a proper ventilation system. So funds will be directly allocated to acquire what's needed not only for our neighbors to survive but to thrive! Our immediate goal is to empower our block and let it grow and build from there.
Tell us a little more about the history behind Aunts et Uncles and its place in the community.
Aunts et Uncles is only eight months old, but it's been in the works for almost 10 years. It's simply the interests of myself and my wife. Me coming from a design, apparel, retail background, and she with hospitality, bartending and restaurant management, we were able to blur the lines between each other's skillsets and create a memorable experience. Aunts et Uncles is not only a retail space where I get to sell my clothing designs, but also books of common interest, magazines, stationery — all necessary tools for the creative to get their ideas out and build.
It's also a plant-based cafe offering delicious vegan-friendly eats along with coffee, tea, beer, wine, and cocktails. Living in Flatbush with the taste level we have, in order to satisfy our desire for good vibes, good food, good drinks, we would have to visit numerous spots all over the city. Now, we have all the vibes under one roof here in our own 'hood. Community is everything for us; we literally know almost all of our neighbors. It's important for us to remind them the "Hood" isn't a geographical place, but a mindset. We are here to give the community something they deserve; a beautiful space to unwind and uplift at the same time.