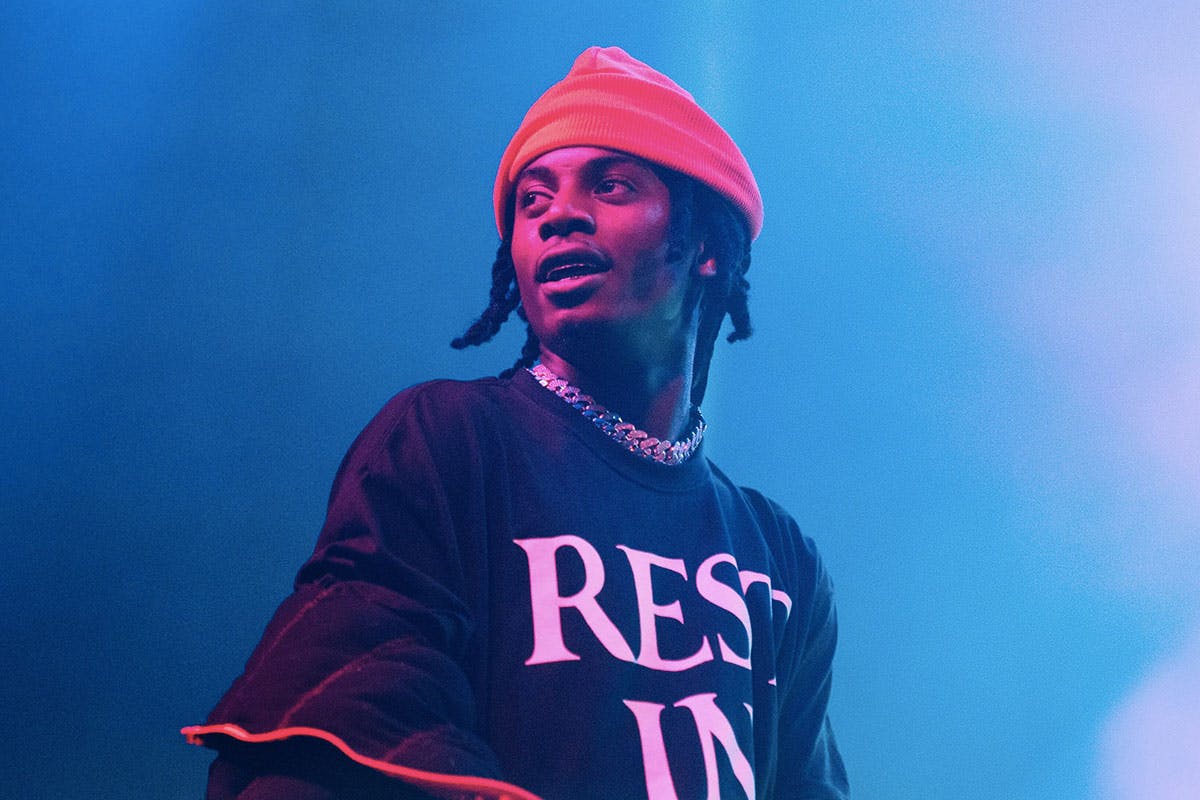 Every time a new young rapper goes viral through World Star Hip-Hop or Instagram, their age sheds a digit, an irrefutable, empirical fact. Hip-hop boasts a storied history of mould-breaking youngsters, from the undeniable youthful exuberance of '90s duo Kris Kross and early Lil Wayne to the noise-cutting, paradigm-shifting 21st century sounds of Chief Keef and Soulja Boy. Teenage raps are now, unquestionably, canon.
Perhaps this is because the shelf-life of a rapper can be cruelly short, a remorseless bipolar state of brilliant fame and unbrilliant flop. Just ask Trinidad James or Fetty Wap. One regular calendar year in the rap continuum can rumble on with sudden peaks and even more sudden valleys for what feels like a decade — evidently, every year, month, day, and hour counts.
There is precedent for the emergence of young, sometimes pre-teen, rappers, of course. Aged a tender 13-years old in 2000, Lil' Bow Wow made his official debut with Beware of Dog. In recent years, however, the ages of viral hit-makers and trend-setters seems to be dwindling downward more than ever — and, instead of being marketed as novelties, many adolescent rappers are making a sizeable impact both lyrically and visually, even if only momentarily.
Last year, 11-year-old Alaya High— who records tweenish rap as Lay Lay — reportedly became the youngest female rapper to ever sign a record deal after she penned a contract with EMPIRE, an imprint of Atlantic Records. It wasn't widely reported as such, not wholly surprising given recent trends, but it is a flashpoint of the young rapper trend. Examine the popular music landscape now and you have a generation of artists who are tangentially veterans in this ephemeral, lightning-paced music economy despite barely being out of their teens: Chief Keef (23); Trippie Redd (19); Playboi Carti (22); Rico Nasty (21); Kodak Black (21).
Almost monthly, a cycle of ever-falling age brackets of new artists of high school-age rise from obscurity: Lil Pump and Tay-K (16 years old when they went viral); Lil Mosey (16); YBN crew (ages 16-19); Lil Reek (16 years old when he released his first song); Quin NFN (17 when he became popular); MIKE (18 years old when he released his first Bandcamp project); and YNW Melly (17 years old when he first came to prominence). Among the most recent, and youngest, we can count Bhad Bhabie (a mere 15 years old).
If bright-eyed young rappers have always been a feature of post-'80s hip-hop, then why, in the past couple of years, do rappers seem to be getting younger and younger?
For one, in the age of the influencer, the barriers to self-promotion have been eroded through new technologies, with younger generations increasingly adept at marketing themselves, according to Derrick Aroh, who works for RCA Records' A&R department, the label division essentially responsible for talent scouting and overseeing artistic development. "Kids are always on social networks and are becoming geniuses at knowing how to maneuver online to get noticed; not just in music, but as influencers too," he tells Highsnobiety. "Technology is more widely available so it's easier for artists to make quality music and visuals at a younger age."
Aroh, who has been in the business for 11 years and most notably courted both GoldLink and BROCKHAMPTON's Kevin Abstract while they were still teenagers, does not believe that age in and of itself is emphasized over raw talent, but admitted that youthfulness is given special consideration. "Talent and vision are still paramount to me before anything else, regardless of age," he says. "However, I pay attention to an artist's age and their background to make sure they will be in scenarios that will keep them out of trouble."
Orlando Wharton, the totemic label A&R figure at Atlantic Records responsible for signing Kodak Black when he was 17 and XXXTentaction to EMPIRE when he was 18, suggests that consumption methods and accessibility to music — streaming services, YouTube, social media, every kid owning a smartphone — means the relationship between fans and artists is becoming more intertwined and interactive. This is why, he said, rappers are ostensibly getting younger over time; their name — and music (or antics) — snowballs across social media channels populated by content-hungry young fans.
"I think rappers are getting younger because the way we consume music; younger people have more access to music," Wharton says. "Age does play a factor in music, the younger you are, the more people will stream because younger people interact with each other more." Wharton does note an addendum, however: "At the end of the day you still need to have superior talent, young or old."
It is not all positive; some industry disruption and the presence of raw abandon in one's music in the not enough to guarantee longevity. Many younger artists, in attempting to become the next outlandish viral star, can either become trapped in personal strife or struggle to fully map out their artistic goals. This lack of foresight, Aroh suggests, leads to many early, unfulfilling burn-out rap careers.
"Besides potentially getting into unwarranted trouble due to lack of maturity, the danger that I fear is that a lot of younger artists don't fully know what they are trying to contribute to the overall conversation in music and tend to fit in to a particular wave," he says. "Once that wave crashes, if they are not transcendent talents they crash as well."
Attaining record deals and reaching YouTube's trending page are not arbitrary achievements; there are huge "innate benefits" to being a younger rapper, Aroh says. What, then, attracts labels to young artists? "Because a lot of these kids are just that; 'kids' — there is a lack of fear that is awesome."
The marketability of young artists' music is important. But what is more crucial, from an industry standpoint, is signing an artist whose appeal to fans in not restricted to the short-term, a rapper who grows with the fans and not away from them. The likelihood is that the popularity of very young rappers will continue to be seen, as, every month, a fresh crop of artists try to carve out space in digital landscapes. It's probably reductive to argue the trend will continue downward, and it remains to be seen if a 7-year-old, outside of a genetically-modified superchild who is programmed with AutoTune, has the physical tools required to tour the world and the self-control needed to avoid overdosing on sugar.
"I'm not sure if ages will fall dramatically under the teenage mark at a consistent rate," Aroh adds, "but if there are artists that are captivating enough to grab people's attention, they will be sought after; no matter their age."