These days, telling someone your general aesthetic is inspired by the '90s is like telling them you brush your teeth. So omnipresent are the decade's biggest trends — chunky sneakers, slogan tees, Hawaiian shirts, loose-fit denim, sportswear — it's like grunge never disappeared (it didn't) and Daria is still a thing (it is).
In short, we've romanticized the decade to death. And while the '90s love doesn't show any sign of slowing down, the '00s are also elbowing their way back into the fashion landscape. That means plenty of nostalgic moments, sure, but before you weld those rose-tinted glasses onto your face, first remember that the '00s weren't exactly the zenith of menswear splendor.
Rather than allowing ourselves to be washed away by a sea of '00s hype, first let's discuss which of the decade's biggest trends are actually worthy of resurrection and which moments should remain just that — a moment, one best forgotten.
Multiple popped collars
While we're usually here for a bit of layering action, the multi-collar look was the sartorial equivalent of having "Daddy's Credit Card Will Get Me Out of This Mess" stamped across your forehead.
Purveyors of the trend generally dealt in Abercrombie & Fitch, Lacoste, and Ralph Lauren, adopting a more-the-merrier attitude when it came to the number of collars one could pop around one's neck. The result resembled something akin to a frat boy neck brace, presumably crafted to hold the wearer's head in place while chugging beer bong after beer bong of Coors Light.
Verdict: Bin
Von Dutch trucker hats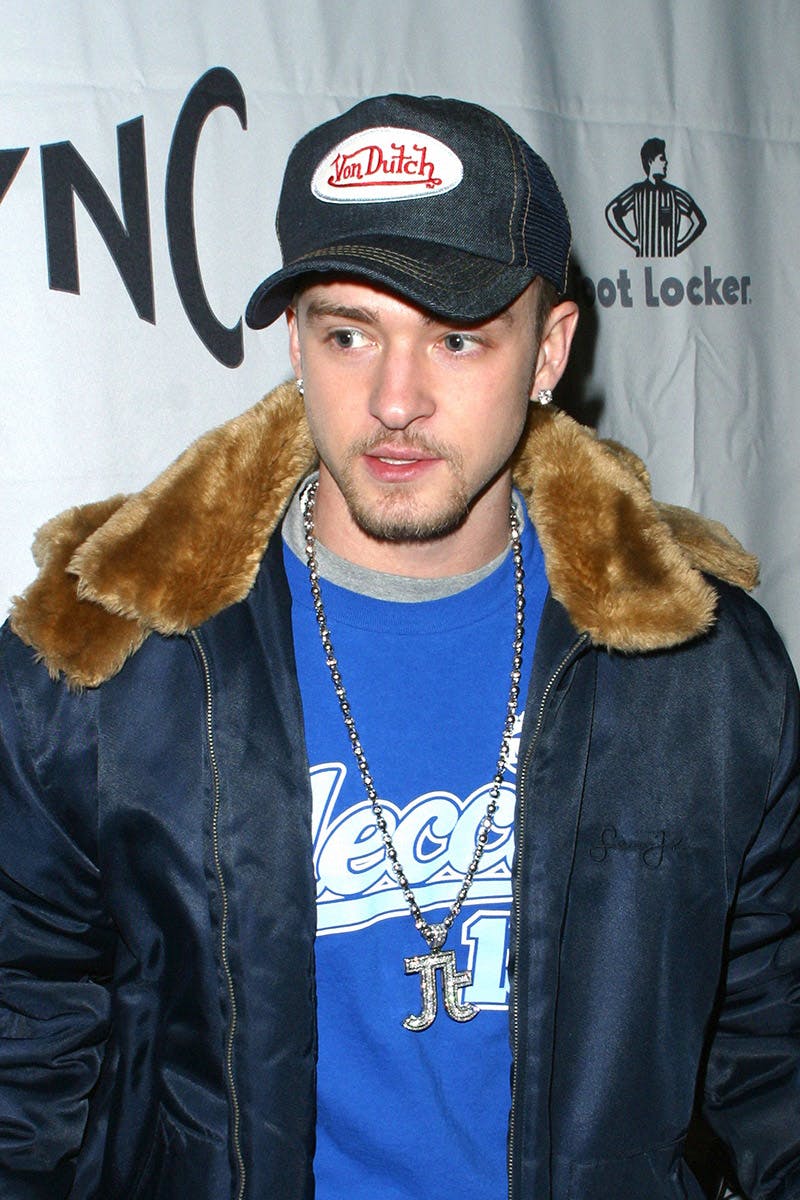 When you think of headwear trends in the '00s, one brand and one style comes to mind: Von Dutch trucker hats.
For some inexplicable reason, the ubiquity of these petition-worthy head adornments spread like wildfire as the decade wore on — so much that one particularly salty (read: amusing) caption likened the trend's infectiousness to a global bout of herpes. And while that's kind of gross, you have to admit that seeing Von Dutch atop the era's biggest clout-carriers — Justin Timberlake, Ashton Kutcher, the cast of The Simple Life — certainly makes the head itch.
Kylie Jenner tried to bring this trend back in 2016. It didn't catch on.
Verdict: Bin
Cardigans
When it comes to men's cardigans, there's a very fine line between acceptable and absolutely not. Like most tricky trends, there needed to be at least one style-savvy human to show everyone else how it's done. Enter The O.C.'s Seth Cohen, aka the fictional yet influential leader of '00s "geek chic."
With emo on the rise and young suburbanites rummaging in thrift stores for recyclable threads, cardigans became the item du jour for any indie dude wanting to hone a look once reserved for his grandparents.
Alas, like most good things, this "vintage" look was soon adopted by every Tom, Dick, and aforementioned Von Douchebag, eventually killing the cardigan market.
Verdict: Resurrect, especially if worn over blazers à la Prada FW19
Alexander McQueen skull scarf
The late Alexander McQueen gifted the fashion world many exquisite, precious things during his time on Earth, but the skull-print scarf — and the countless offspring it spawned — was not one of them.
While it'll likely go down in history as one of the most iconic and coveted accessories ever, its ubiquity in the '00s — worn by everyone from Johnny Depp, Jay Z, and Kanye to Kate Moss, Kim Kardashian, and Vera from down the street who found a knock-off on sale at Target — means we cannot allow it to return. Sorry.
Verdict: Bin
Embellished denim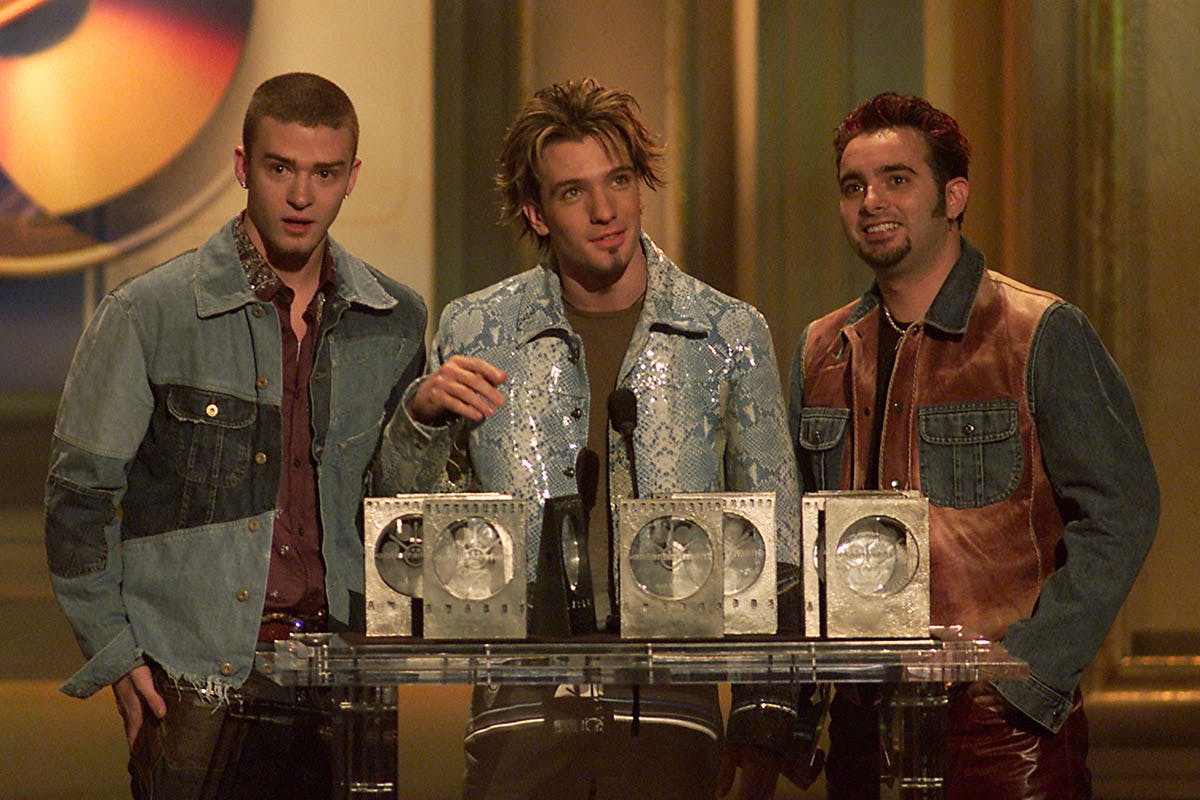 If you were a teenager or older the '00s, chances are you owned an array of embellished denim 'fits with frayed edges, multiple zippers, patchwork detailing, and wild fabric combinations. If you didn't, *NSYNC owned enough for the both of you. The boys were spotted on multiple occasions rocking some wild looks that, despite being worn in some of the most awkward group pictures known to man, worked way better than they should have.
Of course, multi-pattern denim everything isn't for everyone. So, unless you're operating within a frosted-tip touting boy band, approach with caution.
Verdict: Tentative resurrect
Bootcut jeans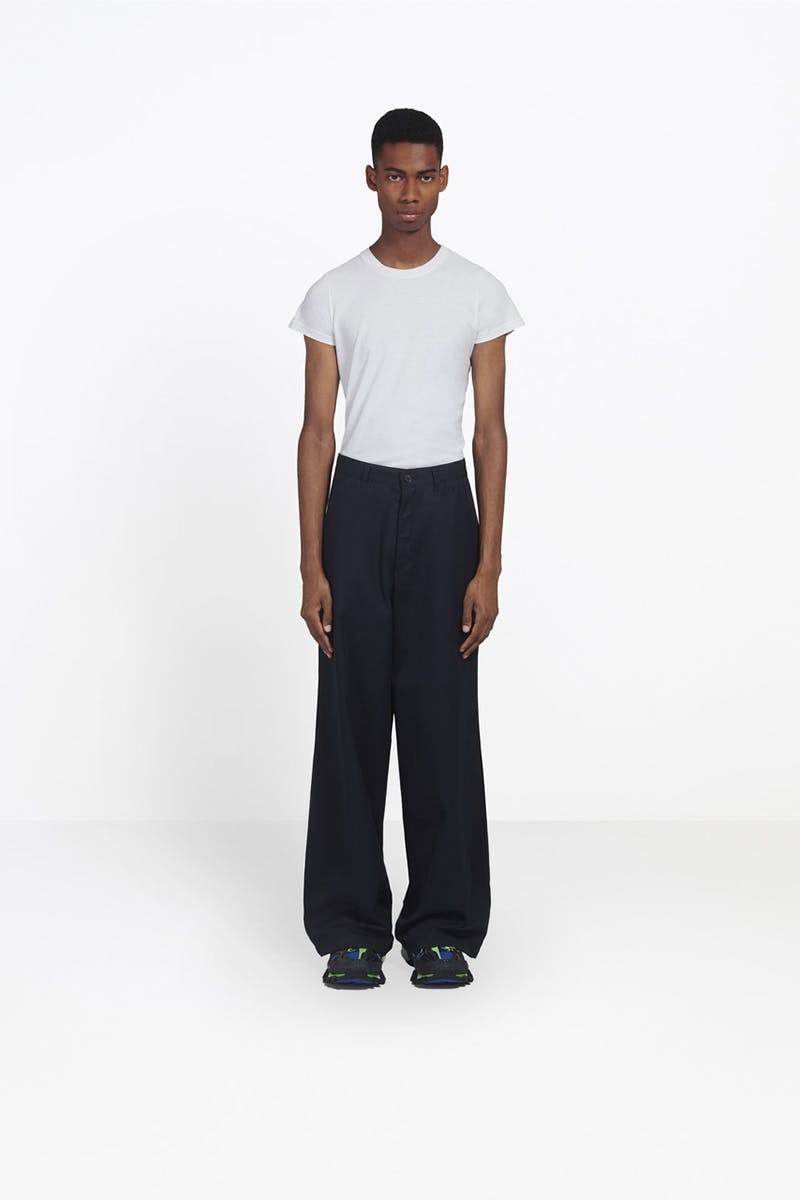 There's a reason the internet was in uproar when the return of bootcut jeans was threatened at the end of last year. That's because, when it comes to menswear cuts, you have to be some sort of prancing god (a Balenciaga-clad centaur, if you will) to pull this denim genre off. If you fall into this category, good for you. You can bring them back.
Unfortunately, however, very few guys look good in the shape. And before you get all sad and FOMO-y, cast your mind back to the '00s. Recall all the dudes who wore the wrong leg length, leaving the hem shredded to pieces as it trailed along the floor like a frayed rat tail, and you will remember why we buried this trend in the first place.
Verdict: Limited resurrect
Studded belts and wallet chains
The likes of Sum 41, Good Charlotte, and Avril Lavigne were a major reason pyramid-studded belts and low-hanging key and wallet chains were a thing at all in the '00s, and heartfelt thanks go out to them for making it so.
This vibe would slide easily into a utility-focused streetwear 'fit — see Virgil Abloh's SS19 Louis Vuitton collection for proof. Today the look is way less likely to scream angst-ridden "Sk8ter Boi" or casualty of society, and will instead deliver a medley of steez and nostalgia, which, let's be real, is all we're looking to achieve.
Verdict: Resurrect
Velour tracksuits
It is with a sense of deep regret that we must fling this trend back into the depths from whence it came, for even Drake's attempt at the velour traxedo at his birthday party last year cannot undo the damage done by the ghosts of velour's past. We're looking at you guys, Juicy Couture and Eminem.
Still, at the end of last year, Gucci and a select few other brands dropped new velour menswear vibes with potential, so watch this space.
Verdict: Bin, but the lid is open
Matrix coats
When The Matrix shoved a red pill down our collective throats back in 1999, the proverbial rabbit hole turned out to be two decades of Morpheus and Neo wannabes donning floor-length leather or PVC coats and tiny sunglasses and walking around with an air of arrogance suggesting that they, too, were the chosen ones.
The Matrix trilogy ensured this trend was an enduring one. While it might have dipped in and out of the collective consciousness over the years, long shiny coats remain a serious flex and we are still here for it. Especially when *NSYNC (clearly the major trend in this article) show it works equally as well in a number of colorways.
Verdict: 10/10, keep forever