An icon is a symbol that remains the same, but is capable of adapting to infinite situations. Throughout its 45-year history, "MCM"—which stands for Modern Creation München—has been an enduring icon since its origins from the Golden Age of Munich: bright lights, disco, travel.
Like the jetsetters that inspired MCM's creation, the Berlin-based brand carries with it a trace of influence from everywhere it travels, evolving into a truly global, multicultural brand today..
To celebrate 45 years of MCM, we look back on the brand's most important milestones so far.
Munich in the 1970s: a capital of disco. It was a magnet for the new global jetset, such as Freddie Mercury, Mick Jagger, and David Bowie, all of whom lived in Munich.
MCM is born, debuting a line of 20 MCM pieces exhibited in a glass tank at a salon in Munich (which once held a live alligator). The line established a hand-drawn MCM logo with laurel leaves tied with a ribbon at the center: an homage to King Ludwig I and his (and Munich's) passion for neoclassicism. The logo is used in MCM's trademark Visetos motif, which patterns the logo with a diamond shape, inspired by the lozenges found in the Bavarian flag. From inception, the Visetos appears in black on a cognac base, instantly becoming one of the most recognizable fashion patterns of the period.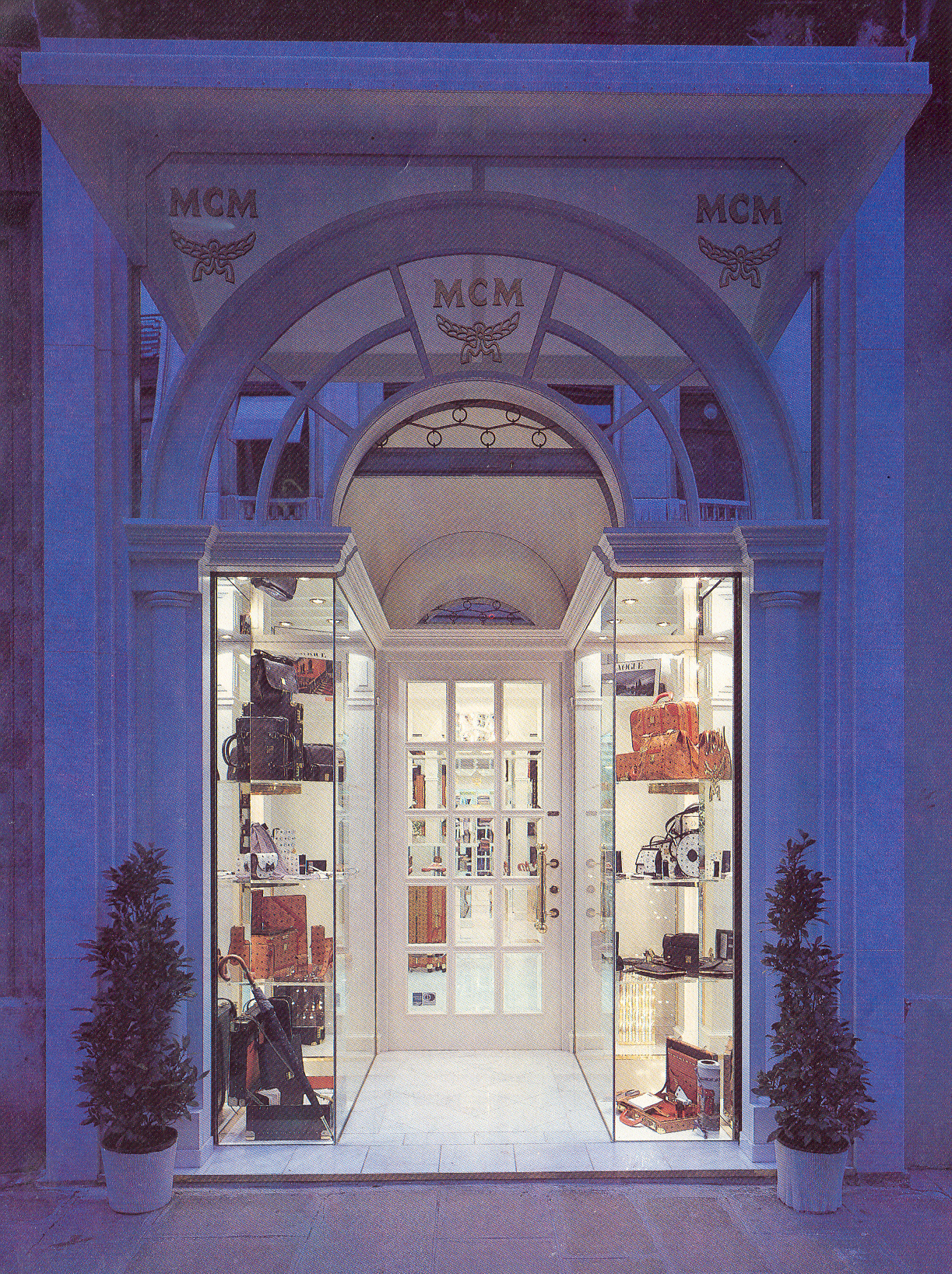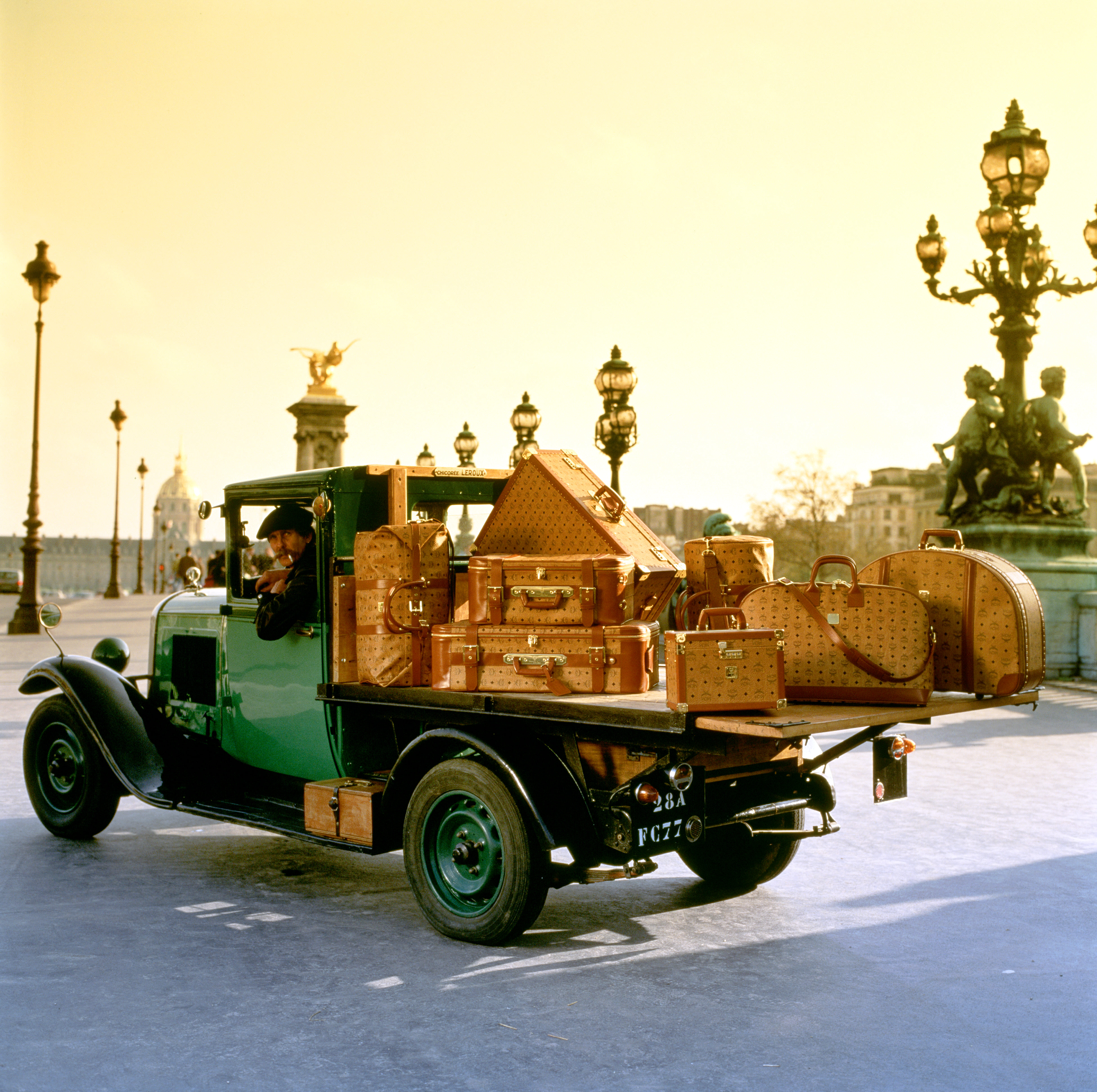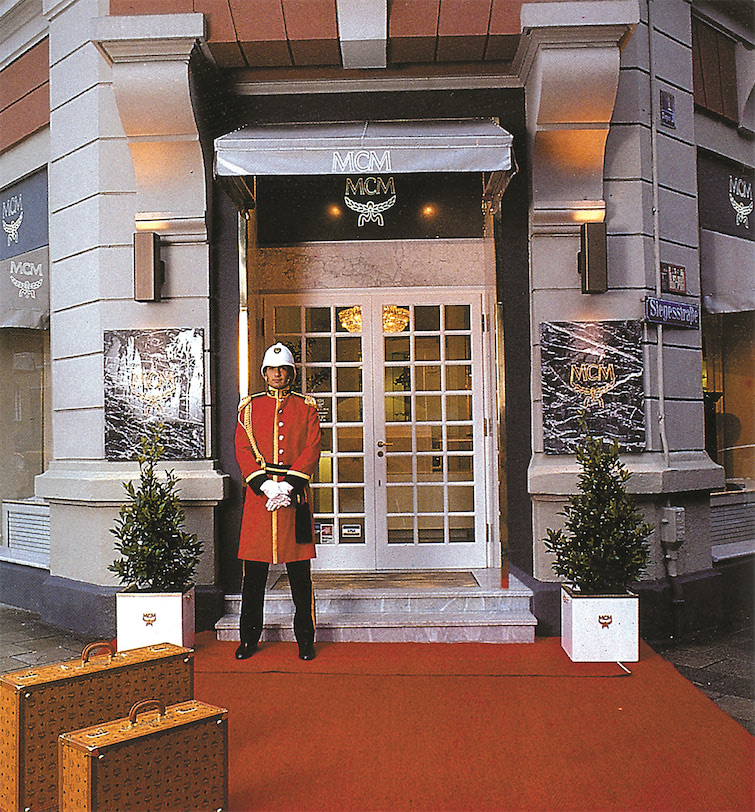 MCM becomes a favorite of disco queen Diana Ross. It appears on Dynasty, with Linda Evans arriving at a hotel with a luggage cart of MCM. Soon, the brand opens 250 stores worldwide, including cities like New York, Los Angeles, Tokyo, Paris, Milan, London, Brussels, and Madrid. For such a young brand, its luggage line became a remarkably instant hit across the heart of mainstream culture. (Another photograph from the era shows even Sigfried and Roy posing with heaps of MCM.)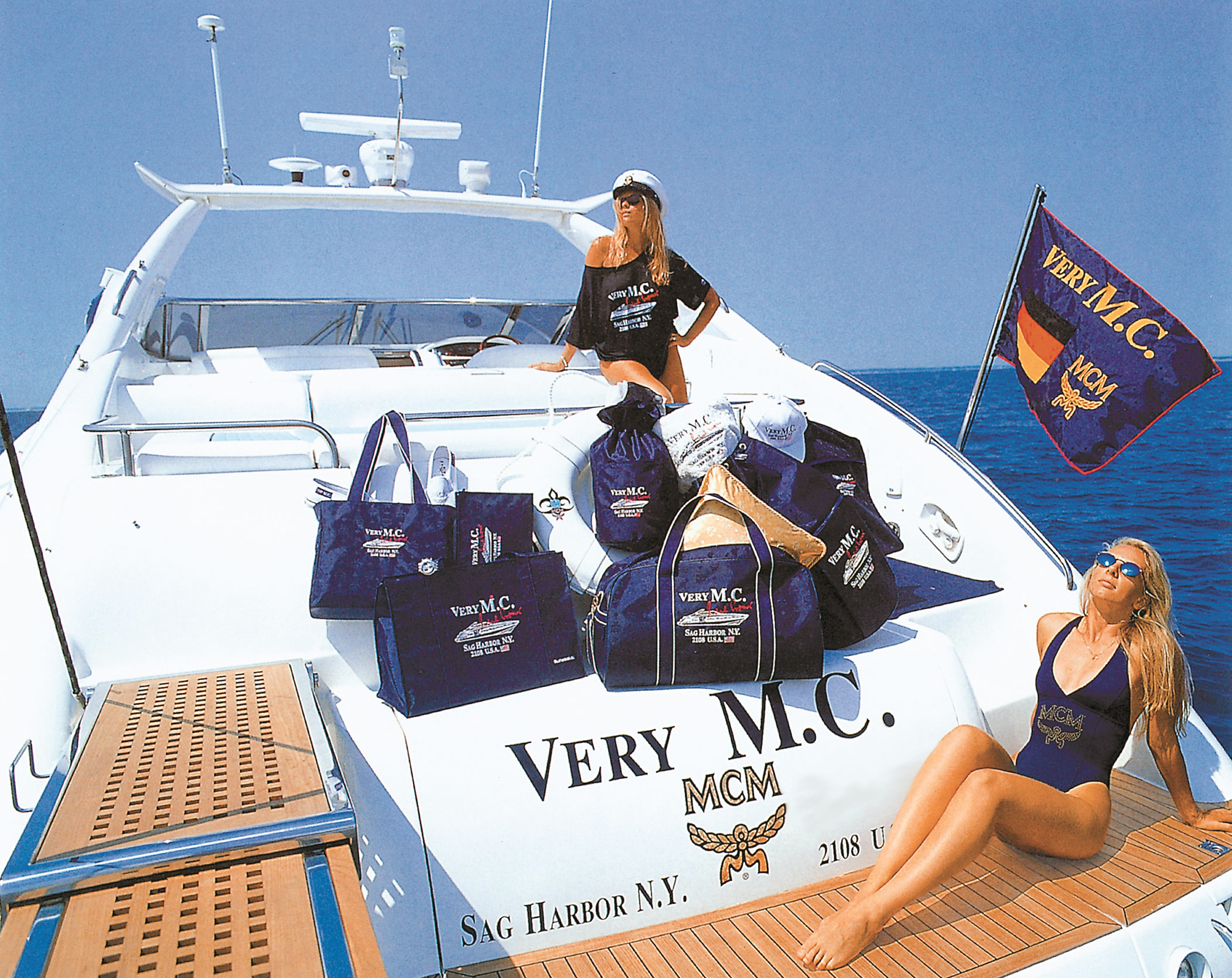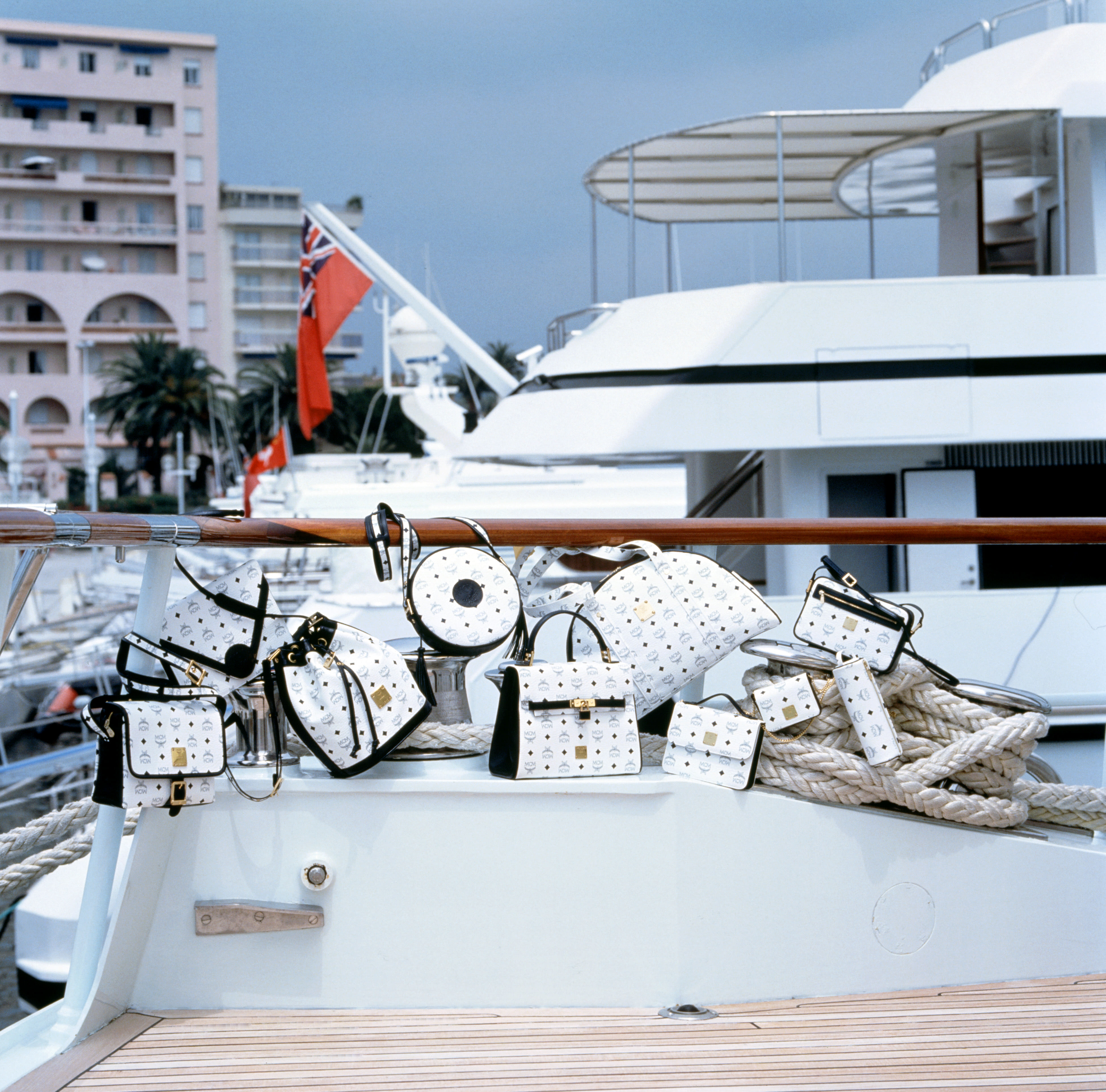 Meanwhile, MCM becomes a fixture in then-emerging hip hop subcultures. It was one of the most requested designs from Dapper Dan, a bespoke fashion designer in Harlem known for using appropriated luxury logos in original designs, particularly for people in the hip hop world. The idea was to take icons from Madison Ave luxury and repurpose them for clothes specifically designed with a Black, streetwear aesthetic. With customers including Eric B. & Rakim, Salt-N-Pepa, LL Cool J, and Jay Z, Dapper Dan even had a body shop where he customized cars with MCM. One photograph from 1988 shows LL Cool J performing in a full white look from Dapper Dan using the Visetos print.
Now-infamous MCM ad features Cindy Crawford nude except for an MCM bag, shot by Herb Ritt. In one photo she's scribbled "I want my MCM" on it. At this point, MCM is more popular than Louis Vuitton in Germany and doing very well in Asia.
MCM premieres its collection "MCM New York'' in a major collaboration designed by Joy Gryson, the former accessories design director at Marc Jacobs. The line of bags includes rich details like pleating and chainwork on snakeskin in what Gryson described to WWD has "somewhat of a Neoclassic aesthetic." The collection is exclusively sold at Saks Fifth Avenue and the MCM boutique in New York's Plaza Hotel.
The collection's campaign features Coco Rocha in a reprisal of the 1996 Cindy Crawford ad. Rocha is photographed by Cheol Park in The Standard Hotel.
MCM celebrates its 35th anniversary. Their campaign included 35 short videos of birthday wishes by staff members, designers, and influencers close to the brand. To celebrate the occasion, MCM also released a special line of MCM studded backpacks in multiple colors.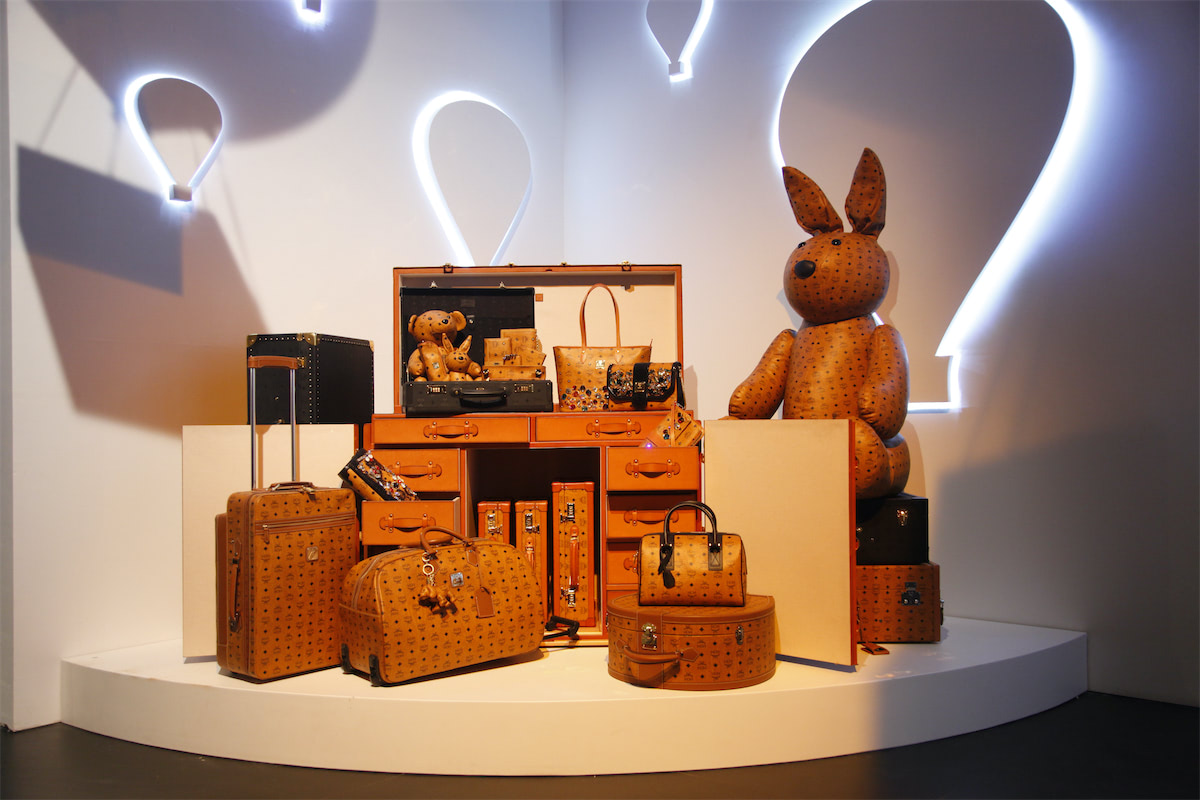 MCM taps German artist Tobias Rehberger, who won the Golden Lion at the 2009 Venice Biennale, to create an immersive art installation in the Hong Kong MCM flagship store for Art Basel Hong Kong. The store's windows and the entire lower-ground floor are covered in Rehberger's "dazzle camouflage" signature of black and white stripes, neon tube lights, and fractals. The visuals echo the same limited edition capsule collection Rehberger designed with MCM, which are placed throughout the store as if in camouflage.
Rehberger placed European teapots throughout the store, "because this is China," he says "and I wanted to bring all these European teapots back to the place where tea comes from."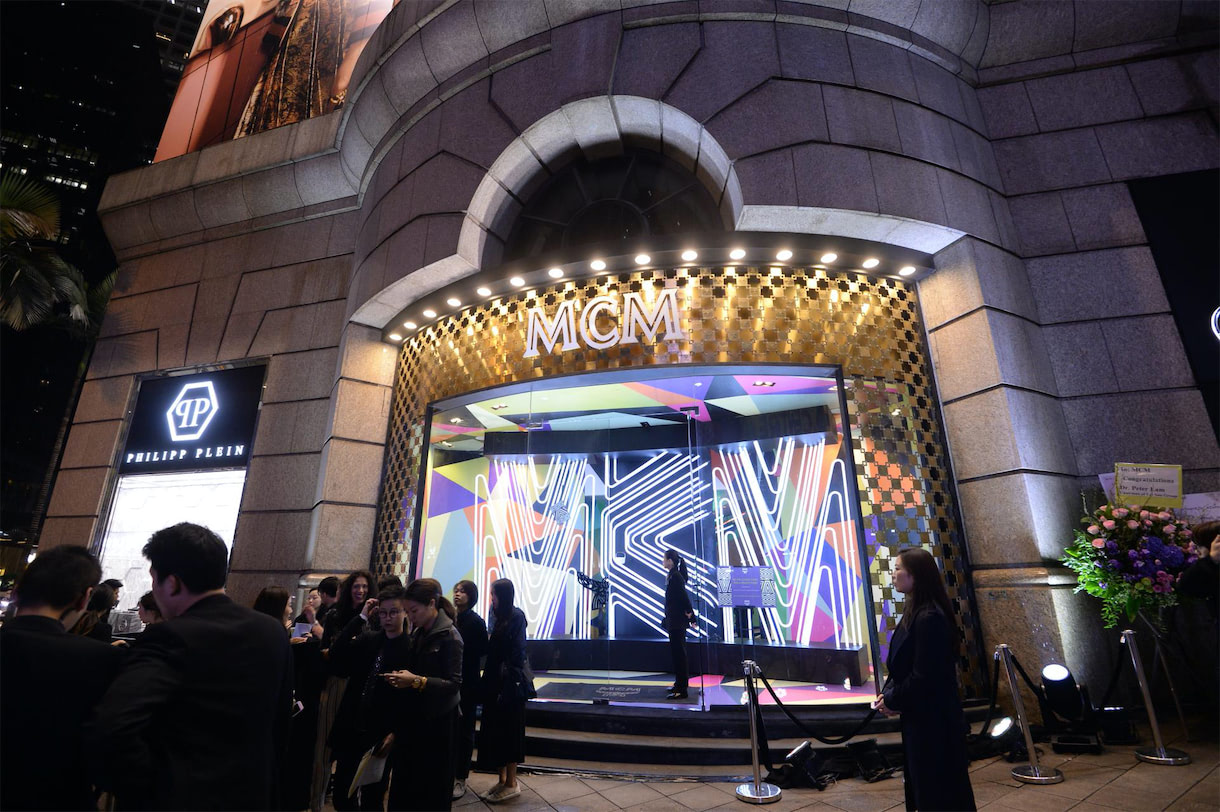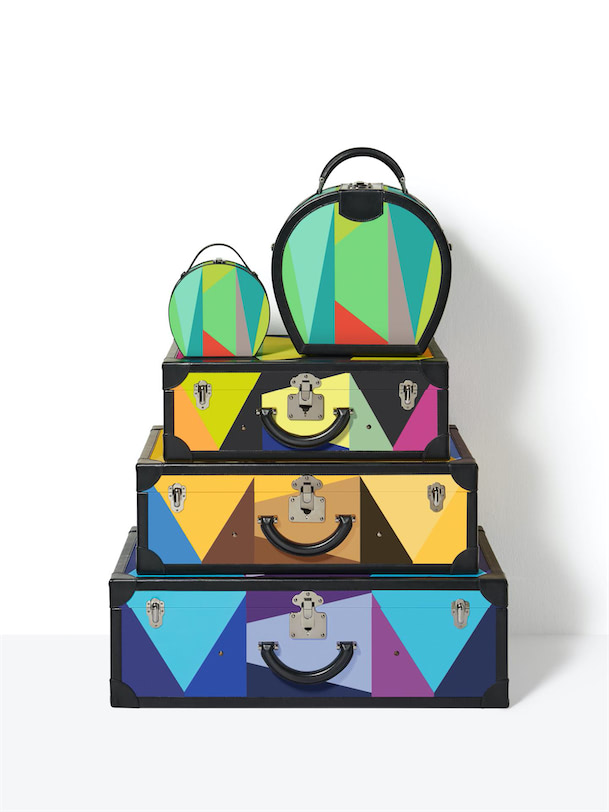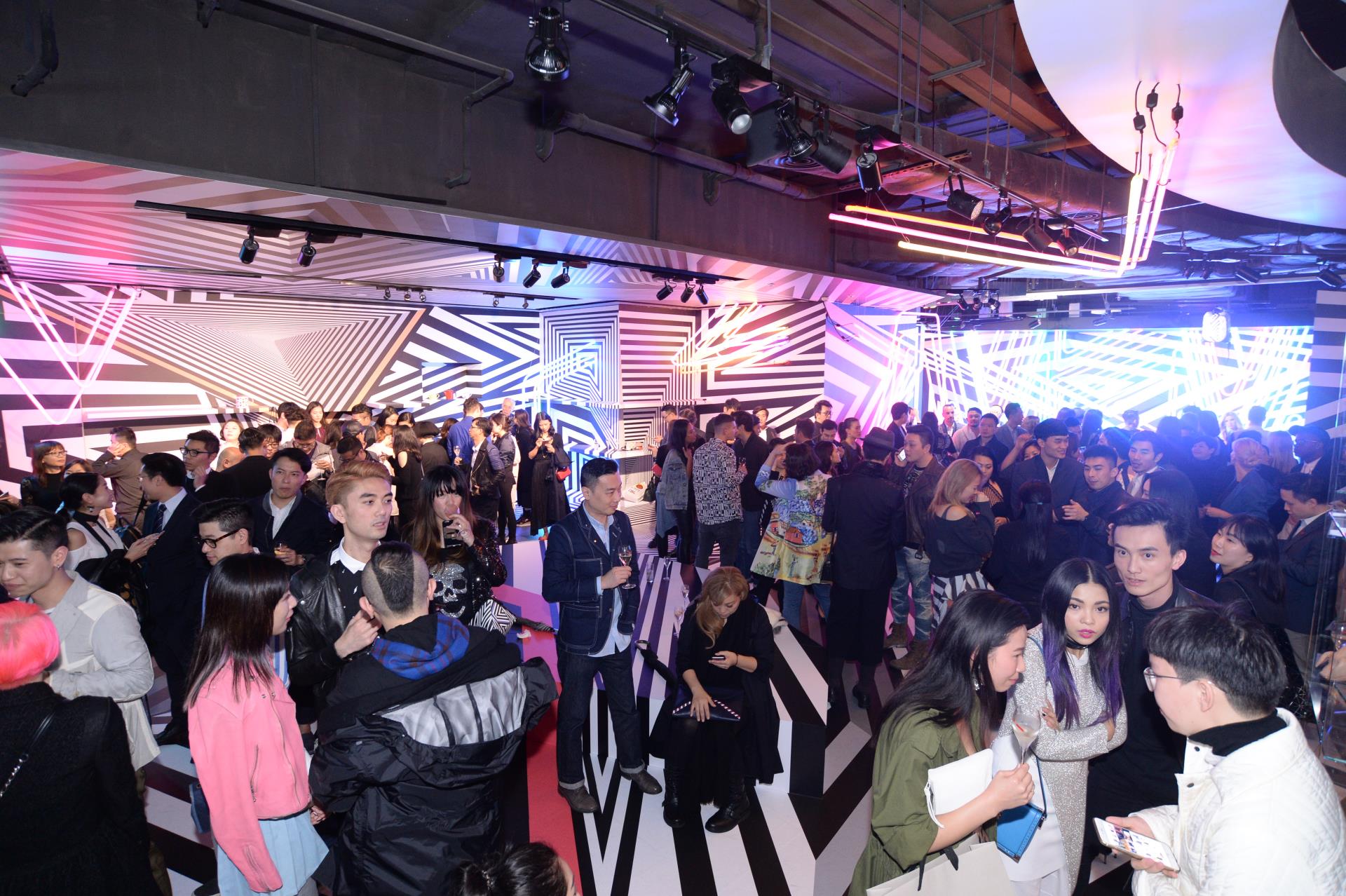 British fashion designer Christopher Raeburn debuts his collection with MCM for London Fashion Week in London. The collection exhibits bombers, parkas, ponchos, shorts, and leggings in fractal camouflage prints in black and gray monochrome or taxi-yellow accents. In true Raeburn fashion, the materials include a dirt-repelling and UV-blocking stretch fabric and a nylon by Spanish firm Ecoalf made from recycled bottles. For the bags, Raeburn designed a modular system with additional pouches in weekend bags, totes, and backpacks. Techno duo Raime soundtracks the show.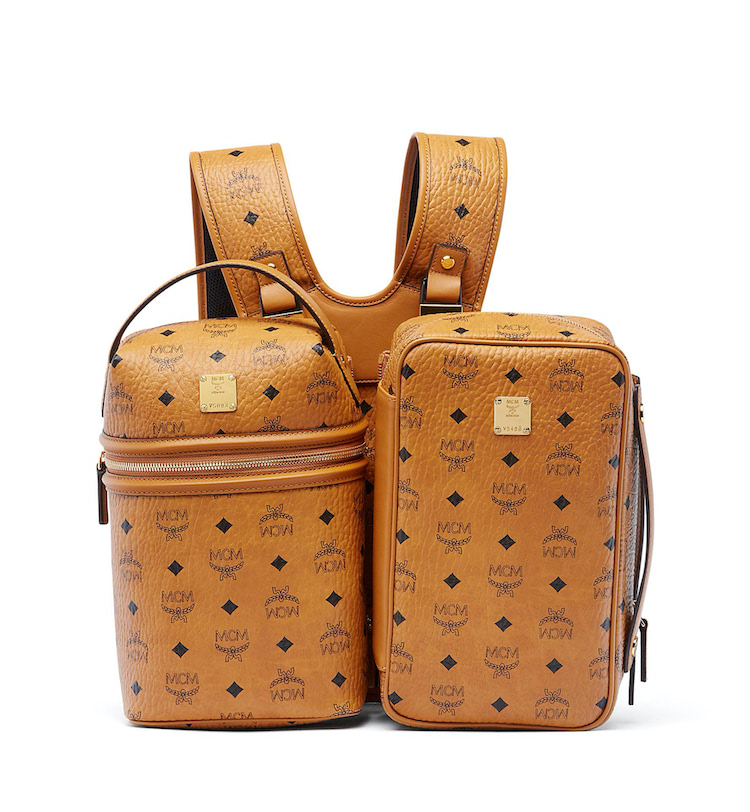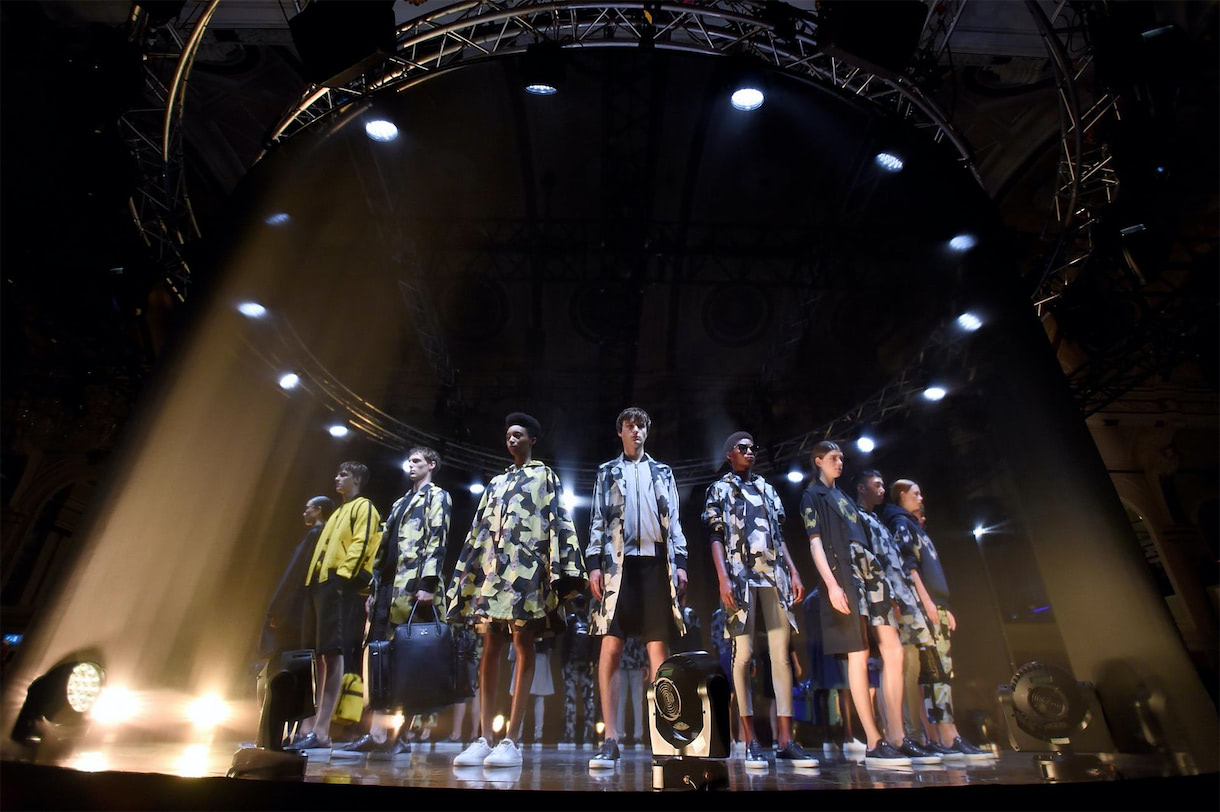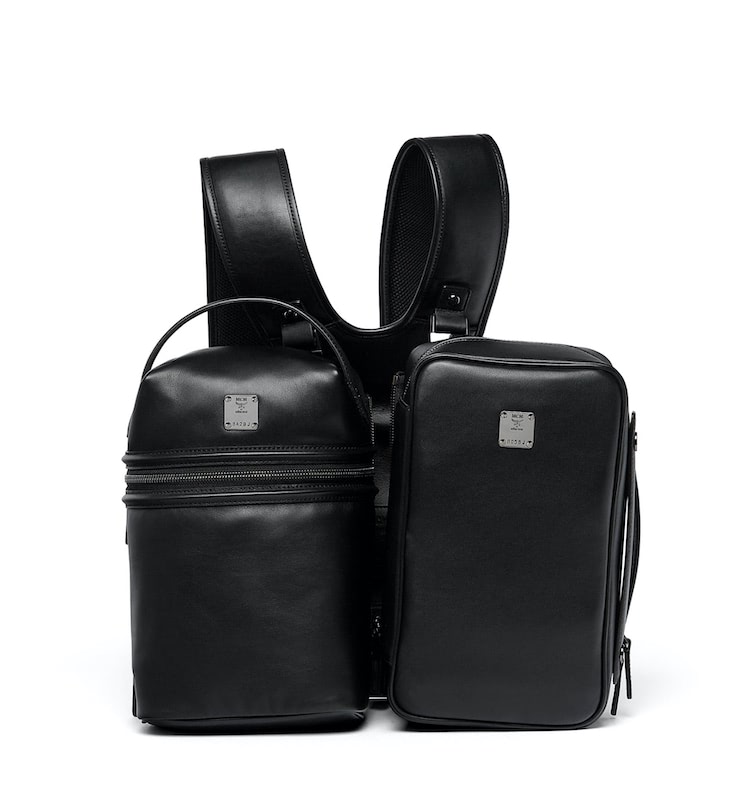 MCM begin their relationship with Berlin based art studio König Galerie with a six piece limited-edition collection created in collaboration with KÖNIG SOUVENIR the galeries label for unique objects of art. The collection was ceremoniously revealed at Art Basel Miami and was the first of many collaborations with König, including the art space KÖNIG TOKIO (which kicked off with a Juergen Teller exhibition) and the upcoming KÖNIG SEOUL.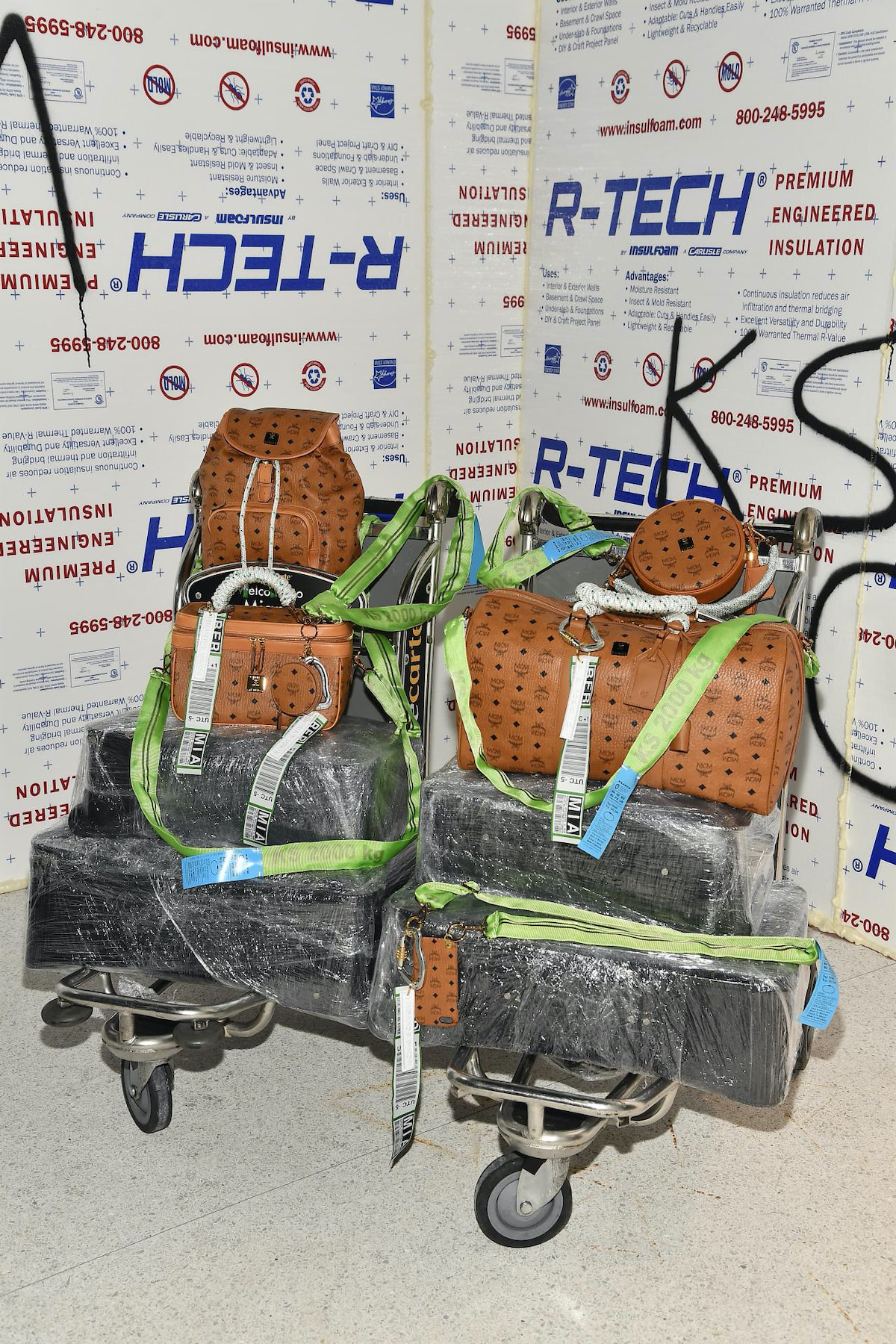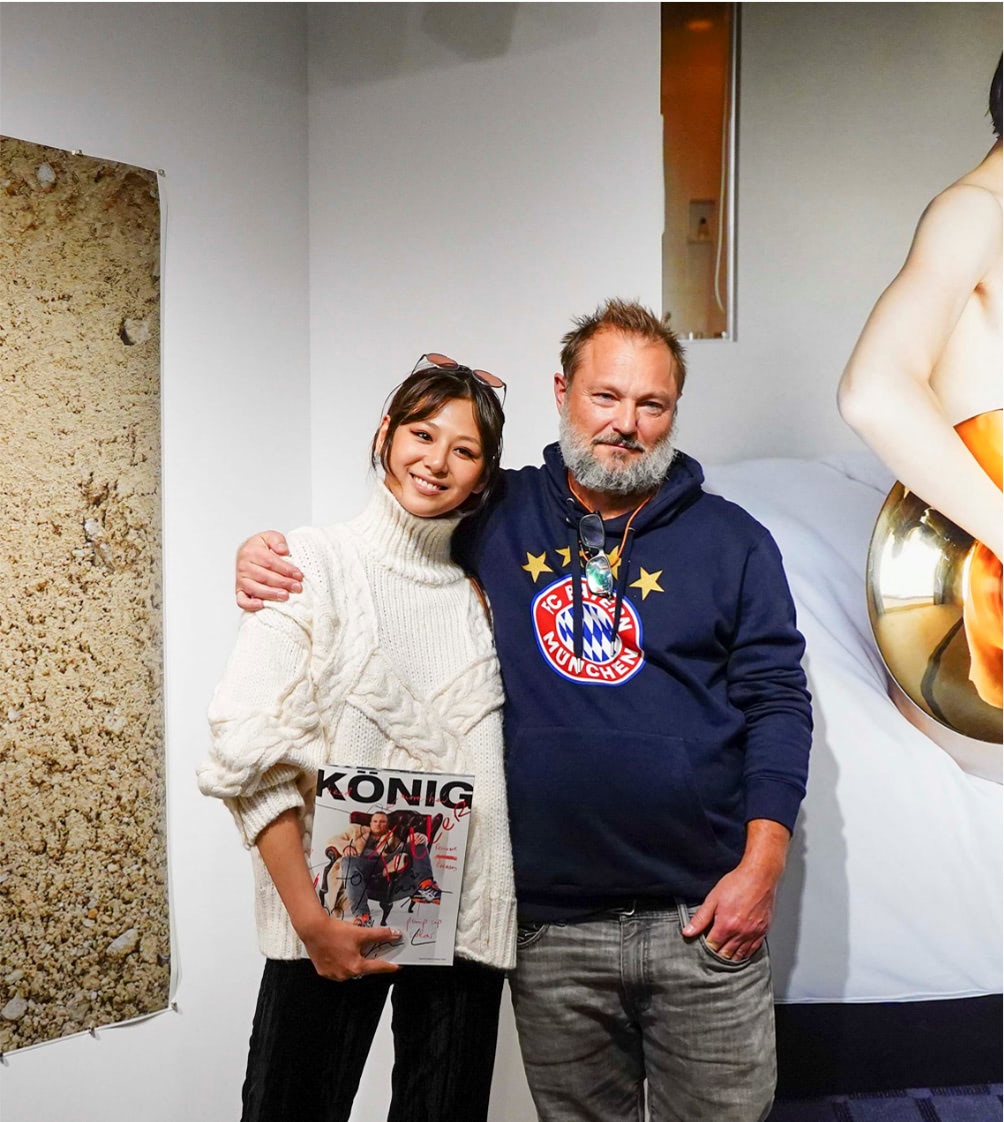 MCM debuts its first full ready-to-wear and accessories collection at 94 Pitti Uomo. The show was titled "21st-Century Global Nomad". The youthful, buoyant collection exhibited a colorful range of technical gear, hooded rain coats, jumpsuits, workwear, and mesh tops sporting the vibrant MCM logo. Accenting the looks were chic MCM-monogrammed helmets, a nod to the brand's legacy travel accessories.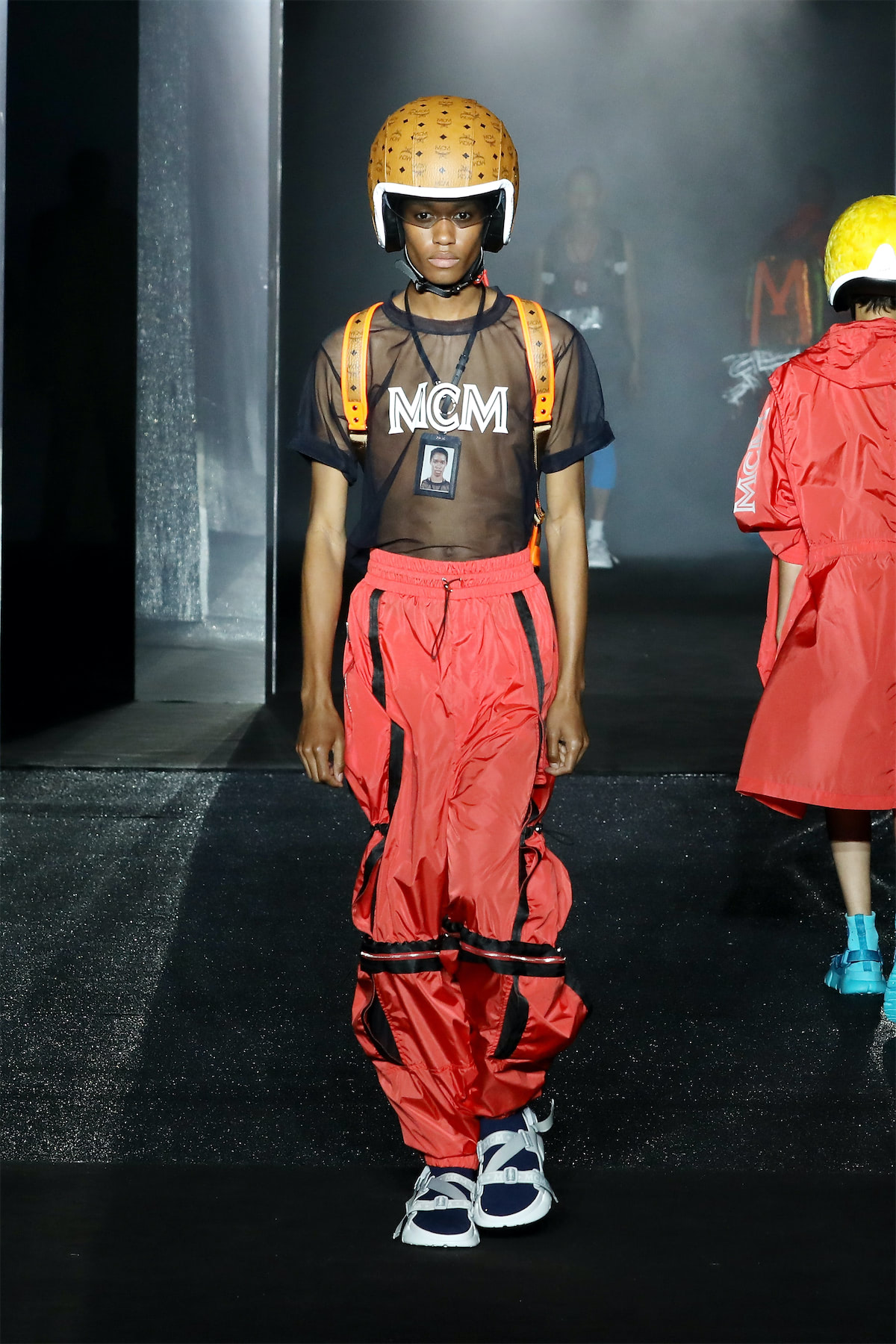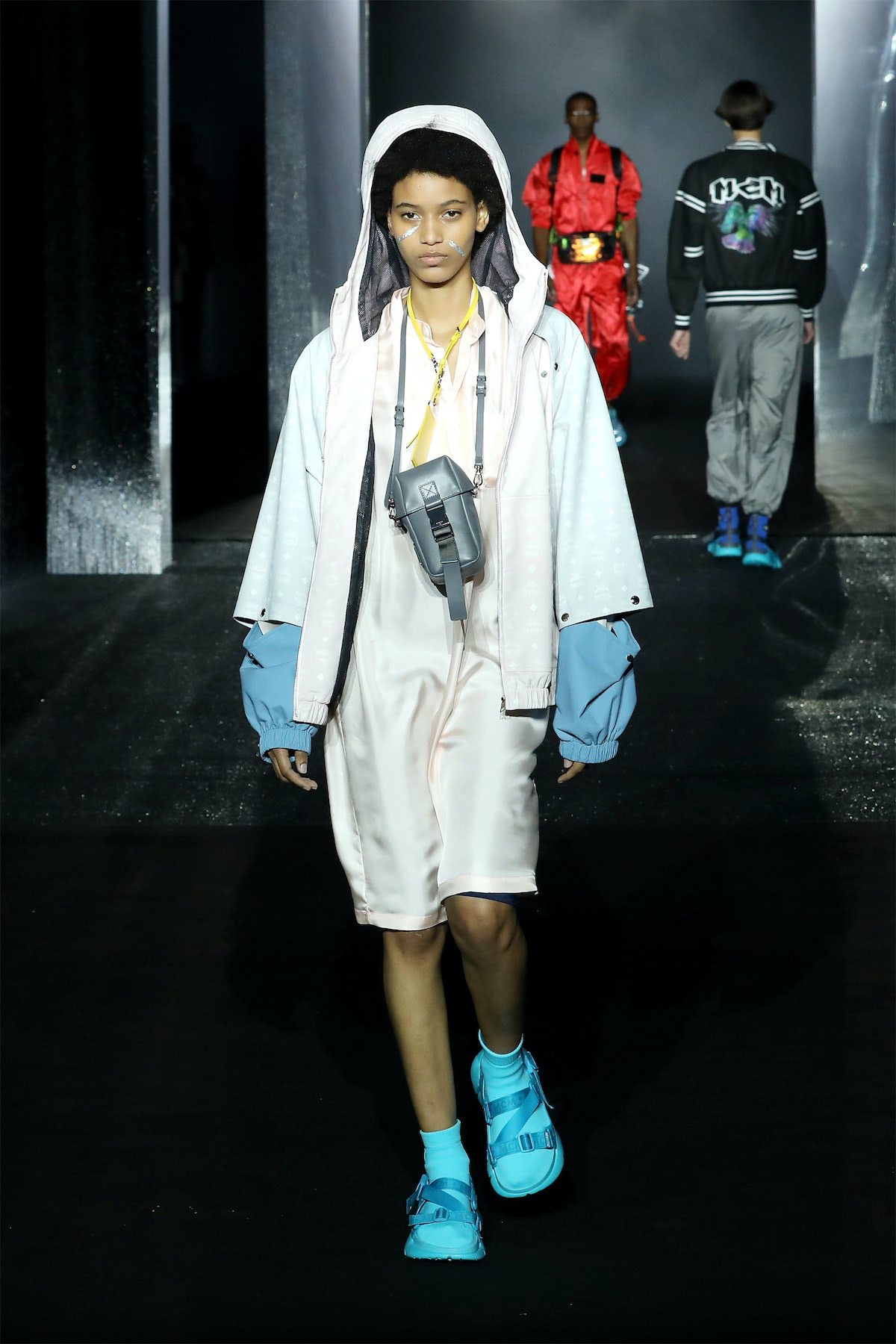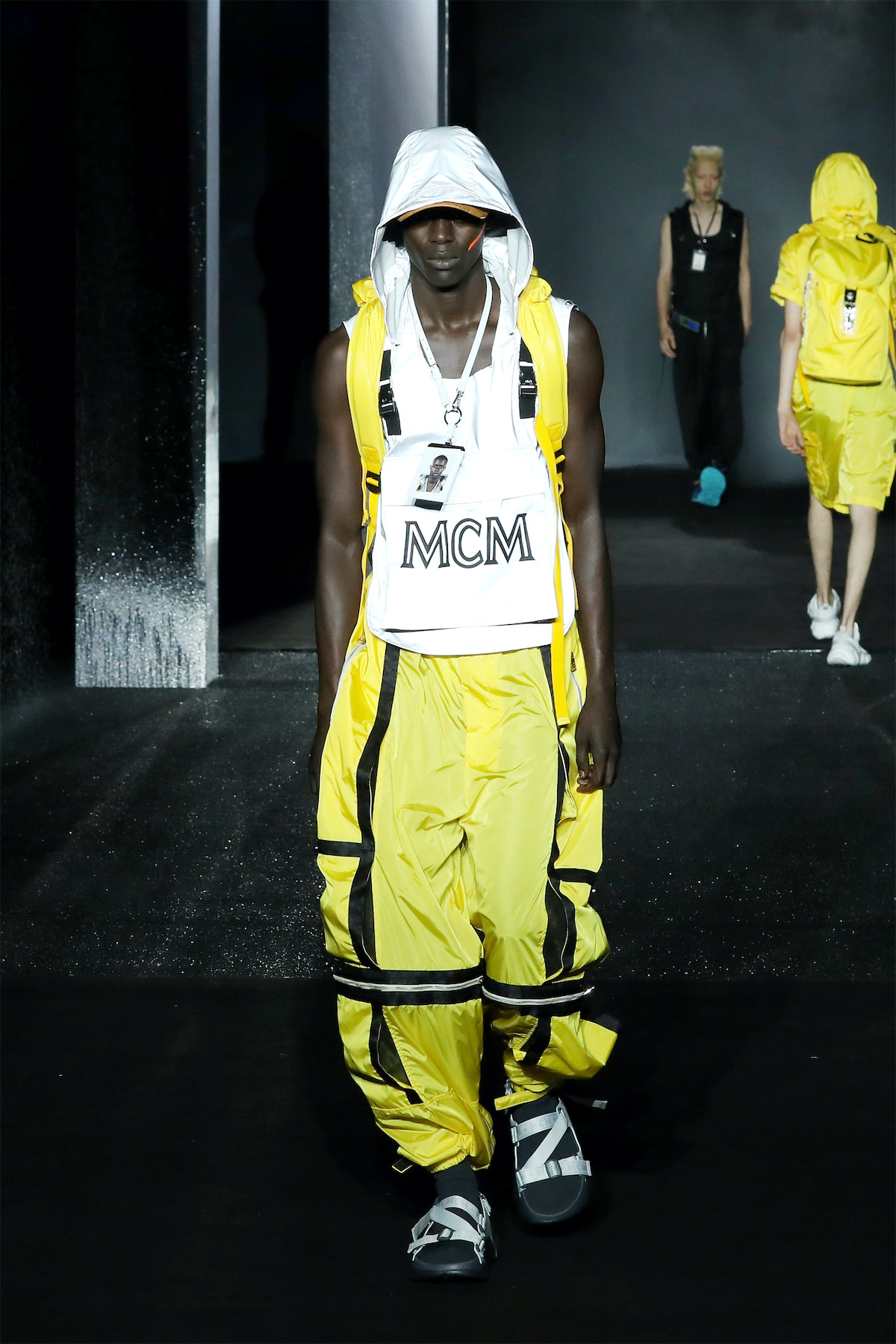 Stylist Misa Hylton is appointed Global Creative Partner at MCM. Since the 90s, Hylton has been a seminal stylist for classic hip hop artists, like Mary J. Blige, Missy Elliott, and Jodeci. In her formative years, she worked with Dapper Dan to style music videos, and was known for introducing looks such as monochrome outfits with matching hair, or Lil Kim's infamous purple jumpsuit at the 1999 MTV VMAs.
In 2018, Hylton was commissioned to make a full MCM bodysuit for Beyoncé in The Carters' "Apeshit" video, whose fashion features iconic brands important throughout hip hop history. Hylton's MCM bodysuit—with the classic cognac Visetos—is what Beyoncé wore in the Times Square billboard for the "Everything Is Love" album by The Carters.
Zerina Akers, who commissioned the MCM suit, said she got the idea after seeing a photo of Big Daddy Kane in a black leather trench in MCM that Dapper Dan had made.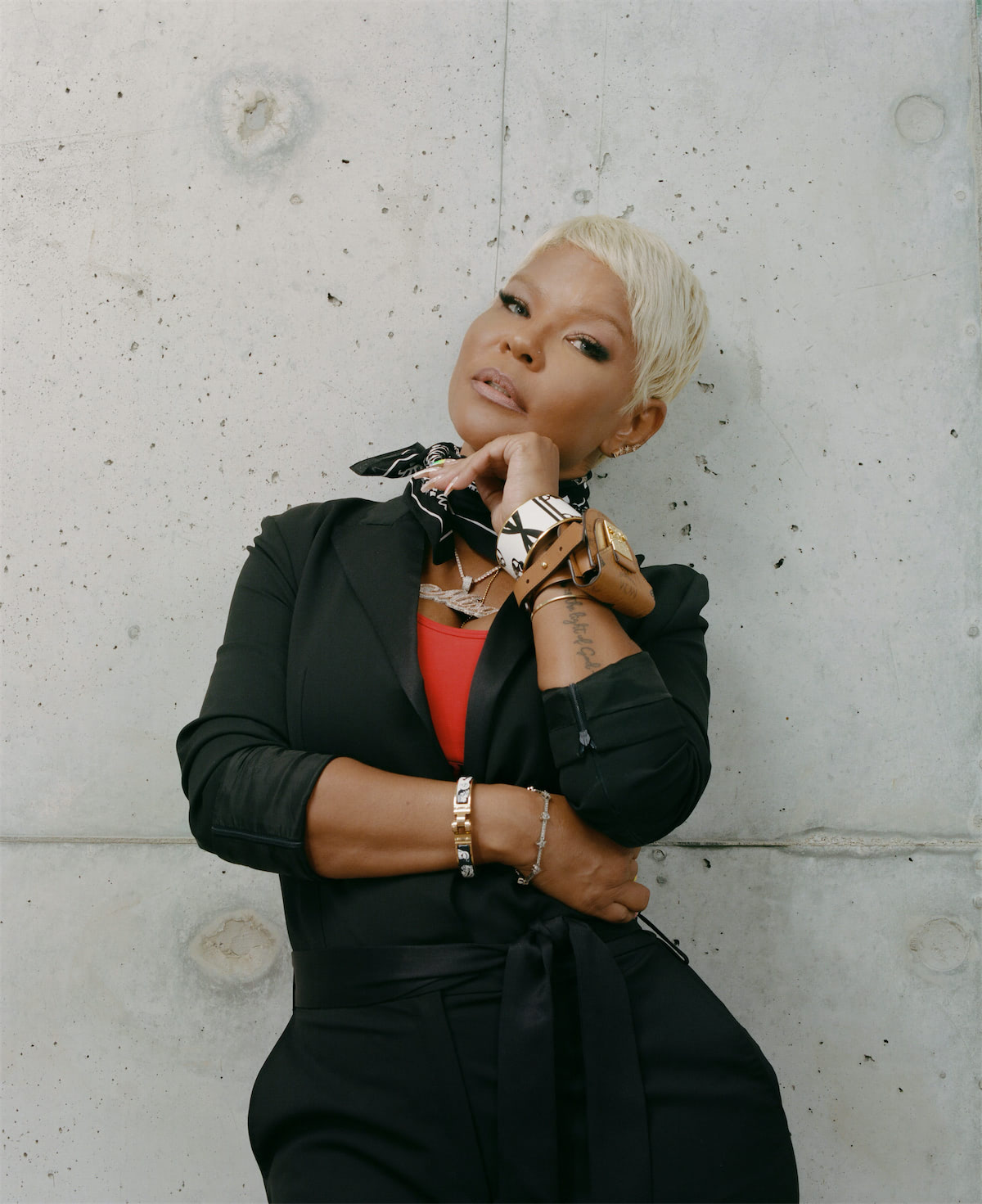 PUMA celebrates the 50th year anniversary of its Suede sneaker, and taps MCM for a collaboration. Both brands have a shared history in hip hop fashion, with the Suede covering streetwear and MCM from Upper West Side luxury. The collaboration comes in three colorways each sporting the Visetos: the classic cognac, all white, and red and blue. Each feature a golden tongue plate with a unique registration number, like the ones that come with MCM accessories. (The collaboration also includes an MCM-monogrammed tracksuit.)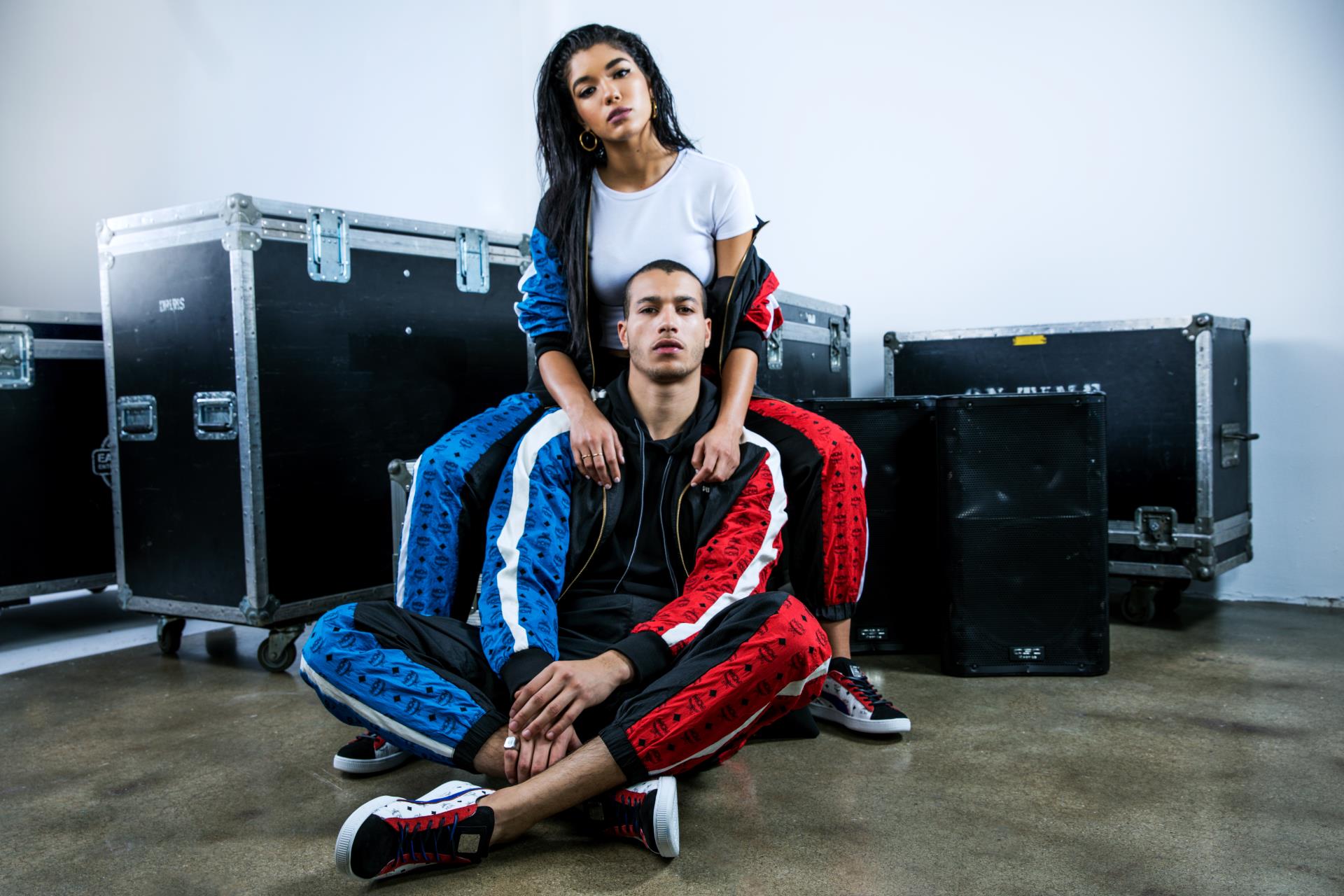 MCM poaches Dirk Schönberger from adidas as new global creative officer of MCM, where he will oversee design and brand experience across MCM's global presence. Following a successful tenure at adidas, the German designer was responsible for cult-hit collaborations with Raf Simons, Rick Owens and Kanye West, as well as the revival of the Stan Smith sneaker. Many regard him as a pivotal innovator at the intersection of streetwear and luxury.
His debut MCM collection is for SS20, which he designed as a love letter to Germany's nightlife scene, from Munich disco to Berlin techno, which is core to MCM's DNA. "I wanted to create this contrast between something that is the luxury side of construction and the reality, street-side, of deconstruction," he said in Vogue UK. Billie Eilish heads the campaign.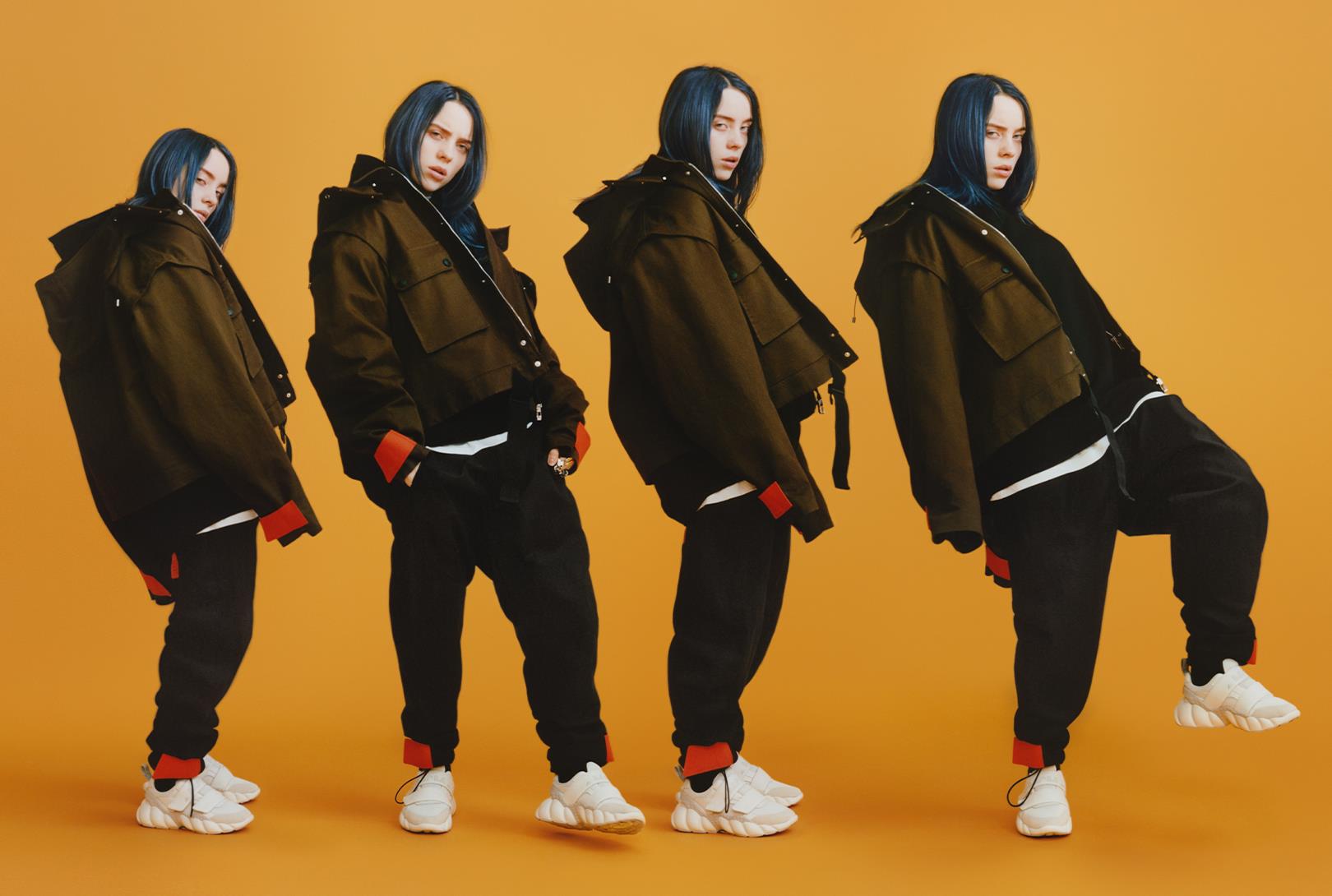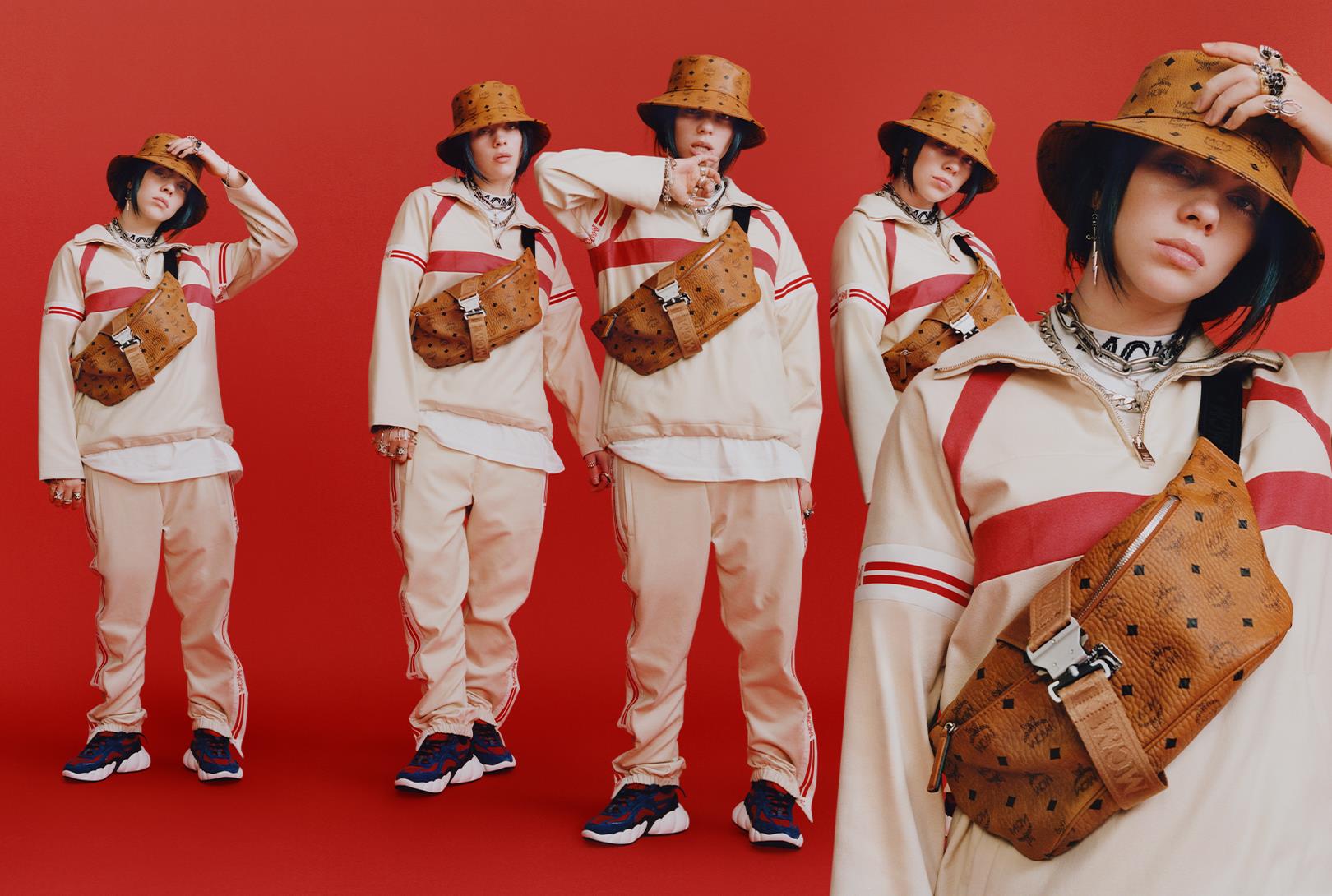 MCM and BAPE collaborate on a collection combining streetwear with luxury, featuring a newly designed camo print combining the MCM monogram and BAPE's Ape Head logo. The collection features iconic tees, tracksuits, hoodies. A new line of accessories features weekend bags, backpacks, and not least Baby Milo keychains.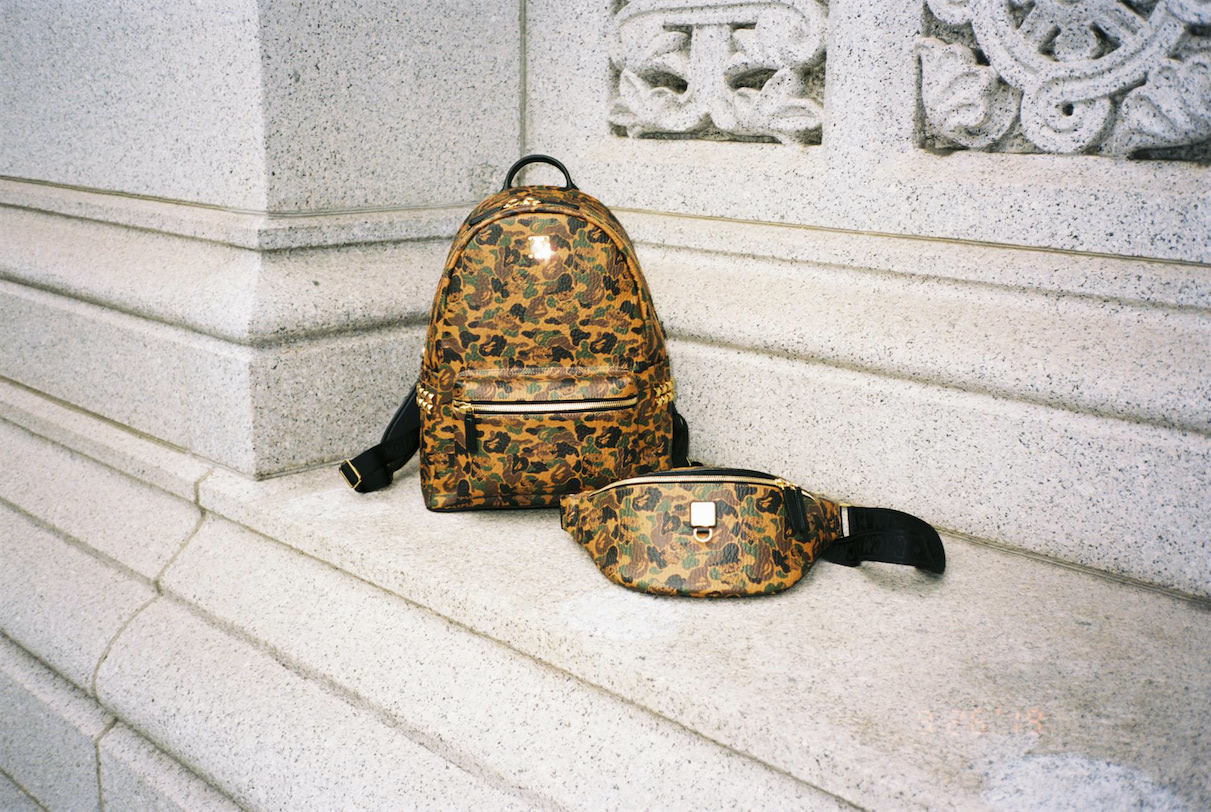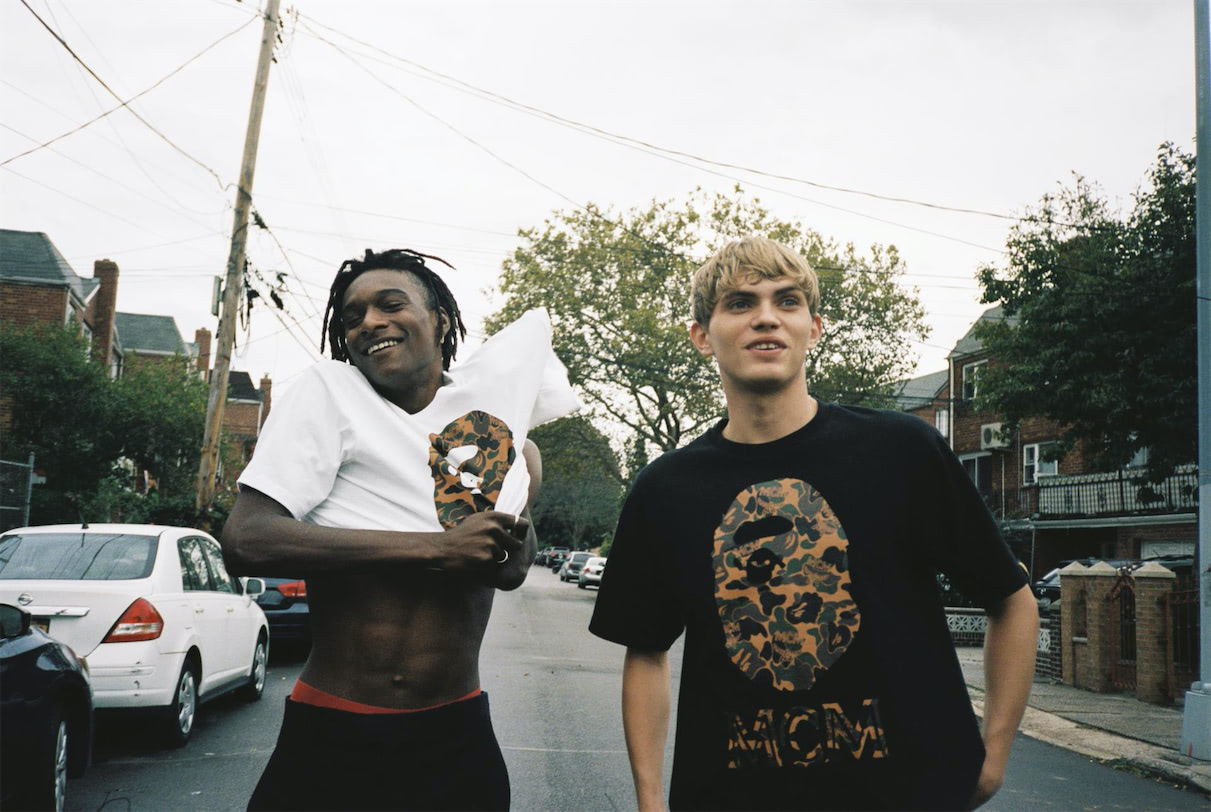 "When I think of MCM, I think of classic hip hop to the core," says Misa Hylton in the documentary The Remix: Hip Hop x Fashion, which MCM premieres at Tribeca Film Festival. The film opens in the '90s during the golden era of hip hop, when artists were demanding a new Black aesthetic designed specifically for Black people, and traces its influence to the present day on brands like Kerby Jean-Raymond's Pyer Moss.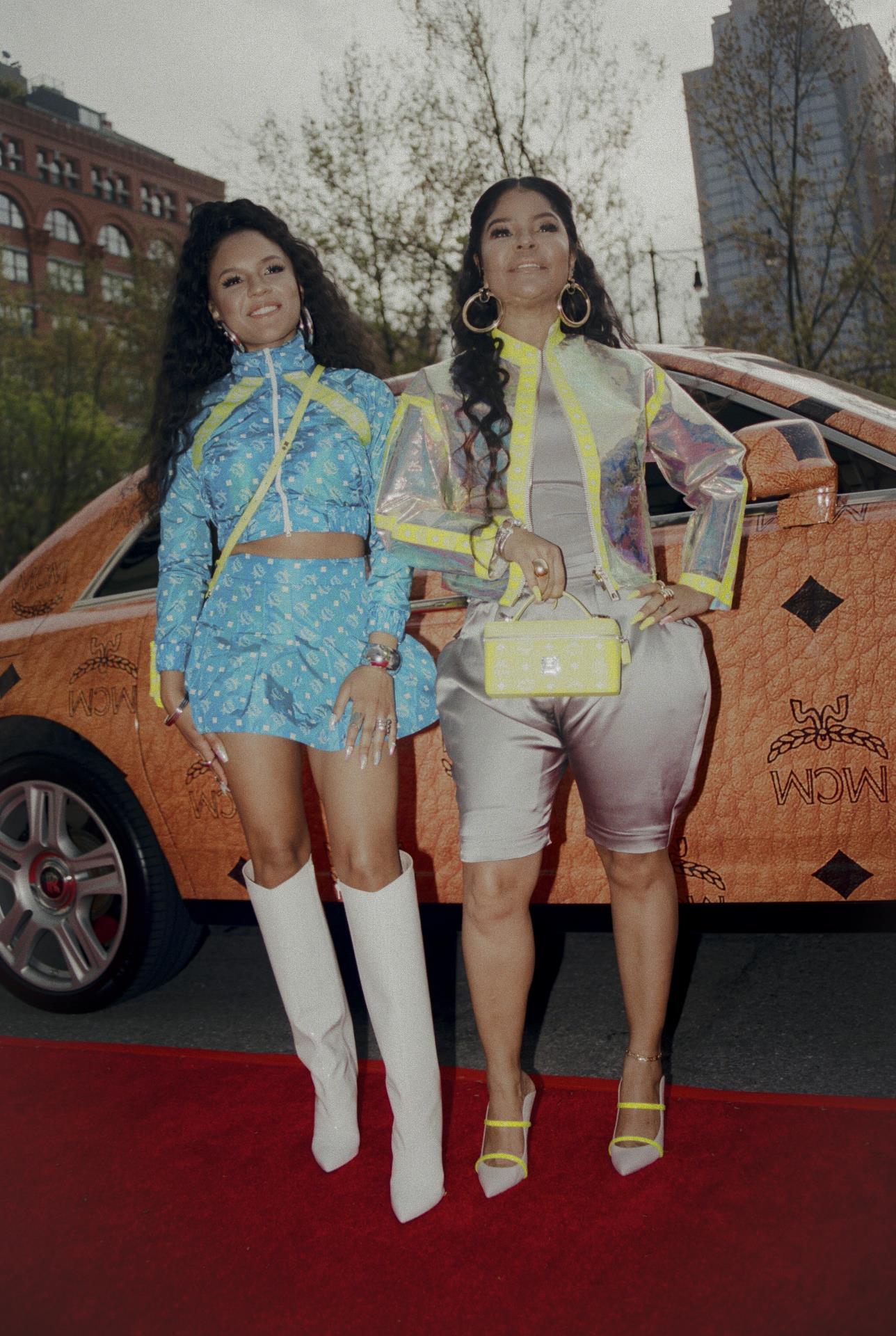 Directors Lisa Cortés and Farah X specifically focus on women in fashion, like Hylton, who were influential but overlooked at the time. "For so long, we have culturally ignored what people of color contribute to the zeitgeist and that has to change," the directors said to Fashion United. "We felt it was important to shine a light on these creators and innovators, especially women, and what they have brought to the fashion world over the years."
Kicking off 2021 in true MCM fashion the brand continues its ongoing association with the legendary KÖNIG gallery, opening a new art space in Seoul, South Korea. Hot off the back of their last collaboration in the form of KÖNIG TOKIO, KÖNIG SEOUL will occupy a floor of the MCM HAUS in Gangnam and continues MCM's support and love for artists.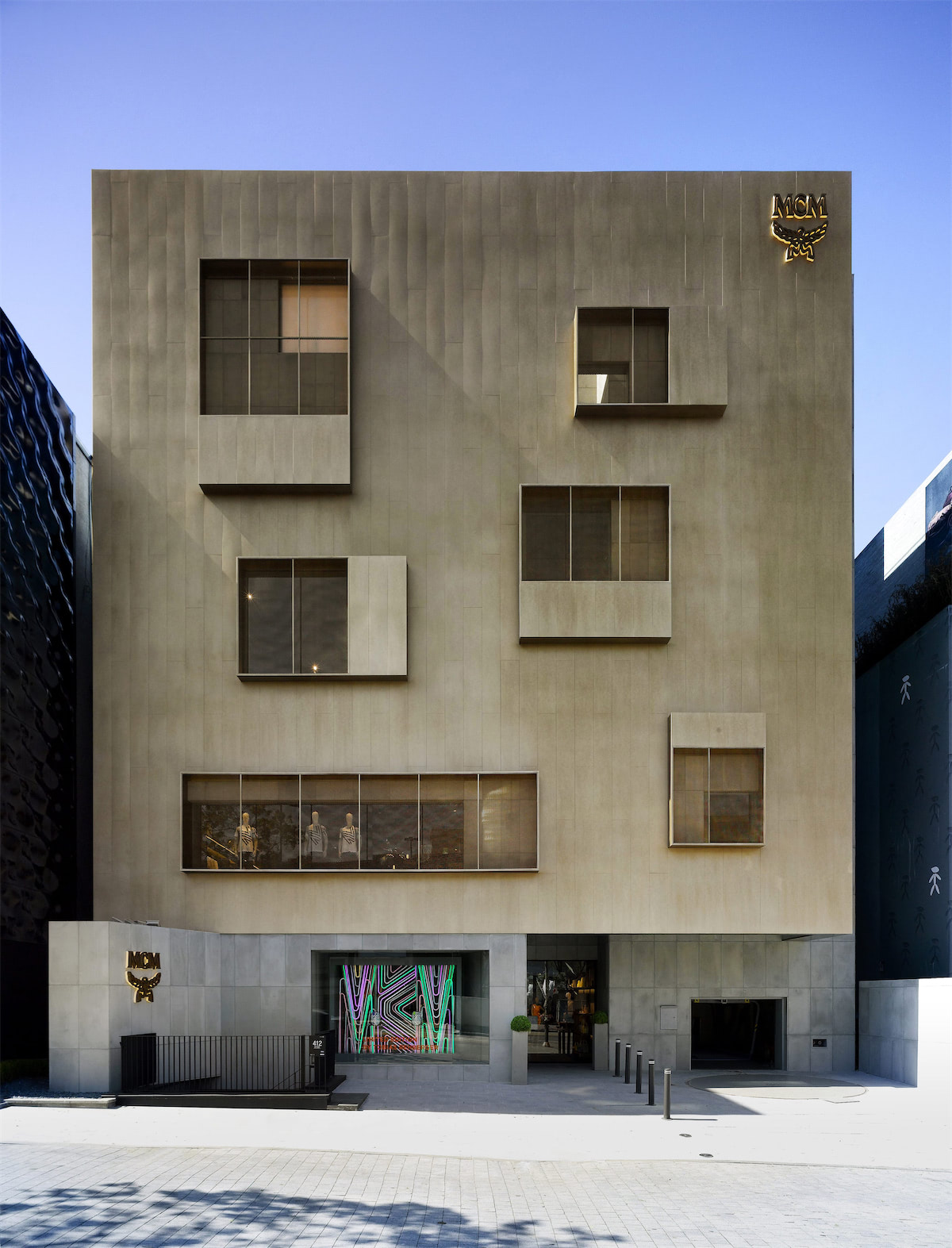 As spring arrives so does a new MCM signature fragrance. Capturing the essence of the brands heritage in travel the scent is said to take you on a transcendental journey of the senses combining scents of Jasmine and clean forest air. Building on the idea of infusing the brands travel dna into a scent the fragrance is ingeniously housed in a one-of-a-kind design that pays homage to the brands signature backpack.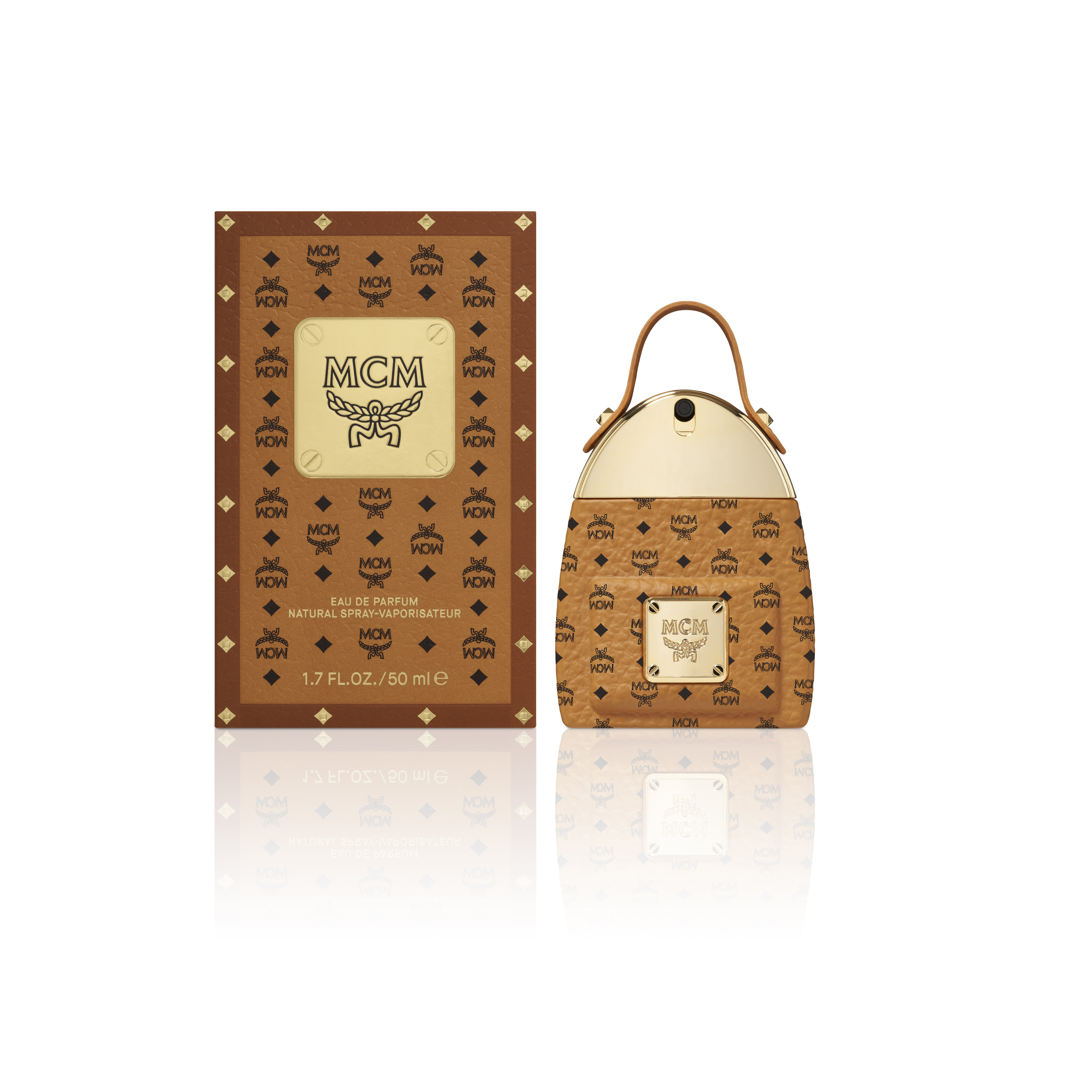 This year, MCM also celebrates its 45-year anniversary, both a tribute to its history and its followers. Its recent campaigns have traversed the world's biggest metropolises, from the Upper East Side streets in Gossip Girl to the techno warehouses in Berlin. While it counts Beyoncé and Christiano Ronaldo as its fans, its campaigns have also featured underground icons like Peggy Gou, Evan Mock and Juliana Huxtable. That instantly recognized monogram—the Cognac Visetos—has become a cult classic from some of hip hop's most celebrated rappers to the K-pop artists defining today's generation. By making its stake in the hearts of young people today, MCM plants itself in those who will shape history to come. Here's to another 45 years!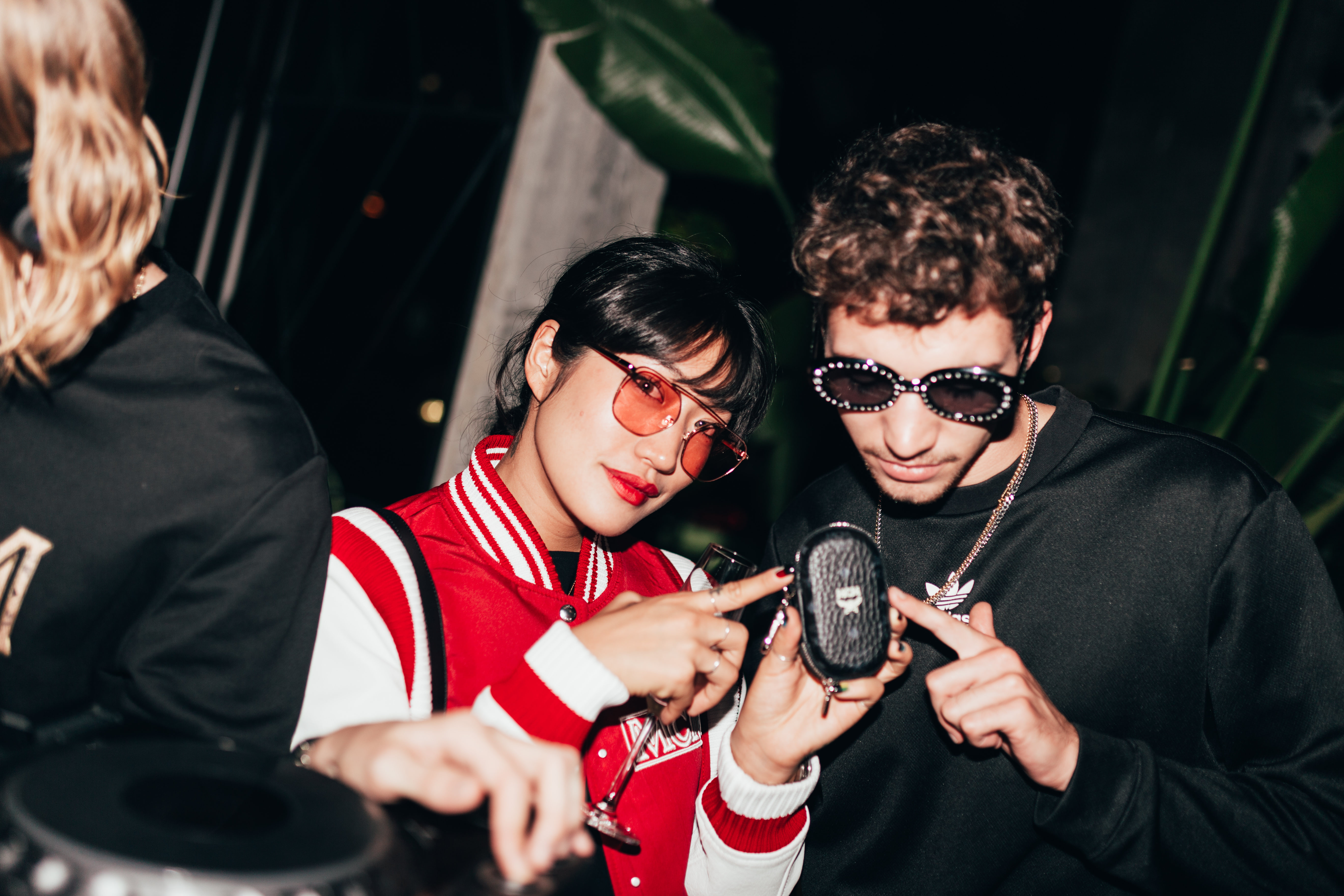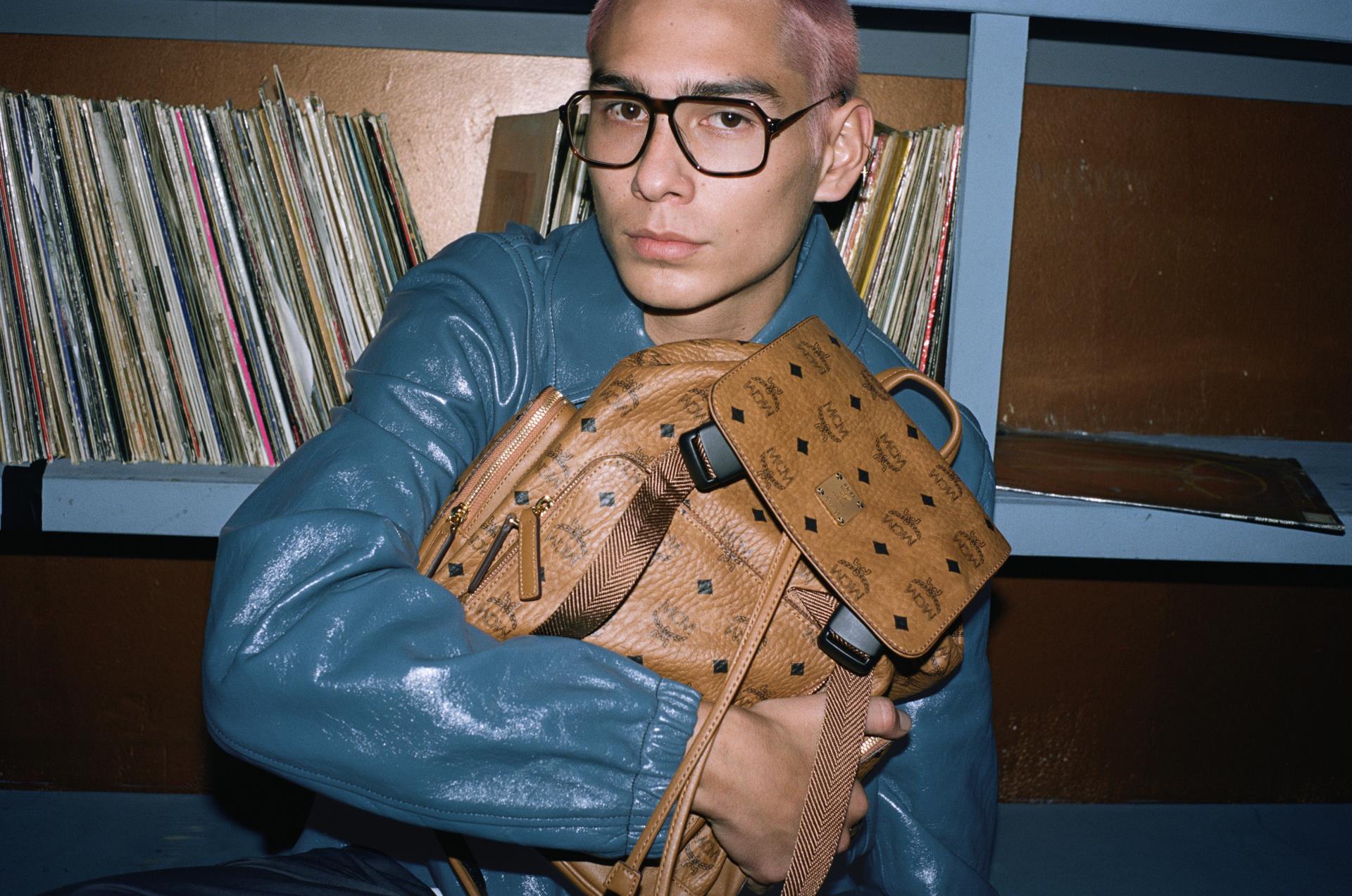 {"shouldDisplayHeader":true,"shouldDisplayArticleFooter":true,"shouldDisplayPresentedBy":false}