This week, CAMPERLAB is unveiling its latest collection in Paris, designed by newly appointed creative director Achilles Ion Gabriel.
Nowadays, "creative director" is a more loaded term than it ever has been, and at the same time, it's never been more important for brands in the fashion industry to be reinvigorated with new energy, which is surely the ambition of both Camper and Gabriel with this new appointment.
CAMPERLAB is the more youthful and experimental sub-brand of Spanish label Camper; the latter's catalog is largely filled with democratic and pedestrian silhouettes, such as the Pelotas, and the brand's very first product, the Camaleón. In contrast, the brand has also established itself as creatively innovative via projects like the Wabi, which reduces the production process down to just four steps and uses a minimal number of components. Camper has also made headlines with creative partnerships alongside Bernhard Willheim, which brought us the iconic Himalayan shoe. More recently, the brand also worked alongside CSM-trained designer Kiko Kostadinov.
When I speak with Gabriel (his very first interview since joining Camper) at Casa Camper in Berlin about his new role, he seems filled with almost child-like excitement. While he has been given oversight of all aspects of the CAMPERLAB brand, from social media to retail — even re-designing the Camper showroom in Paris — he maintains that product is his number-one focus.
What is your first memory of Camper?
I was probably eight. I was skiing, and I went to my cousin's house with the ski boots on — I didn't have shoes, so I needed to borrow some. He was maybe three years older than me and his shoe size was much bigger than mine. He gave me these chunky Camper shoes, so I was walking [in shoes that were] three sizes too big. That was my first Camper reaction; I was like, "Wow. They're really chunky."
As CAMPERLAB's creative director, what does your day-to-day look like?
I'm super hands-on in every aspect of CAMPERLAB, so [each day is] super different. I'm overseeing 360 of everything. Of course, product is super important for me, because I'm still super hands-on with the designing. I don't just give a mood board to the designers, I'm actually designing. The design team, I work with them super closely. Then, of course, I work with communications. Campaigns. Brand image. It depends on who sends me the most urgent email.
It's quite rare for a shoe designer to be given this kind of freedom and responsibility, in a house like this. It's a very unique position, I think, for a shoe designer to be given free-hands and full support like this.
What's your vision for LAB, and what would you like to accomplish? Like, what's the stamp that you would like to leave on CAMPERLAB?
Well, Camper is like a design house. Meanwhile, CAMPERLAB, I feel like it's more progressive and it doesn't have to follow any rules, and there are no restrictions. I've been given completely free-hands with LAB, so quite frankly, what is really remaining the same for CAMPERLAB is the name. I think everything else has changed quite a lot.
The starting point was not to change everything; it happened very naturally. Like, "Oh, that's not how I want to do it." Also, Camper is a brand that comes from Mallorca, so I want to link [that]... It's a surreal version of Mallorca, but still within the Camper universe. Although, the things we do at CAMPERLAB probably could not be in a Camper collection, but it still coexists in the same universe — it's a real version of Mallorca, and Camper, and authentic. I want to implement a lot of crafts, and make the brand seem a bit warmer and [even] more humane. Camper has a super, super kind and friendly image; it's like a solid design house, while I want CAMPERLAB to be more free.
So, what I want to achieve with CAMPERLAB is that we have strong Mallorcan roots. We are very humane. We appreciate crafts. A very warm and kind feeling. That's what I want to achieve. With a sense of humor.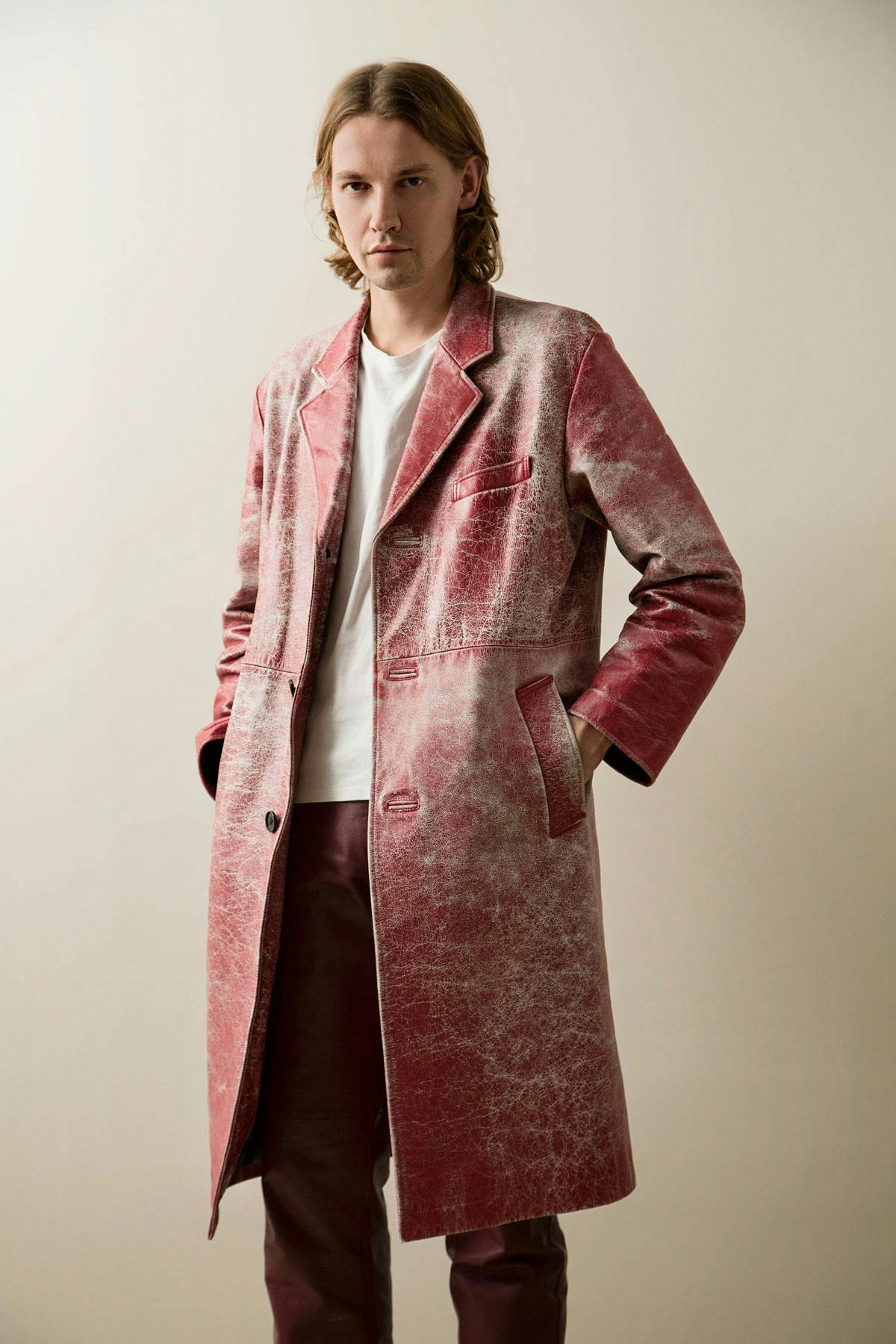 What was your creative process for the first products you designed for CAMPERLAB?
I was thinking, what would be a surreal shoe that a farmer [or similar] might wear — I mean, realistically, I don't think any farmer would wear a white or yellow leather boot with a rubberized sole, but that was a bit of the aesthetic, that it would very much be a work boot, almost rubber-boot looking, but it's actually a leather shoe.
There are some references from the archive — a sneaker, a bit more like a canvas sneaker, very low-key. I wanted to create something super work boot-ish. I took [some] inspiration from that.
Creative directors these days have a more public-facing, even celebrity role. How are you finding the role in general?
I know, I was just looking at [Marc Jacobs' Instagram]. They are very much out there, but that's not me... personally, I don't feel very comfortable with over-sharing my life, because it's about work. At the same time, it's part of the job because you are the spokesperson for the brand, so yeah, it's one task among others. I do feel like I'm working most of the time. It's very rare that I'm not.
Is that balance important for you?
I'm super bad with that balance. I'm really trying to take Sundays off, but I'm failing at it. I'm sending emails. But I don't really care because that's what I want to do. I'm way more interested in working than going clubbing. I mean, I enjoy it so much that I don't really feel like I become exhausted or I would need a break. I really do believe that I am the right guy for the job. I'm not really working extra hard because of the new job; I always work really hard.
You mentioned surrealism a few times today — what makes that a big theme for you?
We are flirting with that, with the campaign. I wouldn't underline surrealism too much; it's just like a glass that we look through, but the key point for me is still Mallorca, not being surreal. I'm not Mallorcan, I don't speak Spanish, but I want to make it very Mallorcan, so I think it's more honest if I do it in a way I see it — and of course, it becomes a bit of a surreal version of Mallorca because I didn't grow up there.
What was your initial interest in footwear? Why did you want to work in the industry?
Well, initially, I was going to architecture school. Then I got [a pamphlet] for a school that has a shoe design program. I was like, "Oh, I don't know anyone who knows how to make shoes. I know some architects, but I don't know shoes," so I decided to go there instead. It was a really random choice. My mom was against it. She wanted me to be an architect.
I mean, I would say [that with] what we wear, shoes are the items that have the most to do with actually building. A jacket or a shirt, [they don't] really have to function, you can still wear them. But if the shoe doesn't function, you can't even wear it.
Is there a first shoe that you designed? What did your first creations look like?
I mean, first, we were really forced to do super technical things, and just follow and make sure that we understood. Then my first thing was sort of a cowboy boot hybrid. But the school was actually super technical; in the beginning, I was a bit like, "Oh, god. This is almost annoying," because I was, even then, a bit more into the creating or design side, rather than being super technical. But now I'm super glad that they were whipping us to understand everything.
What does your workflow look like today? Are you on an iPad sketching, or do you prefer pen and paper?
Pen and paper, definitely. I mean, I hardly know how to draw on a computer or iPad. I draw by hand. I find it easier.
CAMPERLAB and Achilles Ion Gabriel will present their Autumn/Winter 2020 collection at Paris Fashion Week on Wednesday, January 15.