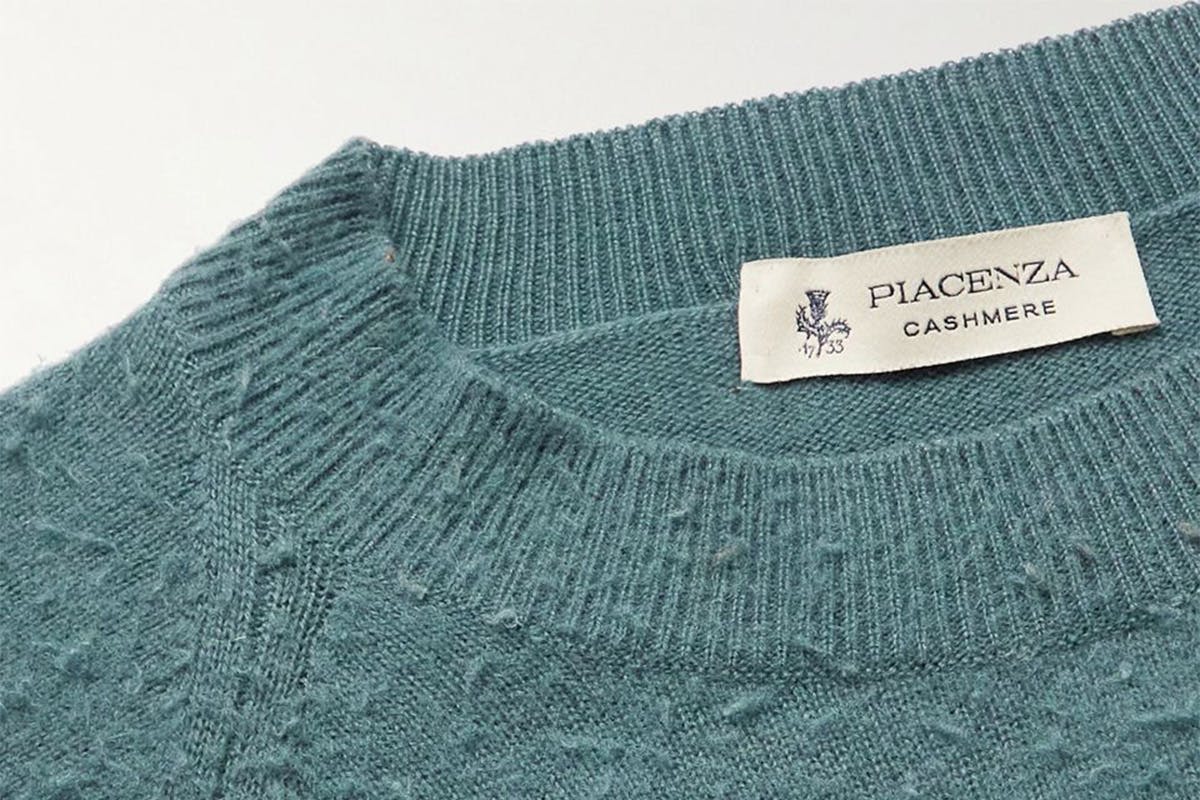 In the hierarchy of materials, few rank higher than cashmere. The luxury wool exists in rarified air as a true marker of luxury. But why is it so widely lauded?
Well, aside from being ridiculously soft, pure cashmere affords an unusually high warmth-to-weight ratio. Even the lightest cashmere sweaters will keep you insulated in the cold. And, as we're currently peering over the precipice of fall and winter, it's never been a better time to bag a cashmere sweater or two.
But, with the luxury of cashmere comes a price tag to match. Cheap cashmere doesn't really exist, and if it does, then it's probably not real cashmere. You've got to be sure that your cashmere sweater is properly made with high-end materials, and to help you out we've rounded up 9 sweaters that you can count on.
Shop our favorite cashmere sweaters below.
Gucci Cable-Knit Sweater
For a long time, the V-neck sweater has been a pariah of the contemporary style world after a booming time in the early 2010s. Luckily for all the prep fiends amongst us, it's back in a big way, and pieces like this Gucci sweater are cementing our love for it all over again.
Dries Van Noten Cashmere Cardigan
While a lot of the cashmere industry is based around classicism and tradition, there's also a section reserved for bold experiments. Dries Van Noten enters FW22 with a very bold hot pink cardigan that makes use of luxurious pure cashmere.
WE11 DONE Cashmere Sweater
WE11 DONE came up on oversized hoodies and streetwear-leaning pieces but this cashmere sweater suggests that the Seoul-based label has a lot more in its locker.
The Elder Statesman Beetle Tie-Dyed Sweater
Traditionally, the masters of cashmere have been the heritage Italian labels, most of which have tailoring roots. But, the new guard of cashmere producers is arguably led by The Elder Stateman, whose tie-dyed creations use only the finest wools available.
Gabriela Hearst Francesco Sweater
Can you tell that we're pretty big on bold cashmere sweaters at the moment? This Gabriela Hearst design uses a technique called space-dye. In this technique, one single yarn is dyed multiple colors rather than multiple yarns woven into one piece. It creates an almost hypnotic kaleidoscope effect.
MR P. Dégradé Sweater
MR PORTER's in-house line is without doubt the best there is. While most in-house labels stick to hoodies and tees, MR P. offers pieces like this cashmere sweater that most luxury labels would be proud to call their own.
Extreme Cashmere Bourgeois Sweater
Extreme Cashmere is a name to make a note of if you're a knitwear lover. The label exclusively makes cashmere pieces, but the scope of this category is big. From balaclavas to gloves and perfect sweaters like this one, everything is on offer.
Zegna Jacquard Sweater
We spoke earlier about the traditional masters of cashmere. Well, Zegna is one of them and don't be fooled by the word traditional because this label can do it all. Using the kind of cashmere you only have access to after a lifetime of work, the label still offers seriously contemporary designs like this mismatched houndstooth pattern.
Falconeri Ultrasoft Cashmere Crewneck Sweater
Cashmere is always going to be expensive, there's no way around it. But, there are ways to limit your bill while still getting seriously high-quality pieces. Labels like Falconeri offer staple designs devoid of bold detailing at a cost that's around half of what most luxury labels offer.
Piacenza Brushed-Cashmere Sweater
Knitwear fiends will know that texture is one of the key aspects to good knits. This Piacenza sweater is working overtime in the texture department with its beautifully hairy brushed cashmere build.
Want to keep browsing? Head to the Highsnobiety Shop for more products that we love. Highsnobiety has affiliate marketing partnerships, which means we may receive a commission from your purchase.