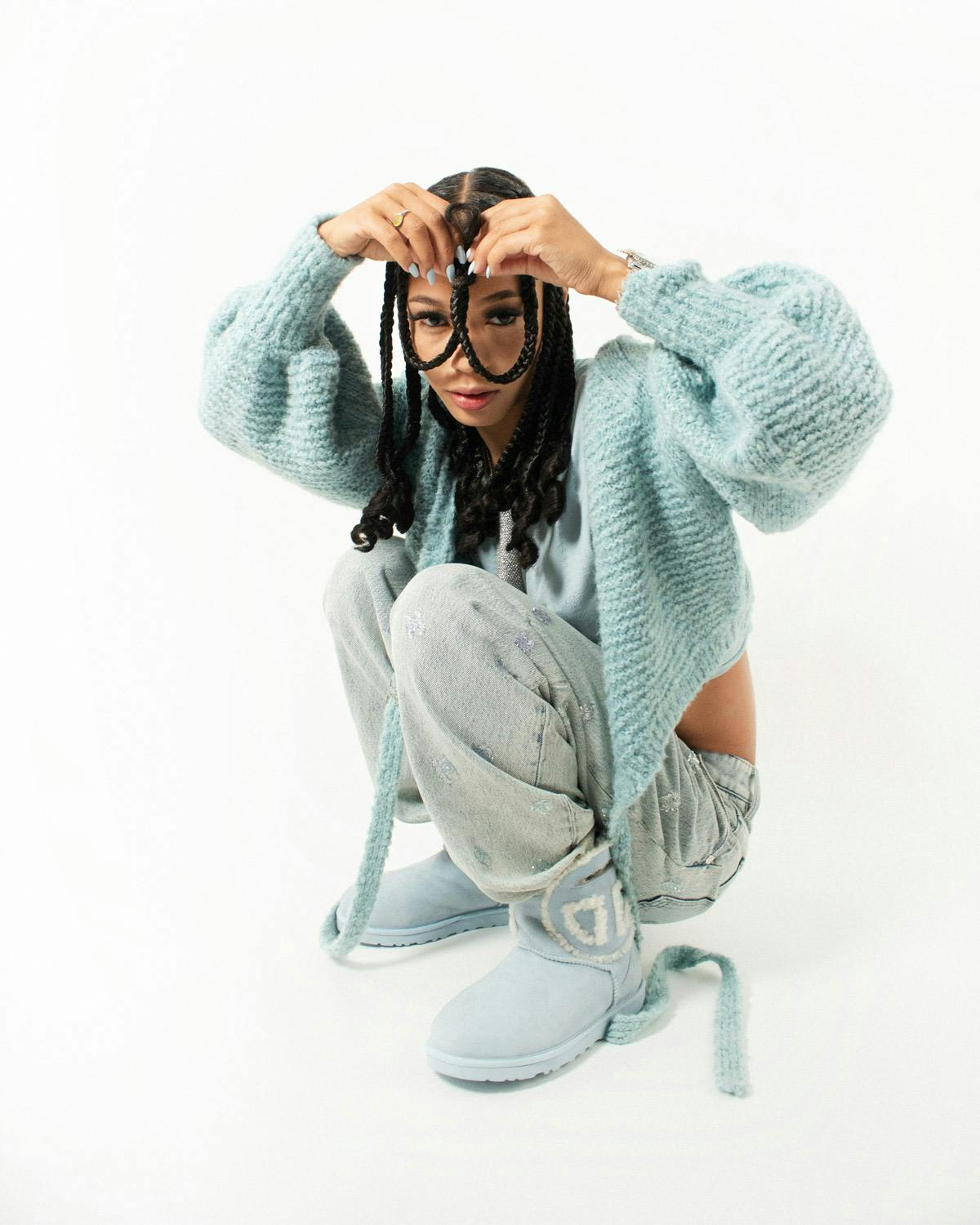 In this FRONTPAGE story, we try to keep up with the 24-year-old rapper re-making the art of rhyme in her own image.
Over and over, you'll hear how Coi Leray's energy is bubbly. How, with a mouth full of braces and wide, all-seeing eyes, she bounces around in music videos and on stage with enough energy to power a Tesla Model X between charges.
She's decidedly calmer on Zoom. Her background's quiet, save for an excited friend who bursts into the room and is sternly told away. This moment of solitude is rare for her lately. She's been too busy to relax.
"I've been working so much that I haven't really found a balance of having some 'me' time," she admits. She stops for a second to think about her next sentence, but it comes tumbling out without being fully ready. "Like, right now I'm on tour, but once I get off, I want to take a trip to Jamaica — maybe do some shit like that."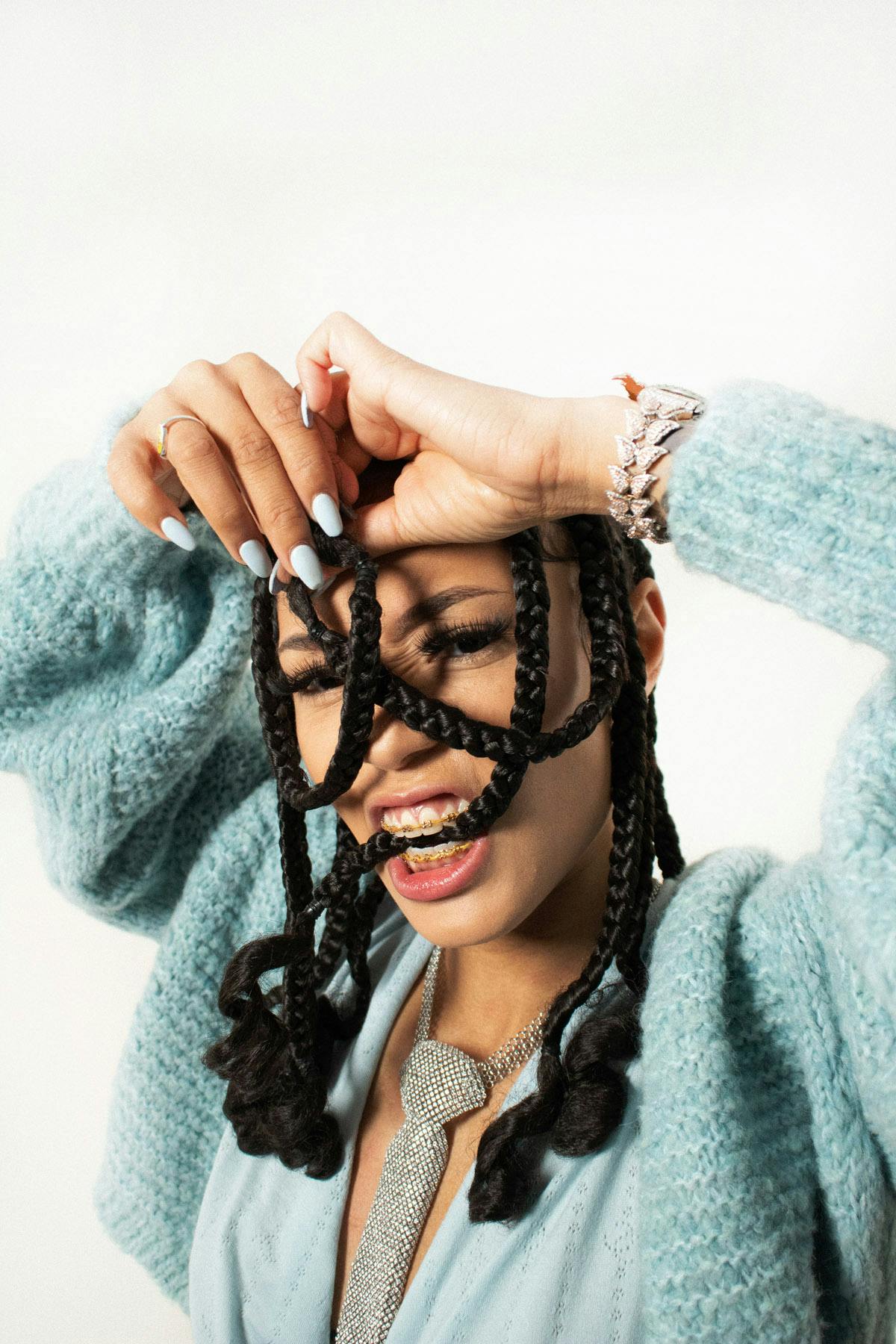 It's pretty early for Leray to even think about balance, and damn near impossible to imagine it coming for quite some time. The 24-year-old rapper has become one of the most polarizing lyricists you'll find when refreshing feeds (criticisms hinge on the use of her word "Prrrd"), and she doesn't even have a full-length album out yet.
Here's the story so far. Coi Leray Collins started rapping in 2011 at just 14 years old, inspired by her father, rapper and mogul Benzino, who is a co-owner of The Source. She released the song "Bow Down," inspired by Japanese koi fish, but if you ask her, that wasn't a real song ("That was baby Co and it was just me trying stuff under my parents"). She tried again in 2018, inspired by A Boogie Wit Da Hoodie's song "Don't Trust Bitches" — she wrote a response, "Goofy Ass Niggas," in which she flipped A Boogie's warning against the gals into a middle finger to equally shiesty guys.
It lit up the Internet almost immediately, and her viral success solidified into a true breakout moment with the release of her debut mixtape Everythingcoz in 2018, featuring the hit single "Huddy." By 2019, she appeared on the soundtrack to Spider-Man: Into the Spider-Verse and signed a record deal with Republic Records. She'd gone from a relatively unknown lyricist, inspired to make a response track, to being on the verge of a household name in less than a year.
Life can really happen like that.
Two years later, and Coi is still riding straight to the top. Her debut EP Now or Never came out in August 2020, and it blessed us with the single "No More Parties" (with a remix featuring Lil Durk at his hottest) taking over airwaves well into 2021 — it has since been certified platinum by the RIAA. And just a few months ago, she was named as part of the 2021 XXL Freshman Class.
But with her rapid success came two massive extremes: supporters who love her frantic energy and how it translates to her songs, and others who think that she's just awful. At past performances, people have recorded the crowds' lack of reaction, just to ridicule her online. They dig into her lyricism and trash her XXL Freshman Cypher performance. It feels like no matter what she does, the hate outweighs the good.
And the discouragement doesn't just come from strangers. Leray has endured a fiery public relationship with her father of late, getting embroiled in a scuffle that played out over the Internet. To deal with something like that, you have to have a thick skin. Coi makes it clear in conversation that she does.
"I feel good," she says, not quite laughing, but the grin is there. "I mean, I feel good to be able to make what I'm making right now. I'm 100 percent involved all-around and working with writers and different people that are making my songs big records."
She points to the success of one of her latest songs as proof that the haters can't stop what she's doing. "'TWINNEM' is actually going crazy right now," she remarks. "I played a big part in the production, as far as creating the beat. It feels good to bring something new to the table that I'm heavily involved in, because people are starting to accept it."
While trolls give her hell on social media, hip-hop heavyweights hold her in high regard. Drake, Cardi B, and Megan Thee Stallion are just a few who have either supported her publicly or have come to her defense. Leray believes that it's proof of the impact she brings to the game.
"When they support me like that, it just means that they're watching, and they actually fuck with it," she says. "It shows that they're in tune with the next generation."
Leray has found serious favor with others in the industry, like her "No More Parties" collaborator Lil Durk. In September, Leray shared a post showing love to Durk for helping her when she was in a dark place in her early career.
"Almost gave up one day and he told me don't ever stop," she wrote. "Most artists show love from a distance on some weird shit but this man right here believed in me, believe in No More Parties and been behind me ever since. He know a star when he sees one and I just wanna thank you for all your support. OTF FOREVER."
It makes sense that she's on tour with him and Lil Baby for "The Back Outside Tour" that kicked off in September. It's been a hell of a time for Leray — even just the bus itself, which she describes as an "experience," after a brief pause. But, more than anything, it's taught her a lot about herself and where she can go from here.
"On this tour, I'm kind of the underdog, and I'm opening. And sometimes people are still coming into their seats," she says. "So I'm watching and learning about what bigger artists get from fans versus the underdog, and it's helping me to prepare for when I go on [my own] tour."
At the rate of success that her songs have hit recently, it doesn't seem like it'll be long before she has her own headlining tour. Though she's stirring up more conversation each day, Leray doesn't seem too hung up on opinions — remember, thick skin. However, she does have a wish for listeners out there before they (continue to) judge her: Listen first.
"I want people to understand my versatility and the bigger picture of the songs I release," she demands. "A lot of people don't understand what I go through as a person, and I normally speak about that stuff in my music. So if they just understand my range and what I go through, that's all I care about."