Sofie Middernacht & Maarten Alexander
Dries Van Noten Spring/Summer 2022 Men's. Paris, France
Editor's Notes
One thing came to mind when Dries Van Noten described his Spring/Summer 2022 menswear show to Highsnobiety. "Freedom," Van Noten said. "Limitations [read: lockdown] can push creativity. We didn't want to make a collection around a fixed theme, especially not shape or fabric-wise," but that one word is the simplest way to sum up the Antwerp Six member's latest presentation. Of course, designing for freedom doesn't mean lazily assembling a slapdash affair. "I'm a control freak," Van Noten laughs. "I want to control everything."
Van Noten encouraged his team to really cut loose this season, opening the floodgates to a vast selection of lush garments. "We wanted to make tailored shirts, laser-cut jackets in very light polyester," Van Noten said. "Clothes to go and have fun in. Just enjoy things. Go to the night club with silk shirts on." As put forth by the backdrops of actual locations in Antwerp, the vibe is tourists on a spree, strolling around Belgium's capital in their loudest suits, funkiest shirts, craziest pants. Pants, in particular, are key.
"In menswear, you don't have a lot of elements that [allow you] to play with volumes. I like [considering] the shape of pants, the pant is a tool to tell a story," Van Noten explained. "[For instance,] when you see a silky pant, you think about, maybe, fun things from the '80s. In menswear, you don't have a lot of elements that [allow you] to play with volumes. I like [considering] the shape of pants, the pant is a tool to tell a story."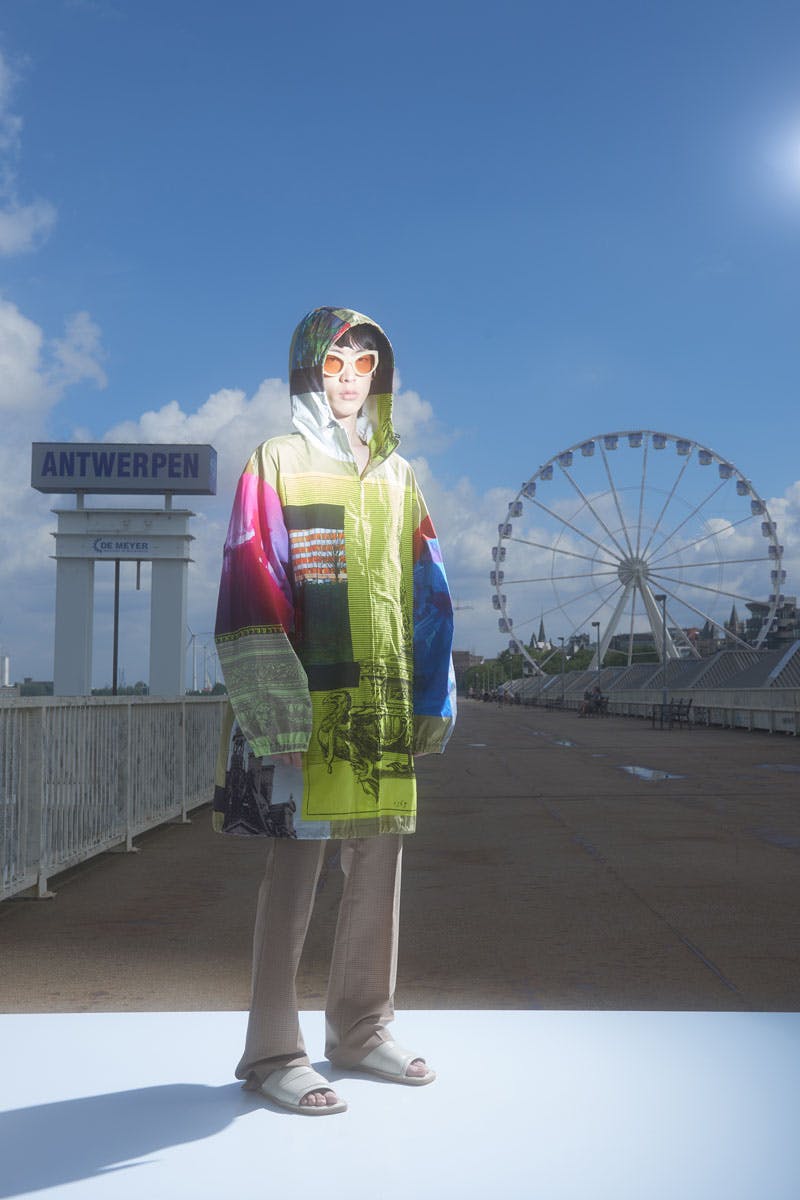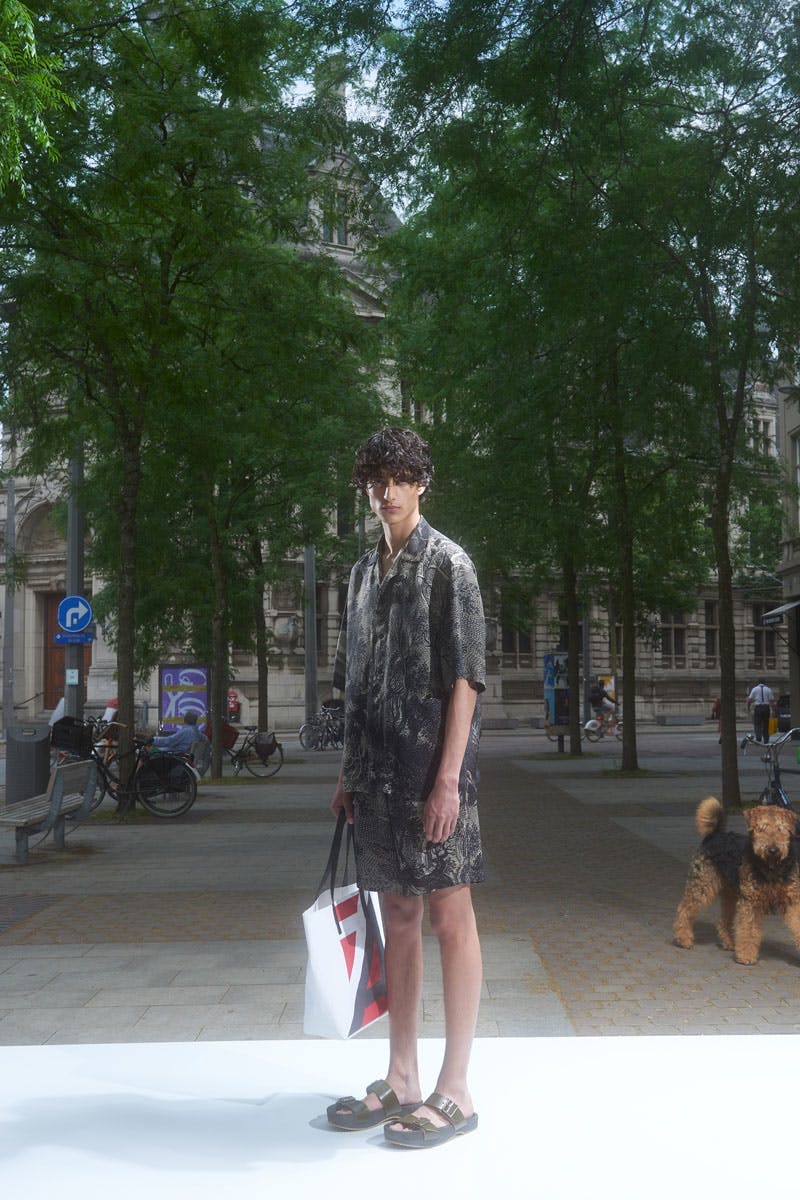 This fluidity invites loosening of gender barriers. "I'm not strict in saying this is menswear, this is womenswear," continued Van Noten. Note the presence of women models in what's ostensibly a menswear lookbook — Van Noten's forthcoming womenswear lookbook will also include male models. "It's not because markets ask me to do that, it's just that I buy lots of fabric and then decide where the fabrics will go. I like to contrast [femininity] against masculine elements in the collections. Like, we have this classic mohair suit but we also made the most delicate, see-through shirt to go with it."
Freedom isn't just a seasonal motif, though, it's a defining characteristic of the Dries Van Noten brand. "I've seen quite a lot of ups and downs with my own business but also in fashion," Van Noten said. He knows that there's value in blazing one's own trail outside of the greater industry. Sure, the designer and his team are conscious that they have to sell clothing ("I like the fact that we make clothes that sell!"), but that doesn't mean kowtowing to fleeting trends. "We don't do things differently just to be different from the rest. We've just always said that we're going to do things our way."
Highsnobiety Shopping List
Cat-Eye Sunglasses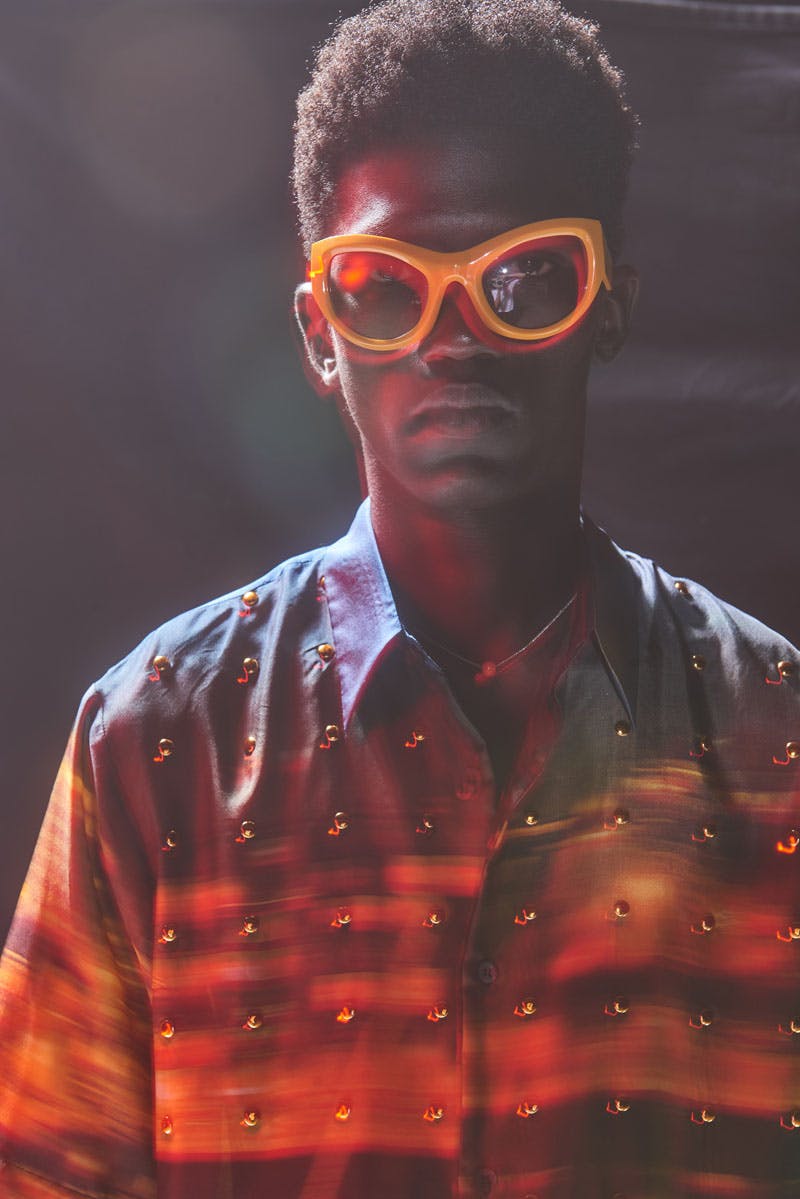 Plenty of accessories round out the vivid collection, including cushy shoes adapted from FW21's foot-shaped molds, puffy sandals, and big bags. "A big bag, for me, it's something you can justify [owning] for a while," Van Noten said.
It's the huge sunglasses that steal the show, however. "I don't like serious sunglasses, I like them ironic," continued Van Noten. "Even now, when we're doing these enormous cat-eye style glasses for men, we'll make the lenses a little bit lighter so you can almost see the person behind them. But there's still that element of mystique, which is fun."
Relaxed and Reshaped Tailoring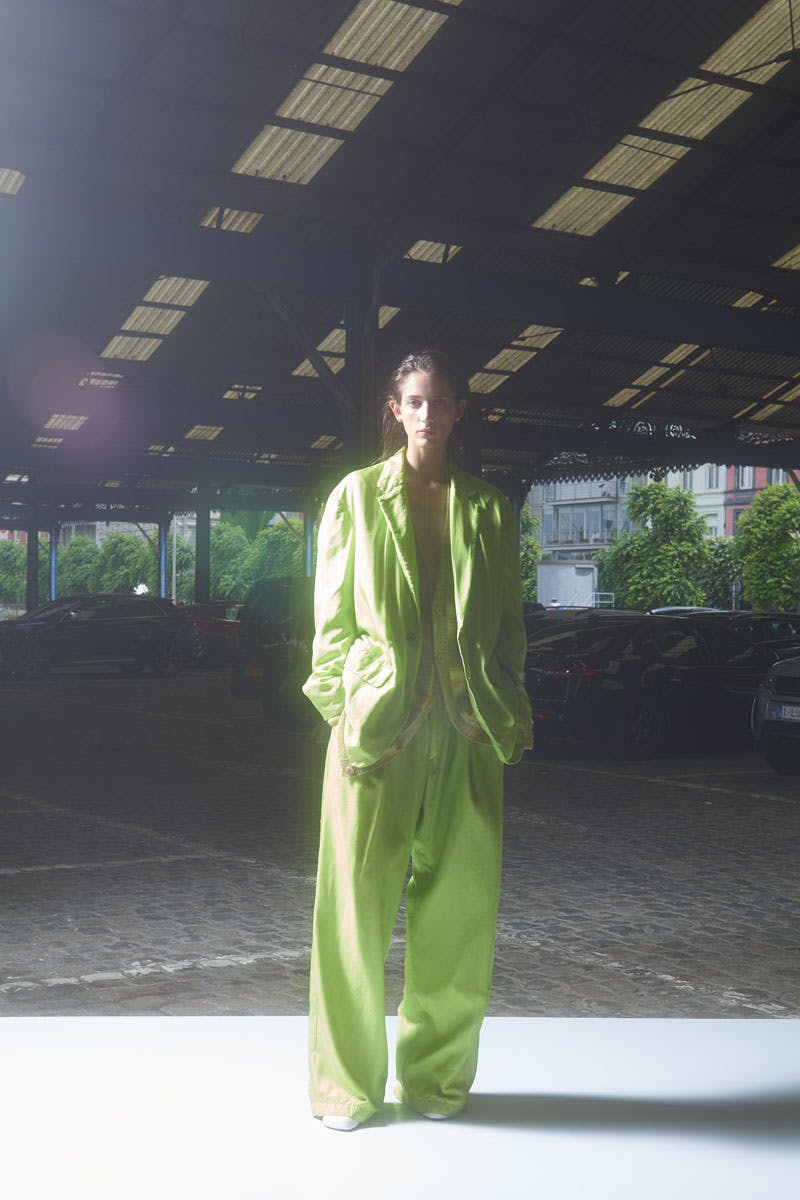 Tailoring has always been a Dries Van Noten staple and it returns in force for SS22. Big beautiful suits are here to stay, mingling with tweaked militaria cues and shirts printed with artwork from Rubens and Breughel, two famous Belgian painters named Peter. Blazers are reshaped as chore coats, executed in desert camouflage, and styled atop sweatpants, demonstrating a new era of faux formality.
Washed Silk Outerwear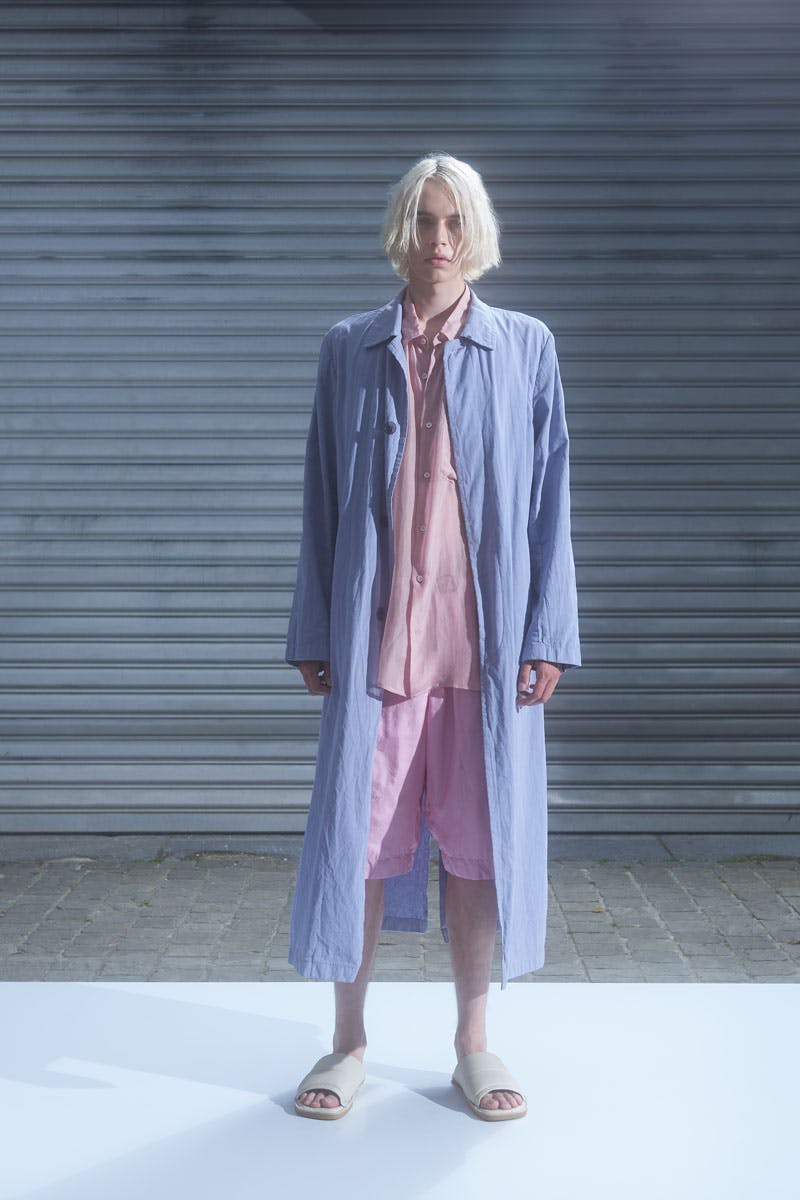 This season, Van Noten's silk garments are "fragile and thin but you can feel the quality of construction since it's lined with super-light cotton voile," he noted. They're "washed, easy, a hint of formal but the lightness of enjoying life." Even when the temps skyrocket, you can toss on a featherweight silk coat, parka, or coat and hit the road, wherever it takes you.