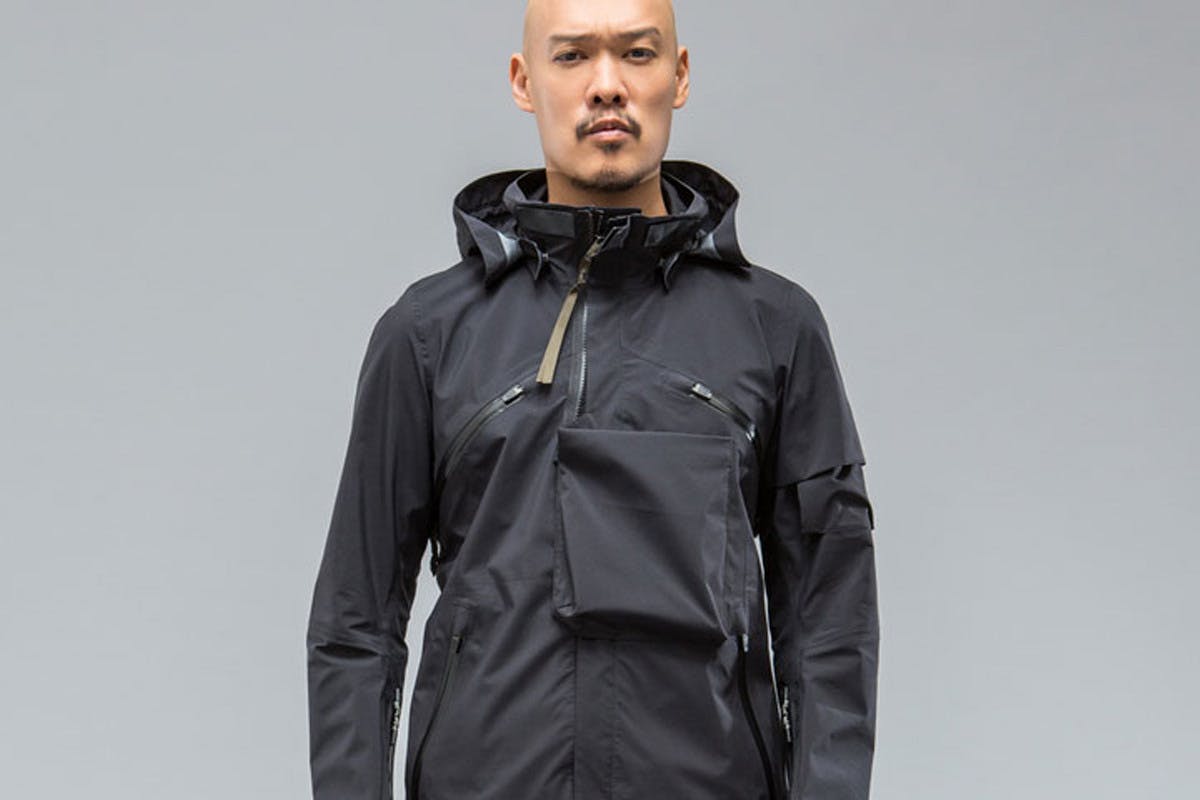 Despite those Raf Simons lab coats, science and fashion rarely cross paths. One is driven by the search for rational progress; the other, by a history of emotion and reference. Furthermore, when the streams do cross, it can get Ghostbusters bad: rather than starting from the ground up, most apparel with "technical" functions is oversold to the point of nausea, employing flashy scenes of commuters in snowstorms to move pieces that are practically no more utilitarian than checking the Weather app before you leave home.
Water-resistant fleece sweatpants? "Winterized" canvas sneakers? Since when does innovation come in a spray-on can? In a world where a glass rectangle in your pocket holds all of human knowledge, dressing in layers of dead plants just looks a little old-fashioned.
However, even the most marketing-savvy traditional brands are merely swimming in the wake. Instead of hawking post-production tweaks as fabric innovation, a select group of apparel brands both large and small are leading the charge towards materials science breakthroughs that can – and do – shift the world at large.
You already know Nike and adidas; now, it's time to meet the rest. Science and fashion may rarely cross paths, but for these 10 industry leaders, both are traveling at the speed of light.
ONU
While the digitally-native ONU launched just last July, creative director Thomas Moon has wasted no time in bringing his vision of "Everywear" to life. Their latest collection of tech-infused apparel staples includes biodegradable collagen fabrics, stretch reflective panels that shine all colors (not just blinding 3M white), and garments made from "ArLyte," a proprietary stretch fabric made with jade particles that cools as it's worn. Expect much more to come as the brand gains its footing.
Arc'teryx
No discussion of fabric innovation is complete without Arc'teryx. Over its two decades of life, the Vancouver-based outdoors brand didn't just change how outerwear looked – it completely reshaped how it functioned. Waterproof zippers; softshell jackets; the practical application of GORE-TEX Pro. All Arc'teryx. Just as snowmelt trickles from the North Shore Mountains, what starts in Vancouver hits the world at large. Now, that even includes a grail-worthy fashion line.
Stone Island
Massimo Osti's sportswear label is much more than dyed fabrics and a Drake co-sign. Through its legendary founder (who passed away in 2005), Stone Island made industry-first forays into reflective glass microbeads, temperature-sensitive outerwear, and even rubber-wool hybrids that breathed new life into one of mankind's most emotional fabrics.
Today, Osti's longtime friend and colleague, Carlo Rivetti, continues his predecessor's legacy of innovation as Creative Director and President.
Outlier
In the depths of the 2008 financial crisis, a small Brooklyn-based apparel brand decided to solve the problems it knew best. For cyclists Abe Burmeister and Tyler Clemens, that meant clothes worth commuting in. Outlier (and its distinctive "black swan" logo) launched in November of that year with the "OG Pants," a stretchable, quick-dry pant that looked like cotton chinos but worked like they were designed, well, in this century. Current Outlier highlights include jeans made from Schoeller doublewaves and a bag line built with Dyneema, widely considered the world's strongest fiber.
ECCO Leather
This is not about your grandpa's favorite dress shoes. While Danish-owned ECCO does indeed run the ECCO Leather tannery (shocking, I know), the fabric research done by the latter may be a hard sell for the former's sensible officewear. Partnering with Icelandic designer Sruli Recht, the ECCO tannery has successfully produced translucent calfskin sneakers, Dyneema-infused car coats, and an ultralight leather duffle that weights 95% less than identically-strong competitors. Considering ECCO Leather sells its inventions to the industry at large, your zip-up moto jacket may soon be due for an upgrade.
Acronym
While Acronym may indeed be having its fashion moment, Errolson Hugh's line of cyberpunk-inspired techwear is the real deal. Case in point: when W.L. GORE needed a partner to introduce its latest waterproof textile, Acronym was chosen to create the world's first garments from soft-touch "film out" GORE-TEX. Acronym jackets may cost a pretty penny (give or take a quarter-million pennies), but if you're looking for cutting-edge fabrics with a distinctly "tech" aesthetic, the good stuff never comes cheap.
DYNE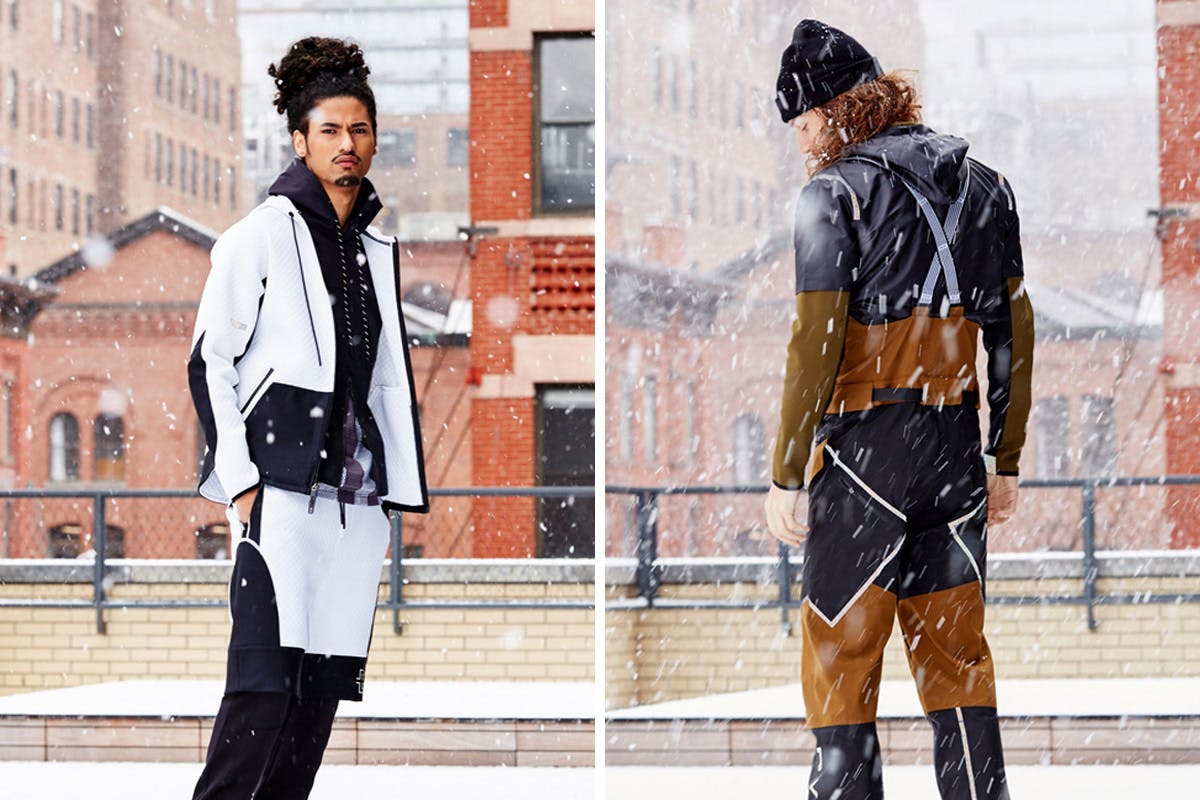 Christopher Bevans spent decades as the sportswear industry's "wizard behind the curtain," a virtuoso designer responsible for everything from Roger Federer's Nike apparel line to Kanye West's YEEZY Season 1. With DYNE – a luxury sportswear line which made its New York Fashion Week debut at the Samsung 837 space last winter – Bevans is ready for the spotlight himself. His new line's claim to fame: the incorporation of NFC (near-field communications) chips into technical apparel, starting two full years before Nike Connect.
Y-3
Yes, Y-3 is technically a part of the entity known as "adidas." However, when Virgin Galactic needed spacesuits, they didn't just call the front desk at Herzogenaurach – they called on the Three Stripes' best. That sort of know-how is bound to surface on more than just runways.
Descente
With a French name and a Swiss Olympic Team partnership, it's surprising to hear that a company called "Descente" is actually Japanese. When your jackets are this good, however, word gets around. Descente's expertise is mostly ergonomic: using a combination of Motion 3D patternmaking, proprietary 4-way stretch fabrics, and Toray Dermizax lamination (the only waterproof membrane that doesn't constrain the fabric it's applied to), three-layer alpine jackets bend and flex just like a dry-fit tee. For some off-the-slope options using these exact same technologies, check out the brand's ALLTERRAIN line.
BlackYak
Every so often, a best kept secret ignites. Enter BlackYak: a South Korean outdoors apparel maker who, despite being in business since 1973, launched its first global collection in 2016. BlackYak flips the standard technical apparel model on its head by hybridizing multiple insulations and fabrics into a single product. The aptly-named Hybrid Jacket, for example, features no less than six different materials throughout the body, each panel fine-tuned for your body's exact needs in motion.
Wear it under the Emergency Jacket shown above (a Dyneema-infused shell jacket weighing just 71 grams), and that mid-blizzard commute might as well be a sunshower. If you live north of the snowline, BlackYak is a name to remember.
Now check out the color every trendsetter will be wearing next season.