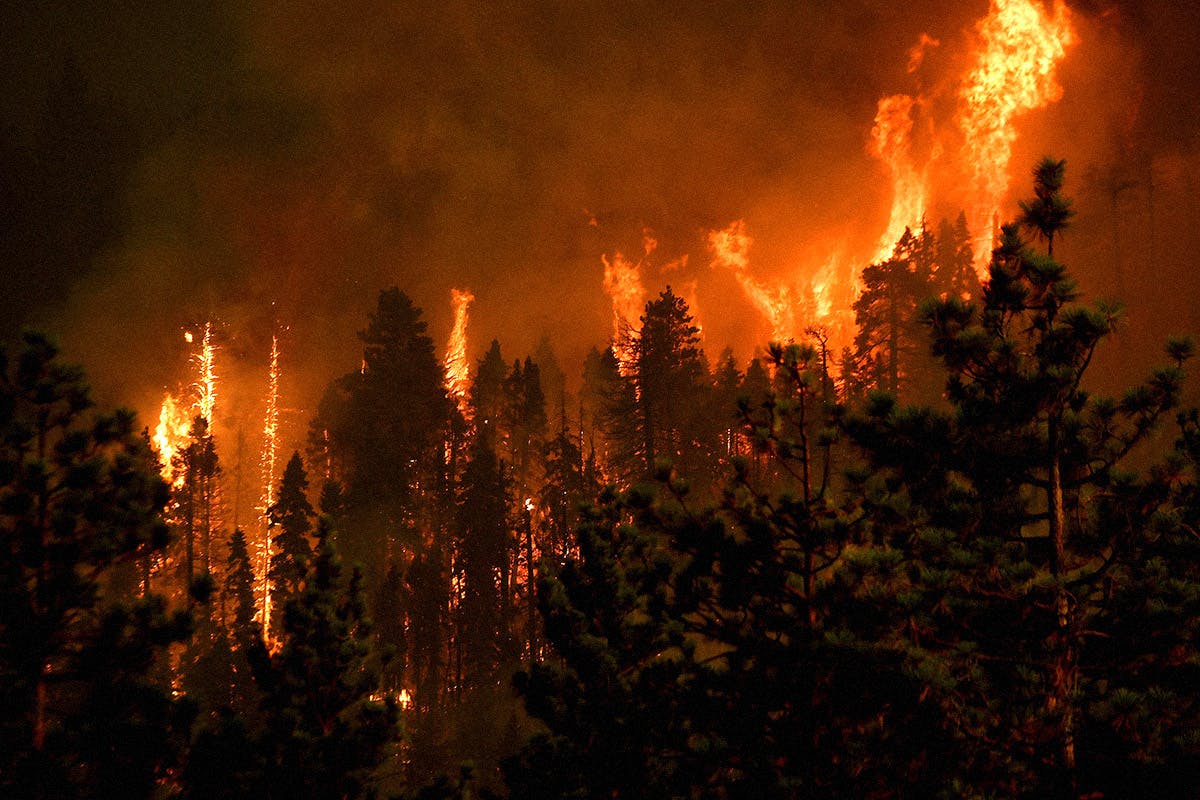 In the September issue of Vogue, Burberry's chief creative officer Riccardo Tisci shared a reflection on human trauma and the future of fashion. The murder of George Floyd and the ever-spreading coronavirus delivered "a sign," he said; a moment to stop and consider a connection between the two.
"How many people have been killed over the past 400 years? How many people have been killed the same way as George Floyd?" he asked. "Finally, the world — not only the Black community — has taken the time to understand. George Floyd, he couldn't breathe. When people died from coronavirus, they couldn't breathe. It's a sign. Humans have to start breathing and reacting in more of a quiet, thoughtful way. And I think fashion needed a big shake. Now, there is no way back."
There's a lot to unpack in a quote like this, given the linking of police brutality, systemic racism, and a pandemic, with a need to shake up the fashion industry — not to mention the questionable choice of using "breath" as a metaphorical string to tie the rhetoric together. But also, when you're directly talking about awakening the fashion industry in relation to reflection and air, shouldn't the impact of the industry on the air be a huge part of this conversation, too?
That article was published approximately five weeks before Tisci live-streamed Burberry's SS21 collection via Twitch. The new season aesthetic, Vogue asserted, was "dedicated to the natural world, a testament to [the] period of reflection" granted to us all during lock-down. It "went heavy on the 'nature as tonic' narrative" — it was set in the English countryside in the middle of a densely wooded forest, where models and dancers performed in a cult-like manner that felt extremely Midsommar. The dystopic feeling was hammered home further with the use of an orange smoke flare: clouds of fire-colored air billowed through the forest and brought a far-too-graspable sense of doom along with it.
The connection to the wildfires that were, and still are, devastating the planet was clear and immediate. What wasn't clear was why that imagery was chosen. Surely, when nature and reflection have been explicitly stated in tandem with the core themes of this show, they would have noticed this extremely obvious connection?
Surely someone — one person, anyone — on the team would have flagged and questioned whether the move was a good idea, considering 30 people have died and thousands have been driven out of their homes as a result of the wildfires; considering the fashion industry plays such a huge role in climate change, which has been repeatedly stated by scientists as the cause of these fires. Surely big corporations aren't that ignorant? Surely this isn't a visual they want to be actively associated with?
Of course, as a single entity, Burberry is not to blame. In fact, it's one of the leading high fashion brands when it comes to implementing "sustainable" initiatives (note: inverted commas because no brand producing new product is sustainable). However, Tisci's quotes and the timing of this show provide a spotlight for a much-needed discussion in regards to what this all says about the industry's acknowledgment of the climate crisis and its commitment to change.
For that discussion, we hit up three members of the Fashion Act Now (formerly XR Fashion Boycott) team — Alice Wilby, Sara Arnold, and Bel Jacobs — and you can find their key comments below.
What's your opinion on brands citing nature as the inspiration behind their collections?
Alice Wilby: Fashion is completely reliant on the natural world in order to make clothes, yet the fashion industry is one of the dirtiest and most polluting industries. It contributes around 10 percent of Greenhouse Gas Emissions, is responsible for 20 percent of freshwater pollution, and 35 percent of micro-plastic pollution in our oceans. So the idea that fashion espouses the idea that "nature is tonic," while its actions are systematically poisoning and destroying said tonic, is completely perverse.
There are some well-meaning initiatives aimed at making fashion sustainable, but they all rely on the economic growth model. In the next 10 years, continued growth will mean a 60 percent increase in fashion's carbon footprint.
Sara Arnold: Though Burberry is a leading brand in terms of sustainability, it's still got work to do before it is actually produced in harmony with nature. For example, 75 percent of their cotton comes from "more sustainable" sources, but this means 25 percent doesn't. Its cotton is not regenerative. While we appreciate that change takes time, the use of nature as a prop to sell clothes in this way feels off-key. If nature was really central to the collection, instead of it being a prop, how about thinking creatively about how a show can give back to nature as a core activity, not off-setting?
I noticed Fashion Act Now shared a side-by-side of the Burberry show next to the wildfires. Could you comment on that?
Alice: This particular image from the Burberry show, with a model running through the woods with an orange smoke flare while Californian wildfires burn, is so deeply insensitive and out of touch, you wonder how Burberry can be so behind the times. But likewise, the entire show feels deeply symbolic of the majority of the industry, struggling to grasp the meaning and ramifications of the climate emergency.
It reads as fashion lost in the woods, stumbling along, setting fire to its own vital source — nature — and with it, its own reputation.
Bel Jacobs: Fashion has always drawn inspiration from the natural world. Think of trends in floral prints and natural fibers; think of all the examples in the V&A's seminal exhibition, Fashioned from Nature. That exhibition, more than any other, was a reminder that, while humans recognize their connection to the natural world, they also exploit and destroy it — and they fail to see the irony in that.
The Burberry show had a lot of that about it. While Burberry may be working in some positive ways, they are canceling out the benefits of that by continuing to promote and sell new clothing, all of which has an impact on the very nature that they are "celebrating" in their show (and most of it clothing we no longer need). The presentation shows a mindset that understands what's at stake but can't quite release itself from the symbols of the "old world." This is what transition looks like, but it's quite painful to see.
Do you think it's a little off for a designer to speak on reflection and breathing and not mention climate change? Particularly while actively contributing to one of the most polluting industries on earth?
Alice: Absolutely. The climate emergency is the elephant in the room. To really address fashion's role in the climate emergency and how the industry can act to mitigate it means seriously addressing the entire fashion system. One that is built on satisfying shareholders with continued sales and growth.
Bel: Yes. Particularly as I have no doubt at all that he knows about it. There's a real sense of the corporate world, not just in fashion, putting its head in the sand with regards to the climate emergency — at least on the surface.
When you read articles (like Bloomberg's "Corporate America Is Getting Ready to Monetize Climate Change"), you realize they know exactly what's coming, and they're working out how best to protect themselves and, potentially, to monetize it.
The economic system that we inhabit relies on the need to project confidence — or, I imagine, shareholders will scarper. That's what shows like Burberry's seem to embody. Whereas what all industries should be doing is confronting and admitting the emergency and then working on behalf of everyone to mitigate its effects and build equitable forms of resilience into their practice.
Sara: "Humans have to start breathing and reacting in more of a quiet, thoughtful way." It's hard to take this comment and other comments about "nature" and "art" spoken by the "hosts" of the show seriously. It screams of privilege and detachment from the real issues. We are heading towards four degrees of warming — rendering much of the world uninhabitable.
This is not a time to be quiet and reflect. This is a time for action. The platform of these influential people should be used productively. Right now, it's used to sell products.
Have you noticed a "shake" or reflection in the industry? Are there any brands that come to mind when discussing narratives like this?
Alice: Every major fashion brand routinely plunders nature for "inspiration" to sell more clothing, whilst giving very little back in terms of care or regeneration for the resources it profits from. We need a complete shift and redesign of the fashion system that places the planet, animals, and people as the main shareholders.
The climate crisis is the biggest threat to nature and humanity we have ever faced. If fashion continues to cite nature as inspiration for its work without actively working to save biodiversity, there will be nothing left to make clothes from, and no one left to wear them. After all, there is no fashion on a dead planet.
Bel: I'd rather refer you to the schedule of the last London Fashion Week, which was largely digital. Eighty designers presented clothing and accessories that are due to be produced and worn in a year when, according to the UN, we really are reaching the brink of our opportunity for positive action. And while some brands, such as Burberry, obviously wanted to respond in some way, however cosmetic, to current crises, there was an overwhelming sense of business as usual.
In its communications with the press, I don't think the BFC even mentioned the climate, preferring the soft option of sustainable practice. I've watched a few shows, read through some press releases, and, to all intents and purposes, the climate emergency is a background annoyance that most brands are refusing to engage with, no matter what they think about it in private.
I'm not sure how helpful it is to call out individual labels; this distracts from the fact that we ALL operate within a system that is exploitative and extractive, which rewards abuse and makes it almost impossible for us to do the right thing. I also yearn for the creative designer who releases themselves and their creativity from the brutally relentless constraints of models, shows, seasonal schedules, cruise collections, all the standard run-of-the-mill bullshit; who downs tools until they find the best way to respond to the emergency; who declares passionately that everything they do from now on will be in the service of people, animals, and planet; who celebrates the earth and works to restore and protect it.
We are nowhere near that yet.