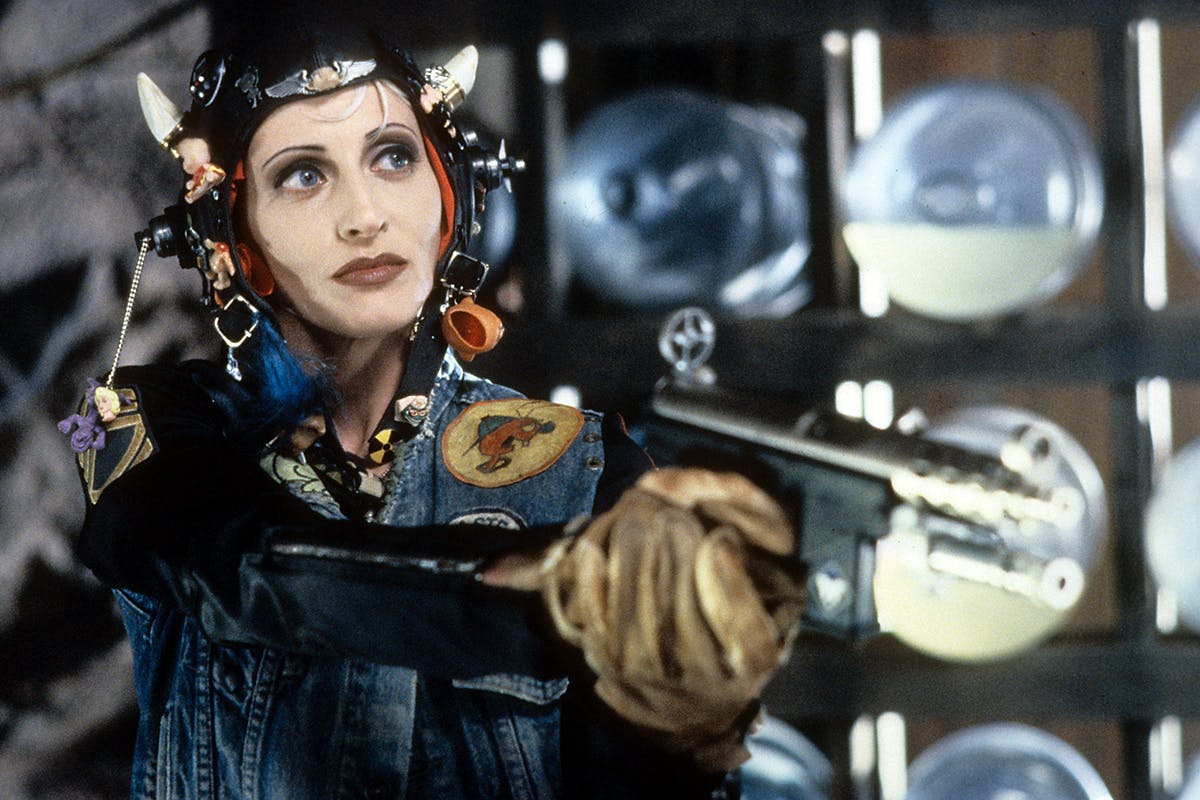 Margaret Atwood's stomach-dropping novel The Handmaid's Tale has just hit Hulu. Originally published in 1985, it couldn't feel more relevant now, dealing as it does with reproductive rights, the rise to power of a completely whacked out government, and with the associated vilification of certain ethnic, religious, gender (you name it) groups.
Then again, feminist sci-fi movies always tends to feel relevant, because the genre looks beyond the present to analyze the root causes of things and to imagine how things might be different. Sometimes that's entirely purposeful, with films like Ex Machina, which contains a deep thematic concern for the ways in which women are so frequently silenced and controlled by a society. Sometimes, it's just by providing a female protagonist so calculating, cool-headed and with an endless capacity for bicep curls, that we start frantically chugging protein powder in the vain hope of somehow morphing into Sarah Connor.
Either way, one of the best things about science fiction is its unlimited possibilities. And, for feminist sci-fi, those unlimited possibilities apply to not only the world in which the story is told but also to the roles women play in that fictional world. Sci-fi allows its creators to throw out the societal norms and expectations of the present and instead imagine a world that isn't bound by limiting gender roles or dominated by men.
So, here are 10 of the best feminist sci-fi films that you probably haven't seen, but really need to...
Cherry 2000 (1987)
Director: Steve De Jarnatt
Straight outta the '80s but set in 2017, Cherry 2000 is set in a post-apocalyptic wasteland in which an economic crisis has led to a halt in manufacturing and a focus on recycling old mechanical junk. Relationships are now just another form of commodity, and sex between humans has become so uncommon that technology has produced androids to use as substitute wives.
Sam Treadwell's (David Andrews) sexbot wife, the eponymous Cherry 2000 (Pamela Gidley), shortcuts during an act of passion (you know the one) and he heads into the desert to find a replacement robot with the renegade bounty hunter (played by Melanie Griffith) that he's hired to take him to an abandoned factory and locate his wife's exact duplicate. Along their journey, Sam discovers that a perfect woman is, in fact, not a robot.
Griffith as the robot tracker is incredible: she's acerbic, antagonistic, kind and gentle. It's hardly surprising when Sam starts to become less obsessed with blow jobs and home baking and realizes that he actually loves a one-liner spewing gal with a heart of pure gold, who fires rocket launchers out of her red Mustang. Basically, the film speaks rather bluntly about how women aren't in this world to serve men, and that those kind of passive relationships make you empty inside, anyway.
Advantageous (2015)
Director: Jennifer Phang
Advantageous follows a mother and daughter who live in a futuristic world where males spend too much time dominating and dick-waving. Gwen works for a cosmetic surgery company that has developed a way for old people to move their consciousness into hotter, younger bodies. When the center decides that Gwen is too old to be their spokesperson, she decides to undergo the surgery herself.
Although it's not really cosmetic surgery as we know it, Gwen's predicament with whether and how to change her body for the sake of her career can be seen as a metaphor for the real world struggles of women trying to succeed in their jobs, and as mothers, while facing social pressure to stay skinny and wrinkleless and radiant, thanks to greed-driven societies and institutionalized misogyny. Amen.
Under the Skin (2013)
Director: Jonathan Glazer
In Under the Skin, Scarlett Johansson's alien character takes the body of a young woman and travels Scotland in a van picking up men. She lures her victims into a trap with the promise of sex, instead bringing them back to her apartment and harvesting their flesh. Glazer's alien serial killer film has the premise of a horror movie, but is actually something very different.
It's brazenly feminist in the sense that it reflects the struggles of women living in a patriarchal society. Johansson's character is objectified by the movie's men because of her looks, but she doesn't know how to exercise agency over her own body, or use it for her own pleasure. The last man she meets sexually assaults her and in the process reveals what's under her skin; he's disgusted when he's forced to see her as more than just a sexual object. It's a movie that tries to make us understand what it sometimes feels like to be a girl.
Woman in the Moon / Frau im Mond (1929)
Director: Fritz Lang
In this silent work of matriarchal mythology from Metropolis director Lang, a bitchin' scientist blasts off for the moon in the hope that there's a pot of gold or two waiting for her there. This film stands as one of Lang's most feminist works, positioning strong female characters in pivotal positions of both good and evil, courage and kudos. Appearing on German cinema screens just 11 years after women were granted the right to vote, astronomy student Friede Velten (Gerda Maurus) was way ahead of her time.
Before Friede takes off, there's a scene where Helius – the industrial engineer who's secretly in love with Friede – begs her to stay behind. She's wearing some sloppy pants, a "masculine" shirt and tie combo, and a waistcoat: It's as if Lang is trying to re-emphasize the fact that his protagonist is equal to the film's men. Friede then berates Helius for thinking of her as a woman first and a distinguished scientist second.
A Girl Walks Home Alone at Night (2014)
Director: Ana Lily Amirpour
One of the most obviously absent premises in the vampire sci-fi genre is the idea of an independent female vampire that isn't defined by her male sire or the male vampires around her. This movie is about a skateboard-riding, indie rock-listening, blunt-banged killer known as The Girl, who sucks the blood of bad men.
Amirpour says she didn't intend for the film to be a feminist statement – or a statement on anything at all. But in watching A Girl Walks Home Alone at Night, it's difficult not to politicize its heavy symbolism. The Girl wears a chador which, in this context, seems like a symbol of empowerment as she goes about inflicting pain and death on those who've done wrong by women, while re-imagining the way Western audiences think about the symbols that go along with feminism.
The Stepford Wives (1975)
Director: Bryan Forbes
The original Stepford Wives (based on the book by Ira Levin) is set in the American dream suburb of Stepford, Connecticut, where perfect houses are inhabited by perfect wives. A 1975 audience watching these babes manage their households perfectly would have probably felt deep distress at their own situation. The seduction of a happy family is big, but what woman can find time for herself in such a situation?
But, the wives turn out to be robots, manufactured by the guys down at the Men's Association. I mean, why live with a dowdy ball-breaking bitch, when you could have a porn star with a pair of rubber gloves and a bottle of Clorox? The ideals reflected in Forbes' movie were largely about women's liberation. Our protagonist, Joanna, might have been silenced by the movie's closing credits, but the film spends time exploring whether the textbook examples of womanhood are really what women want, or whether they're being influenced by wider social structures.
Tank Girl (1995)
Director: Rachel Talalay
Based on the British cult comic-strip, our farting, nose-picking anti-heroine fights a mega corporation, which controls the world's water supply. Tank Girl – a post-apocalyptic movie directed by a woman – is a hilarious feminist landmark in comic book history and what most chick flicks should ideally be, smashing its way victoriously through the Bechdel Test in the first 10 minutes of the movie.
What makes it even better is the extreme weirdness of it all, including Ice-T playing a mutant kangaroo (ahhh, the '90s). A rewatch of the film will also remind you of the brash comedy and fourth wall-breaking vibes of Tim Miller's Deadpool. They're both aiming to dismantle and satirize the classic comic book movie routines, with a self-aware hero who refuses to play by the stereotypes with which we're all familiar… Only, Tank Girl does it in a way that touches on gender tropes.
Born in Flames (1983)
Director: Lizzie Borden
Set in New York City in an unspecified future, 10 years after a "Social Democratic War of Liberation," Born in Flames asks the question of whether the oppression of women will be eliminated under any kind of social system. The film's new, socialist policies prove to be as dogmatic as the capitalist ones that went before. Women from all walks of life start to get really pissed as they continue to endure prejudice and molestation, before forming an army and plotting a revolution within the revolution.
Beyond its commentary of "progressive" politics, Born in Flames raises a glass to the possibility of women working together and putting aside conflicts that have existed in the women's community in order to achieve common goals. Let that be a lesson…
The Sticky Fingers of Time (1997)
Director: Hilary Brougher
This mad sci-fi drama doesn't shy away from its extremely low budget, but still manages to be compelling through its time-travelling plot, its rebellious '90s grunge, and its feminist guerrilla warfare themes aimed at male dominated society.
Quite often, "feminism" in Hollywood is code for "give her toned abs and a gun" and placate some audience members while simultaneously catering to the fantasies of others. What doesn't happen so often in sci-fi, unfortunately, is the portrayal of realistic, three-dimensional female characters, and the very natural and (I'll say it) feminine way that they deal with the weird events that come about for them. In sci-fi movies, feminist women are often depicted as essentially men in female bodies. The central characters in Sticky Fingers, however, are strong people – and it has nothing to do with gender inversion, or reversal.
Princess Mononoke (1997)
Director: Hayao Miyazaki
There's no way to talk about this Studio Ghibli film without sounding hyperbolic: Princess Mononoke is one of the most beautiful films ever made. Miyazaki's majestic animation goes hand in hand with a timeless story packed with symbolism and subtext as it tells the story of humankind vs. nature.
A thread of feminism weaves itself through the film. The women are, in general, so much more interesting and developed than the male characters. The film also features a tenacious heroine, San, who subverts feminine stereotypes and is written without the unrealistic idiosyncrasies often found in animation; Wolf-goddess character Moro deserves attention as an unlikely mother figure who is both fierce and nurturing; Lady Eboshi is refreshingly portrayed as an unflappable leader, not a demanding bitch.
For more enlightened viewing, check out these 20 feminist films every Highsnobiety reader should watch.