"Ask a child to draw a car, and certainly he will draw it red." These words from Enzo Ferrari, the famous racing driver and founder of Scuderia Ferrari, perfectly encapsulate the unrivaled cultural reach of the Prancing Horse. The chosen marque of names ranging from Michael Jordan to Leonardo DiCaprio, Ferrari exerts an almost mythical power on culture of all kinds. Which other brands could dream of connecting the distant worlds of Chief Keef and James Bond? Its ties to music and film run deeper than any other car marque and the fact that Ferrari's logo is a returning obsession of the fashion world tells you that it's got a finger in the style pie, too. Moments like Drake sporting a Ferrari race jacket cement the brand's name as a status symbol in all spheres. That's what makes Ferrari such a central player in our space. A brand of any kind that dominates not only its own lane but also swerves gracefully into any other is a brand to take notice of and learn from.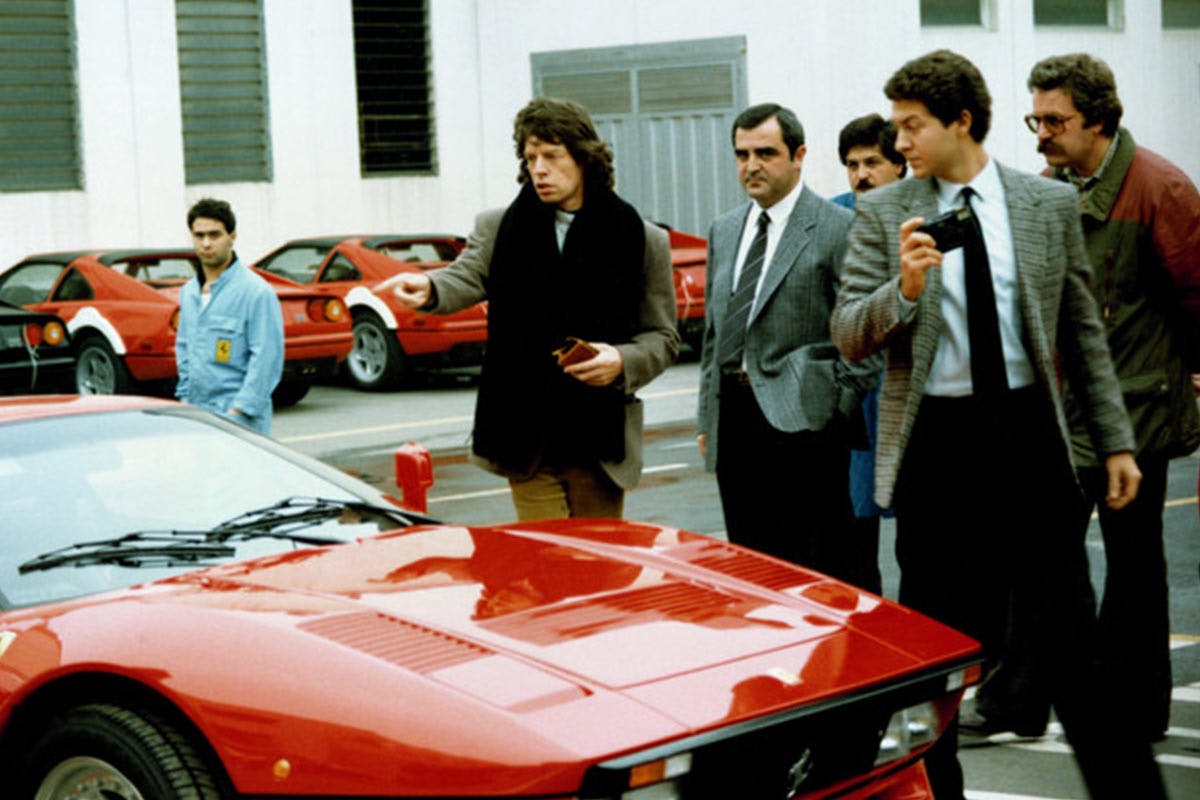 Ferrari has been involved in the style world indirectly for years, but the Prancing Horse is about to double down on the style front. With the announcement that Ferrari is releasing its very own fashion collection, the marque's status as a cultural powerhouse on all fronts has never been more obvious.
In many ways, car design plays into fashion: material, color, design, and function merge, enveloping the body, augmenting its functions, reshaping, protecting, magnifying its forms. Using multifunctional and sustainable fabrics in primary colors, Ferrari has designed forms around an aesthetic that is bold, intrepid, and assertive. Ferrari's new visual language is in tune with the currents of new generations — fluid and impactful. The collection will debut on June 13 with an event in Maranello, Italy— the home of all things Ferrari — which will be the first glimpse at a new era in the brand's history.
So, whether you're a petrolhead, film buff, or rap aficionado, Ferrari undoubtedly plays a part in your day-to-day life. In that way, Ferrari is probably one of the most successful brands ever, but how did it get here?
Really we could be here for weeks sifting through the moments that made Ferrari Ferrari. Instead, we're embarking on a pedal-to-the-metal tour of some of Ferrari's biggest moments in our world. Ranging from film & TV to art and music, consider this a love letter to the Prancing Horse.
There are few better adverts for a brand than celebrity endorsements, and for Ferrari, they come in abundance. While labels nowadays are used to shipping their products into the right hands, Ferrari's appeal has been a magnet for top-tier endorsements since the mid-20th century, hitting fever pitch in the '90s.
If you, like everyone else in the world, obsessed over Netflix's The Last Dance last year, you no doubt caught on to Michael Jordan's penchant for a Ferrari. With a collection topping those of even the most dedicated collectors, it's no surprise that there's more than one Prancing Horse involved.
It's safe to say that most celebs have a fairly impressive motor or two, but some have more than an eye for a flashy car. Jamiroquai frontman Jay Kay is known as one of the biggest car fanatics in the world of music, and as a man of great taste (and hats) prefers a Ferrari to anything else. Boasting at least three Ferraris in his collection, from a Kermit Green Ferrari LaFerrari to a one-of-a-kind 1965 Ferrari 330 GT, his prized motor is a Ferrari 275 GTB.
Jay Kay isn't the only musician to take pride in his Ferraris, though. Rap's long-running obsession with the marque is arguably epitomized by Pharrell whose Ferrari Enzo is the stuff of legend. A fan-snapped image of Skateboard P stopped at lights in his Enzo, peering out the window with his hand raised in a Vulcan Salute unsurprisingly has become an iconic image. The car itself, a wildly rare build, appeared in several music videos, even becoming a Transformer in the video for Can I Have It Like That. Pharrell brings us naturally to Ferrari's long-running life in music. From Migos to Jay-Z, Kanye, and Frank Ocean's titular White Ferrari, Ferrari plays a central role in contemporary music.
For young artists like the late Pop Smoke, whose love of Ferraris was plain to see in his music videos, Ferrari acts as the universally desired dream car — a physical manifestation of "Hey mom, I've made it." Take the video for Pop Smoke's Welcome to the Party, which essentially revolves around a red Ferrari 458 Italia. It's a fitting centerpiece for a breakout record, seeing as the sense of exclusivity that these sports cars exude plays perfectly into the bravado that characterizes the scene.
We can't forget about Gucci Mane & Waka Flocka Flame's album Ferrari Boyz. Gucci Mane has never been one to shy away from the spotlight. Whether it's an ice cream tattoo on his cheek or the matching pendant encrusted with diamonds, Gucci Mane likes to leave a mark. Maybe that's why the video to Ferrari Boyz saw the two artists enjoying a Ferrari 458 Italia just as much as Pop Smoke.
Perhaps the most memorable reference to Ferrari in music came in 2019 during Drake and Migos' Aubrey & the Three Migos Tour. Fans lucky enough to secure a ticket to what is surely one of hip-hop's biggest tours ever were treated to a 1:1 replica of Drake's $3.5 million Ferrari Laferrari floating overhead. The multi-million-dollar hypercar, finished in rare yellow, did laps of the crowd as a technician controlled it behind the scenes.
While Ferrari has certainly found a home in the rap scene, the marque is anything but a one-trick pony. Get it? Sorry. Take Britpop icons Blur, whose 1993 Chemical World CD cover featured an illustration of the Ferrari F40, a car backed by many as one of the greatest hypercars ever made.
As ubiquitous as Ferrari is in music, it really hits its stride on TV and in film. The inimitable Italian bodywork is enough to make a great scene an iconic scene. In fact, Ferraris often become the defining aspect of a character or film as a whole.
Take Magnum PI for example. Tom Selleck — AKA Magnum, a private investigator whose mustache basically highlighted everything that was right about the '80s — was about as key to this show as his red Ferrari 308. This duo proved that the right Ferrari becomes a character in its own right.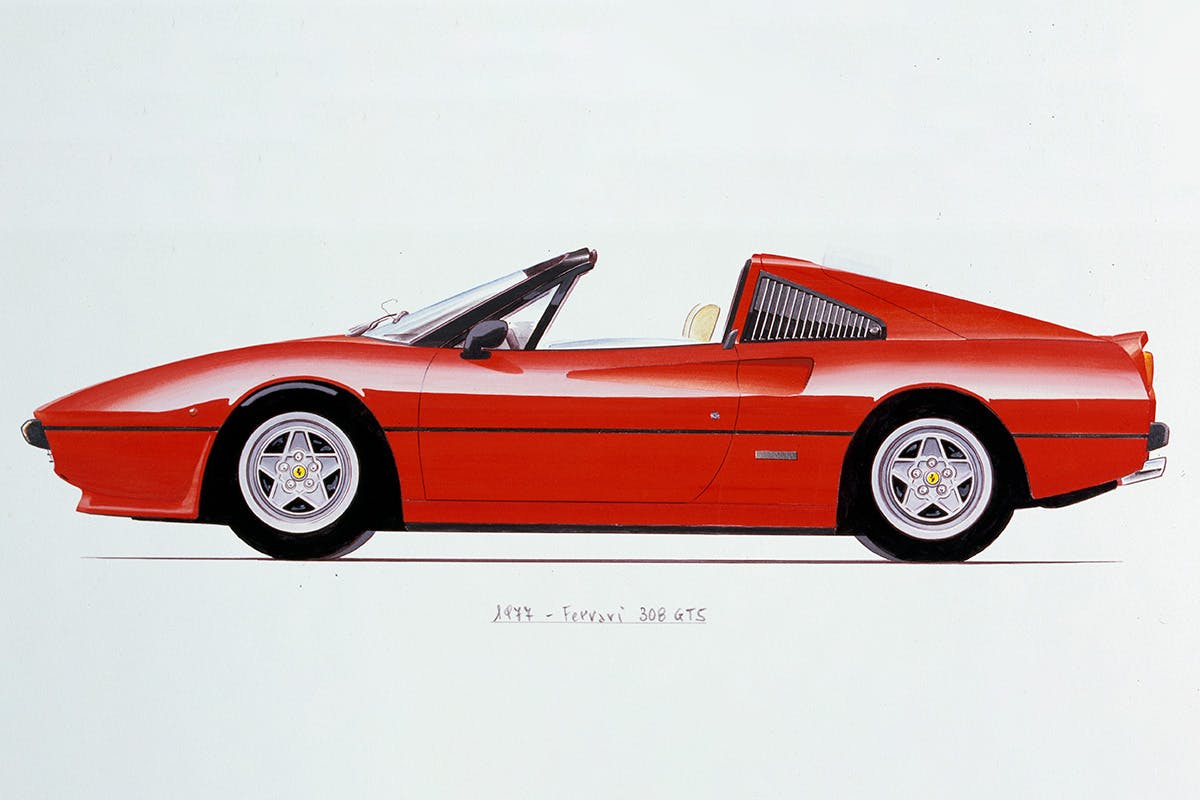 In 1984, just four years after Magnum PI hit the screen, the world was treated to another now-iconic Ferrari. The white Testarossa that features in Miami Vice is surely credited with kicking off more than a few lifelong obsessions with the retro build. Held as one of Ferrari's greatest ever designs, the Testarossa isn't short of appearances on the big screen. Leo, for example, had some trouble with the suicide doors when he played Jordan Belfort in The Wolf of Wall Street. His white Ferrari Testarossa, though, looked majestic throughout.
Unfortunately, while Ferraris looks great in perfect nick, directors have long enjoyed thrashing one, too. Whether it's a prop or the real thing, there's something deeply hurtful about seeing a rare vintage Ferrari destroyed. Never has this feeling been more acute than in Ferris Bueller's Day Off. Cameron's father's 1961 Ferrari 250 GT takes a rough trip through a glass window and drops 30 feet to its demise — a moment made unforgettable by the quasi-mythical aura of the vintage Ferrari.
While we've touched upon some of cinema's best-known Ferraris, there's one that's criminally overlooked and it's not even a real car. In 2006, Disney released Cars, which saw a group of anthropomorphic cars on a quest for race wins and lifelong friendships. While not a central character, Michael Schumacher plays a Michael Schumacher, a red Ferrari F430. It's in this way that Ferrari is woven into the fabric of modern culture, bringing us back to Enzo Ferrari's famous quotation, "Ask a child to draw a car, and certainly he will draw it red."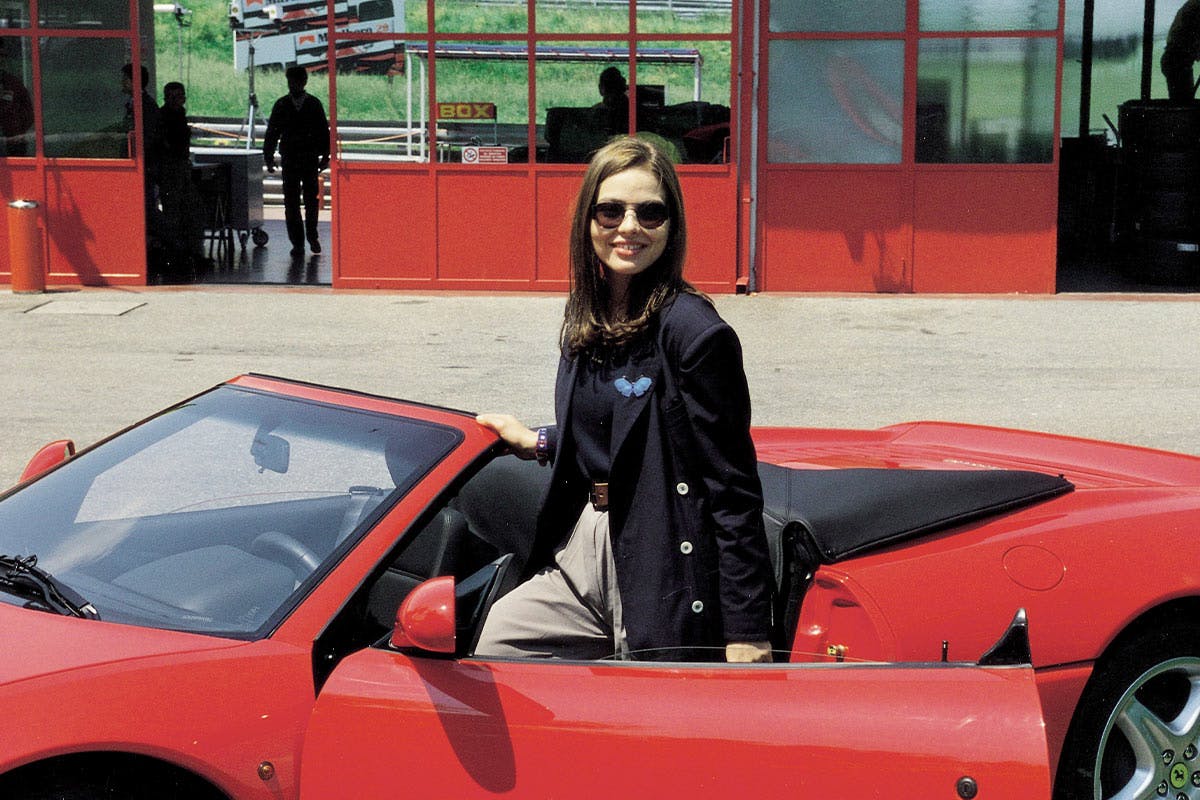 Whether it's because of film, music, celebrity endorsements, or the world-famous racing team, Ferrari is one of the most loved brands in the world. We could run through hundreds more Ferrari moments and references to hammer home this point, but really, the mind-boggling reach comes down to one thing. Beautiful design fuelled by passion will always triumph. No matter how many times we see the immaculate Rosso Corsa of a streamlined Ferrari zip by, it will always inspire a flash of childlike excitement, and that is why Ferrari exists in a league of its own. This sense of a brand existing within its own unique and unrivaled parameters is set to continue with the release of Ferrari's first collection which debuts on June 13 in Maranello, Italy.
Ti amo, Ferrari.