When GAIKA released the SECURITY mixtape in 2016, it painted an evocative picture of the dark London cityscape. It channelled the city's invisible geography and sonic heritage, but also something more personal and relatable for anyone who's ever tried to find their way through a big city — anxiety, fearlessness and the thrills of illegal substances, the sexual energy of sweaty basement parties and the fragile romanticism of the early hours of the morning. SECURITY was followed by the SPAGHETTO EP, GAIKA's shapeshifting Warp debut, which twisted influences of dancehall and industrial into a somber yet seductive work of what he described as "ghetto futurism."
The genres GAIKA fuses in his music span dancehall, R&B, grunge, and distorted electronic sounds, although the output of the Brixton-born producer is clearly bigger than the sum of its parts. Following two years of creative work across music, art, fashion and politics, GAIKA is back with his debut LP BASIC VOLUME, out via Warp on July 27. Just like his earlier work, BASIC VOLUME offers complex storytelling and rich sound texture, but it tells a story larger than a certain place — one of belonging and the immigrant experience in the contemporary world.
To get a glimpse of the BASIC VOLUME audio-visual universe, it's best to check the videos for "Crown & Key" and "Immigrant Sons (Pesos and Gas)" directed by Paco Raterta. Set in the dream-like tropical landscape, where lush jungles are reclaiming the derelict remains of human presence, they feature excessive tattoo ornaments, firearms, and trippy Christian symbols tinted with radiant colors of a petrol rainbow. This cryptic universe, just like the album itself, is a metaphor rather than a reference to a particular place.
"I think the whole point of it is about not really being in any place. In the last two years I was traveling a lot, so I decided to make a record which feels like a journey," GAIKA explains. "I was a lot on planes, so I wanted to make these crystalline sounds, because that would be what I'd look out of the window and see every other day."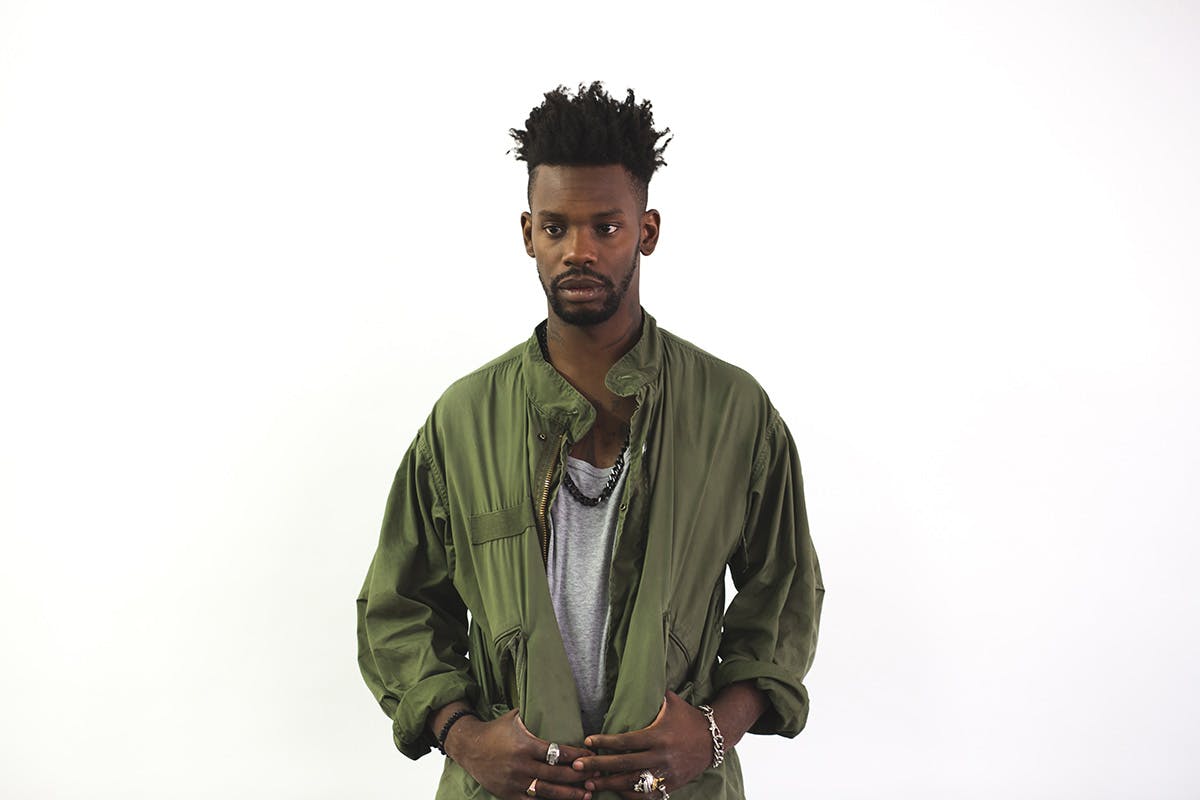 "I wanted to make something which was deliberately polished," he adds. "I didn't want to make something which is like pure experiments, but finished songs, so it does feel a bit shinier, and there is more melody. In some ways, BASIC VOLUME is less terrifying, and a bit more subversive, and has elements which are very memorable and very gettable, not just designed to shock you. I was making cinematic music, which reminds me of being a kid, and films I was watching when I was a kid."
Over 15 tracks, BASIC VOLUME does lure you in with incredibly melodic numbers, but constantly shifts between being hard, dense, and heavy and incredibly intricate, sensitive, and vulnerable. This duality comes from channeling a real lived experience, which is crucial for GAIKA. The album takes its name from the company that belonged to his late father, and explores the sense of belonging or not belonging, and feeling like an outsider in the place which is supposed to be your home.
"I moved about quite a lot when I was young, just around South London, so I don't really feel like I belonged anywhere," GAIKA explains. "I'm black, and Britain is not a black country, so you only feel as much at home, and as welcome as you're made. At times I certainly didn't feel welcome, and I certainly didn't feel a hundred per cent British or identify as British. In terms of the values of this society, I often didn't feel like it was fair. I think that's how a lot of immigrants feel, that they want to be part of this place they've left their home to get to, and guess it creates a sense of disquiet, which was one of the feelings I was writing about."
In the current political context of the UK, BASIC VOLUME couldn't have been more timely. With the post-Brexit crisis, the impact of austerity measures on education and culture, and persistent inequality, the situation feels like a political dead end. Moreover, the policies of the conservative government are often outright racist, from the drill rap ban to the Windrush scandal, which saw numerous immigrants from Commonwealth countries, many of them from the Caribbean, facing unlawful deportation despite living and working in the UK for decades.
Claiming the cultural space and celebrating the heritage of black culture in the UK are themes which come up in BASIC VOLUME, but they are also the cornerstones of an art project GAIKA worked on with Boiler Room. Opening at Somerset House on August 1, "SYSTEM" is a sculptural and video installation which celebrates sound systems and Notting Hill Carnival's heritage as "a bold demonstration of immigration, blackness and raw technical power."
"I just grew up around these things," GAIKA says. "It's representative of me, of my life. It's not an archive of sound system culture, but more my interpretation of what this means. I guess it's a personal work even though it's this big public artwork."
"Politically, I'm just not afraid to say what I mean," he adds. "These days everyone wants to be cool, and it's not cool to have an opinion or to care. But the world is just too fucked up to keep it light. People always say don't talk about politics at the dinner table, don't talk about politics in music, no one wants to hear that, and there are so many assumptions in that. One, it's not about making music for other people, two, how do you know what people want to hear?"
GAIKA's political point of view often comes through in his work: directly, like his commentary as a political editor-at-large at Dazed, or not as directly, like producing a fictionalized account of London's dystopian future titled "The Spectacular Empire" (complete with an excellent Rihanna bootleg). Throughout his artistic experimentation, GAIKA often works with futurism and technology, which is true not only about his music, but also the fashion label Armour in Heaven he established together with the designer (MA) Menikmati. Armour in Heaven offers men's custom pieces which reference protective gear, and they look slightly like a sci-fi interpretation of early-era Helmut Lang.
"I've always been into clothes and fashion," GAIKA says. "I like the materiality of garments, I'm an IRL kind of guy, I think making clothes is an intelligent thing, and demands a lot of skill and effort. As a performer, I don't like the clothes to get in the way of the performance, I don't like the clothes to be larger than what I'm about to say. But I'm really into the design process."
One of the most fascinating things about GAIKA's creative work, on BASIC VOLUME and across a multitude of other projects, is his dedication to telling the story which is genuine and true to his experience. In the ever accelerating hype-driven cultural landscape of today, it's not something we see very often — but an approach much needed to remind us of the true value of creative work.
"I've always been around music but denied that I wanted to be an artist and did everything apart from making music. Then at some point, I had to confront my own mortality very sharply, and I thought, you live once and if this is what you wanna do, do it. To me, music is connected to emotion, and I'm a very emotional person. Music is a way of healing myself, and the way of getting things out. It's like I'm compelled to make music," GAIKA says. "I make visual art and clothing because I like it, and with music, I don't really have a choice."
For more of our interviews, read our chat with jazz-impresario Kamasi Washington right here.