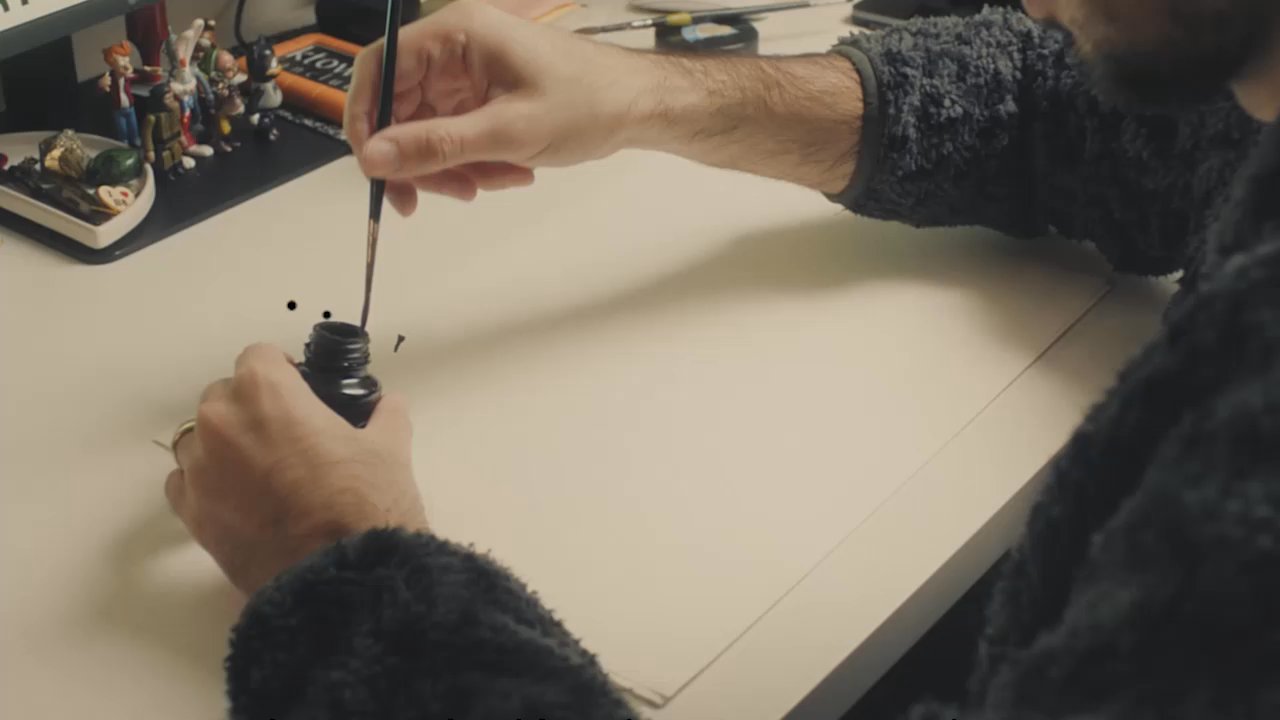 Grey Goose Vodka has partnered with UK artist Danny Sangra to create a series of artworks that bring to life the "Live Victoriously" spirit. To live victoriously is to celebrate all moments big or small, planned or spontaneous. The stories we have, the journeys we go on, the moments that inspire us along the way. Here, Danny brings his story to life.
From humble beginnings, Danny Sangra has illustrated his way to the top, "The struggle growing up was to try and make a career out of the things I love doing the most. Paying rent, having enough money to live on, while being creative. When you are from a poor or working-class background, you have to find a balance and have patience. You are in constant motion all the time, as you are always working on an escape."
Highsnobiety / Lewis Khan, Highsnobiety / Lewis Khan
Highsnobiety / Lewis Khan, Highsnobiety / Lewis Khan
It seems that balance and patience paid off, with small moments and big wins along the way. Sangra was boasting director credits on music videos and documentaries with A$AP Rocky and Mykki Blanco early in his film making career, before setting out to create commercials for a glittering list of luxury brands. His short films are constantly on the Vimeo top picks lists, and now he has partnered with Grey Goose Vodka bringing to life what "Live Victoriously" means to him.
Sangra is an artist who, from the off, has embodied the "Live Victoriously" spirit. Born in Leeds, UK, he first started drawing at the age of five when he fell off a chair at his mum's hairdressers; to keep him calm, she gave him a pencil and paper and asked him to draw. Since that day, Sangra has found not only joy from creating, but also honed his skills into a successful career as both an illustrator and filmmaker.
Highsnobiety / Lewis Khan, Highsnobiety / Lewis Khan
His style of illustration doesn't afford itself to categorization, but his love for pop culture and literary influences comes through in both his pen and film work, with references varying from Wu-Tang Clan to Jean-Luc Godard. In both his artistic mediums, Sangra is prolific. After following him for just a week on Instagram, you can expect a deluge of illustrations and short films to be posted. The guy doesn't stop creating. In 2016, Sangra released his first feature film, Goldbricks in Bloom, starring among others Waris Ahluwalia (The Life Aquatic, The Darjeeling Limited, The Grand Budapest Hotel), Leo Fitzpatrick (Kids, Bully), Jake Hoffman (The Wolf of Wall Street), and Tavi Gevinson. The film exemplifies Sangra's knack for subtle and satirical social and cultural critique. Somehow though, Sangra is never settled; he is always working on the next thing: "Those moments when you feel like you've plateaued, I get restless, so I need to find something new."
We caught up with Sangra to explore his journey, his first win as an illustrator, and how he lives victoriously.
On living victoriously
Living victoriously, for me, is being able to do the things that I genuinely love to do. I mean, that's a massive victory — the fact that, more often than not, I'm able to make the things I want, that make me happy. There are obviously bigger things I want to make that I can't, but in the meantime, the things that I do make and create generally put a smile on my face. I don't know if I have the best advice for this, but a Beastie Boys lyric jumped at me: "Sometimes I feel as though I've been blessed / Because I'm doing what I want so I never rest."
On what spurs him on
I do a lot of different things. So, if I get tired of one thing that I'm doing, I feel like I can easily switch lanes and do something else. Every day I've always got something I can be doing that I can express myself with. I sort of got addicted to the feeling of when you complete a project.
I was telling someone who is just getting started, who is doing the same thing — she does photography, she does film, she does fashion, she does all this stuff — and she was like, "I don't know how to manage it all, because I want to do all this different stuff." I said, "Yeah, it's like that at the start, but focus on one thing, right? One project, but keep it simple at the beginning. Finish it, and then move on. Don't spend three years talking about the project, because it's going to go nowhere." Complete it. Even if you're not 100 percent about it, finish the project.
Doze Green [the graffiti writer] told me this years ago: "Don't be afraid to sell work, because you'll always make more," but that's the way I feel about it. Complete the project. You're probably not going to like it after a day anyway, right? Because you'll have progressed. You'll have evolved, because the whole thing is the project. You working on it is you evolving. You finishing it — you've left that stage, and you've gone to the next stage.
On making it
I obviously can't speak for every artist, but for me, I hope to god I never feel like I've made it. It's not a video game. Do you know what I mean? It's not like, oh, there's the end-level boss.
I have moments where I felt like, "Oh, I leveled up," for whatever reason. But I don't really feel anyone truly has that moment of like, "Okay, I'm done." Even if you were in sports, right? Even if you win the World Cup; four years later, you want to win another one. Do you know what I mean? So it's a fake goal, it's a mirage. That's the journey. You should take all these moments in, just for what they are, and just enjoy them as they're going.
On overcoming challenges
The biggest challenge starting out was trying to work out how I can live off making the things that I want to make.
On his first celebration
When I was drawing loads, my mum came back from work. I was sat at home — I was drawing this green apple on roller skates with sunglasses — and we used to live near a famous British supermarket chain. I'm eight or nine years old, and I said to my mum, "Oh, I thought this could be a logo for the supermarket." So she goes, "Get your coat, bring the picture." I'm like, "Alright." So she walks me over to the supermarket and she goes, "Right, find the manager, and show him the picture and tell him that it could be a logo." I was a shy kid, so I said, "No, you..." She says, "It's not my picture," and she just left me.
I'm thinking, "Okay." So I find the assistant manager, and I said: "Oh, I've got this picture." She goes, "All right, come with me." She takes me upstairs and then I'm in their offices. She pins it to the memo board and she goes, "All right, follow me downstairs," so I followed back downstairs. She takes me to the sweet aisle. "Pick anything you want, one thing of anything you want." So I picked this massive chocolate bar, and I take it to my mum. "Oh mum, they gave me this." She said "See? If you never ask, you're never going to get." I was like, "Oh wait, I did this drawing at home, they took it..." In my head, at the time I was thinking, oh, they took it seriously because I got something from it. So technically, my first payment for a drawing was a chocolate bar.
Highsnobiety / Lewis Khan
Download and share the Grey Goose x Danny Sangra "Live Victoriously" exclusive gifs here or search "greygoose" or "livevictoriously" on giphy.