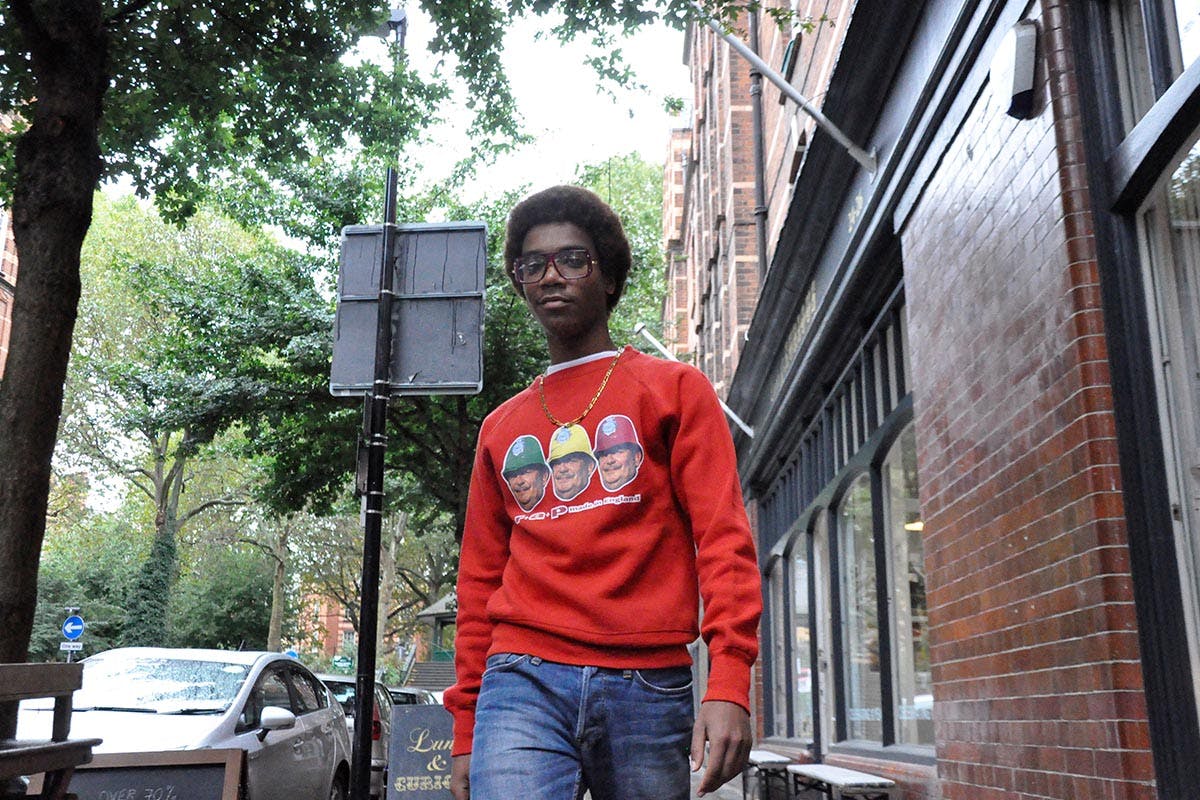 Two decades after its initial run ended and presented by Cadillac, Moroccan-born and London-raised artist Hassan Hajjaj is relaunching his streetwear brand R.A.P London at Dubai's Sole DXB 2016.
Showcasing 12 unisex pieces—six reworked from R.A.P's archives and six brand new—the collection draws on the brand's heritage while reflecting modern cultural movements in NYC and London. The cultural melting pots of today's societies create a world in which R.A.P, amalgamating past and present, has never been more relevant.
Surrounded by socio-political bleakness and feeling disenchanted by London's fashion scene, Hajjaj launched R.A.P, or Real Artistic People, in 1984 as a reaction to designer labels that he felt didn't design for people like himself. "We'd buy fabric and put it on the back of jackets," Hajjaj explained, "my peers were people like Soul II Soul, Omar, London Posse, and Pirate DJs. I was trying to create things they would wear."
R.A.P London's rich history makes it a streetwear pioneer, the appropriation and blending of influences seen today was also important to Hajjaj during the '80s in an increasingly multi-cultural capital. The brand, he says, was defined by London's diversity and his experiences with people from various backgrounds and nationalities, particularly Caribbean, English, and Indian. Hajjaj was part of a movement of disaffected young immigrants wanting to make themselves seen and heard through fashion, art and culture.
Since closing the brand in 1996, Hassan Hajjaj has continued working as an artist. Best known for his photography, he also practices interior design and filmmaking. His work appears in museums across the world including the Brooklyn Museum, New York; the Los Angeles Museum of Contemporary Art, Los Angeles; the British Museum and the Victoria and Albert Museum, London; and the Institut d'Islam, Paris.
Hajjaj moved to London from Morocco at thirteen years old and quickly connected with the city's club, hip-hop, and reggae scenes. He founded R.A.P soon after he began putting on club nights in Kentish Town basements, giving him and his friends a purposeful place to be both day and night.
Remaining inspired by Pop Art, his North African heritage, and fashion photography, the artist now divides his time between London and Marrakech. His most recent project, Hassan Hajjaj: My Rock Stars, exhibited this year at the Memphis Brooks Museum of Art in Memphis, Tennessee. "Andy Wahloo," a bar he designed in Paris, stayed open for ten years and closed in 2013—aptly named after iconic artist Andy Warhol and also a play on the Arabic for "I have nothing."
R.A.P London relaunches at Sole DXB in Dubai on November 18 and 19. Skepta, Little Simz and BJ The Chicago Kid, amongst others, will perform alongside participating brands such as adidas Originals, PUMA Select, New Balance and Nike. More info and full lineup are available via the link below.
Hassan Hajjaj is represented by The Third Line gallery in Dubai.