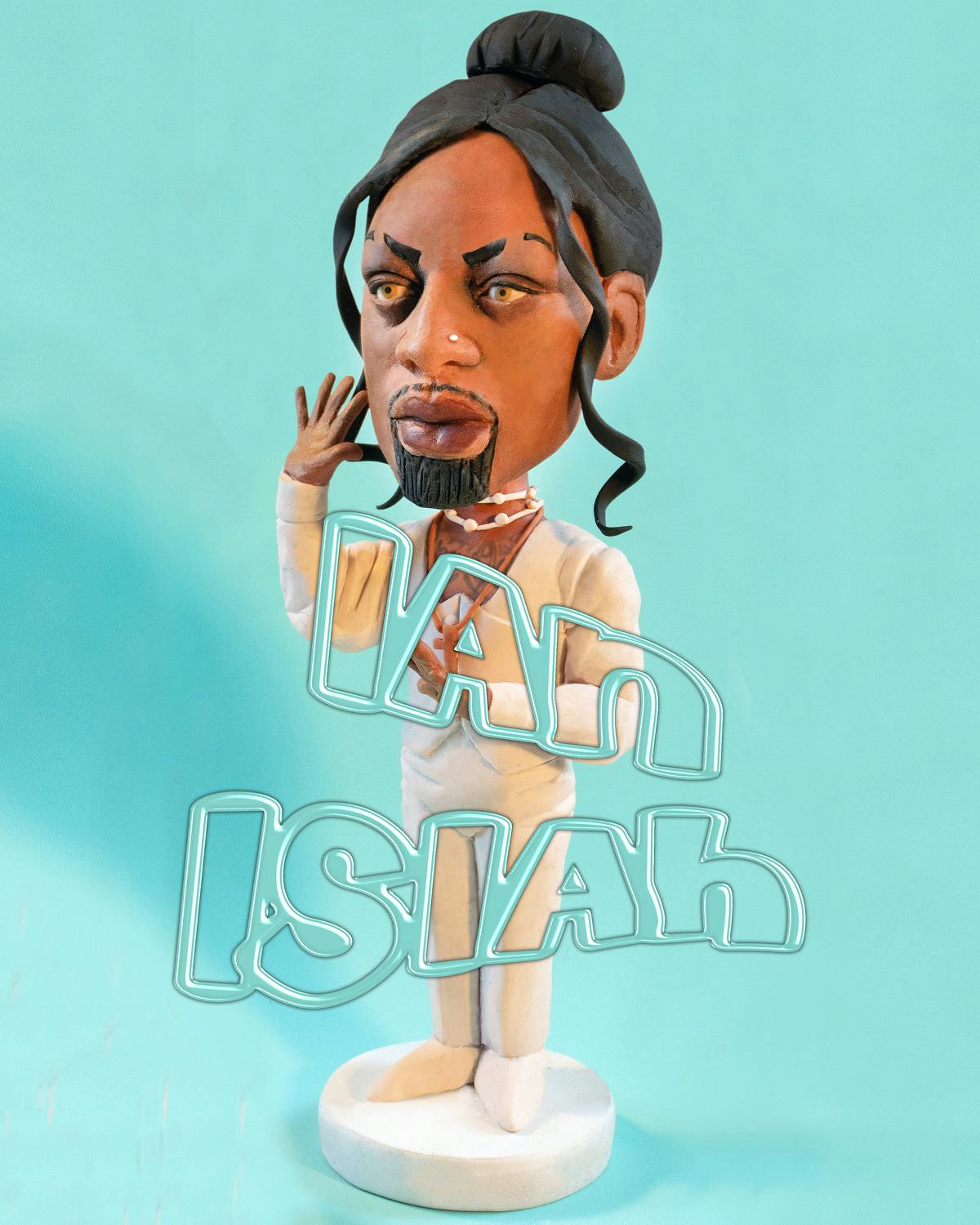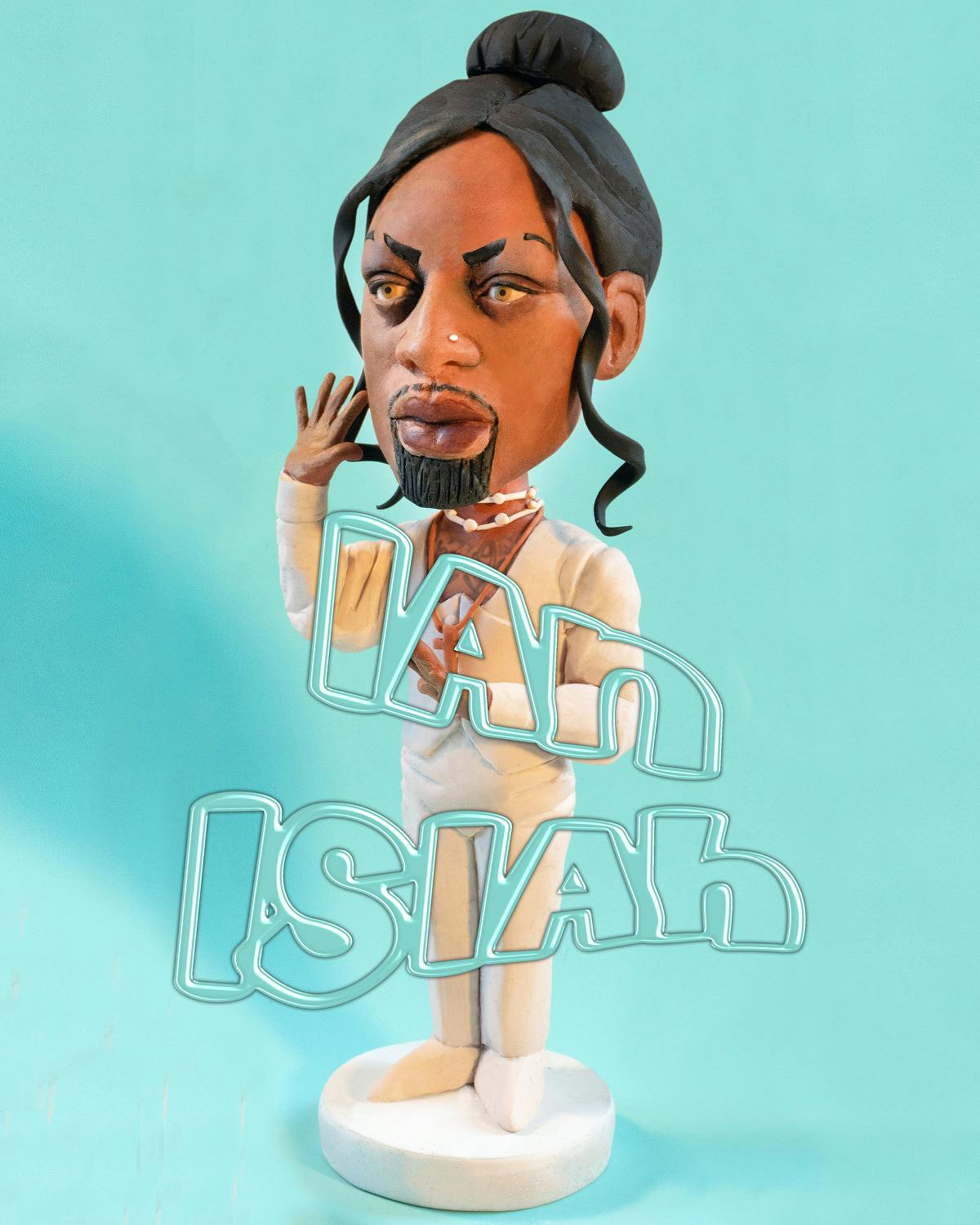 A new project from fashion icon and R&B sex idol Ian Isiah turned out to be the funky sonic antidote we needed at this stage of 2020. In this FRONTPAGE interview, he details how 'AUNTIE's celebration of Black womanhood became a universal call to come together.
In his third and final performance at Kerwin Frost's blockbuster telethon last month, Ian Isiah sang his sexed-up slow jam "247" in a black, ankle-length church robe. "That pussy so amazing," he cooed as the stage lights hit the black chiffon, hinting at the heavily-tattooed chest beneath. This fusion of sex and salvation would seem peculiar coming from any other artist, but Isiah is one of a kind: a "pangender, post-everything fashion icon and R&B sex idol" raised in the convivial storefront churches of Brooklyn.
When we speak over the phone, Isiah is back in New York after traveling to Los Angeles for the telethon, which has so far raised more than $165,000 for Colin Kaepernick's Know Your Rights Camp. Founded in 2016, the project aims to "advance the liberation and wellbeing of Black and Brown communities" by bringing key resources straight to the youth who need them. "I was so excited to do it," Isiah says, his enthusiasm audible even over the crackling phone line. "That's what we need to deal with this national crisis, and the climate we're in right now. [We need] the power of the youth, and their strength in numbers."
These values are woven into the fabric of Isiah's highly anticipated new release AUNTIE, produced entirely by Canadian electro-funk juggernauts Chromeo. It's a funky, feel-good record; a sonic antidote to a world in chaos. Lyrically, it reads like a sermon: a message of encouragement and empowerment for Black communities worldwide. "Baby, we all deserve better," he sings on opening track "N.U.T.S." "You gotta make some room for people that wanna love you."
It's the first release on Chromeo's Juliet Records, and it's also a continuation of their creative relationship, which blossomed back in 2018 when Isiah featured on their album Head Over Heels' interlude "Right Back Home To You." "It came about quite naturally," he says of the partnership. "We originally slid into each other's DMs, but I was like, 'Okay, we're not friends, so let's see what these guys are all about.'" Isiah is notoriously selective when it comes to collaborations, so he began to study their extensive back catalogue. The result was conclusive: "These are some fucking cats! They have so many grooves, and I love all of them."
AUNTIE is a fully-realized version of the musical blueprint they teased two years ago: Isiah flexes his signature falsetto across the duo's infectious, retro production, which draws from soul, disco, and R&B. But the core of the album is unmistakably funk. "We wanted that kind of 'turn your face down, nose up' funk," he laughs, humming a beat. Remarkably, the bulk of the project came together in a single week of jam sessions. "It was so smooth, it's unbelievable! When you get to work with trained artists, everyone in that room is on the same wavelength. I learned so much from them."
Isiah attributes everything else he knows about music to his family, his church-going upbringing and the lively gospel choirs of his youth. "Ever since I was three years old, I knew I was going to be a musician," he states, lovingly imitating the voices of the family friends who hustled him to sing on stage. Music seeped into plenty of his earliest memories: holiday dinners became impromptu concerts, pots and pans became makeshift drums used to keep the tempo while his grandmother sang hymns as she washed the dishes. "My whole family is musical," he explains. "My grandparents are great singers, my mom sings a little bit, all of my cousins can jam, and my father is from Trinidad, a Rastafari. He has a steelpan band, which is really cool. There's gospel on the left, reggae on the right — it's a whole vibe!"
Throughout his teens and 20s, Isiah found another family in the form of close friends, like Shayne Oliver, who founded the game-changing label Hood by Air in 2006. Isiah spent his days working retail to pull looks for iconic club nights like GHE20G0TH1K, and also played a pivotal role in shaping HBA's unique aesthetic: an expert blend of oversized fits, goth accents, and infamous slogans ("NEVER TRUST A CHURCH GIRL"), all drenched with the queer femme energy of the ballroom scene.
"That was my first experience of seeing that these collectives are really for a reason," he says of the community around HBA. "It was about being pregnant with an idea, being involved with the pregnancy of that idea, and then watching it be birthed… it was such a blessing to be surrounded by all of these talents."
Wednesdays and Sundays were usually spent in a different kind of club: The Village Underground, a legendary comedy club whose open-mic nights attracted an endless list of musical greats. "I remember that Bilal would come, and one night Faith Evans came to sing — it was really these icons, you know?" Isiah can't recall exactly how old he was when he started performing in clubs ("...at least 18… maybe I was 21? I wasn't going to school, and I was definitely drinking — I remember that!"), but he recalls being surrounded by friends and fellow musicians who felt so at home on stage that they'd stick around after their slot. "I wouldn't leave," he exclaims, laughing at the memories. "I would stay and sing background for the other open-mic artists… if there's a band there and there's mics lying around, you're going to sing. It's how the church system was run, so it felt normal to me."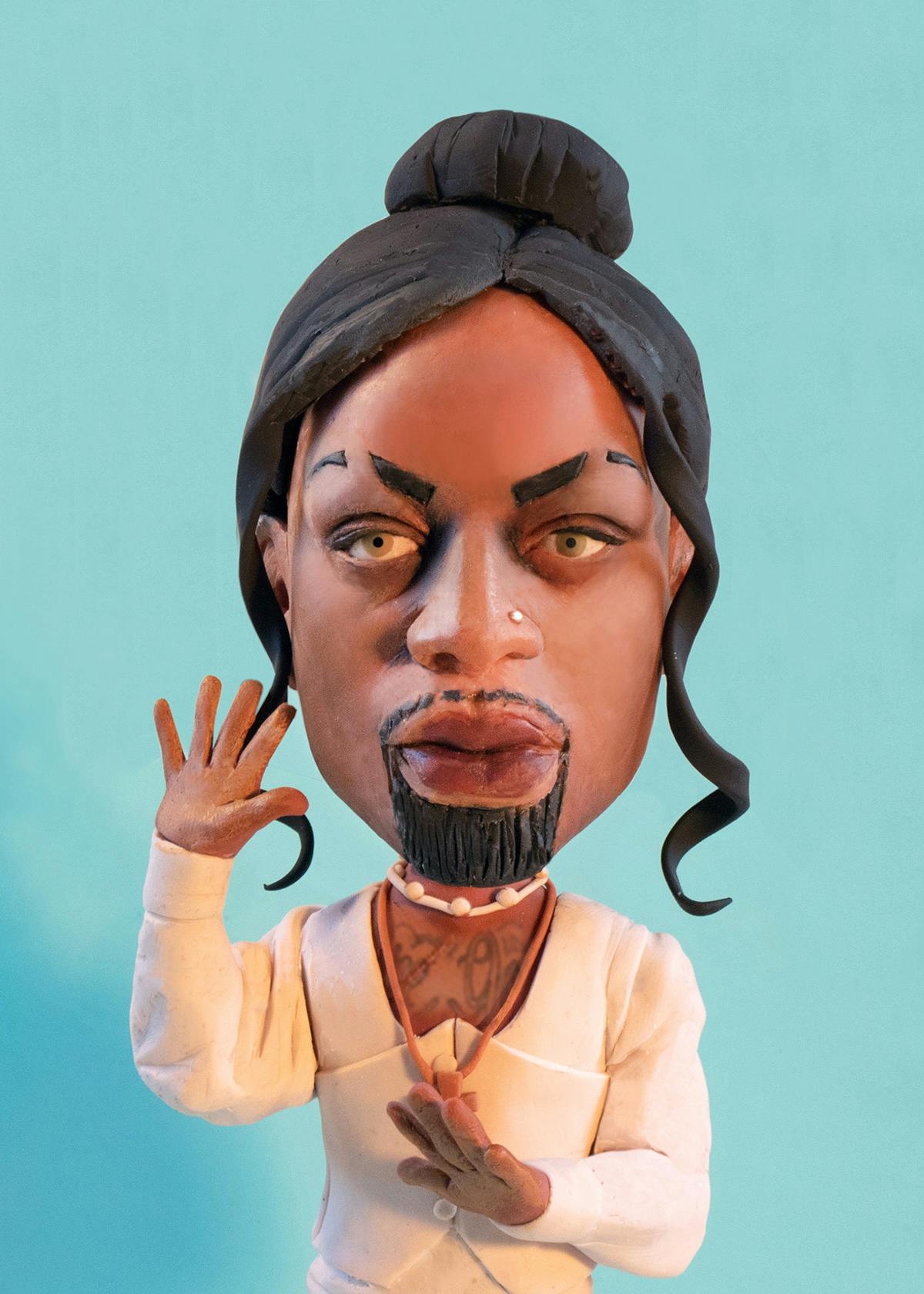 Isiah's open-mic sets became extended jam sessions with friends, who would join him on stage for covers of old Motown and R&B hits. It wasn't until 2013 that he officially released The Love Champion, a debut mixtape which paid homage to his sexed-up R&B idols, but with Isiah's own twist: the beats were high-octane, the dirty talk was drenched in AutoTune, and the features came from rap pioneer Le1f, as well as the similarly genre-blending Mykki Blanco (Isiah returned the favor in 2014, featuring on Blanco's experimental punk mixtape Gay Dog Food).
In 2018, Isiah followed up The Love Champion with Shugga Sextape (Vol. 1), a smooth, futuristic odyssey which introduced the world to his "alter ego" Shugga. "He is, but he isn't my alter ego… Shugga is sweet but street," he jokes. "It's my new, grown attitude." Lyrically, sex, strip clubs, and situation-ships define the record, but Isiah shifts their context with his loud, proud queerness. To see these tracks sung by a tatted-up iconoclast with waist-length blonde plaits and a corset was a shock to the system for many, but for Isiah it was a natural extension of his character: unconventional for sure, but never contrived.
Fast-forward to 2020, and Isiah has found himself tasked with an unprecedented challenge: releasing and promoting AUNTIE in the midst of a global pandemic. "It's impacted me in a huge way," he says, his voice thick with introspection. "It's reminded me of what it means to reset, and it's made me really figure out what I'm doing in this world." Isiah has been considering this for years — he describes getting sober two years ago as his first real reset — but he says the pandemic has made him more proactive, acutely aware that "time is precious — if you want things to happen, you need to sow the seeds."
He's sown several of these seeds over the last few months, most notably brainstorming plans for "a full live concert at some point, but in a remote way that's actually cool — I don't know if I can handle singing and reading comments at the same time," he jokes. Isiah self-describes as almost relentlessly creative, his mind constantly ablaze with new ideas. His room is often filled with notice boards and push-pins, so he can map ideas out the moment inspiration strikes.
It's also handy that Isiah happens to live with videographer and ONLUNCHBREAK collective-founder Thuan Tran, who directed the fabulously eccentric visuals for AUNTIE's third single, "Princess Pouty." "It's about a little bitch-clown who is on his way to work, and nobody is paying him attention," Isiah says of the video, shot earlier this year in a deserted Coney Island. "He thinks everyone is going to show up at his birthday party when he gets home, but, lo and behold, nobody shows up. And guess what? He's still encouraging and empowering his god-damn self!"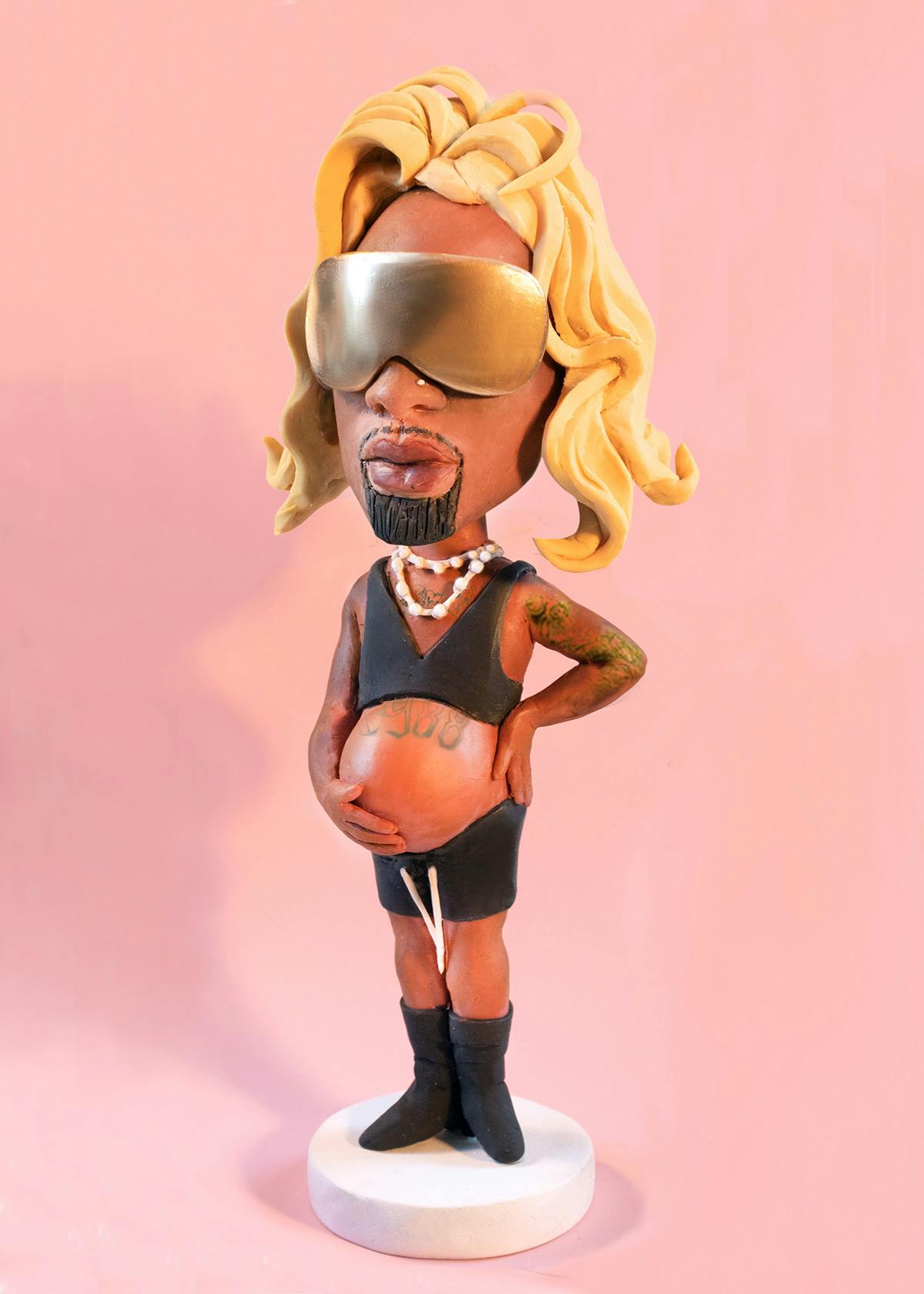 This message is stamped all over the uplifting, free-spirited visual, which sees Isiah painted by trailblazing makeup artist Raisa Flowers as a high-fashion clown causing chaos on the abandoned boardwalk. "Obviously, it's a pandemic, so we couldn't get the production to do a fucking full movie, but we were able to bring the ideas to life. I got a look together with my girl Emily [Schubert, the video's stylist] and I took my ass to Coney Island. It was actually fun, there was no one there so we had the whole place to ourselves."
"Encouragement" and "empowerment" are the words Isiah most often uses to describe AUNTIE. Lyrically, the seven-track offering is a testament to Black resilience, opening with a street recording of homophobic slurs: "He's a man, he's a woman, that's a disgrace, an abomination!" The slurs are buried deep in the mix of first single "N.U.T.S." (an acronym for "N*GG* U THE SH*T"), and soon drowned out by Isiah's warm coos of validation. "I think people already know exactly who I am and what I stand for, but I wanted to make sure, so I put that in there," says Isiah of opening with the recording. "The vibe for sure is like a vintage funk sound, but these songs are filled with messages that are needed right now. Every last song is a message of encouragement… they all speak to empowerment."
Throughout his childhood, Isiah got this dose of warmth and wisdom from the various matriarchs in his life – in many ways, the album's title is a tribute to them. "AUNTIE is the vibe from how I was raised, and how many of us were raised in my culture," he explains. "The auntie was always the one that got it, you know? We weren't her kids, but we were basically her kids — and she always looked fly, with the hairstyles and the nails! She was the one to say, 'You don't have to listen to your mother… let me tell you how to do this and that.' That was always such an inspiration for me."
Entire exhibitions have been dedicated to the importance of the auntie in Black culture, but Isiah uses the character as a metaphor of sorts; there's a fusion of tenderness, reassurance, and steeliness ("You were having a good time, but you knew you were in her house and you followed her rule!") that characterizes the seven tracks of AUNTIE, and it's more resonant now than ever. The poignant, documentary-style video for second single "Loose Truth" is exemplary; accompanied by a CashApp campaign to put money directly into the pockets of Black and POC key workers, the visuals are a testament to the resilience of Black familial networks. "This is my truth," Isiah sings softly in the song's languid, dreamy chorus. "Felt like I had time today / I've got nothing to lose / It's 911 emergency."
With lyrics like these, Isiah intertwines grief and resilience; strength and vulnerability. To translate these complex emotions into imagery, he enlisted the talents of Renell Medrano, a formidable photographer whose recent photo series, PAMPARA, doubled up as a visual love letter to her Dominican heritage. Together, they created powerful imagery based loosely on photos from the funeral of Martin Luther King, Jr.; in the single artwork for "N.U.T.S.," Isiah recreates a seminal photograph of his widow, Coretta Scott King. The AUNTIE artwork continues this emotional thread; dressed in a veil and surrounded by mourners — all of whom are neighbors, cousins, family members of some description — Isiah comforts a young girl in his arms, an image of stoicism in the face of tragedy.
"Community should really be the priority right now," he says, pausing to take stock of his words. "We need to break down what that means. It's not materialistic, you know? It needs to be more about coming together. We actually need to come together. With AUNTIE, I'm pushing more for that, and I'm speaking more to that. If you dive deep into the lyrics, I hope those themes of empowerment lend themselves well to the climate we're in." He also underlines a desire to help other artists to develop, to use his own experience and nurture the next generation of artists below him.
AUNTIE is as much a guiding light as it is a tribute to the matriarchs who defined his own childhood: the affectionate family friends nudging him to sing at church; the loving relatives who turned every holiday into a musical celebration; the legendary divas which soundtracked family visits. With his honey-sweet vocals, laidback funk, and messages of encouragement, he embodies the sage, care-free auntie slipping you extra meat from the barbecue with her perfectly-manicured nails. AUNTIE is Isiah's invitation into his own, deeply personal, beautifully idiosyncratic world — and as long as you approach with respect, you're guaranteed to leave enlightened.
Stream Ian Isiah's 'AUNTIE' here.