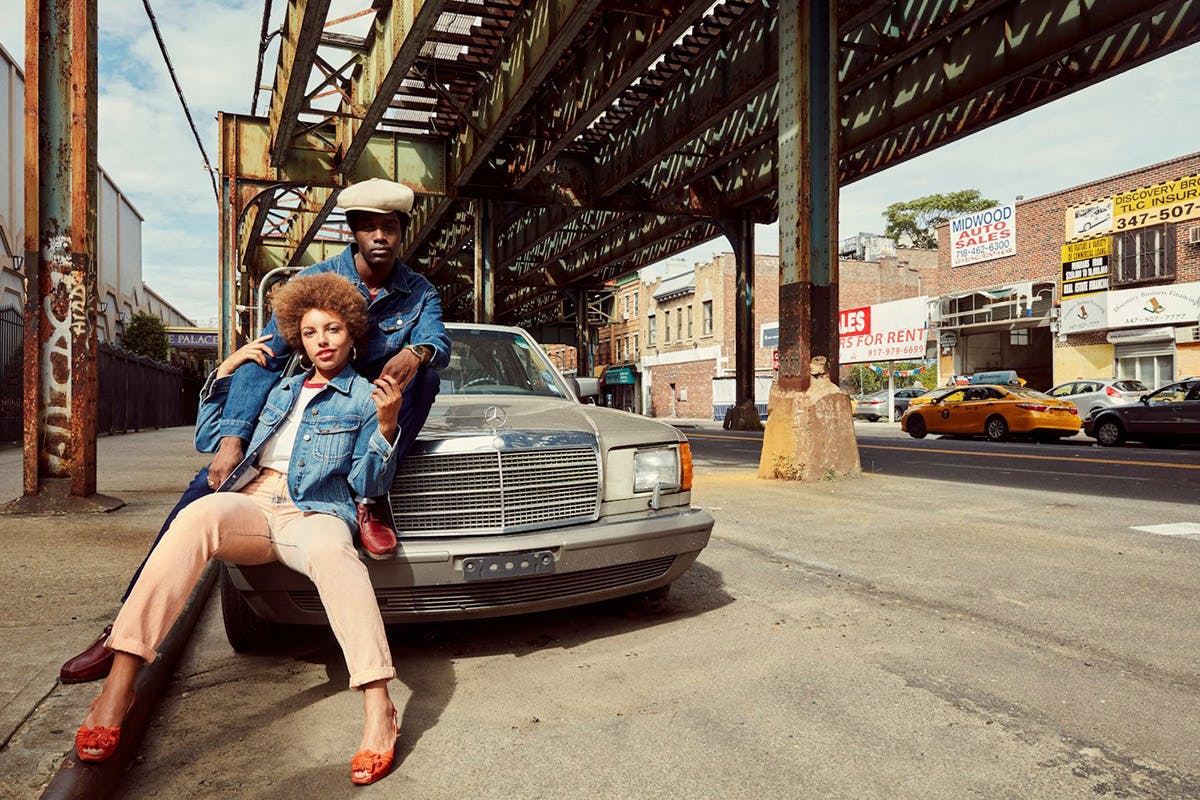 Lee Jeans / Jamel Shabazz
While pictures of fashion personalities leaving shows during Paris Fashion Week have come to define what most associate with street style, the genre was being shaped before the internet even existed.
One of the photographers who is inextricably linked to street style is Jamel Shabazz. His work – notably Back in the Days, a book that chronicles the life and styling of New Yorkers in the 1980s – depicts a distinct image of New Yorkers that has transcended time.
For its Spring/Summer 2019 European campaign, Lee Jeans tapped Shabazz to shoot "Back To Today," which captures the same spirit of his photographs, 30 years later. The union of Lee Jeans and Shabazz is both natural and nostalgic. While speaking to him on the phone, the creative shared how he grew up in Lees all of his life and that the jeans were a big part of street style back in the day. Drawing upon his own memories of the brand and leveraging its hip-hop heritage, Shabazz casted a new set of characters for the campaign, including the likes of Bronx street style icon Kool-Out-K and DJ Lee Rock. And to stay true to Shabazz, the campaign was shot on the same streets and in the same neighborhoods as Back in the Days.
For its SS19 collection, Lee Jeans delved into its archives to find pieces reminiscent of the '80s street style signature to Shabazz's work. Workwear staples, like the Carpenter Pant and Loco Jacket for men, pay tribute to the brand's heritage silhouettes and are reimagined in canvas fabrics and herringbone prints. What's really catching our eye are the colorful pieces that are done with the same '80s styling as Shabazz's subjects in Back in the Days, like the wide-leg jeans in bright red for women and the color-blocking sportswear for men.
We spoke to the legendary photographer to dig deeper into the brand's heritage and how street life and style has changed since the '80s.
What did you find interesting about this project? What made you want to be a part of it?
I think that what got me excited was the fact that I had grown up in Lees all my life… so when I was approached to do it I was excited because they represented a brand that was so close to my coming of age. So I was immediately excited to have the opportunity to create something unique.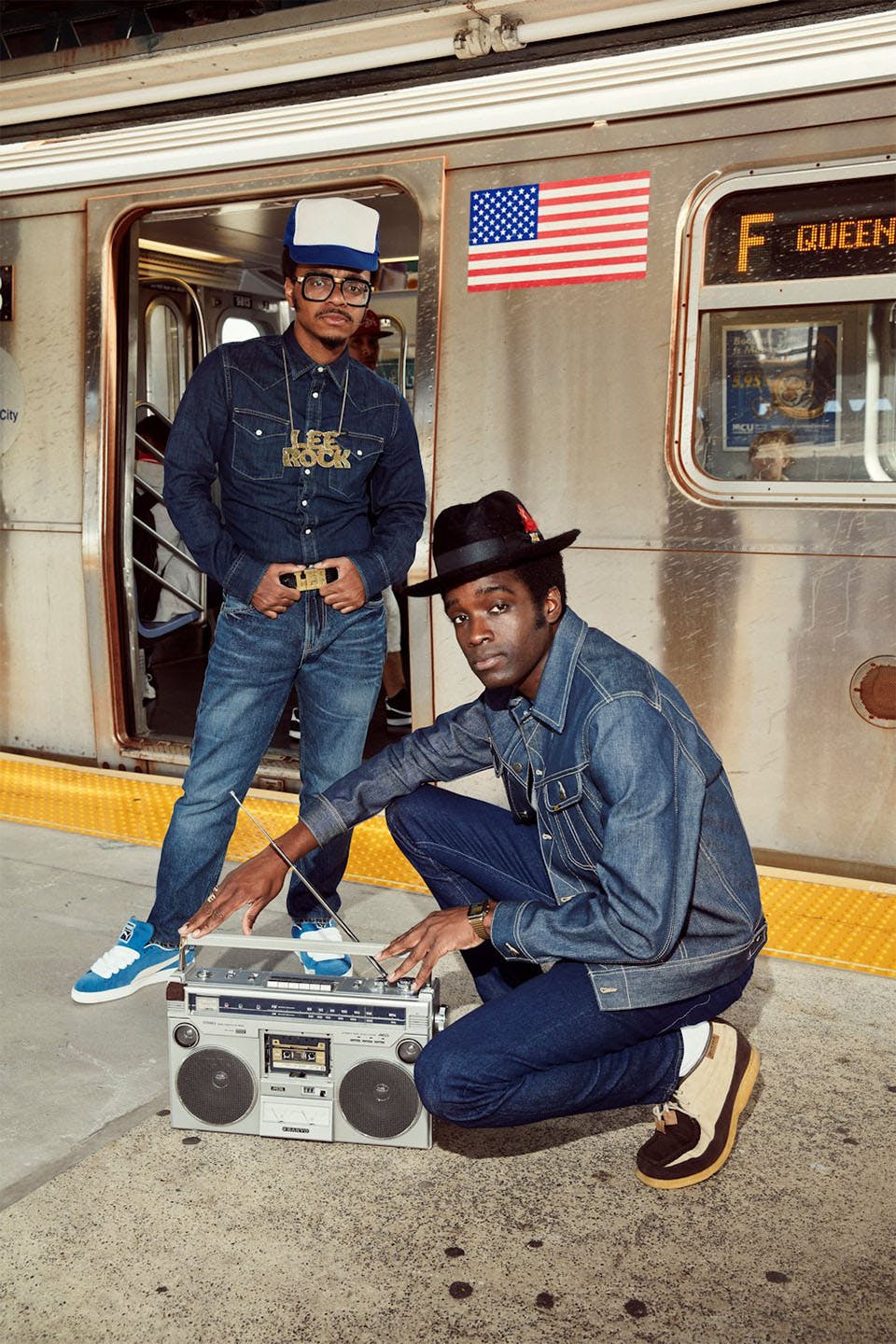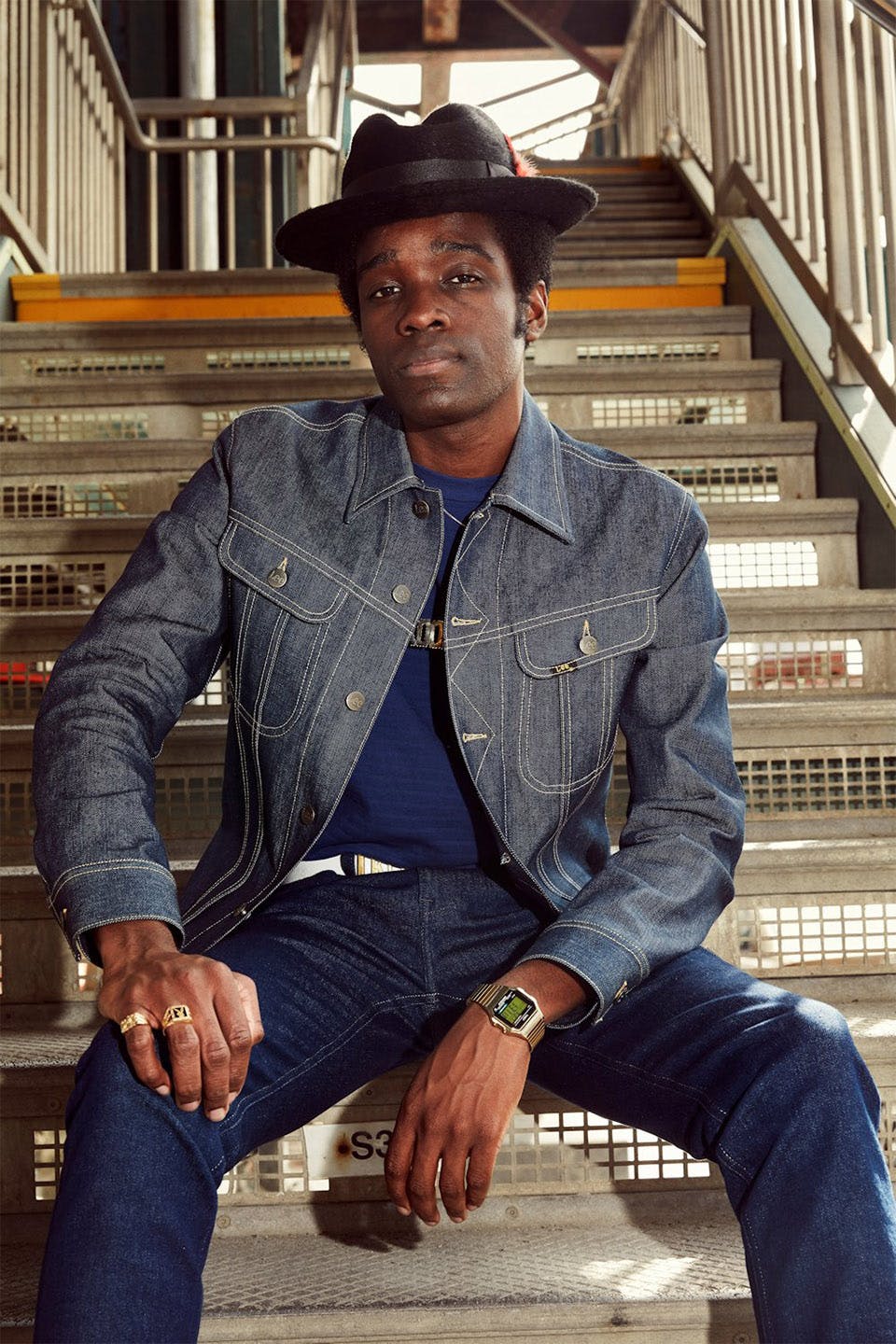 What does Lee Jeans mean to you?
It's a reflection of growing up in Brooklyn back in the days and what we wore. It was a very popular brand back in the day and everyone within my circle had them. It's a part of my youth and it's very nostalgic for me just to think about the brand and how, when we were teenagers, we were 15, 16 years old, we had the different colored jeans and the jackets… and I appreciate that significance.
You brought up nostalgia, which we're seeing a lot of in fashion today, specifically referencing the '80s and the '90s. Can you talk a little bit about New York life and style when you were photographing it in the '80s?
Gang culture was very prominent in Brooklyn. It was a very tense time. The war in Vietnam was winding down and you had a lot of soldiers who were returning home from war, the heroin epidemic was still present, and we had a crisis. What was really unique about that time was the music that we had. It was a time when the music was very powerful and dealt with a lot of social issues, even a lot of the movies that we saw, the black exploitation movies were very primary back then. When I think about that time, and just the whole vibration, I can't help but think about Marvin Gaye's song "What's Going On." That was pretty much the soundtrack of the vibration of that time.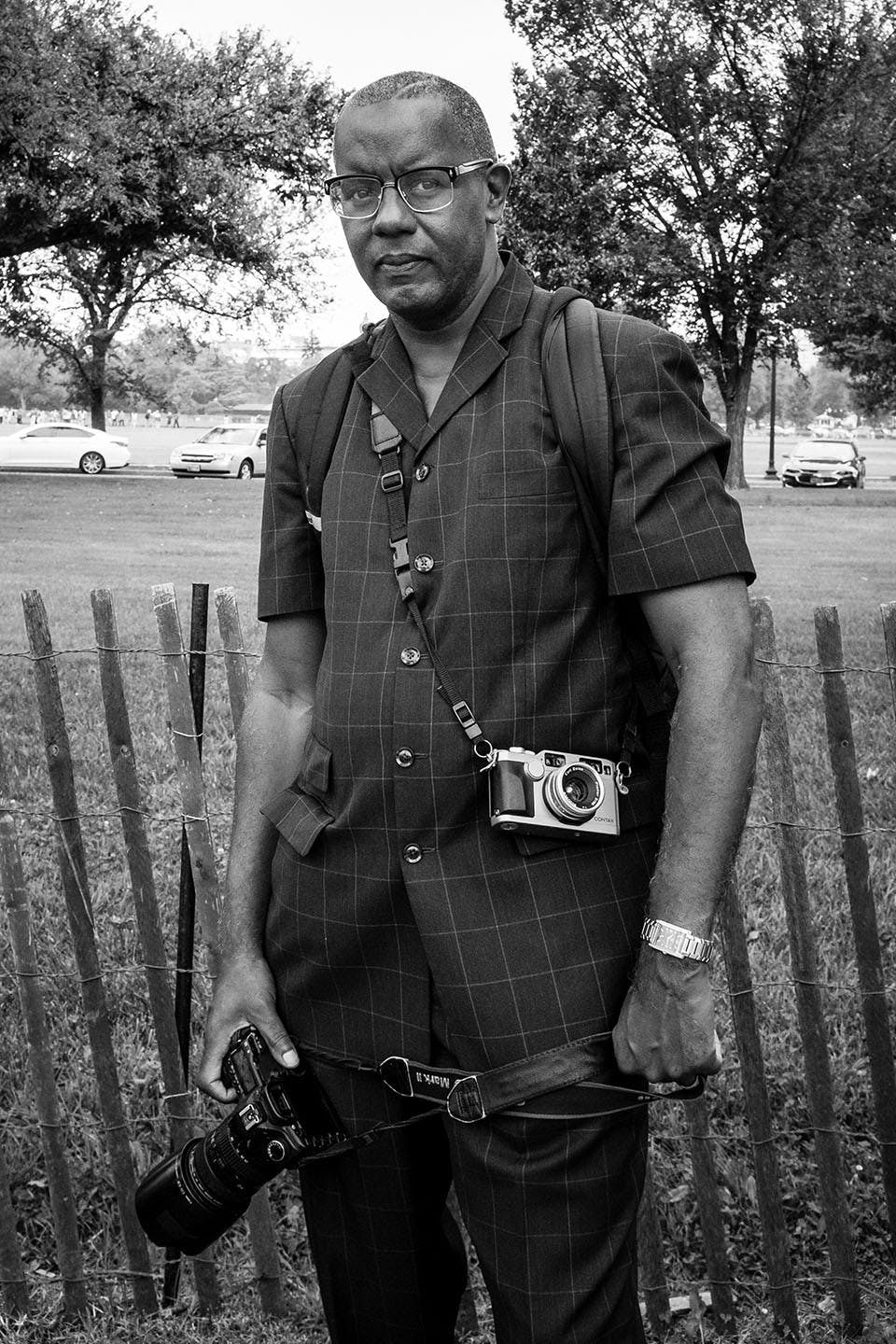 The style itself, at the time people were very stylish and took great pride in themselves, how they dressed, and how they carried themselves. Coming from a predominant Caribbean community it was a very interesting time in terms of fashion, because during that time there was a great migration of immigrants coming into New York city, especially from London and the Caribbean Islands. And they brought a particular style that incorporated the American style, and they created something pretty unique. So this whole new style was created in the streets and this made it a very interesting time for interpretive fashion.
You mentioned that people were wearing Lee Jeans back in the day. Can you speak to what the brand was doing then and now?
Lee, to me, has been on the books for so many decades. Lee was that [brand] that everyone wore and I was just stunned when I looked back at my photographs that everyone pretty much had Lees on during the early '80s and late '70s. Back then it just represented a really good time.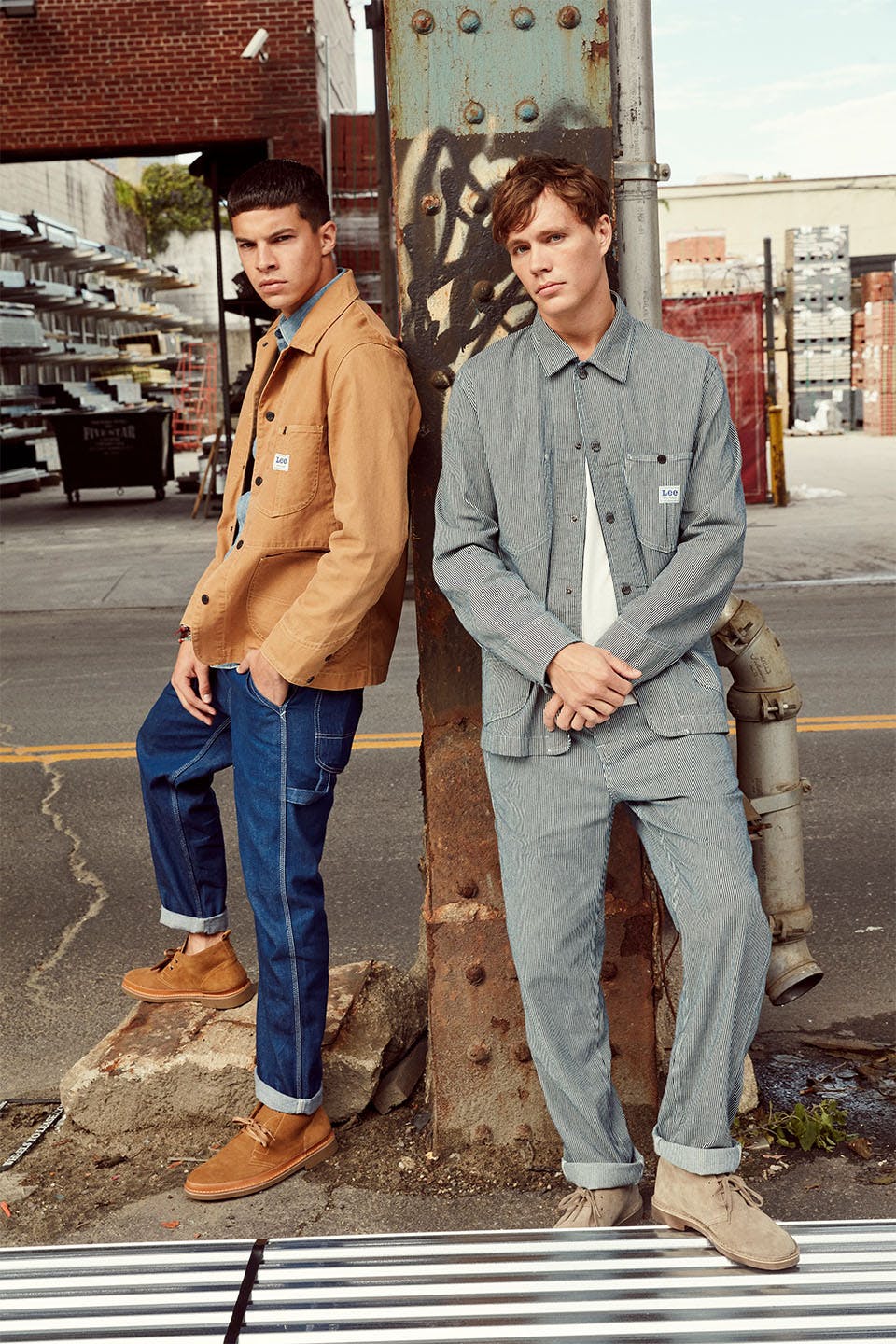 With the rebirth of Lee, I feel as a visionary, I'm in a position to recreate that time period, to bring back the feeling of love and friendship. And I feel good about that. In a very unique way, in my casting now, I can incorporate multicultural people. And that's something that didn't quite happen. So, even today now, I could have all these different cultural elements in a campaign and show, in a time of discord, harmony. To take an idea down off an experience I had growing up when we were disconnected and through this campaign now, bring all these different elements together under the banner of a clothing brand. And that's something that I really appreciate right now.
What was the highlight of working on this project for you?
The highlight for me was the collaboration: to be placed in a position to work with a number of different elements that made the campaign itself. It's not me; I was just one aspect of it. Being in a position to work with the hair and makeup people, I had a great stylist, working with young, aspiring models who [for] many of them it was the first time being in the makeup chair. That was really a highlight, to be placed in the position to have that substance and create a campaign that will give them a foundation to further their campaign. That means more to me than anything. That, to me, is number one. It was a great collaboration.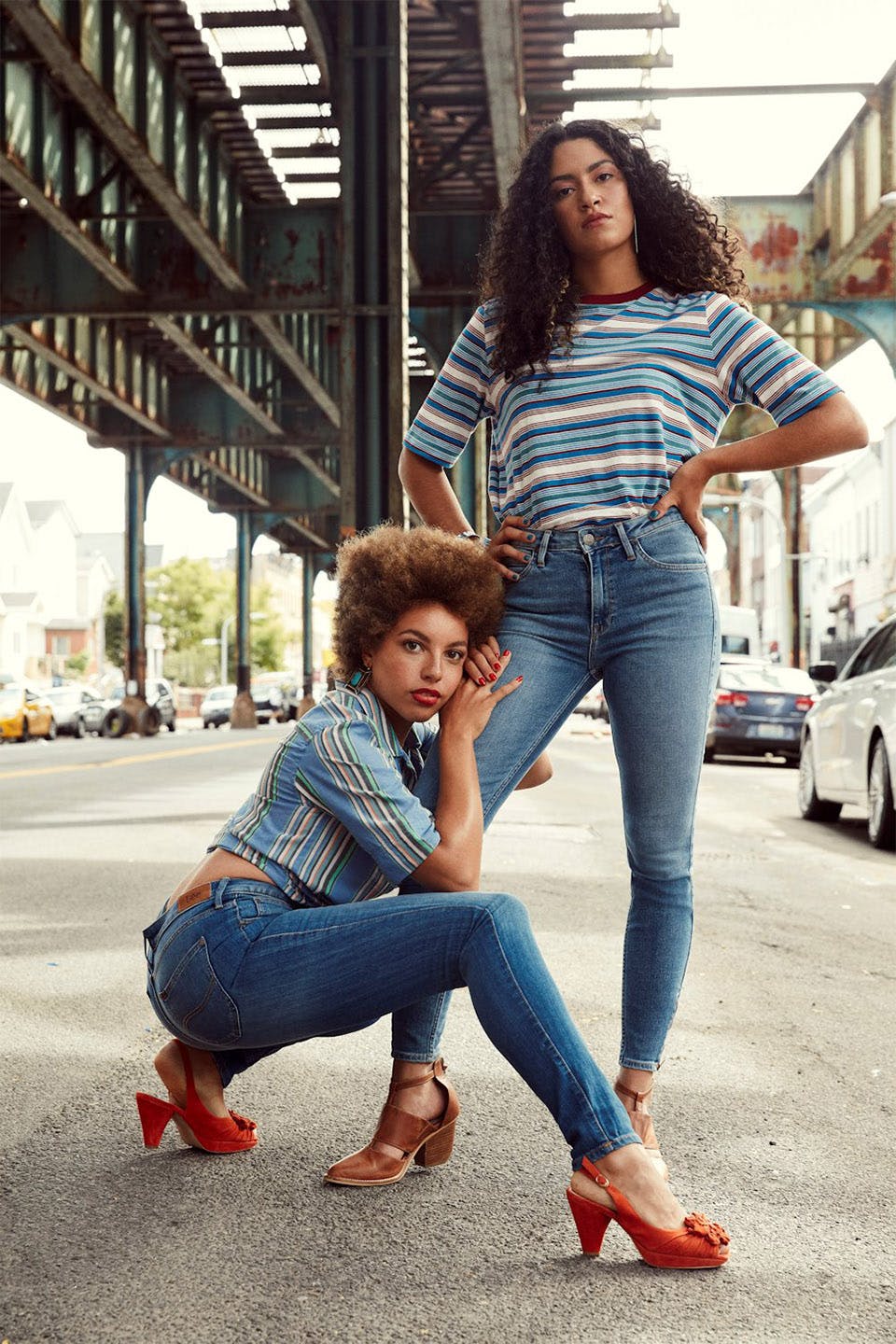 When people look at your photographs from Back in the Days, what do you think people might misunderstand?
I think what happens all too often, and it's understandable, is people immediately look at the clothing and the posing. And that's fine because that's what your eye is drawn to. You know, that's that language, that visual language of photography. But what people don't really understand are the people in the photographs. How they lived, how they died, how they're living right now. You have to really understand that. Now I look at the photographs and I have a very personal relationship with every single photograph. And that… the only ones who can really understand it are those that are in the photographs [and] if you know people in it.
Is there anything else you'd like to share about your experience with this campaign or about your work in general?
Well, my work right now is really about finding creative images that bring about harmony in the world to show friendships and show love, compassion. I'm just happy now if I'm able to have my images seen in different cities throughout the whole of Europe and hopefully people look at them and see a sense of joy and happiness, just seeing the friendships and the love. That makes it in all my images, so that's pretty much what I'd like to get out of this in terms of having an impact.