As I sit down with Haider Ackermann to discuss his upcoming guest collection for Jean Paul Gaultier at Paris Couture Week, he admits he's a little nervous. His nerves, of course, aren't about his impending Highsnobiety interview (naturally), but instead how the esteemed Gaultier will receive his collection.
Ackermann — the Colombian-born designer perhaps best known in recent months for that red halterneck jumpsuit worn by Ackermann muse Timothée Chalamet on the Venice Film Festival red carpet — is the fourth designer to be invited to create a couture collection for Jean Paul Gaultier — following in the footsteps of Balmain's Oliver Rousteing, Y/Project's Glenn Martens, and Chitose Abe of sacai.
Despite the string of highly regarded designers who came before him, Ackermann for Jean Paul Gaultier is arguably the most highly-anticipated yet, not least as it will be his first ever couture collection.
"Jean Paul [Gaultier] just told me he wanted to be surprised," Ackermann recalls when I ask him if he'd been given a brief. "He said he trusted me but wanted to make sure the collection wasn't a rehash of any of his old styles. He told me to experiment — and I like to think that's what I have done."
At the time of our chat, we're 10 days out from Ackermann's couture debut at Paris Couture Week on January 25, 2023, and despite the earlier admission of anxiety, Ackermann comes across as anything but nervous.
To be invited to work for a name like Jean Paul Gaultier is an accolade in itself and Ackermann admits that the sense of still feeling wanted is almost just as sweet. The designer, whose eponymous label has been quiet of late, has taken himself out of the limelight too, with his return at Gaultier undeniably coming as a bit of surprise.
"I was honored," he explains, recalling when Jean Paul Gaultier first approached him. "I'm not just starting out as a designer, I've been here for a few years and the thought that some people are still thinking about me over the young hype brands is amazing. It makes you realize you still have a place here."
Nowadays, you may presume a partnership like this comes together through assistants or PR firms. But, in line with Jean Paul Gaultier's fiercely independent approach to both fashion and the industry as a whole, he continues to do things his own way.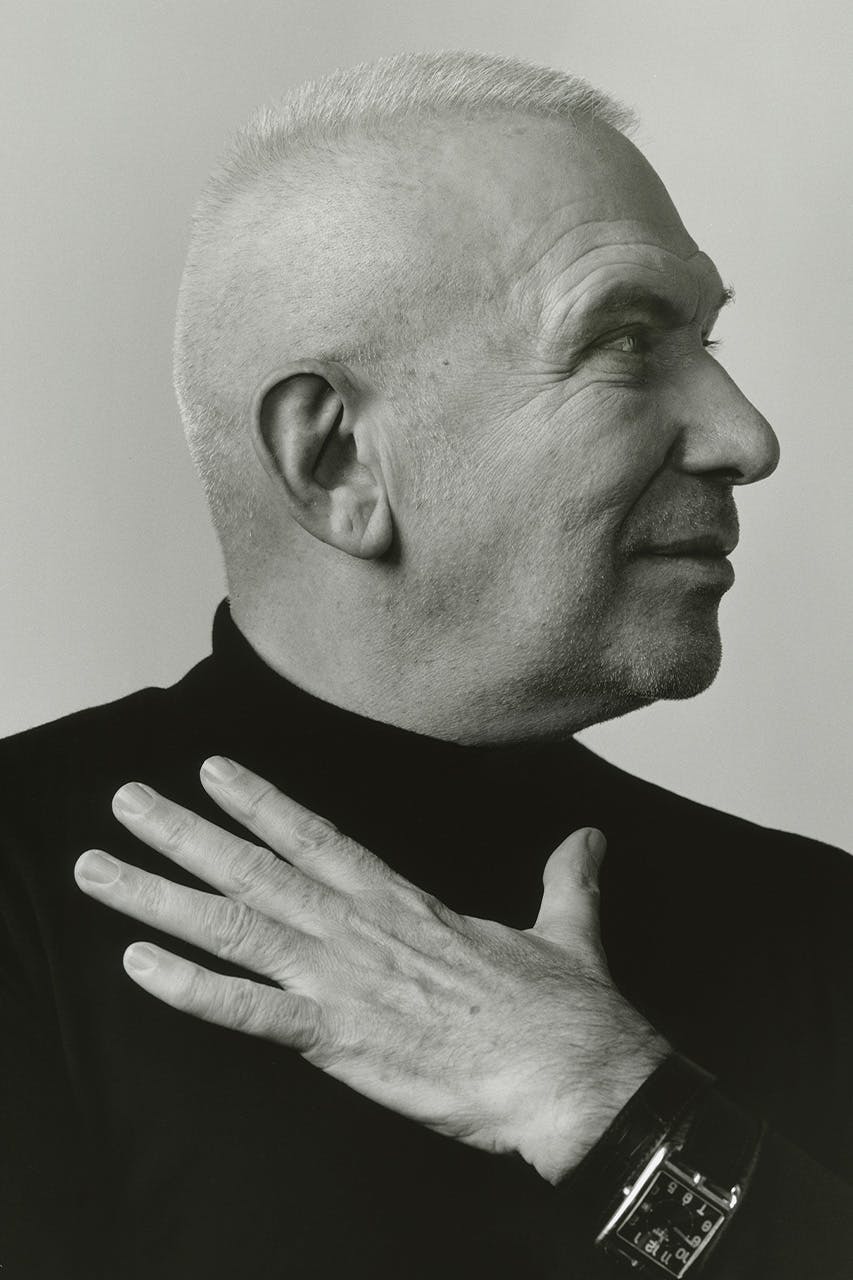 "We first met over dinner where I wanted to tell him what I wanted to do with the brand, but he would not listen," Ackermann explains. "Instead, we basically spent the entire night talking about sex and everything that matters — but we didn't talk about fashion.
"It was very interesting to have that intimacy with him so I could find my way here and understand him as a person, rather than as a brand."
For Jean Paul Gaultier to lend both his esteemed name, facilities, and workers to another designer is not only a testament to what he's achieved thus far in his career, but to the man he is. He has no part to play in any of his guest collections, he simply urges designers to explore.
"The brief was total freedom, which is exceptional in our industry," Ackermann explains. "You take it as a massive present and bless the house."
Though Ackermann is appreciative of the honor that's been bestowed upon him, he isn't sure he'd be able to do the same.
"If a person puts his trust in my hands, it's a big thing," he continues. "The only thing I want to achieve from this collection is to make him [Gaultier] proud, and that I honor his choice."
As we fall deeper into conversation, Ackermann describes his forthcoming collection as "a love letter to Jean Paul Gaultier" on a number of occasions, an analogy which nicely complements his description of couture.
"Of course I'm inspired by what I see on the streets, and streetwear is a part of our lives, but I believe some things should be elevated and not accessible for everyone, we need couture to make people dream," Ackermann says. "I believe my work provokes dreams and desires. To me, couture is a beautiful love affair — and that's how it needs to stay."
It's no secret that Ackermann's a designer who appreciates the finer details of clothing. As such it becomes clear he isn't fond of the new social media-led industry when we begin discussing modern day fashion compared to yesteryear.
"You should not compare different times, I know, but as a fashion designer that loves to look at clothes, understand clothes, the construction, the lining, the focus, it's clear to see there's less focus on the intricacies nowadays and I'm saddened," he says.
"I often see designers who deserve more recognition than they're getting but are not because they don't have a certain social following. The focus now seems to lie somewhere else."
When I ask Ackermann if he'd take any learnings from his time with Jean Paul Gaultier, he affirms that he's thinking of taking a more couture approach — in terms of details and time — with his own mainline collections.
Upon reflection, however, the designer wistfully acknowledges that he's perhaps not ready to get back to his own work: "I almost wish I had two more seasons here," he says .
"I only had four months. If I had more time I would get more into the job. You know what you want and what you can achieve. To be invited here is as much of a gift as beautiful as it is poisonous — in a good way, of course."
Shop our favorite products