In this week's episode of "Mainstream Media Pretending to Be Outraged at High Fashion for Clicks," JW Anderson finds itself in the crosshairs thanks to a knitted sweater.
"A TOP designer has created a £820 jumper that will have buyers in stitches — it's full of gaping holes!" proclaims The Sun, using a terrible pun to overstate the item's humorous worth. The wacky woolie (copyright The Sun) arrived as part of JW Anderson SS20, a collection that leaned heavily on Anderson's penchant for experimental knitwear. In the show notes, the designer claimed the slashed effects were inspired by memories of his teenage sister shredding up T-shirts and customizing them with plastic beads when growing up in Northern Ireland. "There's modernity in the wrongness," laughed Anderson at the time.
Anderson debuted the piece on a model wearing no underlayer, but the styling on the brand website is a little more conservative, bringing some pizazz to a fairly standard fall fit when placed over a basic gray crewneck sweater. It comes in at £820 ($1,050), but has been reduced for £300($386) over at Farfetch.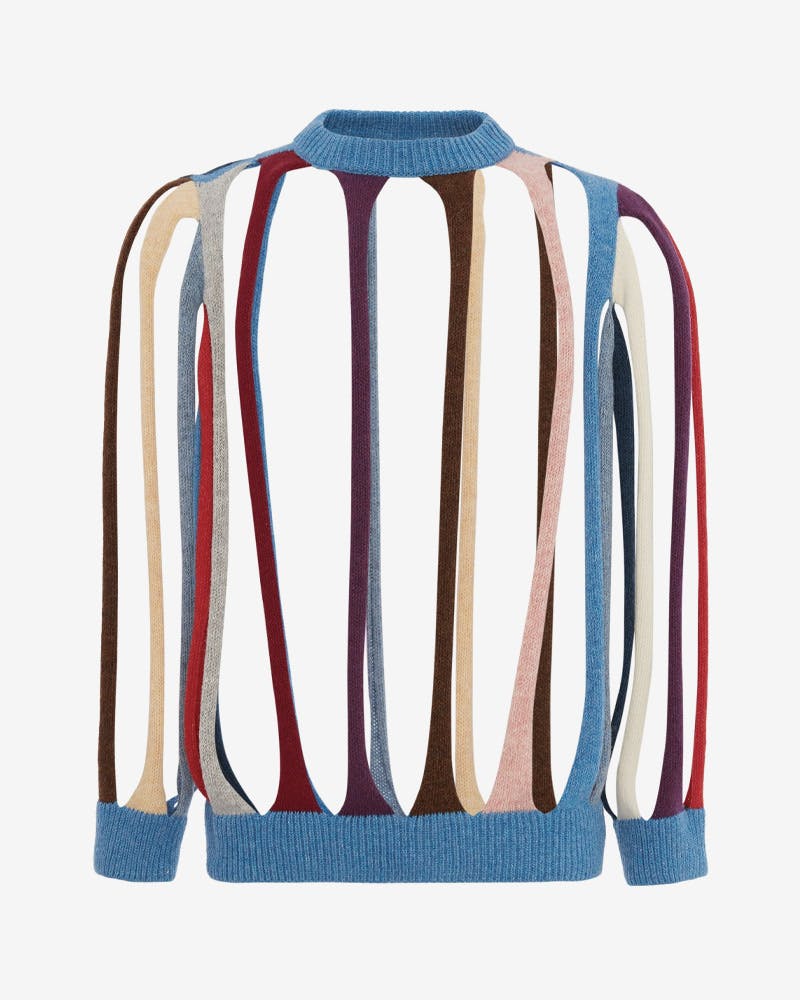 Last week, Gucci was the subject of much pearl-clutching, thanks to a pair of grunge-inspired jeans supposedly adorned with faux grass stains. When seen in the context of the show, the jeans in question actually looked pretty fire — if anything, they could be considered rather vanilla when compared with some of the collection's more experimental looks. Ultimately, fashion is supposed to challenge taste, and life is too short not to wear a jumper that looks like it's been subject to mutilation at the hands of Michael Myers.
Getting back to JW Anderson — the label has just announced a restock of its in-demand chain loafer. You can find them here.