Stepping into artist Keegan Dakkar's Ridgewood studio – which is also where he lives – gives a glimpse into the myriad of influences that shape the surreal, psychotropic nature of the work he creates. There's one piece he's been adding bits and pieces to for a number of years; it's untitled but succinctly named "TreePeople.jpg" in the hi-res file he sends a few days later. It mixes several recurring motifs in Dakkar's canon, encompassing his burgeoning art practice and established career as a tattooist.
"It's really hard to describe," he says of his work. "I mean, it's fucking tight."
The titular "TreePeople" occupy the green border of the work, some with cat heads and some with nuclear explosions where a face should be. On the left is a totem of rabbits made from modifying a repeating row of stamps, sort of like ink gargoyles where Dakkar hides grotesque references and sly pop culture jokes, like the killer's mask from the Scream movie franchise. He doesn't like to use the term "melting" to describe the organic and visceral landscapes he makes, and elements like a fiery sun evocative of a sunflower, sprawling rocky cliff sides, and other elements of comic book fantasy channel '70s pulp art in the vein of Frank Frazetta, as well as the unpainted Warhammer figures hung on a corkboard in his studio.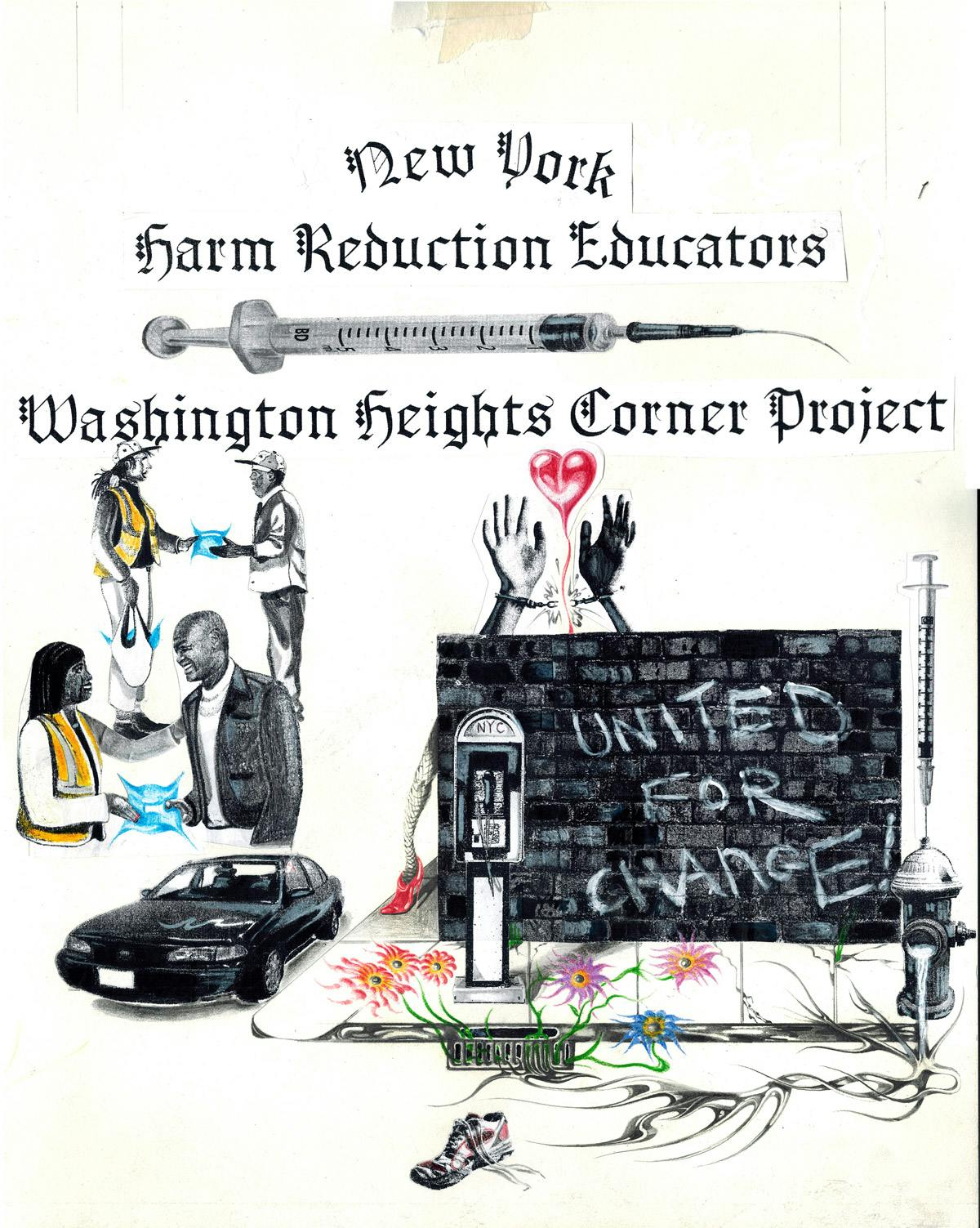 He's been drawing since he was three or four, and there is perhaps a dark nostalgia to Dakkar's style. It channels the kaleidoscopic cats of schizophrenic artist Louis Wain with the uncanny valley creepiness of Stephen Gammell, whose work published in Scary Stories to Tell in the Dark sparked an untold number of childhood traumas. Dakkar does share an appreciation for outsider artist Henry Darger, whose The Realms of the Unreal depicted the adventures of his transgender Vivian Girls in fantastical and violent settings. In some ways, Dakkar is sort of like if Henry Darger grew up in the heyday of New York hardcore. A bona fide New York native, Dakkar's parents were part of the Lower East Side punk and squatting scene.
"Everything I first drew was dinosaurs. Godzilla, dragons, whales, sharks, and shit like that," he says. His passion for giant lizards can still be seen in his work today, but you're more likely to see him portray cats. It's ironic, because he actually grew up with dogs, but can't explain why he's been drawing so many felines for the past year, other than the fact that he just "thinks cats are really cool."
Following in his family's footsteps, Dakkar's been playing in bands since he was 15. One of the most prominent ones he's associated with is Anasazi, a self-described "ancient Pueblan-wave" band fronted by Chi Orengo, who moonlights as a prolific graffiti writer. Orengo was the one who pushed Dakkar into tattooing. Dakkar got his first one from "Big Steve" Pedone at venerable East Village parlor Fun City Tattoo — a medieval crest Dakkar describes as "a memento mori kind of deal." Years later, Orengo convinced Dakkar to try his hand at the craft using his mom's boyfriend's machine. It didn't take long for him to develop a cult following of his own.
"I think there's a special moment in tattooing. It's a little renaissance," he says. "The underground tattoo world is thriving and growing and in a way that probably never has quite existed. I feel now it's so virile, and I think one of the amazing things about it is a lot of people from different backgrounds are coming in, whereas tattooing was such a singular environment probably filled mostly with white men and shit like that."
Indeed, the tattoo world has blown up beyond the corny tropes of reality television recognition and hyper-masculine cock-rock bands. Thanks to the rise of Instagram as a discovery platform (and the decline of social stigmas against tattoos in general), a more artisanal movement has empowered talent like Maxime Buchi of Sang Bleu, Dr. Woo, and Amanda Wachob, each individually expanding the parameters of the art form.
"The tattoo world went so mainstream it hit a wall," says Dakkar. "When that happens, it kind of rises up from the beginning again. People are coming in with new perspectives of image-making. I feel like one of the reasons why I picked up tattooing so quickly is because I'd been drawing my whole life and developed my own visual language. So when I started tattooing, it was like learning to speak in a new medium, but I already had my voice."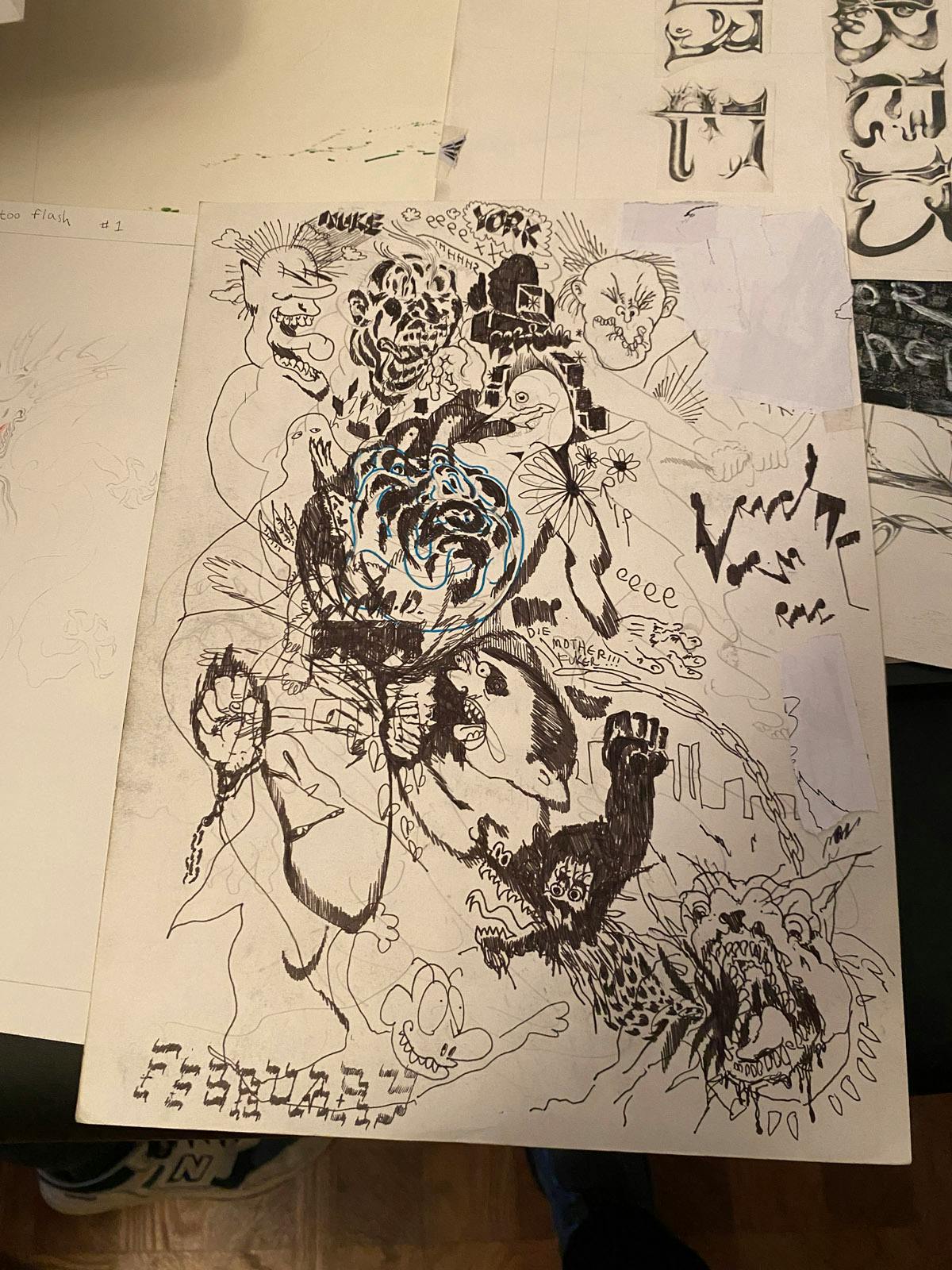 For a variety of reasons, Dakkar eventually gave music a break (alongside alcohol and a few other vices) to focus more on his art and tattoo practice. He has a collaborative process when working with clients, preferring to start with portraits or images from record covers. He uses those as a jumping off point, reinterpreting them into his visual universe. As of late, he's been focusing on hand-drawn typefaces, which provides a new sort of challenge.
"I love the constraint, because I can be so fluid that having something that is structural is a really nice foundation for me," says Dakkar. "There's very little structure other than the border, but these repeating characters offer an anchor to latch onto."
Some of his recent typeface projects include a poster for punk group Slender, a flyer for art collective 8 Ball's annual zine fair, and a charitable T-shirt for New York Harm Reduction Educators, a nonprofit organization that helps substance abusers recover. The latter was an especially personal project for Dakkar, who has his own history with substances, a problem shared by others in his family.
But his most high-profile project to date is a capsule collection for Supreme, depicting his interpretation of the brand's logo on a T-shirt, basketball jersey, and a coordinating sweat suit adorned with Dakkar's intertwined, psychedelic cats. The collaboration came through Nick Atkins of Electromagnetic Studios, whom Dakkar met when they were both in Romeo Upstate, a group art show curated by Aurel Schmidt.
Understandably, Dakkar was initially hesitant to work for the brand, but when he and Atkins talked about the project at length, it was clear they appreciated his style and would present it in a way that faithfully preserved his language. The collection is built on a foundation of Dakkar's repeating image motifs and repeated stamp graphics, seen especially clearly on the back of the "Morph" T-shirt, which comes in an apropos tie-dye colorway. It sparked a desire to work on even more clothing. Aside from a few one-off projects, Dakkar hadn't really done anything to this extent.
My mind was running; I had tons of ideas for things I wanted to do," he admits. "I gave them a lot of raw material, a lot of it they didn't even use." He shows me some of his initial sketches and things left on the cutting room floor. Among the standouts are a heavy metal butterfly, and a pile of skulls arranged into an interlocked "NY" logo, under which a pool of blood pours out towards the viewer, like if the Yankees were a team of professional medieval executioners.
At the same time, it got Dakkar flipping through a book he owns on Chinese ornamental dress designs. Part Chinese, his studio also has red "hong bao" envelopes from Chinese New Year scattered about. He's fond of the ornamentation and embroidery that goes into the handiwork, and it isn't hard to imagine how amazing his intertwined, organic line designs would look rendered with thread.
And while he's stoked to have worked with Supreme, he's fully focused on continuing to build his own body of work, in the hopes of having enough to put on his first solo show. It's cool to have that kind of recognition, but he's more concerned with carving out time for tattooing and fine art, which he currently divides into long blocks where he hones into one or the other.
"My background is in the underground, so I'm happy to remain a little obscure," he says. "At the same time, I think that my work is varied. It speaks for itself."