Highsnobiety / Chloe Orefice
This story is from Issue 19 of Highsnobiety Magazine. You can buy it here as part of a limited-stock bundle including a 7" record and commemorative longsleeve.  Since their establishment in 2009, Berlin's Keinemusik have operated in a direct dialogue with music, streetwear, and the unique club culture that emerged from the capital of reunified Germany. Ten years on, the group continues the party, bringing their singular vibe to dance floors around the world, never losing that intimate house party feeling that can only be cultivated by a close crew. 
"Keine Musik" means "no music" in German — a curious name for a collective of Berliners working on music-related things. After spending some time with the five friends – Rampa, &ME, Adam Port, Reznik, and Monja – you soon find out that their lighthearted approach to nomenclature extends to their entire operation. "Operation" seems too strong of a word to describe what they're doing, but "collective" seems too loose. Celebrating their 10th anniversary this year, the fivesome of DJs, producers, artists, designers, and gear inventors have extended themselves across the globe with their offerings. Whether it's DJing at Ibiza hotspot DC10 or collaborating with the likes of Nike, Keinemusik is at once deeply embedded in the collective consciousness of the culture, and totally doing their own thing.
Of course, like most things worth putting out in the world, it didn't all happen overnight. Keinemusik's origin story starts in 2004, when &ME and Rampa first met. Already very much interested in music, the pair found themselves at a studio in Kreuzberg where &ME was doing an internship, and soon began joining forces several times a week to work on tunes. Since then, Rampa says nothing's changed. The centerpoint of the group (who already knew Adam Port and Reznik), he was also the one who had the idea to start up some sort of collective with the musically inclined friends as they started putting out music and working their way through the burgeoning club scene in Berlin, while the city itself was establishing itself as a force not to be ignored in the geography of underground dance music.
Keinemusik became a thing in 2009, and the group knew they needed a strong visual identity. They soon brought Monja into the fold after meeting her at a club called Picknick in Berlin's Mitte district, where she worked as a bartender while the others held a sort of DJ residency. An artist primarily focused on painting, they became interested in Monja's art after seeing her customized MySpace page, the inspiration for her first work for Keinemusik. Ever since, the group has been more or less inseparable, although as time passes, they're more frequently beckoned to bring their music outside of their home city. These days, they're lucky if they can all meet up at the studio more than once a week. 
When we come together one late summer afternoon, the group realizes they only have 19 more days left at their headquarters — two rooms in a shared building in Berlin's Alt-Treptow, a neighborhood adjacent to the more well-known and frequented Neukölln and Kreuzberg. We're speaking in the studio, filled with synthesizers and a giant oriental rug, while the office boasts a collection of objects like a lifesize Rampa cardboard cutout, a turntable setup with shelves of records, custom slipmats sitting atop a big table, a lived-in couch in a shade suggesting it's secondhand, and an impressive selection of beverages. There's a door to a side yard where someone's orange scooter sits patiently. Its wabi-sabi coziness makes it all the more frustrating knowing that the crew will have to leave, due to (what else) gentrification. The building complex is being sold to create a new development.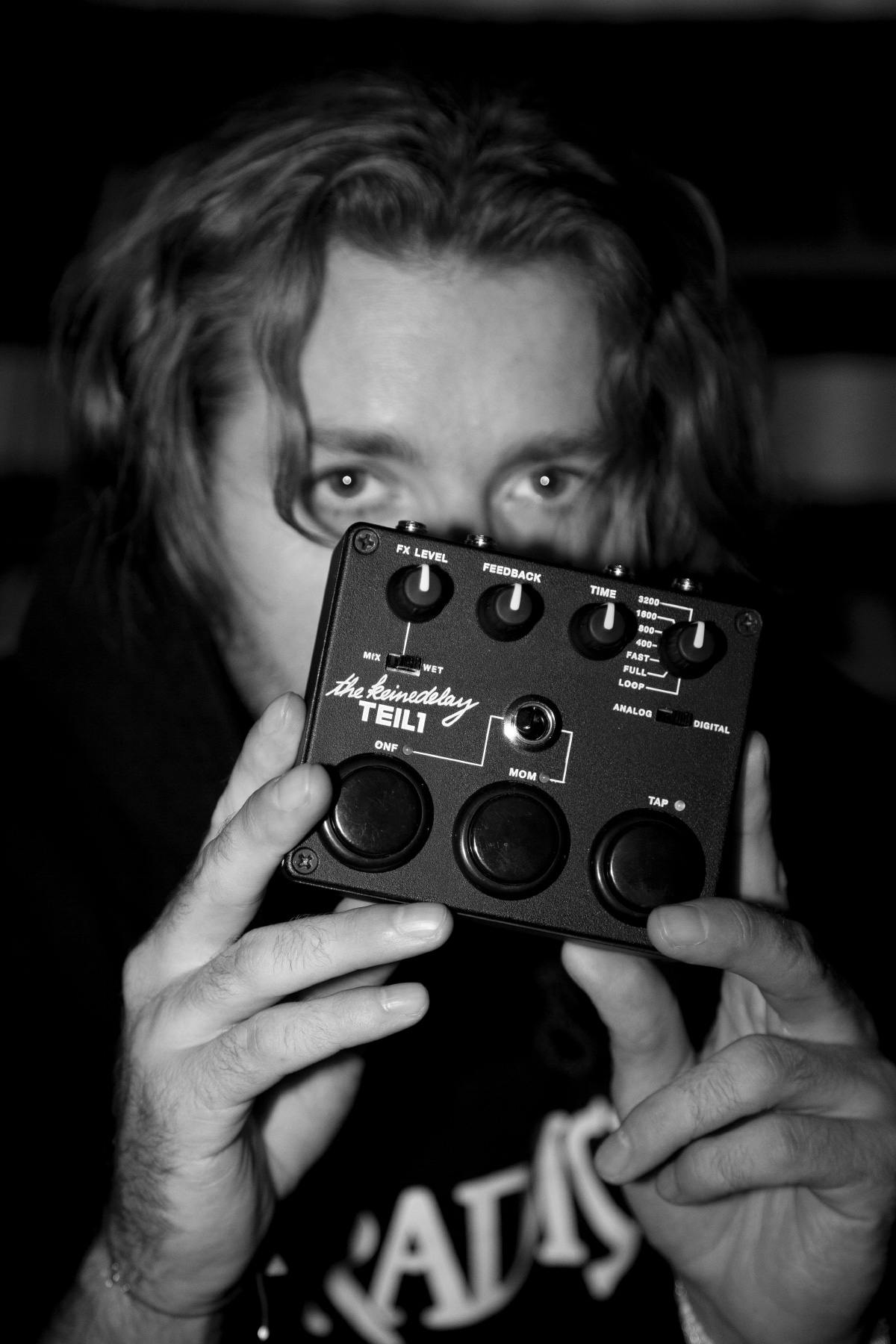 Keinemusik is no stranger to the forces of that dirty "g-word" that plagues aspiring artists in still-affordable enclaves around the world. Their previous headquarters, in the opposite corner of the city in a district called Wedding, was Stattbad, a veritable cultural force to be reckoned with before it was demolished in 2016. It housed a café, gallery, an unforgettable venue that played host to many of the city's best parties, as well as the offices, workshops, and studios of multi-hyphenate creatives. Keinemusik had a studio and would also throw parties there, from 2012 until its closure in May 2015, right at the apex of the group's 10-year anniversary.
When speaking about clubs in Berlin that Keinemusik is currently digging, &ME admits: "We don't have the same connection with the clubs that we had back in the days with Stattbad." You can tell from how much the crew has to say about the institution that Keinemusik might not have made it to the level they're at now without Stattbad. A proper space to create is essential, especially as a musician, where making noise without having to worry about neighbors is non-negotiable. A paradox of the early 21st century is that the very cities where municipal governments boast about their lively cultural scenes are the same ones that seem to support "development" projects that push creatives out.
"That's the circle of how it works," says Port. "People have empty buildings. They get the creatives there, making the area better, improving the building, or the image improves, and then they're kicking everybody out and selling it." To which Reznik adds, deadpan: "Adam just explained gentrification."
For better or worse, Keinemusik have gotten used to this cycle. It certainly hasn't negatively impacted the projects they choose to work on, and it's hard to get bogged down by faceless investors as part of a group of five adaptable people that have accomplished amazing things, collaborating with people in their ever-growing network of friends, all while not taking things too seriously.
Case in point: Keinemusik's merch. These days, even a DIY producer working out of their parents' small-town basement knows that a good T-shirt can make all the difference. Keinemusik have been making merch since their early days, and collaborated with Nike just a few years after their formation in 2009, on the Nike Air Pegasus '89 "Berlin." The shoe sits on a concrete gray and white sole, with hits of black, purple, and gray on the upper — the finishing touch is a marbled Swoosh modeled after a broken-off piece of the Berlin Wall. Appropriate, considering the sneaker's inspiration was the 20th anniversary of its fall. Although working with one of the biggest footwear players in the game might seem like a huge deal, it's par for the course when Port breaks it down.
"Berlin is not that big, so everybody knows each other," he explains. "We've known guys who are sitting at Converse, at Nike, for ten years. We already have the contacts, so reaching out to them when something's coming is relatively straightforward."
When the group is asked about their favorite collaborations, they unanimously agree that their favorite is always the most recent. In June 2019, that's a special longsleeve T-shirt and hoodie collab with local designer Native Teenage, who, they add, is also in a hardcore band called Cold Burn. Speaking of the 10th anniversary merch emblazoned with an "XxX" (for ten by ten) and a bootleg Felix the Cat, Rampa proudly adds, "It looks a little bit like bad merch for a punk band from the '80s or '90s."
Their work with Converse includes their very own sneaker, a One Star made especially for the release of their You Are Safe album in 2017. A muted-pink suede beauty, it mimics the cover art's wall color, and is emblazoned with the project's release number: KM039. They've also worked closely with Berlin skate shop Civilist, which stocks Keinemusik's merch, even going so far as to name a track off that same album after the local haunt. They collaborated on a You Are Safe-themed football club scarf with a multicolored gradient stripe running through it. Just this year, they reunited with Nike on the Air Max 180 "Berlin," another predominantly gray, purple, and black sneaker with pops of neon colors on the tongue and sole — a nod to the city's penchant for brutalist architecture that often belies its vibrant techno nightclub scene.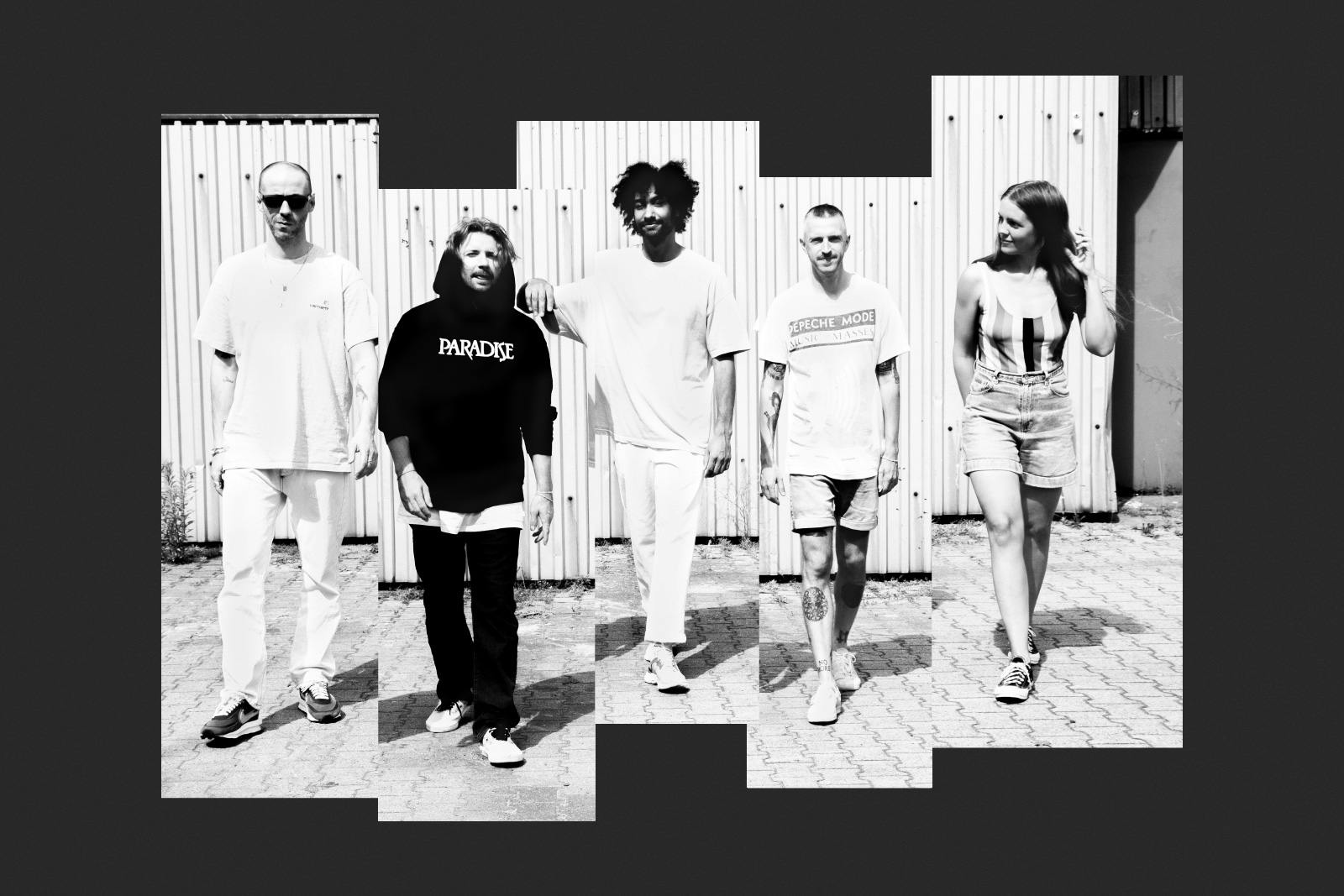 Highsnobiety / Chloe Orefice
Despite these impressive collabs with well-established entities, their in-house merch is just as covetable. Sure, they've got the requisite mostly-plain T-shirts with a cool logo, but they also made a specially developed Keinemusik plain white T-shirt (now sold out). Another highlight is a beach towel with a stunning print designed by Monja – a dreamy, watercolor-esque pastiche of palm trees and ocean blues with hints of orange. There's also a lighter with a Snoopy-like character and the inscription "Smoking Sucks." It's all thoughtful with a touch of humor, and not at all throwaway. Aside from their music, it's a way for them to add their own kind of offbeat beauty to the world.
As of late, a main Keinemusik visual emblem has been a cartoon hand making a peace sign, appearing on a wall hanging in their office, as well as in the form of a pink pin, a T-shirt, socks, and a mug (the inside of which reads "The Party Is Over," which is also the name of a Spotify playlist where the group shares music they're into). As a bonus, the products are usually modeled by Keinemusik themselves, and their descriptions could give Palace's copywriter a run for their money. For instance, here's how they describe their simple "Peace Socks," which, as the name implies, are simply emblazoned with a peace sign: "Hey, do you like socks? These socks are great. They are white and they display the Peace logo."
Although Keinemusik's visual identity is not so immediately important when a member is DJing at a club in Paris, it certainly matters when a music lover is digging through vinyl at their local record store. Whereas many labels opt for simple center labels with text, Keinemusik's are literally a work of art each time, always designed by Monja in some sort of dialogue with the musician in question.
While her process varies from release to release, it's always a considered decision. "Is it happy or not so happy? Is it more summer or winter? Most of the time I just draw a lot and send them a lot of drafts and then they choose from them," Monja explains. In the case of Rampa, he'll sometimes send a piece of clothing he's into, and then Monja will work from that, or else there will be a moodboard or track names sent her way. Her work for Keinemusik is always a little bit dreamy and psychedelic, which more often than not describes what the collective is doing musically.
House and techno are decent starting points, but they do little to sufficiently describe Keinemusik's sonic universe. As they've written themselves, Keinemusik channels: "The spirit to find your own agenda and let nobody get in the way. The spirit of refining House and Techno off the beaten path." Reznik's recent mix for CircoLoco, while on the house end of the spectrum, is a cosmic trip through Italo disco, a tropical-sounding cover of New Order's "Blue Monday," and classic house sounds heard along the way. Port's mix for staple German electronic music publication Groove encompases pop, nu-disco, R&B, tech house, and more, and he recently worked in vocals from American ghetto house legend DJ Assault on "XXXX." Rampa's and &ME's latest EPs – for Innervisions and Keinemusik, respectively – are explorations of percussive deep house. &ME's tends to be a bit more slowly evolving and meditative, while Rampa ramps things up and bangs it out a little more, on tracks like "They Will."
When asked what the group is most proud of over the last decade, the answer is unanimous: "The album." You Are Safe, released in 2017, is a 10-track journey through Keinemusik and the sounds they love through their corners of Berlin and beyond. It's a refinement of the vibe they've come to represent — a sort of nostalgic optimism one experiences as the sun begins to rise on a dance floor where you can catch a glimpse of the sky. The experimental title track opens up to "Café Des Schicksals," a trippy chugger and homage to a café of the same name where the crew fueled themselves in their formative Stattbad days. 
"We went there all the time. It was really good," Port shares. "They were always like, 'Oh, no. You're so skinny. Eat more, eat more, eat more.' They'd give us bags full of stuff; they were super nice. It's something that we all really miss. When I was walking by recently, I saw that they moved locations. They have a really nice café spot now in the new building, which killed Stattbad Wedding."
The glaring irony of the situation isn't lost on the group, but luckily, they're the type of people that don't take it all too seriously. It can be difficult to remain hopeful in the face of their uncertain future headquarters, but that's just about the only thing that's up in the air for the five friends. A decade on, they're still close and see their continued growth without stagnation as a strength to be celebrated. "Even when sometimes it's hard work, it doesn't feel like work," Rampa says. One thing that's proven to be hard work is finding a new physical space for Keinemusik, despite how deeply they've become involved in Berlin's cultural landscape.
At the end of July, I checked in with Keinemusik's label manager Daniel Rérat to see how their search for a new home was going. "We're still looking, actually," he wrote over email. "Seems like it's more and more impossible to find anything in the center of Berlin that allows music production these days. No one would say it like that, but with some of the places we've looked at it was kind of obvious… We're still hoping it works out with the Zwischennutzung (temporary use) at the Baerwaldbad. At this stage, it's hard to tell if the city allows any Zwischennutzung by creatives at all, and/or when."
His email tells a story that echoes throughout so many corners of the world. As previously negligible cities increasingly appeal to startups and property developers, local governments seem to do very little to support the creative communities that helped make them appealing in the first place. In many ways, it can be a real bummer imagining what places like Berlin could become a decade from now, but it seems clear from their easy-going attitude and what they've accomplished so far that Adam Port, &ME, Monja, Rampa, and Reznik will still be around in 10 years, so long as they're still having a good time and not taking things too seriously. "I did 48 covers, I think. We could do one hundred," Monja gently assures me. Whereas some people's forceful ambition is so off-putting it makes you doubt whether or not there's any actual substance to what they're trying to do, the relaxed, playful energy that surrounds Keinemusik is a sure sign they're going to continue building their world as long as they feel like it.