This week's FRONTPAGE finds us dishing with fashion's reigning king of cool; the multidisciplinary, always electric Kerwin Frost.
"The gates are open for self expression, and that's a good thing. People get mad at that like, 'Oh being normal is weird or different' – shut the fuck up, no it's not!" says Kerwin Frost, AKA one of fashion's most influential influencers, when discussing reactions to his bombastic sense of style. He's previously been hailed as "king of the viral outfit" and "fashion's funniest man," but there's more to Frost than outlandish looks and LOLs; one could say that his entire ethos revolves around a commitment to self expression, epitomized (and exteriorized) by his signature pencil face tattoo which has made him an instantly recognizable and, as a result, totally unforgettable figure. In a world where the cult of personality can crown you a king, Frost has royal amounts of charisma.
"I did this shoot recently and asked them to put makeup on the pencil," Frost expounds on his signature facial feature. "I wanted to see what my face looked like blank, and I was really uncomfortable with how I looked in the mirror. It's become a way of me recognizing who I am. When you see something and it speaks to you, that rarely happens that many times in life, but I've always followed that feeling no matter what came from it. The pencil I've not regretted to this day. Thank god it wasn't a young dumb decision."
Professionally at least, Frost seems incapable of anything other than perfectly executed decisions. Whether it's DJing for Kid Cudi, his gonzo viral video of the Kardashian-Jenner-West Christmas party, the outlandish looks that have become Fashion Week highlights, organizing charity telethons, interviews with the likes of Tyler, the Creator on his YouTube show, or landing his own multi-year adidas partnership – the Frost universe is ever expanding.
"We're in a time now where you can do many things at once and give yourself that freedom without picking," he declares. "Who's to say you're not a graphic designer slash engineer? You can do all of those things. I try to follow the same tone with each of the things I do. If you listen to the radio, it'll match up with what you'll see me make with adidas, it'll match up with the guests you'll see on Kerwin Frost Talks, it'll match up with a look that I'm wearing. It's all the same universe."
The opening scene of the Kerwin Frost biopic would undoubtedly be framed at the Supreme line at 3am in New York sometime during the early 2010s. Back then, Tumblr and Instagram kids with a passion for fashion would meet up and mingle with up and coming designers like Virgil Abloh, who were leading the charge in the streetwear revolution. They'd congregate to "do research" in SoHo, in the area that would come to be dubbed the "clout corridor" between the original Supreme store on Lafayette Street and VFiles over on Mercer.
Frost would hustle his way to the front of the Supreme line to cop the latest drops, later up-selling them to eager tourists for a profit. The Harlem native grew up in public housing, and dropped out of school at 16 before gravitating to the Supreme strip. "I saw Kid Cudi worked at the BAPE store as the checkout guy, and I thought that was a dream job," he explains. "I didn't really see a lot in my future."
In 2012, Frost began to find some direction when he landed an internship at VFiles across the table from Been Trill designer Heron Preston. During this time, A$AP Rocky dropped his shade-throwing "Multiply" video, where he calls out Been Trill with the lyrics: "I ain't really fucking with that Been Trill, swear that shit is booty like Tip Drill". Within 24 hours, Preston had enlisted the help of resident intern Frost to screen print a screenshot of the dis and run off $50 T-shirts as part of his Heron Preston Bootleg series.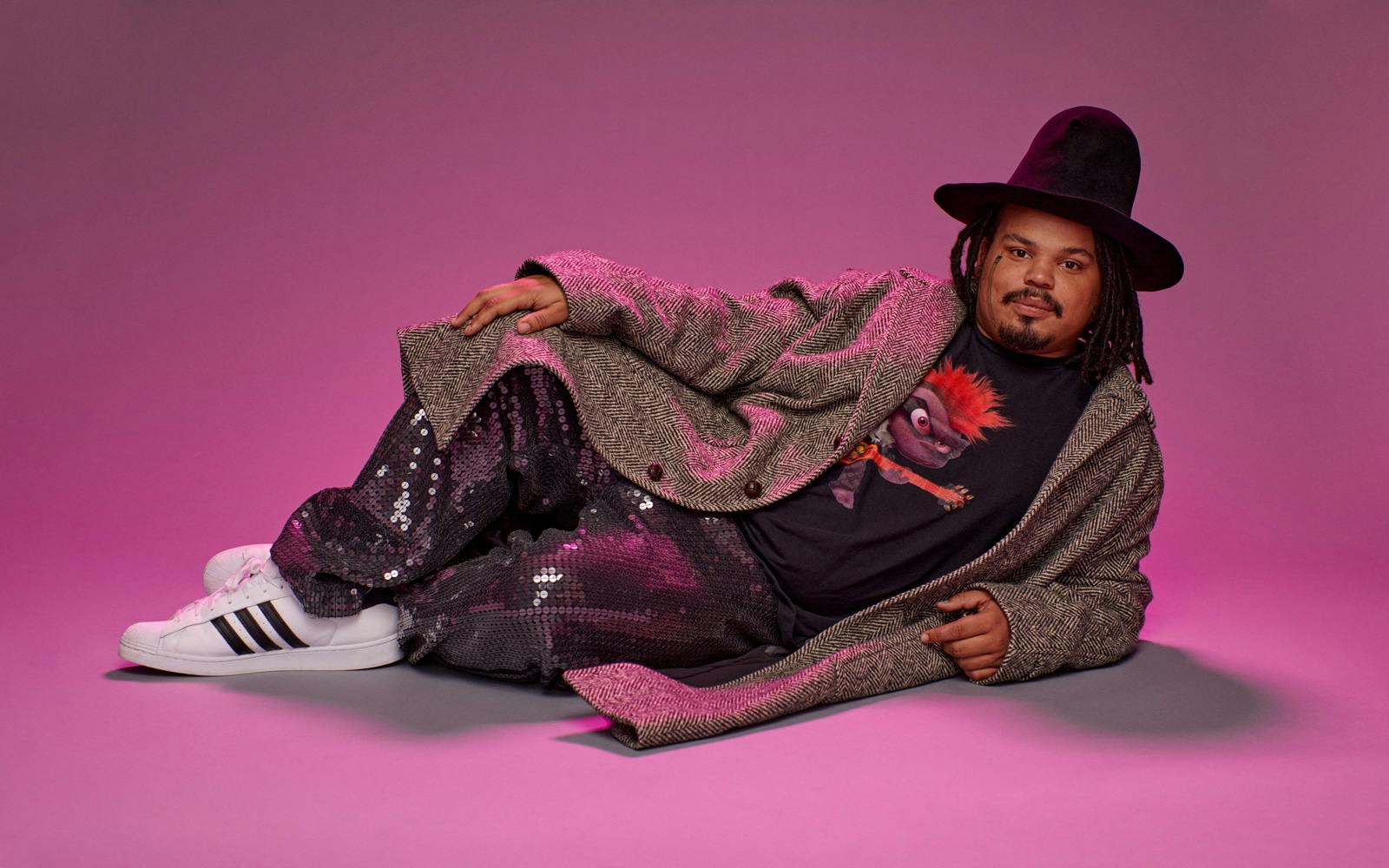 Highsnobiety / Jonnie Chambers
"The image Been Trill was projecting was like a group of super creative friends who did everything, whether it was design, DJ – all of those things," says Frost of his love for the Heron Preston, Virgil Abloh, and Matthew M. Williams triple threat collective. "That was the first time I saw a version of that in streetwear, in real time, it wasn't like a reference thing."
Inspired, Frost teamed up with friend and fellow Harlemite Ray Martinez in 2013 to form their own creative collective, Spaghetti Boys. The project didn't make much of an initial impact outside of NY streetwear circles (though Danielle Greco bought the first Spaghetti Boys shirt), but that changed when they landed co-signs from Abloh and Preston, and Off-White and Heron Preston collabs eventually materialized. Like Been Trill before, Spaghetti Boys would attract their own online haters, something they also embraced and recycled, releasing "The Spaghetti Boys Suck" hoodies and tees.
Money was no obstacle to style for thrifty Frost, who subscribes to the notion that fashion costs money but style doesn't have to, or as he puts it: "If you don't have budget to put your person together, just improvise." Frost would raid Salvation Army and Goodwill stores to make his limited funds stretch further. "Now there's a whole different industry for it, there's real sharks at these stores so it's hard to find anything. Everything's more accessible than when I was a kid, people don't even know what went into that. That was really going into the trenches!" Frost laughs.
Despite fashion's heritage of unconventional dressers, not to mention New York's own club kids and our collective obsession with the celebrity wild style on display at events like the Met Gala, it's fair to say that people still get jarred IRL when confronted with any real deviation from conventional fashion. "I feel like we've gotten to such an advanced place on people doing self-expression it wouldn't be a factor, but it still very much is," says Frost.
"My view of people dressing weird is very New York, LA," he continues. "Or different, not even weird, just different. I don't know what the experience is like in Pennsylvania, you know what I mean? I think people get weird. Anytime I've encountered a homeless person while I've been dressed up, they immediately have been cool with me, it's like, 'hey man, cool hat'."
Frost's own Insta-ready haute couture highlights include the custom LUAR angel wings, matched with a thrifted double-breasted suit and a Hood By Air Sinead O'Connor T-shirt, that he wore to the AW 2019 Dior catwalk presentation. Then there's his personal favorite, the oversized white puffer ensemble designed by Craig Green and worn not only to the 2019 Moncler Genius show in Milan but on the plane there.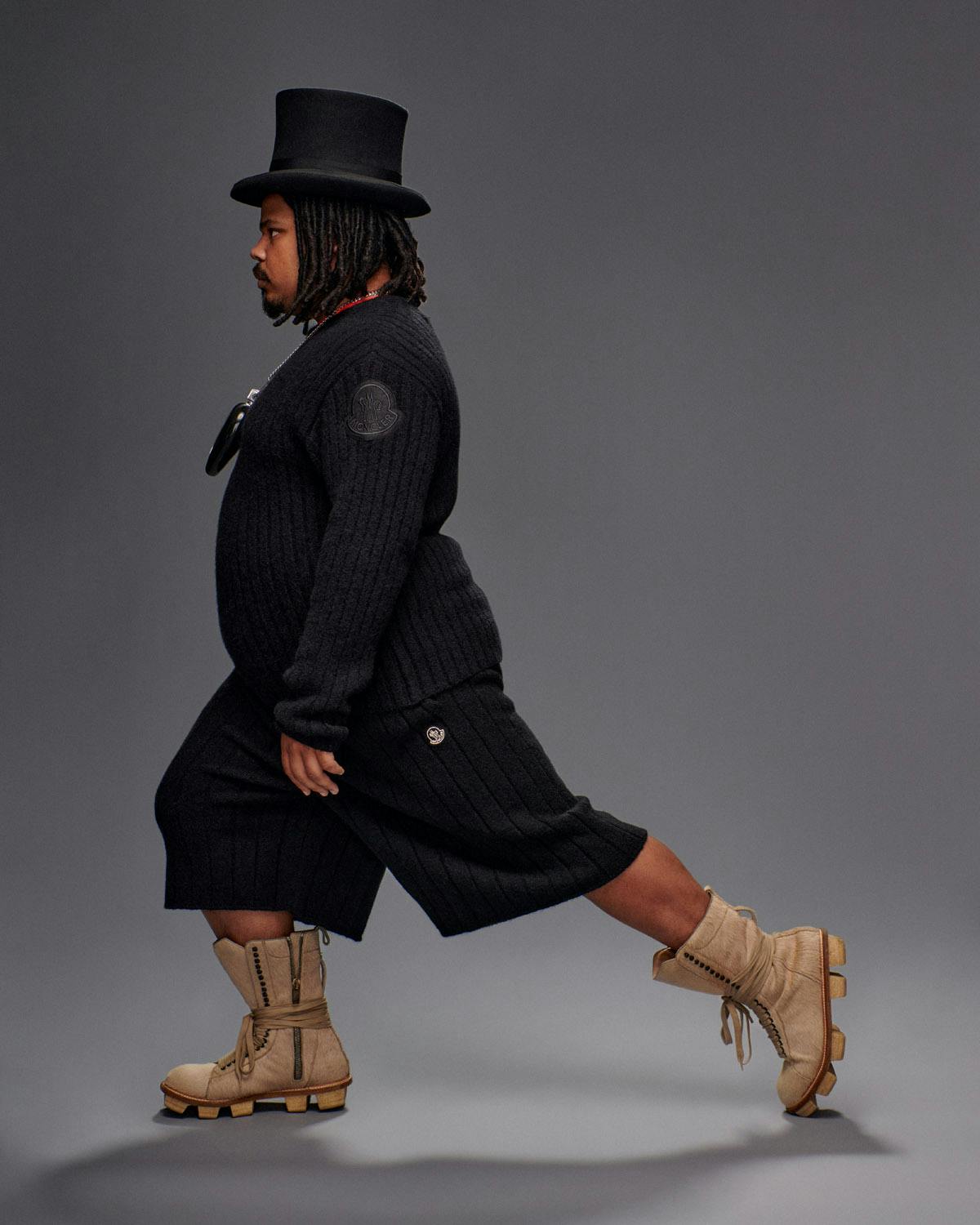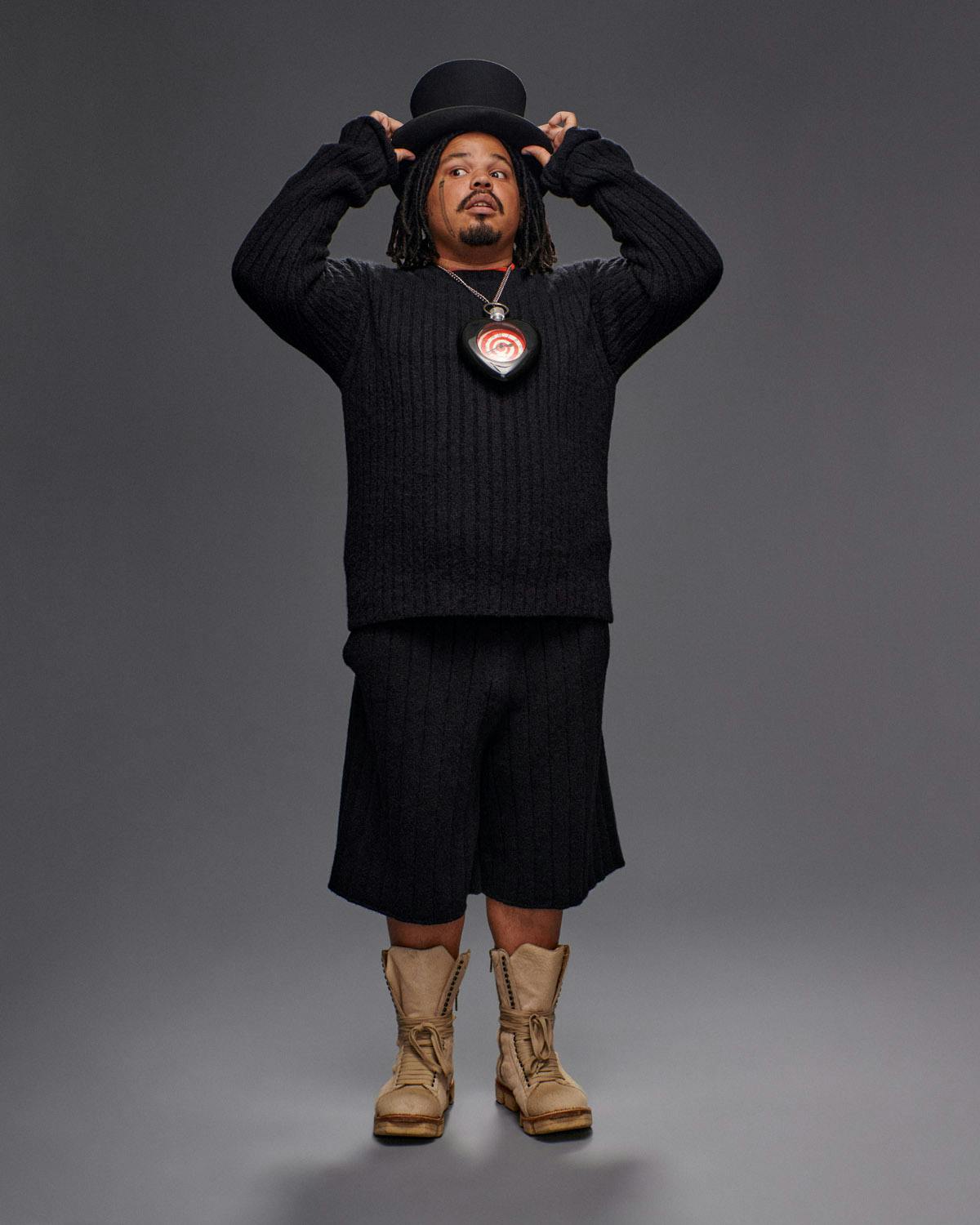 "I don't think I'm one in a million with style," Frost admits. "My confidence is not crazy. I'm aware of André Leon Talley and people who have set trends for big guys who dress. Growing up, I wasn't looking at them in terms of that style, initially with style, it was just trying to make these Salvation Army clothes look like something. Then it became, 'what makes me feel good?' and then some days I would just wear funny things to make myself feel better."
Although Frost's style places him firmly in the lineage of fashion's eccentrics, his influences are closer to home. There's his love of cartoons that he now shares with daughter Waffle, including Oswald ("the most relaxing show I've ever watched") and Duckman ("Ahead of its time in terms of comedy"). Then there's legendary couturier Dapper Dan, or the "mayor" of Harlem as Frost refers to him: "If you see him walking around you pay your respects, he's the godfather."
Dapper Dan rose to prominence in the '80s, pioneering logomania with his unique screen-printing on leather for the likes of LL Cool J, before falling into obscurity after being sued in '92 by Louis Vuitton and Gucci for copyright infringement of their logos. Pre Dapper Dan's comeback and Frost's own rise to fame, the pair would serendipitously cross paths at Dapper Dan's brownstone on 35th Street in Harlem. Oblivious to the fact, Frost had made friends with Dan's grandson:
"He was like, 'Hey do you wanna go see my grandpa?' We go there and it's Dapper Dan's house! He showed me the basement and I'm seeing these fabrics and playing with them. He was still making customs and had his ateliers in the basement going crazy. We then went upstairs out of the basement and it's him and Busta Rhymes talking in the living room and I'm like 'What the fuck!?'"
Frost's encyclopedic knowledge of streetwear gets flexed during interviews with the likes of Jeremy Scott and Jerry Lorenzo on the Kerwin Frost Talks YouTube show. Frost knows his shit, and that informs his considered and committed style choices, even when they're served with a large helping of humor. Jeremy Scott described Frost to us as "like a kid in a candy store, Kerwin brings such a palatable level of enthusiasm to everything he does and that's why we can't help but love him!" Avid viewers of Kerwin Frost Talks will be familiar with Frost's Nardwaur-influenced interview style and Muttley-esque laugh that's a pure, unadulterated sonic outburst of joy. Frost, however, does not consider himself a comedian:
"I hate that title, because there's actual funny people out there who take doing comedy super serious. I wouldn't want to step on those toes. I don't consider myself a comedian at all, but I try not to take things super serious. There's definitely humor in everything I do. I think you need that in life, period. But it shouldn't take out how serious you are about your craft or work."
Still an avid collector, Frost has been gradually growing his personal archive (anyone with a pair of Jeremy Scott stuffed bear animal pants with suspenders should get in touch). He says that depending on how loud a piece is can determine how many times you can actually pull it out and wear it, although his size is the real challenge when it comes to even sourcing the pieces he wants.
"If I'm looking for something, I'm dead set on that and I'm checking every website. I'll have 10 tabs opened up, clocking when this thing becomes available… Being a bigger guy into fashion, you got to go 10 times harder to find pieces that fit you, compared to the average slim person. If you're a medium, it's gold. But with me, I got to really hunt, especially for real fashion designers. I'm always hunting. It's a full-time job," he laughs. "It's Squid Games out here!"
Frost and wife Erin Yogasundram ("She's the hardest working person I know, it's yin and yang everything we do") recently relocated to LA and have been putting everything into the launch of Frost's adidas Originals collab. We had a first taste with campaign images of Frost modelling as a Yeti, an alien, and the Hunchback of Notre Dame in heavily "Kerwinized" three stripe outfits – not to mention Frost's anthropomorphic take on the Forum Hi-tops and the comically oversized Superstuffed Superstar drops.
The Superstuffed Superstar designs were born from the idea of a shoe in a shoe, designed to look five sizes bigger than your actual shoe size, though the shoe still runs true to size (a blessing for tall guys with tiny feet). They mix inspiration from Run-DMC, Walter Van Beirendonck, Jeremy Scott, and the huge Superstar sculptures outside the Portland Adidas offices. "That was my foot in the door, like metaphorically and literally!" Frost laughs.
The full collection, as modelled by Chicago rapper Chief Keef, features oversized T-shirts, jean shorts, fuzzy jackets, and a chile tracksuit. Riffing heavily on nostalgia, classic trends, and Frost's love of the weird and whacky, it also introduces the "Benchmates," a cast of characters inspired by the animatronic cast of Chuck E. Cheese and bootleg murals of cartoon characters found on the facades of daycare centres.
For Frost, it's the culmination of a decade-long love for streetwear, going from the Supreme line to creating his own line for adidas. "For the first time it feels like I'll be able to communicate in a new way that I haven't gotten to before, but the way I've wanted to for a long time."