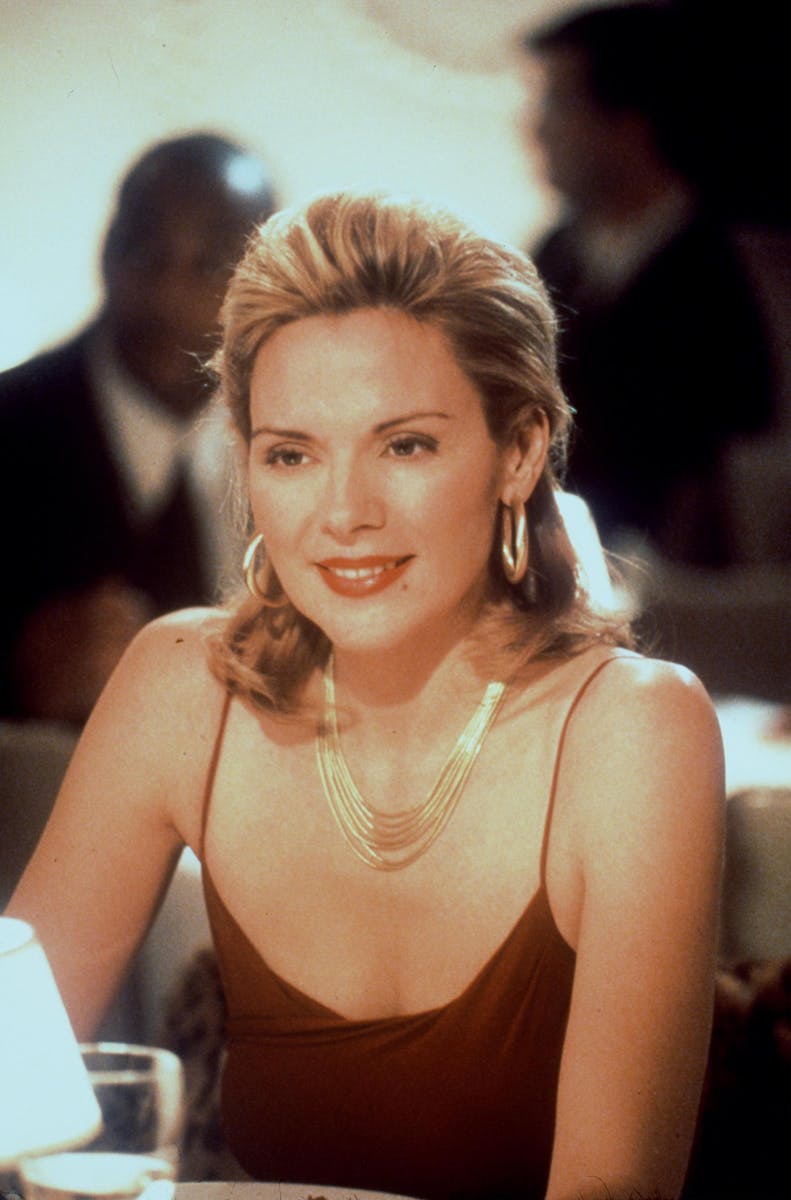 And just like that... Samantha's presence will probably be reduced to text messages again for the Sex and the City reboot's second season.
In a recent interview, Kim Cattrall gets candid about the And Just Like That reboot — which she's yet to lay eyes on — and confirmed what we didn't want to believe — her firm decision to not return as the iconic fiery, sex-crazed PR woman that is Samantha Jones.
"That's a no. It's powerful to say no," Cattrall responded when asked if she would join the Sex and the City reboot. Well, that's a hard "no" for ya — hard meaning definite for Cattrall and difficult to process for Samantha diehards, like myself.
"I was never asked to be part of the reboot," she states. "I made my feelings clear after the possible third movie, so I found out about it like everyone else did — on social media."
She even mentions that the reboot is "basically the third movie," which never happened and got a hard pass from Cattrall too – and rightfully so, considering it involved Samantha receiving unwarranted thirst traps from Miranda's son Brady (?).
As for Samantha's text personification in the new series, Cattrall feels like the rest of us when we saw the character's weird continuation via London-based short messages to Carrie.
"It's odd, isn't it? I don't know how to feel about it." Neither do we, Cattrall.
In a way, Samatha's texts in And Just Like That built up this false hope for the actress's on-screen return, which seems torturous now to know her return is highly unlikely.
One might say Cattrall has indeed embodied Samantha's essence, possessing the empowerment to move on from matters that no longer suit her. Perhaps, the Sex and the City team should do the same and let the character go as she has.
Cattrall appreciates that fans dearly miss Samantha and her unfiltered comebacks and unapologetic sexual liberation. She even admires and is quite "proud" of her role as Samantha, though she turned down the role three times because she didn't think she could "pull it off."
Thank goodness she stuck it out because I can't imagine anyone else making an icon of Samatha Jones better than the even-more iconic Kim Cattrall.
While we won't see a text-free Samantha in And Just Like That's second season, you can definitely expect more chaotic fashion moments, potentially including one or all of Highsnobiety's fashion predictions.
Meanwhile, Kim Cattrall doesn't need unhinged fashion from past dealings; she's doing just fine with tasteful looks from FarFetch.