This story was updated on December 10, 2021
Everyone's favorite chain-smoking dating columnist — or should I say podcaster — is back, Manolo Blahniks and all.
And Just Like That..., HBO Max's Sex and the City reboot, premiered to mixed reviews, and some seriously shocking plot twists (if you haven't yet watched, please don't look into why Peloton is trending).
Despite Samantha's absence, one hallmark of the original series has remained mercifully intact: Carrie Bradshaw's insane style. Picking up where costume designer Patricia Field left off, Molly Rogers made sure our protagonist's 'fits remained just as wild as they were 20 years ago (I still think about that episode she wore a belt around her bare waist).
Please, sit back and peruse the most unhinged outfits from the Sex and the City reboot.
Babushka Carrie
There is so much to unpack in this image. Carrie's pink cleaning gloves. The Marlboro Light. The silk head scarf paired with a gingham house dress. The unbuckled shoes.
Now shift your focus to the foreground. It's a woman in a tie-dye beach cover-up. Wearing a pair of quilted boots with...handles?
Vaguely Culturally Insensitive Carrie
Pretty sure Iggy Azalea got in trouble for wearing a version of this outfit in 2013.
Bonjour, Je Suis Carrie
Another image rich with iconography. First of all, the baguette — oui oui, Carrie! Other things I'm saying absolutement to: the Tomo Koizumi x Emilio Pucci slides, the man in the skintight romper and Timbs, the wheelchair in the background (???).
Balengucci Carrie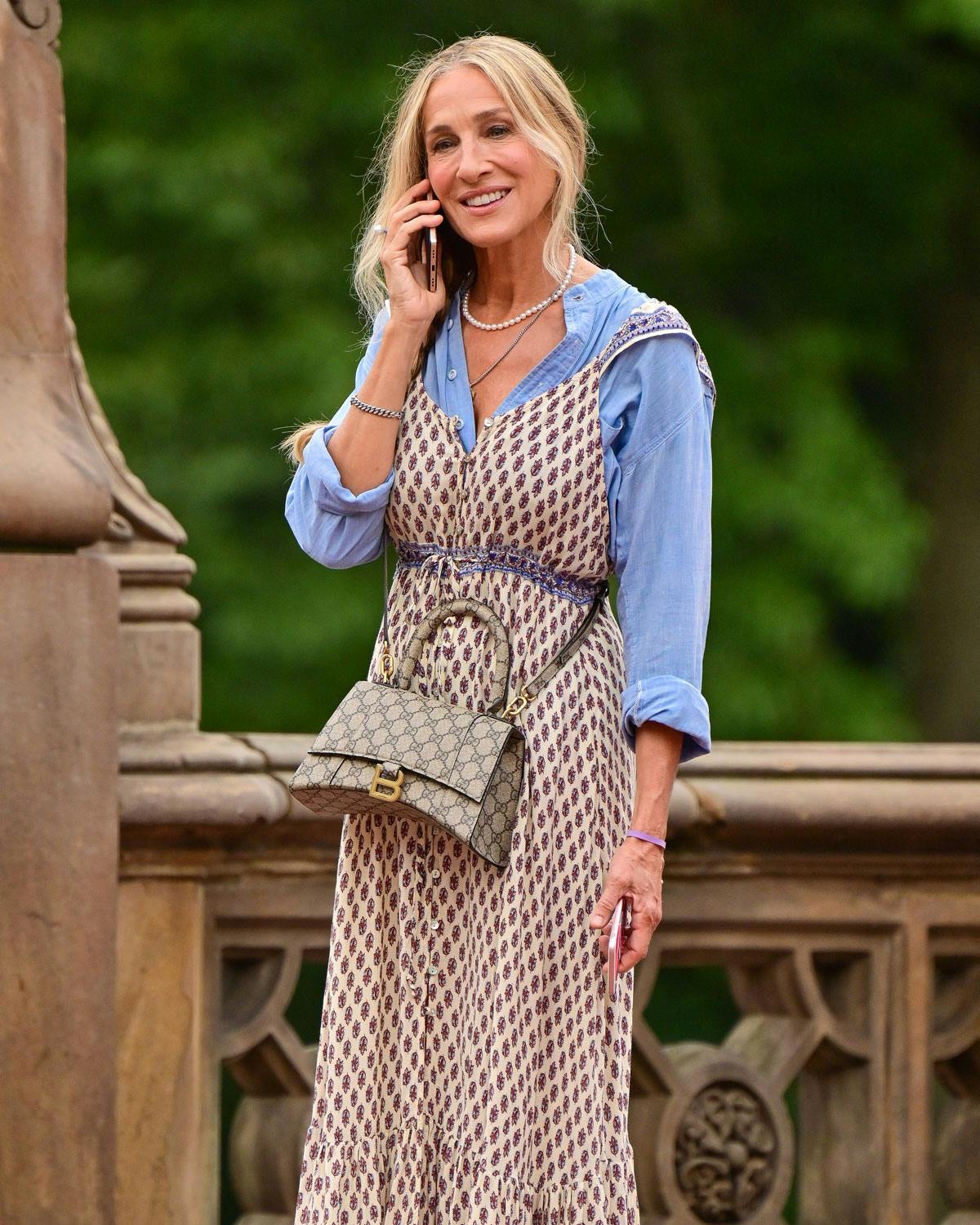 Frankly, I'm shocked and appalled that Carrie, a master of camp, isn't wearing Balenciaga 24/7. The looks that woman would turn with a pair of Demna Gvasalia's Croc heels! Or the velvet gown with the hoop-skirt!
Instead, we're left with a shot of her wearing a maxi dress straight from the Free People sale rack paired with a handbag from Gucci's Balenciaga "hack."
The Joker's Cousin, Carrie
Carrie is wild for this one. Why is she dressed like Gotham City's evil clown? This outfit is also giving Willy Wonka, which leads me to this: Carrie Bradshaw movie-musical.
Bonus: Miranda's B.A.B. (Big Ass Backpack)
Miranda, why do you have so many bags? In more than one paparazzi shot, she's carrying a B.A.B. (the bane of my existence; we are not in middle school anymore), plus a tote bag and in some cases, a crossbody too. At this point, please just invest in the big Telfar.