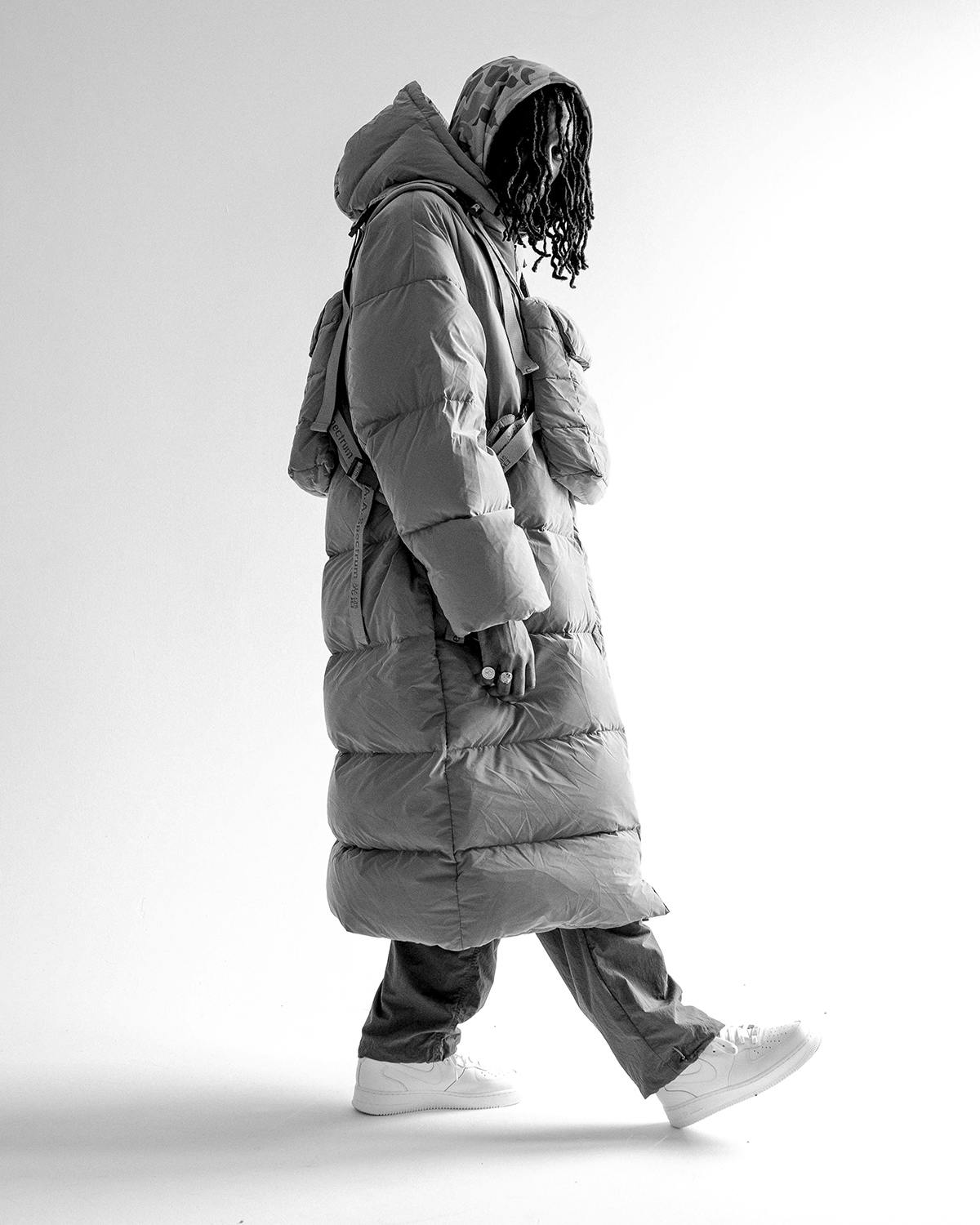 I usually check Twitter right before I do an interview just to gauge the conversations happening around an artist. Ahead of our call, typing "Knucks" into the search bar brings up hundreds of Tweets buzzing about his new project Alpha Place. But when he hops on our call, it's clear that the man of the hour is unaffected by internet talk or headlines. "I've been doing this a while and I've never ever felt so much anticipation for anything like I am now," he says. "I would feel pressure if I wasn't so confident in the music."
The last few years have been marked by dizzying accomplishments for the rapper, a journey that has seen him soar from the UK's rap underground to one of its elites: "I've been doing this for a long time and it's never really been for the gratification, but the fact that it's coming now and people understand where I'm coming from a bit more is really validating."
Back when he was known as "Knuckles," things were very different. "I've always known that my music is good, even when people weren't seeing it," he recalls. "When everybody is treating you like you're mediocre and you're the only one that thinks that you're more than that, you're gonna have those moments where you question yourself, like, 'Maybe I'm the one that's delusional.' But I had to learn that it could be 500 people listening to me or it could be five million. I'm always going to keep the same energy."
He first picked up the mic as a kid, when grime swept up London's inner-city and "all the youngers" were doing 8-bar relays with friends in the schoolyard. But then a one-year stint in a Nigerian boarding school removed him from the sound that every other aspiring rapper was hopping on. "I was pulled away from the music that I'd started to fall in love with. So when I came back, I think I just had a different outlook on music, a different love for it, a different hunger for creating and indulging in the art."
Trained in grime's agile flows and with a newfound penchant for jazz, Knucks was ready to redefine UK rap for himself. But it was Nas' masterpiece Illmatic that sculpted him for the next step. On the hip-hop classic, Nas weaved a tale of street life in Queens, New York, a world away from Kilburn, London where Knucks lived. "It was noticing the similarities between where we grew up. Obviously, it's very different, but then it's also just the same stuff. So I wanted to do my own take on what Nas did on Illmatic, showing how it was growing up in North-West London." In 2014, Knucks, then 19 years old, broke onto the scene with his mixtape debut Killmatic. The dynamic and soulful project promised Knucks was on the cusp of something huge, showcasing his narrative sensibility, effortless style, and enviable self-assurance. The tape was also entirely produced by Knucks.
Both a formidable rapper and producer, Knucks' very first release gave him an intriguing presence in the UK rap scene. And subsequent releases further corroborated that Knucks was the one to watch. Yet, with more success knocking at the door and a dedicated fanbase starting to form, Knucks avoided the noise, kept his head down, and distilled his vision. In an age where controversy outside of the music can propel young rappers more than ever, Knucks is the antipode. He stays fairly quiet on social media, only does a handful of interviews, and there's not much out there about him outside his music. But that's the thing. It's all in the music.
Knucks has been taking things in his own stride, playing the long game unfazed by hype and trends. A project like Alpha Place couldn't exist otherwise. "This is who I really am," he says of his latest work. "This is how I came up. I feel it's important to get that out of the way before I move onto the next level as an artist." Knucks co-produced 12 of the 13 tracks of what he calls "an elevated version of Killmatic." "Yeah, it's an ode to my youth, an ode to how and where I grew up and my origin story." Alpha Place is both lyrically and sonically expansive. On production, Knucks combines drill drums with nostalgic samples, ambient skits, and collabs from some of the UK's most exciting acts. Tracks transition in and out of each other so seamlessly it's one of those albums that you savor in full. "I made the effort to make a body of work. I want [Alpha Place] to be an experience. You can listen to each song separately if you want, but if you listen to it from start to finish, it takes you on a journey."
His writing is just as vivid. Lyrics oscillate between the personal and the cinematic with compelling candor. On "Leon the Professional," Knucks, ever the cinephile, uses the 1994 film of the same name as a reference to tell the urban legend of a North London hitman. Then on "Hide & Seek," his deft narrative of the cat and mouse chase between a young criminal and a policeman pays tribute to The Wire. "The movie references are ways of disguising real life," he explains. "It's my subtle way of allowing people to get to know me a bit more." Alpha Place's final song "Three Muskateers" closes with a recording of a young Knucks spitting over a Limewire-era grime beat. It's almost as if he's saying "Look how far I've come."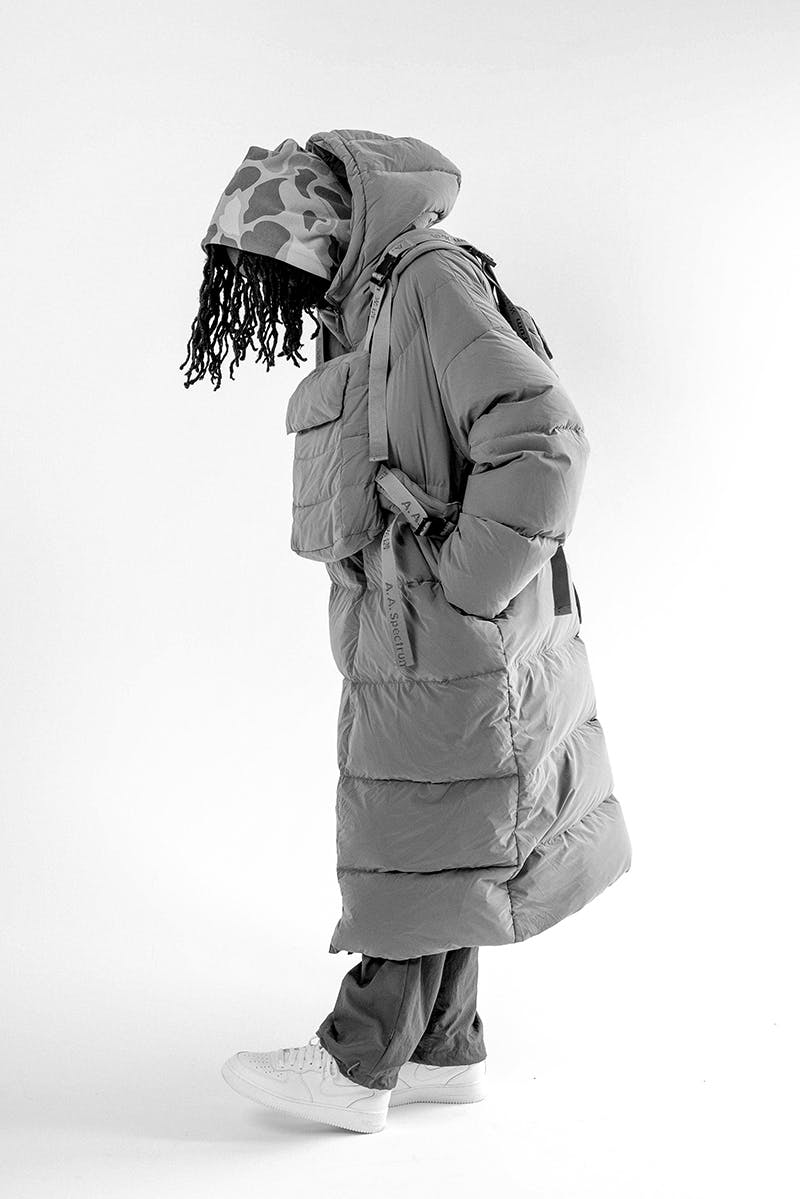 A creative all-rounder, Kuncks is just as overachieving when it comes to his visuals. Grainy film, candids of life on the block, and yellow subtitles turn Alpha Place's lead singles into retro movies. Knucks has built a reputation for distinction across all his output and he credits this continuity to his NODAYSOFF imprint. "To be fair, NODAYSOFF started as my producer tag and alter ego. But from there it grew into something much bigger." With NODAYSOFF, Knucks continues to expand his vision, comprising everything from album art, to films and merch. "I'm trying to make it so much more. I want to make it a brand and a production company as well. I'm trying to build it up into something where people with different skills can create under the brand."
But for now he's just curious to see whether his "project" will turn into an "album." "It was meant to be a six to eight-track EP. But then when I got to the 10th song, I realized, 'Yeah, this isn't an EP no more.' So I've just been calling it my project. But people are calling it an album, an LP, all of these things," he chuckles. "To be honest, if I get a top 10, it's an album." According to first-week projections, it looks like Knucks might have a debut album on his hands.
Head here to listen to Knucks' 'Alpha Place'.