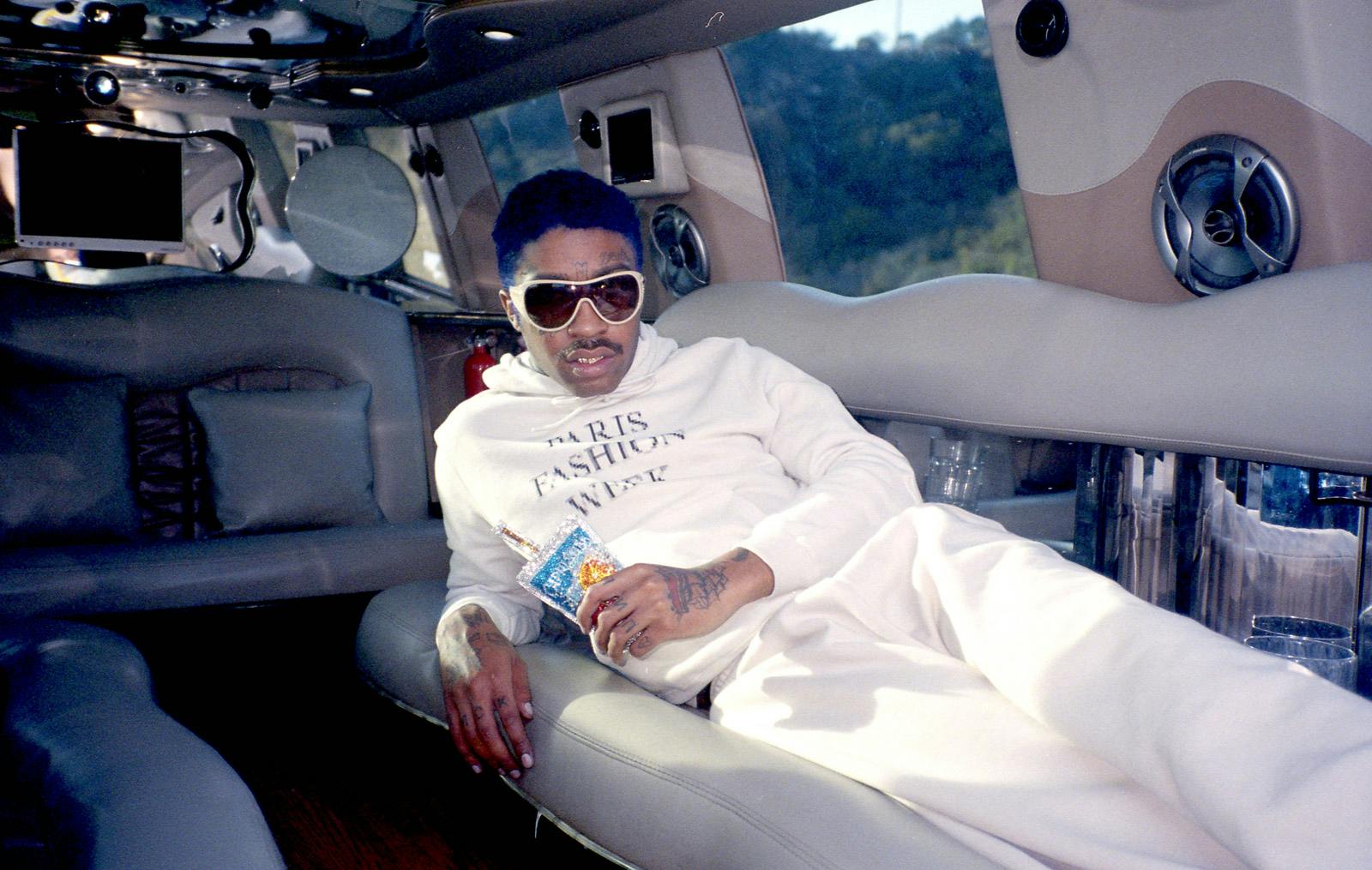 Highsnobiety / Moni Haworth
Reddit is the collective unconscious of the internet. You can find just about anything in its solar system of discussion boards - from Wiccan spell procedures to prosthetic genitalia. There's forums in this cursed wasteland about hip-hop too, of course, and in 2018, Lil Tracy very nearly quit rap because of comments on one of its boards, tweeting he was retiring after feeling "pain and sadness" every day. But two years and some change later, the 25-year-old rapper is shining brighter than ever and says, over the phone, that he's on what he calls the third stage of his career. "I did the rookie shit, and now I've gotten old," he says. "Now, it's just, like, I've got to prove myself as a solid, big artist."
Resilience is in Lil Tracy's DNA. He's the rapper you've heard of in fringe circles for the past half-decade who's undergone multiple rebirths on his quest to perfection — one that's involved death, near-death, and the constant need to grow to keep one's sanity.
Born in New Jersey as Jazz Butler, Tracy is the heir apparent in a family of musical royalty. His father, Ishamael Butler, was a member of the hip-hop golden age group Digable Planets, a Grammy-winning collective best known for their 1992 single, "Rebirth of Slick (Cool Like Dat)." His mother? Equally as adept. She's Cheryl Elizabeth Gamble, also known as Coko of Sisters With Voices (SWV), a collective who has been nominated for four Grammy Awards and has sold 25 million records worldwide. Lil Tracy was almost predestined to pick up the family craft.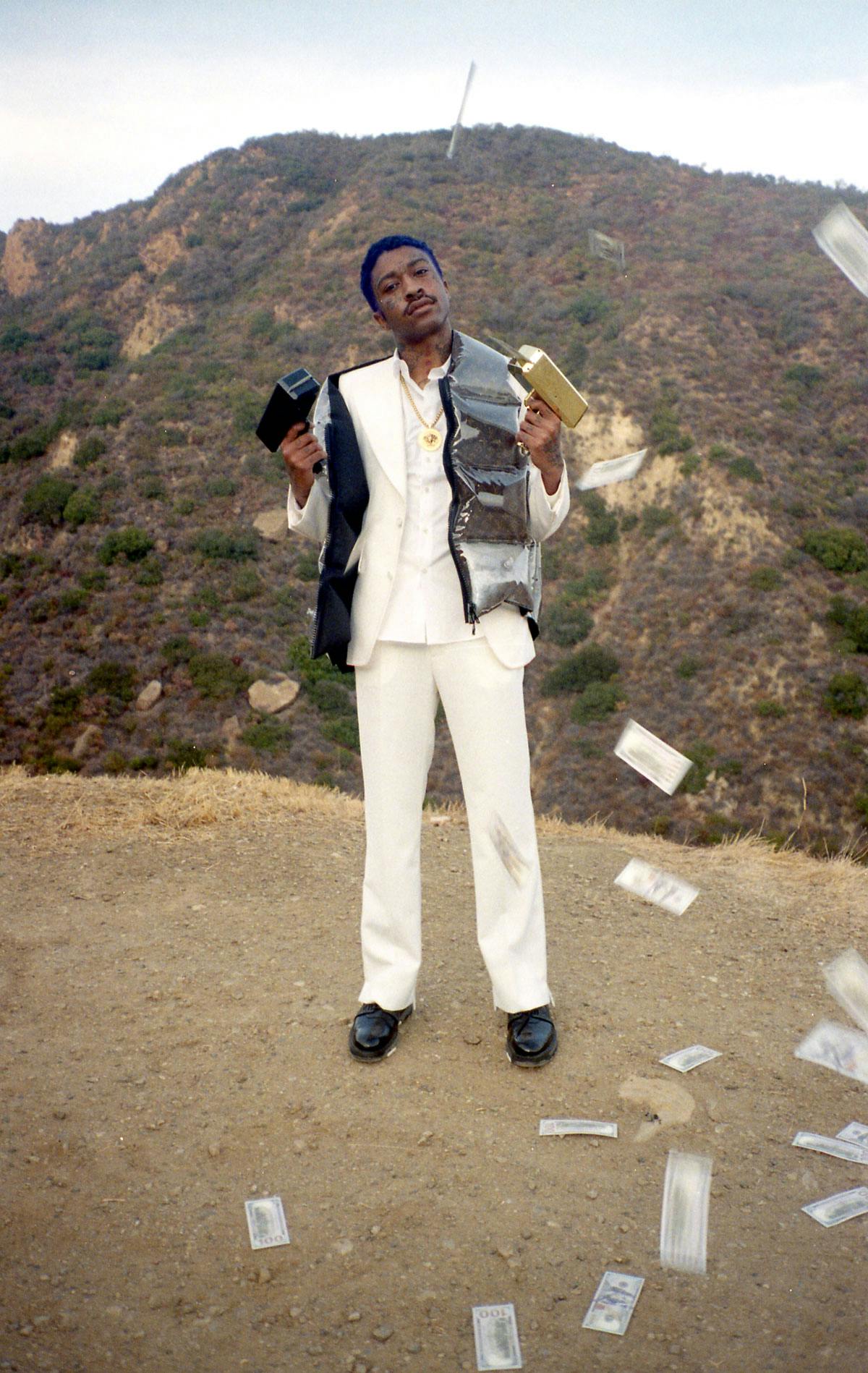 But it would take a short while before he actually got into music, because his parents split at an early age: his father moved to Seattle, WA while his mother relocated to Virginia Beach, VA. Speaking to The Fader in 2019, Lil Tracy called Virginia "just boring as fuck," and revealed that he occupied his time with skateboarding and graffiti, eventually moving into a tent with friends as a teen to start making music.
In 2014, Lil Tracy packed his bags and moved to Los Angeles to join producer Nedarb Nagrom's Thraxxhouse collective, originally started by rapper Mackned. It's around this time that he adopted his now famous moniker — when Nedarb was tossing out old clothes and inquired whether the aspiring rapper wanted his vintage basketball jersey for legendary player Tracy McGrady. One thing led to another and Tracy became an important figure in Thraxxhouse's new offset group, GothBoiClique, who would focus on a darker, Three 6 Mafia-style of rap — not quite horrorcore, but more rock-influenced than anything with a doomified edge. The term came to be defined as "emo rap."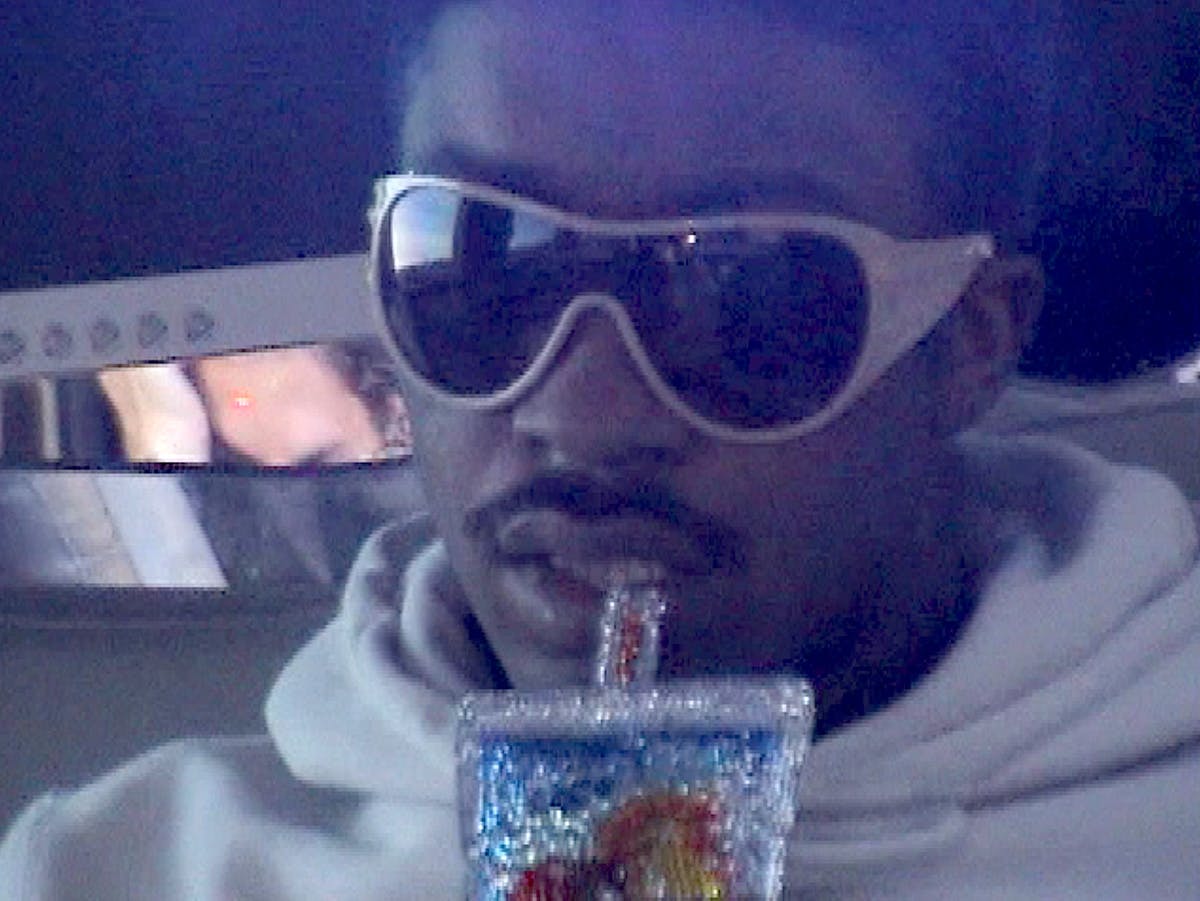 Tracy began to blossom as a star of the growing SoundCloud rap era — a time where rap's most experimental new artists took to the platform and created trends which were copied ad nauseum by the mainstream, creating a cast of artists like Playboi Carti, ICYTWAT, and Lil Uzi Vert, who drove the culture from the comfort of their bedrooms. Reflecting on that time now, Tracy doesn't believe that the era can ever return... the magic is gone. "There's too many labels and shit out here, so I don't think it'll ever be the same," he says. "It was just an era — a time for young people to put out content and it just clicked without a formula. Everyone was doing it. Everyone was listening. Everyone loved it."
Around this time in 2016, Tracy hit it off with a new member of GothBoiClique, Lil Peep, with whom he made the song "White Tee," and shot the video within their first day of meeting. "Never in my life have I connected with someone like that," he told The Fader last year. They grew closer, releasing collective mixtapes like castles and its sequel, before an abrupt fallout that stemmed from Peep's management and the way blogs reported their collaborations while omitting mention of Tracy. Though they made plans to reconcile, it never truly happened. Lil Peep died in November of 2017 from an accidental drug overdose, and Lil Tracy was left to mourn by himself.
Publicly grieving the death of his close friend, Tracy's next phase of his career involved doing whatever he wanted. He released the flex-heavy Designer Talk and Sinner in 2018, the same year he suffered a massive heart attack caused by consuming small amounts of cocaine, drinking THC-infused lean by accident, and taking a couple of shots at a Brooklyn bar soon after. Releasing two more projects since then, Lil Tracy hasn't had time to slow down and smell the roses, but as he explains it, he's more relaxed than ever.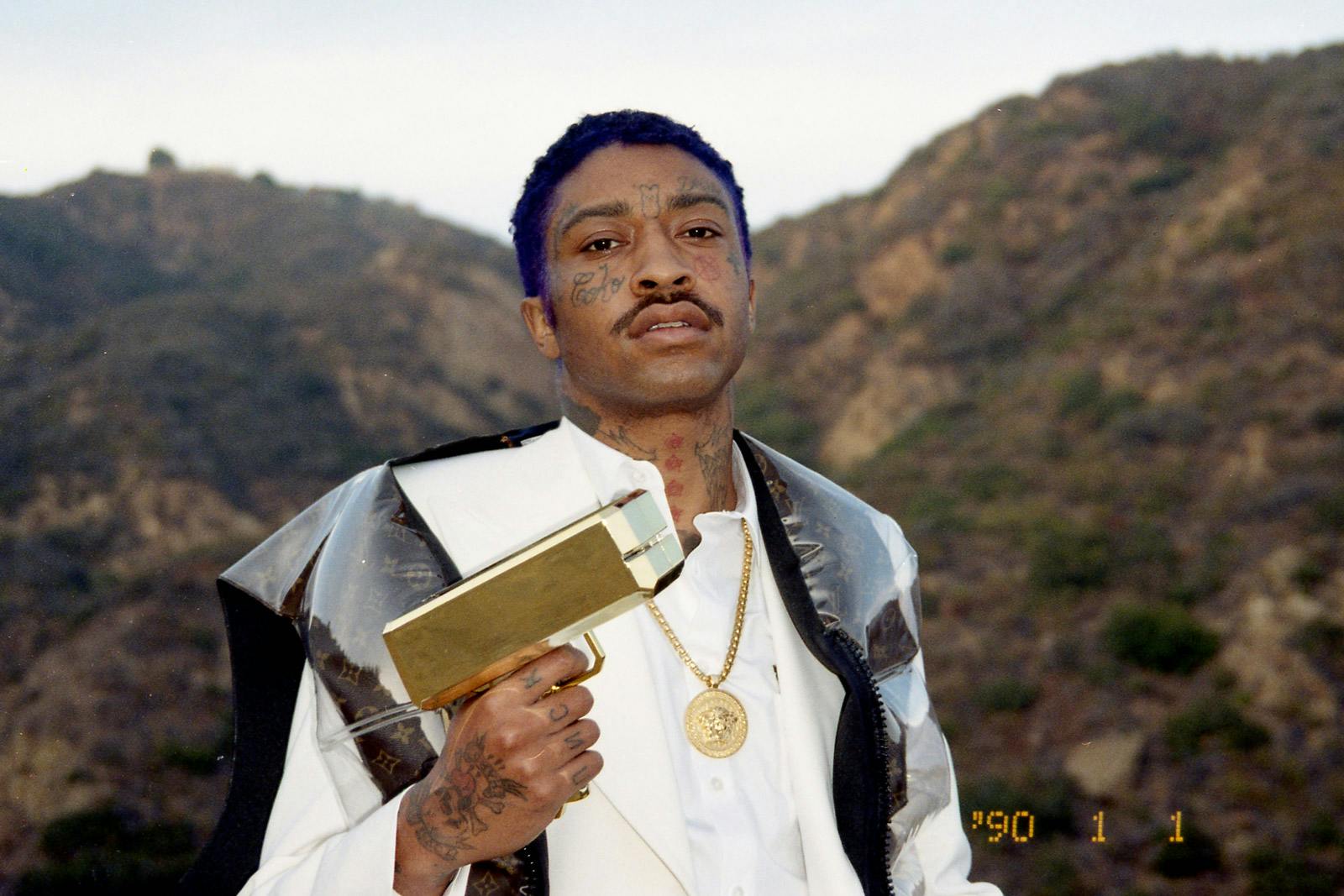 Highsnobiety / Moni Haworth / Shirt, Suit, & Vest LOUIS VUITTON Necklace VERSACE
"This has been a very mellow year for me," he says, "Me and my friends often have sessions to drink or play video games together, but it's been nothing major. I haven't had much fun. I haven't really been working on stuff much music wise. It's been good though."
Indeed, he's pulled back: 2018's admittance of wanting to quit may have been the last straw. His Twitter account has been suspended. His Instagram page, with 1.2 million followers, features six pictures of him, two cartoon characters, a cat, and a picture of Nicki Minaj. Tracy says that this silence is by design. "I just feel like there is so much that's been going on across social media," he says. "It feels oversaturated, so I'm just chilling and relaxing."
Lil Tracy's latest release, 2020's Designer Talk 2, is all about chilling — in an expensive manner. It's vanity music for a very meaningful year which feels like the beginning of a new chapter for the rapper — one that's far from the emotional rap that dictates his past work. "Really, the creative process for that was just shopping a lot, because it's about all this designer shit," he says. You can hear it on "Chrome Heart Lens," "Messy," or any of the other countless mentions of expensive clothes and deep wallets. He name drops just about everything across the album, but when asked about his favorite place to shop, he ponders before giving a vague answer: "Oh man, I like a lot of different places. I'm all for vintage designer stores sand shit — anywhere that has fire apparel. If I think that it's dope, I will wear it, no matter what the brand is or how much it costs."
Designer Talk 2 feels inconsequential at best; his 2019 debut, Anarchy, is the LP that feels like it holds the key to the sound that will drive his next step — one that's firmly focused on the past. Blended in rock and rap, it's as experimental as the music which made his parents into international superstars decades ago. Speaking to Nylon, Tracy discussed how his proper studio debut was a tribute to the style of music he and Lil Peep made previously. Now, he explains how his memories impacted its creation: "It took me a while to do and it was very hard to make. It made me think about the old days together, but I love it and I'm proud of it. I just returned back to the style of music that we were doing."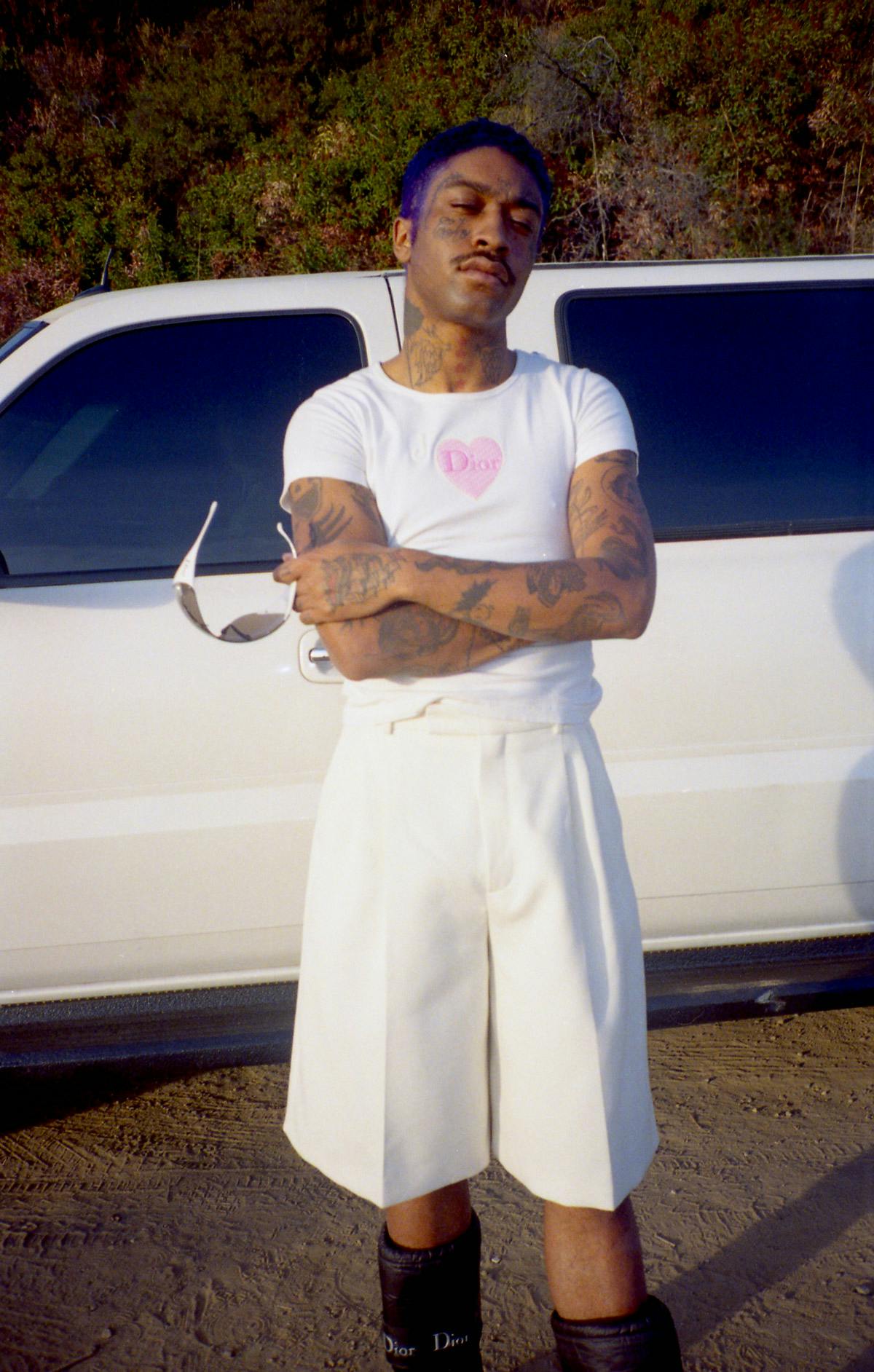 Tracy has said he despises the term "emo rap" because of its blanket label for this style of music, but how would he describe it? "It's just rap really. I feel like I can switch [that style] on and off. It will always be a part of my career."
"I'm always trying to make some new sounds," he continues. "I'll probably go back into the 'emo rap' sound in the future, but I am planning on doing some new stuff too." What's inspiring that new stuff? "I just don't take shit for granted anymore."
Experience the full story and others in HIGHStyle, a print magazine by Highsnobiety available on newsstands and the Highsnobiety shop now.