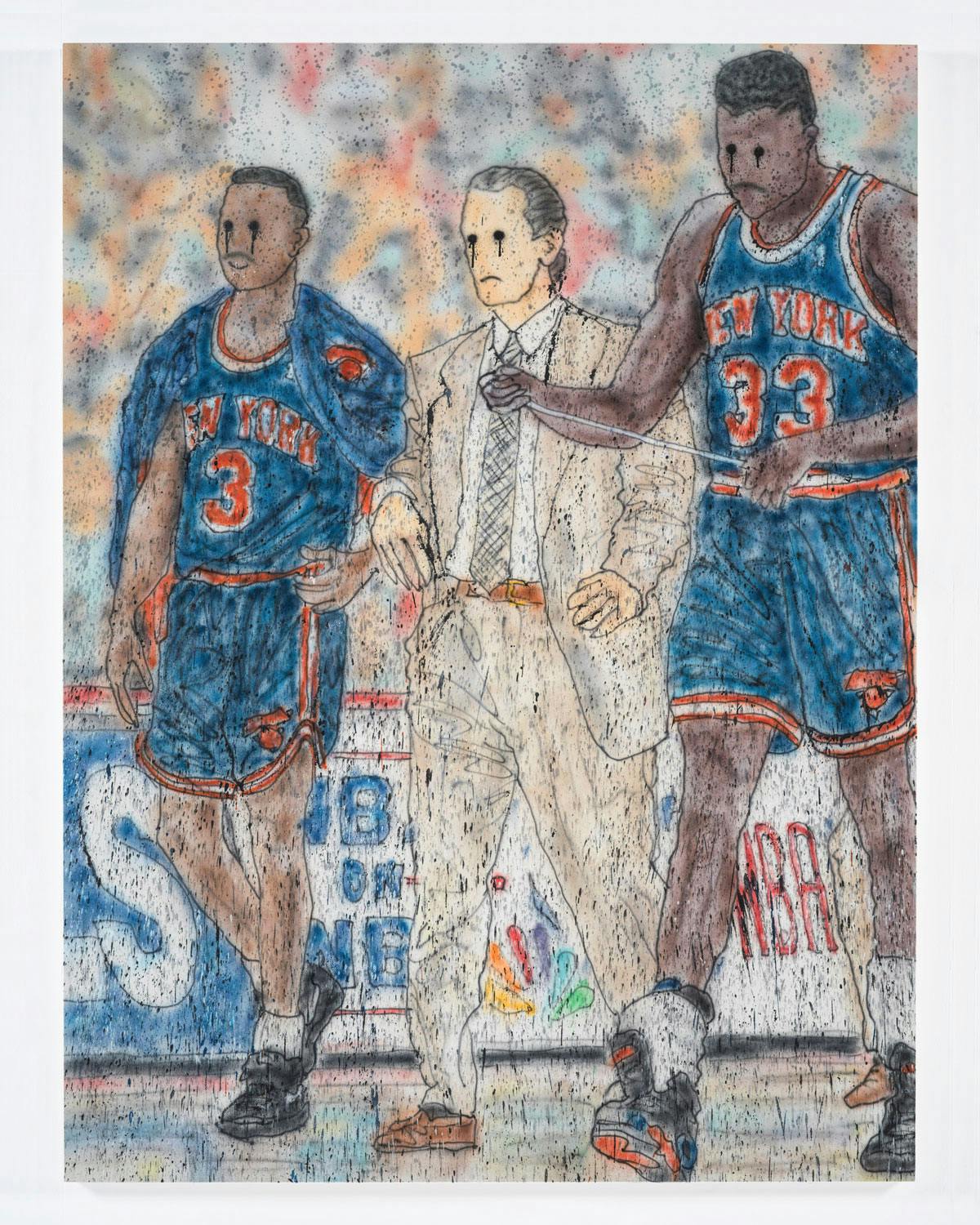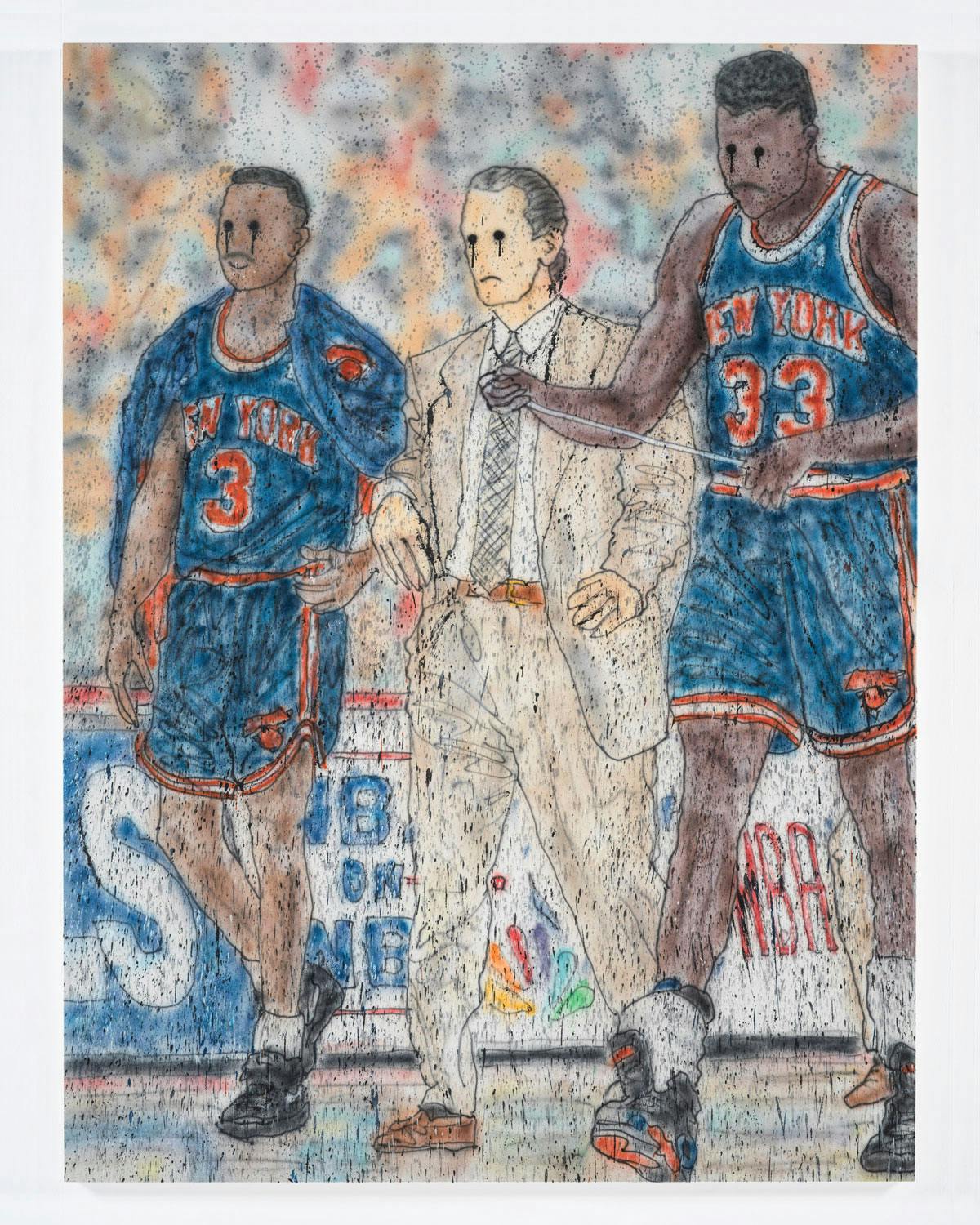 The aesthetic of MADSAKI has irrevocably linked the artist to the world of streetwear, regardless of his intent. Ahead of a new exhibition at Perrotin New York, we spoke to him for a FRONTPAGE interview exploring his proud position as a forever "outsider."
MADSAKI's work has always been bittersweet. For his 2017 show, "IF I HAD A DREAM," at Perrotin Hong Kong, MADSAKI filled a room with recreations of classic Andy Warhol works like Brillo Boxes and Flowers, which he'd covered with his signature medium, spray paint. His most well-known series, Wannabie, features his interpretations of Old Masters paintings like the Mona Lisa, or Liberty Leading the People, only spray-painted and with the faces replaced by MADSAKI's signature dripping smiley face. It's this bratty mix of sentimentality and translation of popular American culture from afar that has become MADSAKI's signature.
His latest solo exhibition "Hello Darkness, My Old Friend (I've come to talk with you again)," opened last week at Perrotin New York. It's admittedly a pretty dark show, even before considering the title. The paintings are laced with references to 9/11, the assassination of JFK, and the failed 1990s New York Knicks. These cultural references are paired with nostalgic images from MADSAKI's childhood, which he spent culturally oscillating between his native Japan and America, where he was raised (has since returned).
His use of spray paint, as well as the smiley faces, have caused many to associate him with street art, which in the past few years has exploded with an evangelical fervor. Walking up Park Avenue in Manhattan, you can see KAWS sculptures standing in the lobbies of bank headquarters where a de Kooning painting may have hung previously. It's all part of art's recent dislodging from its own theory in favor of tethering itself to investors' needs. All of it does beg the question of where there's left to go with this strain of the art world.
But any connection between MADSAKI and street art is superficial. Talking with him, you realize that none of this really matters. Like any good painter, he lives in the world of his paintings. His references aren't meant to connect his work to any movement or market, but only to each other, and to the painter himself. It's MADSAKI's world, and we're just witnessing it.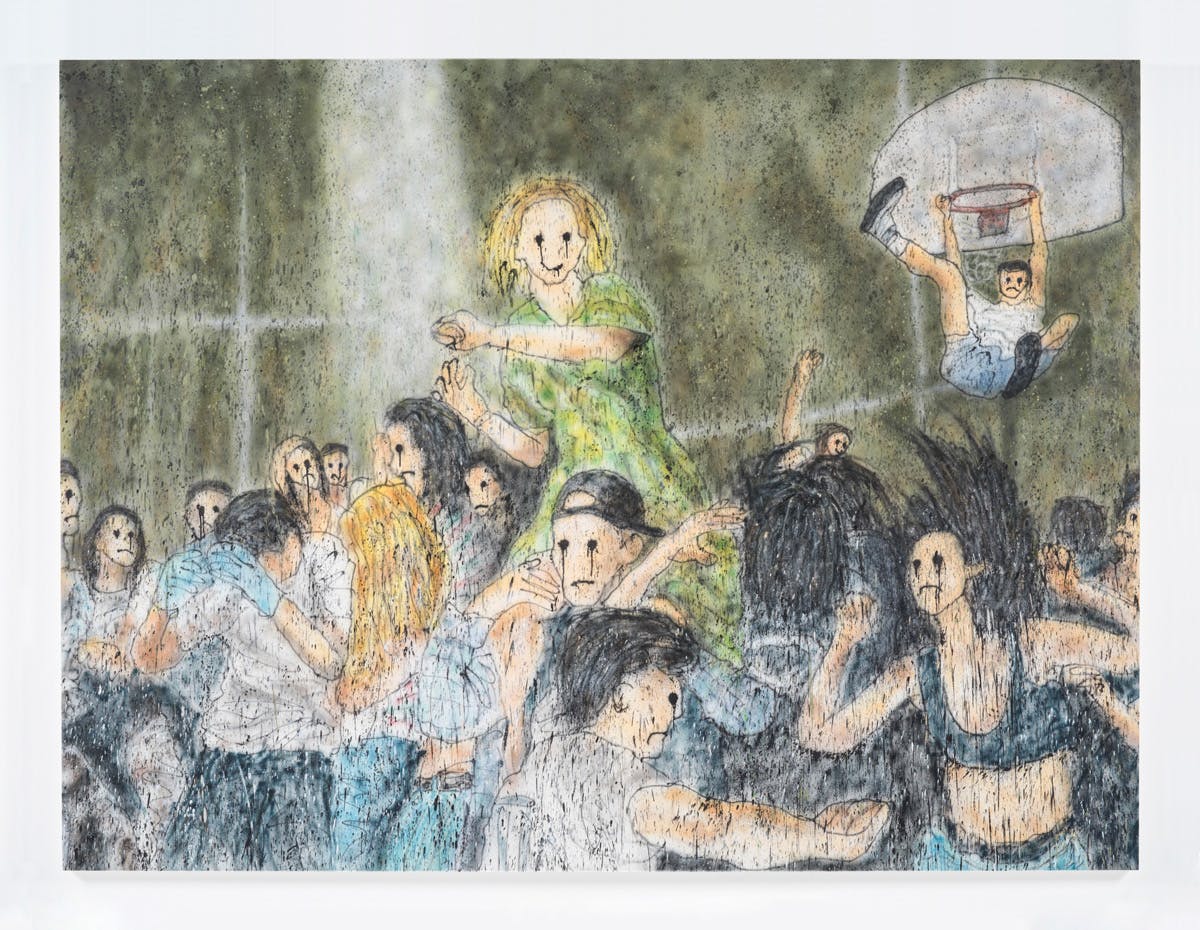 Patrick McGraw: This is kind of a dark show.
MADSAKI: Yeah, did you feel the darkness?
I felt the darkness!
Ah, that's good!
Where does the darkness come from?
I think it comes from me trying to fit in as a Japanese person. I came to America when I was six, without any knowledge of the country, without speaking English. And I tried to figure shit out. As I got older I started to realize, I'm Japanese, but I'm not Japanese; I'm American, but I'm not American. Everywhere I go, I just feel like an outsider. That sense of outsiderness is where the darkness comes from.
It seems to come from nostalgia as well.
It does, and nostalgia is kind of bittersweet. Every person has a little bit of darkness in them, and I hope when they see the paintings, they can relate to them because of that.
A lot of street art seems to come from being loud and extroverted, which sets you apart. When did you first start painting with spray cans?
When I started painting the Wannabie's series. Actually, painting an Old Master is just some art school thing, and I wanted to work fast, so spray paint seemed to be the perfect medium. Working really fast is an important factor in my work.
Why?
Because I think I'm ADHD. I can't stand there or sit for more than 30 minutes, I'll go crazy. So before I lose my attention and energy in that moment, I try to finish it. I have to finish things ASAP, or at least put something there and leave it for when I come back. If I didn't, I would just hop on my bicycle and never come back. So spray cans are perfect for me.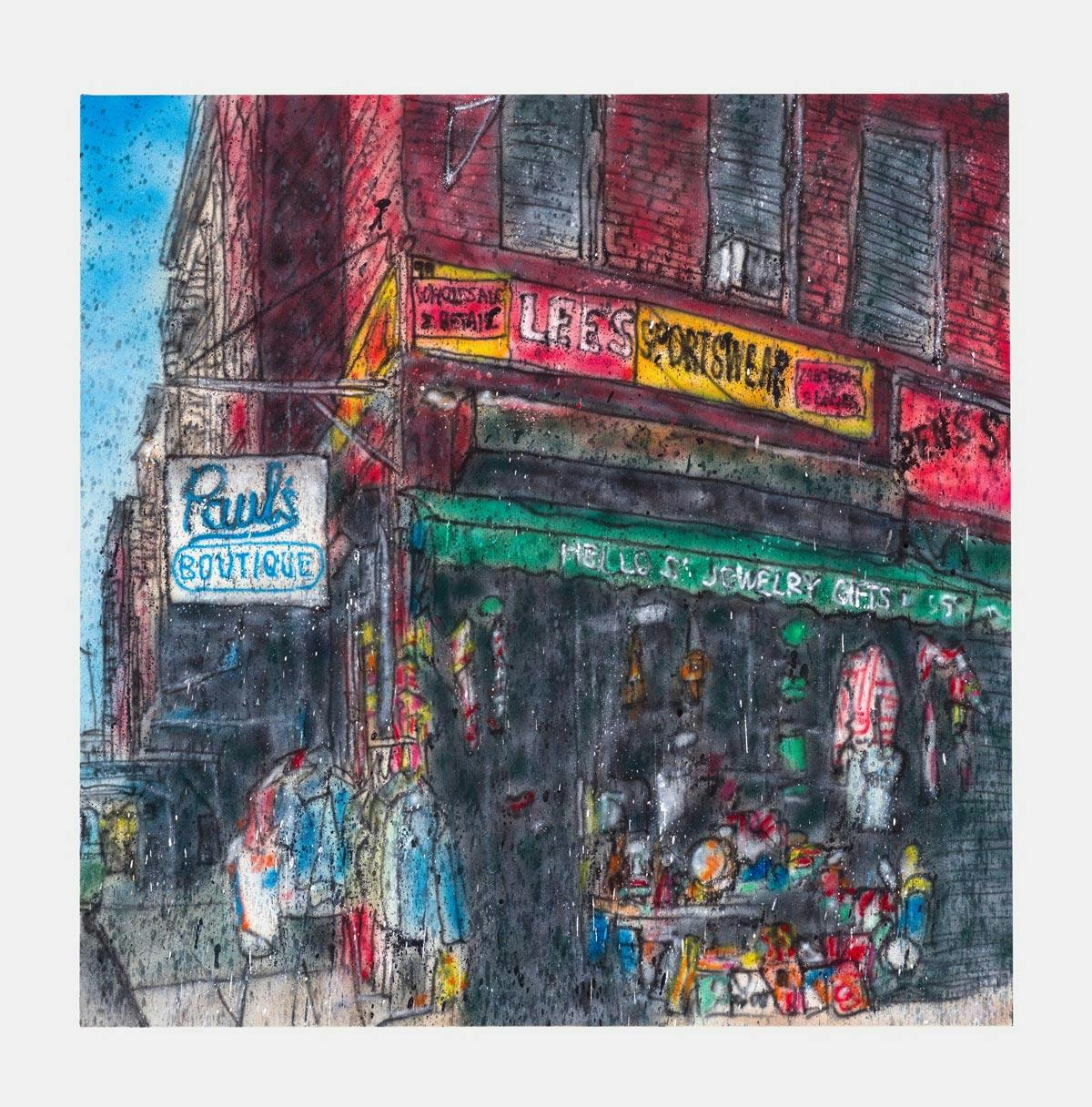 How quickly can you finish a painting?
It depends. If I spend more than 24 hours, usually it gets too fucked up. But if it's too fast, it's also no good.
Do you even consider your work to be street art?
No, I don't. It has a flavor of street art, but it's just because of the spray can that people associate with it. That's why I try to use the can as if I'm using a brush. It's similar to my feelings of not belonging culturally; I don't belong in the street art section, and I don't belong in the Master's section. I don't belong anywhere, and I like it that way.
When did you start putting the dripping smiley faces in your paintings?
The smiley faces and dripping eyes came from laziness. I was painting the Mona Lisa, which was my first Wannabie, and at a certain point I thought, fuck it, and painted the smiley face on it. But when you put these faces on these figures, it could be anybody. It's up to the viewer to put their own image onto that face.
Why is there such a focus on New York subjects in this show?
Well, I grew up in New York and New Jersey, and the moments I painted are like my special moments. Or the moments that affected me personally. New York gave me so much, and this is my way of giving back.
These seem to be lost moments in New York's history; CBGBs, the '90s Knicks who never won a championship, or President Bush talking on the morning of 9/11.
Some of these moments might seem dark, but to me they represent a golden age of New York. Living here in the '80s and '90s, compared to now, it feels like it was a golden age back then, in terms of street art and hip-hop. Everything back then was so raw. I always missed that New York. For instance, the CBGB painting is about me going there for the first time in 1989. I took a bus to Port Authority and walked to CBGBs on a summer's day, and of course everything was pretty nasty back then. But I loved it.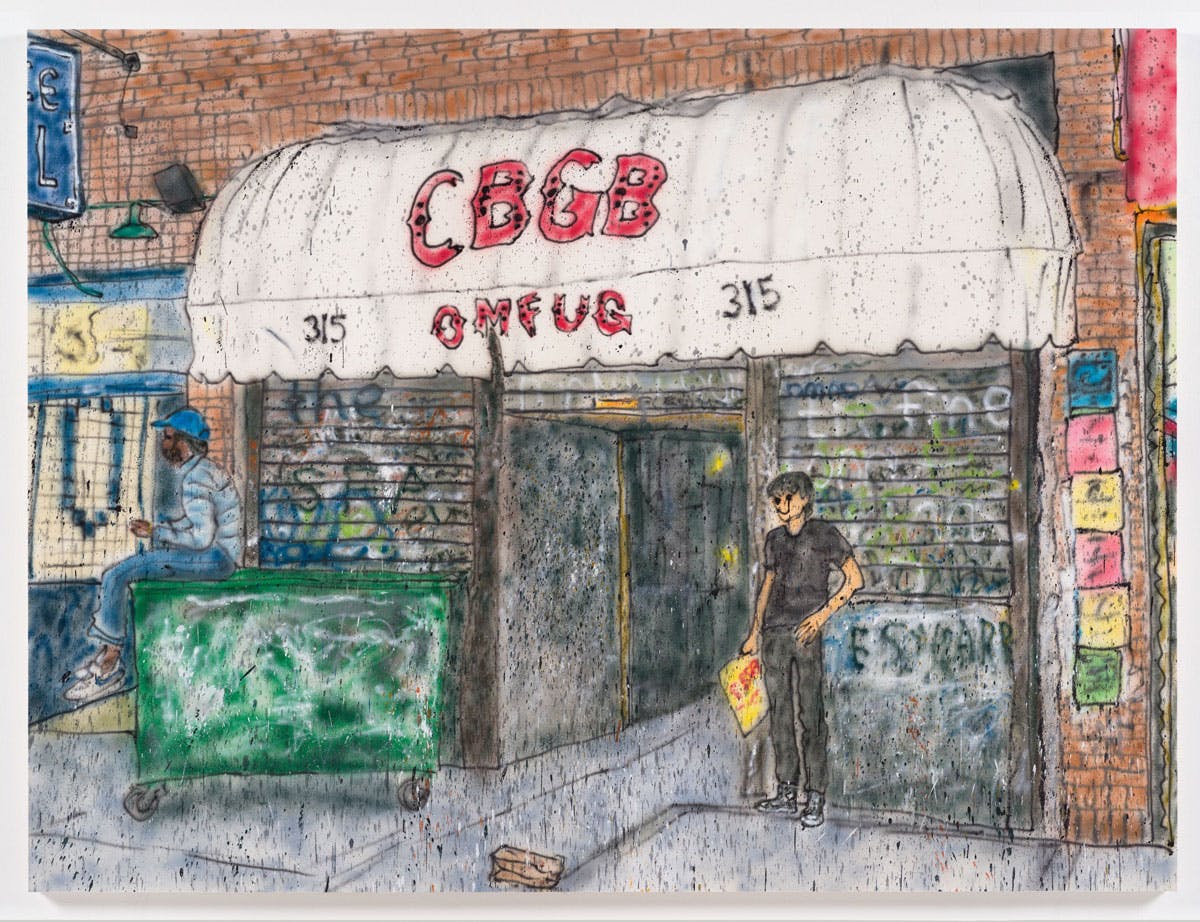 What do you think of New York now?
Covid has brought graffiti back, actually, and from what I've seen, people are bombing just like back in the '80s. The New Yorkers back then were hardcore. If you bumped into someone on the street they would tell you their whole life story.
Do you keep a studio in New York?
No, because I can't paint here. I can't paint in here, or in LA, or Europe. I was thinking about it and I realized it's because Japan is so boring. I paint because of boredom. In New York, I'm so excited just from waking up and going to the pizzeria to get a slice. When you step outside here, the movie starts, and you feel like the main character. But in Japan, it's so boring, I just paint.
Is part of the reason you paint these things because you're not in America?
Yeah; if I lived here, I wouldn't be painting these things, because you see similar stuff every day outside your window. And when I'm in Japan, I'm so fucking bored, I start remembering all these things.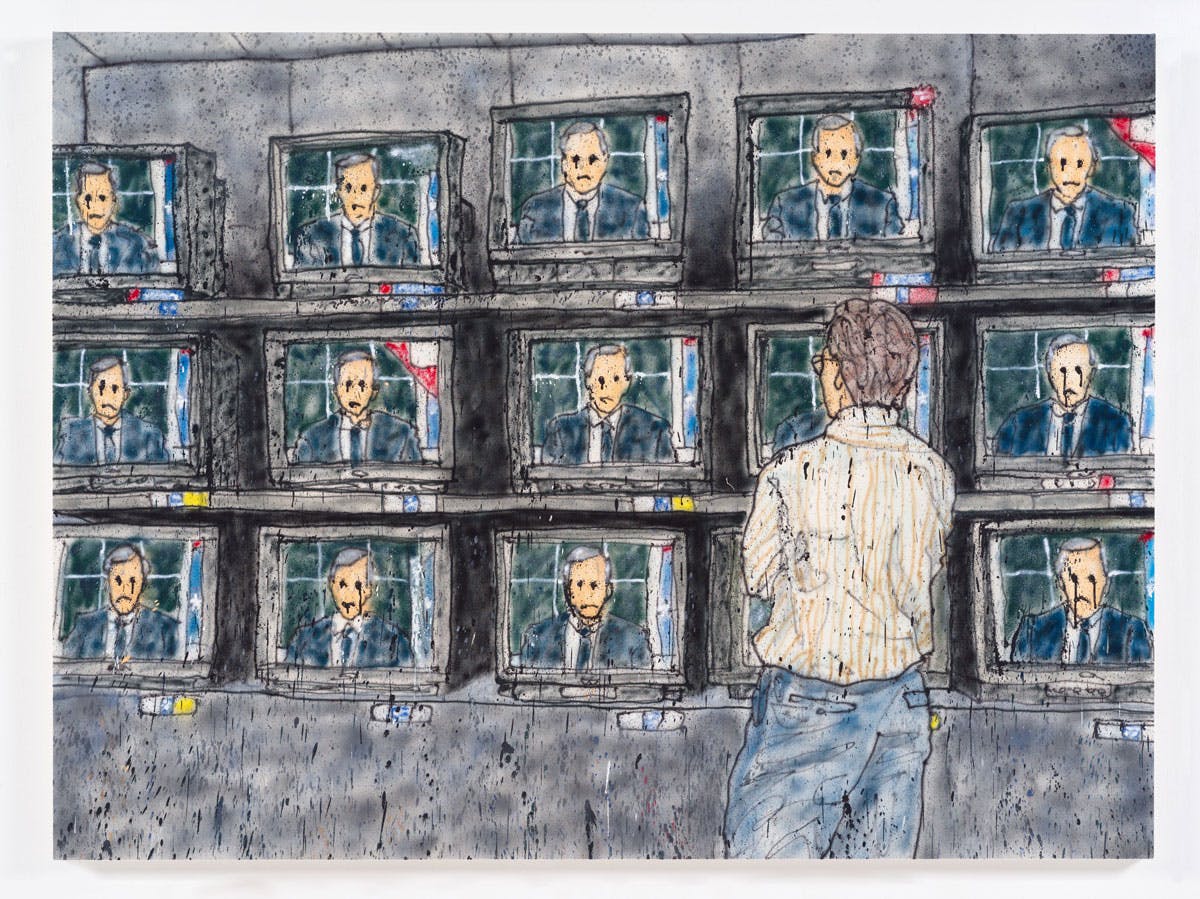 But you made your first works here in NYC.
Yeah, I went to Parsons and graduated in '96 with a degree in Fine Arts. So of course there was no job afterwards. I started driving as a PA for a Japanese film company here. Then at a certain point, I became a bike messenger, but that ended immediately after 9/11, when the city became so fucked up. One day afterwards, a friend called me up and invited me to come spray paint with some friends of his over in Dumbo. When I saw what they were doing, I thought, "holy shit, this is what I've been looking for." That woke me up to the realization that I should be making art.
So 9/11 actually had a lot to do with it.
Yeah, that's why there's a 9/11 painting in the show. It's funny, those guys under the bridge who were spray painting, and painting with rollers, they were doing exactly what art school had told me not to do.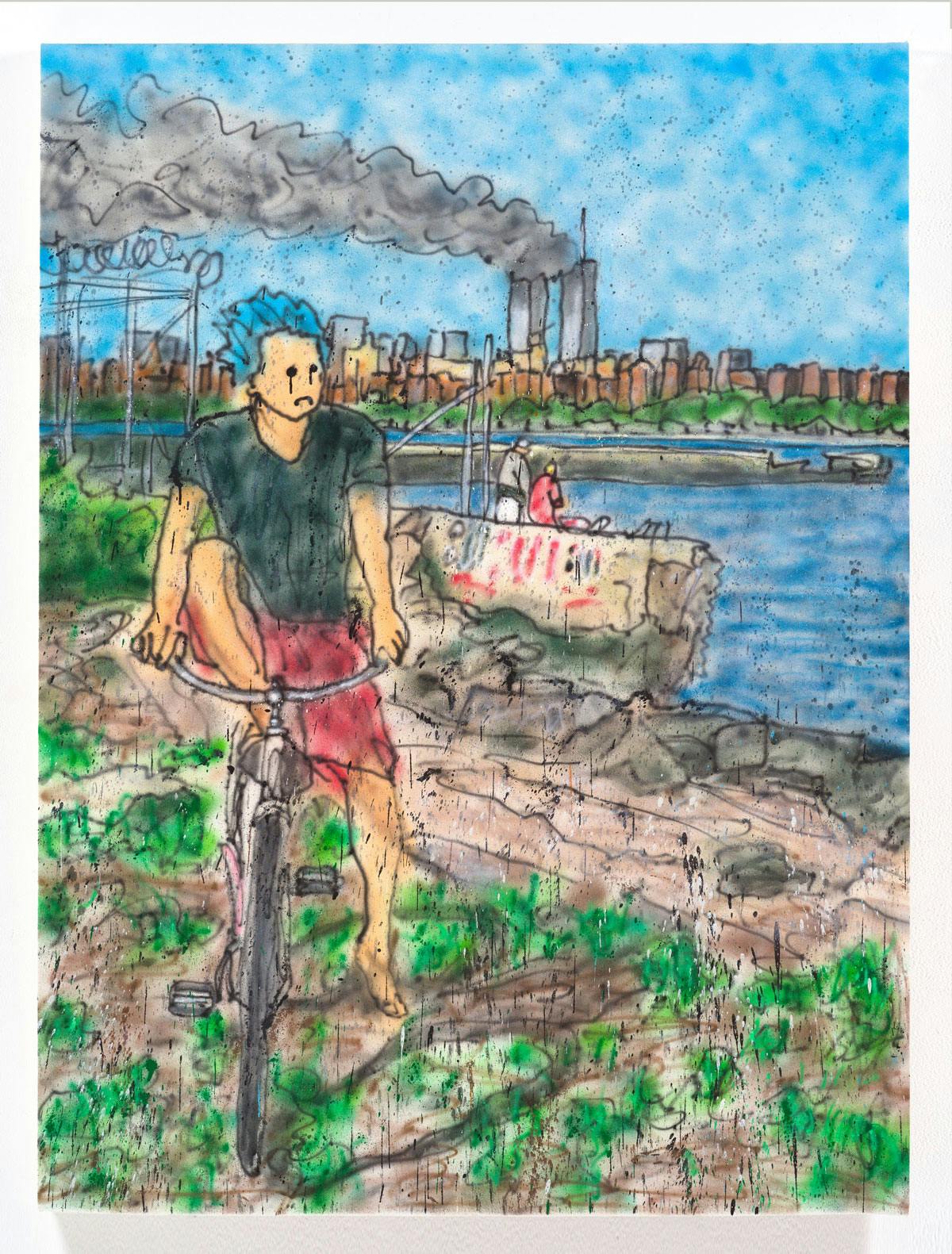 Where do you see the future of your work heading?
I have no idea, and that's a good thing. If I knew, I wouldn't paint. Because I go step by step. Maybe I have some goals, but they're really ambiguous. I have certain chunks of ideas, but it's like trying to fit together a puzzle.
Do you plan on continuing to use spray cans?
Absolutely, I'll use spray paint until my lungs give out.
Is it bad for your lungs?
Yeah, especially in the summertime when it gets too hot to wear a mask. After like two or three hours of spraying you get so high.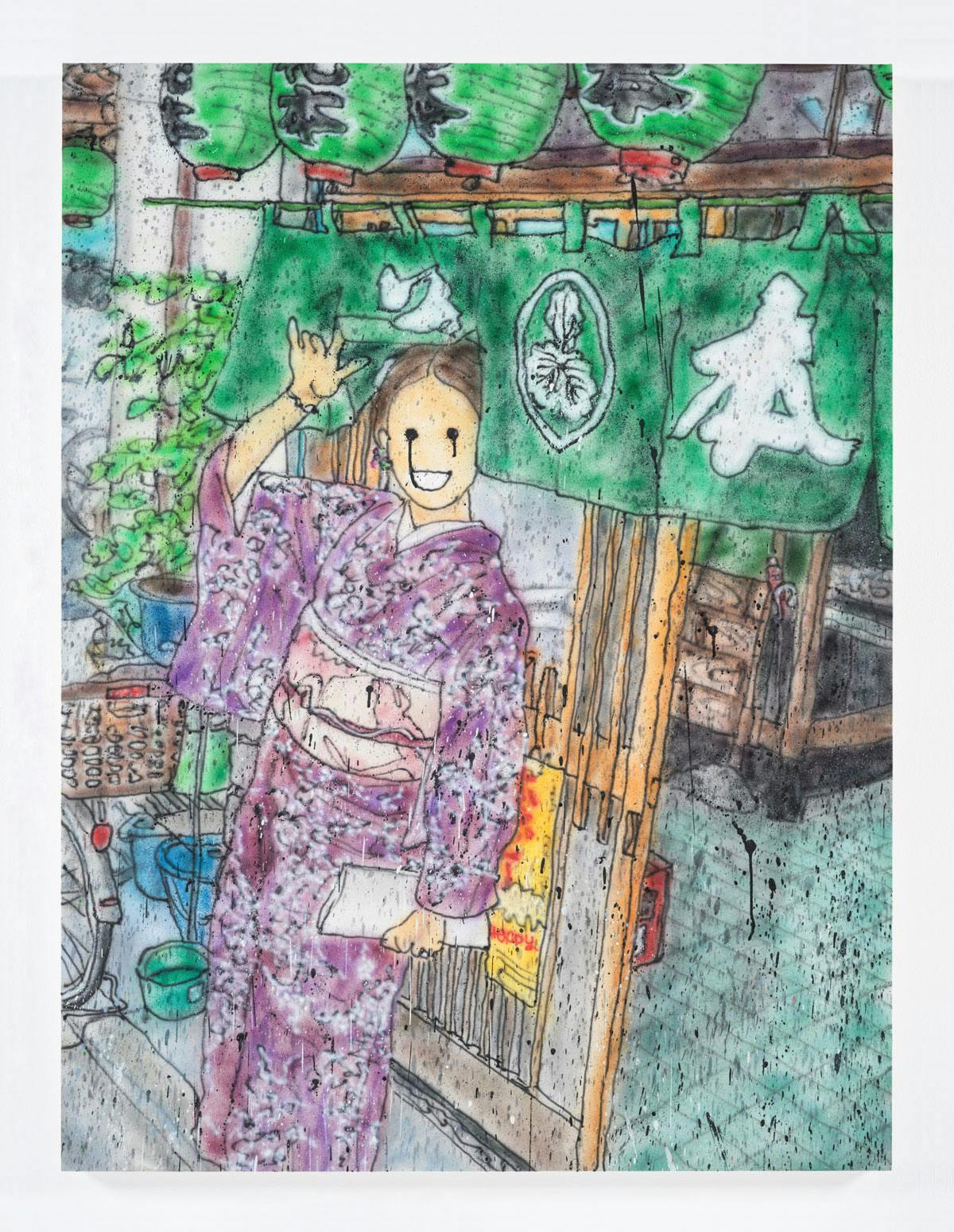 So you keep doing it because you're addicted to it in that way as well?
Yeah, I'm addicted to spray cans [laughs].
Are you excited that the Knicks are finally doing well again?
I went to a game the other night at Madison Square Garden! It was my first time ever going there. I actually started crying during the National Anthem. All of those emotions just came back. I'm always happy for the Knicks.
Do you think you're kind of a good-luck charm for the Knicks? Like "MADSAKI returns; Knicks return."
I might be; Knicks fans get pretty superstitious. They might not let me leave.
Learn more about MADSAKI's "Hello Darkness, My Old Friend (I've come to talk with you again)" at Perrotin NYC.