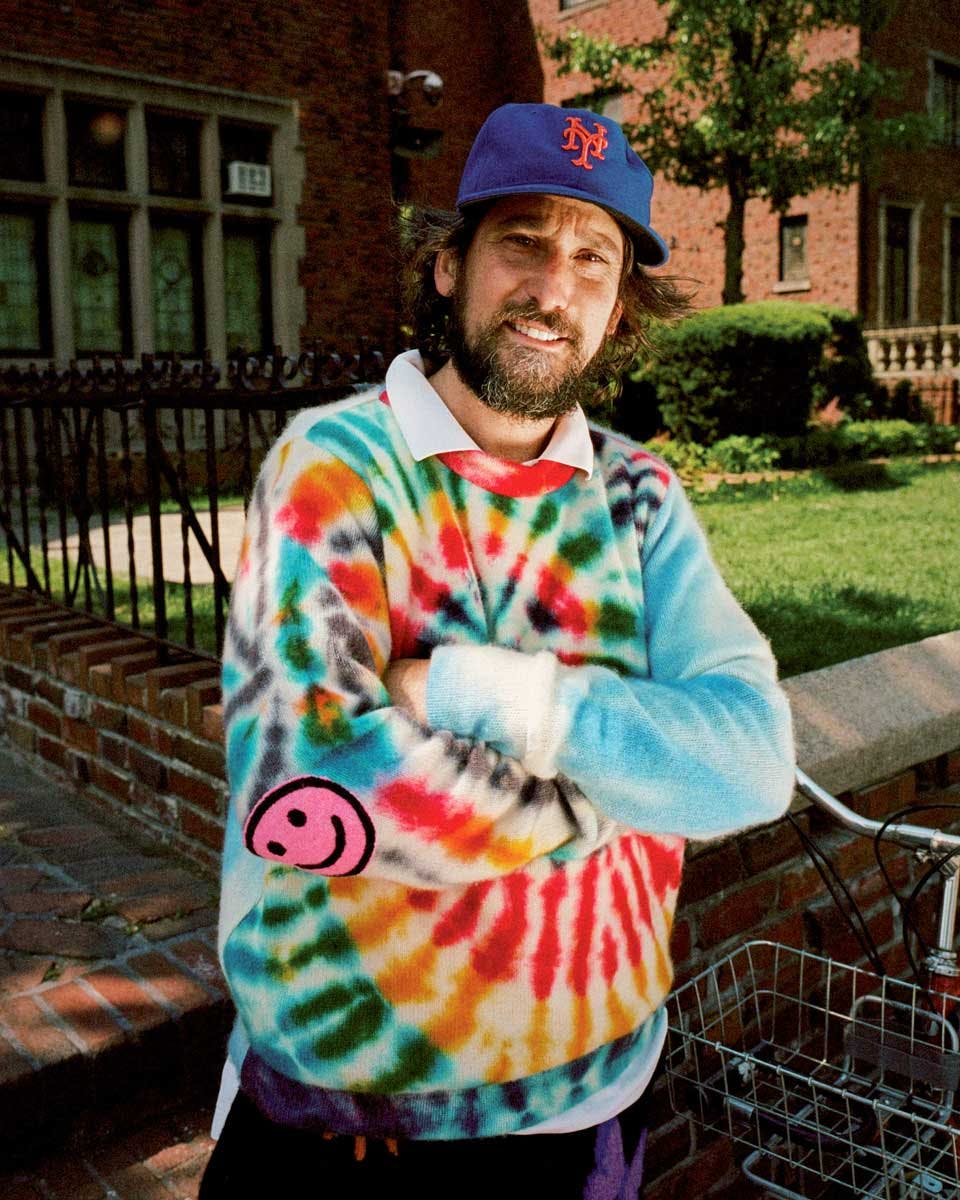 Mordechai Rubinstein, or Mister Mort as he's known online, knows good style. It's not that Rubinstein thinks a lot about what he wears, though, or he has certain stylistic expectations. Rather, Rubinstein has a thoroughly trained eye.
In the legacy of Bill Cunningham and Cartier-Bresson, Rubinstein's street style shots showcase the actual style of folks actually on the street actually wearing their actual clothing. Young and old, dressed up and dressed down, Rubinstein celebrates them all.
This inclusive spirit fuels his extensive collaboration with the cashmere kingpins at The Elder Statesman.
This cozy affair eschews snobby notions of cashmere as an expensive, exclusive textile; Rubinstein and TES instead celebrate the textile's all-inclusive comfort. This is cashmere for everyone, cozy clothing that knows no bounds of age, identity, or aesthetic.
As seen in the editorial imagery, Rubinstein, his partner, and various muses soak up the sun with mismatched patterns and playful proportion, upturning any notion of excess with cheeky layers and willful clashing. Embrace the uncoordination: perfectly color-matched outfits are so passé. It's time to have fun with clothing.
This collaboration comes as The Elder Statesman is exploring a direction that's extra whimsical, packed with color and pattern.
Though Rubinstein has only briefly dabbled in apparel design himself, his creative vision is a natural fit for TES' evermore expressive craftsmanship.
What brought you two together?
The mutual appreciation for fine and fun. I wanted to work with them because of the clothing and people.
Can you describe the collaborative creative process? Was it like you sketching designs, spit balling ideas with the design team, specifying fabrication, all of the above, none?
All of the above and then some. My daughter sketched in crayons and markers, while I blasted out and spitballed ideas left right and center. With the 3 hour time difference, I felt like we could just shoot my thoughts and ideas and photos off to Caliland anytime I had them. It was truly marvelous to see my thoughts spun into cashmere. A dream realized.
What's your favorite piece?
The all-over icon sweats. What're the fundamentals of good style?
Being comfortable in your own skin, dressing for YOU.
How should people wear this collab?
Wear on any day the elements call for cozy, extra great for PTA meetings.
Is this Elder Statesman partnership part of bigger dive that you're planning to take into apparel design?
I've wanted to make clothing since I first put a suit on for my bar mitzvah. It took a special company to take the chance with, and believe in, me and my vision.