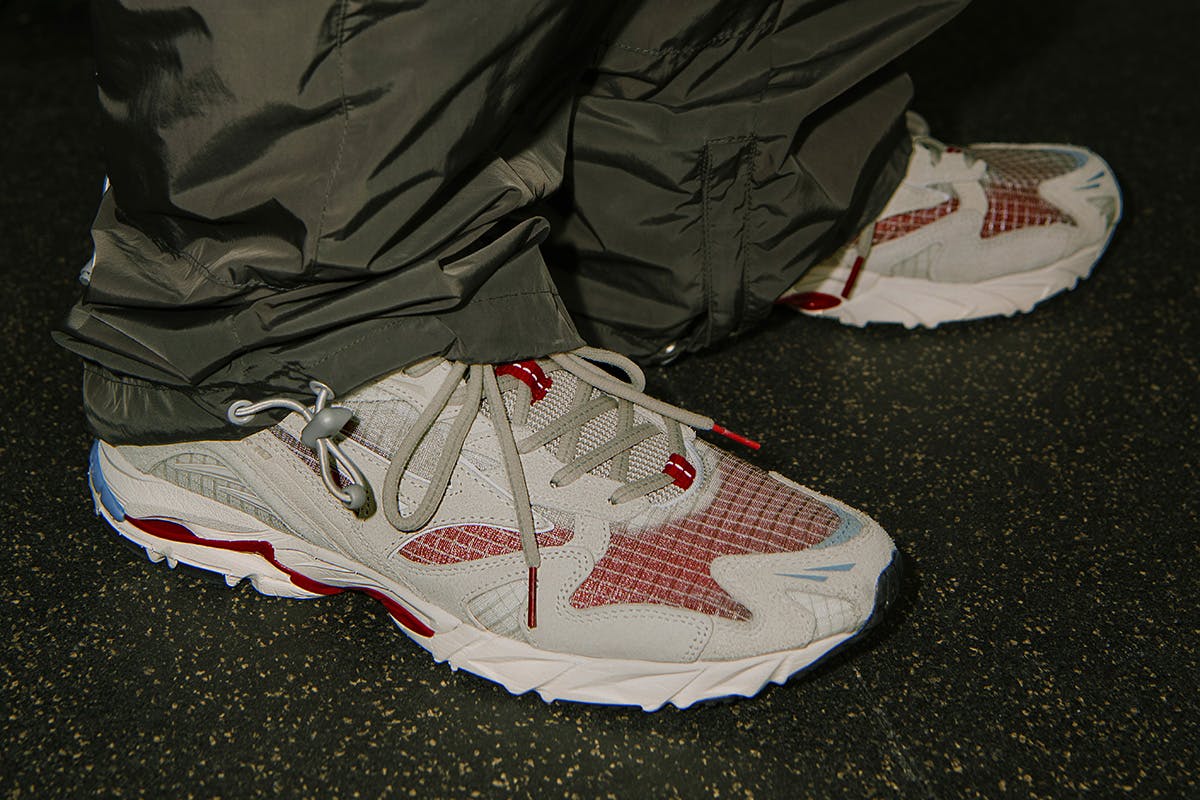 Quality. Tradition. Craftsmanship. Community. These Japanese values are mirrored in sneaker and streetwear culture. It's a theme that has accompanied Highsnobiety on its journey from an upstart blog — when it was still a one-man show run by founder David Fischer — to the publication and brand it is today.
Those same values play a big role in our latest collaboration: a special makeup of Mizuno's most popular sneaker, the Wave Rider 10.
The Wave Rider 10 is a sneaker characterized by duality. While it is a household name among runner-obsessed sneakerheads, it's also still a relative niche shoe overall. It's the epitome of an "if you know, you know" type of sneaker. As the scene and its tastes become ever more homogenous (we're looking at you, "Panda" Nike Dunk Lows), seeing a pair on foot is a welcome break from the deluge of Dunks, Air Jordan 1s, or New Balance 99X, we've come accustomed to over the past two years. They're great sneakers — don't get us wrong — but sometimes it's nice to keep the culture on its toes.
"Mizuno only started to develop its Sportstyle range five years ago," explains Chris Alders, Mizuno's Global Marketing Manager.  "So, our true fans are a select group that have a real passion and commitment, since they are in tune with what happens in our running and other sports categories."
The Wave Rider 10 was released in 2007 as a performance running shoe (as have so many of our favorite silhouettes over the years). It featured the latest iteration of Mizuno's signature Wave cushioning technology, which made it one of the best running shoes on the market. Fifteen years on, the sneaker is still high-tech enough to technically do a job on the track, but has been born again as a certified lifestyle banger, thanks in large part to its unrivalled all-day comfort.
"The Wave Rider 10 is one of our bestselling Sportstyle products across the Globe. It embodies our DNA. The dedication to quality and premium materials is something that sits with in the Japanese tradition," Mizuno states. "It is innovative in its design, and can be both very retro '00s running or a premium product when it comes in full suede, giving it an almost casual feel."
The recurring theme of duality gives the sneaker a certain versatility that, along with its supreme comfort, makes it the perfect choice for people that want something with cultural heritage, but don't want to wear the same sneakers everyone else is. If past footwear trends are anything to go by, however, that dark horse status may not last much longer.
It's not farfetched to say that the Wave Rider 10 is Mizuno's equivalent to the New Balance 990 or ASICS's GEL-Lyte 3. Purely on comfort alone, the 15-year-old shoe stands head and shoulders above many of the sneakers that enjoy the limelight today. Add in its aggressive paneling and Y2k design, and Mizuno has a potential sleeper pick for shoe of the year (or at the very least, Top 10). That's where the importance of well-timed and thoughtful collaborations come in. Following link-ups with the like of WoodWood and Footpatrol, the Highsnobiety x Mizuno Wave Rider 10 underlines the Wave Rider 10's status as everyone's go-to '00s runner.
Tapping Hikmet Sugoer, an OG in the German sneaker scene to collaborate on this release, our take on the Wave Rider 10 blends this 2000s aesthetic with forward-looking design.
"It is simultaneously contemporary and timeless," says Sugoer. "It looks like a shoe from the '90s or '00s, but could also be a shoe from the future."
The collab is inspired by light and the importance of white balance — particularly in the world of fashion, where two photos of the same product can end up looking vastly different if the white balance is off. The colorway and its inspiration aim to bring balance to the sneaker's duality.
"The upper features a translucent material to remind the wearer of the invisibility of light. That is combined with premium suede, ballistic mesh and leather. Pops of red and blue represent both ends of the color spectrum," explains Sugoer.
"Light influences everything you see. Every color is due to light, and properties of light are reflected in the materials and colors used on this shoe."
The Highsnobiety x Mizuno Wave Rider 10 will drop at the Highsnobiety Shop December 2 at 10 am CET.