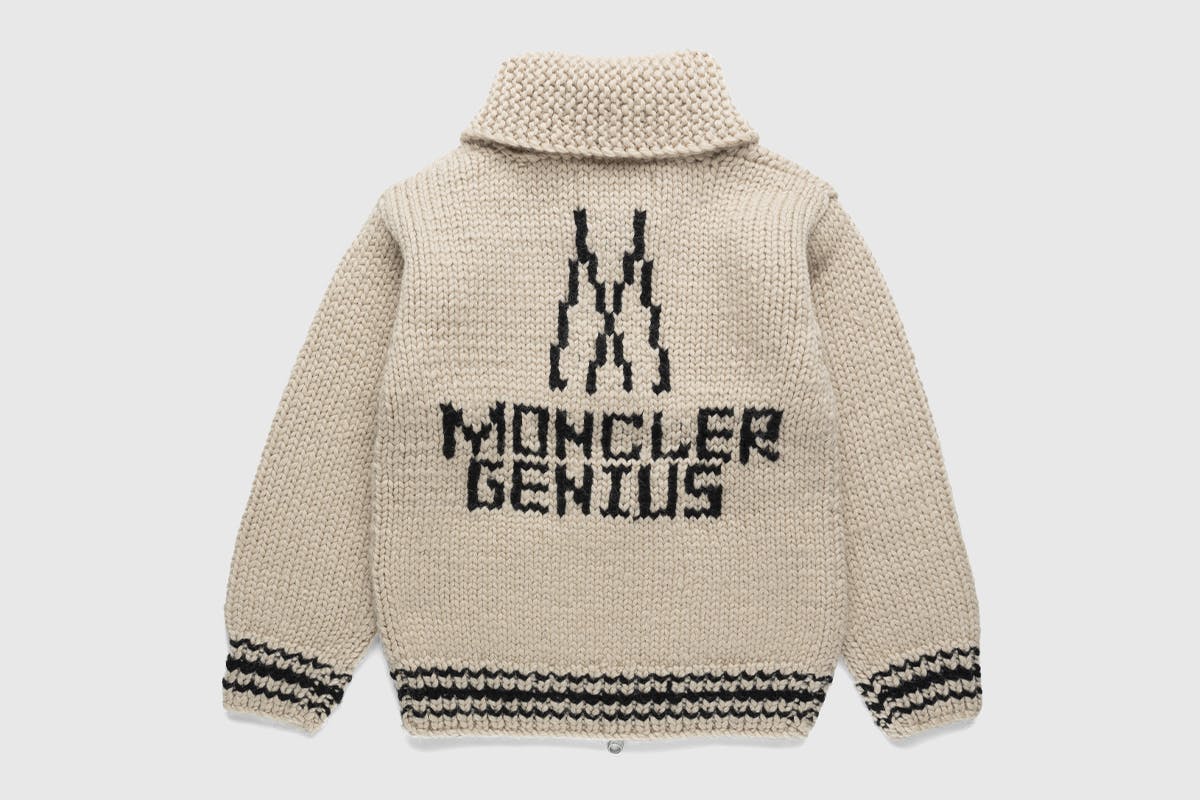 On Monday, we announced that Moncler would be launching its new project, House of Genius, bringing with it a curated selection of products chosen by Highsnobiety's very own David Fischer. The drop arrives this Thursday, November 4 and to say we're excited would be an understatement.
Earlier this month, we announced that Moncler would be launching its new project, House of Genius, bringing with it a curated selection of products chosen by Highsnobiety's very own David Fischer. Now, fresh items from the huge release are here and to say we're excited would be an understatement.
The entire drop includes exclusive collabs from Advisory Board Crystals, Kanata, Mattel, G-shock, and Hoka. Elsewhere, there is Moncler Genius pieces, waterproof bags from cult German outdoor brand ORTLIEB, a throwback camera from Fujifilm, and a holiday-ready chess set.
Browse some of our favorite pieces from the collection below.
Moncler Genius Kanata Hand Knit Sweater
A knit sweater is a classic gift for a reason. Upgrade the tradition with a hand-knit version made from Shetland wool by luxury Canadian brand Kanata.
Moncler Genius x Mattell Uno Cards
The holiday season is officially here, and obviously you're gonna kill time by playing card games with your family. What better way to flex on your cousins than with a special Moncler edition of Uno.
Moncler Genius Workwear Jacket
We recently explored why fashion and hip-hop are so obsessed with workwear — and we're equally as obseesed with this quilted workwear jacket.
Moncler Baseball Cap
Baseball caps are styling cheat codes, put one on and it pulls together your whole fit. Black ones are obviously the most versatile and the cinch cord detailing on back makes this version stand out.
Moncler Mitten Gloves
Who needs touchscreen gloves? Go back to basics with these insulated mittens that will keep your hands toasty — and unable to doomscroll. Win win.
Moncler Genius Bucket Hat
Bucket hats are firmly part of our rotation and this reversible nylon and curly sherpa faux fur version gives you two totally different looks in one.
Moncler Genius x HOKA - Mafate Speed 2 Low Top
Moncler x HOKA ONE ONE is a collaboration we didn't see coming, which is what makes it so brilliant. The collaboration sees two giants in their respective spaces meet and create a product that makes sense. It's exactly how sportswear and luxury should coexist. HOKA's running know-how matches up well with Moncler's luxury outdoor aesthetic, resulting in one of the must-cop collabs of the season.
Moncler Genius x CASIO - G-Shock GM 2100 1AER Watch Multi
Moncler has tapped famed electronics brand Casio for a collaboration on its iconic G-Shock GM1200 watch. The model is smaller and less bulky than G-Shock's most famous models, but it still packs quite the outdoor punch.
Moncler Genius - Aspen City Patch Puffer Jacket Black
Everybody needs a winter jacket, and Moncler make some of the best ones. This City Jacket is designed for urban wear, and comes complete with a detachable and customisable velcro city patch — collect all 10 to update your jacket on the regular.
Moncler Genius - Stadium Scarf Black White
Supporter scarfs will never go away, show your true fashion allegiance with Moncler's stadium scarf.
Moncler Genius - Socks Black & White
Everyone needs a pair of tube socks. Bonus points, they also make the best present for those on your gift list.
Moncler Genius - T-Shirt White
A classic white tee is always a good idea.
Moncler Genius - Sherpa Fleece
We're big fans of fleeces and for a reason, a fleece jacket is one of the most wearable and comfortable pieces you can own. Moncler's version combines faux lambswool with leather-like detailing resulting in a strong mix of textures.
Moncler Genius x YETI - Rambler 18z Bottle Black
YETI is the GOAT of water bottles and this collab bottle is one of the best.
Resuable water bottles are now firmly part of our everyday rotation, so why not add a water bottle bag to the mix?
Moncler Genius x Fuji - Instax Square Camera Black
Capture you memories IRL with Fujifilm's Instax Square Camera that creates instant printable images.
Moncler Genius - Basic iPhone Case Black
We see your cracked iPhone case, protect your phone (and your vibes) by ditching your old case and upgrading to this one.
Moncler Genius - AirPod Case Black
The same goes for your AirPod case — we know you already lost the Apple one anyway.
Moncler Genius - Susten Nylon Hoodie Jacket Black
Taking cues from streetwear, this nylon hoodie jacket is your perfect transitional outwear piece. Styled like a zip-up hoodie, the jacket has hidden quilting for extra warmth.
Moncler Genius - City Patch Pin Set Multi
Perfect for showing off your favorite cities (or to remember a time when travel was a lot easier), Moncler's City Patch set is commemorates each city involved in its AW21 collection.
Moncler Genius - City Patch Shopping Bag Multi
Not into pins? Cop the tote bag version instead.
Moncler Genius - Hoodie Black
You always need a trusty black hoodie in your collection.
Moncler Genius x Ortlieb - Duffle Bag 60L Black
In keeping with the city theme of the collection, Moncler has made the ultimate weekend getaway bag.
Moncler Genius - Mr. Crazy Key Chain Yellow
Add a little fun to your keys with Moncler's signature character, Mr Crazy, decked out in a yellow puffer jacket.
Moncler Genius - Playing Cards Set Multi
Just watch the Card Counter and now suddenly all you want to do is play poker? Impress your friends with this playing card set next game night.
Moncler Genius - Chess Set Black
Or update your 6th-grade chess set to something decidedly more grown-up.
Moncler Genius x ABC
The Moncler x ABC collab is one of the drops we're most excited about. Drawing from University iconography, the release combines ABC's signature trippy style with Moncler's timeless aesthetic. Including hoodies, crewnecks and socks, these pieces are anything but basic.
Moncler Genius x Kaweco - Classic Sport Pen Black
the holidays are coming up and this collab from renowned German pen company is perfect for those hard-to-shop for people on your wishlist (we're looking at you, dad).
Want to keep browsing? Head to the Highsnobiety Shop for more products that we love.