Last night MTV aired the 2020 edition of the VMAs, the first show of its calibre to be filmed and broadcast during a global pandemic.
This year's event – hosted by Keke Palmer – was filmed against a green screen of New York City frozen in an image of its former hustle-and-bustle self. The glaring lack of a live audience underpinned a dystopian precedent, offset by the Black Eyed Peas performing 2009 hit "I Gotta Feeling" (sans Fergie), which did its best to keep spirits high with residual pop nostalgia.
The VMAs' format was updated to reflect the state of our times with new categories such as "Best Quarantine Performance" and "Best Music Video from Home" being added and awarded to CNCO and Justin Bieber respectively.
The ceremony was dedicated to the memory of Chadwick Boseman who won an award for "Best Hero" at the MTV Movie Awards in 2018, and in turn passed it on to IRL hero James Shaw Jr who saved lives that year by disarming a gunman at a Waffle House in Tennessee.
By virtue of being an awards show hinged around music videos, the VMAS are a cornerstone of the MTV universe and a veritable hub of agenda-setting live performances and pop culture moments that still reverberate today, be it the Madonna and Britney kiss or the historic Kanye and Taylor beef.
This year's VMAs were comparatively free of controversy with Lady Gaga taking home 5 awards and about just as many outfit and mask changes as well. Other notable winners included Megan Thee Stallion for Best Hip Hop Video who accepted the award virtually, marking the artist's first public appearance since news of her shooting, meanwhile BTS cleaned up, taking home every award they were nominated for including Best Group, Best K-pop, Best Pop and Best Choreography.
In pre-Covid times, an event such as the VMAS would give us hundreds of celebrity looks to peek at. However, under current circumstances the crop of celebrity fashion was limited to performers and hosts.
Nonetheless, here's a look at the "red carpet" celebrity style moments in the Covid-19 era – ostensibly pre-shot at various remote locations many days before airing, which is just as weird as it sounds.
Maluma
Maluma performed his single "Hawaii" to a micro-audience arranged in socially-distanced Toyotas. The singer brought some optimistic flair to the occasion in a custom-made suit by Balmain in highlighter yellow.
Miley Cyrus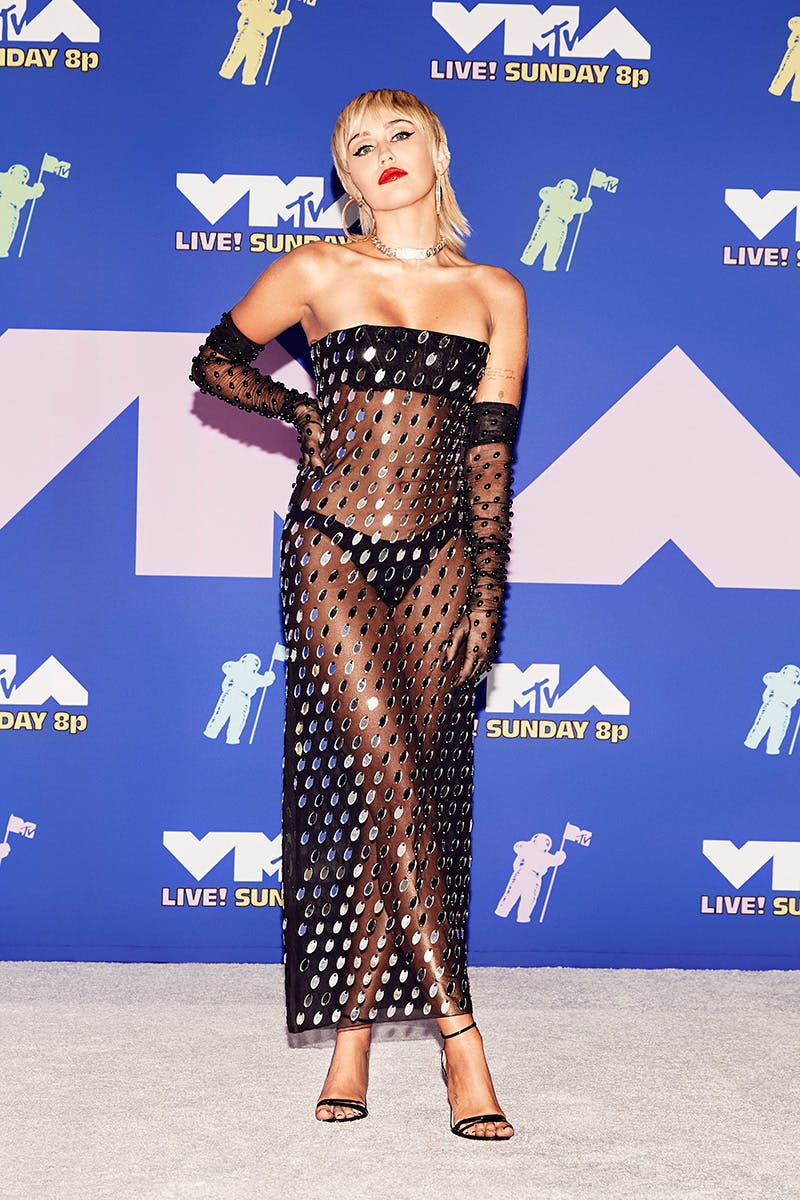 Miley Cyrus inaugurated her new She is Miley Cyrus era in a sheer gloved dress from Mugler's Fall 2020 collection.
Bella Hadid
Bella Hadid wore a piece from Albanian designer Nensi Dojaka's FW20 collection. The supermodel looked like the mid-'00s incarnate with an up-do hairstyle, extreme cat-eye liner, and steeply inclined brows.
Machine Gun Kelly
MGK donned a pink sleeveless turtleneck, dress pants, and creepers all from Berluti and accessorized with an insouciant blazer-over-the-shoulder and decadent pearl necklace.
Lady Gaga Lady Gaga gave us glamor, future, and fashion Mothman in a silver dress and cape from Pierpaolo Piccioli's couture line for Valentino.
DaBaby
DaBaby performed "PEEPHOLE", "Blind," and "Rockstar" in pieces from Dolce & Gabbana, BAPE, and Supreme. Colorway inspired by Wario.
The Weeknd
The Weeknd committed to the bit with a repetition of his '80s-inspired outfit from the "Blinding Lights" video – which subsequently saw the singer take home an award for Best Video of the Year – along with Best R&B.
Jaden Smith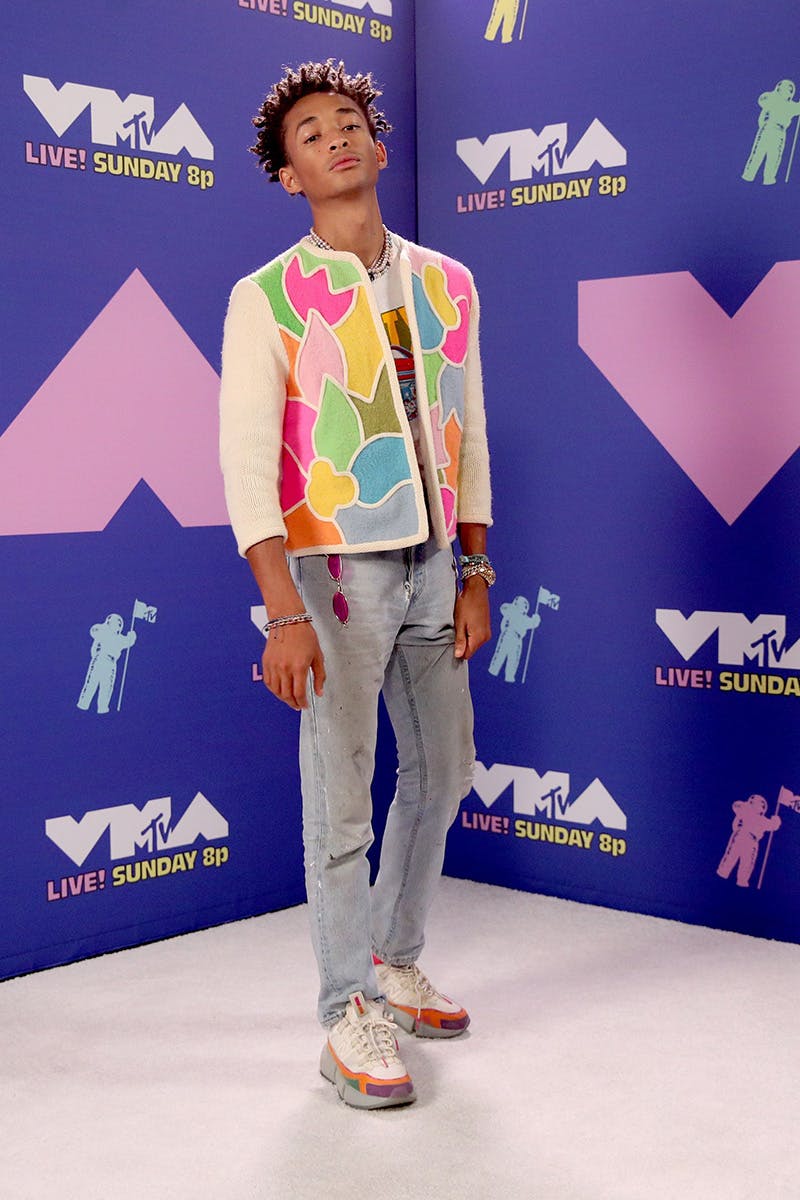 Jaden Smith persevered with a pastel color story as seen on the cover art from his new album CTV3, which he paired with a new colorway of his New Balance Vision Racer and a pearl necklace.