Two titans of German engineering, MYKITA and Leica, join forces on a collection of sunglasses centered around lenses with optical-grade quality developed exclusively for this collaboration.
The debut collection consists of two designs: a pure stainless steel concept and a line of hybrid frames that combine handcrafted stainless steel with MYLON, a material innovation from MYKITA made using 3D printing technology. The MYLON top bar on the hybrid models serves to close the gap between frame and the wearer's brow to protect eyes from overhead sun rays, mirroring the function of a camera lens hood.
A functional surface structure on the full stainless steel models, meanwhile, references the grip on camera lenses; the red lacquered edges on the lenses reduce peripheral light disturbances. Every model comes with specially designed nose pad arms for a personal, tailored fit.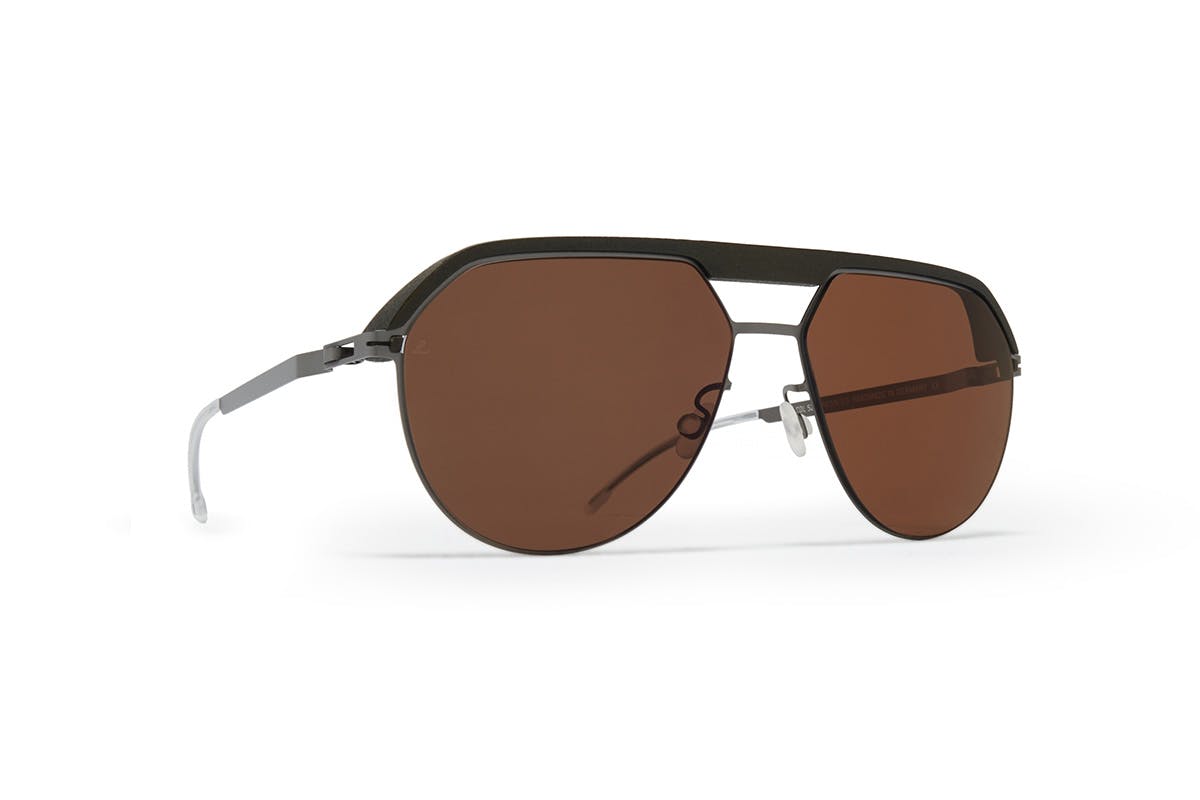 Leica enthusiasts will notice signature design elements, including a geometric lens shape, a reference to the frontal view of a Leica camera lens hood, in addition to distinctive lacquering inlays and the Leica font for the temple inscription. Finally, the muted color palette comprised of matte silver, black, taupe grey and red accents reflect Leica's signature approach to the color of its products.
The organic 1.6 index lenses, pioneered by MYKITA and Leica, are individually ground and polished from a cast lens blank in a process normally reserved for prescription lenses. In selected countries, the collaboration will also allow customers to order sun lenses customized with their own prescription. This allows wearers to receive the exact Leica lens of their choice, not the closest color match as is often the case.
The proprietary lenses are also distinguished by the specially developed AquaDura® Vision Pro coating, a Leica development stemming from extensive experience in the fields of sport optics and professional photography. The achromatic anti-reflective coating provides invisible protection against rear reflections without the usual color sheen. It also protects against water, dirt and damage, preventing fogging and facilitating easy removal of fingerprints and stains. All models offer 100% UV protection. Polarized lenses additionally filter harmful light components, such as glare and surface reflections.
Each pair of MYKITA x Leica glasses are handcrafted at the MYKITA HAUS in Berlin. Every lens in the collection is individually manufactured and undergoes the same quality control that all Leica optics and lenses are subject to. Lastly, each pair comes with a certificate of authenticity, verifying its single-unit production with a unique serial number.
The MYKITA x Leica collection will be available from June 2020 in MYKITA Shops and selected Leica Stores, as well as online through mykita.com and leica-camera.com.
To learn even more about how this collaboration came to be, we sat down with MYKITA founder Moritz Krueger.
MYKITA and Leica are both known for their engineering expertise. With so much knowledge on either side, where do you even start for a collaboration like this?
With so many parallels between our companies – two German manufacturers with shared ideals and design principles – there was no question that the brands work together, but a purely brand-driven eyewear product with Leica styling would do neither side justice. So, it was a logical starting point with an in-depth analysis of what each party would bring to the table.
The launch of Leica Eyecare was the tipping point that set the collaboration in motion. Now we had the perfect lens and so at MYKITA we had a look into our own engineering toolbox to see how we could add to the functional value of the product as a whole, which comes through in design details such as the lens-hood inspired MYLON top bar on the hybrid models, the grip structure on the stainless steel temples, or the red-lacquered lens edges. These are functional elements that quote the Leica design language while creating a signature MYKITA aesthetic.
What was the process like of developing proprietary lenses for this product?
In short, it was a super satisfying process to work with a partner that is bringing so much expertise and experience from their field and is equally obsessed with perfecting the details.
At MYKITA, all eyewear models are individually crafted and assembled – so it was incredibly exciting to have access to the modern production facilities of Leica Eyecare and be able to create sunglasses where the manufacturing integrity of the lenses matches that of the frame.
In contrast to standard sun lenses which are mass produced, prescription lenses are by definition always individually ground and polished from a cast lens blank to suit the wearer's requirements. The lenses we developed for the collection use the same material and single-unit manufacturing method with the addition of tinted UV filters to provide the functional features of sunglasses.
It might be a super geeky detail but the patented AquaDura® Vision Pro coating is really the icing on the cake for me with this product: most lenses come with an anti-reflective coating – a so-called AR coating – which stops the reflections on the inside of the lens. This is what normally leaves a color sheen on otherwise monochromatic sun lenses. AquaDura® Vision Pro is "achromatic," completely invisible if you like, so there are none of these color shifts which adds up to a super clean aesthetic.
Can we expect to see further collaborations in the future? Perhaps a MYKITA x Leica camera?
We are working on a few different topics, always with a clear idea that the product itself should benefit from the collaboration. There is definitely more to expect from this partnership than eyewear.