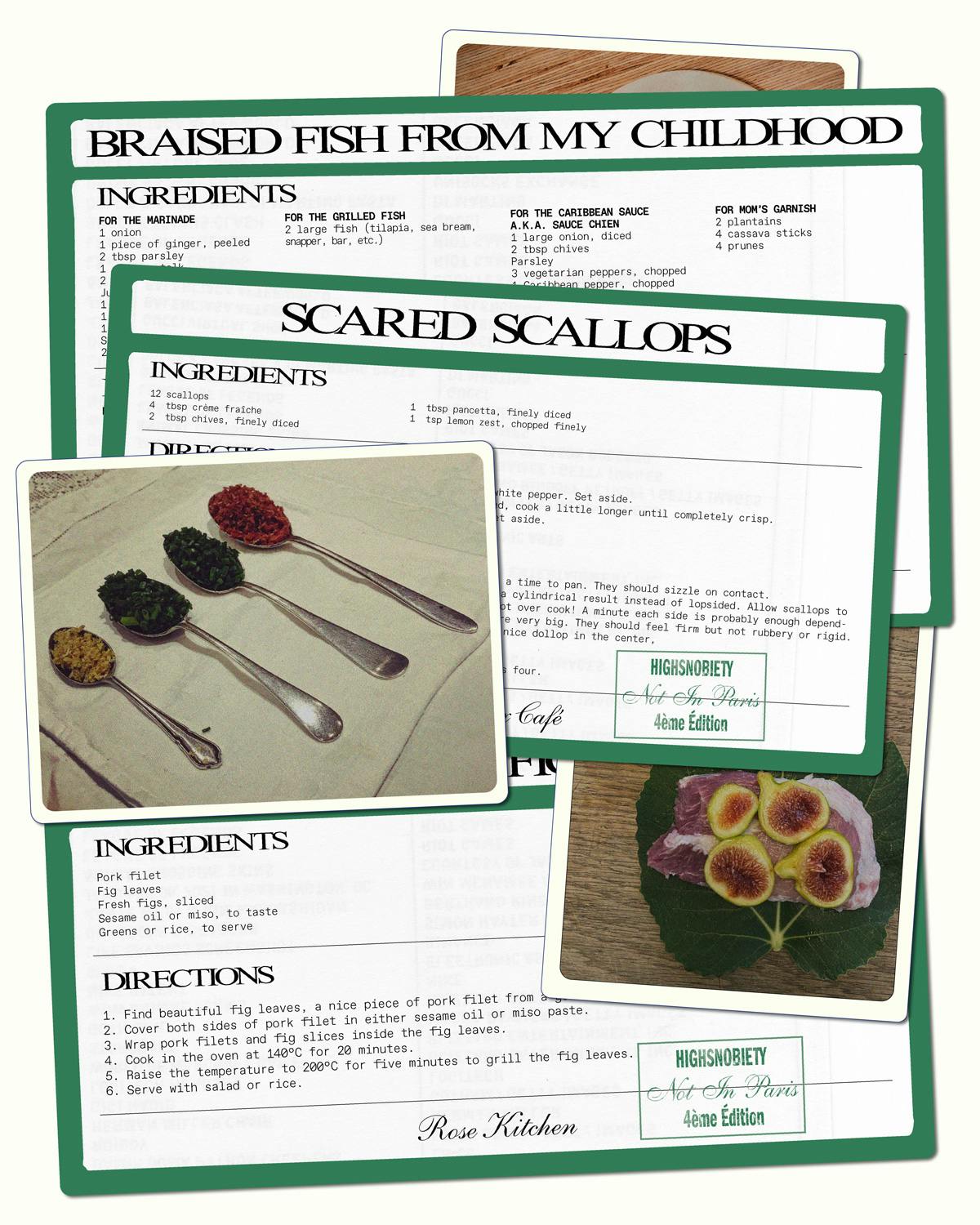 The 4ème édition of Not In Paris is finally here. With over 20 brand collaborations and exclusive content, it's our biggest one yet. Explore the series here.
Parisian food culture is a world of extremes. The city is home to "some of the best food in the world, along with some of the worst," according to Phil Euell of Boot Cafe, the Le Marais coffee shop that suits many idyllic images of French cafe culture.
Tradition reigns supreme both in many Paris kitchens and in the popular imagination of the City of Lights, but it's the variety and innovation you can find in the French capital that makes it a top gastronomic destination. "Of course there are fantastic traditional brasseries which we love and return to time and again, but if you look a bit deeper there is a wealth of different cuisines to explore," says Nicolas Ricouard, sous-chef to wine bar Le Mary Celeste. "There's always a gem to find no matter where you find yourself in Paris."
For the times you don't find yourself in Paris, we've asked some of our favorite chefs and restaurants to provide us with a recipe of their choosing. Read on for a taste of Parisian food culture you can make from home.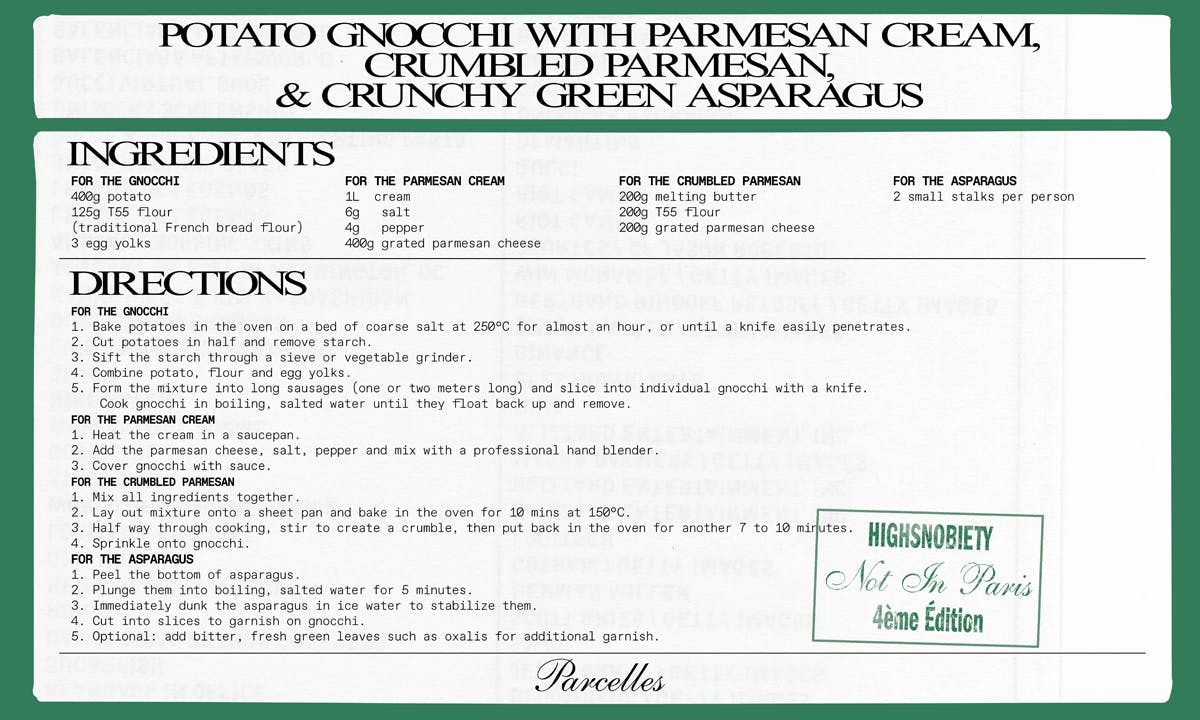 Parcelles - Potato Gnocchi with Parmesan Cream, Crumbled Parmesan, and Crunchy Green Asparagus
"Fresh and seasonal produce are our religion," says Sarah Michielsen, owner of Parcelles, a new favorite on the local bistro scene. While sweetbreads and veal are a speciality of the restaurant, Michielsen loves this gnocchi as a cozy, vegetarian-friendly, early summer dinner. At home or at Parcelles, a good wine is a must.
MoSuke - Mafé Sauce Beef
MoSuke checks many of the boxes of what Parisian restaurants have to offer: a mix of cuisines, the best ingredients, all prepared to perfection, with a Michelin Star to boot. In MoSuke's case, those influences are primarily Africa and Japan under the tutelage of chef and owner Mory Sacko, who also runs fried chicken joint MoSugo. For his beef cooked in the West African mafé sauce, he advises coating the beef chuck in shea butter and refrigerating it for several hours, which will melt down to keep the meat tender when cooking.
Le Mary Celeste strives to push the boundaries of guests' expectations of a classic wine bar, so as to keep diners always coming back to see what's next. This take on deviled eggs, flavored with sesame oil and soy sauce and topped with fried wild rice, exemplifies that approach. "Since the opening of Le Mary Celeste in 2013, chef after chef has passed along this recipe to tweak and improve it," says chef Nicolas Ricouard. "I like it because it's simple and a very nice twist on 'oeuf mayo,' a classic French dish."
Rose Kitchen - Grilled Pork Filet with Figs and Fig Leaves
Bangkok-native Rose Chalalai Singh has been a fixture of the Paris dining scene for years, delighting the arts and fashion crowds in particular. It's perhaps only fitting then that her newest venture, Thai spot Rose Kitchen, is tucked away alongside the historic Marché des Enfants Rouges. Her take on pork filet puts beautiful ingredients first and foremost, spotlighting figs at the height of the season.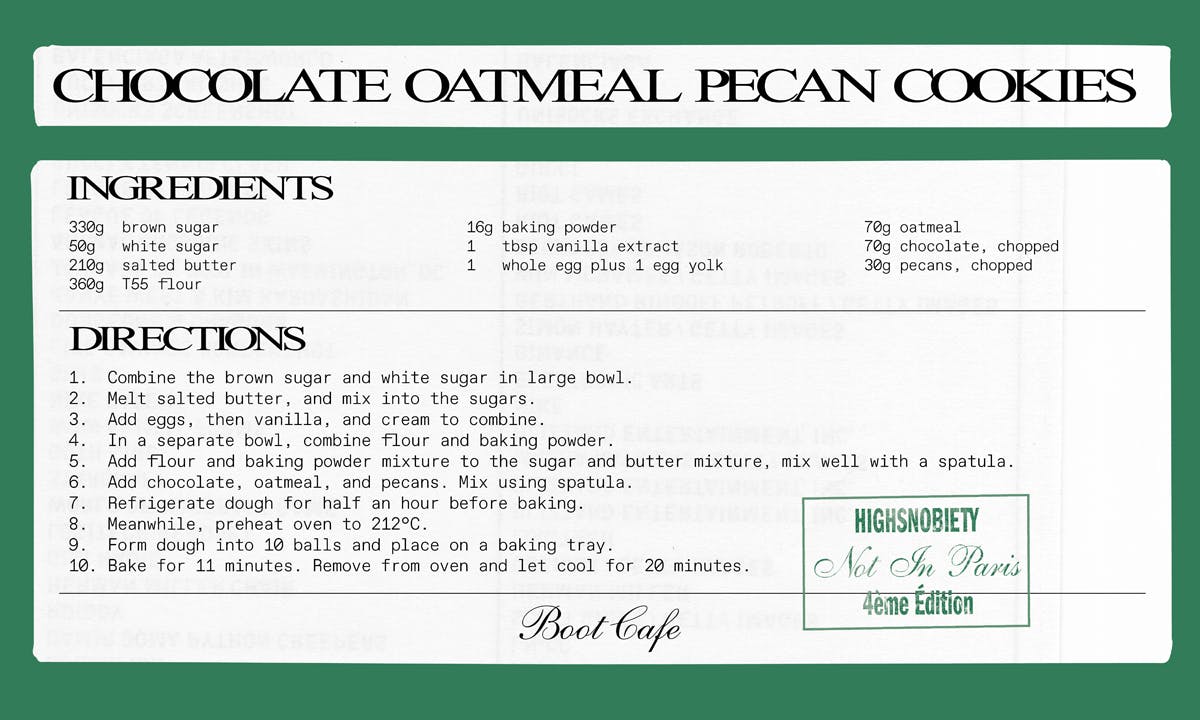 Boot Cafe - Chocolate oatmeal pecan cookies
Boot Cafe's approach to food is romantic and decadent, according to co-owner Phil Euell. Which is exactly what you want from any baked goods, Parisian or not. "It's just big and soft and crunchy, sweet and salty," says Euell of the cafe's chocolate oatmeal pecan cookie. "The perfect afternoon snack with a single origin Kenya espresso." To fully follow Boot's style, be sure to use all organic ingredients.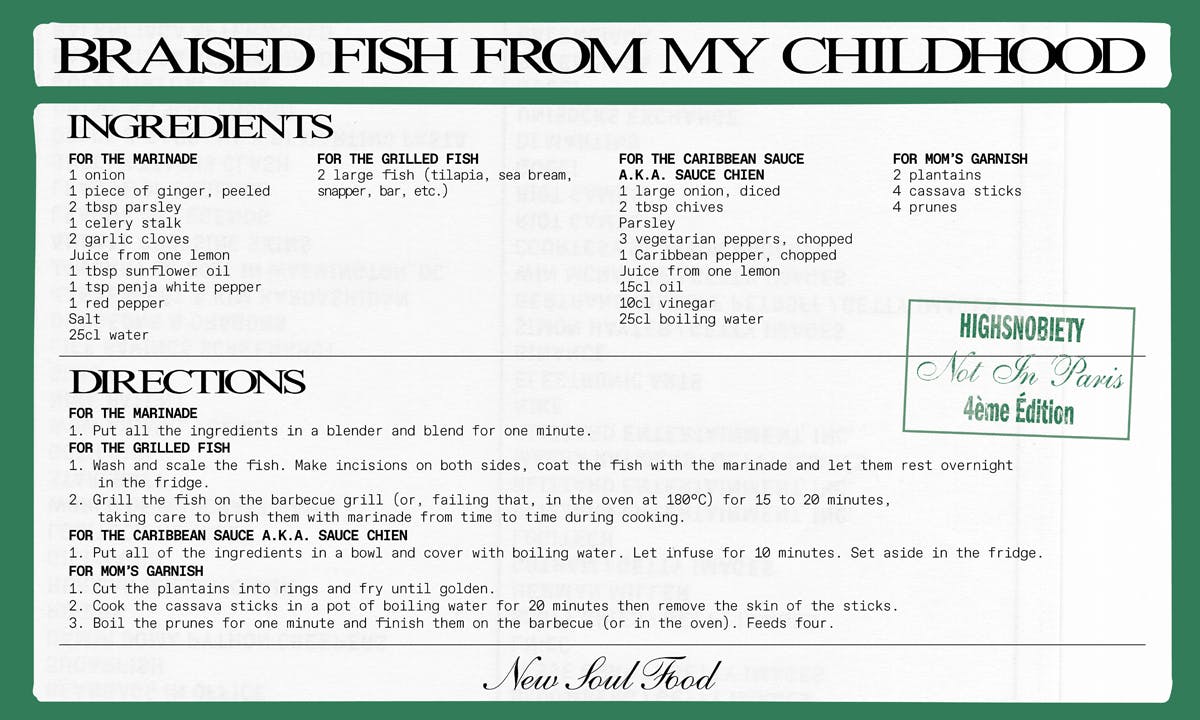 New Soul Food – Braised Fish From My Childhood
"The Parisian culinary culture revolves around the same offers with some variations following the trends but this remains the place where we can eat any dish from any country," says Rudy Lainé. Along the banks of the Canal Saint-Martin, Rudy and his brother Joël are part of a wave of soul food restaurants popping up in Paris with their appropriately named restaurant, New Soul Food. In this dish, you can find the influence of a plethora of countries. "In Africa and the Caribbean, we eat braised fish and I took as an accompaniment the best of each thus bringing together the two communities in a single dish," says Rudy.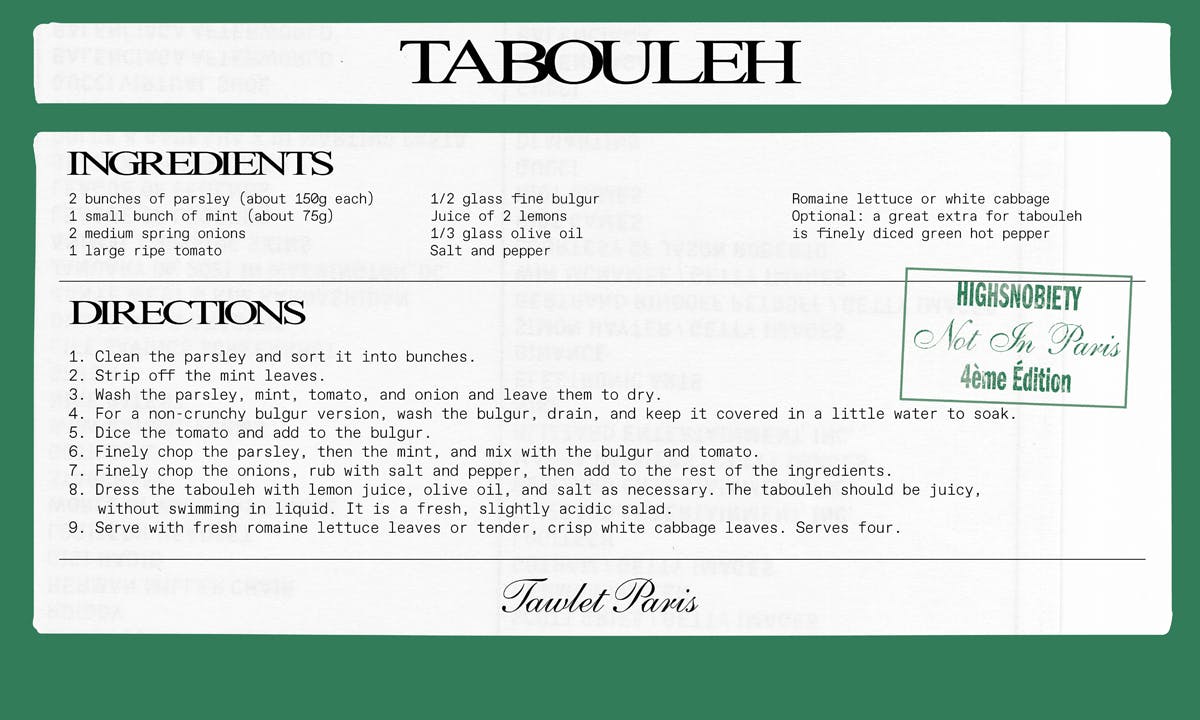 "There is nothing more offensive to a Lebanese than a bad version of tabouleh," says Kamal Mouzawak. Prior to opening Tawlet Paris in the city's 11th arrondissement this year, Mouzawak founded Souk El Tayeb, Lebanon's first farmer's market. Tabouleh remains for him a daily celebration of Lebanese culture, and while everyone has their own preferences for the proportion of bulgur to lemon juice to produce, he has a few rules: parsley, and lots of it, chopped finely with a sharp knife, and no substitutions for the bulgur, please. "Variations and interpretations are of course possible, but for the love of tabouleh, call them something else," he says.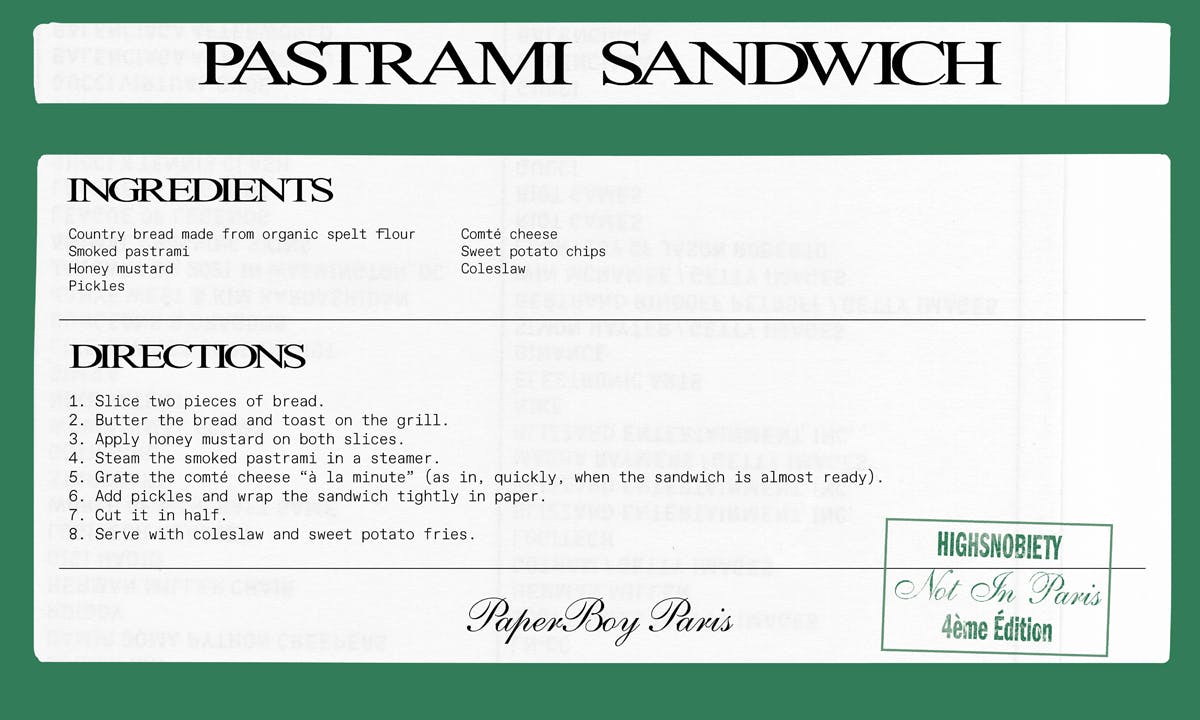 Though known for collaborations with the likes of New Balance and BEAMS, PaperBoy Paris is still about the sandwiches. The little Marais spot founded by James Dridi draws a hip crowd for its mix of Americana classics like chicken biscuit and eggy breakfast sandos, along with Japanese influences like tuna tataki. Grab your best deli paper and try your hand at their pastrami sandwich from home.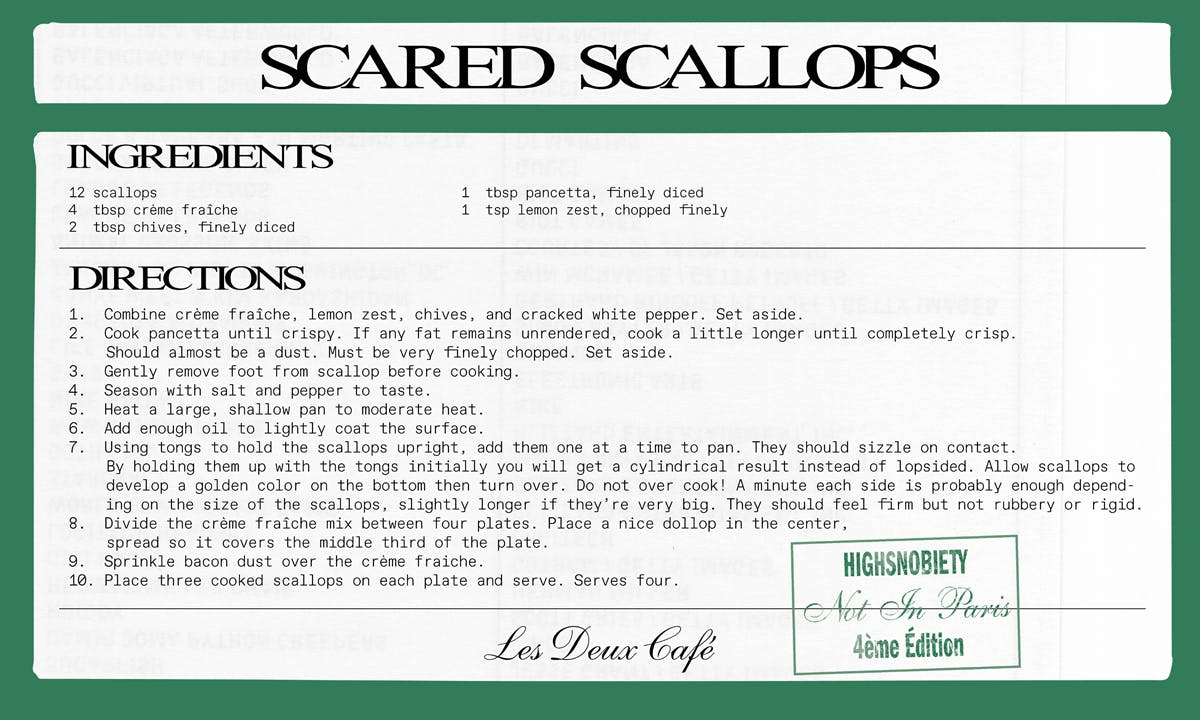 "Scared Scallops" from Les Deux Café
"In terms of my style and approach to cooking – 'slut' meets 'raffiné,'" explains Michèle Lamy. Prior to moving to Paris, the Owenscorp co-founder helmed the Los Angeles hot spot Les Deux Café. She recalls that on the opening day of the French restaurant, a typo on the menu accidentally labeled "seared scallops" as "scared scallops." "Of course it stuck and they were referred to as such from there on," Lamy adds. She is currently working on bringing Les Deux's spirit to London with a new spot alongside one of the restaurant's former chefs, Isis Neal. But Les Deux's original magic is very much a "you had to be there" kind of place.
"The dish is meaningful as it dates to my Les Deux days – and for those who were there – no explanation required!" Lamy says of the scallops. Don't be frightened to try them at home though.