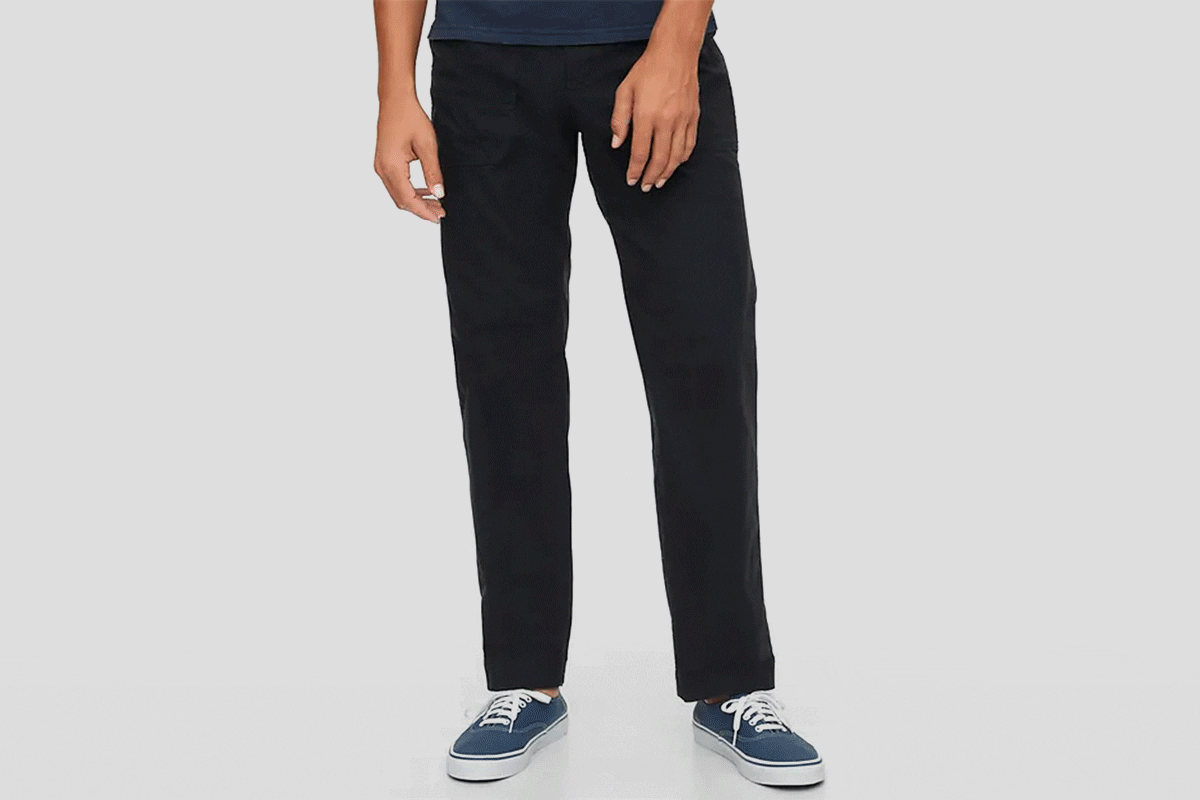 Pants are often unfairly overlooked in wardrobe budgeting for highlight jackets or footwear. When the winter sales roll around, we're betting that you don't usually filter to trousers first, unless you're specifically on the search for a pair. Why is that? Trousers literally hold your fits together, standing as the border between upper body and shoes, so it's essential to get the right pair or your underselling your jacket and kicks.
The only downside is that shopping for pants can build up quite a bill. The tailoring and materials that go into a pair of great pants often warrant a hefty price tag that we'd rather put towards a jacket that'll always be on show. That's why pants should be top of the list when you're shopping the sales. Pants on sale are a rarely explored category and a category that often contains some of the brightest gems on offer. So, we took to the net to round up some of the best pants on sale, from Dickies to Margiela.
Shop some of the best pants on sale below.
GAP Utility Pants with GapFlex
You don't need to drop three figures for a pair of go-to staple pants. This pair of utility pants from GAP are super versatile, providing the perfect foundational building block to any fit.
Dickies Exclusive Corduroy Double Knee Pant
We love workwear updates, so we're totally on board with this corduroy reworking of double-knee pants by Dickies. The style, developed for carpenters, features reinforced panels to each knee that provide new intrigue to the straight-leg tailoring.
Jacquemus Le Pantalon Simon Pants
Jacquemus' Simon Pants reinvent the cargo pant with southern French appeal. An extended, baggy leg falls as effortlessly as life rolls along in the sunshine of Provence.
Ahluwalia Studio Safari Trousers
Cut from a responsibly sourced wool blend, these checked trousers from Ahluwahlia reference the year 1965 when founder Priya Ahluwahlia was born. Pressed creases give the pair shape, but the black & red check motif steals the show.
Dries Van Noten Herringbone Drawstring Wool Pants
Dries van Noten finds a beautiful tension between sophisticated tailoring and relaxed loungewear with these herringbone drawstring pants. Crafted from pure wool, they're versatile enough to be worn with a blazer or a hoodie.
COMME des GARCONS Beige Twill Trousers
It's essentially a pair of slacks, but COMME des GARÇONS doesn't really do 'essentially'. An unorthodox sheen to the canvas twill construction offers up a new, refreshing angle on this pair which features classic tailoring and creases to each leg.
Phipps Paneled Organic-Cotton Trousers
Phipps' workwear-inspired Paneled Trousers are punctuated by gold-tone rivets which hold a selection of darker patches in place around two central knee reinforcements. This heavyweight pair will last years thanks to a durable organic cotton construction.
Wales Bonner Garbadine Trousers
If you're already looking forward to the summer months and the lighter materials you can wear then this pair of Garbadine trousers from Wales Bonner should do the trick. Bold red topstitching offers a flair we know and love from Wales Bonner.
Aries Windcheater Pants
Aries is not a brand you should look to if you're hoping to keep things toned-down. This pair of Windcheater Pants is fully reflective. Talk about highlight pants.
Maison Margiela Side Line Trousers
Classic, subtle, pretty much perfect. Maison Margiela's Side Line Pants have a strong shape thanks to pleats leading into a bold crease down each leg which offers the pair tailored structure.
Paria Farzaneh Lost Trousers
Paria Farzaneh goes for a classic cargo pants silhouette for the Lost Trousers which are cut from pure cotton and feature elastic toggle to the cuffs for a customizable fit.
GmbH Recycled Haseen Cargo Pants
GmbH's Haseen Cargo Pants are made from Econyl, which is a fully recycled nylon fabric. Zips to the knees mean this pair extends past winter into the transitional months and even summer.
Sunnei Elastic Lounge Pants
Milanese label Sunnei makes this pair of long pants its own with a contrasting topstitch throughout to outline the relaxed fit.
Our designated Selects section features products that we love and want to share with you. Highsnobiety has affiliate marketing partnerships, which means we may receive a commission from your purchase.