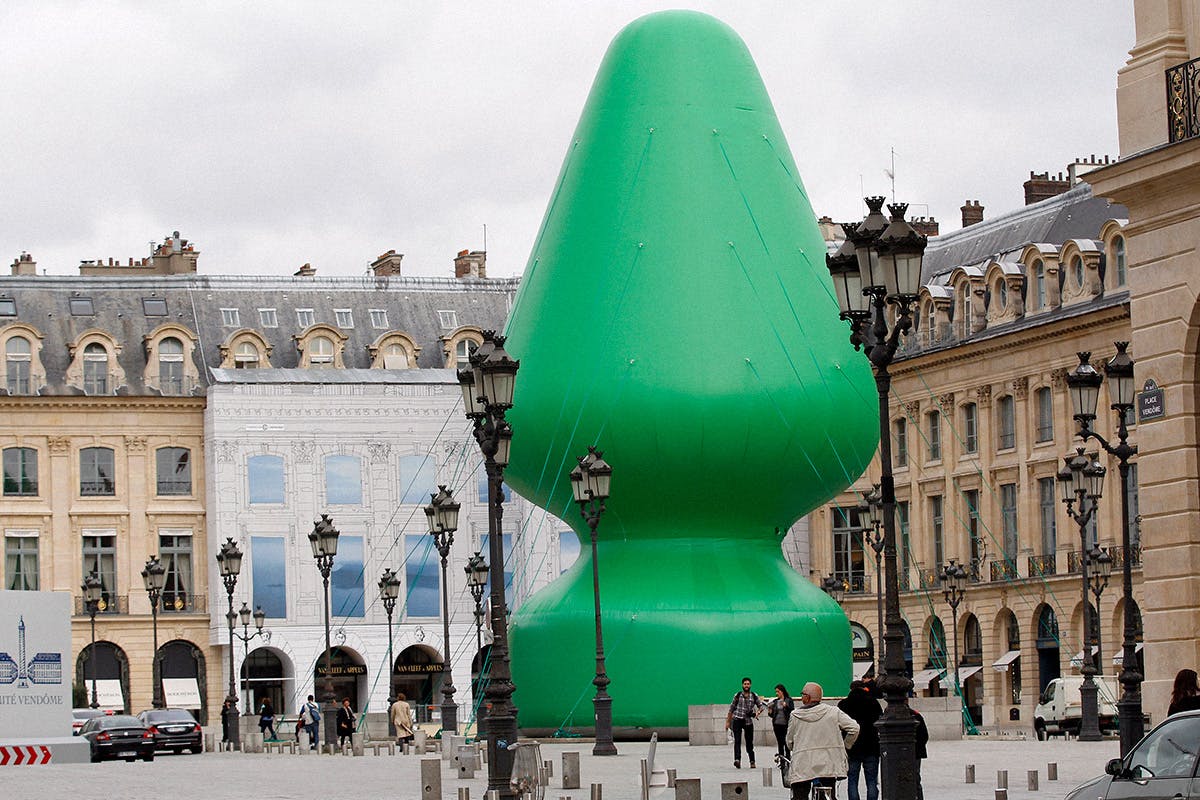 Curated by Highsnobiety and presented during the time period formerly known as Paris Men's Fashion Week, Not In Paris 3 is our third in a series of bi-annual digital exhibitions celebrating creativity in the age of remote interactions. Head here for the full series and cop our new merch via our online store.
Through a slightly pixelated square on Zoom, I watch Paul McCarthy show off his collection of dead Christmas tree branches. They're situated in his office, next to a decaying, cut-out Santa Claus that used to live outside of his parent's house every holiday season. Decades past its use, it feels as menacing as the dried out, emaciated tree branches. The 75-year-old artist has been collecting them for years, trimming decaying pine needles off the spindly trees long after they've served their purpose as symbols of yuletide joy (and Christ). "There's something about this living thing that we cut down and decorate in our living rooms," he laments about the trees. "There's something super fucked up about that, at least to me, and these things are grown in Christmas farms and then just whacked off."
Were it any other person, this post-holiday ritual might elicit odd, sidelong glances and whispers, but this isn't just any other person. This is Paul McCarthy, a boundary-pushing, art world provocateur who has somehow balanced a penchant for crazy, grotesque, vile, and absolutely incredible performance art with the weight of being a bona fide art star, one who regularly rakes in massive sums for his work and lands exhibitions around the world. In the days before our chat, I'd been warned that he was shy about interviews, a guarded artistic genius who may not even speak to me. But as he dialed in for our video chat, settling into a chair next to his son and artistic collaborator, Damon, the elder McCarthy was soft spoken and refreshingly open, ready to launch into winding stories of his past — all the more shocking considering the reason for the call.
For the first time in over half a decade, McCarthy has agreed to revisit his 2014 art installation Tree, a 79-foot-tall, inflatable green butt plug installed in Paris' Place Vendôme that — seven years later — has been throw onto a triptych of skateboards by The Skate Room for the third edition of Highsnobiety's Not In Paris exhibition. It was this single piece of art that had launched McCarthy to viral fame after decades of flying just above the radar, and while the actual artwork is sitting in a big crate somewhere at the artist's studio, Tree has maintained its viral legacy.
Originally conceived as an ode to both the sex toy and Constantin Brâncuși's famed sculptures, the piece was named after a Christmas tree, and if you squinted (or had no sexual curiosity), it might've even looked like one. In a sense, it was the spiritual successor to 2001's Santa Claus in Rotterdam, whose reception now feels like an omen for what was to come with Tree. That's because Santa Claus is a bronze Santa that is holding a butt plug. It was Tree that turned McCarthy into a viral star. Not because it was his most groundbreaking work of art, but because of the controversy that it wreaked on both the French capital and the art world.
Shortly after installing the work, McCarthy was speaking to a journalist from Le Monde when their interview was cut short by a man who, after asking if McCarthy was the artist responsible for the piece, hit him three times in the face before running away. It was a shocking assault that left the artist stunned. Twenty minutes later, a traditional Catholic group called Printemps Français tweeted: "A giant anal plug 24 m high has just been installed on Place Vendôme! Place Vendome disfigured! Paris humiliated." It was one of the earliest tweets in what would become a viral debate about the artwork, eventually setting off a wave of memes.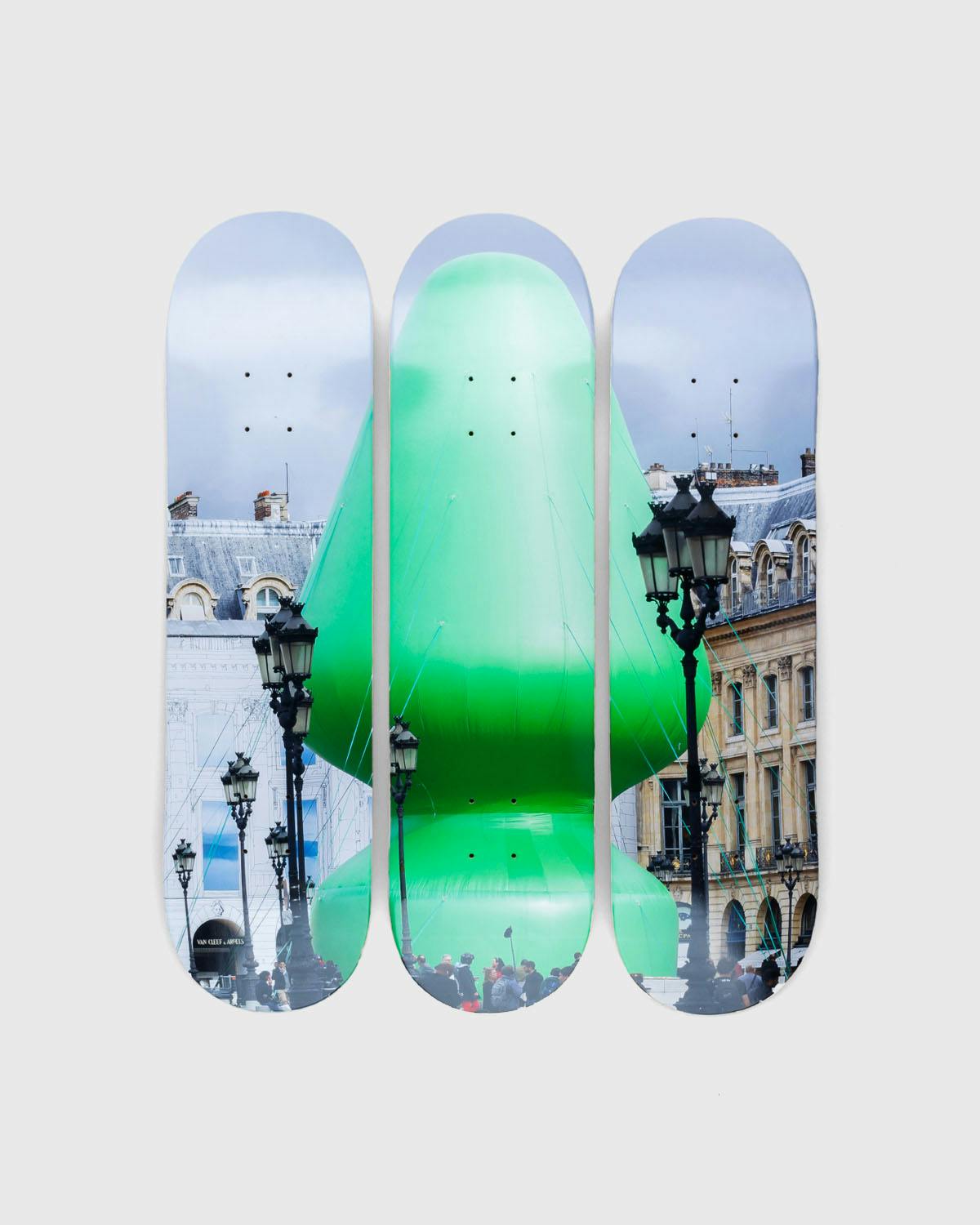 But before Tree could fully take the internet by storm, the actual artwork was attacked overnight. Critics of the piece turned off the fan that kept it inflated and slashed the straps keeping it in place. By sunrise, the assault on both the art and artist had prompted an outcry. Jennifer Flay, the artistic director of the FIAC, talked of being "embarrassed for France." Fleur Pellerin, French Minister of Culture, calls the assault an "intolerable infringement of creative freedom." Even François Hollande, France's president at the time, made a statement, saying: "France will always be on the side of artists, just as I am on the side of Paul McCarthy, whose work was sullied, no matter what one's opinion of the piece may have been."
In the end, the wave of support didn't matter. Rather than risk having the piece attacked again or putting people in harm's way who were there to protect it, McCarthy chose to disassemble the piece. "Once the thing was cut down, I just said, that's it. I'm not going to push that issue. I didn't realize that it would become this social media thing. That was a complete shock to me." It's been over half a decade since McCarthy's inflatable green Tree caused a stir in the French capital, and yet the piece still has a hold on pop culture. It is immediately recognizable, a lightning rod of controversy, and it's now immortalized on The Skate Room's decks — all for a good cause.
Beyond just being an excuse to let skaters cruise around with butt plug art gracing their boards, the new collaboration with McCarthy and Damon is raising support for the work of the award-winning skate and education organization, Skateistan South Africa. To celebrate the launch of the boards, we talked to the artist about Tree for the first time in years. Read on for our exclusive talk with McCarthy about the backstory behind Tree, including how his fascination with butt plugs began, and why Santa Claus is the true king of capitalism.
How do you feel about this one incident, and one piece of art, defining a lot of your artistic career for people who don't dive deeper into your work?
Paul McCarthy: That piece went so public and I'm not seeking that situation again. I didn't seek it then. I wasn't out to do that. I think it was kind of naïve on my part to not understand what might happen. I guess I think it's interesting what happened. I haven't made an inflatable in a long time, or in a number of years, but [Tree is] just one of 15 of them. That's how I see it. It's one that had notoriety, I guess, but it's just one piece. It's in a group with the pile of shit, the [George W.] Bush head, the [Henry Moore Bound to Fail]. Yeah, it had its moment in the sun that the other ones didn't have and that's interesting, but the critical thing to me is the group of inflatables. I have an affection for all of them.
What is it about inflatables that you enjoy?
PM: Well, they have levels to them and layers, in a way. There's something really interesting about this great big thing. You can make this monumental object, and it can be placed in a public space or outside. It goes outside, and it can go up, and it can go down. It doesn't occupy land mass in any permanent way. It's a temporary thing, and they're almost like event sculptures. They have a moment. They're not permanent objects. I like that about them.
How did you go from Santa Claus in 2001 to Tree in 2014?
PM: We'd done Chocolate Factory in New York City [at the Maccarone Gallery in 2007] where we produced the Santa Claus holding the butt plug. We produced about 17,000 chocolate figurines and it was all before Christmas so people could buy them. Then, years later, we do the factory in Paris, and we added a chocolate figurine that was just a butt plug. At some point, the idea of doing an inflatable came [to me and Damon]. We got funding from the [Foire Internationale d'Art Contemporain], and were able to build the inflatable. Then it was a whole issue of where it would be in Paris.
That was all being arranged through the art fair as to where it would be. Finally they go, "We have this plaza. It's a fantastic plaza. We can put it there. There's support for it." At the time, I didn't really understand, and I don't think Damon did either, the significance of the plaza. I knew it was where the [Vendôme Column] was erected [by Napoleon] and torn down and re-erected. I thought, "Well, that's kind of crazy to put this butt plug next to this [Column] in this plaza." It's kind of perfect. There are two towers, one with this history in France, and then this butt plug, and referring to it both as a Christmas tree and a Brâncuși. One [reference] was positioning it in art history, and the other one was about the [symbolism of the] Christmas tree and Santa Claus. So Tree was making a critique of both of these things, Christmas and the art world. It's a joke.
I actually didn't know what had been going on in that plaza just before we put up the Christmas tree. Demonstrations had been there and the ultra right had been in that plaza protesting. I didn't know that had been going on. I was somewhat aware of the possibility of controversy, but not aware of the recent political significance of the plaza. No one had ever said anything to me. I wasn't aware of it.
Neither the fair nor the gallery were aware of that previous issue?
PM: No, I didn't know before. It really happened a few days later. We put it up and that night, a group of people came and cut it down. The art fair had positioned people around Tree at night to protect it. I was totally okay with the fact that the guards couldn't really stop these people. They didn't need to put themselves in danger for that piece.
Once it was cut down, I just said, that's it. I'm not going to push that issue. I didn't realize that it would become this social media thing. That was a complete shock to me.
The sculpture was only up for what? Two days? And seven years later, people are still talking about it. How does it feel to have that kind of viral legacy with it?
PM: Well, I guess I'm okay with it. (Laughs)
Damon McCarthy: It shows that in some ways, the joke stayed real. Even though it was forcefully taken down by a group of people that are maybe just against expression themselves, there's also a whole gigantic group of people that can find the humor in it. Social media is interesting that way. It's got no chill at all, and it also has no boundaries. In a lot of ways, you don't have somebody that's just going to go cut it down because they don't like looking at it. Somebody else is just going to put it back up. I think it's great. Turning it into another project is interesting to do, because at some point, the joke isn't going to be as relevant, but somebody will still have a shirt or a skateboard [with Tree on it]. I find that interesting.
You've created multiple works about Christmas and Santa, including a film script in 2019 about Santa Claus being a virus. Why do you keep returning to this theme? What draws you to it?
PM: The first actual drawing that I ever made as a kid that I remember, when I was seven or eight, was a big Santa Claus. In my mind, it was 20 feet long, but it was actually about five feet long. My mother kept it and I still have it. Then I made Santa Claus pieces as performances back in the '80s and '90s, so the subject of Santa Claus has been kicking around for quite some time. I think that's why Benjamin [Weissman] had given me the Santa Claus figurine. Ultimately, it's a love/hate thing. Consumer culture is so destructive, and Santa Claus is the god of consumerism. It's just so iconic for me, it's a signifier of Western civilization.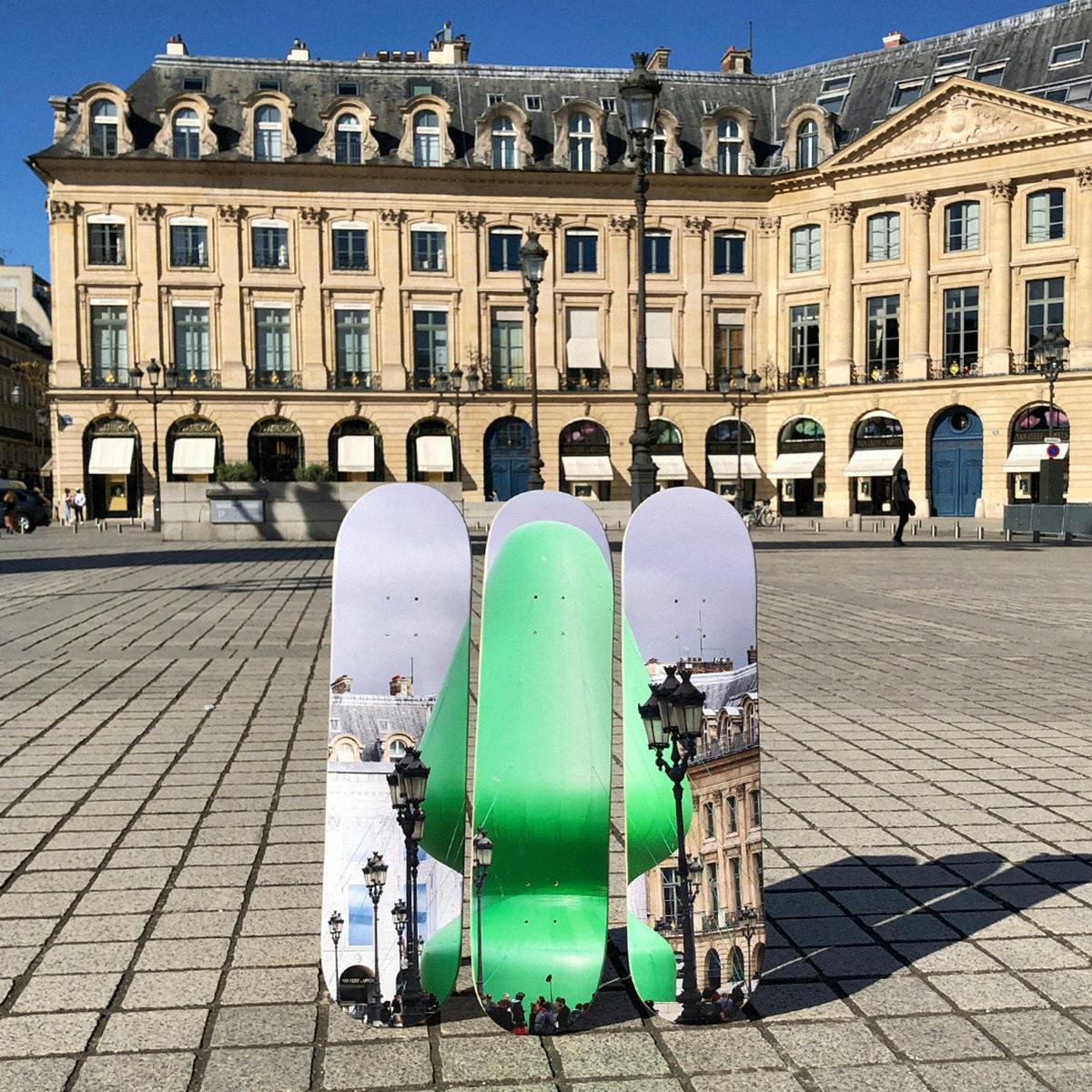 It's ironic that you've done so many crazy performance art pieces, and then the one thing that gets you the most notoriety and the most visceral reaction against your art is an inflatable butt plug.
PM: Yeah, but the difference, in a lot of ways, is those performances existed in an underground. The butt plug went public because it was in a public space and it drew attention to itself. Like I said, when I was asked to do a public sculpture, I had never been asked to do one. I even questioned whether I wanted to. I wasn't sure I was that interested in the public arena, the public space. Being in the underground is not a bad place to live.
Check out our collaboration with RTFKT to download a special filter of McCarthy's 'Tree' here.