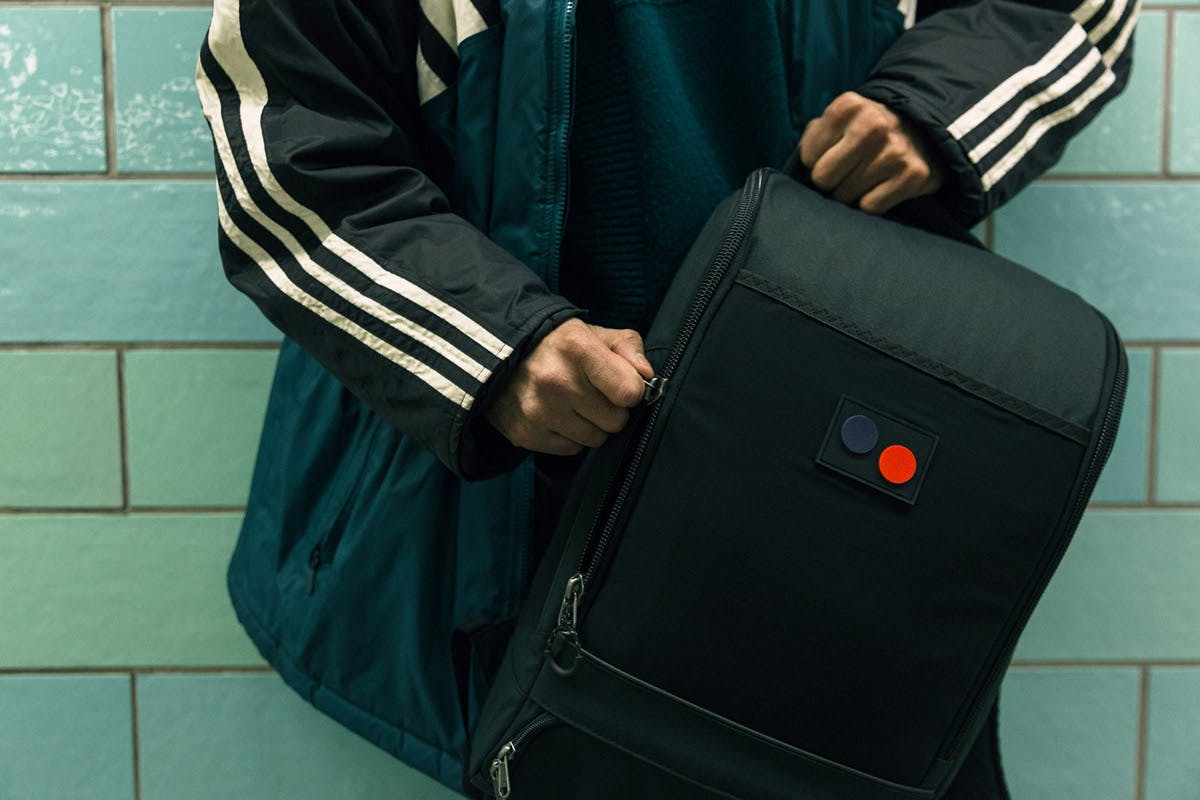 pinqponq's approach is unique. Whereas most brands focus on style, functionality or sustainability, these three pillars form the core of pinqponq's ethos. Of course, sustainability is a big word in the fashion industry and has been for a while. There's a finite limit to the world's resources, and a delicate balance that must be struck so our impact doesn't limit what we can do in the future.
The German backpack and accessories label crafts its products using fabrics made from 100% recycled PET plastic bottles and actively tries to reduce its impact on the environment by monitoring its supply chain. As for working conditions, pinqponq regularly controls if workers are treated and paid fairly.
Designed in Cologne, the bags have a playful industrial feel. Our favorite pieces from pinqponq's FW16 collection includes the brand's trademark CUBIK zip-up, the duffle backpack known as the BLOK, a smaller daypack, the OKAY, and the label's duffle carryon bag, the KARAVAN.
All three backpacks have padded compartments for everyday modern essentials like laptops and chargers, and are all roomy enough for your favorite pair of sneaks (plus any other day or weekend essentials). Colorways across the brand's range are muted. The bags all have a distinctly functional, boxy silhouette but also a slightly informal playful edge reminiscent of the best that northern European design traditions produce.
However, their playfully designed bags belies the seriousness with which they view sustainable production methods. Designed in Germany, bags are then assembled in Vietnam. As a member of the Fair Wear Foundation, pinqponq takes an active approach in making sure workers are treated fairly, while pinqponq's German employees spend several weeks of the year visiting the factories. Recycled PET plastic bottles sourced through Taiwan's government-subsidized local recycling program forms the backbone of their product material.
Shredded into flakes before being melted and blown through thin nozzles to create fibers, the plastic is then weaved into thread before being dyed using low impact coloring pigments and salt water. By using fabrics made of 100% recycled PET plastic bottles for their bags, pinqponq is able to reduce waste water output by 20%, energy consumption by 50%, and the amount of harmful emissions are lowered by 60% compared to the industry standard. As a recognized system partner of bluesign®, pinqponq supports a system that aims to exclude all toxic chemicals from the supply chain.
Already featured as one of our upcoming Under The Radar brands to watch, labels like pinqponq prove that forward-thinking apparel design doesn't have to destroy the earth, and being sustainable and on-point with your style doesn't have to contradict each other.
pinqponq's collection is available now online.
Fill your pinqponq bags with these other leading sustainable brands (and keep you conscience clear).