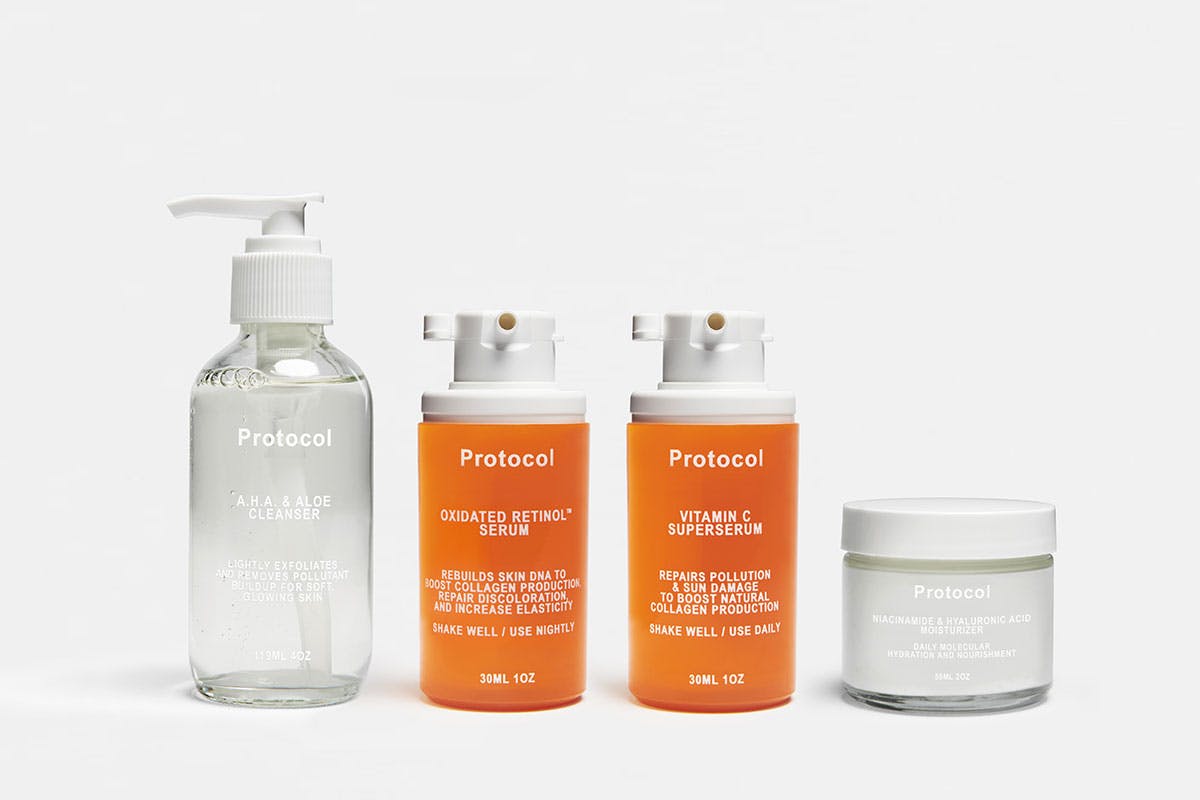 We're currently living in a weird time where there are representatives of the U.S. government questioning the legitimacy of data and propelling a war on science among other ridiculous things. When it comes to skincare, there's often nothing more reassuring to the average "skintellectual" than scientifically backed products though. Protocol, a Los Angeles-based "radical skincare science" company, is determined to bridge this knowledge gap while reviving the youthful glow of skin with their Renewing Line.
The debut collection contains four core products—AHA, Aloe & Green Tea Cleanser ($48), Niacinamide & Hyaluronic Acid Hydrating Cream ($54), Vitamin C Serum ($72), and Oxidated Retinol Super Serum ($88). Protocol claims that customers will notice results within 60 days of application if the instructions are followed. Every product is also guaranteed to meet the highest of clinical standards.
Ahead of today's launch, we spoke to co-founders Tyler Gaul and Molly Cranna to find out exactly how a philosophy major and fashion photographer were able to combine forces and "lock down the look, the brand, and the tone of voice" for Protocol. Learn more about the brains behind the brand in our interview below. The Renewing Line is available to purchase online here.
Tell me about your approach to lead a skincare brand with science. How does that make a noticeable difference?
Tyler Gaul: "A lot of skincare companies incorporate science into their formulations. It's not like they're all shooting from the hip, but I think the difference for us is that we wanted to address solely the leading academic scientific research around skincare and to see if we could build a line that doesn't compromise any of the leading scientific research.
There are these amazing molecules out there that have a really profound impact on the well-being and look of your skin, but people weren't using those ingredients, at least not in their best, most potent forms. A large part of that was you have to have a new manufacturing process, a new bottling process, and a new bottle to accommodate those really high end ingredients.
It's not to say no one else uses science, but we just wanted to be uncompromising in our approach with that. We worked with all the leading people in the game in terms of pharmaceutical doctors, dermatologists to make sure that we achieved the highest quality according to the academic research."
What initially interested you both in skincare?
Tyler Gaul: "I come from a marketing background and often worked on female focused brands, but really was just a passive consumer. I wasn't really informed about all the different complications with it until three years ago when I was working for a skincare company in Miami."
Molly Cranna: "I'm a female, I'm a consumer of this industry, and I've always somewhat like Tyler taken a passive approach to it all. I have my items that I use daily and I don't overthink it too much. I've never really had to think too much about my skin, which is really lucky, until I turned 30. Everything just changes. I grapple with it a lot because I work as a fashion photographer, and I spend a lot of time aiming to empower women and not make them feel even worse about the way they look than they already do. Of course I focus on that with myself as well, but as I age and as my skin is starting to change, I was taking more of an interest in just figuring out how to try to keep it as healthy as possible, especially without resorting to more invasive techniques.
When Tyler approached me with this, I was just intrigued by the fact that maybe there was something out there that actually worked. We're so used to buying things that we know probably don't work, but they look pretty or the price point is appealing or it just feels like 'self-care.' To think there's something actually working because it actually has good science behind it was really appealing to me."
Tell me about the process of establishing this brand from early planning stages to today's grand launch.
Tyler Gaul: The initial idea started just about two years ago. I was actually working for a skincare company, which was my initial exposure to the industry, and that's where I saw the hole in the products. It was pretty much purely a scientific chemistry project for awhile just to see if this would even be possible, right, because there had to be a reason that all the big brands weren't using these ingredients. And so it was a lot of collaborating. My little brother is a pharmaceutical doctor who works at at a great research clinic so I had easy access to do a lot of the ideal people that work on this.
After figuring out the formulas and the chemistry behind it, the next tricky piece, which lasted about six months, was calling around to the labs in the U.S. We wanted to stay in the U.S. and trying to find someone who was willing to work with these super fragile ingredients, namely our oxidated retinol formula. There was a lot of resistance there just because people were like, "It's a notoriously fragile molecule, we can't guarantee quality." That took us awhile to find labs who were willing to try to manufacture this. We finally settled on three different labs in Portland, Phoenix, and one just outside of Miami.
Once we established that and knew we could make this happen, that's when we really started focusing on 'How do we communicate this? What's our look here? What are we and what aren't we as as a brand? How do we fit into a huge, well-established category dominated by pastel colors?' How do we stand out and represent who we are from a visual perspective?'"
Do you think more men are taking an interest in skincare now?
Molly Cranna: "Seeing how much this has really appealed to men has been really interesting for me to watch because I think we're so used to putting this pressure on ourselves for our entire lives and watching men kind of go through the process now is really interesting."
Tyler Gaul: "The fair thing about social media is all of the visual body image pressures that women have experienced for years are spreading to men because of things like Instagram and the 'selfie generation.' Have you heard the phrase "Bro-tox"? So men getting BOTOX has grown by 4000 percent in the last couple of years. I don't think we were necessarily focusing on one gender or another. We did talk about making it unisex, but also still wanted it to be pretty and, cute, and visually appealing. Maybe not cute... Molly's going to punch me for using the word cute.
It's sort of a universal thing now that we're all thinking about our appearances. They're saying the color industry is diminishing in terms of just putting makeup on and you're focusing more on actually the health of your skin. It's less about covering it up, and more about trying to actually improve the state of your skin. That's what we wanted to focus on was actual skin health on a fundamental level."
Your packaging is a pharmaceutical-grade, airless, UV-proof bottle. Why is this an important factor?
Tyler Gaul: "Ascorbic acid, which is vitamin C, and oxidated retinol, as well as retinol itself, which is just pure vitamin A, if they're exposed to atmospheric oxygen, they degrade almost right away. Another thing we noticed was that people use things like ascorbic acid, but there was this rumor that if you make a water soluble version of it gets stabilized. It's just not the case. For you to get the most out of these ingredients, they have to be truly in an oxygen and UV free environment.
So these bottles are airless and UV proof, and they're bottled in a nitrogen environment that's totally oxygen free. That was the other big hole that we were seeing is even when people were including good ingredients, they weren't covering the entire manufacturing and bottling process to ensure that the ingredients stay powerful... It was the central revelation for us. There were a couple of pieces of the manufacturing process that we essentially had to invent. I worked with a plastics fabricator that usually works with the nuclear industry in Washington to invent a new device that enables us to fill these in a nitrogen environment."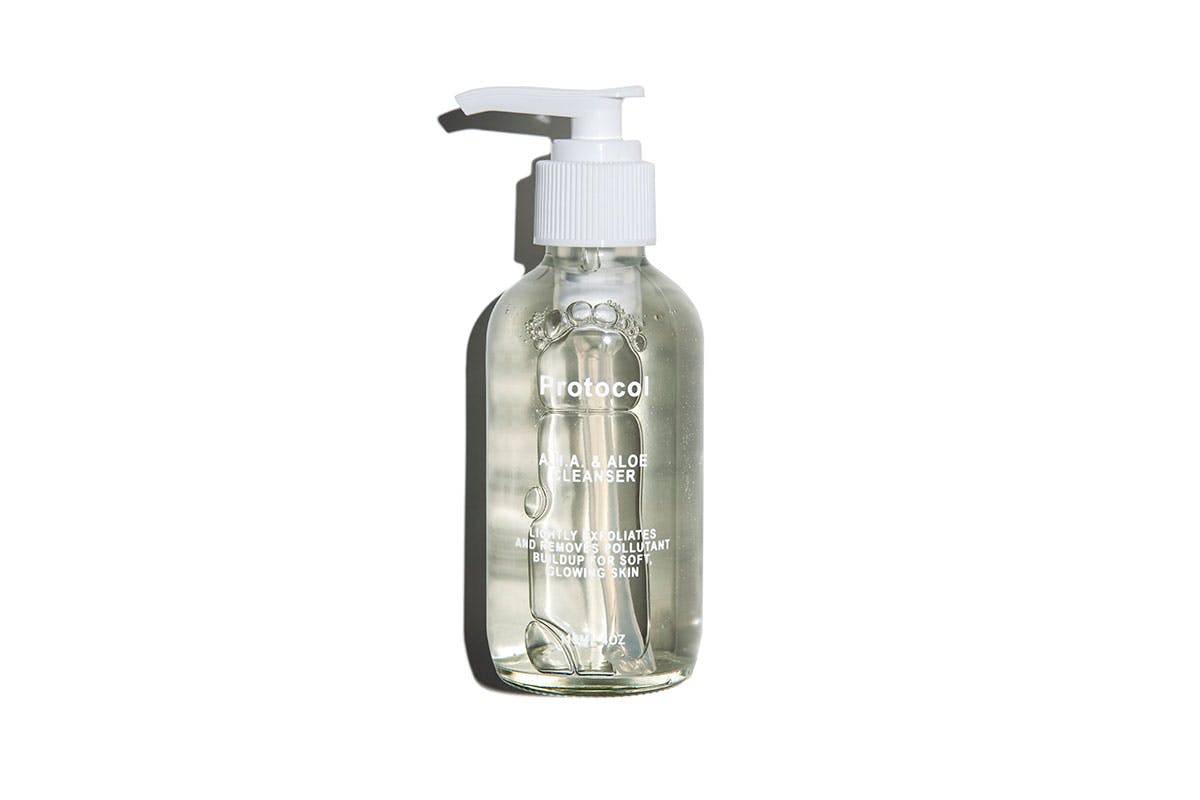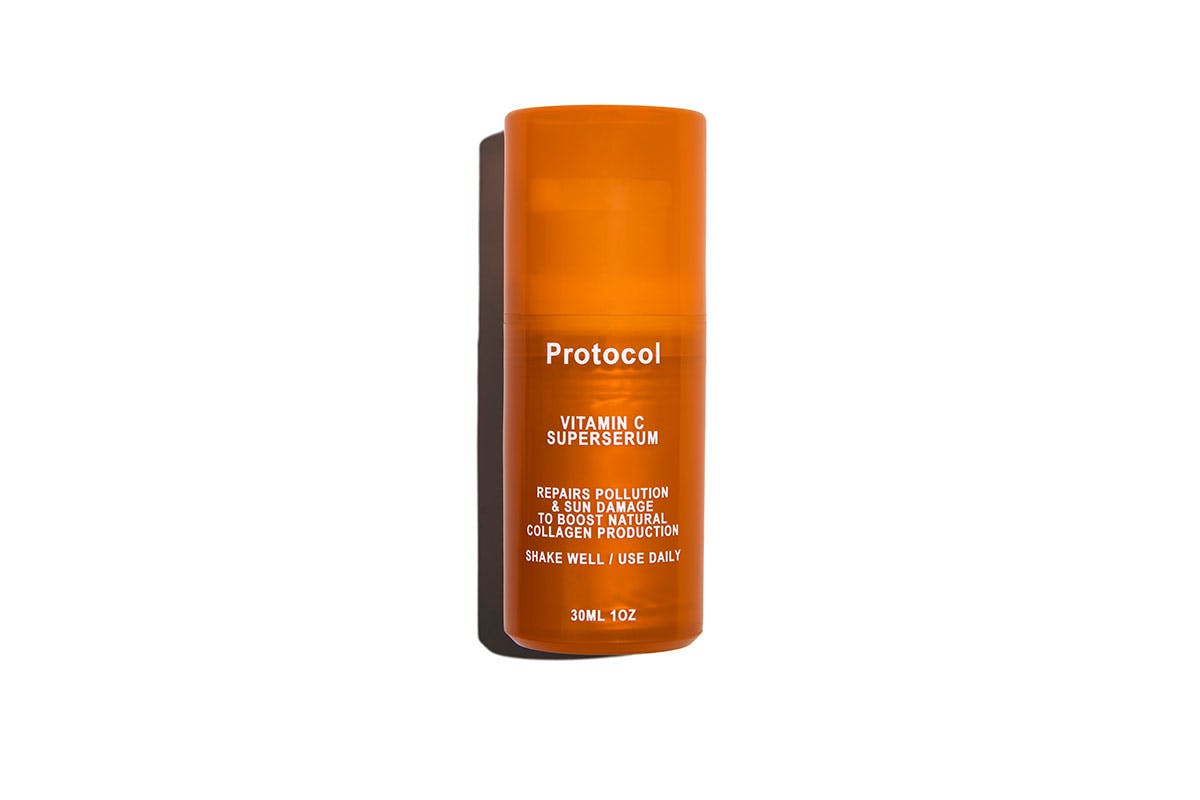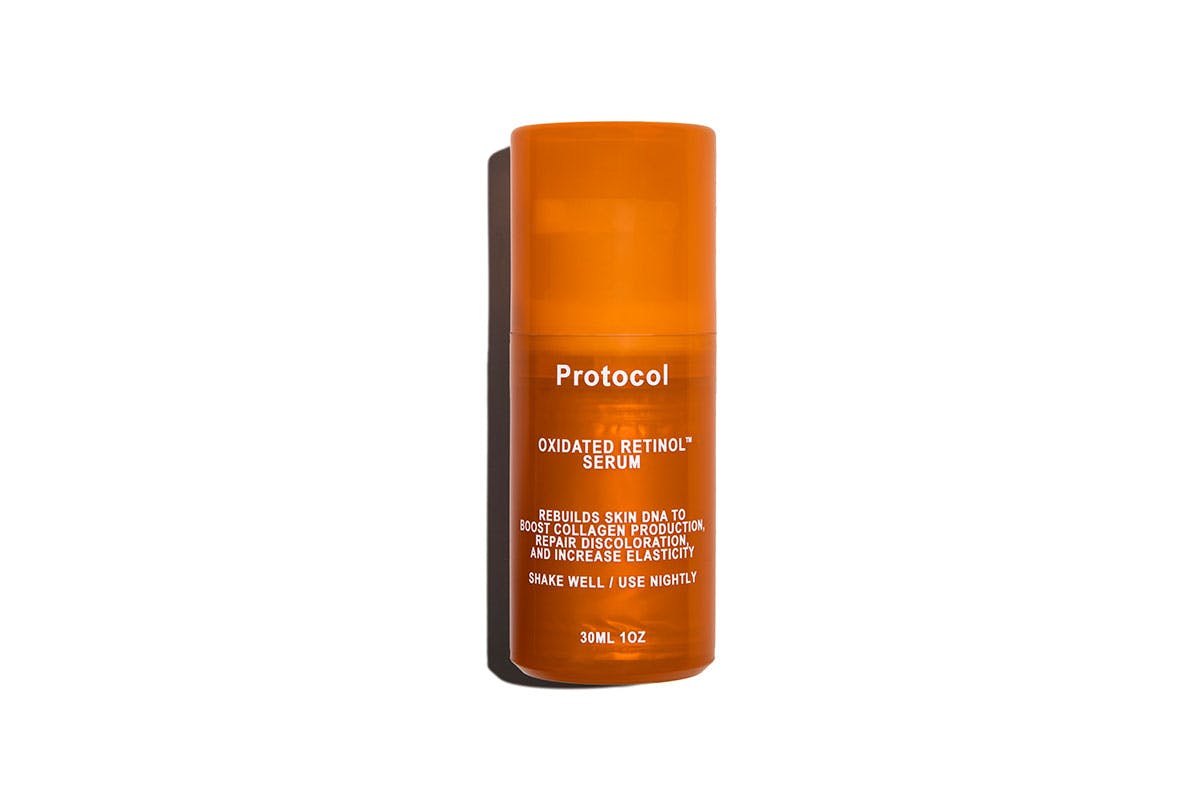 Talk me through the full Renewing Line. How do all four of these products work separately and together to improve the skin?
Tyler Gaul: "I'm glad that's coming across by the way that they are meant to work together. The way to divide up the serums and the cleanser, is if you think of the serums as working from the bottom up, fundamentally on how cells grow and develop and reproduce. The cleanser works from the top down so the alpha hydroxy acids chemically exfoliate to remove the top layer of dead skin cells.
There's a lot of research around how if you couple glycolic acid with a retinoid it has a compounding effect on the retinoid in terms of absorption and the ability for it to produce new cells and collagen by precisely removing that top layer of dead skin cells. It amplifies the effect of the retinol. So between the oxygen and retinol and the vitamin C, they really are two totally different fundamental functions. You have several different types of cells in your skin and retinoids in general bind to the DNA and help it function exactly as it did when you were younger, and correct that aging process that happens to that to the DNA. Vitamin C is a vital process part of a lot of skin cell prophecies in terms of cell reproduction and collagen production. As an antioxidant, it's the most powerful component in repairing photo damage."
What measures is Protocol taking to reverse skin damage?
Tyler Gaul: "There are three main causes to skin aging or skin damage. One is just genetics; over time your DNA stops functioning properly, and the retinol focuses on that. The other two causes are are sun damage and pollutants build up. So we're surrounded by carcinogens all the time and antioxidants like vitamin C in general focus on reversing the damage of pollutants and clearing out carcinogens as well as reversing the damage from sun. They both focus on boosting collagen in two totally different ways. They both focus on repairing discoloration from the sun, but also in two very different ways. So in one sense the serums are both working on the same processes in terms of thicker, more even dermal layer and repairing discoloration, but two very different mechanisms of action.
We were looking through all the research, and of all the things identified to have a big impact on your skin, there's a bunch of research on just if you put moisturizer on your face, 24/7 it's almost as effective as a really intense retinoid regimen or something like that. Moisture's just so vital. But the funny thing with that is we know what the best moisturizer is and it's hyaluronic acid, and stuff like avocado essence don't really do any better than a glycerin base. So glycerin is the best generic moisturizer. This is glycerin based with niacin aymie which also has a compounding effect with retinol. It's an anti-inflammatory as well and then hyaluronic acid, so really the moisturizer's a simplified, scaled back, perfectly formulated moisturizer. Don't skip your moisturizer. It's very, very important."
Retinol seems to be having a big moment right now. What should people be aware of when introducing it to their skin?
Tyler Gaul: "The first thing to note is there are dozen different different derivatives of retinol that are all kind of lumped into retinol as a category. For instance, one is called retinyl palmitates which is very commonly used in the industry. That's called a Retinol ester, a derivative that your skin has to convert several times before it's actually able to be used. Looking out for the derivatives of vitamin A retinol itself is really important because in the worst case you could be using a version of it that's harmful. Or you're just paying money for something that your skin can't actually utilize.
That's the function of bioavailability. The form of retinol that's 100 percent bioavailable is retinoic acid which is prescription retinol so that's what you'd find in retin-A. A lot of people don't love retinoic acid because it's 100 percent bioavailable and just sort of sets your skin ablaze. You have the bright, hot inflamed feeling that a lot of people experience. It is the strongest, but the drying effect deters a lot of people from using it. On the other hand, you have retinol itself, just pure vitamin A. That needs to be converted twice as well before it's usable. The first molecule it's converted into, you put it on your face and enzymes in your skin cut the molecule in half and convert it into oxidated retinol.
How does retinol work in your serum?
Tyler Gaul: "The retinoid we're using, which is retinol it's oxidated form, is the closest to retinoic acid with basically the same bioavailability because it's really easy to convert oxidated retinol into retinoic acid. By making it not 100 percent bioavailable, you don't get any of the drying effects that you would have with retinoic acid. In clinical studies, head-to-head retinal or oxidative retinol have essentially the exact same clinical impacts on cell behavior and wrinkle depth.
Pick the right retinoid. A lot of them are drying, a lot of them don't do anything at all. And then with anything, any new sort of ingredient you're introducing to your skincare routine, it's important to ease into it and test it. Everyone's skin is different and our line is built to work with sensitive skin, but changes in general are sometimes traumatic to your skin which is a delicate organ. So I think trying things that and finding out what works best for you, but also choosing, trying to sift through it, you got to sometimes turn over that bottle and look at the ingredient list and see what the exact form of of retinol is actually being used."
Overall, what are you hoping to achieve with Protocol?
Tyler Gaul: "One thing I liked about having you guys cover this launch is I think a lot of street-wear and fashion focused people, they appreciate details, right? They appreciate craftsmanship. They buy with discernment. That's really the type of consumer we've built this for. Is someone who wants to learn about how this works, and who cares about quality and cares about the details of craftsmanship, and having a perfectly built products versus a bare minimum product that's sort of cutting corners, and is mass produced.
I would love for a couple of years from now everyone to understand the difference between the different forms of retinol and the importance of having it stored in a UV proof airless bottle and to just dig a little bit deeper like they do into limited release launches of a fashion product or something where you know the whole origin story. That's kind of my personal goal is to become a little more involved in how skincare works."
Molly Cranna: "That's spot on. Something about the obsessive nature of really fashion focused people also applies to people in the skincare world. There is a lot of crossover, and I'm talking about obsessive in a good way, like really caring about all those details. I love that we can target really all people with this and it's taking skincare out of such a female focused area and bringing it to the everyone. And I think as of yet there really hasn't been a line that targets this range of people who have such an appreciation for the classics and as Tyler said, really good construction, great materials. And then also people who love something new and get excited by something that's hot and collectible. And I think it's a really cool crossover and an exciting time to be a part of it."
Tyler Gaul: "I think to date, skincare companies have been motivated to not really inform customers because the more informed they get, the more they realize that the quality is lacking or that substandard ingredients and production practices are being used. In our case, we have nothing to hide because we didn't compromise at all. I'm really excited about the consumer becoming informed on exactly how this stuff works."