This story is taken from Issue 17 of Highsnobiety magazine. You can buy the new issue here. Five years after founding Pyer Moss, designer Kerby Jean-Raymond is finally getting started. Overcoming a lengthy legal battle and a personal struggle with depression — both things that have informed his clothes — the label founder's penchant for advocacy and attitude is informing the brand's best iteration yet. In 1936, New York City mailman Victor Hugo Green published The Negro Motorist Green Book. During the time of segregation and Jim Crow laws discriminating against people of color, the guide became an essential tool for helping black travelers navigate their way around the United States safely. It was full of black-friendly lodgings and even warnings about areas that were particularly dangerous for African-Americans.
When the Civil Rights Act passed in 1964, much of the information in the tome became obsolete, but it remains an important remnant of a particularly grim era in American race relations — a time that's become all the more relevant given today's sociopolitical climate. And that's why it serves as one of the inspirations for Kerby Jean-Raymond's Spring/Summer 2019 collection for Pyer Moss. The other inspiration is the work of artist Derrick Adams, whose oeuvre largely defines this season's color palette. There's also a selection of portraits depicting vignettes of black family life, harkening back to Pyer Moss' Fall/Winter 2018 collection, titled "American Also." That collection took Western silhouettes and the American flag to tell a story about black cowboys, the original people who helped tame the Wild West.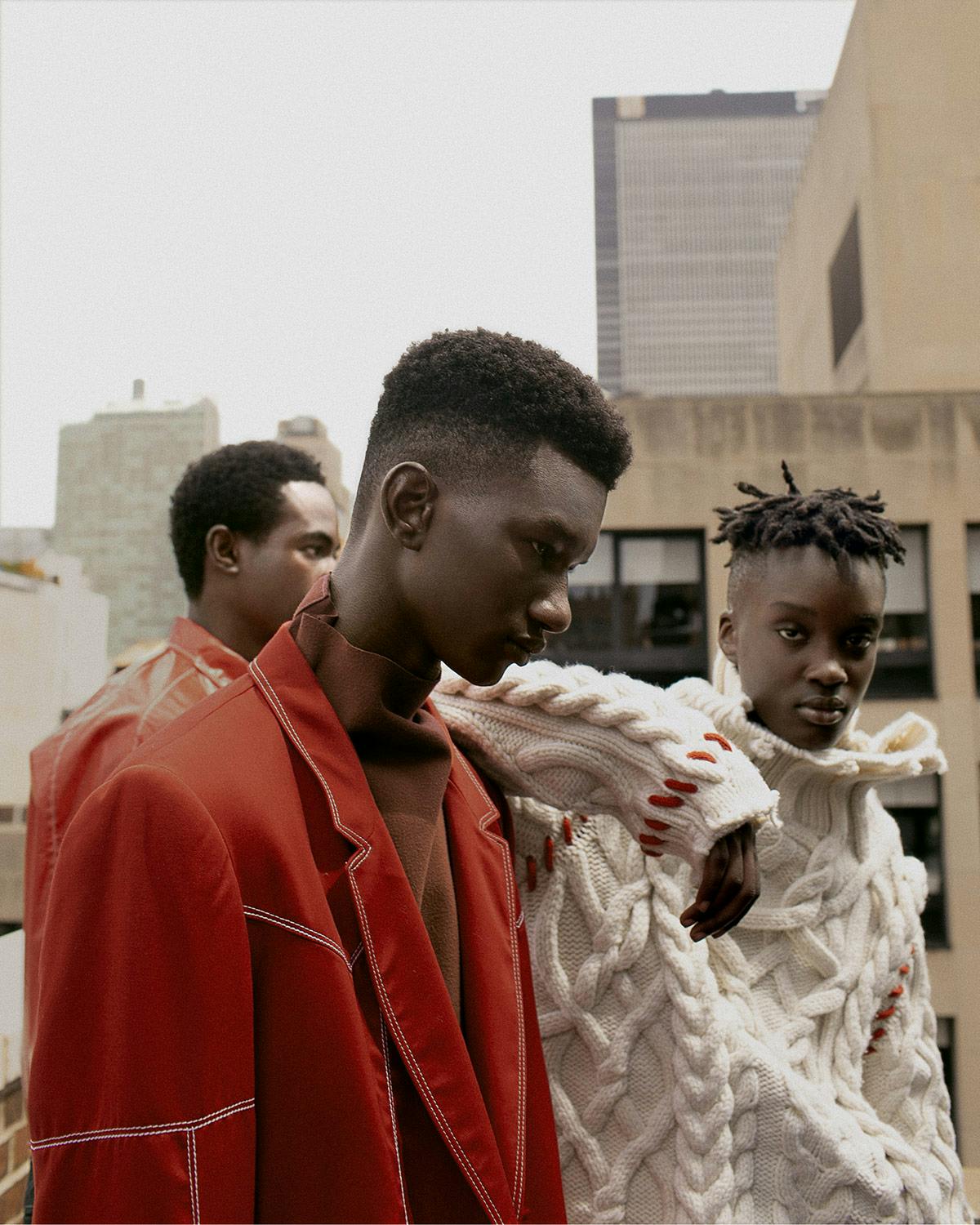 "My purpose in creating these collections right now is to essentially write us back into the story," says Jean-Raymond. His fall collection is the first step toward using clothing to unearth hidden stories about black culture's overlooked effect on Americana. For SS19, the focus shifts from pioneers to black love and idyllic family experiences. "What does mundane black life look like? That is the crux of this collection, we want to show black families and shit like that."
The family theme is one that certainly hits home with the designer. The brand is named after Jean-Raymond's mother, who changed her last name from "Moss" to "Pierre" when she moved to the US from Haiti. She passed away when Jean-Raymond was seven but helped inspire a love of materials in him. And although the designer's relationship with his father Jean-Claude hasn't always been on the best of terms, they've recently begun working on strengthening their bond. This inspired Pyer Moss' Spring/Summer 2017 collection, "Stories of My Father," presented on the rooftop of The New Museum in New York City. Jean-Claude sat in the front row.
Kerby Jean-Raymond's path to success, like most creatives, has been a path more tortuous than straightforward. He started designing at 14 years old, landing an apprenticeship with womenswear designer Kay Unger during his sophomore year of high school. Unger had him working on her eponymous line of eveningwear, which led to gigs at Marchesa — Georgina Chapman's extravagant gown label that has now fallen out of favor after being caught up in the scandals surrounding Chapman's ex-husband Harvey Weinstein — and more commercial brands such as Theory. Pyer Moss was founded in 2013, and first popped up on everyone's radar when Jean-Raymond gave stylist Mel Ottenberg a camouflage-patterned leather biker jacket that ended up on the back of Rihanna.
"My purpose in creating these collections right now is to essentially write us back into the story… What does mundane black life look like? That is the crux of this collection, we want to show black families and shit like that."
Pyer Moss arose during a particularly exciting time in New York menswear. Jean-Raymond's contemporaries Patrik Ervell, Tim Coppens, and Public School designers Dao-Yi Chow and Maxwell Osborne were championing their own unique mix of cozy sportswear and classic, tailored garments. It was the beginning of athleisure and streetwear dominating the fashion industry in a palpable way.
There was also a new crop of black designers including Grace Wales Bonner, Shayne Oliver of Hood By Air, and Virgil Abloh on the come-up, and a predominantly white fashion media industry that often pitted them against each other. At least, that's how Jean-Raymond saw it.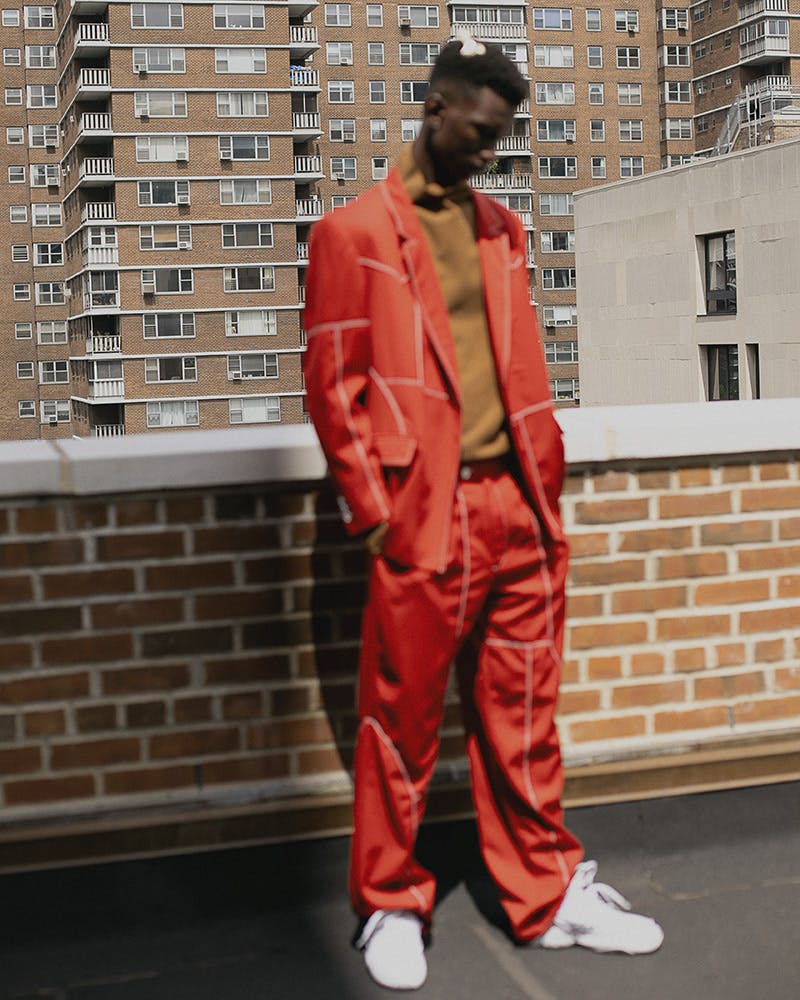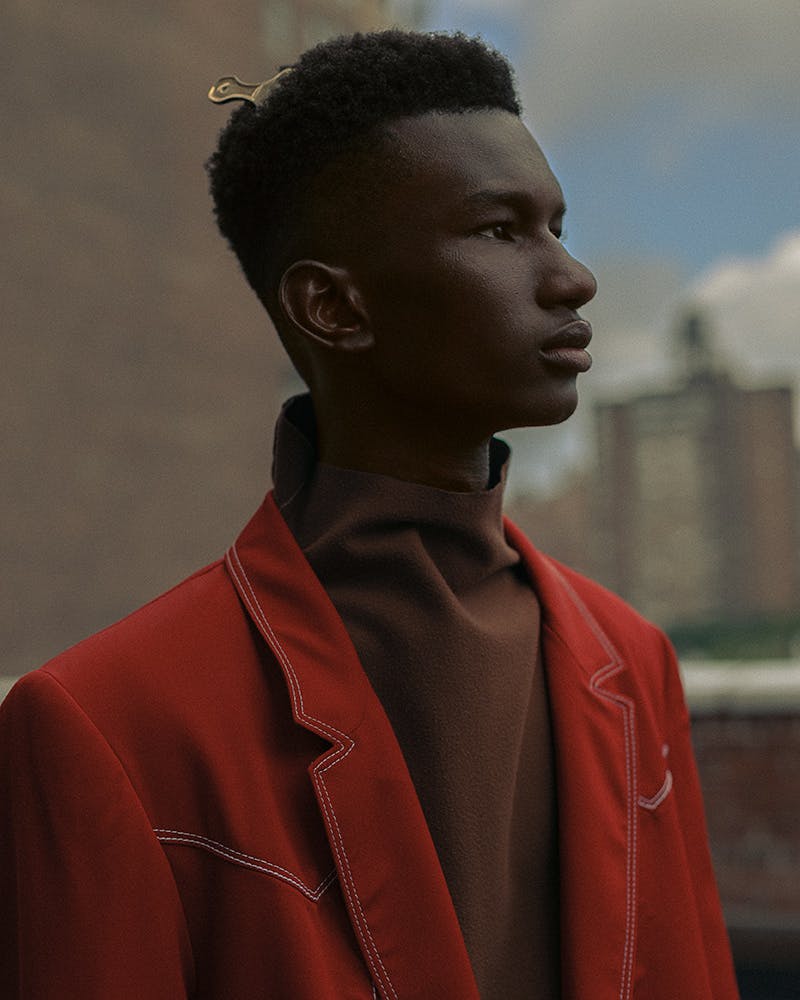 "In the beginning, I was very adamant about hiding who I was and staying away from that racial conversation," he says. "I was scared that I was going to be pigeonholed, but then they pigeonholed me anyway."
Jean-Raymond made more waves in 2014 when he screenprinted one of Pyer Moss' oversized viscose T-shirts with the names of black men killed by police. It was never meant to be for sale, but he eventually produced a run of 1,000 "They Have Names" shirts, collaborating with the ACLU to give all the proceeds from sales to the organization. By 2015, Jean-Raymond decided that if he was going to be seen as a "black designer," he would take the platform of Pyer Moss and really have it reflect the modern black experience.
His Spring/Summer 2016 show was based around the #BlackLivesMatter movement, and originally, he didn't even want to show any clothes. Rather, he and some friends had worked on a 12-minute short film depicting the current state of race relations in the United States. It featured interviews with loved ones and family members of black people who were victims of police aggression, including Wanda Johnson, mother of Oscar Grant; Nicole Paultre Bell, wife of Sean Bell; and Emerald Garner, daughter of Eric Garner. Interspersed in the film were cellphone videos and footage from police body cameras depicting different instances of police brutality.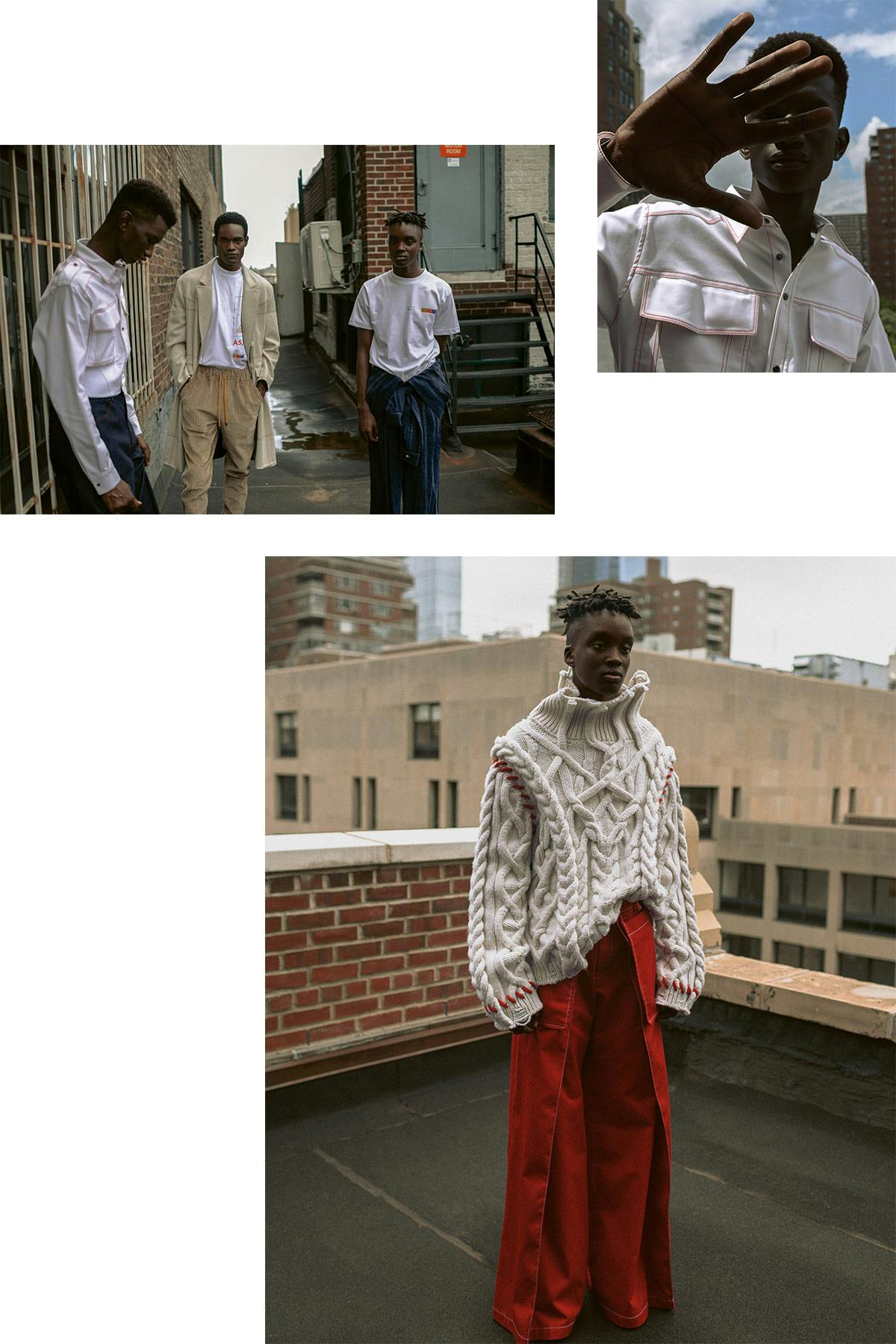 Despite his initial hesitation, the collection made its way down the runway. Titled "Ota, Meet Saartjie," the name refers to Ota Benga, a Congolese man who was put on display in the Bronx Zoo in 1906, and Saartjie Baartman, who was similarly displayed in a cage in 1800s Europe. Reaction was divided, with many praising the bold statement and others expressing derision. Jean-Raymond even received death threats. But it staked his claim as a designer willing to put his business on the line for his beliefs, and that came with a very real cost.
Some of his stockists dropped the label in the wake of the show, and Jean-Raymond found himself in the midst of two battles: a legal battle between him and his business partners for ownership of the company, and an emotional battle with depression. Both struggles informed his collections that year. Fall/Winter 2016's "Double Bind" collection was inspired by a psychiatric term about the duality of life and was praised for calling attention to mental health issues, a problem black men often don't address. It was also styled by Erykah Badu, an advocate for mental health awareness.
Indeed, advocacy and fostering a sense of community remain important to the brand's DNA. Jean-Raymond's #BlackLivesMatter show put the designer on the radar of DeRay Mckesson, one of the movement's most visible leaders. Mckesson formed a relationship with Jean-Raymond and sat front row at Pyer Moss' Spring/Summer 2017 show, "Bernie vs. Bernie," which was inspired by the theme of greed and capitalism, juxtaposing politician Bernie Sanders and white-collar criminal Bernie Madoff, whom Jean-Raymond sees as the two extremes of capitalism. Ironically, it was Jean-Raymond's cheapest show to date, as his prior fashion show was expensive and his ongoing legal battle with his former partners was taking its toll on his finances.
"I had no money, I was being sued — all my accounts were in the negative," he admits. "I probably had, like, debt of 85 Gs at that point."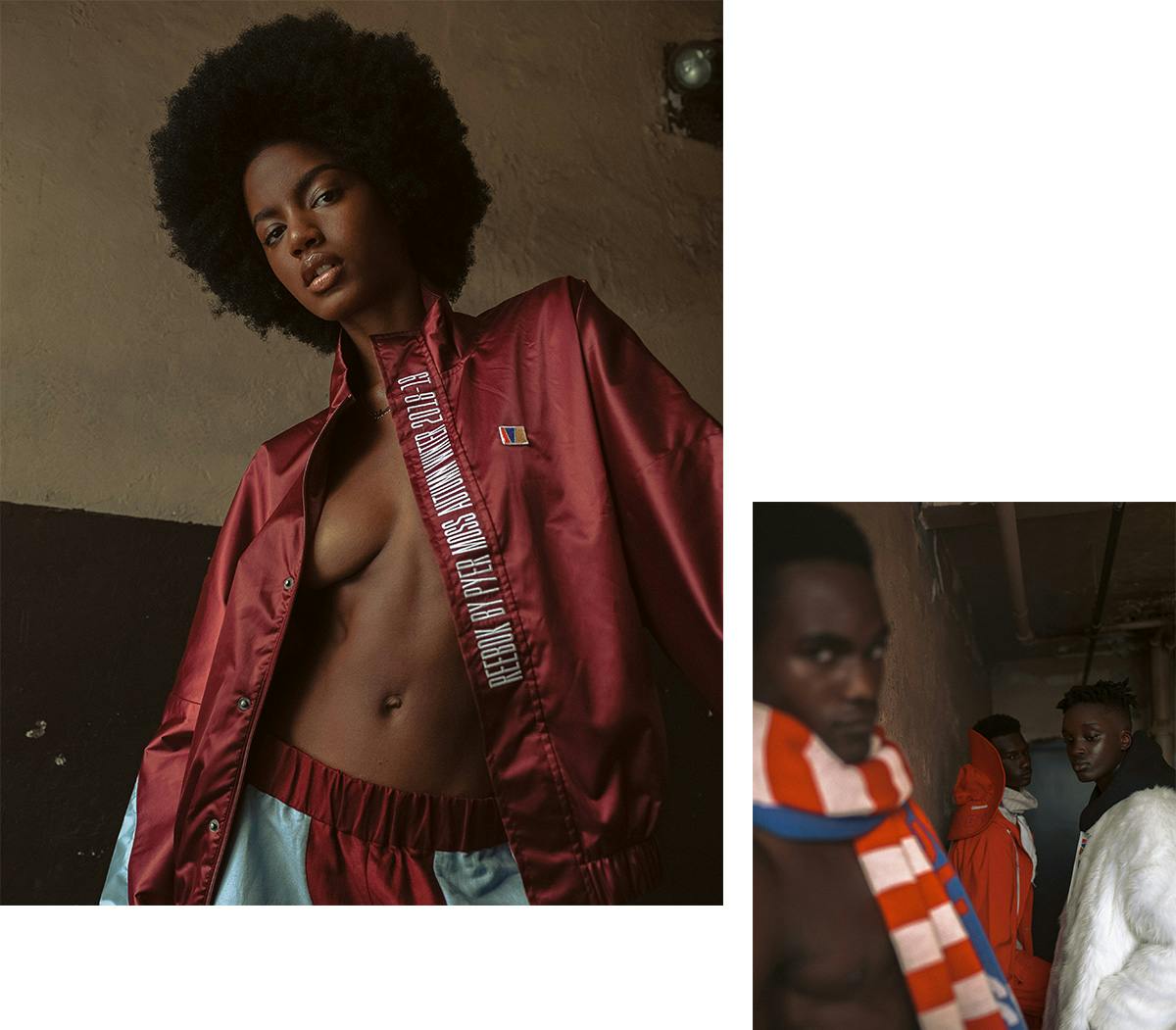 He took a season off to figure out his legal and financial situation, forgoing a fashion show last September in favor of creating a piece for the "Items: Is Fashion Modern?" exhibition at the Museum of Modern Art in NYC. Jean-Raymond's contribution was the Pierre Cardin-inspired conceptual Aquos suit, a dystopian garment made with climate change in mind. Then came a windfall: a two-year contract with Reebok. That money helped him finalize the buyout of his brand, and gave Jean-Raymond the opportunity for a fresh start.
Now, Jean-Raymond has his company back and a recurring sportswear line that includes several sneaker collaborations. He calls this iteration of the label "Pyer Moss 2.0," and he's treating it as a clean slate. As far as Jean-Raymond is concerned, Pyer Moss' new beginning started with his Fall/Winter 2018 collection, and he's focusing on establishing the new design codes of the label and growing from there. He dubbed his first Reebok capsule simply "Collection 1," and debuted "Collection 2" at New York Fashion Week in September.
"The biggest thing that I've learned from Collection 1 to Collection 2 was learning how to edit and keep a silhouette going," he says. "The mark of a really strong brand is having a strong silhouette that is easily identifiable. That's what Rick Owens has. If you saw somebody wearing some Zara shit, but the sleeves were cut off and the silhouette was long, you would be like, 'Oh, you stole that from Rick,' because he's established that silhouette."
"The mark of a really strong brand is having a strong silhouette that is easily identifiable."
The new Pyer Moss consists of key pieces like cropped trucker jackets made from contrast-colored leather, voluminous outerwear with a unisex appeal, loose-fitting high-waisted trousers, and relaxed suits with contrast stitching. It provides a good contrast to Jean-Raymond's offerings for Reebok, which consist of soft gold tracksuits, slim sweats and track pants with enlarged Reebok logos, and of course, new sneakers.
The first to come out was the Reebok DMX Fusion 1 "Experiment," based on an archival design. Internet commenters were quick to draw comparisons between it and the YEEZY 500, both similarly chunky shoes with a tactical asymmetric appeal, accusations Jean-Raymond is quick to brush off. "When people online are like, 'This looks like a Desert Rat ripoff,' the only thing I can say is, 'Fuck you,'" he says. "You didn't bother to do your homework, so why do I have to sit here and do it for you?"
Another thing Jean-Raymond has learned — and something that will form the backbone of his business moving forward — is the importance of knowing who your brand's audience is and speaking directly to them. When he first started the label, landing wholesale accounts at retailers such as Barneys, MR PORTER, and SSENSE was integral to building a strong fashion business. But after his experience of losing multiple accounts, he now wants to focus on cultivating a sense of community and culture around the brand in the hope of attracting repeat customers organically. It's sage advice that all independent labels can learn from.
"All you really need is about 1,000 customers that repeatedly buy your shit," he says. "You're talking about millions of people in this world. You can get 1,000. You can get 2,000. You can get 10,000. If you look at it like that, there's room for everybody."
If there was an overarching theme to Pyer Moss 2.0, it's family and friends. His Reebok sneakers have the saying "You're my friends" printed on the upper. Jean-Raymond has even tapped one of his friends, former YEEZY designer and current Versace footwear designer Salehe Bembury, to help out with Pyer Moss' in-house sneaker offerings. He welcomes feedback on his clothes and really wants to hear from the people who wear them.
He has also started setting the collection up at a showroom during Paris Fashion Week, which is opening up doors for the label internationally. It's also where the most energy is for menswear right now, so it's a way for him to insert himself in the conversation. Jean-Raymond is keenly aware that his fashion shows are a press exercise, and plans to keep showing at the September New York Fashion Week instead of the menswear-oriented iteration a few months prior. If his end goal is coverage and visibility for his label, it makes the most sense for him to show integrated men's and women's collections at a time when most of the fashion media is paying attention.
"I have very unconventional ideas about how to run a business because I tend to not listen to smart advice," he says. "But I think Pyer Moss' story is unconventional, and our success is really unconventional. So it's very important that I make my own outlandish decisions — because I have to live with them."
"I have very unconventional ideas about how to run 
a business because I tend to not listen to smart advice."
Highsnobiety magazine Issue 17 is available now from our online store and at select premium stockists and boutiques worldwide.