 Whether it's small independent brands or established labels, supporting black designers helps put money into the community, and gives black creatives a voice without having to speak.
For some brands, such as Daily Paper and Orange Culture, celebrating their heritage is a constant effort, as seen in their collections year after year. Others, like Union LA and Carrots by Anwar Carrots, have recently dropped pieces that will support the Gianna Floyd Fund, United Negro College Fund, and local BLM chapters.
Here, we've selected our top 20 black-owned brands to shop right now, spanning from apparel to travel accessories. From already established fashion labels to smaller independent brands, here is your chance to put your money where your mouth is.
View the full rundown of black-owned brands in the profiles below.
Daily Paper
Based in Amsterdam, Daily Paper was co-founded in 2010 by Jefferson Osei, Abderrahmane Trabsini, and Hussein Suleiman, of Ghanaian, Moroccan, and Somali descent, respectively.
Inspired by the founders' shared African heritage, Daily Paper fuses traditional aesthetics from the continent with modern and casual designs. Today, Daily Paper is a well-respected label in the fashion world, counting collaborations with PUMA, colette, Van Gogh Museum, and Wizkid in its repertoire.
But Daily Paper is more than a fashion brand. "It's a movement of ingenious creatives from all walks of life, brought together by shared passions," says co-founder Hussein Suleiman. "We're creating a community of belonging rather than exclusion."
Starting out as a menswear only label, Daily Paper is living up to this sentiment with the launch of its women's line in 2017, further expanding its offering.
L'ENCHANTEUR
The brainchild of twin sisters Dynasty and Soull Ogun, L'ENCHANTEUR takes on an affordable essential you'll find in any black household — the durag. After spending years perfecting their crafts in the textile and jewelry fields, the Ogun sisters launched the brand in 2012, debuting with a line of high-end durags made from silk, velvet, and denim.
While beauty supply durags usually retail for no more than five bucks, L'ENCHANTEUR's fancy 'rags come with price tags of up to $130, turning the affordable accessory into a flex-worthy piece. But the Brooklyn-based brand's offerings don't stop there. With a shared interest in astrology, mythology, architecture, and magic, L'ENCHANTEUR's collections also include apparel, hats, jewelry, art, and more.
Every piece is created with the goal to leave a mark on society, while also documenting the times we live in. In recent years, the brand has received nods from artists such as Erykah Badu, Lauryn Hill, and J. Cole.
ASHYA
Founded in 2017 by Ashley Cimone and Monya Annece, ASHYA is a Brooklyn brand focusing on high-quality leather accessories such as belt bags, pouches, and other travel-ready accessories. After traveling to India and noticing a shortage of sophisticated and contemporary accessories, Cimone and Annece saw a unique opportunity to realize their design passions.
"The accessories market is quite saturated with traditional bag styles, and even the resurgence of belt bags sees the same shapes over and over again," share the founders about the brand's beginnings. That's what motivated ASHYA's founders to offer a newer approach to the accessory, opting instead for designs that are both stylish and functional, inspired by the modern traveler.
The brand's designers have clearly been doing it right, with ASHYA having recently been picked up to take part in the CFDA Elaine Gold Launch Pad residency program for emerging designers.
Third Crown
Based in New York, Third Crown was created by husband-and-wife design duo Kristin and Kofi Essel. Kristin studied apparel design and worked in jewelry, while Kofi graduated in men's design from FIT. After their respective experiences in fashion, the couple decided to become business partners as well, creating a line of unisex jewelry.
Using 18K gold, silver, and gunmetal, Third Crown's latest collection includes jewelry that is simple yet full of attitude, featuring clean lines and elegant designs. "Masculinity and femininity are fused for us," says Kofi. "Anyone can find something they love, regardless of their gender. If it fits, rock that joint."
Though Third Crown is still in its prime, the brand has already caught the attention of celebrities including Beyoncé and Solange Knowles and has made appearances in Issa Rae's hit show Insecure.
Telfar
Telfar Clemons, as his name may suggest, is the man behind Telfar. Clemons was born in the United States to Liberian parents and moved to New York City in 2002 to pursue a modeling career. The year later, Clemons began creating deconstructed pieces from vintage clothes, sold in Soho and Lower East Side boutiques.
That proved to be successful, so in 2005, Clemons officially launched Telfar — his own brand of unisex fashion. Though Telfar is widely known for its chic sportswear and everyday staples, one particular offering stood out in recent years — the shopping bag. Dubbed the "Bushwick Birkin," Telfar's shopping bag quickly became a coveted accessory in NYC and beyond.
Telfar's popular tote is made from vegan leather and comes with the brand's "TC" logo embossed on the front, and its strap can easily turn it into a shoulder bag. The accessory is available in three sizes (small, medium, and big) as well as different colors such as white, black, tan, olive, or red. Best of all, the "Bushwick Birkin" is pretty affordable, too, with prices starting at $150.
Pyer Moss
You've probably already heard of Pyer Moss. The menswear and womenswear brand holds weight in the fashion world and counts ongoing collaborations with Reebok. Kerby Jean-Raymond, the brand's designer, has also been appointed as creative director of Reebok Studies__, a new sub-division.
But Pyer Moss is more than just that. The Haitian-American designer never fails at delivering powerful messages through his work. He's not afraid of calling people out, either, as he recently critiqued BoF in an open letter. For example, in September 2019, Pyer Moss' NYFW show was inspired by Sister Rosetta Tharpe, a queer black woman credited for having invented rock'n'roll. At the MET Gala, meanwhile, Raymond wore a custom-made suit paying homage to the legacy of black drag queens.
"I'm figuring out a lot of shit," Raymond recently told Highsnobiety. "I'm figuring out how to navigate the world as a poor black man, and now as a rich black man. As I'm figuring it out, I'm putting it in my work and being transparent about it because I hope that somebody who feels like me — not just looks like me— back then, can also feel like me now."
OMONDI
Recho Omondi, the Kenyan-American woman behind OMONDI, was born and raised in the Midwest, then later moved to Georgia to study fashion design at the Savannah College of Art and Design. Some years later, she moved to NYC to work on her own fashion label.
If you think you've seen the above sweater before, you may be right. OMONDI's "Niggas" sweatshirt made the rounds in recent years, and was worn by Issa Rae's during an Insecure episode. Unlike most designers, though, Omondi doesn't show during New York Fashion Week, and she only drops one collection per year (which may explain why most of her pieces are currently sold out).
OMONDI is more than just a fashion label. The designer also launched The Cutting Room Floor, a podcast show focusing on the fashion industry and its challenges. So far, OMONDI's podcast has had guests such as Heron Preston, Diet Prada, Matthew Henson, and many more.
Slashed by Tia
Slashed by Tia is the brainchild of Teni Adeola, a Nigerian-born fashion designer currently residing in New York City. Adeola started working on her brand in 2017, while pursuing an arts degree in culture and media from The New School. Her designs draw inspiration from her arts background, as it's evident from Slashed by Tia's Victorian-inspired garments.
Just picture what women from the Renaissance Era would wear if the crop tops were a thing. The result is dreamy yet sensual fits like matching see-through pants and crop tops, complete with ruffles, of course. Adeola's designs became popular on Instagram, and soon caught the attention of celebrities, too.
Big names such as SZA, Dua Lipa, and Gigi Hadid have shown love to Slashed by Tia, and the success doesn't seem to stop. In January 2020, Tia Adeola made her official debut at New York Fashion Week, which was welcomed by exciting reviews.
MIZIZI
If the African diaspora had an official merch line, MIZIZI would be it. The brand's name translates to "roots" in Swahili and was founded in 2015 by Paakow Essandoh. While attending the University of South Florida, Essandoh noticed a lack of representation among African diaspora students and decided to literally put their countries on a jersey.
Essandoh dropped MIZIZI's first jerseys in the summer of 2015, and the designs proved successful. So far, MIZIZI's jersey rep African countries such as Nigeria, Ghana, Ethiopia, Eritrea, Rwanda, Uganda, Zimbabwe, and more. The African diaspora doesn't stop at the continent, of course. And so, the brand's designs also include countries such as Jamaica, Trinidad and Tobago, and others.
The jerseys are available in basketball, soccer, and baseball styles. Recently, MIZIZI has also collaborated with Marvel for a "Wakanda" Black Panther collab, as well as Disney for a Lion King capsule to coincide with the movie release. They even had a "Blue for Sudan" edition in support of the country's 2019 uprising. Essandoh's formula is clearly working, though we kind of wish MIZIZI would expand onto a full clothing line, too.
Bricks & Wood
Founded in 2014, Bricks & Wood is a label founded by Kacey Lynch, a native of South Central, Los Angeles. The brand is an ode to Lynch's stomping grounds, with most lookbooks featuring residents of South Central as models (including Lynch's own grandmother).
Fusing contemporary streetwear with everyday staples, Brick & Wood's pieces tend to focus on high-quality staples, rather than in-your-face designs. The label counts collaborations with The Hundreds, along with celebrity co-signs by Anderson .Paak and Tyler, The Creator.
Atelier New Regime
Atelier New Regime (or ANR) is a streetwear brand hailing from Montreal, Canada. Co-founded by Setiz Taheri and brothers Gildas and Koku Awuye, ANR is a brand dedicated to "creating uniforms for the marginalized."
The label's collections often include powerful statements such as "We learn all our gang shit from the government," "Fight the power," and "Fuck racism" printed on T-shirts, hoodies, and work jackets. More thought-provoking designs include orange jumpsuits and tees, as well as uniform-inspired padded vests with "Dressed to kill" printed on the front.
B.STROY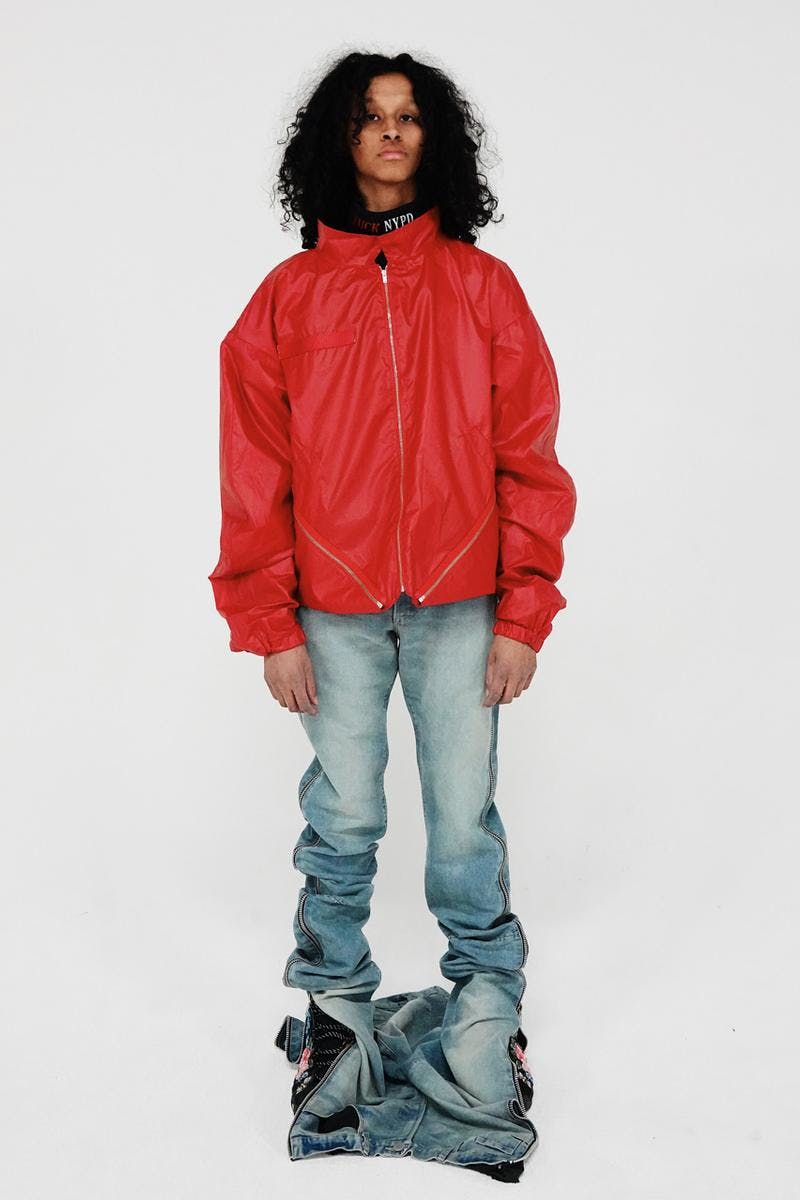 Based in Atlanta, B.STORY is the brainchild of Brick Owens and Dieter Grams. Though the brand's name may not ring a bell, you probably have already spotted some of their divisive designs online.
In 2019, the label dropped "SAMSARA," a collection addressing gun violence via pieces inspired by the Columbine, Sandy Hook, Virginia Tech, and Stoneman Douglas mass shootings. B.STORY's controversial moves don't stop here, however. In the past, the label took over a metro station in Atlanta and even held a fashion show inside of a funeral home.
Denim Tears
Denim Tears launched its first collection just last year. However, the brand's founder, Tremaine Emory, has been in the industry for a minute. Emory co-founded No Vacancy Inn alongside Acyde, and has worked closely with Virgil Abloh and Kanye West.
The label's first collection dropped on the 400th anniversary of the day the first slave ship arrived in America, in 1619. For the debut line, Emory printed cotton wreaths across denim jeans, hoodies, and tees, highlighting the country's complicated relationship with the material.
Most recently, Emory announced that he won't release his Converse collab (an ode to David Hammons' African-American Flag) until he feels that Nike will have done more to help the black community. The designer called Nike's recent $40 million donation a "very expensive band-aid."
A-COLD-WALL*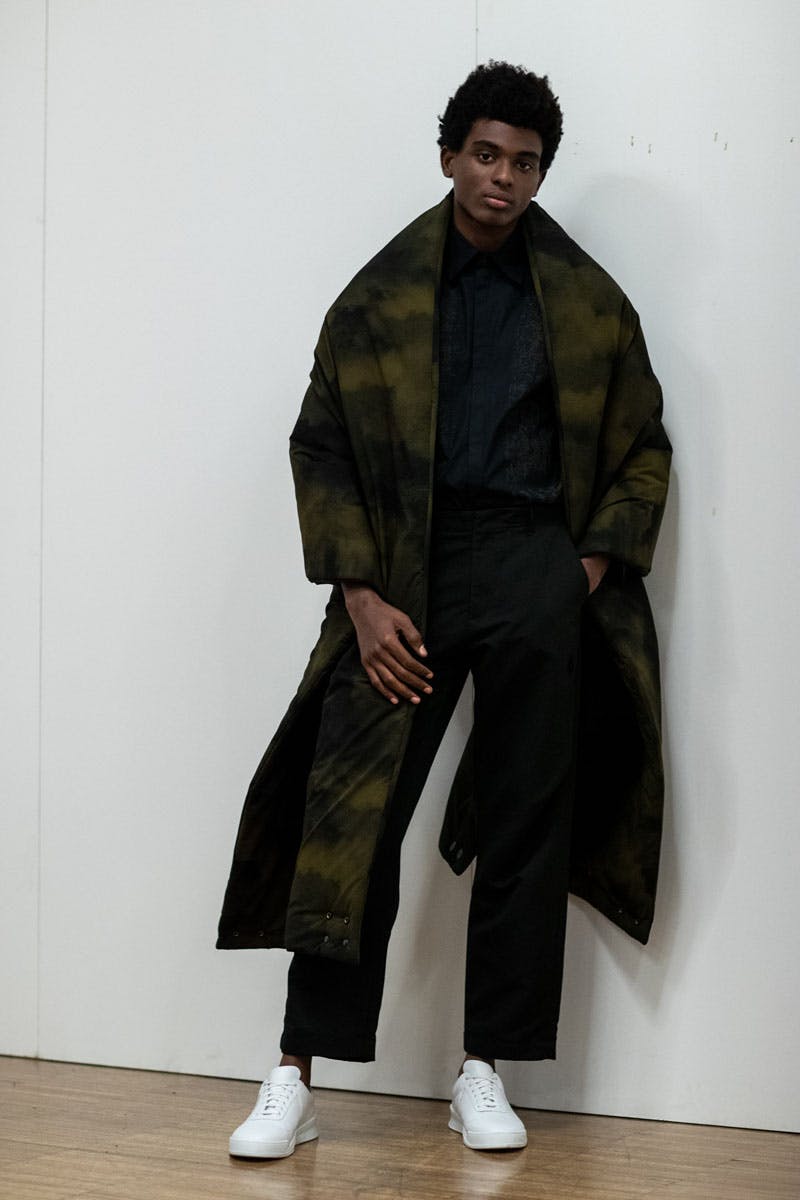 Samuel Ross is the man behind A-COLD-WALL*. Before launching his own label, Ross was the protege of Virgil Abloh.
Ross started interning for Abloh at Off-White, before working his way up to the role of creative assistant. Then, in 2015, the young designer decided to launch A-COLD-WALL*, his own contemporary streetwear label.
Over the years, A-COLD-WALL* has collaborated with the likes of Nike, and even expanded into a minimalistic homeware line, named CONCRETE OBJECTS.
Orange Culture Nigeria
Launched by Adebayo Oke-Lawal in 2011, Orange Culture is one of the most exciting fashion labels out of Nigeria. The brand fuses contemporary streetwear with traditional Nigerian fabrics, with all pieces manufactured in Lagos, Nigeria, by local experts.
Orange Culture's offerings are androgynous and challenge the concept of African masculinity — something that wasn't exactly easy. "Things have been written in the press that say Orange Culture is 'feminizing our men' and that we're going to hell because of it," Oke-Lawal told Vogue. "If you have a problem with a man wearing jewelry or an oversize blouse or painting his nails, that's your problem."
In 2018, Oke-Lawal appeared in Forbes Africa's 30 Under 30 list of the most influential creatives in the continent.
Union LA
Shop here
[/button]
Despite its name, Union actually started in New York. The store first opened its doors in 1989 on Spring Street in Soho under the ownership of Mary Ann Fusco and James Jebbia. A new Los Angeles location then followed in 1991, which Chris Gibbs bought in 2008, after managing the store for a decade.
As a streetwear institution, Union LA is known for breaking many independent streetwear brands, and helping bridge the gap between the European and US markets. The biggest turning point for Union, however, is 2017 — when Gibbs launched the store's first in-house collection.
Union LA's line can now count collaborations with Nike, Carhartt WIP, Advisory Board Crystals, and more. More recently, Union has linked with Fear of God for a special collab tee, with all proceeds going to the Gianna Floyd Fund.
Martine Rose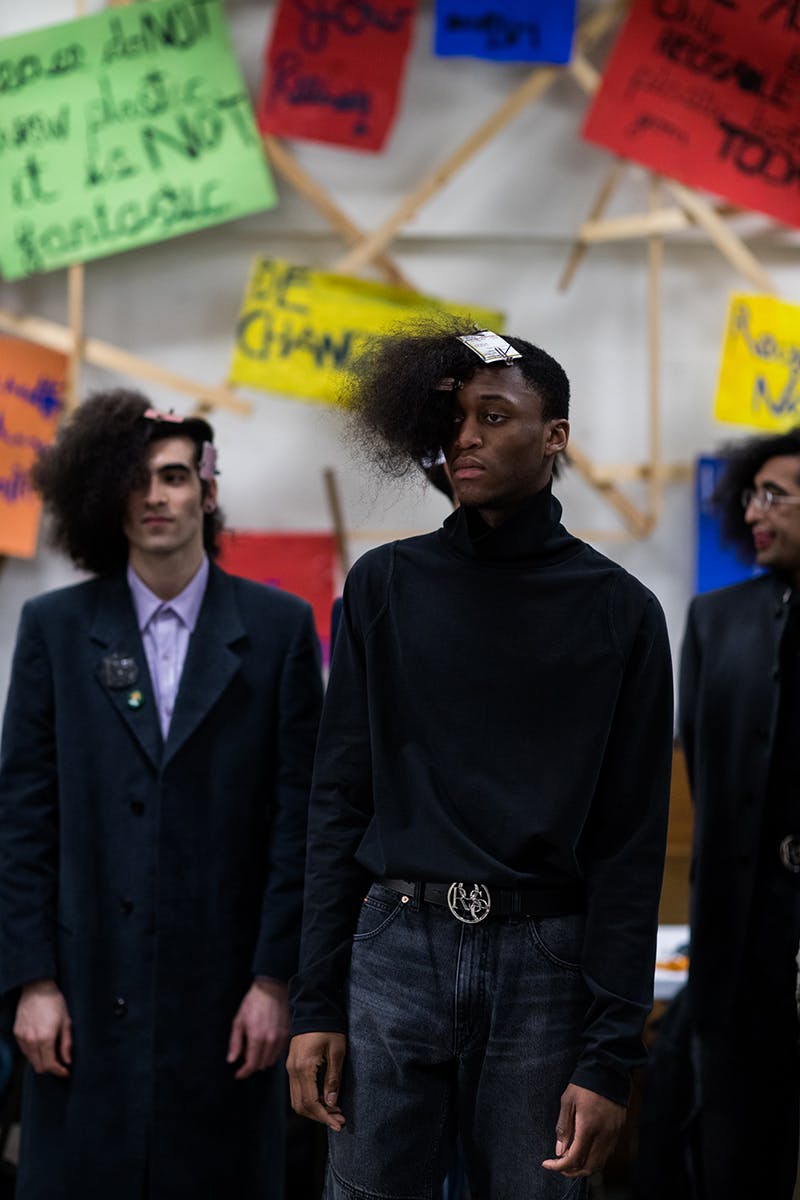 Martine Rose launched her eponymous fashion label in 2007. Before establishing her brand, the Jamaican-British attended Middlesex University, where she graduated with a degree in fashion design.
Martine Rose originally launched as a men's shirting brand, debuting via a line of ten shirts. Pretty soon, the brand expanded into a full menswear line, and released collaborations with Nike, MYKITA, Timberland, and CAT. In 2017, the designer was shortlisted for the LVMH prize. Apart from her own line, Rose works with Demna Gvasalia as menswear consultant at Balenciaga.
Carrots by Anwar Carrots
Before launching Carrots, Anwar Carrots founded Peas & Carrots International alongside Joshton Peas and rapper Casey Veggies. The streetwear label developed a cult-like following, thanks to its colorful and vibrant graphics. After parting ways with P&C International, Carrots went on to launch Carrots by Anwar Carrots in 2015.
Recently, the Los Angeles-based label joined forces with Cherry LA, Wasted Youth, Shabbaaaaa Sound Radio, and more, to release a limited-edition T-shirt in support of BLM. Named "Enough," the T-shirt features names of the many black lives lost at the hand of police. All of the proceeds will be split between the United Negro College Fund and BLM Los Angeles.
Joe Freshgoods
Joe "Freshgoods" Robinson is a designer and creative hailing from Chicago. After making one-off tees and accessories for some time, Robinson launched Joe Freshgoods, his very own streetwear brand.
Refusing to move out of Chicago, Robinson also opened Fat Tiger Workshop with the help of Vic Lloyd and Desmond Owusu. The shop, located in the Goose Island neighborhood, also serves as a creative hub for the local community, and has launched programs helping families in need of financial assistance.
Via Joe Freshgoods, Robinson dropped collections inspired by the black economy. In 2018, for example, he dropped a T-shirt named "The Not-So-Secret Power of the Black Dollar," which served a reminder that the black community makes up for trillions of dollars in spending power.
Our designated Selects section features products that we love and want to share with you. Highsnobiety has affiliate marketing partnerships, which means we may receive a commission from your purchase.