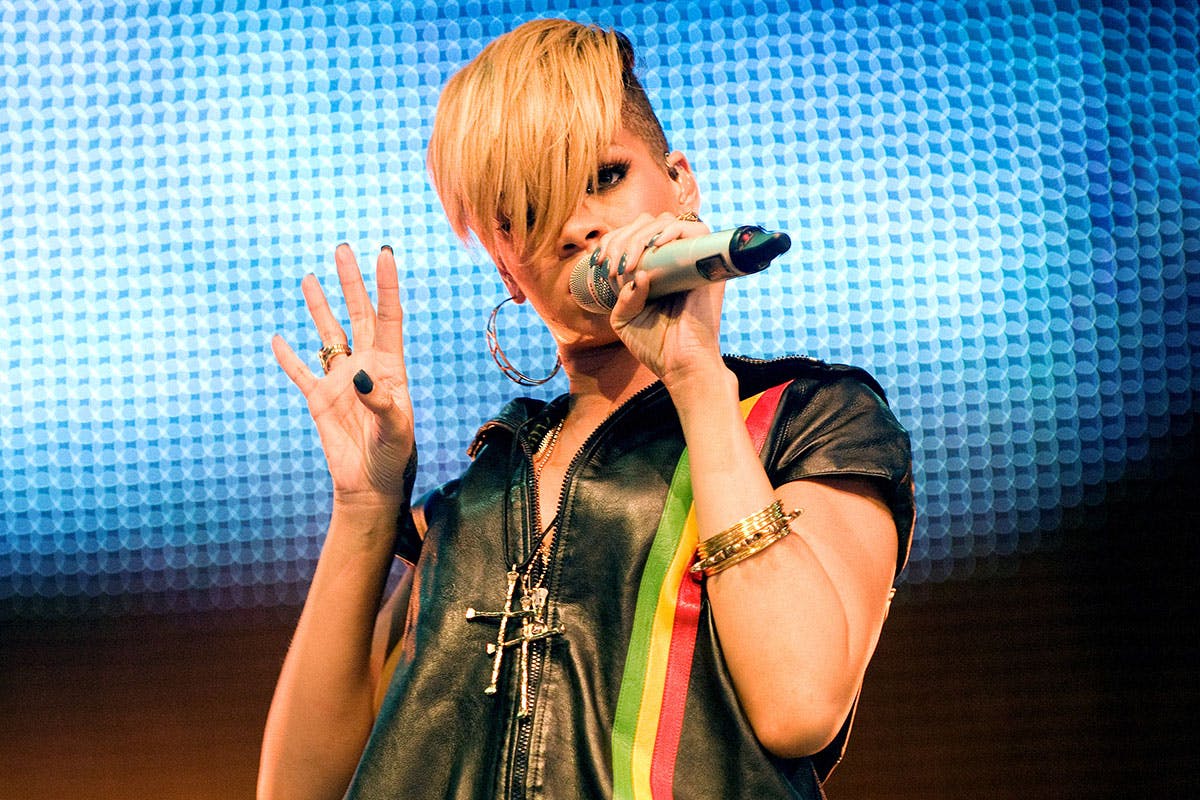 "I'm such a fucking lady!" The eminent line from "Wait Your Turn" was originally conceived as the title for Rihanna's contentious fourth album, converging the causticity running through her life into a proverbial middle finger up to the world. During this period — now over a decade ago — her violent breakup with her then-boyfriend, Chris Brown, became an excruciating glimpse inside the private life of a 21st century icon. It also revealed the choreographed posturing of the showbiz machine to be something far more merciless and fetid than previously imagined by broadcasting graphic images of the star - images still etched in our collective minds.
In his book The Song Machine, which details the machinations of the music industry, John Seabrook wrote of Def Jam CEO LA Reid's desire to not let public scrutiny color the impact of Rihanna's new record. He masterminded an "elite" writers camp to erase the impression of Rihanna as a victim. Collaborators inflated Rihanna's deliberate move towards the 'dark' side, priming the pre-release narrative that a confrontational Rihanna was about to bare all the sordid details. Rather than give into the public's demand for the insatiable and position herself as a high-profile spokeswoman for domestic abuse, Rihanna seized control and used her music as a vehicle for her story.
At just 21, she released her seminal work Rated R on November 20, 2009, a rousing declaration to the world that this was not a Rihanna to be trifled with, or even one they'd much recognize. Rated R represented a defining career pivot – Rihanna's most mature, intimate and revelatory project to date. For the first time in her career, she zoned into the album as both an art form and a post-traumatic mode of cathartic self-expression. She took the reins as a creator of her own art; no longer a Beyoncé-lite automaton at the whim of her label, but an active musician crafting a singular sound.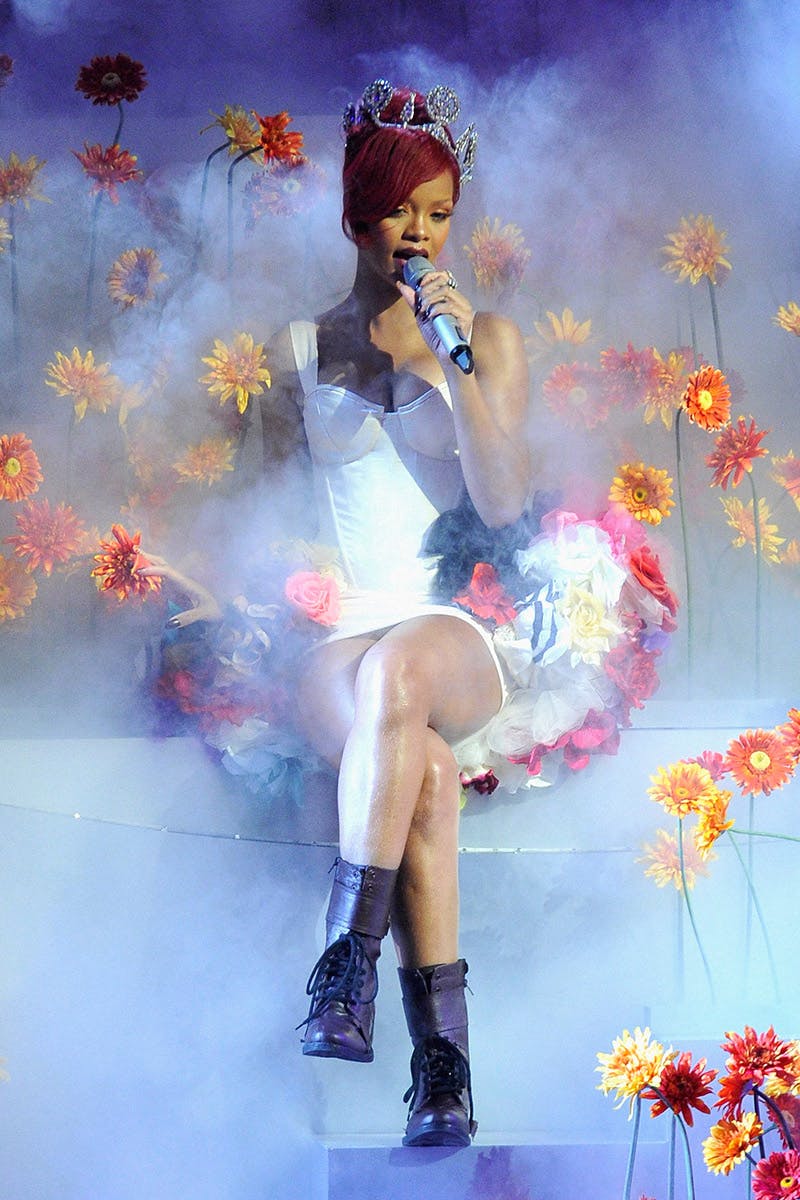 In a 2009 interview with New York Times, Rihanna was candid about the dissonance between how she saw herself and what her label dictated her image to be, a parallel of sorts to Mariah's post-Daydream emancipation from Sony and Tommy Mottola with the breakaway Butterfly. "In the beginning, everything was a little more manufactured. It had to be safe, and in order for it to be safe, it had to be done before, which made no sense to me," she said of her marketing team. "What do you mean I can't cut my hair? It has to be long and blond, like every other female singer in the game? No, I'm not doing that."
Rated R marked the first time in Rihanna's young career she was credited as an executive producer. Co-writing 9 of 13 tracks alongside the likes of James Fauntleroy, Justin Timberlake, and The-Dream, Rated R was a streamlined sonic oeuvre, revealing Rihanna as an editorial glue of disparate sounds. Devoid of filler, Rated R was also devoid of groove; only a handful of tracks possessed the type of island-infused bombast the Bajan songstress was known for. Rihanna had a tendency to lose form and consistency over a long player, and Rated R challenged that critique as her least 'pop-leaning' effort to date, particularly coming after the uber-successful confectionary hits of Good Girl Gone Bad. This time she'd forego formula and renounce her position as a centrifuge for trends, completing her transition as a pop provocateur. Rihanna simply gave into her inclinations: shifting her existing musical coda, analogous to Janet's bruised confessional The Velvet Rope - an almost taciturn distillation of grit and grind.
"I pitch with a grenade, swing away if you're feeling brave;" the opening line to end all opening lines. Delivered with a menacing snarl enhanced by that renowned Bajan twang, Rihanna effectively signaled a new phase of "I give no fucks," a mantra engraved into her skin like a tattoo. The opening six tracks of Rated R play out a breathless, relentless, at times tender escapade. Yes, parts of it feel hostile and ominous. But parts are also wild and carefree, testing the boundaries of sheer audacity. Take the one-two guttural punch of the droney, polyrhythmic opener "Mad House" segueing into the brooding dub melodrama "Wait Your Turn" – a catalyst for the dubstep takeover that would ensue soon after. Rated R was Rihanna's most outwardly empowering work to date and that power resided in her vulnerability. Not a typical example of feminist praxis, Rihanna conveyed plurality in emotion that befit a woman venturing into the murkiness of twentydom.
During the course of recording Rated R, Rihanna never fell into self-abnegation, but she recognized the incongruent, complex feelings that came with separation from a lover who was also her perpetrator. In the morose simplicity of ballad "Stupid in Love," Rihanna concluded, "I may be dumb, but I'm not stupid in love." Juxtaposed against the rallying call-to-arms "G4L" – the center piece of Rihanna's brand of feminism – she conjured an image of Rihanna at the helm with her 'Navy' riding along in an open-top tank, guns slinging. A sense of enablement and self-worth summoned through an investiture to her girls, her Navy, that she's "down for life."
Rihanna's mood for risk-taking was most ubiquitous on lead single "Russian Roulette," a tempo shift from schmaltzy ballads and dancefloor bangers, which a contingent of her built-in fanbase found jarring in the way they felt it admonished the "victim." This dark, foreboding drama played on the "love is a fatality" metaphor, amping up the claustrophobic well of internal conflict, much of which traversed guilt and regret. "Russian Roulette" served as an inverse to the serene but equally violent "Fire Bomb," one of Rihanna's best deep cuts ever. The song delivered a high-octane melodrama with retribution, explosions, stadium anthemics and what may be her most dynamic vocal performance. Rated R was paradoxical and real. It tested its listeners, as it had tested its creator, and the subsequent freedom with which Rihanna was operating, would only manifest further with future projects.
Fenty blossomed into a woman with swaggering bravado and carnality, showcasing a modern proclivity towards fluidity before it became a worn-out commodity. She toyed with the notion of a same sex lover on the Spanglish mid-tempo "Te Amo," the accompanying video censored for its softcore passion. Had the video been released today, the sexually ambiguous cues might have been deemed a queer-baiting misnomer. For its time, in the peninsula of pop iconography, it was a rarity for a viewer to play voyeur to Rihanna's cat-and-mouse chase with a lusty supermodel. On the Ragamuffin/dancehall amalgam "Rude Boy," Rihanna was even more unadulterated and explicit in her sexual wants and needs, questioning the prowess and endurance of would-be lovers.
Rihanna preached sexual liberation and bodily autonomy, setting the stage for female artists of color in the new decade to be as flagrant as they liked within the sanctuary of their own art. Somewhat surprising was her credited role as an art director for the record, inspired by the nudity in Helmut Newton's photography. The monochromatic Ellen von Unwerth cover of the artist as a feline dominatrix and the accompanying artwork for the era showing the starlet stark naked covered by a mesh of leather and chains, typified this notion. Rihanna was an isolated but enlightened black woman at the forefront of her own trajectory, where sex and power were intertwined entities.
Simon Henwood (who'd collaborated with Kanye West on his own expedition down the outré path with 808s & Heartbreak) was a crucial creative force behind the imagery and design of Rated R, which resembled a kind of Mad Max-dark dystopia integrating metallics and mutilated mannequins, enhanced by the distressed, noir-ish soundscape. Henwood augmented Rihanna's desire to disrupt the status quo. He foregrounded Rihanna's rebellious spirit which had been stifled, grounding the imagery by not "orchestrating a character" separate from the singer. "Rihanna has a very natural performance style. She is more relaxed. It was about keeping her real self in the mix–not creating a character," Henwood told MuuMuse in 2010.
Rated R was an era that tied together all of Rihanna's metier, her incomparable eye for fashion becoming a principal part of her vision - birthing the influencer of all influencers. Throwing prim-and-proper out the window, toying with androgyny and machismo, she invoked the transgressive sartorial freedom of monolithic icon Grace Jones. From the famed quiff which birthed a million copycats, from the angular Dolce and Gabbana tuxedo worn at the Met Gala, to Rihanna's Paris Fashion week takeover - the songstress came into her own as a muse for designers, mellifluously flitting between the more punk-couture stylized looks in her videos to the bevy of street looks that have inspired many duplicators. The aesthetics of fashion was Rihanna's primary suit of armor against press intrusion, but more importantly, it reflected the multiplicity of its subject and the risk-taker she was morphing into.
Rated R only debuted at number four on the Billboard 200 chart, selling 181,000 copies in its first week, far from the commercial peak she'd reach with her next album Loud. Yet that record failed to reach the watertight insurgency of Rated R. Nestled halfway through Rihanna's high-volume discography, Rated R remains an underrated jewel in her crown, a rare sanctum to an icon of our time. You could even argue it pre-empted Rihanna's most hermetic work, 2016's Anti, a cavernous, visceral coming-of-age tale from the artist who shirked autobiographical relatability at times.
Rated R was Rihanna deconstructed, serving as a reclamation of both her private and public personas in an increasingly panoptic age. It was the record Rihanna had always wanted to make, not just on a collection of songs but a fully-fledged cinematic experience. Rated R emboldened its creator, reinventing Rihanna as a rebel with a cause.