Curated by locals with a keen eye for style, GATEZERO's city guides are Highsnobiety's answer to the old school travel guidebooks. Click here for the GATEZERO hub for more travel features.
Seoul has often earned praise as the most technologically advanced city on the planet, not merely for its concentration of tech giants like Samsung and LG, but also for the convenience with which residents can access consumer goods from food to clothes online.
That puts some degree of pressure however on brick-and-mortar shops; those that want to compete with the ease of online shopping need to offer something more than just good clothes. "Compared to other cities, Seoul is insanely digitally driven so consumers are very ecommerce savvy," says Kyuhee Baik, who oversees Stüssy in Korea as well as strategy for the rising brand Hyein Seo. "The footprint for brick and mortar may be more short lived compared to other cities."
Physical stores have found ways to break through the competition by creating a homey ambience, doubling as cafes and coffee shops, or by offering a thrill that's hard to recreate online: the joy of thrifting. "Seoul has had such a big spike in secondhand shops lately that you can spend a whole day or more just tracing them throughout the city," notes Highsnobiety Features Editor Elaine YJ Lee, who splits her time between New York and Seoul.
Modernity aside, Seoul's urban roots date back thousands of years, with city walls from as early as 18 BC still found in parts of the city. Some of its most splendid examples of traditional architecture are the palatial complexes built by the Joseon Dynasty in the 14th century. "Go to Gwanghwamun area and explore palaces hiding in the middle of Seoul, it's the most beautiful sight," says electro-pop singer Cifika. From there, a trip to one of the Han River's many parks where you can enjoy food and drink delivered straight to your blanket would easily cap off a perfect day in the South Korean capital.
SHOP
Worst Skateshop — The Best in Skatewear
Even while Seoul's digitally savvy consumer base means brick-and-mortar retailers struggle more than in other cities, a well-curated selection will always draw shoppers. One of the clear winners on the current scene is Worst, the skate shop that appeals equally to both skaters and non-skaters. "It's core skate with a mix of global skate and lifestyle brands plus super cool local brands like womenswear JICHOI," says Baik of the shop, which began life as a flea market in 2016.
Cosmos Wholesale — For Those Who Still Appreciate a Cassette Tape
It's hard to describe what you'll find at Cosmos Wholesale, except that it all falls under the umbrella of quirky oddities. Here are the rare sort of treasures that you wouldn't necessarily find at a more fashion-centric shop, like vintage Microsoft or In-N-Out Burger T-shirts, cassette tapes from Korean musicians, as well as strange but practical finds like vintage cameras and glassware from past Olympic Games. Bring cash and an open mind.
Duffel Centre — A New Type of Mall
"You should carve out a whole afternoon for Duffel Centre," says Lee of the shopping and dining center, located in a quiet residential area. Duffel Centre is worth the trek as it's home to cafes and restaurants and local brands all in one place, but one of the standouts is the "cultural center" created by Korean menswear designer An Teok, as well as on site cafe Aufglet, which helped popularize the "croffle" in Korea.
8division — Setting the Standard in Menswear
"I would say 8division is one of the few last remaining menswear shops in Seoul that remains truly independent and relevant," Lee says of the multibrand store, which made its mark for bringing many Japanese brands to the country. The new, expanded location has grown to include more womenswear and local brands as well, like Amomento, and international favorites like Troentorp clogs.
Peaches D8ne — Doing Doughnuts
Peaches began as a group of car enthusiasts based out of Los Angeles and Seoul, but you don't need to be a gearhead to visit the collective's shop. You can shop Peaches merchandise at the space or receive advice on how to style your own ride, but visitors are also welcome to simply take in the rather unusual site of tricked out Mercedes and Ferraris across from an onsite coffee and doughnut bar.
Selvage Project — Secondhand Standout
Between new Jacquemus and Phoebe-era Céline, Selvage Project boasts some of the best curation in an increasingly crowded secondmarket in Seoul. The store is not married to one style, with footwear selection running the gamut from Manolo Blahnik boots to Kiko Kostadinov Asics. "They've got all the elements for a fun and memorable visit: good product curation (I scored affordable Margiela), impressive interior, and genuinely, extremely friendly staff," says Lee.
Dongmyo Flea Market — A True Thrifting Treasure Trove
The secondhand market has grown in Seoul in recent years, including more curated vintage shops. But for those who like the thrill of the hunt, there's Dongmyo Flea Market. "If you go to Dongmyo you can find some amazing secondhand items from the 2000s and older," says Cifika. Arrive early and bring cash to get the best selection of clothes before a crowd of young Seoulites has picked it over.
Khakis — Personal Favorites
"It really feels like the founders are realizing a lifelong dream," Lee says of Khakis, the new brick-and-mortar from local streetwear favorite Thisisneverthat. The space sells the inhouse Khakis line as well as a small selection of labels beloved by the owners like Arc'Teryx and Brain Dead alongside books, plants and records so that you look like you've stepped into a particularly stylish friend's closet rather than a store.
EAT
Woo Lae Oak — Nostalgic Noodles
Crowds line up on the regular for Woo Lae Oak's Pyongyang-style cold buckwheat noodle. Despite the lines and the fact that Woo Lae Oak's noodles are freshly made to order every day, the service is swift at the wood-paneled establishment, which has been perfecting its craft since it opened in 1946. Bulgogi seared tableside is also a standout.
Loft — Serene Pours
Already popular in the design community, local art book specialists Post Poetics branched out into food and dining with the opening of the sleek natural wine bar Loft, which serves small plates based around ingredients like cucumbers, Jeju pork and octopus. Unsurprisingly, the ambiance is pristine, albeit in an unexpected way. "They purposefully do not play music so if you catch a quiet night you feel like you have the whole place to yourself," says Baik.
Millennial Dining — Vegans Gone Wild
Vegan food often gets a bad rap as boringly ascetic. One-year-old Millennial Dining makes vegan food that awakens the senses, quite literally so with dishes with sensuous names like Better Than Sex, featuring velvety carrots, vegetable butter and fresh bread. Some dishes attempt to recreate a meaty texture, like chicken-flavored jackfruit, for the diners who miss an authentic taste of flesh.
Keiko Shoten — Service With a Smile
Keiko Shoten is all smiles, all the time. The casual eater is also a vintage store curated by husband and wife team Keiko and Jack, who fill the space with Americana items imported by way of Japan. Stop by for brunch favorites like omelettes, but be sure someone in your party orders the signature smile curry, with a mound of rice decorated with a cheesy (as in literal cheese) smiley face.
DRINK
Kompakt Record Bar — Listening Session
"I can't live without this place, and a lot of Seoulites will agree with me," Lee says of the relaxed music and cocktail bar Kompakt, where even the bartenders are also DJs. Jinmoo of Korean DJ crew 360 SOUNDS opened the space in 2018, which has hosted Seoul's top DJs every night of the week ever since. "This is the place to go if you want to meet the most creative and welcoming people in Seoul," Lee adds.
Ring — The Best Vibes in Town
When in need of music that's a little more pulsating, Seoul's creative crowd flocks to Ring. "I barely drink and party, but if I do I choose Ring," Cifika says. "I bump into many of my friends who are artists." The minimal techno club opened in 2020 and has quickly established itself as the best nightlife ambience in Seoul.
SLEEP
Grand Hyatt Seoul — Mountain Escape in the City
"Grand Hyatt has a very serene, old classic feeling," says Baik. "It's nestled in Namsan Mountain so you have beautiful views of nature against the cityscape." The five-star hotel has all the usual luxury digs, pool, sweeping views, and was also used as the filming location for K-drama Lovers in Paris, a testament to the romantic ambience you might expect.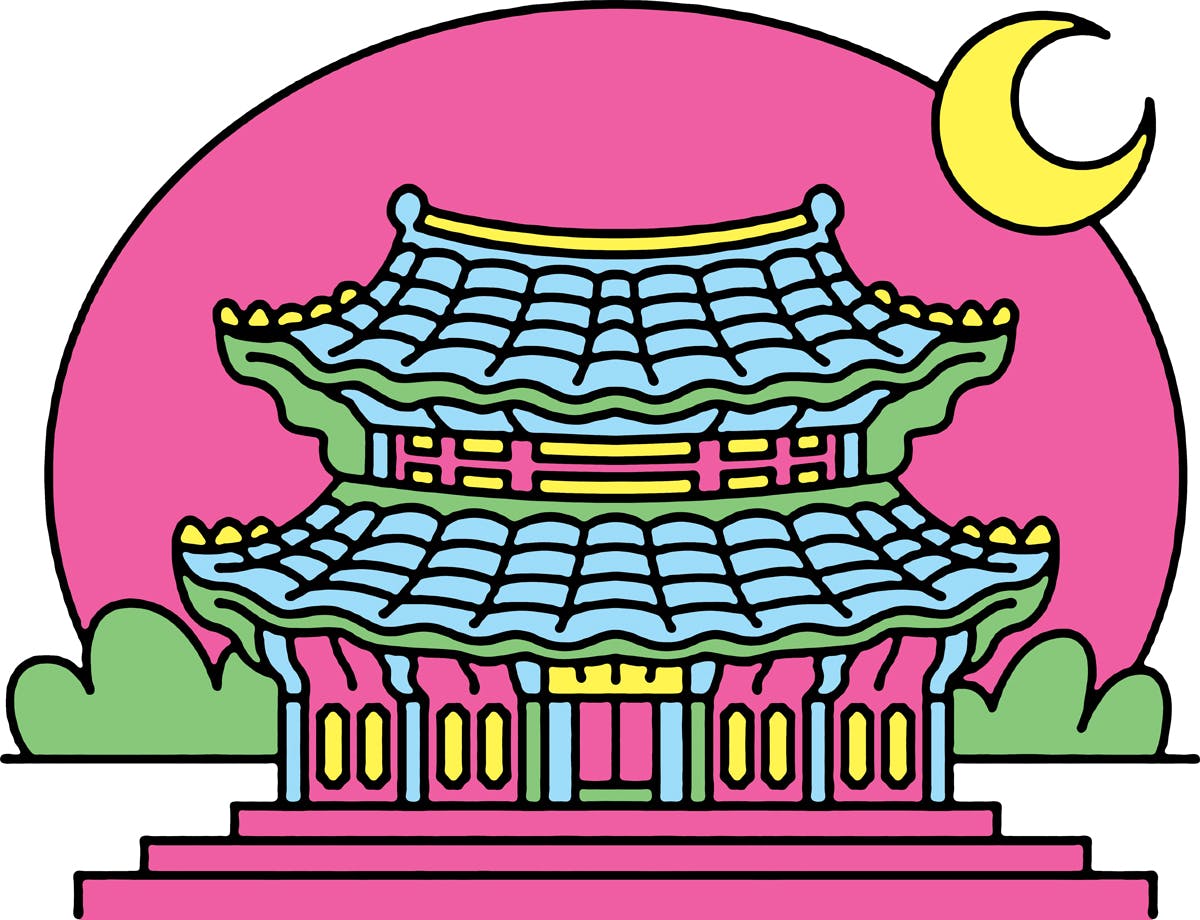 SEE
Hangang Park — Riverside Promenades by the Dozen
Hangang Park is not a singular entity but a series of 12 parks up and down the Han River, each offering their own bevy of green space, art installations, outdoor activities. Yeouido is ideal for picnicking and people watching, as you can order fried chicken and beer delivered straight to the park, while Gangseo is primarily for nature lovers with a bike path snaking through protected wetlands.
National Museum of Modern and Contemporary Art — The Standard in Korean Art
First opened in 1969, Seoul's MMCA primarily promotes contemporary and modern Korean art though it also holds a smaller collection of international artists and has partnered with institutions like the Whitney to showcase American art. The museum is spread across multiple campuses, including the main branch in Gwacheon, south of Seoul, and another in the walled palatial complex of Deoksugung in Seoul.
Changdeokgung Palace — Seoul's Secret Garden
Originally built in the 15th century as a secondary residence to the primary Gyeongbokgung palace, Changdeokgung is today beloved for its harmony with the surrounding nature, with thousands of plants and trees among its gardens. The standout is The Secret Garden, a near forest unto itself with walking paths and ponds. Though not exactly a secret, the garden does require a separate entrance fee.