Since first appearing on our screens as a fresh-faced adolescent back in 2000 as Louis Stevens, star of Disney Channel's Even Stevens, Shia LaBeouf has established one of the most surprising careers in Hollywood history.
Now, 16 years later, the actor is adding rap to his repertoire. He first went viral a year ago when a video of him rapping topless in a park spread like wildfire online, then last month he made waves with a series of raps performed as part of Sway's "5 Fingers Of Death" segment. This was swiftly followed up by a track, "Zapruder," which took shots at everyone from Drake to Lil' Yachty to Vin Diesel.
One rapper less than enthralled by his mention is Soulja Boy, the artist best known for dominating charts back in 2007 with "Crank That." His response came in the form of an Instagram video captioned "Fuck Shia LaBeouf," and an assertion that he could "never come to Atlanta."
Naturally, LaBeouf responded with yet another diss track (which sees Soulja bizarrely labelled "an obscure fruit, a kumquat") as well as a promise to come and visit ATL as soon as his schedule cleared up – a response that won him yet more fans.
Usually, a Hollywood actor embroiled in beef with a viral rap star would seem unexpected but, as LaBeouf has shown over the last 16 years, nothing is surprising anymore. Contextually, this is a man who live-streamed everything from his own heartbeat to a 72-hour marathon of him watching every film he's starred in; he even staged an art show in which he surrendered all autonomy to the general public which resulted, according to an interview with Dazed, in him being raped by a female visitor.
It's tempting to dismiss his new foray into rap as another experimental performance, yet it seems his talent and genuine passion for hip-hop have been brewing for a while. Here, we break down exactly why he might just be the kind of rapper the hip-hop scene needs right now.
He's Actually Not Bad
As we all know, there's a comprehensive and extremely turbulent history to be written about actors becoming musicians. Everyone from Zooey Deschanel and Juliette Lewis to Johnny Depp and Jada Pinkett Smith have transitioned – some briefly, some permanently – into musical careers with varying levels of success. Far rarer, though, is a transition into rap. While many notable rappers including Eve, Ice Cube and Queen Latifah have made the switch to acting, the shift rarely works both ways.
LaBeouf is an anomaly in the sense that he's actually attracting acclaim from hip-hop fanatics and aficionados online. Complex wrote that he murdered his freestyle, grime site GRM was similarly impressed and even Sway's reaction was a mixture of shock and awe – he described LaBeouf as a rapper disguised as an actor, as well as the #1 MC in Hollywood.
He's a Genuine Hip-Hop Head
The interview leading up to LaBeouf's "5 Fingers Of Death" revealed details about the star's childhood and the role that hip-hop played throughout, as well as his earliest influences.
He talks candidly about growing up as a white boy in a predominantly Mexican neighborhood, explaining that he and his friends had to learn to freestyle and breakdance in order to avoid being beaten up. "Rap became the language…" he explained, "That's how we were able to connect, people that didn't understand me and people that I didn't understand."
He also revealed that his first record was a Wreckx-n-Effect album, as well as citing Heavy D and Tupac's seminal All Eyez On Me as early musical influences. None of this comes as a surprise – earlier this year, on The Ellen Show, LaBeouf revealed a series of tattoos on his thighs depicting hip-hop icons including Notorious B.I.G, Jay-Z and Tupac, as well as Missy Elliott in her infamous look from "The Rain" music video.
His Creativity Is Unconventional
LaBeouf's performance art has been analyzed, dissected and turned into viral memes on more than one occasion – remember the world's most motivational speech?
Still, it's easy to mock his intentions but it's impossible to dismiss his creativity. We do, after all, live in a world dictated by viral trends and a saturation of information; the result is a series of mainstream industries seriously lacking creative vibrancy.
LaBeouf has been quick to pick up on this theme as well as explore it in more detail – his #TouchMySoul exhibit served as a critique of instant gratification and the ways in which the temptation of online notoriety can skew our interactions, whereas his #IAmSorry series, characterized by a brown paper bag upon which the words "I Am Not Famous Anymore," was interpreted as a commentary on celebrity hyper-visibility.
He Can Play Any Character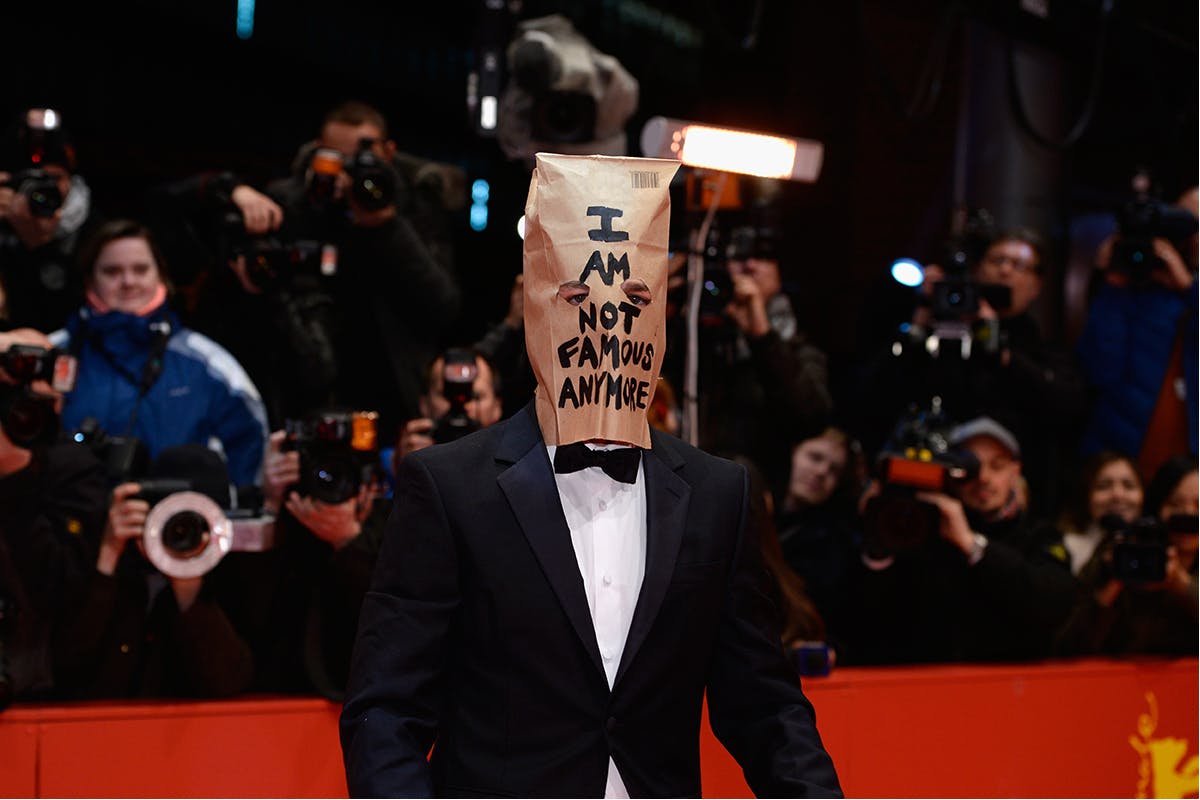 Over the years, LaBeouf has cultivated a diverse film portfolio: he starred as the hero of action-packed franchise Transformers, appeared in Lars Von Trier's controversial Nymphomaniac and even voiced a 17-year-old penguin in Surf's Up. He's versatile; able to switch perspective at any given time.
Incidentally, this is a key skill possessed by a series of hip-hop innovators both past and present. Eminem, Nicki Minaj, Tyler, The Creator: they all have alter-egos ready to be tapped into.
This duality of character often allows an expanded narrative to bleed into lyrics, often yielding impressive bodies of work such as The Real Slim Shady and Tupac's posthumously-released The Don Killuminati: The 7 Day Theory. The link between rap and acting already exists; LaBeouf is just wise enough to tap into it.
He Doesn't Take Himself Too Seriously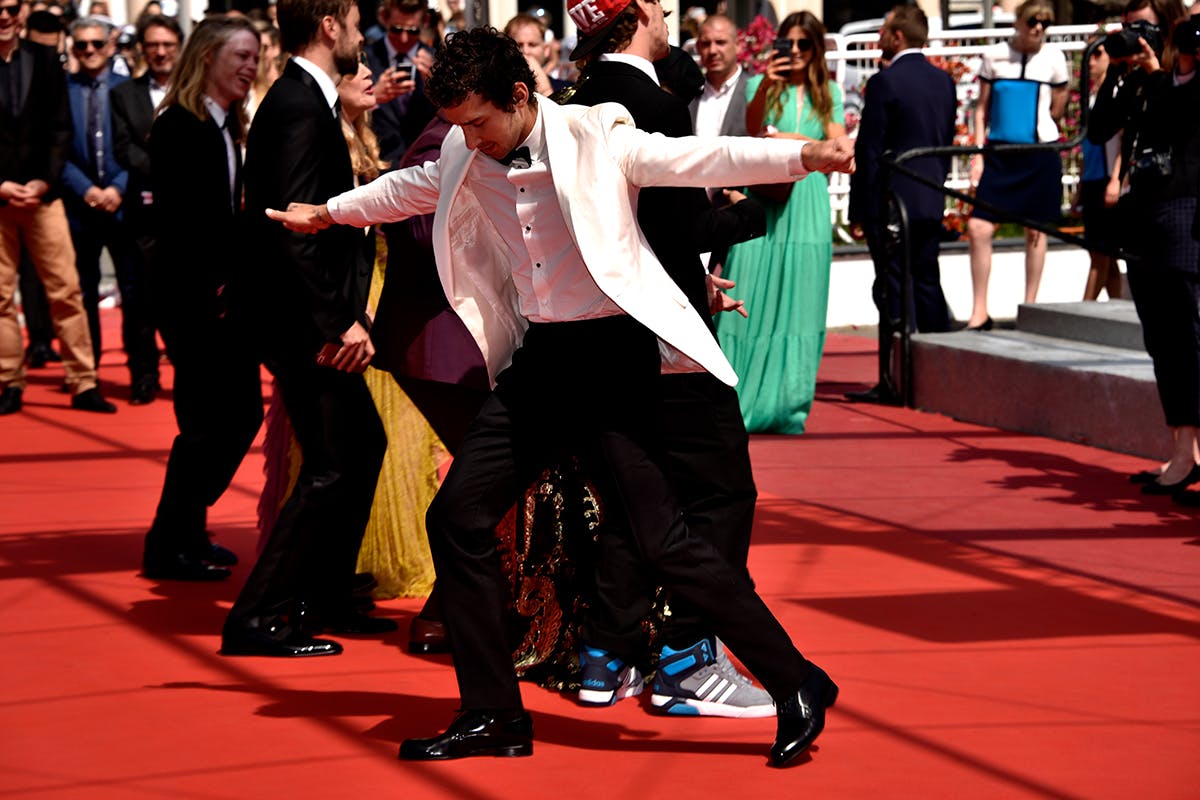 This one is debatable – incidentally, when Lil' Yachty was asked by TMZ to respond to LaBeouf's disses, he argued he should "stick to acting" and that he "takes it too seriously." This is a criticism often leveled at the actor – after all, performance artists are rarely laid-back, instead throwing themselves into highbrow endurance pieces resistant to interpretation.
LaBeouf, however, touches upon his own fame often and there's a current of self-awareness and occasional self-deprecation which sets him apart. Even when freestyling, he asserted that he wasn't a rapper and simply insisted that featuring on Sway's show was a dream come true.
This same streak of endearment became visible when he posed for selfies with strangers while trapped in an elevator, or when his face lit up with nostalgia upon seeing his pre-teen self on screen during his film marathon; there's a sense of being in on the joke.
It's hard to tell whether he truly does care about the acclaim his freestyles garner, but the resounding impression is of a hip-hop fanatic finally indulging his passion and being subsequently validated in the process. He might claim that he's not technically a rapper, but that could be quick to change.
For more in the way of music, check out our 12 most underrated albums of 2016.