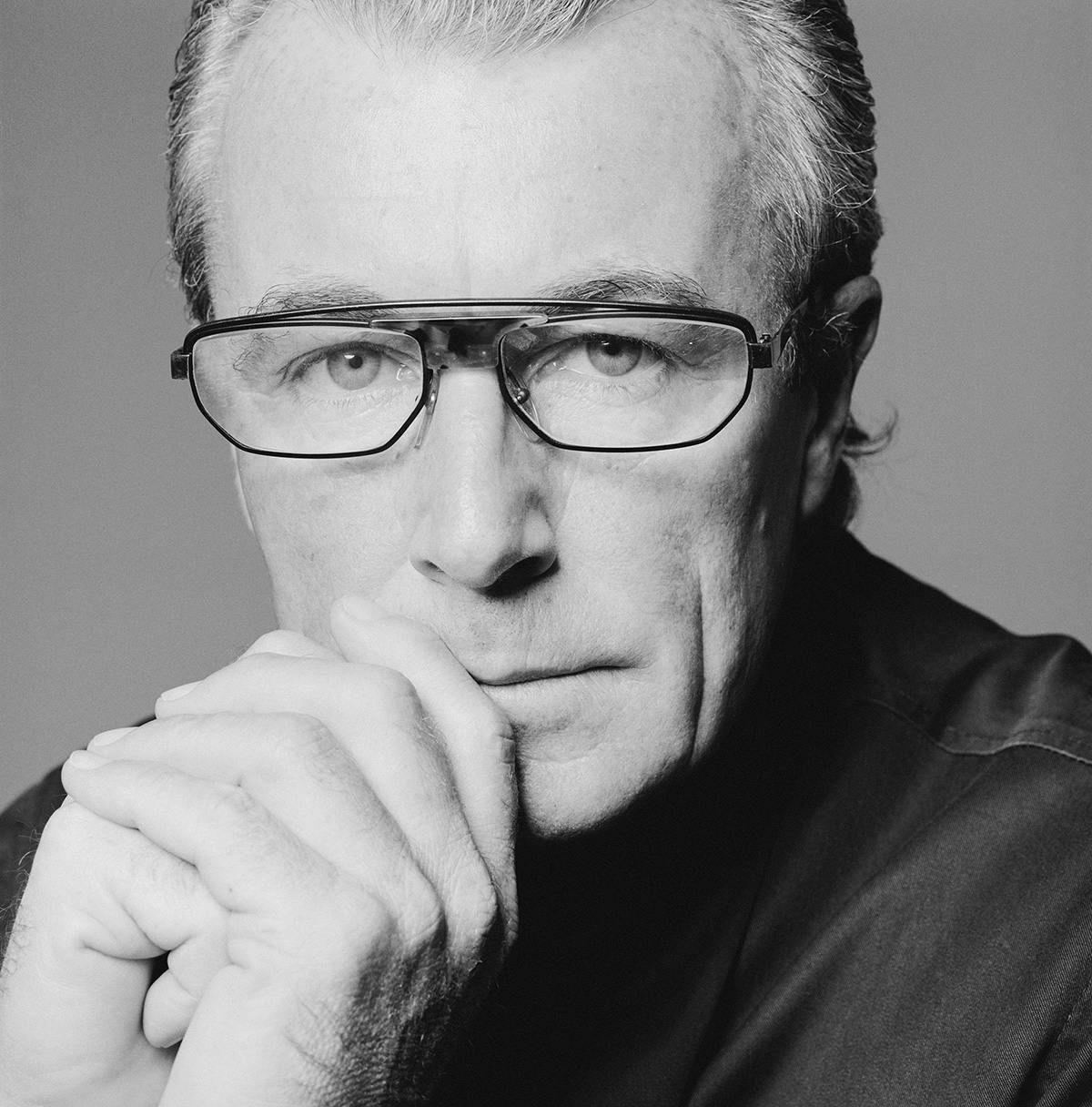 Terry O'Neill is one of the world's greatest celebrity photographers. With highly-collectable pieces hanging in galleries and private collections worldwide, O'Neill helped pioneer the concept of celebrity culture during the Swinging Sixties, something we now take for granted.
Few photographers can match O'Neill's breadth of work, capturing everyone from David Bowie to Amy Winehouse, Frank Sinatra to Elvis, the Queen to Winston Churchill, Nelson Mandela to Tony Blair, The Beatles, The Rolling Stones, even Gordon Ramsay – the list goes on and on.
Now O'Neill is revisiting where is all began. The 79-year-old photographer is creating a new, huge outdoor exhibition that celebrates "Faces of Kensington and Chelsea." Transforming Sloane Square into a dynamic public art space, the exhibition is taking place during the Kensington and Chelsea Art Weekend (July 27 to July 29). Having lived and worked around Kensington and Chelsea most of his life, this special art project will celebrate those amazing faces who brought, and continue to bring, art and culture to this Central London borough.
We caught up with him to talk photography tips, being on stage with Elton John in front of 100,000 people and getting on the wrong side of Steve McQueen.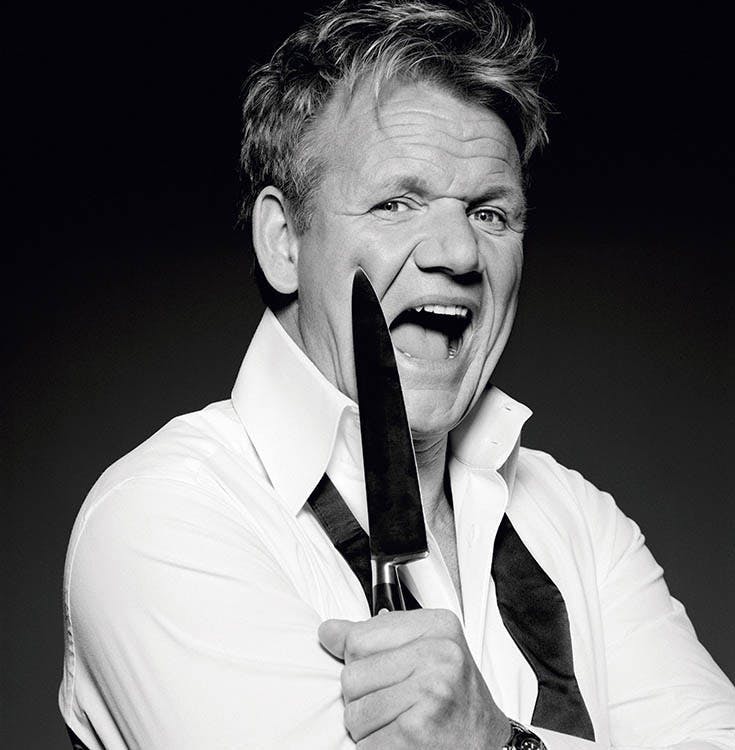 Do you like the word icon?
When applied to me? Blimey, no. I was just lucky, really. I was at the right time at right place. All those people – The Beatles, The Stones, Michael Caine, Terence Stamp, Shrimpton, Sinatra, Elton, Bowie – those are the icons.
How has celeb photography changed over the years?
It's just not the same anymore. I mean, musicians and actors needed photographers back when I started, we were the ones getting their images into the papers. Today, it's overly managed. To work with someone today, you have to go through several people; managers, PR, stylists – all who want approval and control. When I started, it was often just me and the subject. Then, on top of that, you have all the photoshopping going on. They don't even resemble themselves in the photo. Is that photography; when you do so much work with the actual image? I'm not sure.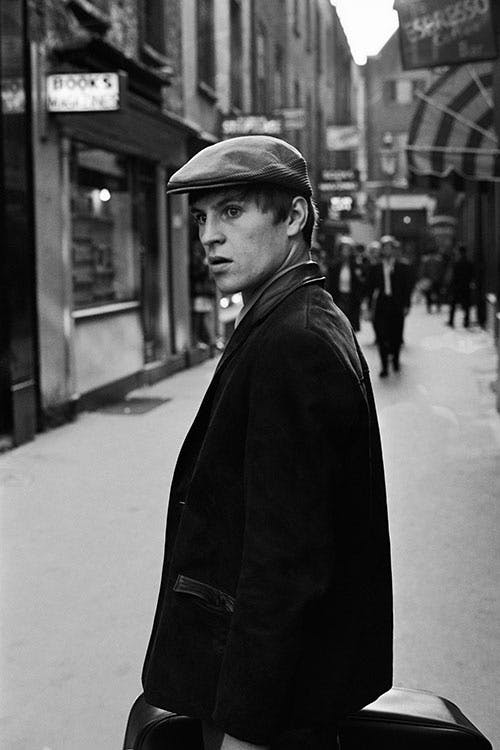 Has social media killed the art of celebrity photography?
Oh I don't know. Today, anyone can snap a photo – but that's how it was back when I started, too. I never took photos of the subjects when they didn't know it, though. I wasn't that type of photographer. I let them have their own space and time and when we worked, we worked.
Was there ever a time when you felt like giving up photography?
Age! I just got older and slower. [laughs]
The famous Sinatra photo on the boardwalk – did you ever feel nervous about the presence of his bodyguards?
Absolutely. When you see that crowd coming towards you, that was intimating. That was the first shot I got – of them rounding the corner. They came right up to me, because I was snapping away, and I nervously handed Sinatra a letter. I was friendly with Ava Gardner [romantically linked to Sinatra]. She used to like jazz music, so I'd take her out to the best jazz spots in London. Anyway, I told her, listen, I'm going to be working with your ex. And she went and wrote a letter and sealed it and told me to give it to Frank. So I did.
He opened that letter, read it, looked at me and smiled. He said, "Boys, he's OK, he's with us now." And that was the start. I worked with him for decades after and he allowed me to go wherever I wanted; backstage, on-stage, on-set. He taught me a valuable lesson: stay out of the way.
What was in the letter?
I never did find out...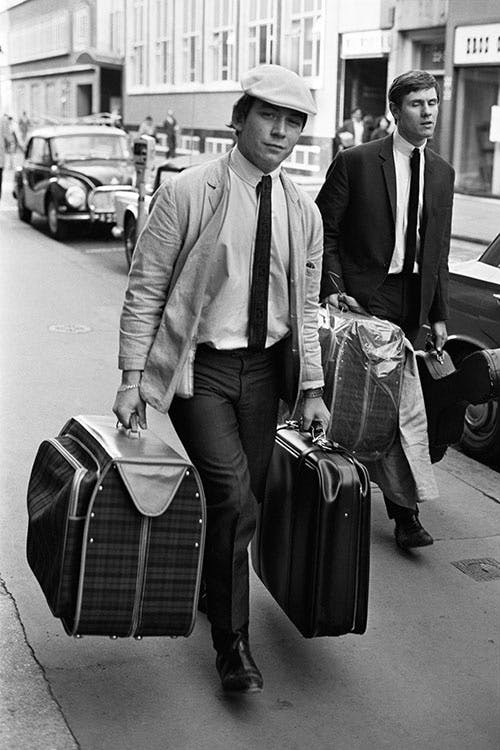 Did anyone make you feel nervous?
I was nervous the first time I was invited to take photographs of Her Royal Majesty. You receive an invitation with a date and time and generally that's a few months out. The first time, I must have spent that entire four months waiting, just thinking of everything that could go wrong. Cameras, lighting, film – you name it. I spent a lot of time worrying.
What was it like when you finally arrived?
When I got there, I set everything up and in she walks. She immediately put me at ease. I forgot, here's a woman who has been photographed a million times. She knows better than anyone what makes a great photo. She's remarkable.
Was there anyone you felt you just couldn't get, no matter how many times you shot them?
Off the top of my head, it would have to be Steve McQueen. But my one and only try wasn't the best. I was scheduled to take photos of McQueen – so I arrived at the office and his PA walked me in and evidently no one told Steve. He wasn't in the best of moods and started to yell a bit and gesture to us "get out" – and I just started taking photos. I was able to get a few snaps off but I would have liked to have worked with him under difference circumstances.
Who was your favorite person to shoot and why?
That's a hard question. And as I think, all these images spring to my mind – David Bowie, The Rolling Stones, The Beatles, Terence Stamp – but I'd have to say Sinatra. He was a legend, an icon.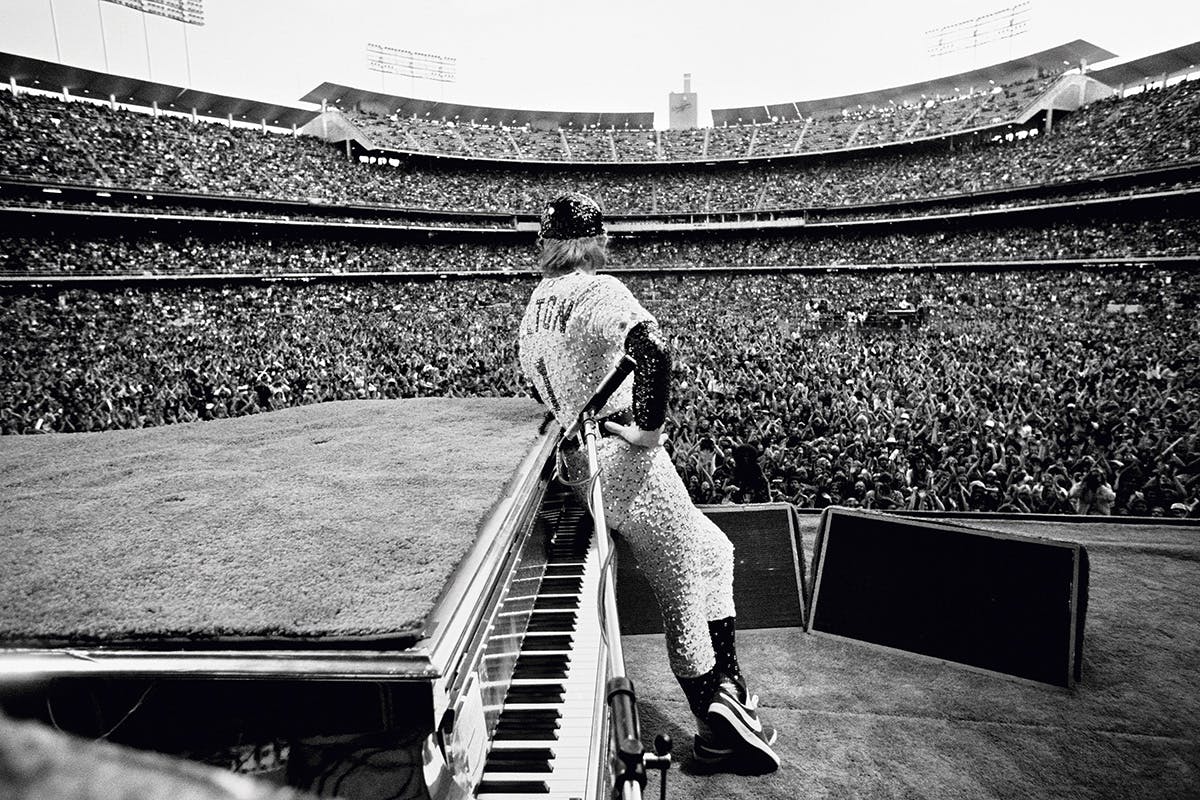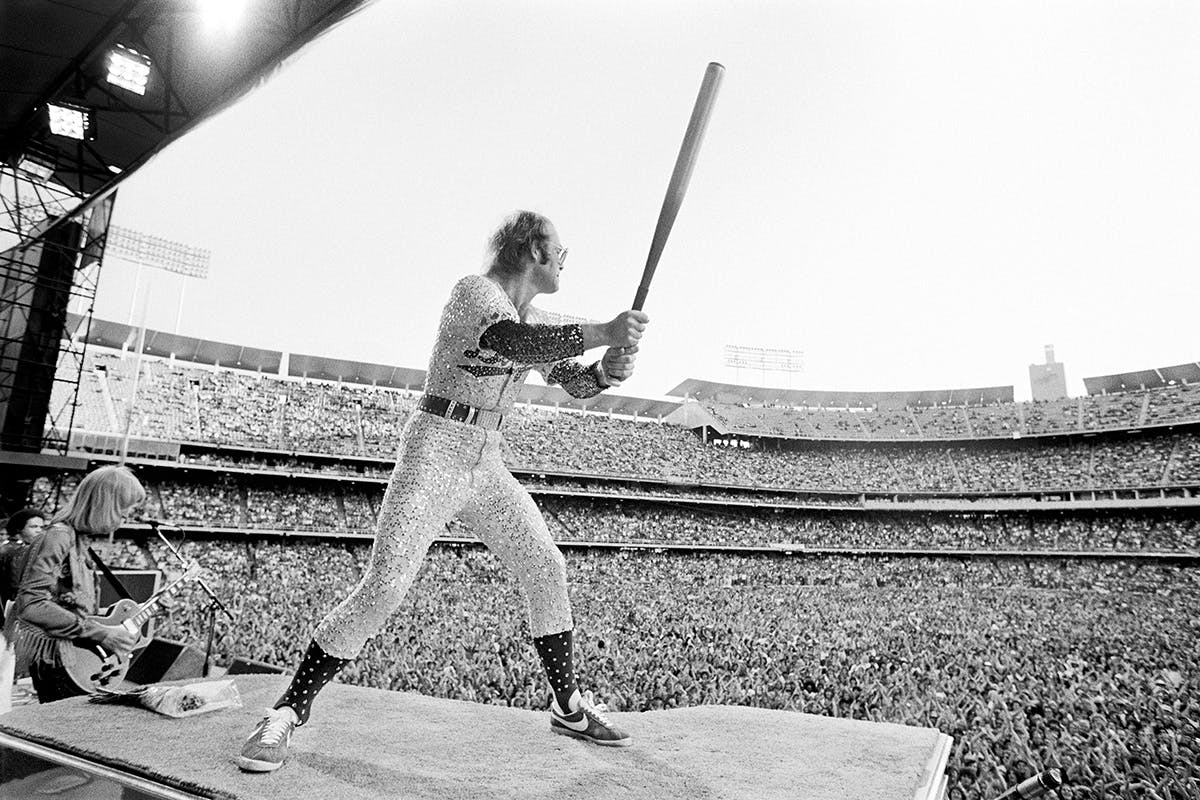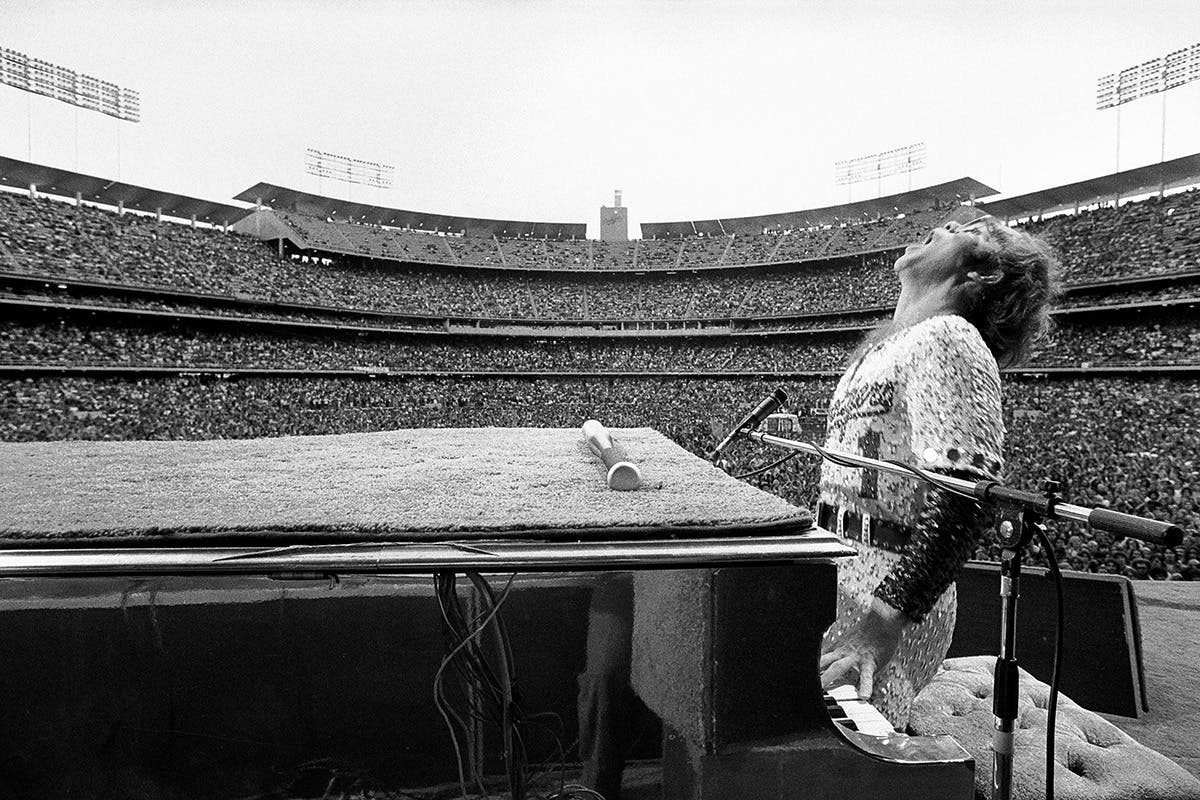 There is a moment when you are onstage at the Dodgers stadium with Elton John, how did that feel?
I was working with Elton and he asked me to come along and take photos of this two-day outdoor concert he was doing at Dodger Stadium in LA. Everyone was going to be there, it was going to be filmed for television, and I don't know, about 100,000 fans. Can you imagine that? It was the biggest outdoor concert they had since The Beatles.
Elton's great – like Sinatra – and he allowed me to go everywhere with my camera, including on-stage while he was performing. Then, in between the songs, he announces "If anyone's wondering who this guy is running around with his camera, it's Terry O'Neill!" and the crowd roared. I've never felt or experienced anything quite like that. Yeah, it was a thrill.
Did moments like that make you want to be a rock and roll star?
Never! I am much happier behind the camera instead of in front of it.
Who would you love to shoot of the younger generation now?
Nah, there's no one I want to take a photo of. They just don't make them like they used to – Paul Newman, Frank Sinatra, Audrey Hepburn – those were movie stars. I really can't imagine anyone asking that I'd say yes to.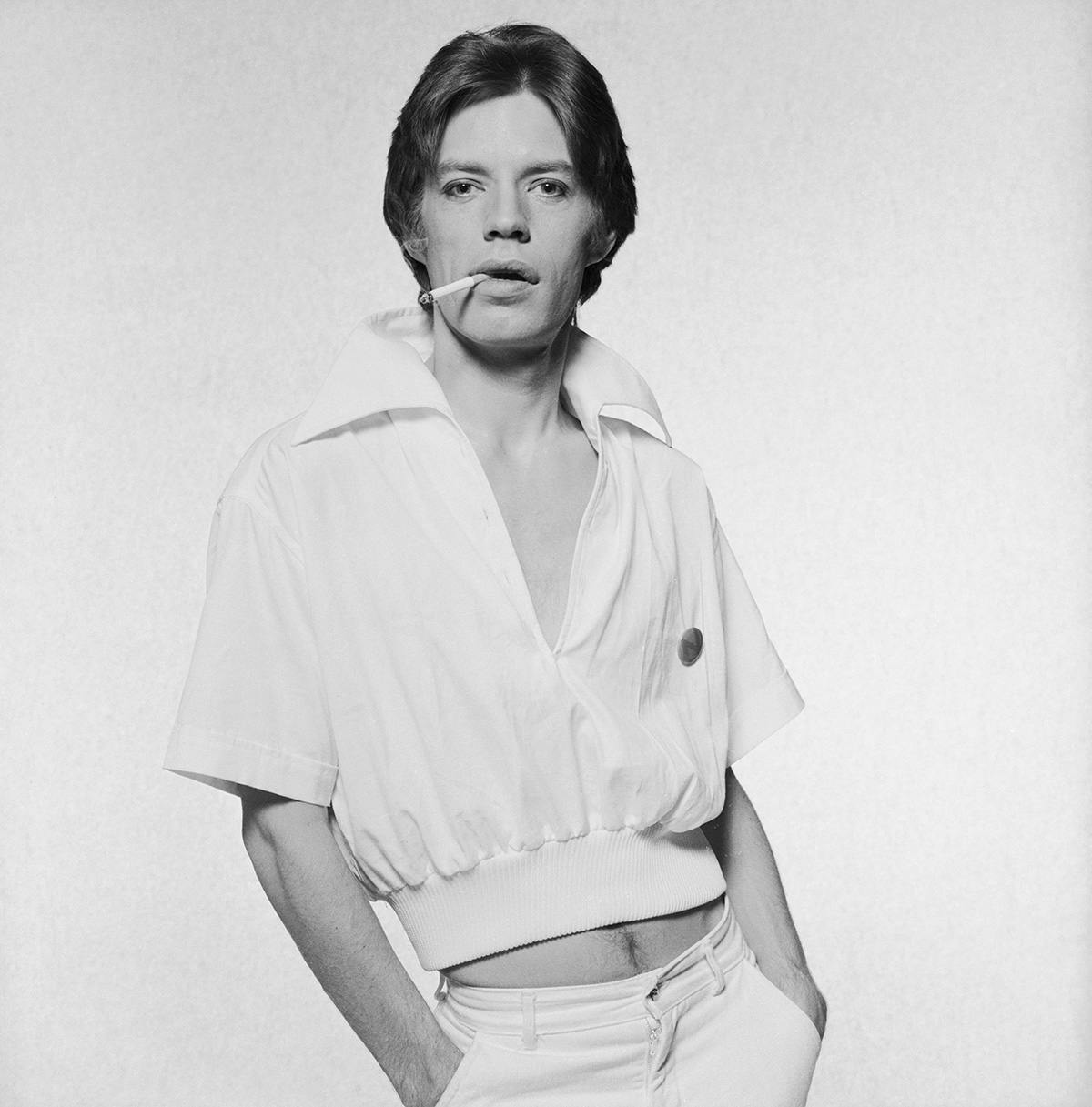 What advice would you have for a young person wanting to break into celebrity photography now?
Keep your eyes open and your camera ready. The best moments, the best images are always going to be the ones you don't plan in advance. Sure, sometimes you do and you get a great shot – that happened with Faye Dunaway and the pool, the morning after she won the Academy Award. But Bardot with the cigar, where her hair is blowing, or David Bowie with the jumping dog, those moments just happened.
So that's my advice. You don't always have to create the moment, sometimes the moment creates you.
What is the key to your best shot?
I don't think there is a key. Maybe the subject is the key.
Have you ever been caught off guard?
We are working on a new book that will feature a lot of my images that we haven't shown – and as we were going through some vintage and original press prints, there were several of Judy Garland and Liza Minnelli on stage together, in London, early '60s. I had the assignment to go see Judy Garland while she was in London. So I arrived at a house, knocked on the door, and she answered. I wasn't expecting that. She was so nice and welcoming and she even made me lunch.
Your new exhibition celebrates the Swinging Sixties. Has the feeling of that time been lost, or is it still alive?
Ah, well, there won't be another time like it. Like I've said, I was so lucky to have been there, at the right age, at the start of that decade. Young people were really given a chance to do something. We were allowed to be artists, designers, singers, musicians, actors, models, photographers –we were just told to "go do your own thing." And that's why it happened the way it did.
What is your favorite image from the exhibition and why?
Another tough question. That image of Stamp [Terence Stamp] and Shrimp [Jean Shrimpton]. I was asked to take a photo of the "Faces of the 60s" and I think that image, those two faces, really do sum up that decade for me.