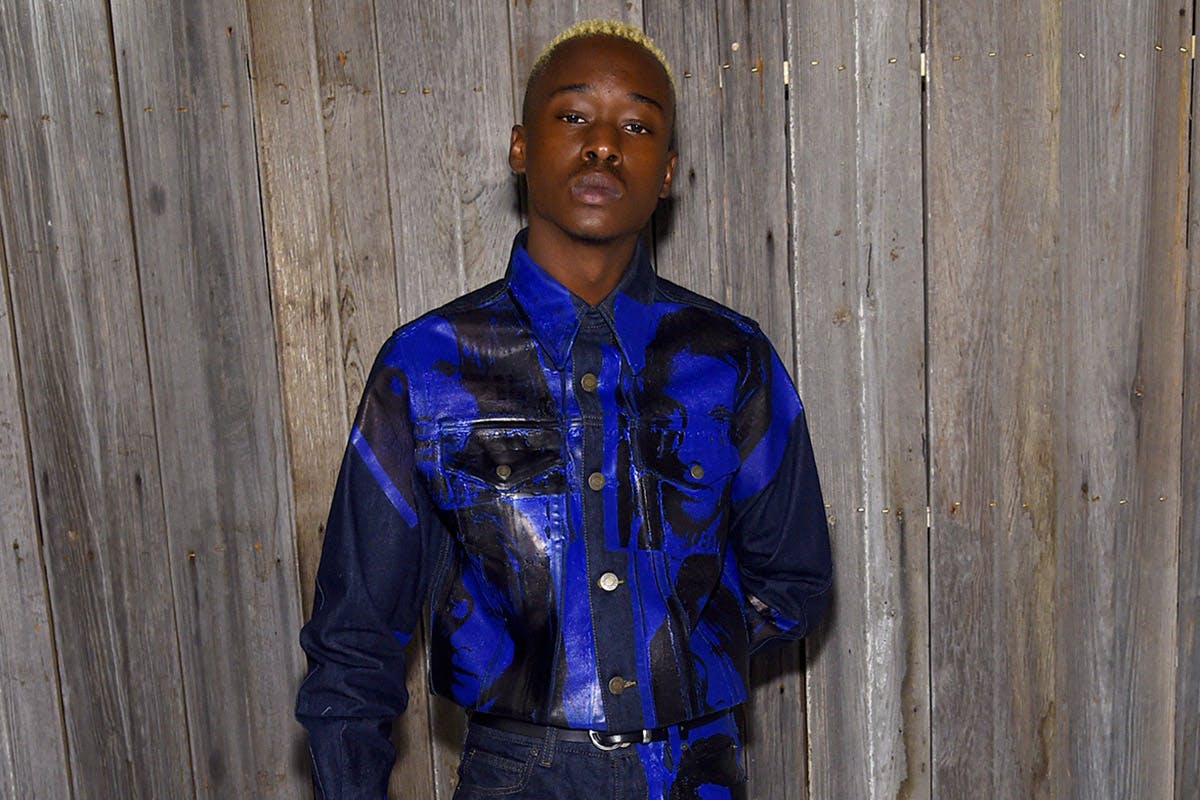 Our thorough analysis of the state of the fashion industry in 2018 revealed thoughtful insights relating to important topics like sustainability, as well as more micro-trends like tie-dye which were on the minds of both designers and consumers this year.
As we reconcile with what trends to be on the lookout for in 2019, it's always wise to first take a look at Hollywood (we're looking at you Timothée Chalamet at the Golden Globes). That isn't to say that actors are usually setting the trends. Rather, their sartorial imprint is usually an indication that a particular brand or aesthetic is going to go mainstream (think the "scrumbro" phenomenon embodied by Jonah Hill and Shia LaBeouf this year).
Without the aid of a crystal ball, it's impossible to know what brands and specific pieces will have big moments in 2019. But chances are, these seven actors — some more known than others — will have a big part in establishing the more prominent trends in the new year, and prove that in some instances, the man truly makes the clothes.
Timothée Chalamet
You could make the argument that Timothée Chalamet's first full-fledged "fashion moments" occurred at the premieres for Call Me By Your Name at the London Film Festival and Berlin Film Festival when he opted to go for ensembles designed completely by Haider Ackermann from Berluti's Fall/Winter 2017 collection (he would also turn to the designer for an all-white tux at the Oscars).
While seemingly subdued, there were hints of flare; most notably the burgundy velvet bomber he paired over a crisp, white shirt. This decision to "dress down," was further reinforced later at the Independent Spirit Awards when Chalamet countered the normal duds of attendees with a Fall 2018 Off White utility shirt.
But that isn't to say Chalamet is a one-trick-pony. His take on glitz comes with a nice, contemporary twist. He's notably donned a powder-blue cherry-blossom suit from Alexander McQueen that he paired with chunky sneakers, and attended the premiere for Beautiful Boy in a monochromatic, red Louis Vuitton suit which he accessorized with a pair of the brand's white running sneakers.
It's clear that Chalamet excels in both worlds. And since he has yet to be sign an endorsement deal with a major couture house, expect the 22-year-old to continue to push the boundaries.
Lakeith Stanfield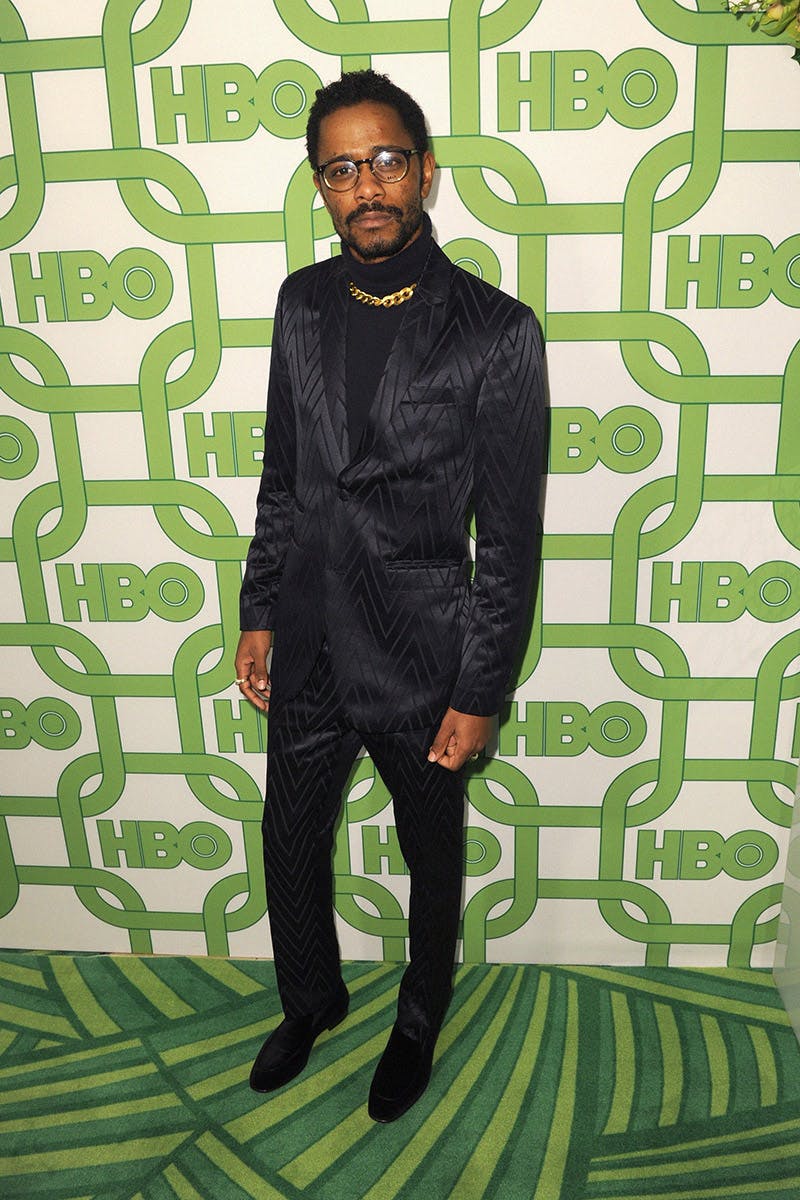 Atlanta director, Hiro Murai has said of Lakeith Stanfield, "The thing about Keith is, he can really wear anything and make it look cool, so we constantly try to push that and see what he can pull off."
The sentiment doesn't just reflect Stanfield's brilliance as Darius on the show, but bleeds into the ensembles he opts for when not in character.
The red carpet has proven to be a chance for experimentation. Whether that means donning his mother's hat, shaving half of his head, wearing a women's suit, or rocking a ski-mask, Stanfield seems completely unafraid of taking risks, and immune to criticisms if his choices are deemed to be too out of left field.
Whereas someone like Timothée Chalamet's style speaks to a strong relationship with Haider Ackermann — and specific pieces — Lakeith Stanfield's overarching opinion about clothes seems to the main takeaway.
"I do what feels right," he says, adding, "it's caring and not caring, mixed together."
As such, his closet is a reflection of that ethos; at one time boasting unique items like a Darren McFadden Raiders jersey, Gucci loafers with insect prints, kimonos, turbans, and a captain's hat.
Daniel Day-Lewis
Three-time Oscar winner, and six-time nominee, Daniel Day-Lewis, staked an early claim as the front runner for 2019 fashion icon when he stepped out in early December in an Americana-inspired ensemble featuring a Carhartt aviator coat layered over a navy plaid button-down, and finished with tonal pants, a perfectly executed rolled beanie, and a single hoop earring.
For keen-eyed DDL admirers, this is the same coat he wore to the MoMA screening of Phantom Thread in 2017 which was another strong indication that the actor enjoys the utilitarian nature of getting dressed, and that he isn't afraid of breaking some long-held fashion myths — like combining similar color denims on both his pants and shirt.
Perhaps what he can take away from Day-Lewis' effortless cool is that it's not simply a put on. Rather, his clothes — like the roles he took before retiring from acting — are made based on inherent desires, not ploys to stay relevant in the media.
Ashton Sanders
Ashton Sanders may not be a household name yet, but with key roles under his belt like Moonlight — and recently opposite Denzel Washington in The Equalizer 2 — the 23-year-old California native has also quietly established himself as a sartorial force.
Sanders cites people like André 3000 and Jimi Hendrix — and bands like The Beatles and Beach Boys — as having a major influence on his style, saying of the 1960s, "That style of dress during that time is really, really dope to me. So it's kind of like 60s meets Ashton, almost."
Examples of this past meets present fusion has been clear at red carpet events. He's notably worn a Public School camouflage tux at a pre-Golden Globes event, and a Calvin Klein teddy-bear coat, slim jacket and tie, Sk8-Hi Vans, and plaid pencil skirt from Fear of God at a 2017 Oscar after-party, and a more subdued Tiger of Sweden ensemble for the SAG Awards that he finished with Dr. Martens and shades he and his stylist got from the liquor store.
Sanders and his stylist, Jessie Jamz, have rejected the notion that when it comes to a red carpet event, a person must rely solely on a single brand. Instead, Sanders is free to mix and match as he pleases.
"[There was] a learning curve because some people are like, 'You have to wear head to toe,'" Jamz said. "We realized that it kind of confined us and was not something that either of us are really happy with. We decided early that if a designer isn't going to let us be as free, we don't have to work with a label just because it's a label."
As a result of his ascent, Sanders has already earned the distinction of sitting front row at Raf Simons' first show at Calvin Klein.
Lucas Hedges
Although he's popped up in seemingly every buzzworthy film the last several years — including Manchester by the Sea, Lady Bird, Three Billboards Outside Ebbing, Missouri, and Mid90s — 2018 marked the year that Lucas Hedges finally landed his first leading role for Boy Erased.
The diverse roles he takes suggests Hedges is part of the new guard of young Hollywood who are truly chameleons.
Whereas young actors of the past may have shied away from parts that could alienate a female teenage fan base, Hedges — through his roles exploring sexuality, and unique fashion spreads — has made it clear that masculinity to him is more like a Robert Mapplethorpe photograph than a cliché fragrance ad (look no further than Mario Sorrenti's portrait for W Magazine).
Having already appeared in campaigns from Marc Jacobs and Dior Homme, the combination of Hedges' talent on-screen — with his ability to take fashion risks off — makes him one to watch in 2019.
Michael Rainey Jr.
While Power may not dominate water cooler chatter like Game of Thrones does, the Starz drama has proven to be an obsession for the dedicated fanbase who tune in on Sunday nights.
Although the show relies heavily on the relationship between Ghost and Tommy (played by Omari Hardwick and Joseph Sikora), it's been fascinating to watch the maturation process of the youngest St. Patrick, Tariq (played by Michael Rainey Jr.).
As the youngest to grace our list, it's hardly surprising that 18-year-old Rainey Jr. is a fan of Supreme — notably donning a collaborative parka with The North Face, denim work shirt, box logo hoodie, and Squirrel gun hoodie — in the past.
One perusal of his Instagram reveals that Rainey Jr. has a "less is more" approach to fashion. He never goes overboard with a single streetwear brand — also turning to other favorites like BAPE and Palace — and certainly doesn't lean the opposite direction and opt to be overly GQ on the Hollywood red carpet.
Patrick Gibson
Best known for his work on Netflix's The O.A., Patrick Gibson has already become a fixture at Milan Fashion Week for his own personal style which spans streetwear brands like Supreme and a M+RC Noir, to more upscale pieces from Prada, Louis Vuitton, Kenzo, Balmain, and Lanvin.
In one notable instance, he opted for a a beige Lanvin trench coat, a black and blue V-neck sweater, brown new wool pants, and a pair of beige suede DBB1 sneakers from the brand's Summer 2018 Collection. While the items are pricey, Gibson has the ability to make pieces feel accessible to the every man.
For more Hollywood style, check out Spike Lee's custom Jordans for the Golden Globes.