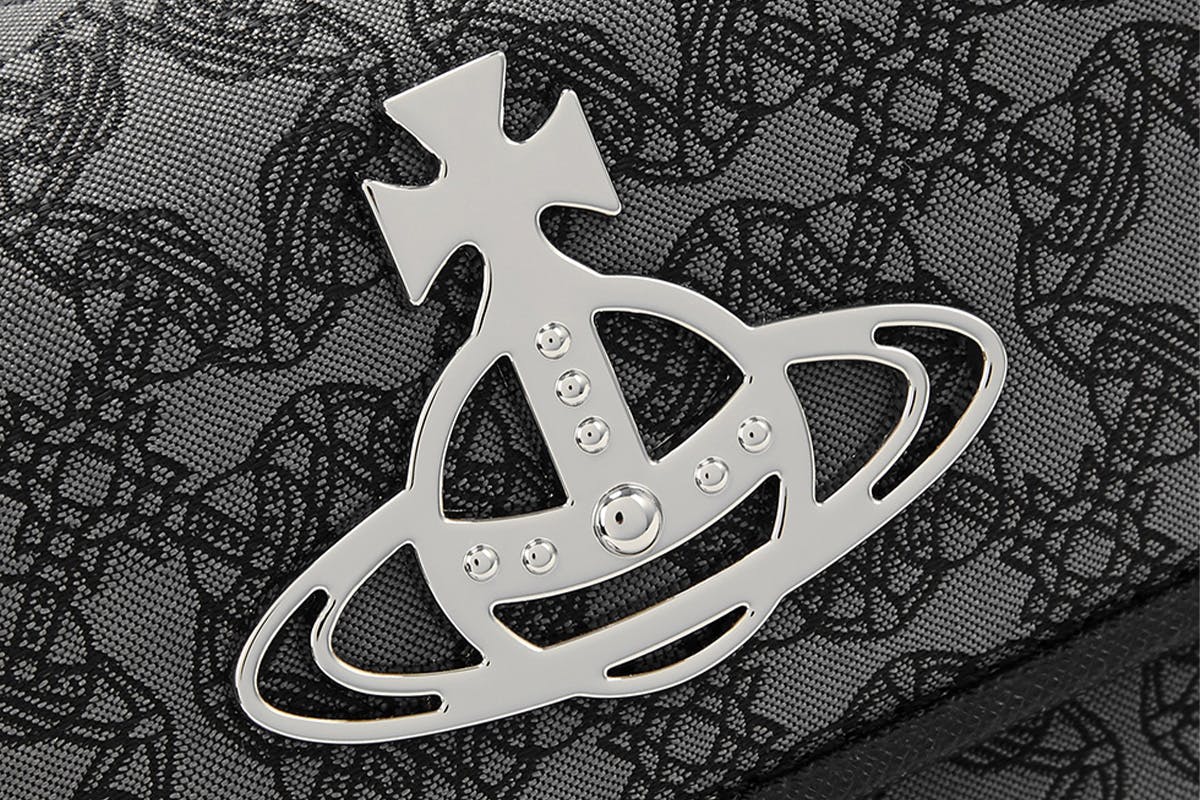 The mighty and inimitable Vivienne Westwood passed away at the end of 2022, prompting an outpouring of sentiments from across the fashion world and beyond. The maverick designer paved the way for British fashion design with her irreverent, punk-fuelled collections. But while the woman herself may not be around anymore, her legacy will live on for a long time to come, a legacy epitomized by the Vivienne Westwood Orb.
The Vivienne Westwood Orb logo, which has become a pivotal aspect of Gen-Z style, harks back to the '80s. Designed to resemble the Sovereign's Orb — one of the British crown jewels — but adjusted to include the rings of Saturn, the Vivienne Westwood Orb logo can be seen as a reminder of the importance of the past, but also the future. It's also yet another aspect of the designer's canon that situates her in the very epicenter of British counterculture.
Beyond its meaning, the Vivienne Westwood Orb is an unmistakable signature that continues to demarcate the designer's collections. Below, with the help of Harvey Nichols, we've rounded up some pieces that prove that the Orb logo will carry Westwood's legacy for lifetimes to come.
Shop the best of the Vivienne Westwood Orb logo below.
Orb T-Shirt
A black backdrop sets the scene for a spray paint-effect Orb logo front and center of this tee.
Archibald Necklace
Vivienne Westwood Orb necklaces officially went viral in 2022, taking over Tiktok as one of the most desirable pieces. This design goes deeper than transient trends, though.
Sporty Beanie
If you still haven't got a good beanie, then you're definitely late to the game, but not so late that it no longer matters.
Krall Shirt
Simplicity is key here. The white button-down shirt features contrast-color buttons and an Orb logo on the chest.
Card Holder
A classic leather card holder is essential, and this one goes the extra step with a metal Orb logo on the bottom corner.
Polo Shirt
The Vivienne Westwood polo shirt is a lynchpin of the collection every season. Casual yet refined, it's a foundational piece for the modern wardrobe.
Logo Cap
Contrast-color embroidery ensures that the Orb logo is the only focus of this cap.
Logo T-Shirt
Arguably the most recognizable Vivienne Westwood piece, period. This classic T-shirt returns every season to open arms.
Crossbody Bag
The Orb features heavily on this crossbody bag. The jacquard fabric is detailed with a repeated Orb print, while the finishing touch is a metal Orb fastening.
Want to keep browsing? Download the Highsnobiety app for all the hottest products and brands from the the Highsnobiety Shop. Highsnobiety has affiliate marketing partnerships, which means we may receive a commission from your purchase.