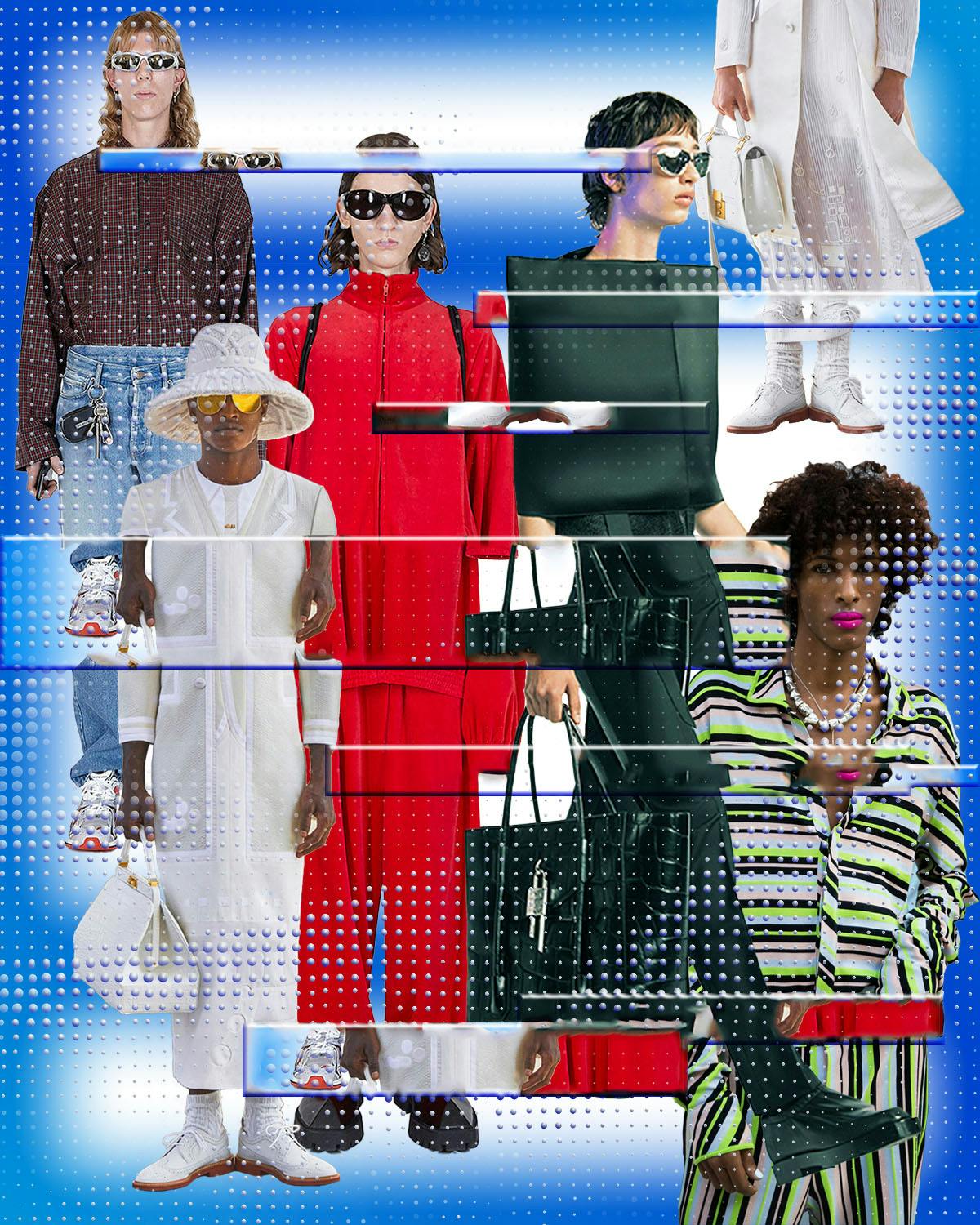 When the coronavirus outbreak clutched the world in March 2020, Paris Fashion Week had just come to a close. Months later, fashion week federations around the globe decided to migrate. Now, six months on from the last women's fashion week, the four fashion capitals displayed a hybridized, but mostly digital, fashion week — their attempt to still buoy press, buyers and consumers alike.
Having grande fashion shows be replaced by a two-dimensional digital version of itself poses an opportunity for the fashion industry to reconsider its gluttonous approach to how we consume collections, across four cities in four weeks, for twelve hours a day, in similar anonymous, crammed spaces with a handful of exceptions. While it may prevent the exchange of ideas in person, it comes at a time when the way we see fashion was already undergoing a period of upheaval. The pandemic merely accelerated fashion's digital makeover.
"While the current health crisis has disrupted business as usual, we've seen a lot of positive results nonetheless from brands who have quickly navigated the situation," said Alison Bringé, CMO at Launchmetrics, a brand performance cloud company.
Bringé notes that the Paris Fashion Week Haute Couture event this summer provided a much larger exposure to the Asian markets with the Media Impact ValueTM (an algorithm developed by Launchmetrics that measures the impact of placements and mentions across different voices in the fashion, luxury and cosmetics industry) of Asian-based media doubling, revealing a clear interest for brands that are seeking to reach their Asian consumers through digital activations.
Meanwhile, at the recent three-day New York Fashion Week, Launchmetrics found that smaller brands greatly benefited from the exposure of an abbreviated schedule less populated with big names.
"This goes to show that harnessing the power of digital not only allows you to respond to fast-paced changes but it enables you to amplify your content and collection launches, to reach new markets and global audiences," said Bringé.
This is also the case at Milan Fashion Week where, according to the week's leader, Carlo Capasa, the September edition of the event that combined physical and digital shows garnered 43 million views on streaming channels. The earned media value from the event, he said, was €35 million, a 325 percent increase from the predominantly digital July men's edition.
So, did digital fashion week actually work for individual members of the fashion industry? We asked industry leaders from designers, press and buyers, to sound designers, PRs and stylists to weigh in on whether fashion week's new normal was conducive to success or whether it needs to be rethought
Vanessa Friedman, fashion director and chief fashion critic at The New York Times "It makes you do your job differently. You see whatever show in whatever form. Whether it works depends on what role you're in in the industry; you need something different if you're a critic versus a buyer. I was interested to see how creative designers were when forced to deal with what's happening. I was interested in those who took different approaches to how to show because this new situation demands a new way of doing things. Thebe Magugu used a substantive narrative about apartheid spies and dressed them for a re-enactment. The clothes played a supporting role which may seem wrong to some designers but that's how clothes function in real life. Maybe the future is a mix of everything we've seen, different forms of digital shows, experiences, and intimate presentations. A successful fashion week should combine all of this."
Colm Dillane, designer at Kid Super "I think it allowed for the brand's ideas to be more important than the budget. Fashion week prior was more about budget: you have a beautiful venue, with the most expensive models, and an amazing front row of guests then you did an amazing job. I felt like for the first time I was on the same playing field, somewhat as the major fashion brands, because they may spend millions of dollars on a video but if the video is bad they can't hide behind all the glitz and glamour that goes into a regular fashion show. I think digital fashion week will replace physical just on pure numbers of eyes and use of money. I am excited for next fashion week and I will be doing it virtually."
Nate Hinton, founder of The Hinton Group "From my clients end, it was great. Take Maxhosa, if I had a physical event I would've had to have fought hard to get press to come and I would've gotten 200 to 400 people in the room with some notable press names, maybe some VIPs, to see this designer from South Africa who isn't that well known yet. The benefit of a digital is that you had 50,000 eyes on that runway show at once. There's a democracy in viewership, people who aren't invited to an exclusive runway show get to be part of this experience. I had six digital presentations and I did my best to tell my clients not to show new collections unless it was available right now, or for pre-order, because the conversion you can get from digital is so great. It's using the fashion show as what it is: a marketing tool."
Pascal Morand, executive president of the FHCM "When we gave brands the freedom to choose how they wanted to show digitally we did so because we considered the importance we place on creativity. Film isn't a substitution for shows, it's 'augmented creativity', an additional potential for expressing emotion. Also, everybody can have access to these videos on our new platform, along with the magazine. At the same time, the closer we're to having physical shows and presentations again the better. A designer's vision is harder to reproduce in the same way digitally. However, when we get back to physical shows, it will not go back to the past. The videos will also stay, the content around it will also stay."
Carlo Capasa, president of the CNMI "We brought the physical event to China digitally in February when many were unable to travel for the event. In July, it was digital only with two physical shows from Dolce & Gabbana and Etro. It was a challenge but it worked. Digital is necessary to amplify our message and bring us closer to the wider industry and to the consumers, yet physical [remains] important."
Frédéric Sanchez, sound designer "This was already the reality for me. My work started to change six or seven years ago for the internet. For live shows, you could use original tracks but when the show is uploaded online you had to change that because of copyright issues. I've really developed working in this way. This new way of working means you're obligated to put a foot in the future. This season, I did mostly composition work (with exceptions for Miu Miu and Hermès, where we used mixed original soundtracks) including a short film for Emporio Armani. I have to think a lot more about how to do my work for digital - it's like with a concert, you go and you share these emotions; you have to figure out how to do that for digital now."
Alexandre de Betak, founder of Bureau Betak "We didn't do digital only shows, we worked on a hybrid. There were a number of physical shows this season but we did place an emphasis on the live streaming side of things. For the past few years, this has been the case. If a brand only does a film or a shoot it's not that exciting or efficient. It's the real, physical experiences and events with smaller live audiences, with digital content built around that, that worked well. Fashion will never go back to how it was. New systems will force shows to travel to cities which is more exciting, more sustainable, and more economical. This season, we tested a new formula. Next season will be more mature with more local physical experiences that will explore digital tools to make the digital audience excited."
Gert Jonkers, editor of Fantastic Man "You accept a lot of hassle when you're running around Milan or Paris but I don't accept the same kind of hassle when I'm sitting behind my desk. The most irritating thing is when you're told the digital presentation starts at 11 and you're sitting there for the next 40 minutes waiting for something to happen. And then it turns out they're late starting a video. Those kinds of things left me not loving it. Some things worked. The Prada presentation was good in terms of how you could consume it, how it worked, it was beautifully and interestingly done and with a bit of surprise as well. Some pretty straightforward films like the Hermès men show were really entertaining; you got a sense of the vibe and you got to see the clothes too. The ones that were trying to be artistic rubbed the wrong way with me."
Dilan and Lezan Lurr, co-founders and co-CEOs of Namacheko "In one sense the digital fashion week gave us more time, a breather to rethink - and everyone had more time to sit down in the comfort of their own homes and watch the season, doing online appointments and walking through the collections. But to translate the feeling and energy [of a show] digitally is a challenge especially in regards to buying and not comparable with the real deal. Hence our decision not to try and replicate a runway show for the digital fashion week. Instead, we showcased a short film, made without the collection in it and addressed the sociological change we are currently in. The clothing will be shown in a different format at another time."
Alexander Werz, Co-CEO at Karla Otto "Throughout the month of September we have seen a multitude of different concepts to present the collections: from films, to one-to-one appointments in many cases via video call and also some physical presentations and shows. What has worked to achieve reach and enhance awareness during this time was often a hyper local physical moment with a powerful digital implementation. I think this season was a great exercise, we've seen incredible creative ways to engage with physical audiences while still allowing participation from all over the world. Brands achieved incredibly sensual and emotional moments with their concepts . I hope next season will be a different story."
Anna Trevelyan, stylist "I wouldn't say it made my job harder, it just made it different. Normal fashion week is exhausting - you're in fittings basically 20 hours a day for 4 days for each show you style. To not have that crazy schedule was definitely easier. However, it's so hard to not be able to actually see the clothes, touch them, see the subtleties in the colours of what you're styling, dress them on models, see how they move etc. I am basically styling from paper cut-outs, there are no nuances to this, you're not sure it will work in the same way as you are in person. Honestly, I miss the craziness of styling shows, it's one of my favorite things to get lost in the bubble of a collection."
Alison Bringé, CMO at Launchmetrics "Although the physical experience will remain a major part of the industry, the true success in the long-term will be found in how brands merge the two formats, to create impactful, share-worthy moments both on- and offline. It's important that brands consider how they will package and distribute their digital assets, to provide the media, influencers as well as other Voices, with the right content to reach the right consumer, at the right moment."
Spencer Phipps, designer at Phipps "For me working digitally was really liberating. It was an opportunity to create a whole new language for the brand and communicate in ways I'd never really considered before. It opens us up to new audiences, people interested in cinema for example, and not just the fashion community. Additionally in the process it showed me how wasteful and unnecessary a lot of what we do as an industry really are. I think there will always be a place for fashion shows and a physical presence of some form but I believe that we no longer need to rely on this as much."
Laduma Ngxokolo, designer at MAXHOSA "Digital fashion week impacted our business in a great manner. Our showcase received a higher number of viewership views than it usually does when we are showcasing physically. Also with the face to face interaction, it's often limited because of the back to back scheduling of shows. People could easily share this worldwide. We received a lot of hits from the main target market that we were looking at. We would go as far as saying that digital is the new frontier in fashion, because the communication channels are easier.
Philip Lotko, co-founder of Rains "When presented with the idea of a solely digital format, the conclusion was an opportunity to create something that transcends fashion weeks and enters into the screens of viewers across the world. No longer was it just about an experience for the people in the room, but an experience for anyone that comes in contact with the show. Which seems more relevant now than ever. The integration of the two is an integral part of fashion weeks moving forward."
Bianca Saunders, designer "I took part in LFWM back in June and was slightly more cautious back then as it was all so new, but now I feel like I've seen what's possible with digital. I launched my zine with Joshua Woods and Jess Cole and it sold out pretty much instantly. All down to the power of digital. I don't think it's about one form replacing the other. Instead of taking over from real-life, digital should be seen as an additional weapon in a designer's artillery. As creatives, we're always looking for new ways to express ourselves, this is just another avenue for us to do so."
Lucien Pagès, founder of Lucien Pagès Communications "We've already experienced the new format of fashion week. It's a mix of physical shows with strict rules including a local audience and digital show that can be very creative. Everything has become local, we have to touch the people wherever they are. Our office worked on five physical shows in Paris and three in Milan, a few presentations and digital experiences. I still think that the physical shows got the most attention and coverage. The risk was high this season as well, but in the end it will be worth the challenge when we see the results."
Mia Young, chief merchant at Lane Crawford "Digital has made things more efficient, but it has made the buying process more challenging. The in-person experience cannot be fully replaced virtually: the touch, movement of fabrics, scale and fit is lost on-screen and coupled with the different time zones means sometimes taking very early morning or late night appointments. Having said that, the opportunity of the digital format means our broader teams have been able to experience the buy, and we were able to include the marketing team, personal stylists, and more junior members of the team who were able to learn from the opportunity."
Hoor Al-Qasimi, creative director at QASIMI "I thought going digital was a great opportunity for us to think more creatively and also address a wider audience since the same 'show' was accessible to everyone. Working on creating a video, time to spend on filming and editing means you're also more in control of the final project. I don't think it's possible to replace the physical with digital for fashion week. It was great to have that option during a pandemic but the physical experience cannot be mimicked online."
Julie Gilhart, Chief Development Officer at Tomorrow London Ltd. "I believe both physical and digital will have a place in the future of our industry, and that they will feed off each other. Both have elements that the other cannot replicate. While evidence shows that consumers are responding positively to digital solutions, there's still the important aspect of buyers and industry insiders needing to see how the clothing moves and feels, as well as the interaction of the client and vendor and all that transpires from being together. In essence, I don't think that digital will ever completely replace physical fashion weeks."
Dean Cook, head of menswear buying at Browns "I think given the circumstances, everyone has done well. Although I have enjoyed adapting for the season and seeing how innovative brands have been digitally, there have been challenges. Not experiencing the touch and feel of the product, in addition to not being able to see clothing on properly and how it hangs, and fits has been tough. As well as small talk, the personable relationships we have built over the seasons and the buzz you get from being in the showroom has also been missed, compared to being on a Zoom call all day which can be draining."
Sophie Jewes, founder and brand director at Raven  "It's quite tempting to over-complicate the thinking around these new fashion week frontiers. The reality is: the recipe for success in the digital-only age is still just great design. It will always be about the very best and most exciting clothes. Our Richard Malone is the consummate example of that; the execution doesn't need to involve bells and whistles and can still totally captivate the industry. Moving forward it's going to be about what feels right, authentic, manageable, and actually enjoyable for designers, and their teams. That'll always lead creatives to the right answer. The best things we've seen over the past few weeks have come from independent creatives digging deep and reminding their audiences of their central message. To quote Lulu Kennedy: "Do you!""